This site is supported by our readers. We may earn a commission, at no cost to you, if you purchase through links.
Are you looking to update your look with a lighter hair color? Bleaching dark hair can be daunting, but don't worry. We've done all the research for you and found the best bleaches for achieving lightened locks without damaging your strands in the process.
Whether it's an Arctic Fox Bleach Kit or Clairol Professional BW2 Lightener, we've rounded up 10 of our top picks that'll help make transforming from dark to blonde easier than ever before!
With these at-home bleach solutions, you'll be able to get salon-quality results right from home—enabling ultimate control over how light or bright you want your new hue.
Key Takeaways
Arctic Fox, L'Oreal Paris Colorista, Wella Color Charm, and Manic Panic are recommended as the best at-home bleaches for dark hair.
It is important to start with the back sections and use 30 volume developer for dark hair.
Multiple lightening stages are needed for gradual control from dark to blonde.
Regular strand tests, waiting 1-2 weeks between sessions, and a maximum processing time of 60 minutes are crucial for safe and effective bleaching of dark hair.
Arctic Fox Bleach Kit
View On Amazon
Experience lightening your hair up to 8 shades with Arctic Fox Bleach Kit, which features a 35 vol developer and nourishing oils for softness.
This all-in-one kit is specially formulated with a violet base to counter brassiness. It also contains açaí, cocoa, sunflower, castor, and mango seed oils that help protect the hair from damage while leaving it looking healthy.
Thanks to its anti-yellow molecules, you can achieve clear blonde results without any orange tones in your strands after bleaching.
Plus, it's vegan-friendly and cruelty-free! The cream bleach also won't fly away like dust powders do when applying, so you don't have the same mess on your hands – or anywhere else! It's easy enough for beginners yet powerful enough for experienced colorists who want something more professional than drugstore brands.
Contains Polycare Split Therapy to prevent split ends
Formulated with a violet base to counter brassiness
Enriched with nutritive ingredients such as keratin and coconut oil
Cruelty-free and vegan-friendly
The thick consistency of the bleach cream makes mixing difficult
Requires additional developer (sold separately)
Has a strong odor during application
Loreal Paris Colorista Bleach Allover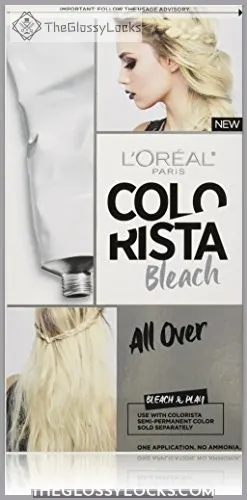 View On Amazon
Transform your dark locks into light blonde with L'Oreal Paris Colorista Bleach Allover, an all-in-one kit that provides a convenient one-step application and gradual lightening. The bleach cream in the kit comes with an anti-brass conditioning treatment to help avoid any unwanted yellow or orange tones after bleaching.
It's formulated for medium brown to black hair and can be used for highlights, balayage, full head lightening, and even ombre looks.
This product is gentler on hair than some other bleach products, making it great for beginners who want more control over their look without damaging their hair too much. It also smells better than some other bleaches, so you won't have to deal with strong chemical odors while using it at home.
Keep in mind, though, that this product does not contain toner, so there may still be brassiness or orange tone left after use – but this will depend on how long you leave the bleach on your strands as well as what color you dye over afterward! Patience is key when gradually transforming dark locks into lighter shades of blonde since multiple applications are likely needed.
Convenient one-step application compared to mixing own bleach
Gentler on hair than some other options
Smells better than other bleaches
Can cause scalp irritation
Does not contain toner
Leaves orange tone unless dyed over
Wella Color Charm Lightener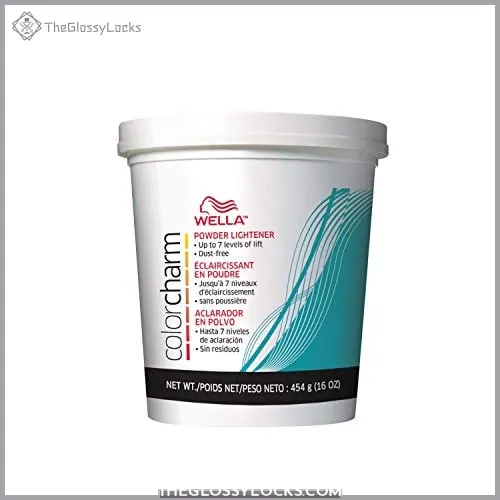 View On Amazon
Discover the professional-grade Wella Color Charm Lightener for effortless and fast lightening of your dark hair. This powder lightener minimizes powder fly-away and contains a moisture-sealing humectant to give colorists creative control, so you can achieve balanced lightening with predictable, quick results.
It's easy to measure and apply; perfect for foiling, balayage, or off-scalp applications – giving you all the tools needed to create beautiful highlights on medium brown or black hair! Plus, it includes an oil system that locks in moisture throughout processing, helping guard against breakage as well as dryness.
It offers superior performance compared to other at-home bleaching products: effective highlighting on thick dark hair when used correctly with a developer; adds shine without stripping nutrients from your tresses; no visible breakage nor orange spots after one application; preferred choice by hairstylists transitioning between lighter shades of blonde such as ash blonde.
Minimizes flyaway & seals in moisture
Balanced lightening & quick results
Perfect for highlights/balayage/off-scalp
Locks in moisture prevents damage & dryness
Must be used carefully with a developer
Does not come pre-mixed
Requires non-metallic bowl
Manic Panic Hair Bleach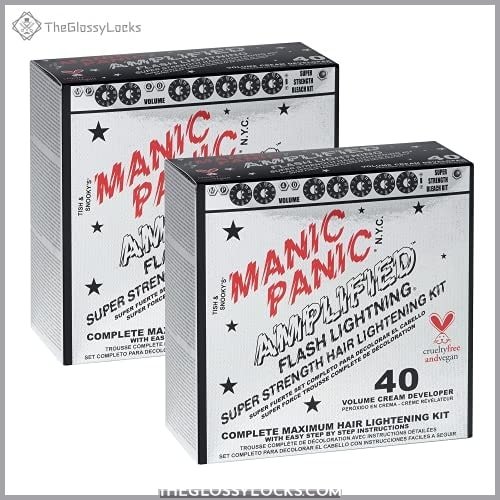 View On Amazon
Unlock a brighter, softer look with Manic Panic Hair Bleach. This bleaching kit is vegan and cruelty-free and comes with dust-free bleach powder, 40 volume cream developer, mixing tub, brush cap, and gloves.
It is perfect for medium brown to black hair that wants to achieve medium blonde or very light blonde results without damaging the strands. The bleach lightens quickly but leaves your hair soft as it lifts up to 7 levels of color in one application.
This is great for those who frequently change their hue! The thick mixture minimizes mess while its nutritive ingredients help protect against breakage during processing time.
Vegan & Cruelty-free
Lifts up to 7 levels of color in one application
Thick mixture prevents messiness
Protects from breakage during the process
Prepares locks for intense dyes & colors
Can be difficult to mix the activator
May need multiple applications
Strong odor
Can cause scalp irritation
Perfect Blond Hair Dye Toner Lightener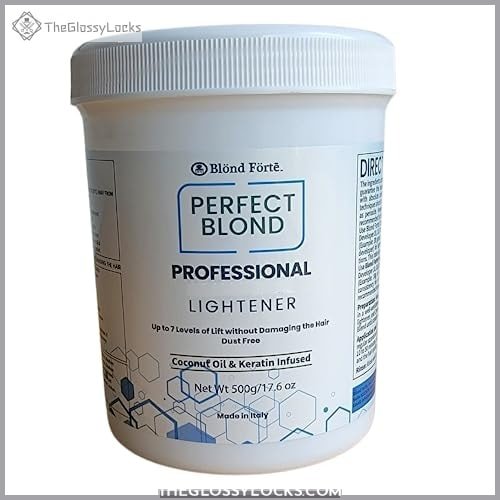 View On Amazon
Unleash the power of Perfect Blond Hair Dye Toner Lightener to lift up to six shades with controlled and reliable lightening. This professional-use product, infused with keratin and coconut oil, does not damage hair while guaranteeing a clear blonde result with its anti-yellow molecules.
The thick mixture keeps messes at bay, but it requires developer (sold separately) and has a strong odor, so use caution when applying it. All hair types are supported, including dyed, colored, treated brunette or black, as well as dark African American locks, for an even lift throughout your mane.
Easy to mix creamy consistency
Up to 6-7 levels of lift
No ammonia smell
Does not damage hair
Requires developer (sold separately)
Strong odor
Can cause a burning scalp sensation
Clairol Professional BW2 Lightener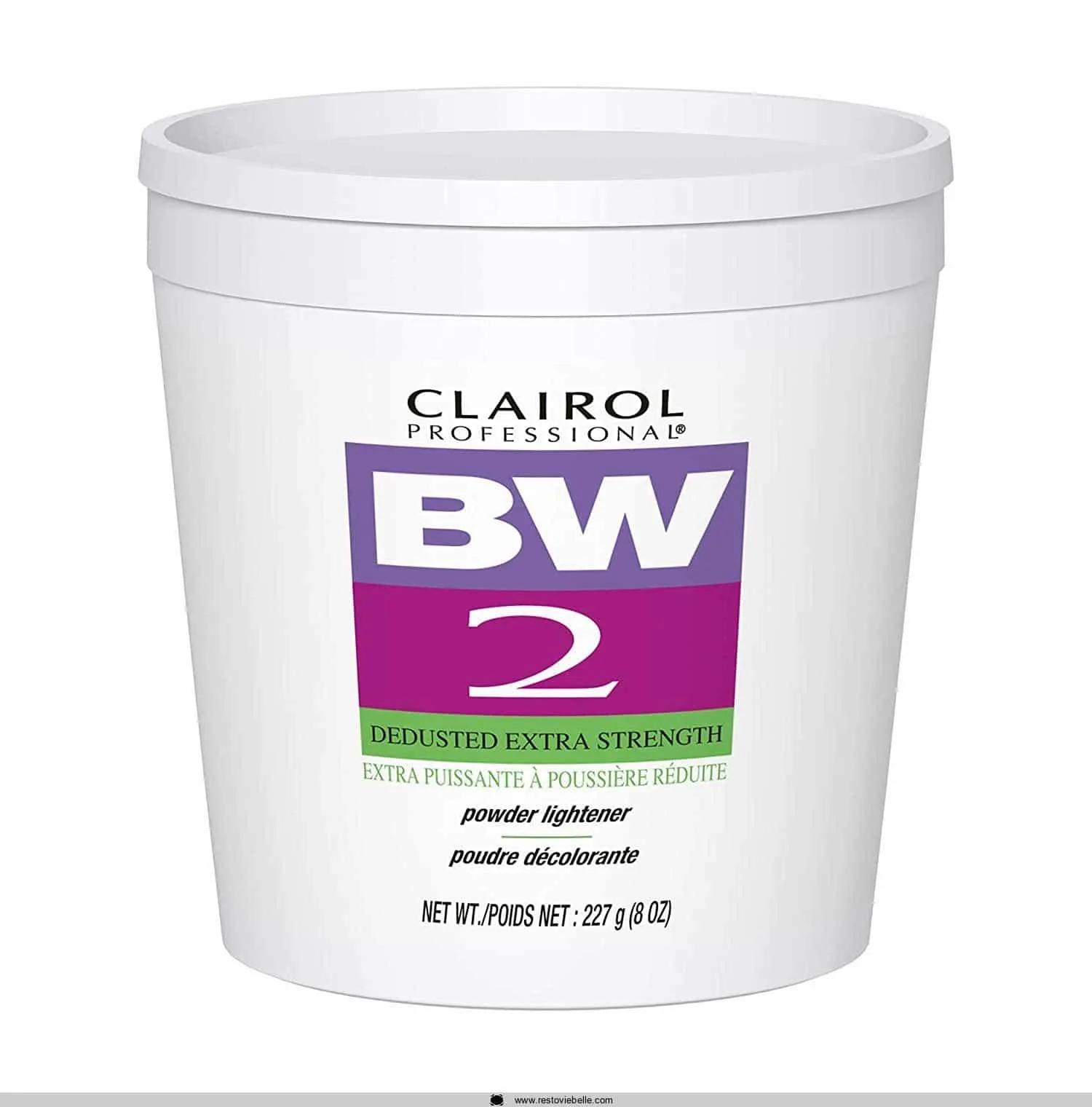 View On Amazon
Experience the creative control of Clairol Professional BW2 Lightener and witness balanced lightening with quick results for foiling, balayage, or off-scalp applications. This 8 oz tub of powder lightener minimizes powder fly-away while its moisture-sealing humectant locks in color without damage.
Made in the USA and not discontinued by the brand yet, Clairol Professional BW2 Lightener ships domestically as well as internationally so that everyone can enjoy this amazing product from anywhere around the world!
Reviews have been mostly positive for this bleach; customers love how easy it is to use even on their first-time tryouts but dislike its strong smell, which makes using it uncomfortable sometimes – something they cannot avoid unfortunately when bleaching their hair at home quite often!
Aside from being able to do an awesome job on wigs, both regular ones and lace ones too, most people are delighted with how long one package lasts them given how little quantity they need each time. However, some think it's expensive compared to other similar products available out there, especially if you live outside the USA, such as the UK, where shipping costs add up quickly, making things more pricey than expected eventually depending on which country you're buying your supplies from.
Easy first-time use
Long-lasting amount
Low damage
Works well on wigs
Smells awful
Pricey in the UK
Longer processing time
Hair Bar NYC Blond Bond
View On Amazon
Try Hair Bar NYC Blond Bond for platinum blonde hair without the worry of brassiness or warmth. This innovative powder formula lifts up to 10 levels and is enriched with arginine amino acids and keratin, which condition hair while lightening.
It virtually eliminates any yellow tones, leaving you with a pure even lift that looks amazing! Plus, it's designed to protect your locks from damage, so you don't have to worry about breakage or dryness.
The charcoal color makes it difficult to see how much lift has taken place during processing, but luckily, it works quickly in just 35 minutes, so guessing isn't necessary! And best of all, this product softens and conditions your tresses as it's lightening them too!
Lifts up to 10 levels without brassiness or warmth
Contains nutritive ingredients like arginine amino acids & keratin
Virtually eliminates yellow tones for an even lift
Softens & conditions hair during the lightening process
Fast working time (35 mins)
Difficulty seeing the amount of lift due to the charcoal color
Not recommended for at-home use
Gets extremely hot during processing
Jolen Creme Bleach Pot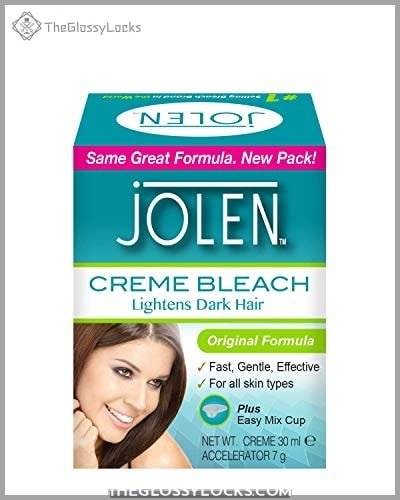 View On Amazon
For an easy-to-mix option, Jolen Creme Bleach Pot offers subtle lightening for your hair in just 10 minutes. This cream bleach is designed as an alternative to Andrea creme bleach and is suitable for all skin types.
It effectively bleaches facial hair but can be difficult at times when mixing the powder activator with the cream.
The product has a chemical odor that some may find unpleasant and tends to slide off the face during application. It may need multiple applications per session until satisfactory results are achieved.
Lightens dark hairs effectively
Gentle on skin, doesn't sting
Subtle shade as expected
Easy to mix and apply
Small packaging
Fast shipping but box was bent
Spatula was missing
Splat Lightening Bleach Kit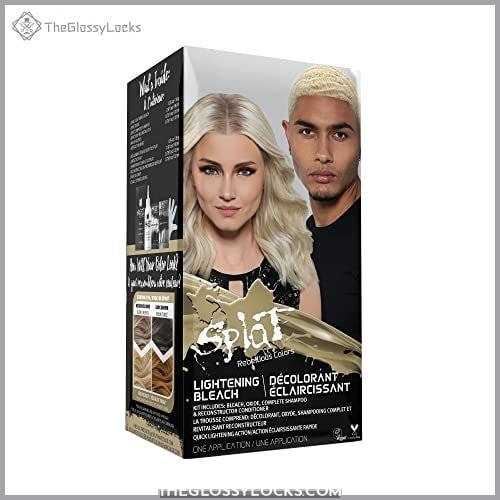 View On Amazon
Splat Lightening Bleach Kit is an easy-to-use vegan formula that will give you vivid, rich color in no time. Perfect for lightening all over, highlights, or tips and ombré looks, this kit can lift your hair up to five levels lighter without the mess of dust or the need for metallic bowls.
It comes with a blue bleach powder, which reduces yellow tones, along with shampoo and conditioner to restore pH after bleaching, so you can be sure your results are long-lasting.
Allergic reactions are possible, so make sure you test before use – especially if using on the skin around eyebrows too!
Vegan formula
Reduces yellow tones
Includes shampoo & conditioner
Easy application & fast results
Can cause allergic reactions
Very liquid consistency
Stains easily
Knight Wilson Hair Bleach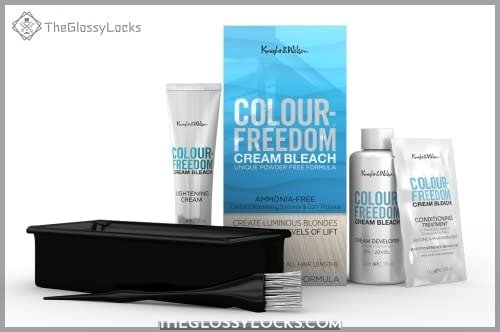 View On Amazon
Experience the Knight Wilson Hair Bleach to lighten your hair up to 8 shades and nourish it at the same time! This ammonia-free cream bleach comes with a complete kit, including a bowl, brush, gloves, and instructions.
It's perfect for those who want an at-home bleaching experience that won't break the bank.
The cream formula is great for achieving even results rather than using powder. Plus, its conditioning benefits leave you with healthier-looking locks after use. You can expect up to 8 levels of lift from this product when used according to the directions, making it ideal for medium brown or black hair seeking lighter blonde tones.
With mostly positive reviews regarding ease of use and quality results, you have nothing left but success when using Knight Wilson Hair Bleach!
Ammonia-free formula
Comes in a complete kit – easy application & no need for additional items
Cream-based – more even results compared to powders
Lightens up to 8 shades
Nourishes the scalp & hair while bleaching
May not contain enough product if the user has long/thick hair
Reports of some damage due to frequent applications
Bowl may arrive broken
Frequently Asked Questions (FAQs)
Is it safe to bleach my hair at home?
Bleaching your hair at home can be a liberating experience, but you need to ensure it's done safely. With the right products and knowledge, you can create beautiful color transformations with minimal damage.
How often should I bleach my hair?
Everyone's hair is different, so bleach frequency depends on how quickly your hair lightens and how healthy it remains. Too much of a good thing applies here – bleach too often and you risk damaging your strands; not enough, and you won't achieve the desired results.
To keep your locks strong, beautiful, and vibrant, start slow with fewer bleaching sessions for darker shades, then increase to maintain as needed.
How long will it take to bleach my hair?
How long it takes to bleach your hair depends on the desired result. Start with a strand test and follow instructions for best results, gradually lightening for more control.
Is there a way to tone down the brassiness after bleaching?
After bleaching, purple shampoo and conditioner can tone down brassiness. Products enriched with anti-yellow agents help keep hair looking vibrant and bright, while oils like coconut or argan will nourish and protect from damage.
Are there any special techniques for applying bleach to dark hair?
When applying bleach to dark hair, be careful not to exceed 60 minutes of processing time. Start with the back sections first and use a 30 volume developer for optimal results. Make sure to strand test before each session and wait 1-2 weeks between each one.
Conclusion
You may be wondering what the best at-home bleach for dark hair is for 2023. Look no further. We've rounded up 10 top picks that offer the lightening potential and nourishing benefits you need to get the perfect blonde.
From Arctic Fox Bleach Kit to Knight Wilson Hair Bleach, these products are sure to help you reach your hair goals without breaking the bank. And with their fast-acting, nourishing, and protective formulas, you can be sure to achieve the results you're looking for without risking damage to your hair.
So go ahead and get started on your lightening journey – you won't regret it.