This site is supported by our readers. We may earn a commission, at no cost to you, if you purchase through links.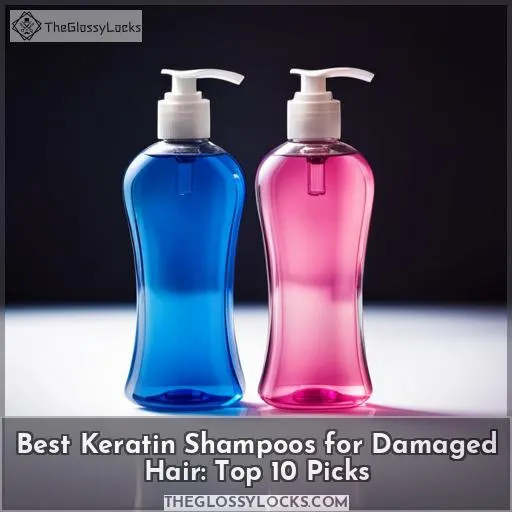 Looking to repair and restore your damaged hair? Look no further than the best keratin shampoos on the market.
These top 10 picks are specially formulated to infuse your strands with keratin, a protein that strengthens and nourishes from within.
Say goodbye to frizz, breakage, and dullness as you embrace healthier, smoother locks.
With these powerful shampoos in your arsenal, you'll feel empowered knowing that you're giving your hair the care it deserves.
Get ready for luscious tresses like never before!
Key Takeaways
Keratin shampoos are highly beneficial for damaged hair as they contain keratin protein, which helps to repair and strengthen the hair shaft.
These shampoos work by replenishing the lost keratin in the hair, resulting in smoother, shinier, and healthier-looking locks.
Keratin shampoos play a crucial role in repairing and restoring damaged hair by reducing frizz, preventing breakage, and improving overall hair texture.
It is important to choose a keratin shampoo that suits your hair type and addresses your specific hair concerns for the best results.
Top 10 Best Keratin Shampoos for Damaged Hair
When it comes to finding the best keratin shampoo for damaged hair, there are several top picks that have proven effectiveness in nourishing and repairing your strands.
Some of these top choices include:
Gussi Haircare Protection Plan Keratin Hair Treatment Shampoo
Kerastase Bain Fluidealiste
Biotin Volumizing Hair Shampoo
It's a 10 Miracle Shampoo Plus Keratin
Nexxus Keraphix Damage Healing Shampoo
These shampoos are specifically formulated with ingredients like keratin to restore strength and smoothness to damaged hair.
1. Gussi Hair Protection Shampoo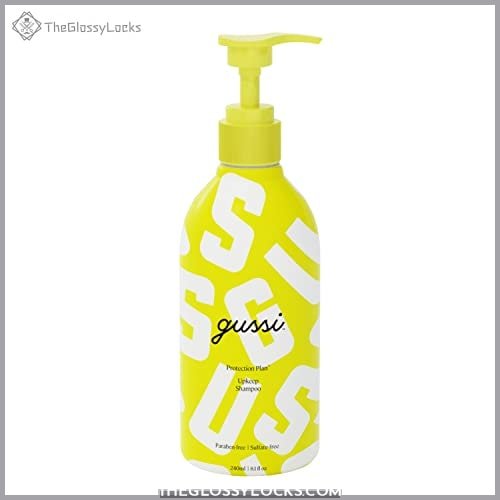 View On Amazon
If you're looking for a top-quality keratin shampoo to repair and protect your damaged hair, Gussi Hair Protection Shampoo should definitely be on your list. This sulfate-free shampoo is formulated with powerful keratin and proteins that nourish and strengthen the hair.
It's safe for everyday use on all hair types, including color-treated hair. One of the standout features of this product is its ability to enhance the frizz-fighting power of Gussi's at-home keratin treatment.
Simply massage it through wet hair, work into a luxurious lather, then rinse for smooth and frizz-free results.
Suitable for all hair types
Safe for color-treated hair
Enhances frizz-fighting power
Strong smell reported by some users
Effectiveness may diminish after multiple uses
Short-lived results according to some customers
2. Kerastase Smooth Anti-Frizz Shampoo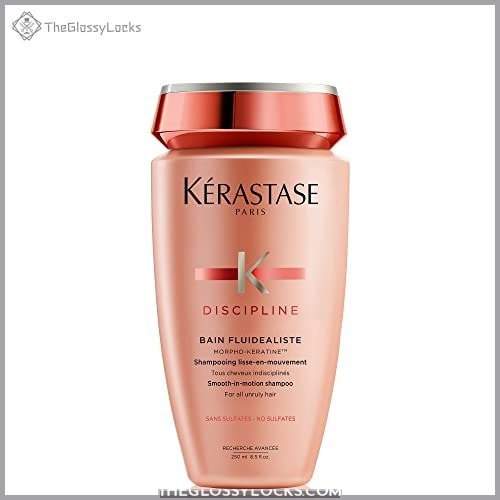 View On Amazon
You should consider using the Kerastase Smooth Anti-Frizz Shampoo for damaged hair. This gentle sulfate-free formula is specially designed to smooth frizzy hair and tame unruly strands. It contains Morpho-Keratin and Surface Perfectors that work to restore and smoothen your hair fibers, creating soft, smooth, easy-to-detangle hair with a weightless, shiny finish.
Regular use provides manageability and anti-frizz protection, restoring your hair's health with a natural, weightless touch.
Restores smoothness and shine
Long-lasting frizz control
Leaves hair silky and soft
Expensive compared to drugstore brands
Strong floral scent may not suit everyone's preference
Must be used regularly for best results
3. Biotin Volumizing Hair Shampoo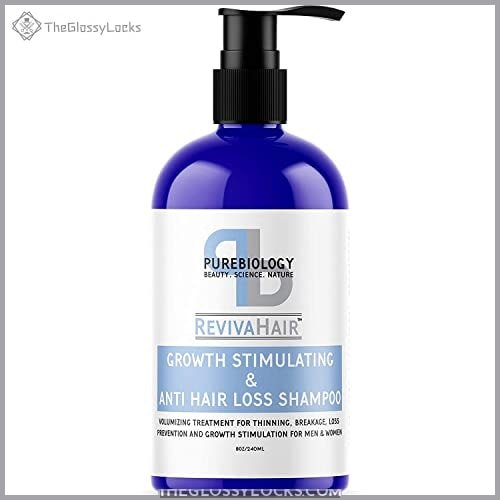 View On Amazon
You'll find the Biotin Volumizing Hair Shampoo nourishes thin hair with keratin, saw palmetto, and B vitamins. This cruelty-free, paraben-free formula made in the USA also features castor oil, green tea, grapefruit, and botanical extracts for a comprehensive approach to volumizing hair.
While some users saw reduced shedding and thicker hair after several months of use, others found it overly drying or ineffective for significant growth.
Contains natural ingredients like biotin, saw palmetto, keratin
Cruelty-free and paraben-free formula
Some users report reduced shedding and thicker hair over time
Can be overly drying, especially for color-treated hair
May take several months to see results
Not effective for some users
4. It's a 10 Miracle Shampoo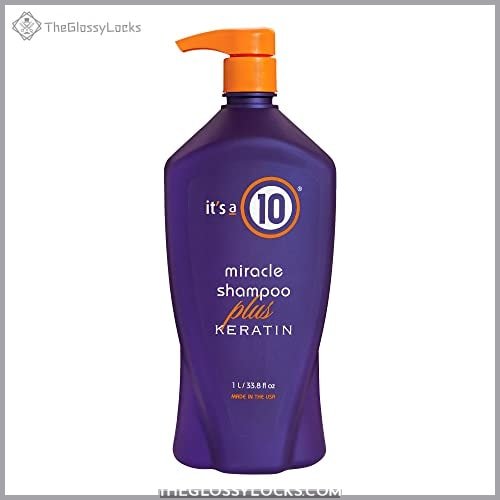 View On Amazon
Made by Its a 10 Haircare, the It's A 10 Miracle Shampoo is a sulfate and paraben-free formula containing keratin protein to lock out humidity, protect hair from sun damage, and leave strands soft and smooth.
This popular shampoo has garnered generally positive reviews, with users praising its effectiveness at controlling frizz, improving hair quality, and boosting confidence in hair growth. Some concerns have been raised about issues with the pump dispenser and high price point.
Improves hair strength and health
Reduces frizz
Pleasant scent
Pump problems
Expensive
Packaging issues
5. Nexxus Keraphix Shampoo Damaged Hai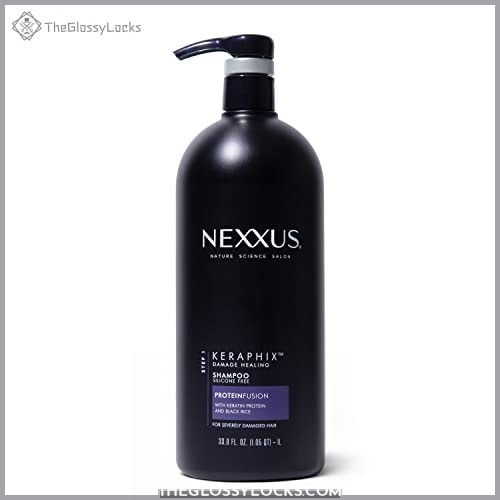 View On Amazon
The Nexxus Keraphix Shampoo for Damaged Hair is a powerful protein-infused shampoo that visibly heals signs of hair damage. This salon-crafted shampoo is part of the Nexxus keratin hair treatment, offering you a rejuvenating experience in the comfort of your own home.
The concentrated formula contains high levels of proteins like keratin, collagen, and elastin to repair damaged strands from within. Infused with black rice and essential nutrients, this shampoo leaves your hair looking healthy and vibrant.
Provides internal repair from the first use
Contains a unique PROTEINFUSION blend for optimal results
Suitable for all types of damaged hair
Not sulfate-free
Some users may find it difficult to locate in stores
6. Keranique Hair Hydration Shampoo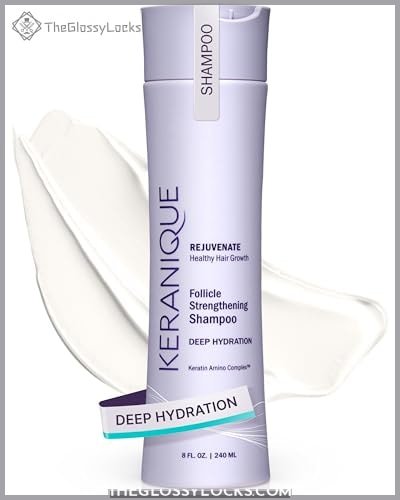 View On Amazon
If you want a keratin shampoo that provides deep hydration and nourishment for your damaged hair, look no further than the Keranique Hair Hydration Shampoo. This shampoo is specifically formulated to moisturize and condition your hair while reducing signs of shedding.
It helps strengthen and fortify thinning hair, shielding it from external damage.
The active ingredients in this shampoo include Keratin Amino Complex, Biotin, and Panthenol. However, it's important to note that some users found the fragrance to be medicinal and the product may not lather as much as other shampoos.
Moisturizes and conditions hair
Reduces signs of shedding
Helps strengthen thinning hair
May have a medicinal fragrance
May not lather as much as other shampoos
7. Pure Brazilian Anti Frizz Shampoo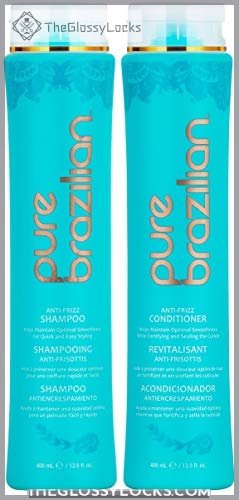 View On Amazon
You use the Pure Brazilian Anti Frizz Shampoo to restore smoothness and bring control to frizzy hair. This sulfate-free and color-safe conditioner helps prevent frizz, while infusing moisture and nutrients into your strands.
The gentle formula maintains optimal smoothness for quick and easy styling. Enriched with keratin, argan oil, and acai, it comes in a generously sized 13.
With an average rating of 3.8 out of 5 stars on Amazon, 81% of reviewers would recommend this frizz-fighting product. However, some find it too pricey, describe the conditioner as runny, and say it may not suit oily hair.
Sulfate-free and color-safe
Infuses moisture and nutrients
Maintains smoothness for easy styling
Enriched with keratin and oils
May be too expensive
Conditioner is runny
Not ideal for oily hair
8. OGX Straightening Brazilian Keratin Shampoo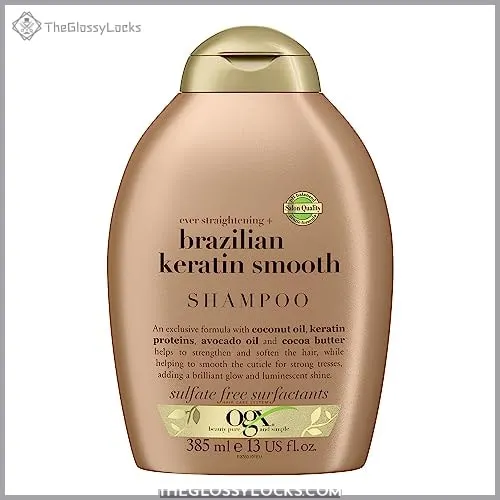 View On Amazon
With a sulfate-free, paraben-free formula, OGX's Brazilian Keratin Therapy Shampoo strengthens and softens color treated hair, leaving it glossy, moisturized, and irresistibly fragranced. This indulgent shampoo smooths the cuticle and delivers nourishing keratin to each strand, helping retain essential moisture and prevent damage from styling.
The keratin formula repairs from within, transforming dull, dry hair into soft, vibrant locks. Your hair is left irresistibly smooth, with a brilliant shine and a lingering tropical fragrance.
Strengthens and repairs damaged hair
Leaves hair soft, shiny and smooth
Helps retain moisture
Delightful long-lasting fragrance
May not work well with very curly or coarse hair
Bottle may leak during shipping
High price tag for drugstore brand shampoo
9. Garnier Damage Eraser Shampoo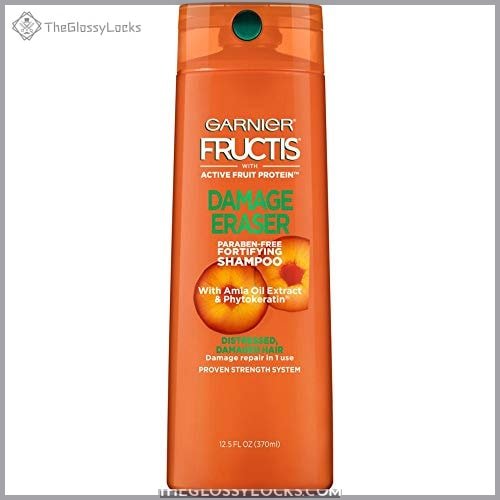 View On Amazon
The product designed specifically for damaged hair has a refreshing citrus scent and comes in a 14.23 oz bottle formulated with Amla Oil Extract and Phytokeratin to repair damage from daily brushing, heat styling, coloring, and chemical treatments.
Part of the Fructis lineup, this affordable drugstore shampoo contains citrus proteins that hydrate the scalp and infuse moisture into each strand.
Some pros are that it smells fantastic, leaves hair soft and tangle-free, and is an effective drugstore formula.
Some cons are that it contains sulfates and may weigh down really fine hair.
10. VIRTUE Recovery Shampoo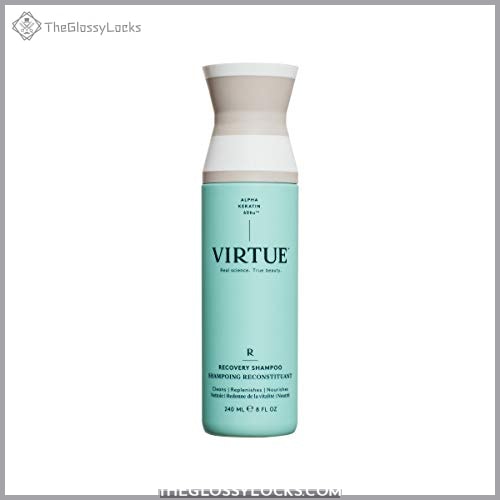 View On Amazon
Rounding out the top 10 keratin shampoos for damaged hair, VIRTUE Recovery uses an exclusive Alpha Keratin 60ku protein to restore overworked strands. This shampoo is formulated with a unique keratin source that mimics the natural protein produced by your own body, making it highly effective in repairing and restoring damaged hair.
The sulfate-free formula ensures gentle cleansing while providing deep nourishment and hydration. With its luxurious scent of creamy coconut and tropical yuzu extracts wrapped in warm woods, VIRTUE Recovery Shampoo offers a premium experience for those seeking to revive their damaged locks.
Utilizes human-sourced keratin protein for unique hair repair
Endorsed by a major celebrity hairstylist, ensuring reliability
Specifically designed for damaged hair restoration
Expensive compared to other options on the market
Small bottle size (10.4 fl oz)
Some users found it to be too drying
What is Keratin and How Does It Benefit Hair?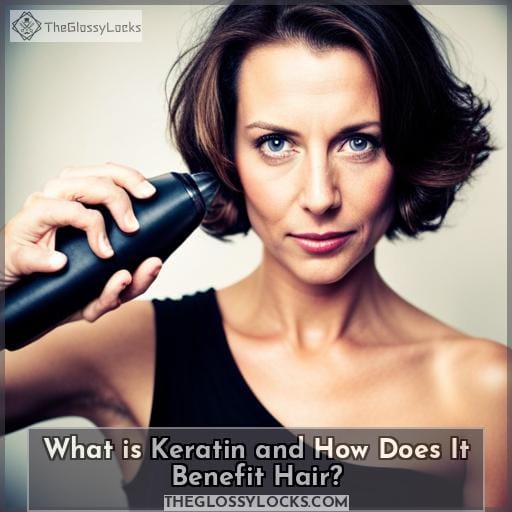 Keratin, a vital protein naturally found in hair, skin, and nails, is known for its remarkable benefits in enhancing the health and appearance of damaged hair.
Keratin is an integral structural protein that makes up over 90% of the hair. It protects hair from damage and improves elasticity, strength, and smoothness.
Keratin treatments can be beneficial for all hair types, including curly, thick, thin, dry or color-treated hair.
Using keratin shampoos, conditioners, and treatments helps repair damage by filling gaps and restructuring hair strands.
Consistent use of keratin hair products nourishes hair, reducing frizz and improving shine and manageability.
The Role of Keratin Shampoos in Hair Repair and Restoration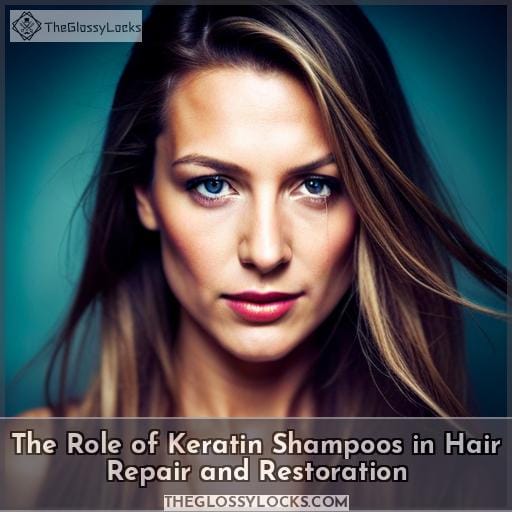 Following on from how keratin benefits hair, you're using keratin shampoos to repair and restore damaged hair by rebuilding its protein structure. Keratin shampoos act as a treatment to strengthen weak or compromised hair fibers.
Many formulas are sulfate-free to avoid stripping hair of its natural oils. Formaldehyde-free options ensure safety when used regularly.
Keratin shampoos formulated for color-treated or textured hair provide tailored nourishment without fading or disrupting curls. Budget-friendly choices like drugstore brands offer keratin benefits on a budget.
Overall, incorporating a keratin shampoo into your routine provides an accessible and effective hair treatment for damaged strands.
| Benefit | Example Product | Price |
| --- | --- | --- |
| Sulfate-free | It's a 10 Miracle Shampoo | $$$ |
| Formaldehyde-free | Nexxus Keraphix Shampoo | $$ |
| Color-treated hair | Kerastase Bain Fluidealiste | $$$ |
| Textured hair | Pure Brazilian Anti Frizz Shampoo | $$ |
| Budget-friendly | Garnier Fructis Damage Eraser | $ |
Frequently Asked Questions (FAQs)
How often should I use a keratin shampoo?
Use a keratin shampoo once a week, making sure to massage it into your hair and scalp for about two minutes. This helps strengthen hair, prevent damage, and prolong the results of keratin treatments without overloading your hair.
Should I use a keratin conditioner in addition to a keratin shampoo?
Yes, pair a keratin conditioner with your keratin shampoo for maximal smoothing and frizz-fighting.
The shampoo cleanses while the conditioner nourishes, working together to strengthen strands.
Using both optimizes results.
What makes a keratin shampoo different than a regular shampoo?
Keratin shampoos contain keratin protein to penetrate damaged hair, improving elasticity and shine.
Regular shampoos simply cleanse while keratin shampoos actively repair hair by filling gaps in the cuticle layer.
Using a keratin shampoo restores your hair's health.
Will a keratin shampoo help my hair if it's not color-treated or chemically processed?
A keratin shampoo can still benefit your hair, even if it's not color-treated or chemically processed.
It nourishes and strengthens your strands, giving them a healthy shine and protecting them from damage.
Unlock the potential of your locks with keratin power!
Are keratin shampoos safe for all hair types, including thin or fine hair?
Yes, keratin shampoos are generally safe for all hair types. However, some formulas may be too heavy or protein-rich for fine hair.
Look for lightweight, sulfate-free options to avoid weighing down thinner hair textures.
Start with less frequent use and increase as needed.
Focus application on mid-lengths and ends rather than roots.
Conclusion
So there you have it, the top 10 picks for the best keratin shampoos to repair and restore your damaged hair.
These shampoos are specially formulated to infuse your strands with keratin, a protein that strengthens and nourishes from within.
Say goodbye to frizz, breakage, and dullness as you embrace healthier, smoother locks.
With these powerful shampoos in your arsenal, you'll be well on your way to luscious tresses.
Give your hair the care it deserves with the best keratin shampoo conditioner for damaged hair.