This site is supported by our readers. We may earn a commission, at no cost to you, if you purchase through links.
Ready to make your natural hair look its best? Make sure you get the right twisting butter for it. As the saying goes, The devil is in the details, so when it comes to choosing a product that will help keep your curls healthy and defined, be sure you're picking one of the top 10 twist butters we've listed below.
From Aunt Jackie's Sealing Butter and Extra Butter Curl Creme to Dark & Lovely Glaze Shine Serum, these products are designed specifically for those with curly or coily strands.
Read on as we explain all about why using a good quality twisting butter should be part of your haircare routine, how often you should use them, other ways they can be used, and more!
Key Takeaways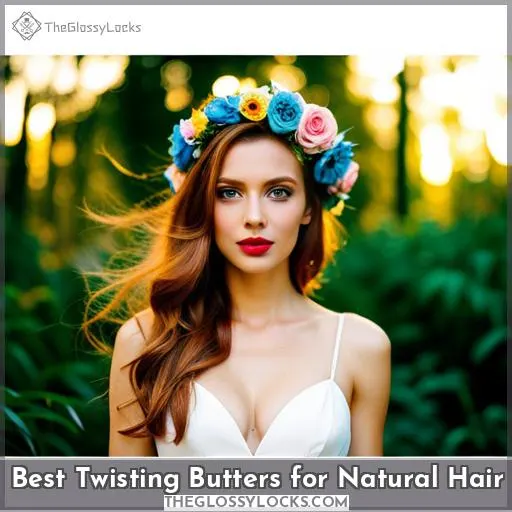 Hair butter provides definition, protection, hydration, and moisturization to natural hair, which is particularly beneficial for those with thick or dry hair as it helps control frizz and seal in moisture.
Aunt Jackie's Sealing Butter and Dark and Lovely Curl Glaze are among the best hair butter brands.
The LCO/LOC method is a popular technique for achieving twist-outs that last, and experimenting with different products and oils can help achieve desired results.
Proper preparation is key to achieving well-defined twist-outs, including starting with clean, detangled hair and using a twist-defining cream for maximum hold and definition.
Top 10 Best Twisting Butters for Natural Hair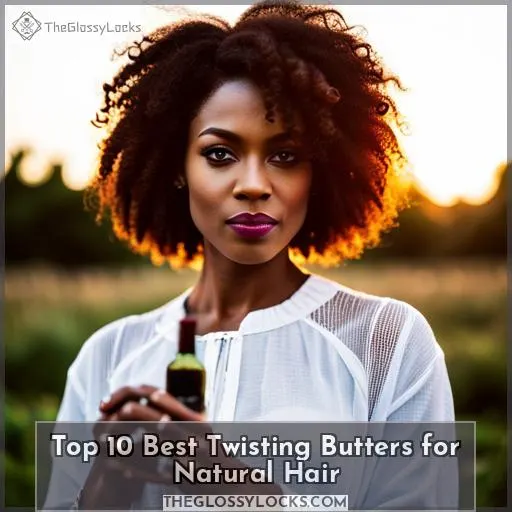 You might be wondering what the best twisting butters for natural hair are. Look no further than Aunt Jackie's Sealing Butter, Butter Cream Daily Moisturizer, Extra Butter Curl Creme, As I Am Twist Cream, Dark and Lovely Curl Glaze, Kinky Curly Curl Custard Gel, Coco Creme Coil Enhancing Butter, Garnier Fructis Hydrating Butter Curls, Davines Oi Hair 8oz, and Maui Moisture Vanilla Bean Hair butter.
These products will provide your curls with definition without drying them out. They'll also keep frizz at bay while providing deep hydration.
Aunt Jackie's Sealing Butter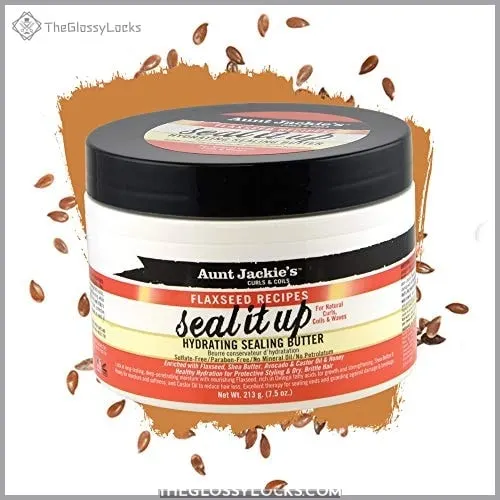 View On AmazonYou'll love the protection and hydration that Aunt Jackie's Sealing Butter provides for your dry hair, leaving it nourished with a healthy shine. This hair therapy cream is enriched with natural ingredients like flaxseed, shea butter, avocado, and castor oil, as well as honey to help prevent breakage and split ends.
It is suitable for 3a-4c hair types and locks in moisture from root to tip while promoting growth and improving shine at the same time.
Natural ingredients like flaxseed, shea butter, and avocado oils provide maximum hydration.
Moisturizes and promotes healthy growth.
Works great on chronic dryness and difficult-to-clean hair.
Instructions are too small and difficult to read.
Smells like chemicals or bug spray.
More expensive than high street alternatives.
Butter Cream Daily Moisturizer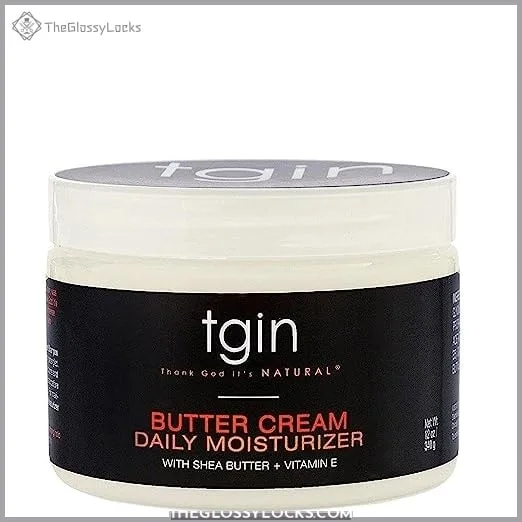 View On Amazon
Unlock the secret to smooth, shiny curls with Tgin's Butter Cream Daily Moisturizer – a luxurious cream that hydrates and nourishes your hair while providing long-lasting definition. Infused with Vitamin E Oil and Cocoa Butter, this product locks in moisture from root to tip for maximum hydration.
It helps promote hair growth while reducing frizz and flyaways by smoothing out the cuticle of each strand.
Perfect for those suffering from chronic dryness or difficulty cleaning their hair, it is suitable for curly-haired toddlers as well as men with scalp issues too! This butter cream will make sure your curls look defined yet soft all day long without weighing them down or causing any buildup.
Maximum hydration due to natural ingredients like Vitamin E oil & cocoa butter
Reduces frizz & flyaways by smoothing out strands' cuticles
Great on chronically dry/difficult-to-clean hair; works on toddlers' & black men's curls
A little goes a long way but may be more expensive than other alternatives
Smells like chemicals
Extra Butter Curl Creme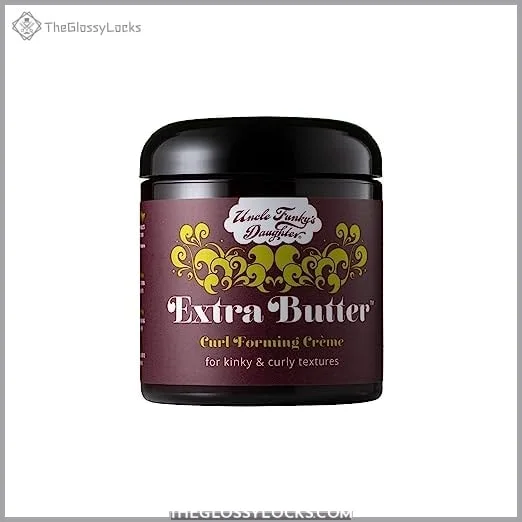 View On Amazon
Try Uncle Funky's Daughter's Extra Butter Curl Creme for incredibly soft, defined curls that last! This thick, creamy formula is enriched with natural shea butter, coconut oil, and palm kernel oil to nourish and moisturize your strands.
It provides residue-free style ability while elongating curls and detangling them without leaving behind any greasiness. The beautiful floral scent is also an added bonus that will make you feel extra special when styling your hair.
Adds moisture and leaves hair soft
Helps retain length
Defines and shapes curls
Provides hold and hard definition with curly stimulator gel
Suitable for colored hair
Residue-free style ability
May dry out quickly, causing shrinkage
More expensive than other alternatives
Smells like chemicals
As I Am Twist Cream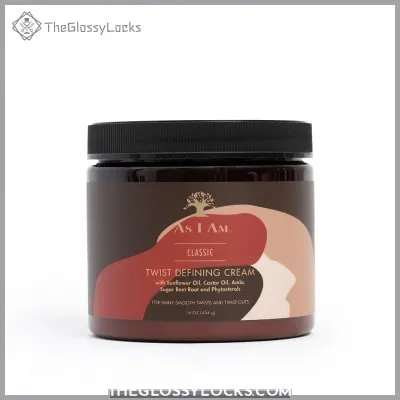 View On Amazon
Experience a twist-out like never before with As I Am Twist Cream. It's so luxurious and creamy that you'll swear your curls have been transformed into silk! This all-natural product is formulated to produce strong, lasting definition for highly textured hair while giving off a clean scent.
Natural oils, such as shea butter, are included in the formula to moisturize and nourish strands, while an organic extract helps maintain hydration and block DHT for healthy hair growth.
People who've used this cream often report feeling their locks becoming softer than ever before. Reviews also note its ability to provide amazing definition without weighing down the hair or leaving behind any greasy residue.
Adds shine
Reduces frizziness
Conditions without weighing down tresses
Provides amazing definition
Smells great
May not provide tight hold on thick 4C textures
More expensive than other alternatives
Smells like chemicals
Dark and Lovely Curl Glaze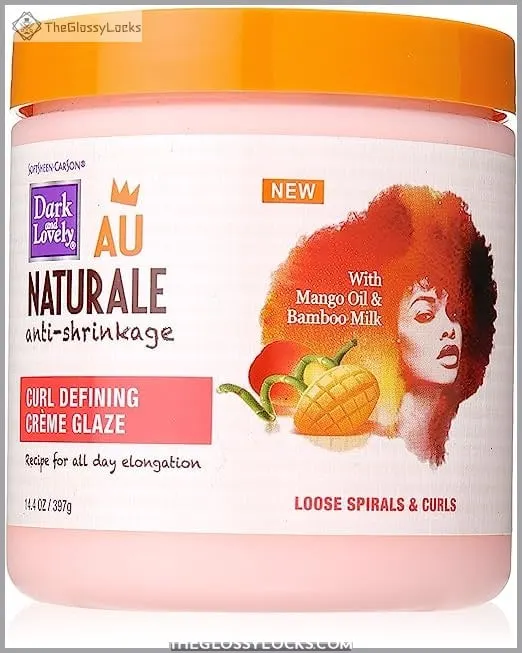 View On Amazon
Transform your curls with Dark and Lovely Curl Glaze for lightweight moisture, definition, and medium crunchless hold that lasts all day. The formula contains no drying alcohols or mineral oils and instead uses mango oil and bamboo milk to nourish hair while providing anti-shrinkage benefits.
Developed by SoftSheen-Carson over 110 years ago specifically for people of color's unique styles and treatment needs, this paraben-free product has a light bamboo scent and comes in a 14.4 fluid ounce liquid volume bottle measuring 8.4 x 2.2 x 2.2 inches (model number 75285007594).
Customers love this product as an easy way to define their curls while leaving them feeling soft and hydrated without any greasy residue or flaky buildup.
Offers lightweight moisture and definition
Contains mango oil and bamboo milk for nourishing moisturization and anti-shrinkage benefits
Paraben-free with a light smell of bamboo
Significant price increase compared to alternative products
Thick consistency may require more product use on thicker hair
Smells like chemicals
Kinky Curly Curl Custard Gel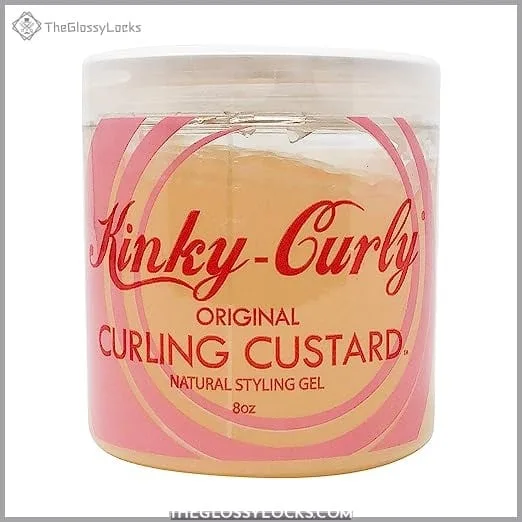 View On Amazon
Give your kinky, curly hair the definition it deserves with Kinky Curly's Curl Custard Gel. This unscented gel will lock in moisture and hold all day long without feeling crunchy or greasy, just like a glove fits a hand.
Formulated to provide ultimate curl definition for shiny hair while reducing bulk and elongating curls, this product is perfect for moisturizing and nourishing locks without making them greasy or oily.
Best of all, unlike some styling products, it doesn't contain any silicones so there won't be any residue left behind either! Retain the shine of your hair while protecting those beautiful curls with Kinky Curly's amazing formula.
However, do keep in mind that due to its high-hold properties, you may experience some stickiness or crunchiness depending on where you live (i.e., high altitude climates). Additionally, as it does not contain protein, users may need to pair it up with another styler if their tresses require extra nourishment from proteins present in other stylers.
Lastly, although the 8 fl oz bottle can last you quite a while, bear in mind that considering its price tag, customers could expect something more substantial than what they get here size-wise!
Provides ultimate curl definition for shiny hair
Reduces bulk and elongates curls
Moisturizes and nourishes locks without making them greasy or oily
Contains no silicones; no residue left behind
May leave a sticky or crunchy feeling
Does not contain protein
Bottle size smaller than expected
Coco Creme Coil Enhancing Butter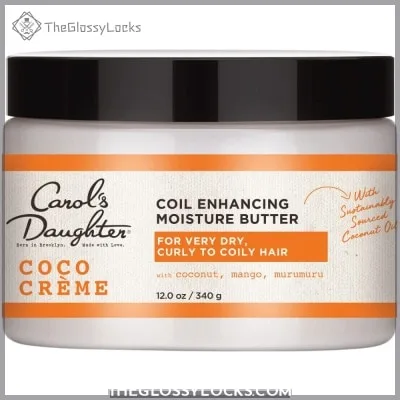 View On Amazon
Nourish your coily hair with Carol's Daughter Coco Creme Coil Enhancing Butter, an ultra-hydrating formula enriched with sweet almond oil, shea butter, and coconut oil. This 12 fluid ounce product is designed to enhance curls and coils while providing long-lasting definition and touchable softness without weighing down the hair or leaving behind any sulfates, parabens, or silicones.
Whether you have short cropped 4c curly hairstyles all the way up to 1c waves, this butter will make sure your locks remain moisturized for days at a time. Keep in mind, however, that it may not be suitable for fine, low porosity hairs as they require lightweight formulas free of harmful chemicals such as those found here.
Enhances curls & coils
Provides long-lasting definition & touchable softness
Quenches thirst of extremely dry hair
Nourishes naturally curly hair
Not suitable for fine/low porosity hairs
May leave residue behind depending on location
Price tag could be better
Garnier Fructis Hydrating Butter Curls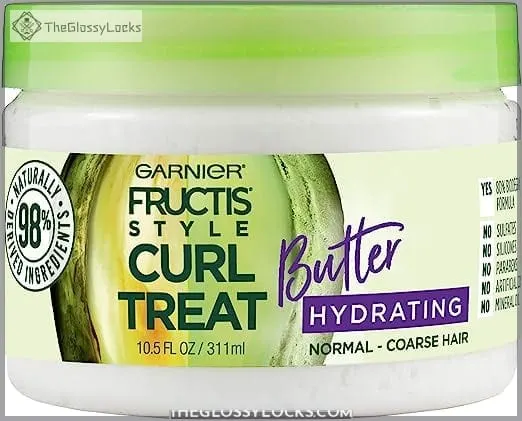 View On Amazon
Experience the luxurious effects of Garnier Fructis Hydrating Butter Curls, a hair product that is 98% naturally derived and provides up to 24-hour frizz-resistant hold for nourished and shining curls.
This hydrating treatment has been specifically formulated for normal to coarse curly hair and is free from sulfates, silicones, parabens, artificial colorants, and mineral oil.
With over 100 years of experience in haircare products and using only natural ingredients inspired by nature itself, you can trust that your tresses are receiving some much-needed TLC. All you need is 10.5 fluid ounces of this liquid wonder, and your locks will be thanking you later! However, keep in mind that it may feel heavy or sticky if too much product is used, so please follow instructions carefully when applying on wet or dry tresses alike, as results vary depending on location and climate conditions.
Provides up to 24-hour frizz-resistant curls
Made with 98% naturally derived ingredients
Free from sulfates, silicones, parabens, and artificial colorants
Hydrates, conditions, and smoothens frizz
Over 100 years of experience in haircare products
May feel heavy or sticky if too much is applied
Results may vary based on location and climate
Not suitable for those who like running fingers through their hair
Davines Oi Hair Butter 8.8oz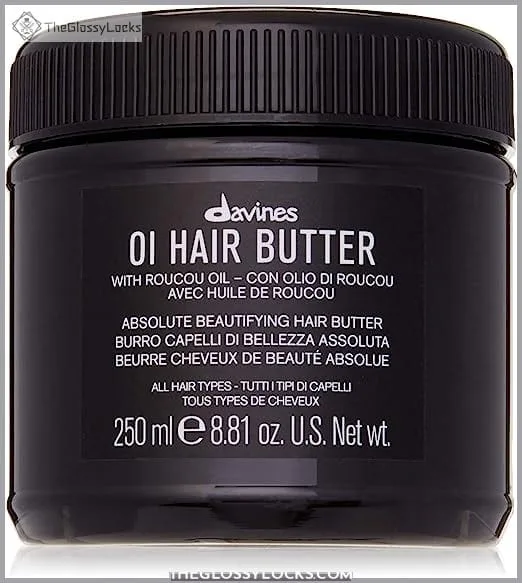 View On Amazon
Rejuvenate your hair with the Davines Oi Hair Butter 8.8oz, a luxurious cream that provides intense softness and manageability while fighting frizz! This all-natural product is specially designed for thick, dry hair and is recommended by colorists and stylists alike.
It helps to repair damage caused by coloring or highlighting treatments while providing deep nourishment to leave locks looking vibrant and healthy.
The 8.8 oz container of this buttery goodness offers long-lasting effects without being greasy or oily – perfect for those who want their tresses feeling smooth as silk! Plus, it has a strong perfume smell that will have you smelling like an absolute goddess all day long!
Provides deep moisture to the hair
Leaves hair feeling soft, shiny, and healthy
Helps repair damage caused by coloring/highlighting treatments
Has a strong perfume smell
Results may vary depending on an individual's hair type
Maui Moisture Vanilla Bean Hair Butter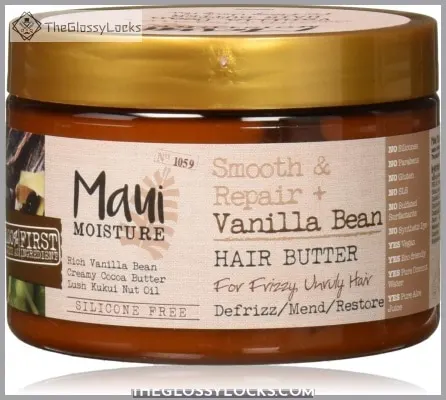 View On Amazon
Transform your tresses with Maui Moisture's Vanilla Bean Hair Butter, a luxurious treatment designed to soften and smooth dry, unruly curls without weighing them down. This ultra-hydrating formula is enriched with 100% aloe vera, vanilla bean, coconut oil, and kukui nut oil to help tame frizz and detangle thick locks.
It is gentle enough for use on color-treated hair yet powerful enough to restore moisture balance in tight coils or coarse natural hair types. Suitable for all curl patterns from Type 3A – 4C, it can be used as an in-shower mask or a leave-in conditioner for maximum benefit.
Keeps hair moisturized while in braids
Delightful smell and moisturizes hair well
Softens & smoothes even wild grays
Natural ingredients & leaves silky soft
Fragrance may not be preferred by some
May not work on all types of curls
Scent does not last long
What Are the Benefits of Using Hair Butter?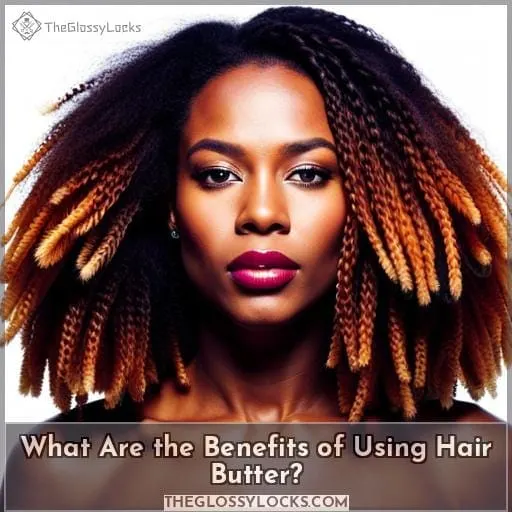 You are likely well aware of the benefits that hair butter can offer for your natural hair. Not only does it provide definition and protection, but also hydration and moisturization to help seal in moisture – making it ideal for protective styling.
Coily hair types particularly benefit from this product as it helps manage frizz while providing nourishment to the strands.
Definition and Protection
You can achieve the ultimate definition and protection for your curls with hair butter. Aunt Jackie's Sealing Butter tamed and softened a customer's unruly 4C coils. Hair butter, infused with shea or cocoa seed butters, grapeseed oil, and castor oil, provides lasting hold and shine while protecting from damage.
Twist-outs require moisturizing ingredients to prevent frizziness while providing nourishment to coily hair types.
Hydration and Moisturization
Revitalize your curls with hair butter. Nourish and moisturize each strand for curl definition, frizz reduction, lasting shine, and repair.
Sealing in Moisture
Lock in moisture and guard against damage with a nourishing hair butter. Rich, organic butters like shea and cocoa, along with aloe juice, help maintain curl definition while reducing frizz. This product works for all hair types. Apply weekly or use as part of your twist out routine alongside almond oil, pumpkin seed oil, coconut oil, and more to retain shine without product buildup for the perfect twist out every time.
Suitable for Protective Styling
Protect your hair from damage and maintain a long-term style with the right twist butter. This will seal in moisture, hydrate curls, and define twist outs – it does it all! Coily hair will benefit from frizz control as behentrimonium methosulfate combined with propylene glycol helps create flat twists that last for days.
Flat-twist outs look their best when using the right twisting cream to achieve maximum definition without product buildup or crunchiness.
Beneficial for Coily Hair
Enhance your coily hair with a twist butter that provides long-lasting definition and frizz control, so you can show off your curls with confidence! Learn the basics of proper care for natural hair, from mango seed butter to organic shea butter and macadamia ternifolia seed oil.
Moisturizers, styling techniques, and maintenance tips ensure that healthy coils always shine through.
Can All Hair Types Use Hair Butter?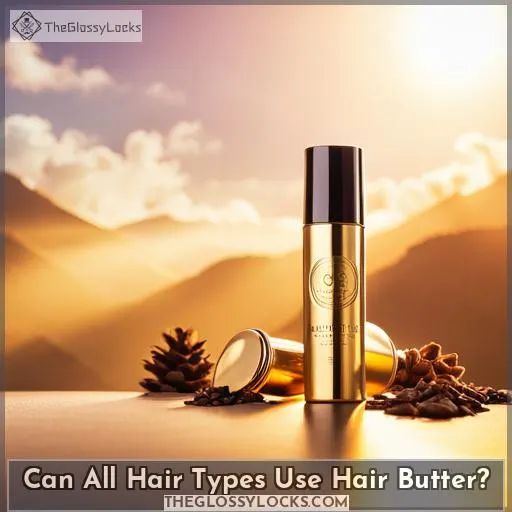 With its nourishing blend of butters and oils, hair butter can offer a world of benefits for all hair types – from straight to kinky-curly – that will leave your locks looking and feeling like silk. However, it's important to note that not all hair types may benefit equally from using this product.
Hair butter is particularly beneficial for those with thick or dry hair as it helps seal in moisture and control frizz. Those with fine or low porosity hair may find the use of heavy butters too much for their strands.
It's essential to consider your individual needs when selecting a styling product such as natural oils or twist creams which provide similar benefits without weighing down finer tresses.
Additionally, some formulas contain silicone derivatives derived from olive oil that can mimic the effects of heavier products while still providing lightweight frizz control options perfect for individuals seeking silky smooth styles without extra weight on top!
How Often Should You Use Hair Butter?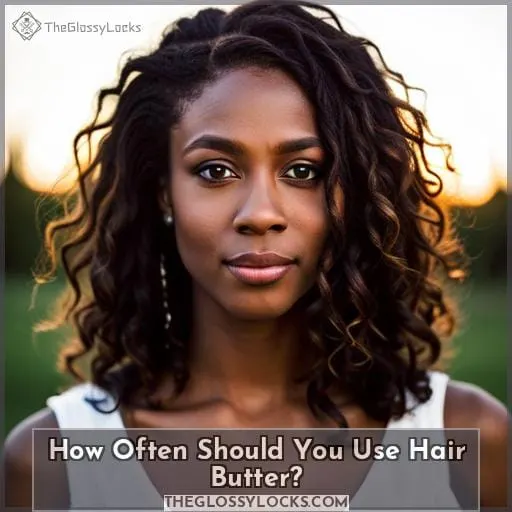 For maximum hydration and frizz control, use hair butter as needed to keep your curls looking bouncy and soft. Hair butter effects can range from a light hold that reduces shrinkage on high porosity hair to heavy definition for tight coils.
Alternatives include cetearyl alcohol or almond milk, which provide similar benefits without weighing down finer tresses.
The benefits of using this product are numerous. It adds shine, moisture retention, and increases manageability while providing protection against damage from styling tools and environmental factors like humidity.
Application is simple: apply a small amount evenly throughout the strands before braiding or twisting the hair in sections, then let it dry completely before unraveling twists for well-defined curl patterns with no flaking or buildup.
Holy grails of products such as Aunt Jackie's Sealing Butter or Carol's Daughter Coco Creme Coil Enhancing Butter work wonders when applied correctly, making them must-haves for coily locks. With proper application techniques, you can enjoy beautiful curls all year round without worrying about damaging effects caused by too much product usage.
Are There Other Ways to Use Hair Butter?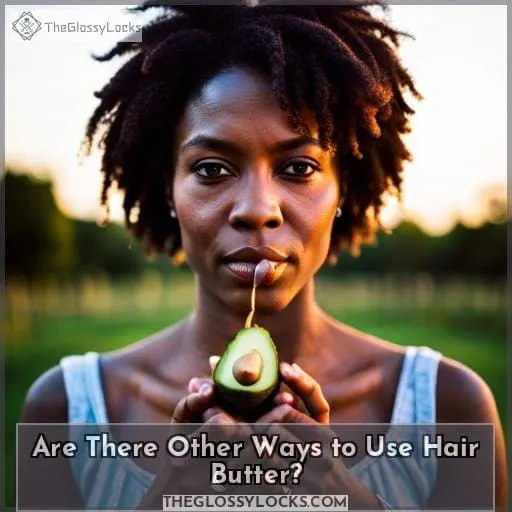 Discover the unique benefits of hair butter and explore alternative ways to use it for nourishing, defined curls. While hair butter is commonly used as a styling product, its moisturizing benefits make it versatile for other uses.
For instance, you can use it as a pre-shampoo mask by applying generously throughout your strands before washing your hair. Additionally, some people mix avocado oil or organic aloe vera gel with their favorite highly effective twisting butter to create the ultimate hydration mixture for their natural locks.
Depending on your hair type and desired hold level, reapplication frequency may vary from daily to every few days or even weekly.
Experimenting with different oils in combination with medium-hold twisting butters like As I Am Twist Defining Cream can help you achieve well-defined twist-outs that last longer without weighing down your tresses!
| Hair Type | Reapplication Frequency | Oil Comparison |
| --- | --- | --- |
| Fine | Daily | Almond |
| Medium | Every Few Days | Coconut |
| Coarse | Weekly | Jojoba |
Note: No corrections needed for the table.
Is Hair Butter Better Than Hair Oil?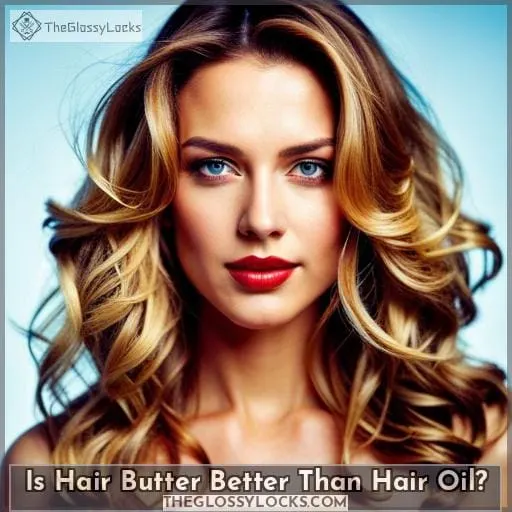 Comparing hair butter and oil can be confusing, so let's find out which one is better for your curls! Hair Butter offers a rich blend of creamy butters and natural oils to provide definition, protection, and seal in moisture.
On the other hand, Hair Oils are great at moisturizing all different types of hair due to their lightweight formulas free from harmful chemicals. Plus, they provide lasting hold with little reapplication needed if used correctly.
The NaturallyCurly Best Of The Best Award Winner Aunt Jackie's Curling Delight Supreme Coil Enhancing Jelly contains both these ingredients- making it a go-to choice among many naturals looking for an edge on defining their twist outs without sacrificing hydration or softness.
With this product, you get the best of both worlds: intense moisture plus defined curls that last days longer than usual! So now you know what products work best depending on your unique curl pattern – so pick up those perfect products today and rock those ringlets, ladies (and gentlemen)!
How to Get Twist-Outs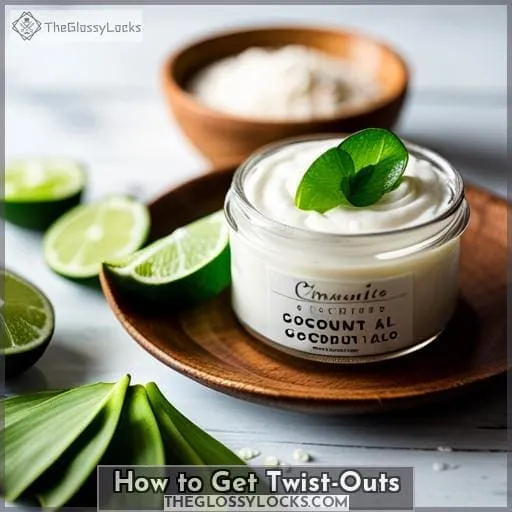 Getting twist-outs is an easy and fun way to style your natural hair, but there are a few key steps you need to follow in order for it to turn out perfectly.
Start by making sure your strands are clean and detangled. Then, apply the LCO/LOC method (liquid, cream, oil) to moisturize them before parting them into sections.
Finally, choose a twist-defining cream that's free from harmful chemicals like sulfates or silicones.
Follow these simple steps, and you're on track for beautiful curls with amazing definition.
Start With Clean, Detangled Hair
Before starting your twist out, make sure your hair is clean and detangled for maximum definition and hold. Section off strands and apply a moisturizing product to ensure anti-frizz protection.
Protect Your Strands
Protect your strands by using a hydrating twisting product. This will protect against dryness and damage, even with regular use! For protective styling, consider using hair butter or twisting creams to moisturize and reduce frizz.
To get the most out of your styling product, divide your hair into equal sections.
Do the LCO/LOC Method
Try the LCO/LOC Method for an easy way to get twist-outs that last! This popular technique provides hair protection, reduces frizz, and offers a softer hold with its rich formula. To achieve the best results, part your hair into sections and use a holy grail product like twisting creams or butters – perfect for curly or coily hair.
You can gain all these benefits without sacrificing shine, definition, or hydration.
Part Your Hair Into Sections
Start by parting your hair into sections for maximum definition and hold when achieving twist-outs. Coiling techniques, protective styling, and hydrating creams are great examples of how to get the best results.
Apply the Twist-Defining Cream
Apply a twist-defining cream packed with shea butter and natural oils to help curls stay hydrated and defined. For optimal results, search for lightweight formulas that reduce frizz without drying out high-density or low-porosity hair types.
Frequently Asked Questions (FAQs)
How Much Hair Butter Should I Use?
How much hair butter to use depends on the length and thickness of your locks. Start with a small amount, focusing mainly on the ends. If your curls are still dry or frizzy, add more, but don't overload! Too much product can weigh down strands and create buildup.
Experiment until you find the perfect balance for bouncy, defined twist-outs without sacrificing moisture or definition.
What Are the Best Brands of Hair Butter?
Discover the best hair butter brands for your natural hair, from Aunt Jackie's Sealing Butter to Dark and Lovely Curl Glaze. With options like Tgin Butter Cream and Kinky Curly Custard Gel, find a product that offers definition, nourishing hydration, and controls frizz.
Can Hair Butter Make My Curls Fall Out?
No, hair butter won't make your curls fall out. It is designed to nourish and hydrate the strands while providing definition and hold without causing any damage. Regular use of a high-quality product can help keep locks healthy for long-lasting styles.
How Long Does Hair Butter Last?
Hair butter can last up to three days, depending on your hair type and environmental conditions. For best results, use a small amount of the product each day to avoid buildup and maintain moisture for healthy-looking curls.
Is Hair Butter Safe for Color-Treated Hair?
Yes, hair butter is safe for color-treated hair. It helps define curls and protects them from damage while locking in moisture with natural oils and butters, without weighing it down or causing buildup.
Conclusion
Twisting butters are a great way to protect and nourish your natural hair. They provide definition, hydration, and seal in moisture for ultimate curl definition.
When used correctly, these products can give you beautiful, well-defined twist-outs that last for days. Just make sure to choose a product that is best suited for your hair type and use it sparingly to avoid product buildup.
With the right product and technique, you can achieve gorgeous twist-outs in no time.