This site is supported by our readers. We may earn a commission, at no cost to you, if you purchase through links.
It's no secret that flat hair can be a major source of frustration. In fact, research shows that nearly 70% of people with fine hair have experienced it at least once in their life.
But you don't need to resign yourself to a lifetime of limp locks! By taking the right steps, you can revive your flat tresses and give them newfound volume and body – without sacrificing style or comfort.
We'll show you how with our tips for volumizing shampooing regimens, styling tricks and more – all specifically tailored to help boost your thinning strands for an overall thicker look!
So if it's time to add some oomph back into your hairdo, read on; we've got the ultimate guide on how to get gorgeous locks despite having fine/flat hair.
Key Takeaways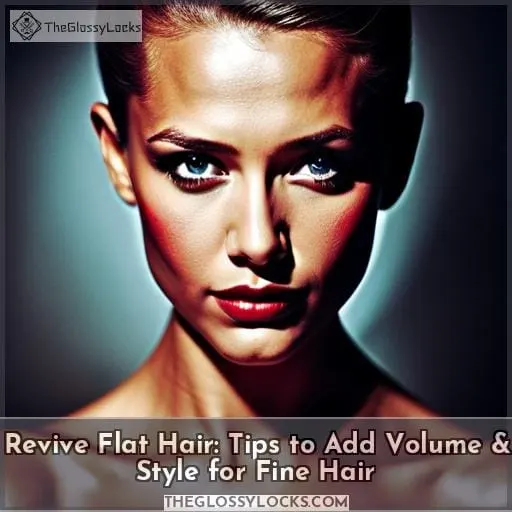 Teasing the roots and using volume spray can help add volume to flat hair.
Products such as dry shampoo, mousse sprays, and volumizing shampoo and conditioner can also add volume.
Other tips include getting bangs or layers cut into the hair, using hot rollers or a saltwater solution, and avoiding overuse of conditioner and hair serums.
It is important to consult with a professional hairstylist, consider heatless styles, and properly care for the hair to add volume effectively.
What Causes Flat Hair?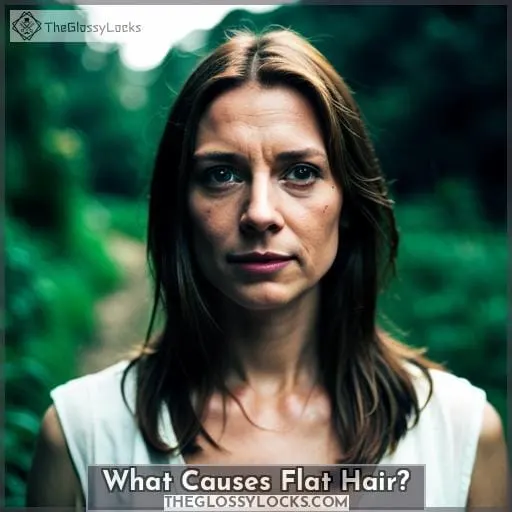 Do you ever wonder why your locks aren't as luscious as they could be? Flat hair can be caused by a variety of factors, ranging from environmental to product-related. Teasing the roots and using volume spray are two ways to help add body and lift to limp strands.
Dry shampoo is another great option for adding texture and volume without damaging the hair.
If your flatness is due to an overall lack of shape in your style, consider getting bangs trimmed or asking for layers cut into grow out stage haircuts—the added layering will give extra dimension that can make all the difference!
In addition, there are several styling products available specifically designed with volumizing capabilities such as mousse sprays and serums that may also prove helpful in achieving big hair vibes if incorporated correctly into routine styling habits (make sure not to apply too much product!).
A natural remedy like apple cider vinegar rinse has been known to aid in lifting flat tresses; however, it must be applied regularly over time before seeing any real results (it's definitely worth a try!).
Finally, don't forget about leave-in conditioner or hairspray afterwards—these finishing touches often make all the difference between an okay look and an oh wow! With some patience, practice, and experimenting with different strategies outlined above, you should be able to achieve your desired hairstyle and ultimately have more beautiful-looking locks that everyone desires!
How Can I Make My Flat Hair Look Bigger?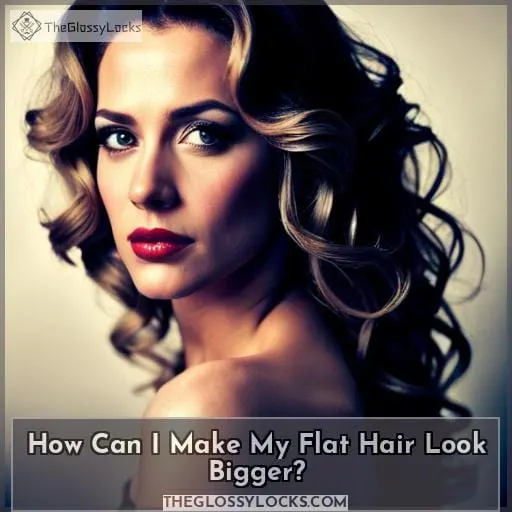 If you're looking to give your flat hair a boost, don't worry – there are plenty of solutions! Start by using volumizing shampoo and conditioner that will help add body to the strands. A pre-shampoo scrub is also great for removing dirt and product buildup, which can make hair look limp.
Don't overdo it with conditioner as this can weigh down locks even more; try opting for light formulations or apply a small amount only at the ends instead. Hair serums should be used sparingly too, especially if you have fine locks since they could further flatten them out rather than pump them up! Finally, turn to dry shampoo when in need of extra volume, but remember not to spray too close or else your tresses may end up looking overly powdery.
With these tips in mind, making flat hair appear bigger shouldn't be an issue anymore!
Use a Volumizing Shampoo and Conditioner
For a serious boost in volume and body, look no further than volumizing shampoos and conditioners! These specially formulated products are packed with ingredients like root boosters or hair powders that can help thicken strands while also providing an extra lift.
Consider pre-shampooing your locks with a scrub to remove build-up, which will allow the shampoo to really penetrate each strand for more intense results.
To finish off, spray on some saltwater solution or use a light hold hairspray from mid-lengths through ends for added texture without weighing it down too much; think long bob vibes here.
Use a Pre-Shampoo Scrub
Start boosting your hair's volume before you even hit the shower with a pre-shampoo scrub! This deep cleansing solution will help remove product buildup and other impurities from your tresses. Not only that, but it also helps protect against heat damage while restoring natural oils essential for healthy locks.
Plus, if you're after extra root boost or texturizing spray action on the longest layer of your mane, this is definitely worth considering on a regular basis.
Don't Overdo It With Conditioner
Be mindful not to overdo it with conditioner when trying to give your hair more body; too much and you'll end up weighing down your mane like an anchor.
Scalp care is essential for getting big, voluminous locks – invest in the right shampoo and products for thickening.
Heat styling can also be a great way of giving flat hair some lift; use root boosters before blow-drying or using tongs/straighteners.
Product choices are key here – avoid anything that builds up on strands as this will only weigh them down further!
Fewer layers can make a huge difference too so if you need help choosing the perfect cut then ask your stylist what their opinion is on how to achieve maximum volume with minimal effort!
A great blow dry combined with the heat of a hairdryer will ensure any flatness has been banished in no time at all – giving you beautiful bouncy tresses ready for whatever occasion life throws at ya!
Go Easy on the Hair Serums
Avoid using too much hair serum as it can weigh down your mane and reduce volume. Instead, go light on the heat when styling. Use mousse for extra body or choose a shoulder-length cut with layers to enhance the natural curl pattern.
Invest in products specifically designed for flat hair, like thickening shampoos, detox shampoos, and plump moisture/plump serums.
You could also consider getting highlights. This can create texture that looks fuller than just one color all over the head.
Turn to Dry Shampoo
Try adding some dry shampoo to your locks for an instant volume boost! Today's dry shampoos are formulated with volumizing ingredients that help create great length and shape, giving the illusion of more volume.
It can also give you a temporary volume boost when applied directly to roots or underneath bangs. If you have fine hair, this is a great tip for layering advice as it adds texture and body without weighing down your mane like traditional hairsprays do.
Hair Styling Tips to Make Flat Hair More Voluminous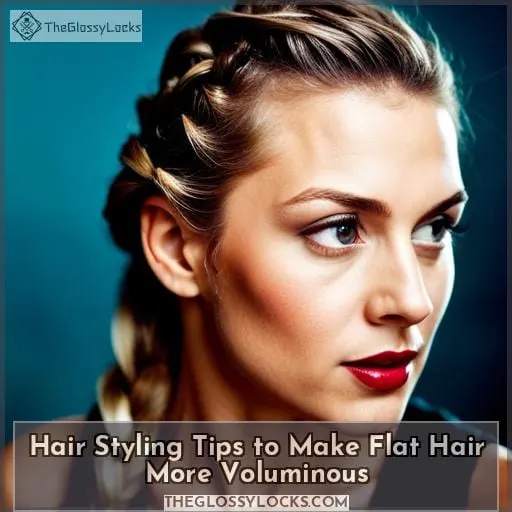 If you're looking to give your flat hair more volume, there are plenty of styling tips and tricks that can help! Tease your roots for a quick lift, rock voluminous curls with the right product combination, use a volume spray before blow-drying for added body, or simply put it up in an updo.
Whatever style you choose to go with, be sure to apply products sparingly so as not to weigh down fine locks.
Tease Your Roots
For extra lift, lightly tug and fluff your roots as if you were teasing a fluffy kitten! Teasing techniques can be used to create more volume and texture at the crown. Root boosters, curl enhancers, volume sprays, and heat protectants will help keep the style lasting longer.
Add in some salt spray for additional body or layer hair dyes or rollers for added drama.
Finally, experiment with different looks until you find one that works best for your unique tresses.
Rock Voluminous Curls
Rock a voluminous look with curls and waves created from heated styling tools to give your hair life and bounce.
Start by experimenting with lots of layers: try using hair dyes or Conair's self-grip rollers for added drama. To hold the style longer without weighing it down, use hyaluronic acid-infused hairspray along with salt spray for extra body.
For an updo that will last all night, add root boosters or curl enhancers before finishing off with a good quality heat protectant.
Try a Volume Spray
Boost your hairstyle with a volume spray for instant lift and texture. Tease the roots, blow dry for voluminous curls, then put up in an updo or half-up style. A multitasking product like Hyaluron from Vaughn will give you a lifted look that lasts all night long.
Upgrade your mane today with this marvelous volume spray and get ready to rock those luscious locks!
Blow It Out
Blow out your hair with a round brush and some heat to create body and bounce – like you're shaking a sheepskin rug!
First, enhance the volume of flat hair by using root-teasing techniques.
Spritz on some Volume Spray for extra lift and texture.
Then use a Hair Scrub to exfoliate the scalp before rough-drying it with Heat Protectant applied beforehand for maximum protection against frizziness or damage from hot tools.
Afterward, add extensions if desired; try Salt Spray for an alluring beachy wave look that will turn heads everywhere you go!
Finally, finish off the perfect voluminous style with one last spritz of Volume Spray just before heading out the door – no matter what occasion awaits!
Put It Up
Put your flat hair up in a high ponytail and secure it with bobby pins for an instant lift that'll give you the perfect voluminous silhouette.
To enhance this look further, use teasing techniques to add body at the root with volume boosters like mousse or hairspray.
If extensions are desired, choose ones that provide enough texture and movement so as not to flatten out your style.
When heat styling, use proper protection such as a Heat Protectant spray beforehand to avoid damage or frizziness from hot tools.
For added oomph, try spritzing on salt sprays before slicking back into place – creating an effortlessly cool beachy wave-like finish!
Lastly, don't forget about having the right hair care products on hand; using one without residue left behind is key for maintaining any form of product buildup throughout all these styling steps – giving you luscious locks every time!
Should I Layer My Hair?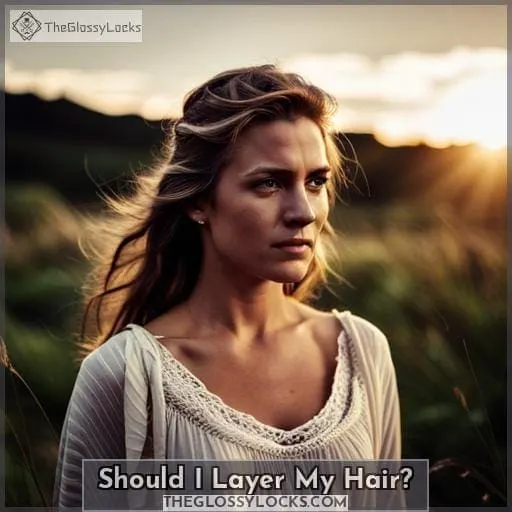 Layering your hair strategically can help give it texture, shape, and volume while also making it easier to style. It's important to work with a professional hairstylist who understands the unique needs of your specific hair type in order to achieve the best results.
If you have thin or flat hair, they may suggest shorter layers that add bounce by breaking up any heavy sections near the scalp and crown area without sacrificing length. Meanwhile, those with thick strands will benefit from longer layers which create movement throughout their mane for a softer look overall.
When deciding if layering is right for you, consider how often you use heat styling tools such as curling irons or blow dryers, which are known to damage delicate locks over time when used too often.
To combat this potential problem, ask your stylist about volumizing techniques like cutting blunt bangs or feathering long edges around face frames before diving into layer-heavy haircuts. This way, there's still some weight present within each strand, creating lift and fullness instead of just airiness all around the headspace.
Additionally, products like salt sprays and other volumizers should be applied before drying/styling so that extra body can be added in lieu of relying on only scissors alone.
So whether it's through product selections made pre-cut/style appointment appointments themselves or knowing what works best based on individual scenarios, ensuring optimal results every single time ensures desired looks are achieved with minimal effort required to maintain them post-haircut session itself.
Should I Get Bangs?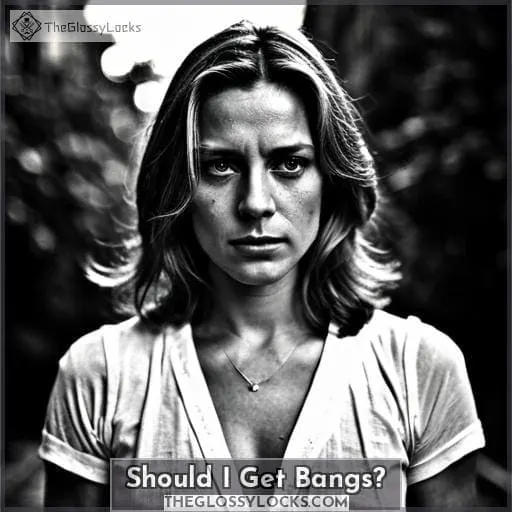 If you have thin or flat hair, getting bangs may be a great way to add texture and volume to your style without sacrificing length.
Bangs are highly versatile too. They look good on all hair types, including wavy, straightened curls. Even those with short strands can reap its styling benefits as long as there's enough length left at the nape area after the cut itself.
Optimizing volume is key when considering this type of 'do because not everyone has the same head shape or hair density. So make sure to talk things over with a hairstylist before committing one way or another.
Products like Elvive Hyaluron Miracle Leave-In Cream help plump up limp sections, while Conair's Self-Grip Hair Rollers provide lift at the roots for longer-lasting results than simple blow drying alone could achieve.
Meanwhile, salt sprays such as Garren's signature Sea Salt Spray (made especially for fine strands) help break apart heavy clumps near the crown portion without weighing down the ends like other products might do if applied incorrectly.
When looking into cut options that best suit individual needs, which include bang styles themselves, whether full blunt fringe which requires regular trims every four weeks maximum to maintain the desired shape, or feathery layers that blend seamlessly throughout the rest of the mane, it pays off to consult professional hairstylists who specialize in different techniques to get the most out of the experience possible.
Similarly, a makeup artist should be consulted to determine how to highlight the natural beauty and facial features using colors and shades that complement the new 'do, while keeping maintenance levels reasonable post-haircut session itself so that the desired looks can be easily maintained at home as well!
Should I Get Extensions?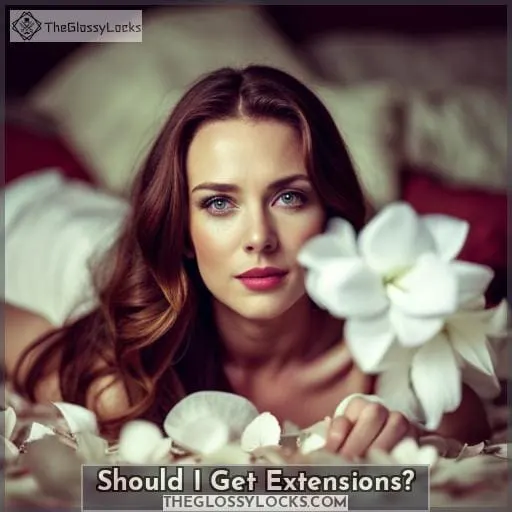 Transitioning from the previous subtopic, should you get bangs or not?, to the current one of whether extensions are right for your flat hair is easy. If you have thin or flat strands and want to add texture and volume without sacrificing length, then considering hair extensions may be a great solution.
Extensions can help create an illusion of thicker tresses while also adding some serious drama that will draw attention away from any receding hairlines or unevenly distributed locks around the scalp region.
Going with heatless styles like hairstyles rather than chemical treatments can help protect your delicate strands against further damage due to excessive heat styling tools such as blow-dryers and curling irons, which weaken fragile locks over time if used too frequently.
Hair masks applied regularly at least once every two weeks (depending on individual needs) provide nourishment deep into each strand's core, which helps strengthen weak fibers, making them less prone to breakage later down the line during styling sessions themselves!
Texture sprays, in combination with volumizing gels, give added lift near roots when using a fine-toothed comb before drying off completely.
Although cuts aren't always necessary when trying out different looks like these ones mentioned above since they rely mostly on products instead, consulting professional hairstylists who specialize in color techniques might come in handy here as well.
Similarly, working alongside makeup artists to determine what colors best suit natural beauty facial features complement new 'do goes a long way in achieving a flawless finish post haircut session itself easily maintainable at home!
Salt sprays such as Elvive Hyaluron Miracle Leave In Cream plump up limp sections, while Conair's Self Grip Hair Rollers provide lift at the roots for longer-lasting results simple blow drying alone could achieve.
What Are the Best Hair Products for Flat Hair?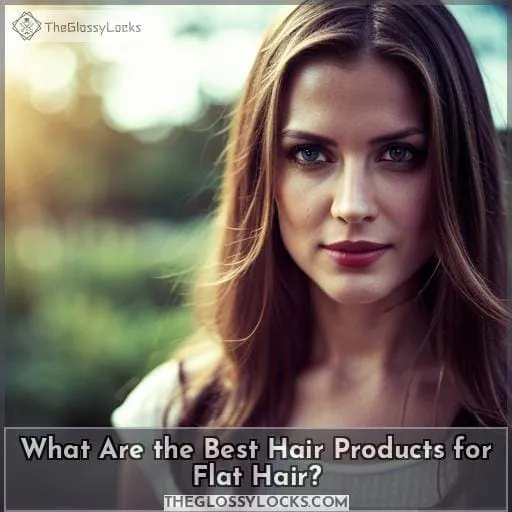 Adding texture, volume, and body to flat hair can be achieved with the right products. A pre-shampoo scrub is a great way to remove any product buildup from your scalp before using other styling tools.
Teasing at the roots of your hair will help create more lift and texture. This can then be set in place with a volumizing spray or powder while blow-drying for extra hold. Hair extensions are also an option if you're looking to add length along with thickness without sacrificing too much time on styling processes themselves! To make sure these stay put longer, opt for heatless hairstyles like braids or buns instead.
These don't require as much maintenance either, so they're perfect when you don't have hours upon hours each day dedicated solely towards upkeep rituals necessary here! Salt sprays, such as Elvive Hyaluron Miracle Leave-In Cream, provide nourishment deep into each strand's core while helping protect delicate locks against further damage due to excessive heat from styling tools, such as curling irons, amongst others commonly used today.
Hairstylist Garren suggests adding some Conair's Self-Grip Hair Rollers near roots prior to drying off completely. This gives added lift where needed most easily maintainable at home after proper application beforehand has been done correctly too! Knowing what exactly the main cause of flatness may also come in handy here.
It could range anywhere between genetics (inherited traits) all the way through imbalanced dietary habits leading to a lack of vital vitamins and minerals essential for healthy tresses over the long run, even shorter-term results seen almost immediately post-treatment sessions themselves too.
This is why consulting professional colorists sometimes pays off big time weighing options available ahead of taking proper care before attempting to try different looks yourself helps ensure desired outcomes remain intact throughout the entire period of wear itself, not just one single day/night activity alone! Finally, working alongside makeup artists to determine which colors best suit natural beauty facial features complement the new 'do goes a long way in achieving a flawless finish post-haircut session able easily maintainable at home later down the line no matter how many times style changes occur thereafter either.
When Should I See a Professional?

When it comes to flat hair, seeing a professional can be the difference between having dull, lifeless locks and voluminous tresses. A salon visit will allow you to take advantage of treatments such as deep conditioning, which helps repair dry and damaged strands while at the same time adding body.
A good stylist should also provide recommendations on haircuts that would best suit your face shape in order to create a flattering look for your features.
Furthermore, asking about the placement of highlights is always an option if you want something more dramatic yet still natural-looking overall too! Lastly, thickening formulas like salt spray are great options for targeting those stubborn roots.
But don't forget: make sure you get advice from an expert first so that any products used have been formulated specifically according to individual needs before attempting it yourself at home afterwards.
Frequently Asked Questions (FAQs)
What are the best hairstyles for flat hair?
You can create amazing looks with flat hair! Try adding layers, volume-boosting mousse, and finishing products like salt spray or hairspray for a sleek style.
Are there any natural remedies for flat hair?
Are you seeking natural remedies to give your hair more body? Consider incorporating herbs like nettle and rosemary into shampoos or conditioners. These can help nourish the scalp, stimulate follicles, and add volume – all without harsh chemicals! Free yourself from flatness; explore these herbal solutions today.
How often should I wash my hair to prevent flatness?
Do you want to keep your hair voluminous and healthy? Washing your hair two or three times a week should do the trick.
What type of haircut would work best for the shape of my face and flat hair?
Finding the right haircut for your face shape and hair type can be tricky. Let's explore what style would work best for you! Consider a short, layered cut to create volume or an angled bob to add structure.
Alternatively, try a pixie cut if you're looking for something more daring! Experiment with different looks and find one that fits your individual needs.
Are there any vitamins or supplements that can help with flat hair?
Have you considered incorporating vitamins and supplements into your hair care routine? Certain vitamins, such as biotin and zinc, can help promote thicker, shinier hair. Supplements like fish oil contain essential fatty acids that may improve scalp health and boost healthy growth.
Conclusion
Flat hair can be tricky to manage, but with the right techniques and products, you can bounce back. Make sure to use volumizing shampoo and conditioners, avoid over-conditioning, and opt for dry shampoo when you need a lift.
Boost your hair with some teasing and volumizing curls, a volume spray, or a blowout. If you're still feeling stuck, it might be time to switch it up and get a trim, bangs, or even extensions.
Keep in mind, though, that it's easier to prevent flat hair than to fix it, so be sure to arm yourself with the right tools and knowledge.