This site is supported by our readers. We may earn a commission, at no cost to you, if you purchase through links.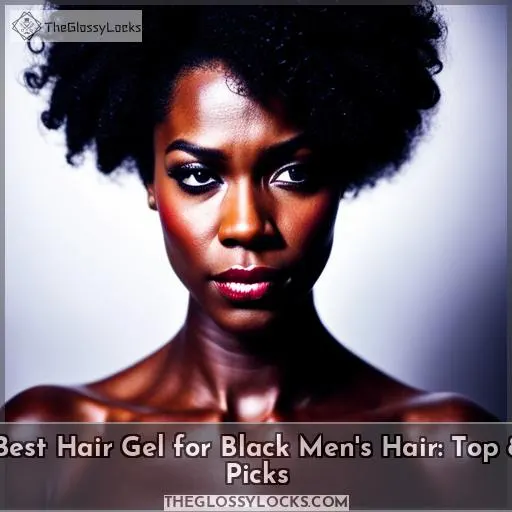 Are you looking for a hair gel that can give your black men's hair the style and hold it needs? If so, you're in luck! We have compiled an extensive list of our top 8 picks for the best hair gels designed specifically to tackle all types of African American hairstyles.
Whether you're searching for something with strong hold or shine-enhancing properties, we've got a product perfect just right for your locks.
Keep reading to find out which one is ideal based on texture, styling power, and ingredients – plus how much they cost! From SheaMoisture AntiFrizz Hair Gel to Design Essentials Sleek Edge Control Gel and everything in between – each product has its own unique set of characteristics that make it great at taming frizz while keeping your natural curls intact.
Learn why having the right kind of gel is essential when dealing with black men's hair as well as what features are important when selecting one from our reviews below.
Key Takeaways
Enhanced styling versatility
Improved hold and control
Reduced frizz and flyaways
Experiment and find what works best for your hair type and style preferences
8 Best Hair Gels for Black Men's Hair
Looking for the perfect hair gel to provide maximum hold and control? Whether you have curly, coily, or dreadlocks, there are a range of options available that will help define and smooth your natural texture.
From SheaMoisture Anti-Frizz Hair Gel to Mixed Chicks Styling Gel, here's an overview of eight best gels for black men's hair in 2023.
1. SheaMoisture AntiFrizz Hair Gel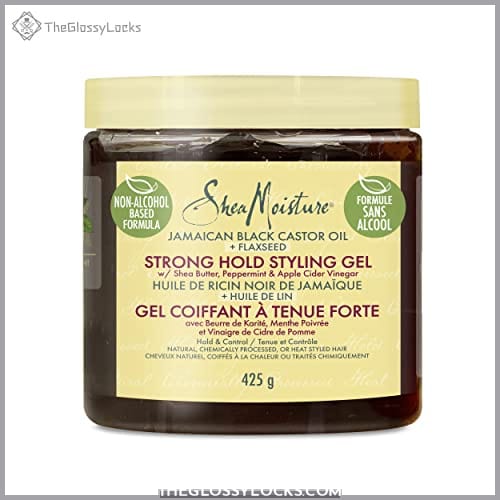 View On Amazon
For curly, coily hair that needs extra definition and hold, SheaMoisture AntiFrizz Hair Gel is a natural solution to tame frizz and flyaways while providing all-day shine. Enriched with shea butter, peppermint, apple cider vinegar, and Jamaican black castor oil, this vegan styling gel is free of parabens, phthalates, mineral oil, or petrolatum – perfect for twisting, braiding, or wash 'n go styles.
The complex citrus herbal scent of lemon neroli adds high shine without leaving greasy residue behind, making it suitable for all hair types.
Defines and smooths curly hair
Tames flyaways & controls frizz
Provides a healthy shine
Enriched with natural ingredients
Suitable for twisting & braiding
No parabens/phthalates/mineral oil/petrolatum
May not hold well on very fine hairs
Product buildup reported by some users
Not ideal for type 2/3 curls
Can leave hair crunchy
2. Taliah Waajid Lock It Up Tight Hold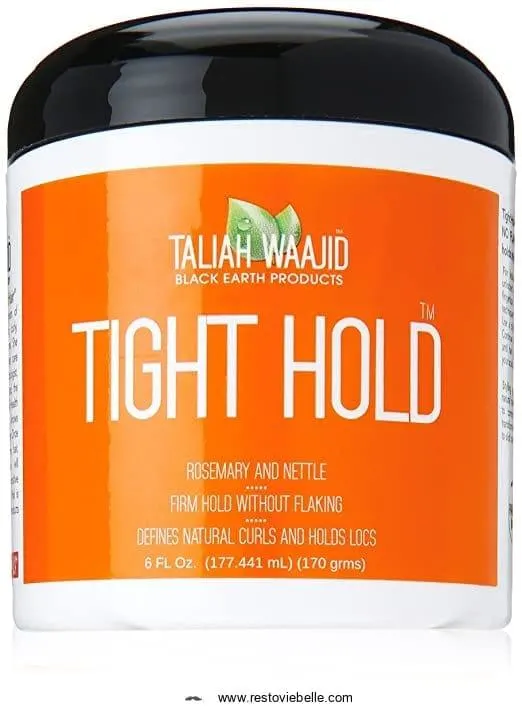 View On Amazon
Try Taliah Waajid Lock It Up Tight Hold for a gel that won't flake or leave build-up, giving you maximum control over your style. This defining gel is designed to maintain locks, twists, and naturals for resistant, color-treated, and gray hair.
It has an easy gelatinous consistency with a pleasant scent – no stickiness or greasiness! Plus, it adds shine while effectively maintaining dreads without leaving behind any white residue.
Whether you're rocking braids or tapered cuts in the back of your neck area, this will help keep everything looking neat all day long.
Taliah Waajid Lock It Up Tight Hold comes in a 3 x 4 x 5-inch container with 6 ounces of product inside.
While most customers are happy with the semi-hold they get from this product, as well as its custard-like consistency which gives great shine, some wish there was more firmness when styling locs, especially if they have really curly hair types (2A – 3C).
Still, though, this one is highly praised by many users due to its ability to stay put all day long without feeling brittle after application, which makes it perfect for those who want something lightweight but effective at keeping their hairstyle intact throughout the day.
No Flaking/Build-Up
Pleasant Scent
Adds Shine & Smoothing Effects
Suitable For All Hair Types
Long Lasting
Gluten-Free Formula
Spillage During Shipping
Not Enough Firmness For Locs
Expensive
3. Paul Mitchell SuperClean Gel

View On Amazon
Give your hairstyle maximum control with Paul Mitchell SuperClean Gel. This vegan and paraben-free gel provides a lasting hold without leaving hair feeling brittle or hard to the touch, making it perfect for all hair types.
It offers high shine and bold texture. Its complex citrus herbal scent of lemon and neroli adds an extra boost of freshness.
The 6.8 fluid ounce bottle is easy to use on wet or dry hair with a brush or small tooth comb for sleek results that won't leave behind any greasy residue when rinsed out.
For those looking for more than just styling benefits, SuperClean Gel also helps tame frizz in curly hair as well as thin stubborn strands, providing soft hold without feeling funky so you can get the desired look without sacrificing comfort during wear time! With its long-lasting effects even after sleeping through the night, this product from John Paul Mitchell Systems is sure to become one of your go-to's throughout 2020 — so give it a try today!
Provides maximum control
Delivers high shine & bold texture
Complex citrus herbal scent w/ notes of lemon & neroli
Vegan & Paraben Free
Long Lasting Effects
Suitable For All Hair Types
Does Not Leave Hair Brittle Or Hard To Touch
May not work well on very fine hairs
Can be expensive
4. Hicks Transformations Edges Gel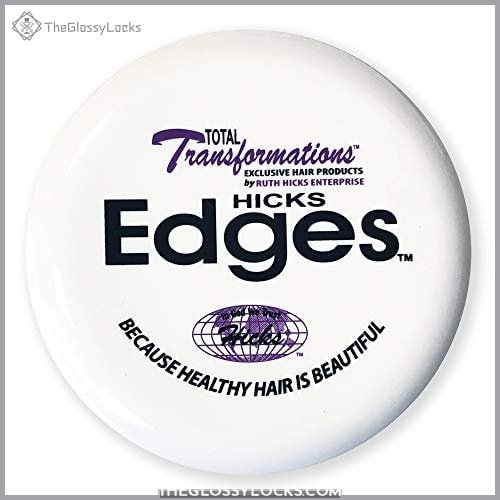 View On Amazon
Hicks Transformations Edges Gel provides an all-day hold to keep edges and braids in place with its non-greasy, non-sticky formula that won't leave any white residue. It offers a strong yet lightweight hold, giving you the right amount of control without making your hair hard or brittle.
The unscented gel also adds shine and gives great smoothing effects for tapered cuts and the nape back area.
This edge control has been highly praised by users, who even wish they could give it ten stars!
Non-greasy & non-sticky
No white residue left behind
Unscented & gluten-free
Provides strong but lightweight hold
Adds shine & smoothness
Difficult to find in local stores
Not suitable for heat styling
Makes hair slightly hard
5. ECOCO Olive Oil Gel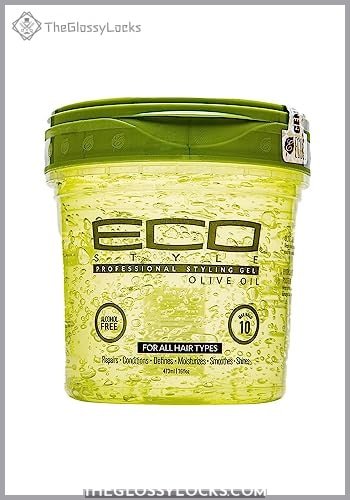 View On Amazon
ECOCO Olive Oil Gel is a must-have for bouncy, shiny hair that won't flake or leave behind residue. This lightweight styling gel is made with 100% pure olive oil and contains no alcohol to help moisturize the scalp and hair without any build-up.
It's ideal for all types of hairstyles, including braiding, coiling, and loc styling, making it perfect for African American/Panamanian hair.
ECOCO Olive Oil Gel adds shine while taming split ends without feeling greasy or heavy on the strands either! The eco-conscious brand focuses on green technologies in their manufacturing process, so you can feel good about using this product, knowing it's been sustainably sourced too!
A little goes a long way with this gel – simply apply throughout wet or dry locks before brushing through your style to achieve maximum hold, texture, and definition that will last all day! Plus, its clean scent will make sure you don't walk around smelling like your favorite hairspray either.
Alcohol-free formula moisturizes the scalp and hair without leaving build-up.
Adds shine and tames split ends while not feeling greasy or heavy on strands.
Perfectly suitable for African American/Panamanian curly styles such as braiding, coiling, and locs.
Some users may find they need more than the usual amount during hot days due to light hold strength.
Smaller jar than expected compared with the price tag.
6. Design Essentials Sleek Edge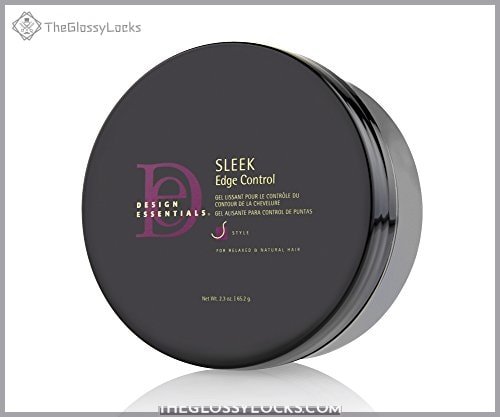 View On Amazon
For a sleek finish that will last, try Design Essentials Sleek Edge and enjoy the long-lasting hold with no flaking. This moisturizing and defining gel for hair edges provides a firm hold to tame unruly hair, while minimizing frizz and adding texture to short styles.
It also delivers intense shine without any build-up or white residue left behind.
Suitable for all types of strands, including African American/Panamanian curls, this product can be used on wet or dry hair with a brush or small tooth comb for maximum control.
Reviewers rave about how effective it is at taming flyaways without leaving their scalp feeling greasy afterwards – plus they love the soft scent! On top of that, they recommend using Hair & Scalp Conditioner before applying Design Essentials Sleek Edge for added protection and to achieve perfect-looking locks every time.
Provides firm hold & tames unruly hair
Adds texture & minimizes frizz
Delivers intense shine
Long-lasting formula – no need for reapplication
Soft scent pleasant smell
Little amount needed per application, meaning it lasts longer than some alternatives
Needed precaution when using (i.e., conditioner)
Some users reported a white sticky film after extended use
7. Briogeo Curl Charisma Gel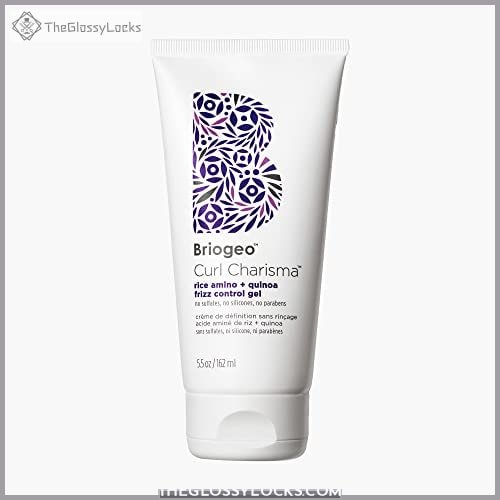 View On Amazon
If you're looking for an ultra-hydrating gel that will define and control your curls without leaving behind a sticky or crunchy residue, Briogeo Curl Charisma Gel is the perfect choice. This 93% naturally derived styling gel provides light to medium hold while quinoa extract and keratin amino acids work together to strengthen hair strands.
Shea butter helps moisturize wavy and curly textures (2A – 3C) for healthy definition, while sealing cuticles shut to help prevent frizz.
It's free of sulfates, silicones, phthalates, parabens DEA or artificial dyes so it won't damage treated hair like colored or chemically processed locks either.
Lightweight formula defines curls without being too sticky or crunchy feeling
Provides strong hold for multi-day styles
Contains natural ingredients such as quinoa extract and shea butter which nourish and hydrate hair
Has been known to leave some users' locks overly hard or stiff if too much is applied
Some customers have reported an unpleasant scent from the product
Can be difficult to apply evenly when used on wet rather than dry hair
8. Mixed Chicks Styling Gel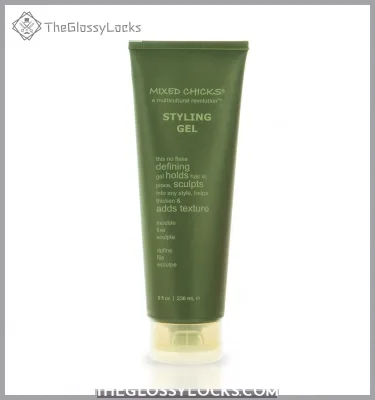 View On Amazon
Mixed Chicks Styling Gel provides light to medium hold for natural-looking definition and control of frizz, while adding body and shine without flaking or leaving a residue. This botanically-infused product is fortified with amino acids as well as various extracts for nourishing and protecting hair.
It's also vegan, silicone-free, phthalate-free, alcohol-free, and gluten-free – making it perfect for all types of curly hair! Its pleasant scent makes styling an enjoyable experience too.
Provides thickness to thin hair when applied evenly.
Pleasant smell reminiscent of men's cologne but subtle enough not to overpower other scents in the room.
Effective in styling without making hair look greasy; a small amount goes a long way compared with other products used on similar styles/types of curls & waves.
Defines curls & offers great hold; locks moisture effectively.
Leaves hair soft yet maintains curls.
Suitable air drying alternative gives a soft natural finish.
May have a strong fragrance some users may find too strong.
Not moisturizing per se – however, helps lock moisture effectively.
Comparatively higher priced than competitors.
Why You Need a Hair Gel for Black Hair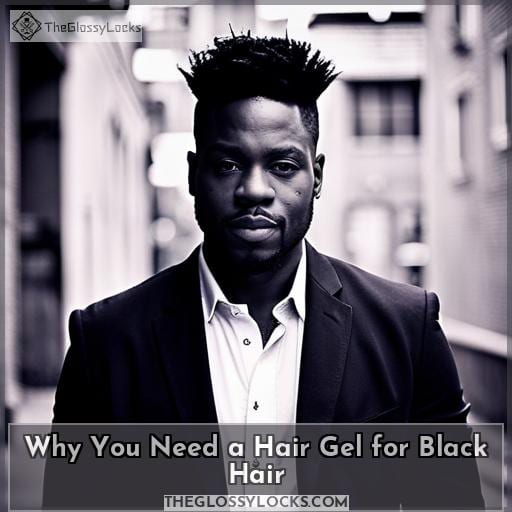 No matter your hairstyle, a hair gel can help to define and control your look while keeping moisture locked in. African American men especially benefit from using a hair gel due to the unique needs of their curls.
Here are some benefits of using a styling gel for black men's hair:
Benefits: A good quality styling product helps manage and define natural textures, prevents frizz, adds shine, and locks in moisture.
Styling Tips: When choosing the right product for you, consider what type of hold or texture you need along with the texture or thickness of your curls.
Product Selection & Ingredient Awareness: Look for gels that avoid harsh drying alcohols like ethanol, as well as parabens which may cause scalp irritation. Natural ingredients such as shea butter, olive oil, and aloe vera extract will provide nourishment while controlling flyaways.
Hair Health: Moisturizing regularly is key when caring for African American hair, so use conditioners before applying styling products if possible. A deep conditioning treatment once per week allows time to truly nurture strands back into shape by replenishing lost hydration levels.
Utilizing these tips when selecting and utilizing products will ensure healthy-looking results without damaging the delicate curl pattern on Black Men's Hair!
Choosing the Best Hair Gel for Black Hair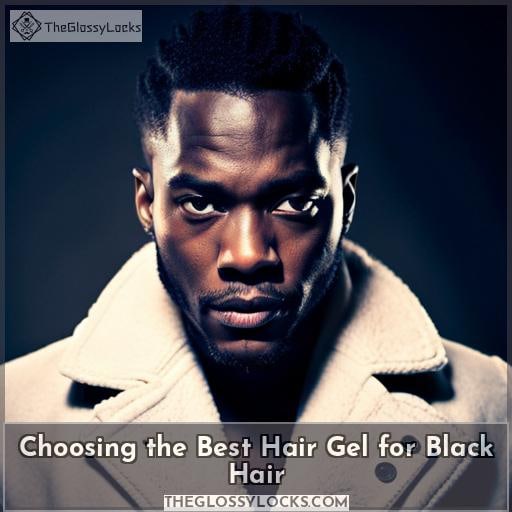 Are you searching for the best hair gel for black hair? When selecting a styling product, it is crucial to consider the holding power, ingredients to avoid, and pricing. Ensure that you choose one that offers maximum hold without drying out your curls or compromising on quality.
Look for products that are free of parabens and alcohols as these can be harsh on curly textures. Additionally, think about your budget and how much you are willing to spend to ensure that your purchase fits within your financial means.
Hold and Styling Power
When it comes to styling your hair, don't you want a product that offers the perfect balance of hold and flexibility? To achieve this balance with black hair, look for ingredients like shea butter, olive oil, or castor oil.
These natural oils are great for moisture retention and curl definition without leaving behind build-up.
Consider the type of hairstyle you want when selecting a gel. Heavier gels tend to offer more hold, while lighter ones provide more movement and texture – so pick accordingly! With careful ingredient selection and proper application techniques, such as using a heat protectant spray beforehand, you'll be ready to rock any style without worrying about frizz or flyaways!
Ingredients to Avoid
You need to be wary of ingredients that could damage your hair – stay away from drying alcohols and opt for natural, nourishing products instead. When selecting a hair gel for black men's hair, consider the type of styling you desire as well as your unique curl pattern and texture.
Alcohol can strip away moisture, leading to dryness or even breakage, so look out for hydrating alternatives like shea butter or olive oil.
Natural ingredients are also beneficial in providing nutritional benefits which help maintain a healthy scalp and locks while adding shine without leaving behind residue or build-up.
Pricing and Affordability
Considering your budget and the desired outcome, take into account pricing when selecting a hair gel for black men's hair to ensure you're getting the best value.
Compare prices across different brands and websites before buying.
Look out for sales or promotions that offer discounts on products.
Opt for more affordable versions of premium gels with similar ingredients and performance qualities. With careful affordability analysis, you can find cost-effective choices that deliver great results without breaking the bank!
Conclusion
No matter your hairstyle, hair type, or texture, finding the right hair gel for black hair can be a daunting task. But with the right know-how and our top 8 picks, your search can be made easier.
From SheaMoisture's AntiFrizz Hair Gel to Mixed Chicks Styling Gel, each of these gels comes equipped with its own unique features and benefits. When selecting the best hair gel for black hair, make sure to consider factors such as hold and styling power, ingredients to avoid, and pricing and affordability.
With these tips and our top 8 picks, you'll be sure to find the perfect hair gel for your hair needs.