This site is supported by our readers. We may earn a commission, at no cost to you, if you purchase through links.
Deciding between long layers and short layers for your hair can be a difficult thing to do. There are a lot of factors that play into the decision, including length, styling options, volume needs, and subtlety.
On top of this, there are also considerations to make depending on the type of hair you have. From straight fine locks to curly manes with lots of texture, there are different factors to consider.
We'll explore all these factors in detail so that when it comes down to choosing between long or short layers – whether for hippy styling or something more classic – you'll know exactly which one is right for you
Understanding Long Layers for Hair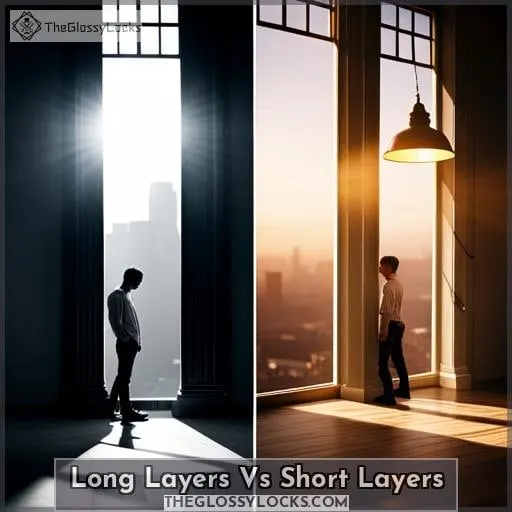 When you rock those stylish, cascading tresses, it's a surefire way to make an unforgettable impression. Long layers are one of the most popular styles for hair today and they can be tailored to suit any individual look.
Trimming techniques vary depending on the desired outcome, but typically involve keeping length at the top while creating shorter layers around your face. Depending on what kind of layer cut you choose – such as step cuts or daisy cut – will determine how short or long each layer is going to end up being.
Regular trims every 6-8 weeks are key in preventing split ends from forming and ensuring that each layer still looks fresh in order to maintain healthy locks with long layered haircuts.
If done properly by a professional hairstylist who understands which options work best for different types of hair textures, there should not be any issues maintaining beautiful long layered haircuts over time!
Pros and Cons of Long Layers Vs Short Layers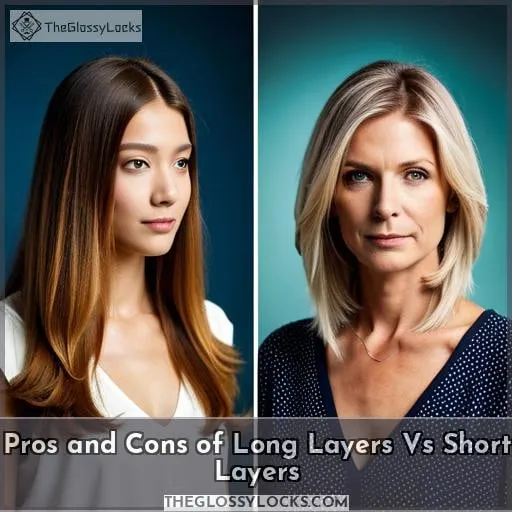 You may be wondering whether you should go for long layers or short layers. It really depends on the look you're going for and what kind of style would work best with your hair texture.
Length
Choosing the right hair length for your style can make a big difference in how it looks. Layering techniques allow you to customize your look, whether you're looking for increased volume, layer effects, or more curl definition.
Hair care and styling tactics should also be considered when opting for long layers versus short layers.
While shorter styles may give off an edgier vibe, longer hairstyles offer versatility when it comes to experimenting with different updos or low curl hairstyles.
Styling
Whether you opt for a longer style or something more cropped, styling your hair is essential to achieving the look you want. Different lengths can create texture and volume control, while low curls offer a hippie look with soft movement.
Subtle changes, like layering long-layer hairstyles, give trendy looks, while curly hairstyles work better on shorter layers.
Volume
Discover the volume you can create with layered hairstyles! Choosing the right length for your layers is key, whether you have fine hair or thick locks. Short pieces add texture and movement, while longer ones provide subtle control.
For DIY-ers looking to get creative, experimenting with subtle layers and adding volume-enhancing techniques like teasing or backcombing can be fun. Longer styles are ideal for those wanting more bounce, while shorter versions give off an edgy vibe that's easy to maintain.
No matter what type of style you choose, let professional stylists work their magic so you can feel confident in any occasion!
Subtlety
No matter your hair type, adding subtle layers can help you create a unique and flattering look. Don't worry – if you're afraid of the style becoming too high-maintenance, professional styling tips like blow-drying and using a curling iron can keep it low-key! Short pieces enhance texture, while longer ones provide control.
Longer styles are great for those wanting more bounce, while shorter versions give off an edgy vibe perfect for hipster styling. The right choice of length depends on face shape: long layers present a different effect than short ones when framing round or square faces with a more subtle shape hairstyle.
Hippy Styling
For a groovy, hippie look, try shorter layers. They'll add texture and definition to your hairstyle in an edgy way. Texturizing and volume-boosting techniques can help thin hair appear fuller with the right layering technique.
Chopping or shaping short layers will create a more high-fashion look while softening the edges of longer styles for a messy, long-layered haircut.
Choosing the Right Layered Hairstyle for Your Hair Type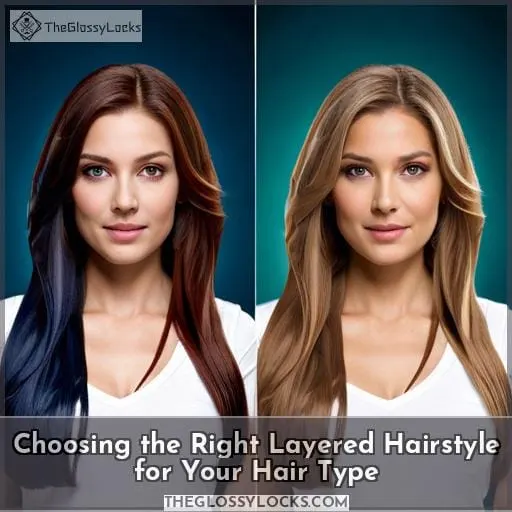 To ensure that you choose the appropriate layered hairstyle for your hair type, consider the following tips. If you have straight hair, longer layers can add movement and texture without compromising the overall length or shape of your style.
On the other hand, if you have finer locks, shorter layers can help create volume while still allowing for more flexibility in styling options.
Straight Hair
If you have straight hair, opting for shorter layers can add subtle texture and volume to your look with an elegant touch.
Heat styling, such as blow drying and flat ironing, will help maintain your desired shape.
Trimming frequency is important in maintaining healthy ends that won't split or break off easily.
Hair products like mousses, gels, hairsprays, and leave-ins should also be used depending on each individual's needs.
Layer maintenance is key – regular trims are recommended every 6 weeks at least!
If you'd prefer a longer look without sacrificing volume or body, opt for hair extensions instead of long layers!
Shorter layer styles are versatile enough to flatter many facial features, but make sure it works well with the rest of your face structure before committing too heavily into one haircut! With proper care, these hairstyles can last up to several months, making them an ideal choice if you're looking for something low maintenance yet stylishly chic all year round
Fine Hair
If you have fine hair, shorter layers can add texture, and your look will still be chic and elegant! To keep it looking its best, daily care is important. Use products specifically designed for fine hair to avoid weighing it down. When choosing a color option, consider highlights or lowlights to add depth without damaging the hair.
Long-term maintenance includes regular trims every 6-8 weeks to prevent split ends.
Texture
No matter your hair type, adding texture to layered hairstyles can take any look from flat to fabulous! If you want a new summer hairstyle, think about what types of layers would best suit your personal preferences.
A great way is to choose the length and styling options that work with your hair type.
Blunt cuts are recommended for adding volume, while softer edges help create movement and definition in finer locks.
Movement
For all hair types, adding movement to layered hairstyles can bring life and energy to your look. Curling techniques can be used with shorter layers for a completely different way of styling your locks.
One of the most popular hairstyles includes long layers that gradually move down from a top layer cut at an angle, for those who prefer something more subtle. The advantage of this type of haircut is that you get movement without having too much length taken off.
With creative cuts designed specifically towards individual needs, anyone can find their ideal layered and textured look.
Should Curly Hair Have Long or Short Layers?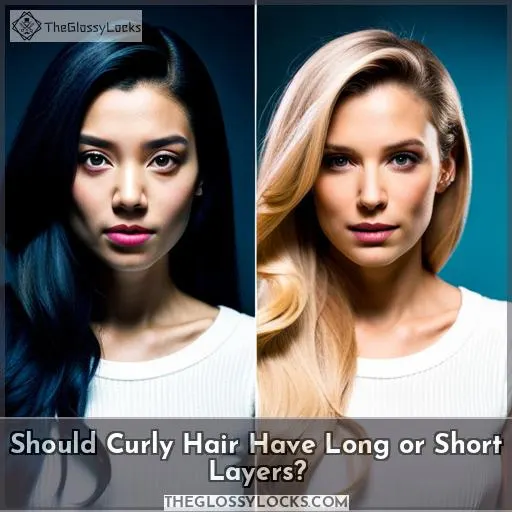 Choosing the right layered hairstyle for curly hair can be tricky, but you'll have that perfect style in no time with a little help from an experienced stylist. Curly maintenance is key to deciding whether long or short layers are best since different ways of styling and caring for curls will determine their outcome.
When considering volume, shorter layers might just be the way to go as they provide more bounce and texture due to their size while longer ones tend to weigh down locks.
It's crucial to understand the differences between both options before settling on one. Short benefits include easier upkeep whereas long disadvantages consist mainly of added weight and potential frizziness.
To get your desired look, it's important not only to have a clear idea of what you want but also to work closely with your stylist so they can advise which choice will work best given your type of curl pattern.
How to Ask for a Long Layered Haircut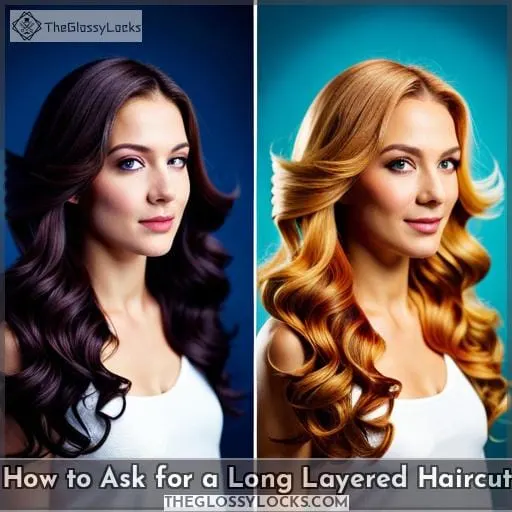 If you're looking for a new hairstyle, asking for long layers can be an excellent choice! Long layers will provide volume and movement while adding texture to your natural curls. If you want major texture and lots of bounce, short layers may be the way to go.
For a classic layer cut that won't weigh down your hair or cause unnecessary frizziness, consider asking your stylist about longer length cuts with shorter pieces around the face.
If You Want Long Layers
If you want to bring out your curls' natural beauty, opting for long layers is the way to go! With their mesmerizing movement and added texture, they'll have everyone staring in awe.
Here are a few tips for creating the perfect look:
Layering techniques should be tailored depending on hair type and face shape. Single area layering works best for people of many different ages.
For Asian women with a rounder face shape, now is the perfect time to experiment with longer layers as it will help create more definition around their features.
Layer care is key when styling locks. Make sure not to cut too much at once and use products like heat protectants before blow-drying or curling your hair as this will prevent breakage over time!
Long layered hairstyles can offer you an effortless yet glamorous look that's sure to turn heads wherever you go!
If You Want Texture
Experimenting with texture will give you a look that's sure to make heads turn! Adding texture to your layered cut is the best way to achieve a more formal or casual style.
Maintenance tips for this hairstyle include using heat protectants before blow-drying or curling, as well as avoiding cutting too much at once.
However, there are some disadvantages of long layered hairstyles, such as tangles and split ends, so it's important not to neglect a regular maintenance routine in order to get the most out of it.
If You Want Major Texture
Adding major texture to your cut is the way to go for a truly unforgettable look. Let your hair be an expression of yourself and create something special with long, luxurious layers! Volumizing curly layers can provide a shaggy cut that adds movement and dimension.
You could also opt for choppy or thin layers – whichever works best with your specific face shape and hair type. There are main disadvantages such as tangles or split ends which must be taken into account when deciding on this style.
If You Want a Classic Layer Cut
Try a classic layered cut for an elegant and timeless look! Utilize texturizing layering techniques and long bangs to frame your face and achieve a beautiful style. Consider choppy layers to add movement or soft curls to create texture. Add subtle volume with thin layers, keeping it minimalistic yet stylish.
If you want more drama, opt for shorter lengths throughout your hair, but make sure they are properly blended together. Whether you have short or long locks, this haircut is perfect if you're looking for something chic and versatile.
If You Want Short Layers
If you're looking to add some drama and texture to your look, short layers may be the perfect choice for you. Take a cue from singer Selena Gomez, who rocked long bangs with choppy layers that gave her hairstyle more shape and volume.
To achieve this style, ask your stylist for thinning layering techniques, as well as texturizing products depending on the type of hair you have.
Layered cuts are great because they can be easily styled in many different ways! Experimenting with shorter lengths throughout will give it an edgier vibe—just make sure everything is properly blended together so there are no awkward lines or gaps showing up in photos!
Maintaining Your Layered Hairstyle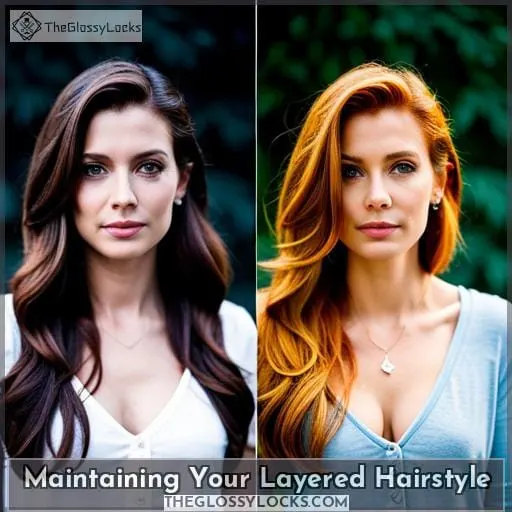 Maintaining your layered hairstyle can be a breeze – just keep in mind the tips and tricks that your stylist gave you! Trimming techniques must be used to maintain the desired length of each layer. The right hair products should also be utilized, such as volumizing mousse or heat protection spray, for added body and bounce.
Using a wide-toothed comb or brush with soft bristles is essential when styling layers to avoid tangling and breakage. Layer sizing should also stay consistent in order for them not to become overwhelming.
Flatter layers work best on longer lengths while choppy cuts are great on shorter looks.
With these simple steps, anyone can enjoy stunning layered locks effortlessly every day!
Frequently Asked Questions (FAQs)
What products should be used to maintain long layers?
For gorgeous, flowing long layers, consider using products containing natural oils and extracts. Give OGX Coconut Miracle Oil Dry Shampoo a try – its lightweight formula revitalizes hair without adding weight.
How often should long layers be trimmed?
Trim your long layers every few months to keep them healthy and full. Think of it as pruning a tree; if you don't regularly trim the branches, they will become overgrown and misshapen.
How can long layers be styled for a special occasion?
To style long layers for a special occasion, consider loose curls, an updo, or sleek straight locks.
What type of face shape best suits long layers?
Long layers are flattering for many face shapes, but particularly for those with oval or heart-shaped faces. They draw attention to the eyes and cheekbones while adding texture and movement to any style.
What is the best way to transition from short to long layers?
To transition from short to long layers, begin with a slightly longer length than your current one. Then, create soft graduated layers that gradually increase in length throughout your hair. Cut each section at an angle and use thinning shears if necessary for more subtle texture and movement.
Conclusion
Maintaining a layered hairstyle is like creating a masterpiece. The perfect layered look is a delicate balance of length, texture, and movement that all come together to create a stunning appearance. To ensure that you rock your layered look, make sure to communicate your desired results with your stylist.
Additionally, use the appropriate products and care for your hair type to keep your layers looking fresh and healthy.