This site is supported by our readers. We may earn a commission, at no cost to you, if you purchase through links.
Are you tired of using hair serums that are loaded with chemicals? If so, why not try making natural hair serums at home? Not only will they be free from harsh ingredients, but they will also nourish and protect your locks.
In this article, we will explore 8 DIY recipes for natural hair serums. These range from anti-frizz solutions to nourishing rosemary treatments. We will also discuss how these homemade creations differ from commercial products and the benefits of using them on your hair.
So, let's take a deep dive into creating natural hair serums that save both time and money.
Key Takeaways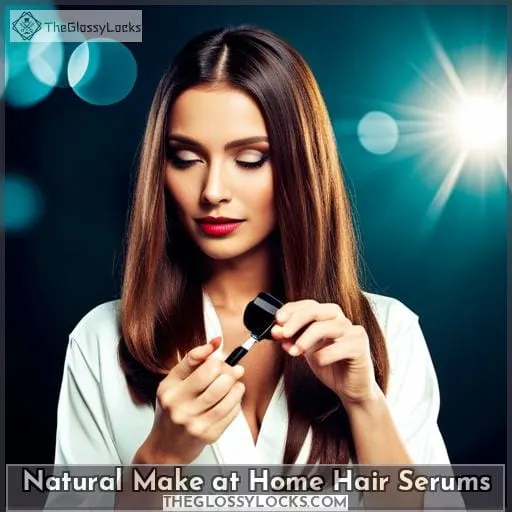 DIY hair serums are a natural and chemical-free alternative to commercial hair serums, providing moisturizing benefits and improving overall hair health.
Natural ingredients like Vitamin E, Biotin, Aloe Vera, Jojoba oil, and Argan oil are often used in DIY hair serums and can be customized to suit individual needs with the addition of essential oils or other nutritious extracts.
Commercial hair serums may contain silicones and harsh chemicals that can damage hair, while homemade hair serums avoid harmful components and are an eco-friendly and affordable solution.
Homemade hair serums can last up to four months when stored in the fridge and offer great value for people who want something less abrasive on their tresses, leaving hair looking smooth, shiny, and healthy.
What is Hair Serum and How Does It Work?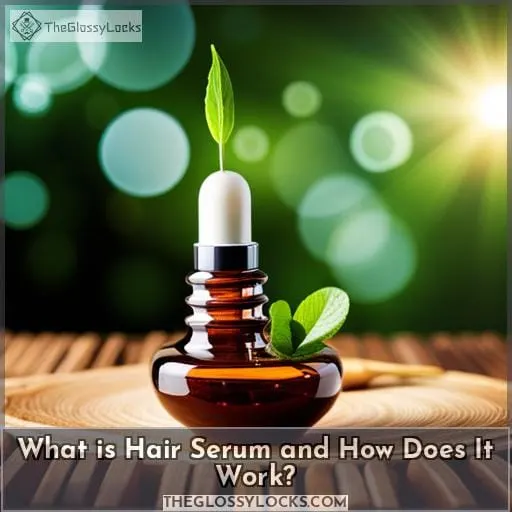 You can achieve glossy, healthy hair with the power of DIY serums – find out how they work and try a few recipes today!
Hair serum is a liquid styling product that gives your locks nourishing benefits while protecting them from environmental damage. It differs from hair oil, which is used for hydration and adds shine to dull strands.
Many serums contain natural ingredients like aloe vera, jojoba oil, Vitamin E, Biotin, or Argan Oil to promote healthier tresses without leaving behind any greasy residue.
A few drops should be applied after washing or 3-4 times per week for best results.
Natural homemade recipes have been tested worldwide with varying degrees of success, so check out some of the best ones available online today for amazing results!
How is Hair Serum Different From Hair Oil?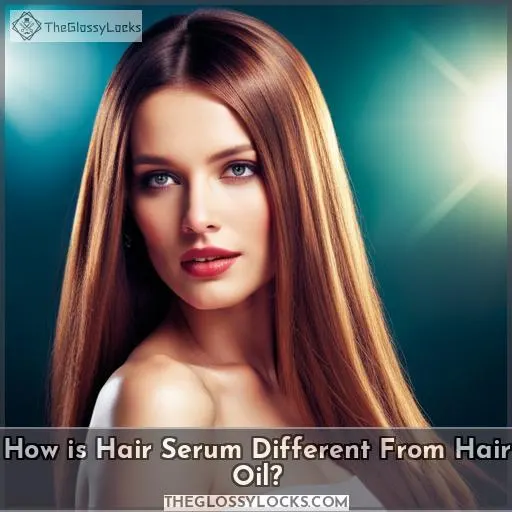 Whereas hair oil is used for hydration, serum works to soften strands and protect against environmental damage. Hair serums provide a number of benefits such as moisturizing the scalp, improving overall hair health, and delivering long-lasting results.
They are made with natural ingredients like Vitamin E, Biotin, or Argan Oil that nourish your tresses without leaving behind any greasy residue.
Eco-friendly solutions include DIY recipes using oils like jojoba or rosemary extract – perfect for damaged hair! Traditional oils can also be applied in combination with heat tools to maximize their effectiveness while minimizing damage from styling devices.
With these tips, you'll have healthy-looking locks all year round without spending too much on expensive products.
Benefits of Homemade Hair Serum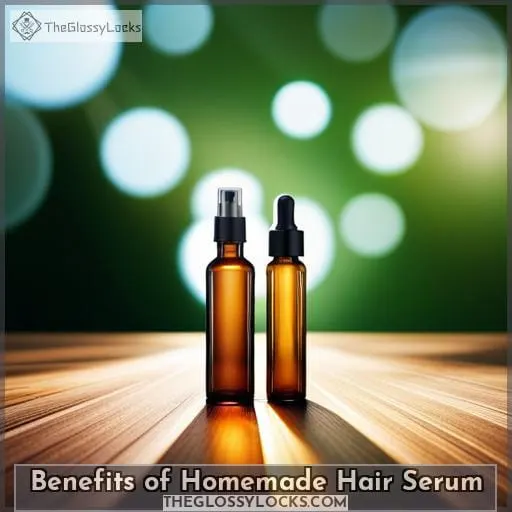 You can achieve healthier, more manageable hair with natural DIY recipes such as the DIY Smoothing Hair Serum, Anti-Frizz Natural Hair Serum, and Nourishing Rosemary Hair Serum. You can even customize your hair care routine with a DIY Leave-in Conditioner with Jojoba & Argan Oils or a Silky Soft Hair Serum that you can make at home.
DIY Smoothing Hair Serum
Transform your hair with a DIY Smoothing Hair Serum made from simple ingredients for lasting hydration and shine! This serum is perfect for getting rid of frizz and flyaways while keeping your scalp nourished.
It contains Vitamin E, Biotin, Aloe Vera extract, as well as Rosemary essential oil to help repair damage caused by hair treatments. Jojoba and Argan oils are also included in the mix to soften strands without leaving behind any greasy residue.
With regular use of this natural make-at-home serum, you can achieve beautiful locks that will be free from frizz or split ends all year round! Plus, no harsh chemicals mean it's an eco-friendly solution too – so why not give it a try?
Anti Frizz Natural Hair Serum
Tame your frizzy hair with an easy-to-make anti-frizz natural hair serum! It will provide you with moisturizing benefits, improved scalp health, and long-lasting control of flyaways. Create your own DIY blend using organic ingredients like Vitamin E, Biotin, Aloe Vera extract, and essential oils for added protection.
With just a few simple steps, you can create your unique recipe to suit all of your hair needs – from nourishment to hydration or even styling products like sprays and serums that won't harm the environment or cause further damage.
Nourishing Rosemary Hair Serum
Try nourishing your hair with a homemade Rosemary Hair Serum to give it a boost of hydration and shine! It's the perfect blend of natural ingredients that will provide smoothing benefits while still maintaining healthy strands.
Its nourishing properties help protect against damage from environmental factors, leaving you with beautiful locks and improved scalp health. The rosemary essential oil also provides additional protection and gives your hair extra shine.
With this DIY serum, you can get the same results without harsh chemicals or store-bought products – just pure natural ingredients! Give yourself gorgeous looking locks by creating a Rosemary Hair Serum today for healthier, more manageable tresses!
DIY Leave-in Conditioner With Jojoba & Argan Oils
Create a luxurious leave-in conditioner with jojoba and argan oils for soft, hydrated hair that is also protected from environmental damage! This DIY solution offers nourishing benefits while leaving your locks feeling smooth and manageable.
Jojoba oil helps strengthen the follicles, while Argan oil adds extra protection against sun damage. Enjoy the natural ingredients without extra chemicals or fillers on an as-needed basis to suit all hair types – both dry and oily! With this homemade remedy, you can protect your tresses in style without sacrificing the level of sun protection or healthy shine.
DIY Silky Soft Hair Serum
Experience the luxurious feel of a professional-grade hair serum with this DIY Silky Soft Hair Serum! Repair damage caused by treatments, reduce breakage, and improve texture with its essential ingredients.
Reap the benefits of sun protection while enhancing natural color and promoting shine without leaving a greasy finish. Its firm hold provides an extra layer of protection for those days when your style needs to stay put.
Get creative by mixing up different liquid solutions to create fragrant hair serums that complement any look or season! Your precious bottle of botanical ingredients is sure to make your natural beauty content last longer than ever before – all without harsh chemicals or fillers.
Commercial Hair Serums Vs. DIY Hair Serums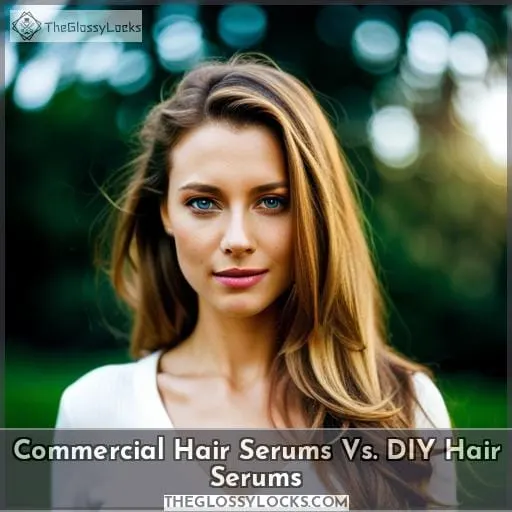 Discover the difference between commercial hair serums and DIY recipes to find out which one works best for your locks! Commercial serums contain silicones and harsh chemicals that can damage hair, whereas natural DIY recipes are affordable, customizable, and avoid harmful components.
Moisturizing benefits from both types of serum are available; however, chemical-based products may be more effective in providing a long-lasting shine. Natural ingredients, such as aloe vera gel, jojoba oil, or argan oil found in many homemade formulas, help nourish the scalp while giving you a glossy finish.
Nevertheless, there is always a risk factor associated with using store-bought items due to their unknown ingredients, so it's important to read labels carefully before purchasing them. DIY Hair Serum offers plenty of hair benefits, such as reducing frizziness or protecting against environmental damage, without any added chemicals – making them an ideal choice for people who want something less abrasive on their tresses.
The main advantage they have over traditional solutions is that they use simple ingredients easy to find at home, which provide all necessary nutrients without compromising your health nor damaging your budget too much! Furthermore, by selecting natural options, you will not only limit usage but also preserve its natural color better than with other alternatives like gels or creams since these tend to leave residues after application.
As expected, results vary depending on individual needs, but if used correctly, most users end up having shinier, healthier-looking strands, even when compared with expensive salon treatments.
Frequently Asked Questions (FAQs)
How often should I use hair serum?
You should use hair serum 3-4 times a week for the best results. It helps protect against environmental damage, reduces breakage, and promotes shine without leaving a greasy finish.
Are there any side effects of using hair serum?
Using hair serum is generally safe, but side effects can occur. For instance, it may cause an allergic reaction if you have sensitive skin.
What ingredients should I look for in natural hair serums?
Look for natural ingredients like organic aloe vera gel, jojoba oil, vitamins, and minerals to nourish your hair. Biotin helps promote healthy growth, while argan oil can help reduce breakage and frizz.
Add a drop of essential oils such as rosemary or lavender for an added boost! Use a serum that is free from toxins to protect against environmental damage without sacrificing beauty benefits.
Are DIY hair serums better than store-bought serums?
DIY hair serums offer some advantages over store-bought varieties, including customizable ingredients and no harsh chemicals. Plus, they're affordable! So why not give them a try? With the right natural ingredients, you can create a unique serum tailored to your own needs – one that leaves your hair looking smooth, shiny, and healthy.
How long does a homemade hair serum last?
A homemade hair serum can last up to four months when stored in the fridge, making it a great value. Plus, with natural ingredients and no added chemicals or fragrances, you get all the benefits of DIY without sacrificing quality.
Conclusion
In conclusion, hair serum is an amazing product to help nourish and protect your hair. It's a powerful combination of natural ingredients with the added benefit of not containing any harsh chemicals or fillers.
Homemade hair serums allow you to customize them to fit your hair needs while avoiding the questionable ingredients of commercial serums.
Hair serum can be the symbol of strength and resilience, helping you feel beautiful and confident in your hair. So, whether you're looking for a simple solution for dry winter days or a nourishing remedy for damaged hair, there's a homemade hair serum out there for you.