This site is supported by our readers. We may earn a commission, at no cost to you, if you purchase through links.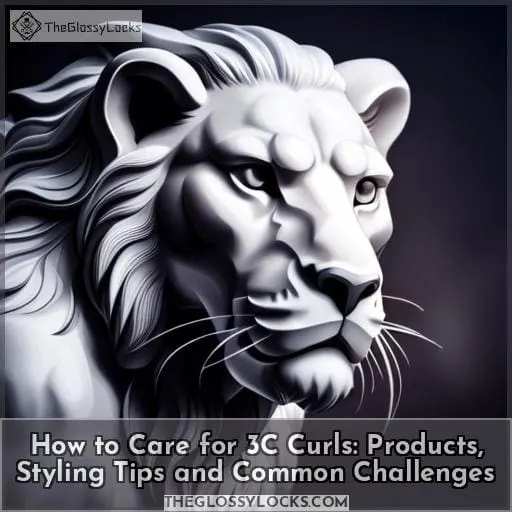 You feel like you're staring in the mirror unable to recognize your own reflection. Your curls have a mind of their own, each coil twisting in its own direction. But you're not alone.
The good news is, with the right care you can reveal your spirals' true beauty. We're going empower you to embrace your 3c texture. You'll learn to nurture your coils with products that enhance their bounce and shine.
Styling techniques will give you back control, transforming unruly ringlets into stunning definition.
Expert tips will equip you to overcome 3c challenges like dryness and breakage. You'll gain confidence to rock your natural texture, free from frustration and insecurities.
Key Takeaways
3c hair has tight ringlets with an S-shaped coil. The curls are springy and well-defined.
Essential products for caring for 3c curls include sulfate-free co-washes to gently cleanse, curl defining gels to reduce frizz and enhance definition, leave-in conditioners for moisture and slip, and refreshing sprays to reactivate curls between washes.
Recommended brands that cater well to 3c hair include VERB, Design Essentials, Coconut Cowash, Carol's Daughter, Mielle Organics, Botanical Beauty, Rucker Roots, Kinky Curly, Vernon François, Creme of Nature, and Maui Moisture.
Important care tips for 3c curls include protecting hair overnight with a satin bonnet or pillowcase, deep conditioning regularly to boost moisture, and gently detangling in sections with the proper tools.
Understanding 3c Hair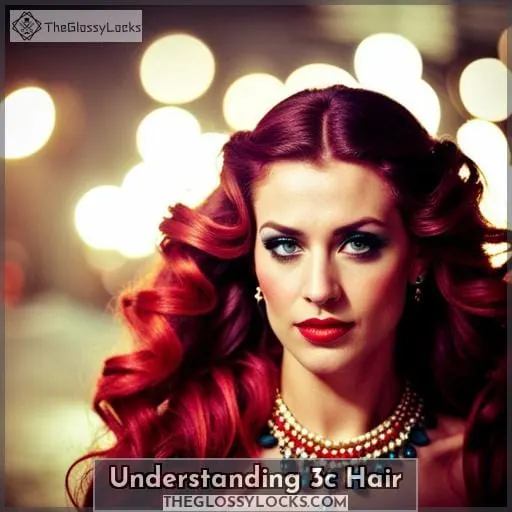 Managing your delicate ringlets with the right products will help bring out their natural elasticity and defined curl pattern. You've got an S-shaped coil with the circumference of a Sharpie marker, girl. While you crave moisture for definition, too much causes frizziness and limpness.
Embrace targeted conditioning, using sulfate-free co-washes and creams with humectants.
Styling with curl gel is ace for clumping those tight ringlets, tapping moisture into every strand so they stand out in sharp relief. Never be overwhelmed by the volume again when you know how to work with your spirited coils! Let them bounce freely or shape 'em into bodacious bedhead.
The Best Products for 3c Hair
When it comes to caring for your beautiful 3c curls, using the right products is crucial for maintaining definition, hydration, and frizz control. Let's explore some of the top-rated formulas, like leave-in conditioners, curl creams, gels, mousses, and refreshing sprays, that'll have your ringlets popping.
Caring for 3c curls requires using products that provide moisture while reducing frizz. Look for creamy leave-in conditioners that detangle and soften without weighing hair down. Curl creams enhance clumping and separation of curls without crunchy residue. Strong-hold gels give shape, definition, and frizz protection.
Volumizing mousses boost body and bounce. Finally, refreshing sprays reactivate curls between washes.
VERB Curl Leave in Conditioner 6 Oz
View On Amazon
You'll love this magical leave-in for effortlessly taming your spirals! VERB's 6 oz curl leave-in conditioner is specially formulated for curly-haired beauties seeking soft, defined ringlets. This vegan formula nourishes with sunflower seed extract and glycerin for touchably smooth, frizz-free locks.
Use it to detangle, prevent breakage, repair damage, and provide memory to maintain your gorgeous natural curl pattern.
Promoting radiant shine without greasiness or buildup, VERB leaves hair ultra-moisturized, manageable and picture-perfect. Some users warn it may not work well for the curliest of curls or eliminate all frizz.
Lightweight, moisturizing formula
Vegan and cruelty-free
Repairs damage and provides curl memory
Promotes shine and reduces frizz
May not eliminate all frizz
Contains silicone
Not ideal for very tight curls
Design Essentials Curl Enhancing Mousse Almond and Avocado 10 Ounce
View On Amazon
Having defined curls enhances your natural beauty, so reach for Design Essentials' lightweight, non-greasy curl mousse to reduce frizz and reveal luminous, touchable ringlets. The paraben-free mousse quickly absorbs into your hair, providing a luminous shine while keeping curls defined and frizz-free thanks to ingredients like avocado, olive oil, and vitamin B complex.
It works for all curl types and excels in humid weather at keeping your style intact.
Use it alone or layered with other products to enhance your curls' natural beauty.
Lightweight and non-greasy
Enhances curl definition
Reduces frizz
Adds shine
Good for humid weather
May cause itching if combined with certain products
Results vary based on curl type
Only available in one size
Coconut Cowash Cleansing Conditioner
View On Amazon
Your curly hair welcomes the deeply nourishing Coconut Cowash for gentle cleansing sans sulfates. The creamy, sulfate-free formula with coconut oil gently removes buildup while preserving moisture for soft, healthy curls.
Designed for curly hair, it reduces combing effort by 55% and promotes growth from the follicular level. Users praise the texture and ease of co-washing, though some desire different packaging. Overall, this cowash gently cleanses and conditions frizzy, fine, or curly hair while maintaining softness.
PROS:
Deeply moisturizing
Reduces combing effort
Allows gentle cleansing
Preserves natural moisture
Free of sulfates and parabens
CONS:
Some may prefer pump bottle
Not everyone likes the scent
Doesn't produce as much lather as shampoo
Carol's Daughter Curl Refresher Spray
View On Amazon
Refresh and revitalize your curls without crunchiness with Carol's Daughter's curl-renewing mist. Instantly rehydrate dry, styled curls and coils with just a few spritzes of this silicone-free, nourishing refresher spray.
Containing agave nectar and wheat protein, it softens, detangles, and redefines your natural pattern without making hair stiff or sticky.
Use it alone or layered under your favorite creams for more defined, frizz-free coils. The refreshing botanicals and sweet almond oil fragrance also provides a pleasant sensory experience while reviving your curls.
Though effective for many, feedback suggests it works best for tighter curl patterns.
Reactivates curls and coils
Softens and detangles
Pleasant sweet almond scent
May not reduce frizz in humidity
Can feel sticky or greasy
Works better on tighter curls
Mielle Organics Honey Ginger Curl Styling Gel Moisture Definition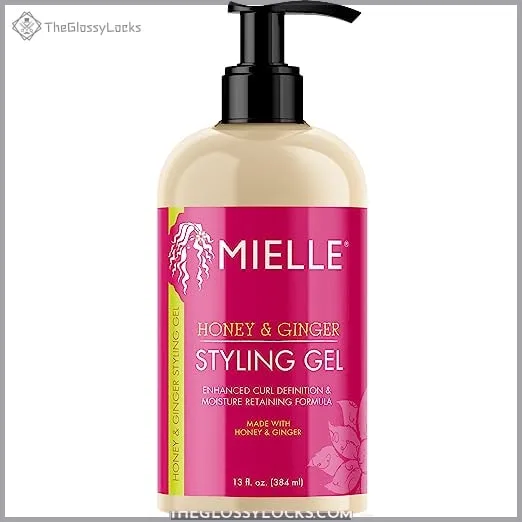 View On Amazon
The honey-ginger curling balm nurtures your inner goddess. This Mielle Organics curl styler combines certified organic honey, ginger, and aloe to moisturize curls while gently holding their shape. The 13 ounce gel-cream defines your ringlets without greasy residue or crunchy stiffness.
Simply smooth it through damp 3A-4C hair and let those luscious locks air dry. Your curls will spring to life, nourished and frizz-free. This paraben-free balm leaves hair touchably soft with a sweet honey-ginger scent.
Certified organic ingredients
Moisturizes and defines curls
Leaves hair soft without greasy/crunchy feel
Good for various curl types and textures
Pleasant honey-ginger fragrance
Strong scent for some
May not provide extremely strong hold
Formula changes over time?
Botanical Curl Defining Gel
View On Amazon
Want defined curls? Botanical's curl gel boosts moisture and controls frizz for bouncy, touchable 3c coils. With aloe and plumeria, this gel nourishes and conditions your curls while fighting humidity for frizz-free definition.
The lightweight formula provides firm yet flexible hold without stiffness, so you can rock touchably soft, defined coils. It repairs damage and prevents breakage, leaving hair silky and smooth. This cruelty-free gel offers a nice sheen and works well for wash and gos or twist outs.
Though reviews are mixed, many curly heads count it as a holy grail product. Give your coils the care they deserve with Botanical's Curl Defining Gel.
Nourishes and conditions hair
Fights frizz and humidity
Provides soft, touchable hold
Repairs damage and prevents breakage
Can feel crunchy or flaky if used incorrectly
May not provide enough hold for very dense or coarse hair
Requires reapplication for lasting results
Rucker Roots Texture Styling Mousse Wash Go Natural Wet Dry Heat Styles
View On Amazon
Feel your curls pop with Rucker Roots mousse! Define your texture and unlock next-level styles with this innovative styling product. The vitamin-infused formula nourishes and protects all hair types while boosting shine and elasticity.
Whether you're rocking a twist out or setting pin curls, it delivers flexible hold and frizz control for flawless results. Say goodbye to thirsty locks – the moisture-locking complex keeps hair touchably soft and bouncy.
Experience the versatile styling and rejuvenating care you've been dreaming of. Let your curls show their true potential and turn heads with show-stopping definition.
Hydrates and strengthens hair
Enhances definition and shine
Lightweight yet long-lasting hold
Can cause buildup if overused
May not provide enough hold for very coily or thick hair
Fragrance may be too strong for sensitive noses
Kinky Curling Cream for Curly Wavy Hair Paraben Sulfate Free
View On Amazon
Emancipate your kinks with a liberating gel-cream that defines coils without chemicals. This curling cream transforms spongy kinks into bouncy spirals with its softening, volumizing formula. Hydrolyzed wheat protein boosts elasticity for carefree curls that defy shrinkage and frizz, sans harsh ingredients.
Experience the freedom of defined ringlets and luminous volume when you embrace your authentic texture. Your natural hair will spring to life, nourished and strengthened from root to tip.
Softens and defines curls without chemicals
Boosts volume and elasticity
Eliminates frizz and shrinkage
Cruelty-free and free of sulfates and parabens
May cause dryness or crunchiness if layered improperly
Contains soy
Vernon François Nourishing Hair Mist Amino Treatment All Hair Types
View On Amazon
Douse your parched strands with Vernon François' moisturizing hair mist to revive dry, damaged curls instantly. This hydrating formula delivers natural botanical oils, amino acids, and vitamins to revitalize and strengthen all hair types.
The lightweight spray helps build hair strength, reduce dryness and damage, smooth frizz, and improve manageability. It's specially formulated for kinky, coily, curly, and wavy textures, providing lasting nourishment.
Just a few spritzes refresh your style on-the-go with this convenient hair refresher.
Lightweight hydrating formula
Reduces dryness and damage
Softens and smoothes hair
Convenient spray application
Can feel like just water for some
Strange smell when first sprayed
Considered pricey
Creme of Nature Coconut Milk Curling Cream for Normal Hair
View On Amazon
You'll achieve delightful curl definition with Creme of Nature's coconut-infused curling cream. This hydrating formula with certified natural coconut oil helps shape twist-outs, braid-outs, and wash-and-go styles into frizz-free, soft curls with long lasting hold.
Users praise its pleasant coconut scent and effectiveness across curl patterns and textures, making it suitable for both men and women.
Hydrates and defines curls
Long lasting hold
Pleasant coconut scent
Works for various curl patterns
Good value
Can cause stiffness in some hair types
May lack bounce for some users
Maui Moisture Curl Coconut Oil Hydrating Curl Smoothie
View On Amazon
Smooth those thick, tight curls with Maui Moisture's coconut-scented curl elixir that'll keep your ringlets hydrated for days. This lightweight, moisturizing smoothie helps 3b-3c curls stay soft and defined while reducing frizz.
Made with aloe, coconut oil, and plumeria, it nourishes hair, maintains curl pattern, and controls frizz whether you opt for twist-outs or wash-and-go's.
Hydrates and defines curls
Reduces frizz
Lightweight moisturizing formula
Maintains curl pattern
Cruelty free
Can cause buildup if overused
May not reduce frizz in very humid weather
Has been discontinued by some retailers
Styling 3c Hair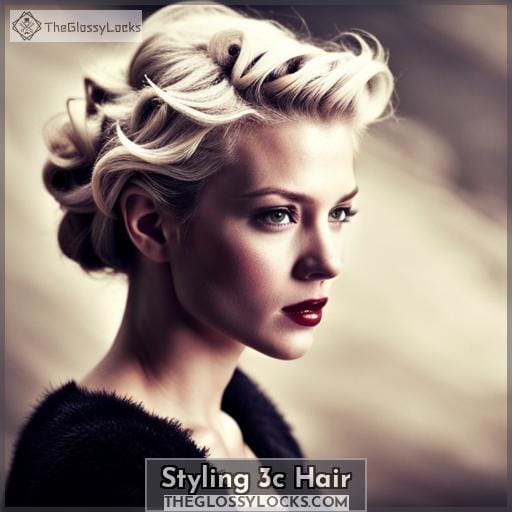 Roll with your natural texture by embracing those ringlets. When styling 3c hair, focus on:
Using styling creams or curl smoothies to promote curl definition and moisture retention
Applying gel for hold when creating wash-and-go styles or twist-outs
Layering moisturizing products under oils or butters as needed for sealing
Using a diffuser when blow-drying for added volume with minimized frizz
Protecting curls overnight by pineappling, satin pillowcases, or wrapping hair
Your 3c curls are uniquely you. Embrace your tight ringlets by learning techniques to maximize shine, moisture, and manageability. With the right products and techniques, your spirals will flourish into fabulous frizz-free curls.
Common 3c Hair Challenges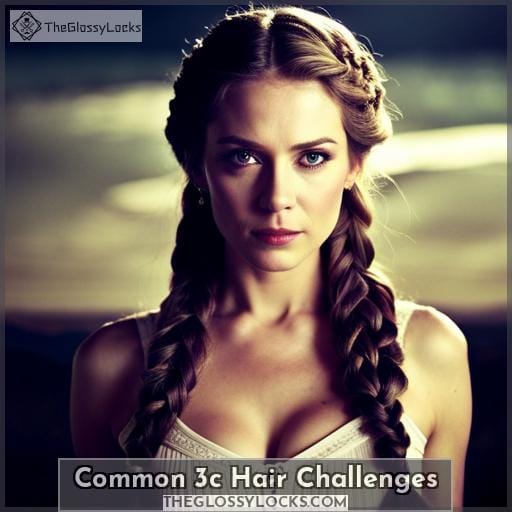 Cause 3c hair is tightly coiled, it can lack definition and get tangled easily. Clearly defining your curls, controlling frizz, and keeping your coils hydrated can be difficult. 3c hair generally has a tighter curl pattern, is prone to shrinkage, and has lower porosity, making it harder for moisture to penetrate the hair cuticle.
Using the right moisturizing products is key, as is gently detangling hair when wet and styled to avoid breakage. Look for curl creams, gels, and butters that provide lasting hydration and encourage curl formation.
Deep condition regularly, and consider protective styles to retain moisture and length. With the right care, you can help your 3c curls look their best by fighting frizz, keeping hair supple and healthy, and fully embracing your natural texture.
Define those coils, treat them with care, and your 3c hair will thrive beautifully.
Tips for Healthy 3c Hair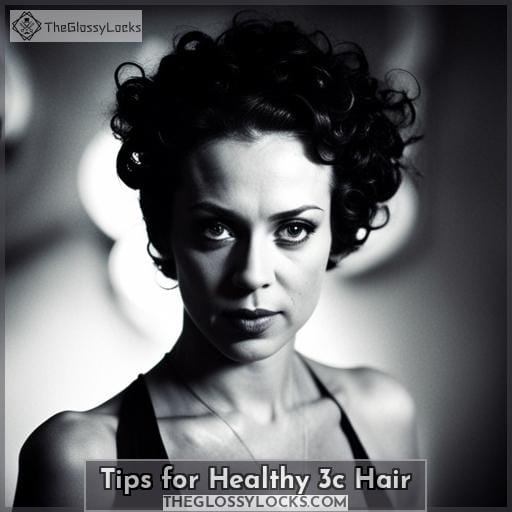 Deep condition weekly with a moisturizing hair mask to nourish fragile ringlets.
Apply leave-in conditioner after shampooing to provide hydration.
Seal in moisture with natural hair oils for thirsty coils.
Use a wide-tooth comb and finger detangle gently to protect curls.
Sleep on a satin pillowcase to reduce friction that can cause damage.
Use styling products like curl cream and gel for defined curls.
Avoid harsh ingredients like sulfates that strip natural oils.
Limit heat styling that can cause harm to fragile strands.
Giving your coils the moisture they crave is vital to maintaining healthy 3c hair. With a proper curl care regimen, your ringlets will flourish into a lovely crown of curls.
Conclusion
Managing your beautiful 3c curls starts with understanding your hair's unique needs. The right products make all the difference – look for formulas with lightweight moisture to hydrate without weighing down your ringlets.
When styling, apply products upside down and distribute evenly from roots to ends before scrunching upwards.
Your hair will thank you! Common challenges like shrinkage, dryness, and frizz can be conquered with a customized routine. Show your 3c hair extra TLC by regularly deep conditioning, protecting ends, and avoiding damage from heat tools.
With this helpful guide, you'll feel confident embracing your gorgeous natural texture.