This site is supported by our readers. We may earn a commission, at no cost to you, if you purchase through links.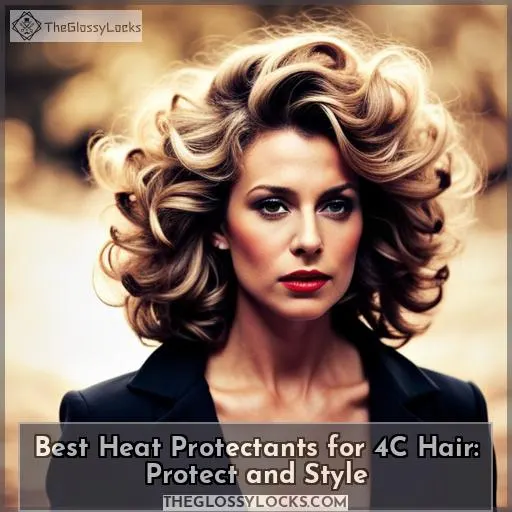 Are you looking for the best heat protectants to keep your 4C hair safe from damage? Heat styling can be a great way to switch up your look, but it comes with some risks. According to research, using hot tools on natural hair without protection can cause an average of 26% more breakage than protecting with a thermal spray beforehand.
To make sure you get the most out of every blow-dry and flat iron session while minimizing damage, we've rounded up eight top-rated heat protectants specifically designed for 4C hair types.
Read on as we present our picks for the best heat protectants that will ensure healthier locks after every style!
Key Takeaways
Heat protectants provide a barrier against heat damage and can reduce breakage by 26%.
To prevent heat damage, it is important to use a protectant, lower temperatures, limit usage, opt for low-intensity settings, and use protective styles.
The recommended frequency for using heat on 4C hair is once a week or less.
When choosing a heat protectant, consider ingredients, temperature protection, and opt for sulfate-free formulas.
8 Best Heat Protectants for 4C Hair
With the right heat protectant, you can prevent damage to 4C hair when using heated styling tools. CHI 44 Iron Guard Spray, Mielle Organics Mongongo Oil Protectant Spray, Heat Hero Gloss Thermal, Living Proof Color Care Shampoo Conditioner, HSI Professional Argan Oil Heat Protector, Bumble and Bumble Hairdresser's Invisible Oil Primer, Moroccanoil Perfect Defense, and Curl Keeper Heat Protection are some of the top recommended products for protecting your natural curls.
3. CHI 44 Iron Guard Spray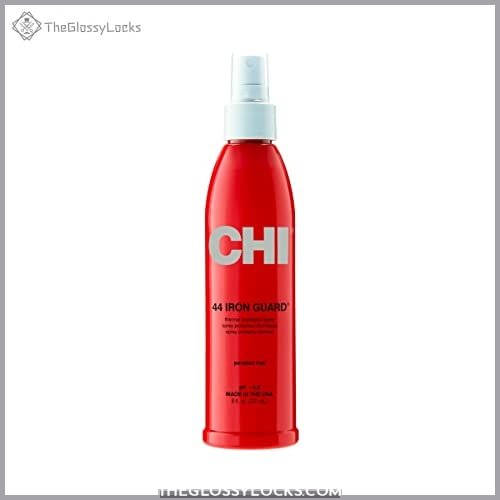 View On Amazon
You'll be amazed at how CHI 44 Iron Guard Spray seals the cuticle and provides superior heat protection for all hair types, leaving your locks soft, moisturized, and frizz-free. This lightweight formula with no added build-up is suitable for any type of hair, from relaxed to permed, color-treated, or natural.
It will help protect against split ends while providing a weightless hold that won't weigh down your strands.
Users report positive reviews about this product's effectiveness in protecting their hair from thermal damage and breakage while helping to seal in moisture without feeling greasy or heavy – plus, its pleasant scent adds a bonus! Many users note improvements in their overall hair health after using this spray regularly as part of their regular heat styling routine.
Lightweight & non-greasy formula
Suitable for all types of hair, including colored & relaxed
Pleasant scent
May leave a slight residue/make strands feel stiff/dull
Temporary change in texture
4. Mielle Organics Mongongo Oil Protectant Spray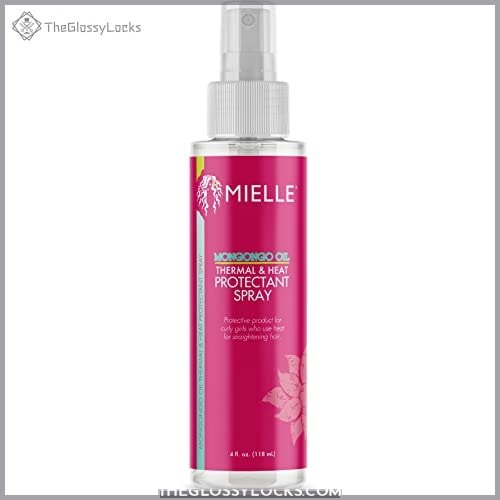 View On Amazon
Experience exceptional heat protection with Mielle Organics Mongongo Oil Protectant Spray. It's perfect for pampering your precious tresses. This liquid spray provides intense heat defense and curl pattern protection to keep hair safe from damage.
It comes in an unscented formula that won't weigh down your locks. Mielle, a women-owned company, has crafted this light yet powerful product specifically designed to fight frizz while softening and smoothing strands of all types.
You can enjoy the benefits without worrying about harsh chemicals damaging delicate curls, as it contains no parabens or sulfates.
Mongongo Oil Protectant Spray helps protect hair from hot styling tools like flat irons, curling wands, blow dryers, and more, up to 450°F. It creates beautiful smooth styles without compromising on health or shine! Additionally, hydrolyzed silk proteins help reduce breakage while adding hydration for long-lasting style control.
Plus, it doubles as a leave-in conditioner too! Even better, it's suitable for use with various styling tools, so you don't have any limitations when it comes to experimenting with different looks at home.
Provides intense heat defense and curl pattern protection
Eliminates frizz
Lightweight & non-greasy
Softens & smoothens hair
Suitable for all types of hair
Limited scent options (unscented only)
Slightly higher price point than other brands
5. Heat Hero Gloss Thermal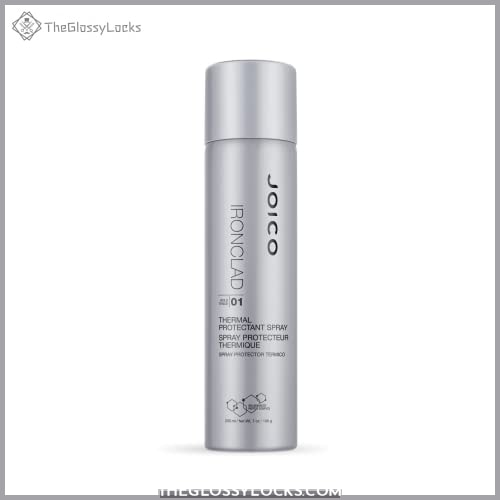 View On Amazon
Discover the Heat Hero Gloss Thermal, a fast-drying spray that offers superior heat protection and frizz reduction for up to 72 hours. This lightweight mist boasts of being able to protect hair from thermal damage up to 450°F, making it ideal for use with flat irons, curling wands, and blow dryers.
The product is sulfate-, phosphate-, and paraben-free, which makes it safe even on fragile strands.
Provides heat protection up to 450°F (232°C)
Weightless formula with no added build-up
Doubles as a leave-in conditioner
Sulfate-, phosphate-, & Paraben-free
Pleasant scent
Some users have experienced leakage during shipping
Product may not be filled completely at times
6. LivingProofColorCareShampooConditioner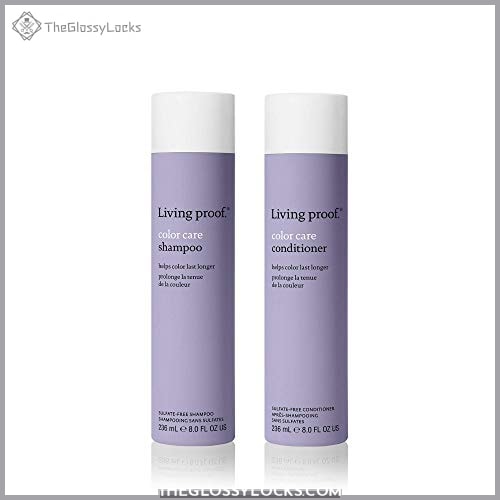 View On Amazon
LivingProof ColorCare Shampoo and Conditioner offers a gentle cleansing formula that reduces wet combing damage while locking in color, leaving your hair shiny and soft. It's silicone-free and sulfate-free formulation is perfect for those looking to maintain their natural beauty without harsh chemicals.
This shampoo/conditioner duo works great on all types of hair from dry to brittle or coarse to fine – so everyone can enjoy its benefits.
Gently cleanses hair
Reduces damage from wet combing with enhanced slip
Helps lock in color
Leakage issues during shipping reported by some customers
Not filled completely sometimes according to reviews
Some customers have experienced an itchy scalp after use
7. HSI Professional Argan Oil Heat Protector


View On Amazon
Unlock your hair's true potential with HSI Professional Argan Oil Heat Protector; a lightweight mist designed to protect you from heat up to 450°F and leave you with glossy, silky-smooth strands. Infused with highly concentrated antioxidant-rich argan oil, this product speeds up drying time while boosting shine and creating a nourishing protective barrier for all types of hair.
Whether relaxed or natural, human extensions or otherwise – the mild formula is sulfate-free, phosphate-free, and paraben-free, so it won't damage even the most sensitive locks.
For those seeking an effective heat protector that doesn't weigh down their mane – HSI Pro Argan Oil Heat Protector is just what they need: providing superior thermal protection without any added build-up.
The only issue some may have had was leakage from the spray bottle, but that shouldn't deter anyone from trying this product out – especially since the initial stickiness on dry hair dissipates after using a straight iron anyway.
Heat Protection Up To 450°F
Infused With Antioxidant-Rich Argan Oil For Maximum Shine & Hydration
Weightless Formula Without Added Build-Up
Initial Stickiness On Dry Hair (But Disappears After Straight Iron)
Product Can Feel Heavy If Too Much Is Applied
Absence Of Argan Oil In Ingredients List
8. Bumble Bumble Hairdressers Invisible Oil Primer

View On Amazon
Bumble and Bumble's Hairdresser's Invisible Oil Primer helps condition, soften, smoothen, and detangle your 4C hair with its feather-light oil blend while providing lasting heat protection. This primer is a pre-style product that offers more than just thermal defense from hot styling tools like flat irons or curling wands.
The lightweight oil has a pleasant scent with sweet and fruity hints for an added touch of luxury as you style your locks.
Lightweight formula provides heat protection up to 450°F/232°C
Conditions & softens 4C hair texture
Provides breakage control & UV protection
Pleasant sweet & fruity scent
Not suitable for all types of curls/waves
Some users have experienced leakage issues during shipping
Product not filled to the top
9. Moroccanoil Perfect Defense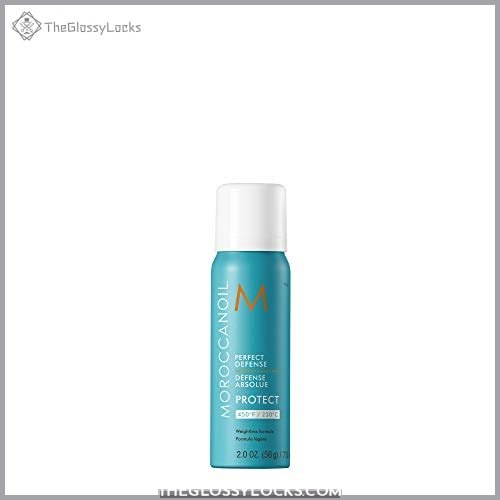 View On Amazon
Experience the power of Moroccanoil Perfect Defense and its Fragrance Originale scent as you protect your hair from heat up to 450°F with this lightweight, paraben-free spray. This product is designed to help tame frizz and smooth rough ends while leaving your hair soft, shiny, and healthy.
The weightless formula helps reduce blow dry time for quick styling without weighing down the strands or causing build-up.
The convenient 75 Milliliter can ensures even product distribution for a lasting effect without a greasy look.
User reviews praise this heat protector spray's pleasant smell as well as their improved texture after use—making it an ideal choice for those looking to maintain beautiful locks in spite of daily heating tool use! Plus, some users have reported that it helps rescue damaged hair when used regularly over time—a bonus feature not found in all other products on the market today!
However, there are also mixed feedbacks regarding styling results. Some customers felt disappointed with lackluster curls, while others were pleased with the sleek straight looks they achieved instead.
Smells amazing
Provides hydration & shine
Reduces frizz & split ends
Can feel hard if not applied quickly
Strong chemical scent for some users
Mixed feedback on styling results
10. Curl Keeper Heat Protection

View On Amazon
With Curl Keeper Heat Protection, you can protect your kinky, curly or wavy hair from heat styling damage while enjoying smooth and shiny locks. This lightweight, water-based formula is silicone-free, cruelty-free, and vegan-friendly for everyday use.
It also comes with a biodegradable, pH balanced blend to ensure minimal impact on the environment.
With its thermal defense feature, it helps reduce frizz and define curls, all while providing protection against hot tools up to 450°F! Customers have reported positive experiences, such as protecting their hair during flat iron use, resulting in smoother strands after blow-drying.
To get even better results, pair this product with Curl Keeper's Original Liquid Styler for maximum frizz control and lasting definition! The 8 fluid ounce bottle provides enough product for multiple uses, making it a great choice when looking for an affordable way to keep your curls healthy without breaking the bank!
Lightweight, water-based formula that is silicone-free and vegan-friendly
Thermal Defense protects up to 450°F
Helps reduce frizz and define curls
Affordable option with plenty of product per bottle
Some users note that using too much may lead to brittle strands and breakage
Not suitable if looking specifically for hold or volume
How to Prevent Heat Damage on 4C Hair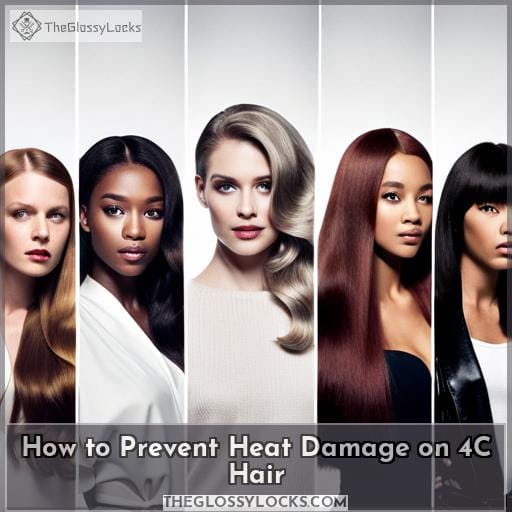 To avoid heat damage to your 4C hair, it's important to use a good heat protectant and follow the proper styling precautions.
Use a heat protectant product formulated specifically for natural textures with frizz-reducing and shine-adding ingredients. Make sure that the product is appropriate for your type of hair, sulfate and silicone-free.
Turn down the temperature on heated tools as much as possible when styling, only using high temperatures if absolutely necessary in short bursts. Limit usage of hot tools such as curling irons or flat irons to once per week or less depending on how often you style it.

This helps minimize potential damage caused by excessive exposure to high levels of direct heat.

Opt for alternative styles such as twist outs, braid outs, Bantu knots, or wigs/extensions instead, which have minimal impact on curly strands yet provide ample opportunity to be creative with different looks.
Finally, lock in style by using setting sprays and sealants like oil pastes after blow-drying so that your curls stay hydrated without any unwanted frizz all day long!
How Often Should You Use Heat on 4C Hair?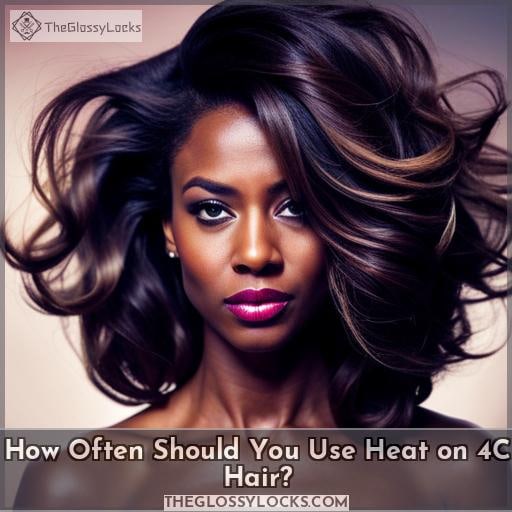 Heat-styling 4C hair can be intimidating, but it doesn't have to be. Used correctly, heat protectants can help prevent damage and keep your curls looking beautiful.
Heat frequency should be limited – no more than once a week or every other week at the most!
Low temperature settings are best – start low and increase gradually if needed; never exceed 425°F / 220°C!
Consider alternative styling methods like twist outs, braid outs, Bantu knots, and wigs/extensions when possible instead of relying heavily on heated tools to style your curls regularly.
Always apply an effective heat protectant before using any hot tool so that the product forms a barrier between your strands and potential damage from high temperatures.
Apply in sections with a focus on ends, then distribute with a wide-tooth comb evenly throughout the whole head for optimal effectiveness.
With these tips in mind, make sure to always take good care of your tresses by properly using protective products such as natural ingredients like honey, propolis, castor oil, etc.
Does Heat Protectant Work on 4C Hair?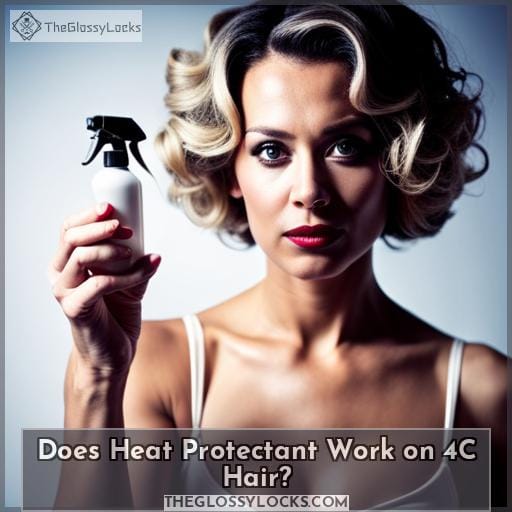 You may be wondering if heat protectant actually works on 4C hair – the answer is a resounding yes! Heat protection products are specifically formulated to provide an effective barrier between your delicate strands and any high-heat styling tools you use.
Not only can they help reduce damage caused by heat, but many formulas offer additional benefits such as added hydration or shine. When using heat protectants for 4C hair, it's important to apply them evenly across the entire head of hair before applying heated styling tools.
This will ensure that each strand is adequately protected from potential damage due to excessive temperatures and friction.
Additionally, look for natural oils like coconut oil or argan oil which add extra moisture while protecting against harsh UV rays and chemical treatments commonly used in salons. To get optimal results when using a heat protectant product on 4C Hair type, consider consulting with a professional stylist who has experience working with this texture type so that you can make sure you're getting the best possible temperature tolerance levels as well as product recommendations tailored specifically towards your needs.
How to Use Heat Protectant on 4C Hair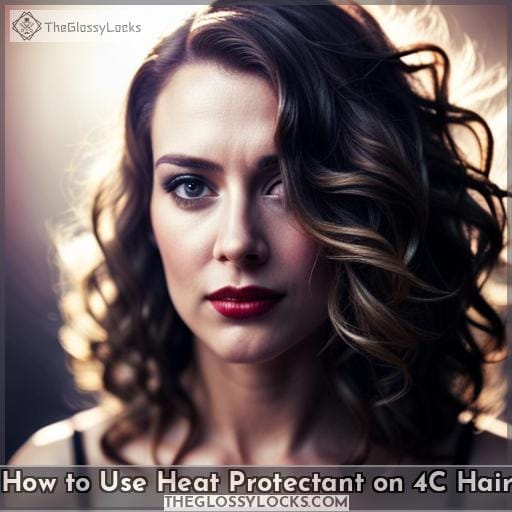 Using the right heat protectant and following the proper steps can help you achieve sleek, frizz-free hair without sacrificing its health.
Proper application: Ensure your hair is clean and dry before applying product evenly with a wide-tooth comb, focusing on the ends of your 4C strands.
Product selection: Choose an appropriate heat protectant for 4C hair that contains beneficial ingredients such as argan oil or shea butter for maximum protection against damage.
Heat styling tips: Use low settings when blow drying or using other heated tools and avoid keeping them in one spot too long to minimize damage from excessive heat exposure.
Benefits of protection: Heat protectants provide hydration while protecting against split ends, breakage, static build-up, and dullness caused by hot styling tools.
Stylist recommendations: Natural Hair Expert Lyonisha Sanders recommends sulfate/silicone-free formulas suitable for all types of natural textures.
Lastly, use setting sprays after completing the desired style to lock it in place!
How to Choose the Right Heat Protectant for 4C Hair Types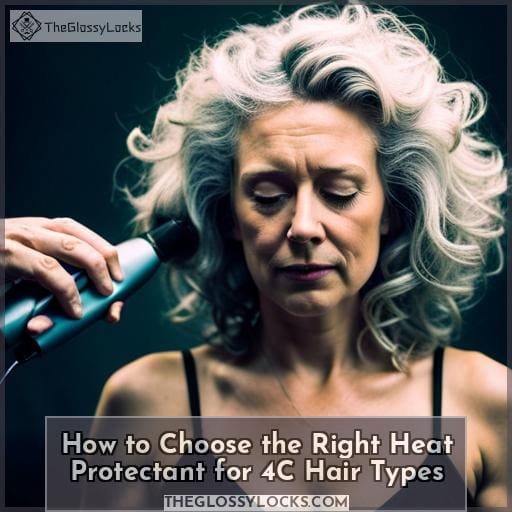 When choosing a heat protectant for 4C hair, it is important to consider key factors such as temperature protection, beneficial ingredients, and compatibility with your hair type. Popular brands include Cantu Thermal Shield, OGX Protecting + Silk Blowout, SheaMoisture Anti-Breakage, and Mielle Organics Heat Protectant Spray.
Furthermore, there are several tips that can be followed to prevent heat damage on 4C hair, such as using low settings when styling with heated tools and limiting usage frequency.
Key factors when choosing heat protectants for 4C hair
When selecting heat protectants for your 4C hair, consider the ingredients and temperature protection to ensure you get optimal results. Look out for sulfate-free and silicone-free formulas designed specifically for natural textures with added frizz-reducing or shine-boosting ingredients.
Heat damage prevention is key. Aim to use low temperatures when styling and limit usage frequency to once a week or less.
Natural alternatives include propolis, honey, castor oil, shea butter, coconut oil, grapeseed oil, argan oil, almond oil, avocado oil, and sunflower oil. These oils can provide heat protection and nourishment for your hair. Additionally, setting sprays can help lock in your style.
Before making a decision, it's helpful to read reviews from other users to determine the effectiveness of a product. This will ensure that you choose the heat protectant that best suits your needs.
Recommended heat protectant brands for 4C hair
Discover the best heat protectant brands for 4C hair to keep your curls looking and feeling great. Evaluate product effectiveness, ingredient analysis, user reviews, and styling techniques before making a purchase decision.
Expert recommendations also play an important role in helping you choose the right one for your needs.
Consider sulfate-free formulas with setting sprays that lock style. Then, opt for those specifically designed for natural hair textures with frizz-reducing properties like OGX Protecting Silk Thermal Spray or Mielle Organics Mongongo Oil Protectant Spray.
With these tips in mind, find confidence selecting heat protectants that suitably meet all of your needs!
Tips for preventing heat damage on 4C hair
To keep your 4C hair healthy and protected, use heat protectants in combination with precautionary measures to prevent heat damage. Use a low-intensity setting when styling, limit usage to once a week or less, and apply the product evenly before using heated tools.
Protective styles like twist-outs or braid-outs can be used instead of direct heat.
Natural Ingredients as Heat Protectants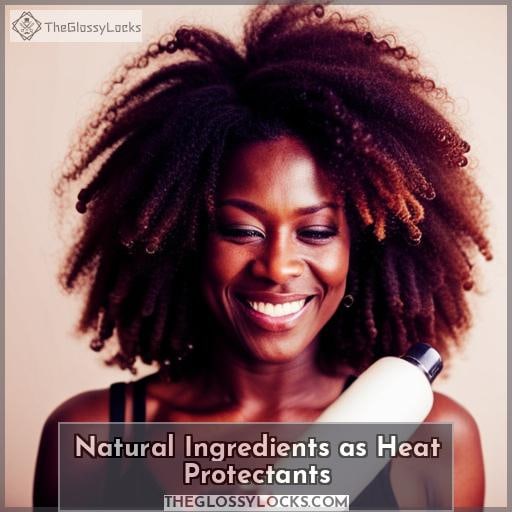 Unlock the power of natural ingredients to protect your 4c hair from heat damage. Natural ingredients such as avocado oil, coconut oil, and argan oil can provide amazing benefits for your hair health while offering heat protection.
DIY formulas with these oils are easy and affordable to make at home. They have been proven effective in protecting against thermal damage from styling tools. Moreover, their effectiveness is comparable or even superior to more expensive store-bought products.
These natural oils penetrate deeper into the strands of hair, providing better moisture retention and frizz control compared to products that use synthetic chemicals or silicones. Regularly using these oils can help reduce breakage due to their nourishing properties, promoting stronger locks over time without weighing them down like some commercial conditioners.
By selecting the right natural ingredients, you can easily create a protective shield around each strand while adding shine and softness.
Conclusion
It's time to take control of your 4C hair and protect it from heat damage with the best heat protectants. From CHI 44 Iron Guard Spray to Mielle Organics Mongongo Oil Protectant Spray, these products provide the ultimate protection and nourishment to your curls.
Not only will they help prevent heat damage, but they'll also leave your hair feeling soft, smooth, and healthy. With the right heat protection in place, you can style your hair with confidence, knowing that you're taking the best care of your locks.
So, get out there and show off your fabulous 4C hair and don't forget to keep your heat protectant handy!