This site is supported by our readers. We may earn a commission, at no cost to you, if you purchase through links.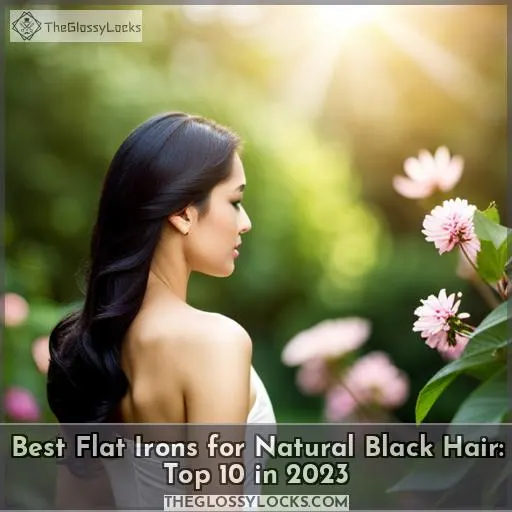 It's time to take control of your natural hair with the best flat iron for natural black hair. From the HSI Professional Ceramic Flat Iron to the Kimble Vapor Iron Argan Oil, these top 10 flat irons in 2023 are sure to give you the sleek and smooth look that you crave without damaging your locks.
We'll tell you what features to consider while choosing a flat iron, what things should be taken into account prior to straightening African American hair, as well as tips on how not to fry your strands and keep them healthy.
Key Takeaways
Consider plate material, ion technology, adjustable heat, plate closure, and narrow plates
Ceramic or titanium plates for even heat and to minimize damage
Ionic technology reduces frizz and seals in moisture
Adjustable heat settings for different hair types
Top 10 Best Flat Irons for Natural Black Hair
If you're looking for the best flat iron for your natural black hair, then look no further!
From the HSI Professional Ceramic Flat Iron to the INFINITIPRO Flat Iron Ceramic and the Paul Mitchell Neuro Smooth Flat Iron to the GHD Original Flat Iron, there are plenty of options available.
The CROC Classic Silver Titanium 5 Inch, the BaBylissPRO Titanium Straightener, and the Moroccanoil Titanium Straightening Irons are also great choices.
You can also consider the CHI Original Ceramic or the Kimble Vapor Argan Oil flat irons.
And lastly, the T3 SinglePass Compact is another option to consider.
With these top ten picks in mind, you can find a professional-level styler that's perfect for achieving sleek and smooth looks without causing damage.
HSI Professional Ceramic Flat Iron
View On Amazon
If you're looking for a ceramic flat iron that helps keep your hair shiny and frizz-free, the HSI Professional Ceramic Flat Iron is an ideal choice. This lightweight flat iron features ceramic plates that heat up quickly and evenly to help ensure even styling results.
It also has adjustable temperature settings, so you can customize your look without frying your hair.
However, some customers have experienced issues with the product after only 14 months of use, which may be disappointing if this occurs for you as well.
Ceramic plates heat up quickly and retain heat evenly to prevent hot spots and frizz.
Adjustable temperature settings allow customization of style while avoiding damage.
Lightweight design makes it easy to maneuver.
May not last as long as expected.
Some customers experience problems after 14 months.
INFINITIPRO Flat Iron Ceramic
View On Amazon
The INFINITIPRO Flat Iron Ceramic by Conair offers advanced ceramic technology with extra-long floating plates and 30 heat settings, up to 455°F. This allows you to achieve smooth, shiny hair in just fifteen seconds. Its lightweight design makes it comfortable and easy to handle, while its dual voltage capability allows for international use.
The flat iron has a deluxe thumb grip for comfort, as well as titanium plates that lock in moisture and reduce static. It also features an auto shut-off after 30 minutes of unused time, ensuring safety when using the product.
You can create pin straight styles, waves, or curls without fear of damage, thanks to the even heating distribution throughout each pass over your hair strands.
Advanced ceramic technology
Extra long floating plates
Heats up quickly (15 sec)
Lightweight & Easy To Handle
Plates don't grip hair well
No protective carry pouch included
No lock feature
Paul Mitchell Neuro Smooth Flat Iron
View On Amazon
Experience ultimate styling control with Paul Mitchell's Neuro Smooth Flat Iron, featuring lightning-fast heat up and cool down times for precise temperature control. The titanium plates evenly distribute the heat to minimize any damage to your hair.
Its large digital display offers easy temperature selection from 280°F to 450°F.
Traveling? You can easily take it around the world as it is dual voltage 110-240V with a plug adapter included. And if that wasn't enough already – its rounded edges give you a variety of styles like flips or curls in addition to straightening out those kinks! Get ready for salon results at home without all the stress when using this incredible product from Paul Mitchell Pro Tools.
Quick heating/cooling times
Precise temperature control
Even distribution of heat
Auto shut off safety feature
Plug adapter needed
Not long lasting
GHD Original Flat Iron
View On Amazon
Tame your tresses with the GHD Original Flat Iron for silky, smoother results. This iconic and cult classic professional styling tool from GHD is designed to give you healthier-looking hair in less time.
With upgraded technology, it features a 365°F optimum styling temperature – perfect for flip, curl, or straightening styles. It also has ceramic floating plates that glide smoothly through your locks and a round barrel for versatile styling.
For comfortable use, there's even a lighted on/off switch and sound indicators, so you know exactly when to style.
Iconic and cult classic professional styler
Upgraded technology with advanced features
Ceramic floating plates & round barrel offer versatile styles
Lighted on/off switch & sound indicators provide convenience
More expensive than generic flat irons
CROC Classic Silver Titanium Flat Iron 1.5 Inch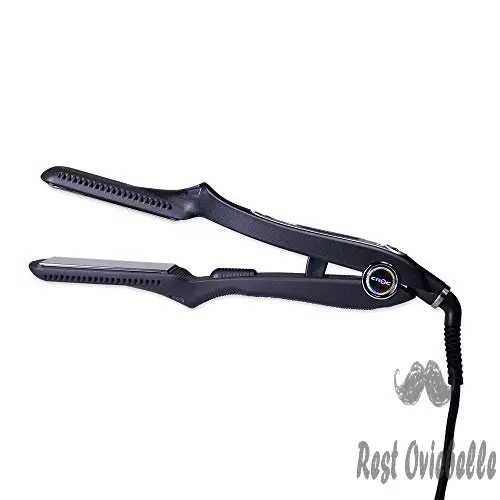 View On Amazon
Take your styling game up a notch with the CROC Classic Silver Titanium Flat Iron 1.5 Inch – it's perfect for locking in moisture and reducing static, while negative ions seal cuticles to create shiny locks! This professional flat iron offers superior performance that other brands can't match.
Its lightweight design is easy to handle, and its fully digital temp settings from 280-450F make this an ideal choice for all hair types. The dual voltage capability allows you to use the flat iron around the world without needing a plug adapter, making it great for travel or at-home use.
It heats up quickly and evenly with built-in ceramic heaters ensuring instant recovery time between passes, so you get consistent results every time! Plus, its slipless Comfort Grip handle stays cool even when heated, so you don't have to worry about burning yourself if your hands slip off during styling sessions.
Lightweight design
Fully digital temp settings from 280-450F
Dual voltage capability
Built-in ceramic heaters ensure instant recovery time between passes
Slipless comfort grip handle stays cool even when heated
Expensive compared to some alternatives
Can be difficult to style short hair
Some users find the auto shutoff feature annoying
BaBylissPRO Titanium Flat Iron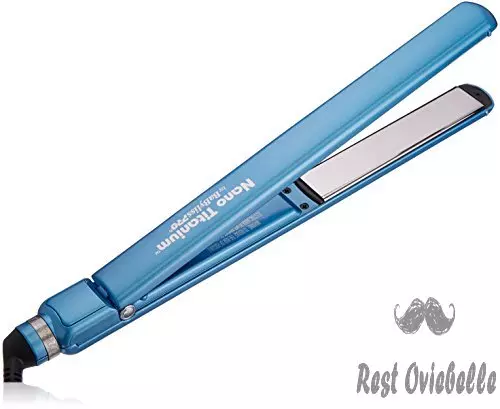 View On Amazon
If you're looking for a lightweight, powerful flat iron that won't damage your natural black hair, the BaBylissPRO Titanium Flat Iron is an excellent choice. It boasts advanced ceramic technology and heated plates that reach up to 450°F in just 45 seconds.
With its slim profile design, the BaBylissPRO Titanium Flat Iron eliminates hand fatigue while increasing flexibility of use on all types of hair. It can straighten any style without snagging or pulling. The Nano Titanium plates emit negative ions, which help protect your tresses from heat damage and provide a sleek shine to your locks.
Additionally, it emits far infrared heat, allowing for faster heating times while still being gentle on strands.
This pro styler glides through wet or dry hair with ease, thanks to its floating plate feature.
Fast heat up & performance
High temperature settings (up to 450°F)
Ultra thin & lightweight
Protects from Heat Damage
Provides silky & shiny finish
Lacks auto shutoff feature
Moroccanoil Titanium Flat Iron
View On Amazon
Try the Moroccanoil Titanium Flat Iron for fast heating and even heat distribution, making it perfect for achieving sleek, shiny results. This professional-grade tool features 4 titanium plates that quickly heat up to temperatures of up to 450°F – great for straightening all hair types.
The slim design also offers comfortable handling with buttons on the inside of handles, so you can hold it in a variety of positions. Reviews highlight its ability to smooth hair beautifully without pulling or snagging while providing frizz-free locks after just one pass! Many customers have found this flat iron is well worth the price tag due to how durable and long-lasting it is.
Quickly heats up & evenly distributes temperature
Slim design allows easy handling and control
Buttons on handle allow comfortable gripping
Smooths hair easily without pulling or snagging
Some defective units stop working after 30 days
Doesn't get hot enough; doesn't hold style in humidity
Takes multiple passes per section; may burn some strands
Overpriced compared with other brands
CHI Original Ceramic Flat Iron
View On Amazon
The CHI Original Ceramic Flat Iron features advanced ceramic technology for creating sleek, shiny results without damaging your strands. This professional salon model hair styling iron is designed to provide silky, frizz-free hair instantly with its flash quick heating up to 392°F (202°C).
The versatile styling tool includes 1 ceramic floating plate and an 11 ft. swivel cord for convenience. It also has an automatic shut off feature after 1 hour of nonuse. Its ergonomic design provides easy grip handles on the inside of the flat iron, so you can easily flip, curl, or style your locks smoothly and evenly without snagging them in the process.
Dual voltage makes this product perfect for worldwide use, and it also comes with a 2-year limited warranty from Farouk Systems Inc.
Advanced Ceramic Technology
Flash Quick Heating Up To 392°F (202°C)
Versatile Styling Tool For Flip & Curl Styles
Lightweight & Ergonomic Design
11 Ft Swivel Cord For Convenience
Automatic Shut Off After 60 Minutes Of Nonuse
Dual Voltage Capability
No Temperature Control
Can Burn Hand And Hair If Not Careful
Kimble Vapor Iron Argan Oil
View On Amazon
You'll love the Kimble Vapor Iron Argan Oil's sleek design and fast shipping, but be aware of its lack of quality – it may put out little to no oil and emit a burnt smell. Customers have reported that this product causes damage to their hair with dark liquid leaking from it.
If you're looking for silky, healthy hair, then this isn't the flat iron for you. Many buyers are disappointed with what they've received after spending money on something that should not even be on sale.
You might expect more than 7 uses before liquid begins leaking onto your clothes or skin, which is why some customers feel totally ripped off by buying such a cheaply mass-produced item originating from China! Be warned: Kim Kimble should really be ashamed to offer such an unsatisfactory product as part of their range.
Sleek design
Fast shipping
Good flat iron
Poor quality
Little/no oil output
Burnt smell
Dark liquid damaging hair
T3 SinglePass Compact Flat Iron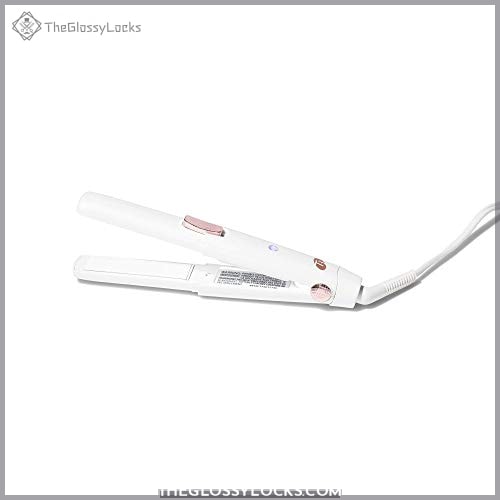 View On Amazon
Experience effortless styling with the T3 SinglePass Compact Flat Iron, boasting ceramic plates and single-pass technology for quick heat-up time and sleek, smooth results. This flat iron is designed to make straightening natural black hair easier than ever before.
The auto shut-off feature ensures safety while on the go, so there's no need to worry about any accidents or mishaps occurring when away from home. With a fast heat-up time of just 45 seconds and adjustable temperature settings reaching up to 450°F, this flat iron promises top performance regardless of hairstyle needs.
Dual Voltage Capable
Auto Shut-Off Feature
Fast Heat-Up Time
Adjustable Temperature Settings
No Indicator Light Or Digital Display
Can Be Tricky Curling Longer Hair
High Heat May Damage Fine Or Color-Treated Hair
What to Look for in a Flat Iron for Natural Hair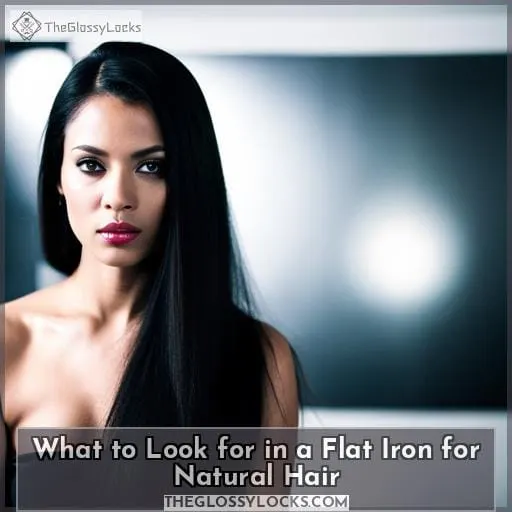 When choosing the best flat iron for natural black hair, consider plate material, ion technology, adjustable heat settings, and a good closure between plates.
Narrower plates are also recommended as they can create more precise styles. Look for ceramic or titanium materials that will easily glide over your locks without damaging them while providing even distribution of heat to minimize damage from styling.
Additionally, choose an iron with ionic technology to help keep frizz at bay and enhance shine in your hair. Adjustable temperature settings allow you to select the right degree of heat appropriate for your particular hair texture; this helps prevent it from becoming fried due to excessive high temperatures being used on delicate strands.
The Right Plate Material
When shopping for a flat iron, consider the plate material to ensure you get the results you want. Titanium plates heat up quickly and evenly, making them great for kinkier hair types. Ceramic plates give even heat distribution with minimal damage, while tourmaline offers an extra boost of shine and frizz control.
Floating or flexing copper plates are gentle on strands but provide enough grip to create smooth styles without pulling or tugging at your hair.
Ion Technology
Ion technology helps reduce frizz and seal in moisture for a smooth, shiny finish. It also provides heat protection to keep your hair healthy while styling. Titanium plates are preferred by many due to their durability and fast heating time.
However, ionic technology is the best option for natural black hair as it emits negative ions that help lock in moisture without damaging the cuticle layer of the strand.
HSI Professional Glider Ceramic Tourmaline Ionic Flat Iron is one of the top choices when looking for a flat iron with this feature. Its adjustable temperature settings allow you to find what works best on your type of hair without subjecting it to too much heat damage.
GHD Original Styler is another great choice thanks to its advanced ceramic heater.
Adjustable Heat Settings
Adjusting the heat settings on your flat iron is key for achieving smooth, shiny results while protecting natural black hair from damage. Temperature settings should be based on individual hair type – fine or thick, straight or curly – and plate size can make a difference in how quickly you get desired results.
Heat levels of up to 450°F are necessary for natural black hair, but use caution when selecting a temperature setting that's too high as it can lead to irreversible damage. A heat protectant spray is also recommended before using any flat iron with adjustable heat settings, such as the GHD Classic Styler and Paul Mitchell Neuro Smooth Titanium Flat Iron.
Consider plate composition; ceramic plates create more even heating than titanium, which tends to get hotter quicker.
Good Closure Between Plates
It's important to look for a flat iron with a good closure between the plates, as this ensures even heat distribution and prevents damage.
Look for quality material that won't snag your hair or overheat it while styling. Cordless options are also great when traveling, so you don't have to worry about cords getting tangled up during use.
Temperature control is key too – make sure your flat iron can adjust temperatures according to different hair types and textures.
If possible, ask advice from experienced hairstylists who know all the nuances of popular brands such as Dyson Corrale Hair Straightener or Ghd Platinum Styler, which are known among professionals in the beauty industry today.
Narrow Plates
Narrow plates are often a better choice for natural black hair because they allow you to focus on individual strands and create more detailed styles without causing damage.
For example, the T3 SinglePass Compact Flat Iron is great for travel due to its compact size and narrow plates that provide precise styling. Additionally, adjustable temperature settings up to 450°F let you customize your heat settings while protecting from scalp sensitivity or heat damage.
Heat protectant sprays can help keep frizzy hair under control when straightening natural hair with this flat iron too! Overall, it's an excellent option if you're looking for an easy way to style without worrying about excessive heat damaging your locks.
Top Things to Consider While Choosing the Flat Iron for African American Hair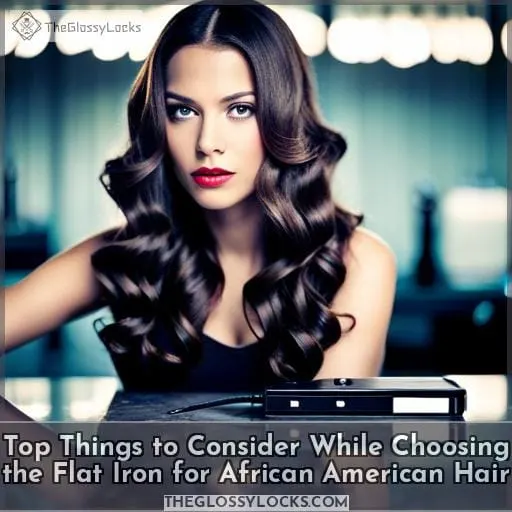 When choosing a flat iron for African American hair, consider the temperature settings, plate size, and composition, scalp sensitivity level, and frizz control to get smooth results without any damage.
A good flat iron should be lightweight with adjustable heat settings that range from low to high temperatures depending on your preference. Ceramic plates are ideal for even heat distribution, while titanium plates can get hotter more efficiently, so they're great for harder-to-straighten kinkier textures.
Look out for features like an automatic shut-off timer in case you forget to turn it off when done styling or if there's a power outage, as this will help keep your hair safe from excess heat exposure.
With these tips in mind, along with considering factors such as weight and grip comfort levels when selecting your perfect flat iron, you're sure to achieve beautiful results every time without compromising the health of your strands!
What You Should Know Prior to Straightening African American Hair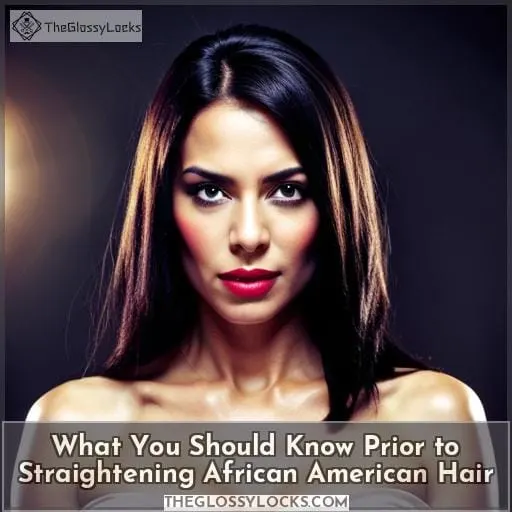 Before straightening African American hair, it's important to understand the unique needs and traits of this type. Heat protectant is a must when styling natural black hair as temperatures can go up to 450°F.
Consider using heat protectants like sprays or serums before flat ironing your thick, curly locks for optimal results.
Factors such as plate size, temperature settings, and scalp sensitivity should all be taken into account in order to avoid damage from high heat levels while still managing frizz control effectively. Additionally, an automatic shut-off timer on the flat iron helps ensure safety since these are typically used at higher temperatures than other types of hair may require.
Therefore, having one set off after a certain duration is beneficial for those with African American textures who tend not to leave their irons unattended too long during use due to the care needed when straightening this particular type of tresses.
In short, using proper techniques and tools will help achieve the best outcomes without damaging or burning African American Hair.
How to Choose the Right Flat Iron That Won't Fry Your Hair?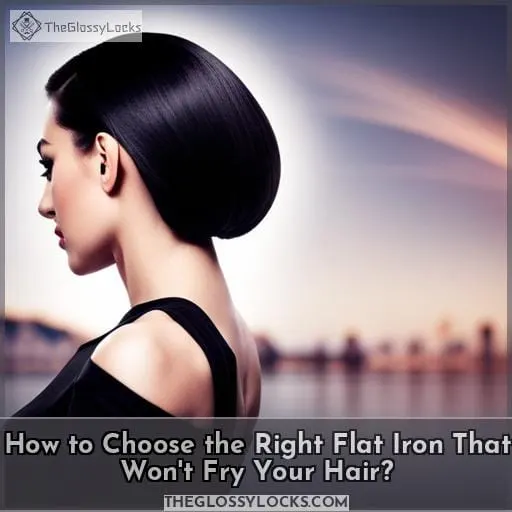 Ready to get your sleek, gorgeous locks? Before you start straightening your natural black hair with a flat iron, there are several factors to consider.
First and foremost is how quickly the flat iron heats up. Bio Ionic Flat Irons heat up in no time at all – it's simply a whole new level of hair straightening!
You also need to know how much heat each different type of hair can handle. African American Hair should not be exposed to high temperatures for long periods of time.
Lastly, keep in mind that frequent use may cause damage. Experts recommend using the same amount of passes as directed by the manufacturer while keeping temperature levels low and limiting usage to once per week or less.
So do some research before investing in a good quality flat iron – one that won't fry your precious tresses!
How Long It Takes to Heat Up
It's important to consider how quickly a flat iron will heat up when choosing one that won't cause damage to your hair. African American hair is particularly delicate and requires low-temperature styling tools with a wide temperature range for successful straightening.
Look for options that have dual voltage capability, plate sizes of 1 inch or wider, and quick heat transfer times. For example, the CHI Deep Brilliance Black Titanium Hairstyling Iron with Heat ID technology can reach high temperatures in seconds without sacrificing quality or damaging the hair.
Additionally, some models include an automatic shut off timer for added safety and convenience.
Bio Ionic Flat Irons: It's Simply a Whole New Level of Hair Straightening
Discover a revolutionary way to straighten and style your hair with Bio Ionic flat irons – you won't believe the results. Experience stress-free styling with ionic heat that helps protect, restore, and condition your hair for unbeatable shine.
Hair masks are perfect for prepping before using this flat iron as well as aftercare in order to maintain healthy-looking locks.
Choose from the Paul Mitchell Neuro Smooth Titanium Flat Iron or the Babylisspro Nano Titanium Ultra-Thin Straightening Iron, both designed specifically for African American textured/natural hair types.
The T3 Lucea ID 1" Smart Flat Iron with Touch Interface is ideal if you're looking for an advanced technology option.
The GHD Platinum 1" Styler has ultra-zone predictive technology which adjusts heat levels depending on the thickness of your strands.
The Kim Kimble Quad Plated Ceramic Tourmaline Steam Infused Plate provides superior performance while reducing frizz and flyaways at the same time!
Get ready to experience smooth, silky tresses like never before!
How Much Heat Can Each Hair Type Handle?
Knowing your hair type is key to finding the perfect flat iron that won't fry and damage it – so let's get started!
Each hair type has its own heat range, so make sure the thermal protection of your chosen flat iron matches.
Temperature control is also essential: fine or thin strands require a lower temperature than coarse types.
Choose a flat iron with negative ions technology for nourished results, and use styling tips like scalp protectant sprays to reduce any pain from constant heat exposure.
Lastly, look for an ergonomic design with adjustable settings for easy navigation when choosing what kind of flatiron best suits you!
How Often Should You Use Your Flat Iron?
It's important to consider how often you should use your flat iron when styling natural black hair – as using it too frequently can cause damage.
Depending on your hair type, heat levels may need to be adjusted for wet styling and protection from burnout. A lightweight feel with a wishbone hinge ensures precise temperature control while providing a customized styling experience.
Low temperatures work best for glossy black hair, while higher ones are suitable for tougher textures or kinkier curls; but always make sure that heat protectant spray has been applied beforehand!
With these tips in mind, you'll have sleek-looking locks every time without damaging your precious mane!
Tips for Caring for Natural Hair and Maximizing the Benefits of Your Flat Iron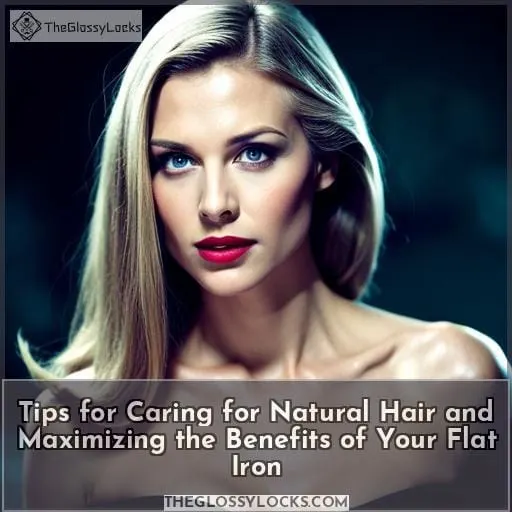 Caring for natural black hair properly is essential to achieving and maintaining sleek, shiny results with your flat iron.
Use nourishing shampoos and leave-in conditioners regularly to keep strands moisturized.
Look for a high-performance, dual voltage travel-size flat iron that offers adjustable temperature settings so you can use the lowest temperature suitable for styling without causing harm or damage to fragile curls.
Apply a heat protectant spray before using any hot tool on hair, as this will help lock in moisture while providing extra protection against excessive heat levels.
Lastly, incorporate regular deep conditioning treatments like hair masks into your routine.
Frequently Asked Questions (FAQs)
What is the difference between a ceramic and titanium flat iron?
Have you ever wondered what the difference is between a ceramic and titanium flat iron? Ceramic plates provide even heat distribution to minimize damage to hair, while titanium plates are best for kinkier or harder-to-straighten strands.
Both offer adjustable temperatures and ionic technology for shine, so it's important to consider your specific needs before choosing one.
How often should I use a flat iron on my natural hair?
You should limit using a flat iron on natural hair to once per week, as heat can cause damage. Invest in quality tools like high-performance plates and an adjustable temperature setting to avoid frying your locks.
Consider the type of hair you have when selecting a temperature and use protective sprays for added shine and frizz control.
Are there any flat irons specifically designed for African American hair?
Yes, there are flat irons specially designed for African American hair. Look for titanium plates that heat quickly and evenly, adjustable temperature settings to avoid frying the hair, high-performance plates with consistent heat and good design.
For extra shine and frizz control, consider infrared technology or Bio Ionic flat irons.
What other products should I use in combination with a flat iron to prevent damage?
To protect your natural black hair from damage, use a heat protectant spray and limit the frequency of straightening. Look for flat irons with adjustable temperature settings, titanium plates for faster heating, infrared technology for shine and frizz control, and flexible plates for better grip.
Are there any flat irons that are suitable for traveling?
Yes! Look for flat irons with dual voltage and compact sizes like the T3 Micro Flat Iron. With advanced ceramic technology, a single-pass design, and fast heating capabilities, you can travel hassle-free while styling without sacrificing quality.
Conclusion
When it comes to caring for natural hair, finding the right flat iron can make a world of difference. As the saying goes, The right tool for the job is the key to success. When it comes to choosing the best flat iron for natural black hair, there are a number of factors to consider.
From temperature settings and plate size to heat transfer time and durability, finding the right flat iron can help you achieve shiny, healthy-looking hair. With the right flat iron, you can achieve smooth and sleek results while protecting your hair from damage.
To ensure you get the most out of your flat iron, look for high-performance plates, consistent heat, and good design. Avoid high temperatures. Remember to always use a heat protectant spray and limit your usage of the flat iron to once a week.
With the right flat iron and a bit of know-how, you can achieve beautiful results with natural black hair.