This site is supported by our readers. We may earn a commission, at no cost to you, if you purchase through links.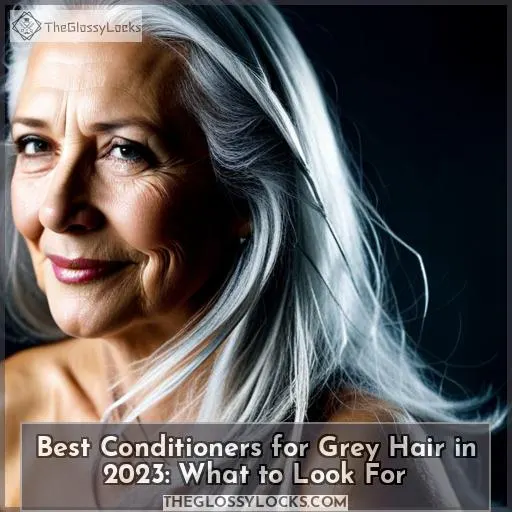 Say goodbye to the days of dull grey hair! With the right products and care, you can achieve vibrant, healthy-looking locks. But with so many conditioners on the market, it's hard to know which one is best for your silver strands.
Don't worry—we've got you covered with our comprehensive guide on finding the perfect conditioner for grey hair in 2023.
From benefits and factors to consider when selecting a product through to tips for maintaining luscious locks going forward – get ready to make your mane look better than ever before!
So sit back, relax, and let us help you find that incredible shampoo or conditioner specifically tailored towards giving your hair an amazing upgrade this year.
Key Takeaways
Hydration, shine, and color retention are important benefits of using conditioner for grey hair.
Ingredients to look for in a conditioner for grey hair include argan oil, keratin, vitamins A and E, and coconut and almond oils.
When applying conditioner, focus on the ends of the hair and consider using leave-in conditioners or tinted shampoo weekly.
Regular trims, deep conditioning masks, protein treatments, and daily use of conditioner when washing are important for maintaining grey hair's health and vibrancy.
Benefits of Using a Conditioner for Grey Hair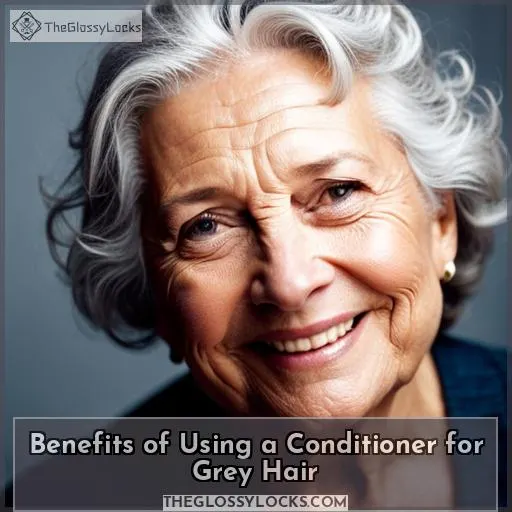 You can experience the advantages of using a conditioner tailored to your specific hair color, helping to keep your tresses healthy and vibrant. If you have grey hair, you need an extra special product that nourishes and hydrates while also maintaining silver tones and increasing shine.
A quality conditioner specifically designed for grey locks will help prevent aging by providing deep hydration with its rich ingredients full of antioxidants and vitamins. It is important not only to choose one that provides all these benefits but also is gentle enough not to damage already delicate strands due to coloring or other treatments used in styling gray hair.
For ultimate protection against breakage, try a weekly masking treatment which helps replenish lost moisture from daily wear-and-tear as well as boost radiance levels significantly so each strand looks glossy like never before without weighing it down!
Investing in the right kind of products will ensure maximum health for every type of gray mane – whether fine or thick – no matter how much time has passed since graying began occurring naturally on its own accord.
Factors to Consider When Choosing a Conditioner for Grey Hair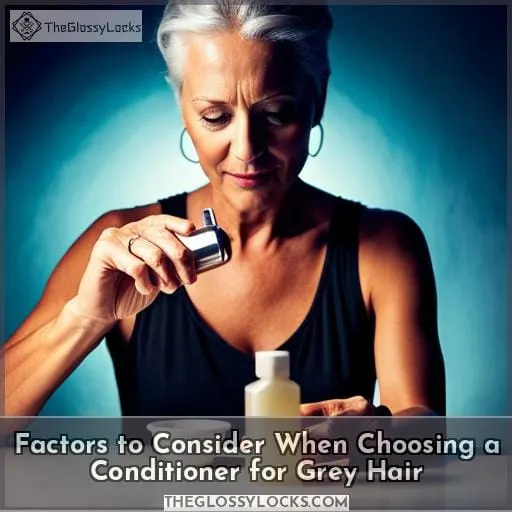 When considering a conditioner for your silver strands, be sure to contemplate the various factors that can make it effective. Look for products with moisturizing effects to keep your hair hydrated and healthy.
Sulfate-free formulas are best as they do not strip away natural oils in the scalp or damage hair follicles. Seek out repairing ingredients such as Argan oil, which reduces breakage and split ends while also providing shine.
Color-safe products prevent fading due to sun exposure or washing too often, so you can maintain vibrant grey locks! Lastly, heat protection is essential if you use hot styling tools like blow dryers or curling wands – look for an ingredient called polyquaternium-11, which adds a protective barrier against high temperatures from styling devices.
Choose a product that meets all of these criteria, and you will find yourself with lovely-looking grey hair! Make sure it's budget-friendly too – nothing worse than splurging on something only to have it cause more harm than good in the long run! Keep these tips in mind when selecting a conditioner perfect for gray tresses:
Moisturizing Effects
Sulfate-Free Formulas
Repairing Damage
Color-Safe Products
Heat Protection
No matter what type of product is chosen, ensure it's made specifically tailored towards maintaining healthy gray strands – this way, one can achieve beautiful results no matter their age or lifestyle preferences!
Recommended Conditioners for Grey Hair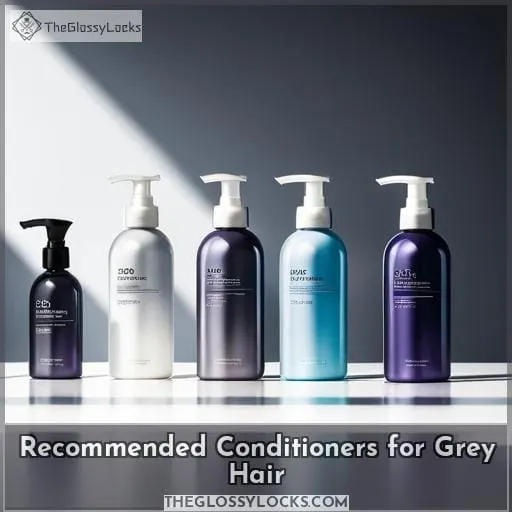 Now that you know the factors to consider when choosing a conditioner for grey hair, let's look at some recommended options.
Deep conditioning is key in helping to maintain healthy locks of grey hair, and one of the most popular choices on today's market is Moroccanoil Hydrating Conditioner. This luxurious product has essential fatty acids and vitamins that help keep moisture locked into your strands while providing lasting hydration and nourishment.
It helps protect against split ends, reduces frizziness, promotes natural shine, and boosts manageability with each use.
If you're looking for something more intensively hydrating than regular conditioners yet still gentle enough not to disrupt color-treated or highlighted hair, then Davines Minu Hair Mask could be just what you need! Formulated with vitamin E-enriched Rice Bran Oil, this deeply moisturizing mask will restore softness as well as reduce breakage caused by chemical damage due to its advanced anti-frizz complex technology, which works to strengthen even brittle strands over time with repeated use.
For those who want their color-treated silver locks kept vibrant, then Redken Color Extend Graydiant Shampoo & Conditioner would make an ideal choice. It contains purple toning pigment specifically designed for gray/silver tresses that neutralizes yellow hues, ensuring long-term radiance retention.
It also strengthens each individual strand, thus preventing future fading from occurring prematurely, thanks to its powerful antioxidant protection properties within.
Techniques for Using Conditioner Effectively on Grey Hair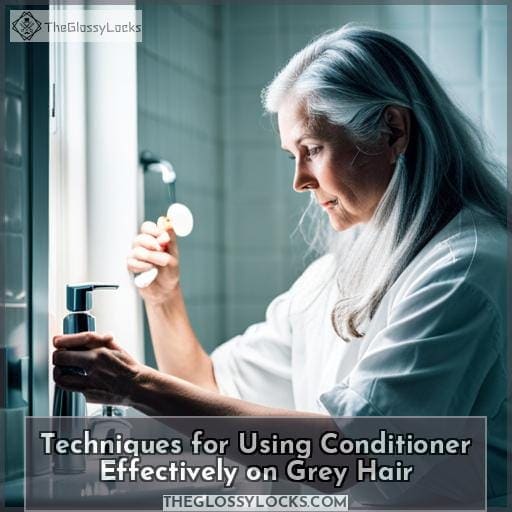 To get the most out of your conditioner, apply it evenly and focus on massaging into grey strands for extra nourishment. For a detangling session that won't leave locks feeling weighed down, use a light oil treatment before applying your chosen product.
To help maintain curls without compromising moisture levels, look out for heat protection formulas that contain natural oils or proteins to keep hair looking healthy and hydrated.
If you're looking to add some shine back into your mane too, then opt for an ultra-hydrating formula with added nutrients such as vitamins A & E. This will help manage frizz while keeping each strand from becoming brittle over time.
With all these tips in mind, make sure you choose products tailored towards the needs of grey hair.
Tips for Maintaining Healthy and Vibrant Grey Hair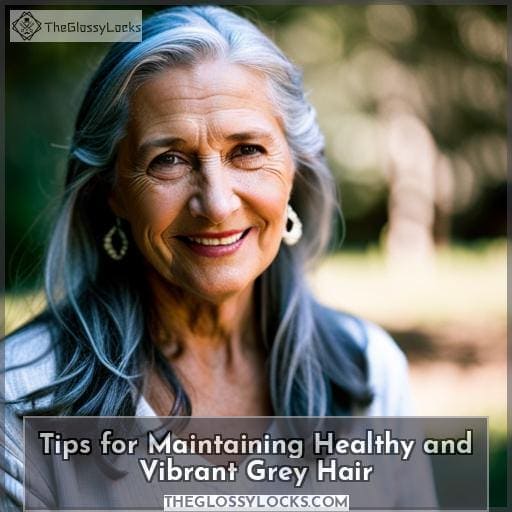 Take care of your grey locks to keep them looking healthy and vibrant! A proper maintenance routine for maintaining the health of your grey hair includes using a conditioner with moisturizing effects, heat protection, and dye protection.
To ensure that you have the best chance of keeping it in tip-top shape, look for shine-boosting products formulated specifically for color-treated hair.
Here are three key tips to keep in mind when caring for your grey tresses:
Use a colored tinted shampoo or leave-in conditioner once every week. This will help maintain its vibrancy while protecting it from fading over time.
Make sure to use a deep conditioning mask periodically as this can provide extra nourishment and hydration, which is especially important if you're frequently styling or blow-drying it regularly.
Finally, regular trims are essential as they will help prevent split ends from forming while getting rid of any damaged ends that could be making your mane appear dull.
Caring properly for one's silver strands takes patience, but with dedication comes reward: strong, shiny locks full of life! Following these simple steps on top of an everyday haircare regimen tailored towards gray hair should give anyone beautiful results they'll love showing off all day long!
Frequently Asked Questions (FAQs)
How often should I use a conditioner on grey hair?
Conditioner should be used every time you wash your grey hair. Choose one that addresses the unique needs of grey hair: it should nourish, protect, and strengthen strands while adding shine and vibrancy.
Will using a conditioner on grey hair make it darker?
Using a conditioner on gray hair won't necessarily make it darker, but it can help restore lost vibrancy and shine. Experiment with different products to find the one that works best for your unique needs; look for ones specifically designed for gray or silver locks to give you optimal results.
Does using a conditioner on grey hair make it greasy?
Conditioner can make grey hair greasy, but not always. It depends on the quality of the product you choose and how it works with your specific type of grey hair. Alliteration adds depth to ensure that audiences find liberation, power, and control in their choice of conditioners for optimal gray hair care.
Are there any natural ingredients I should look for in a conditioner for grey hair?
Look for conditioners made with natural ingredients such as coconut oil, almond oil, and honey. These ingredients can help nourish grey hair without weighing it down or making it greasy. They will also provide the necessary hydration that grey hair needs to stay healthy and vibrant.
How do I know if a conditioner is right for my grey hair?
Reading reviews and researching ingredients can help you determine if a conditioner is right for your gray hair. Look out for natural, hydrating ingredients that strengthen and nourish strands without weighing them down.
Consider the amount of protein or oils in the product to ensure they provide enough moisture but won't leave hair greasy or limp.
Conclusion
If you're looking for the best conditioner for grey hair in 2023, you're in luck! With so many amazing products on the market, you can easily find one that'll bring out the vibrancy and shine in your grey locks.
But to get the most out of your conditioner for grey hair, you need to know how to choose the right one and apply it effectively. Consider factors like product quality, ingredients, and how well it nourishes your hair.
By taking the time to find the perfect conditioner for grey hair, you can ensure your strands are healthy, nourished, and looking their best! With the right conditioner and a little bit of care, your grey hair will be looking its absolute best!