This site is supported by our readers. We may earn a commission, at no cost to you, if you purchase through links.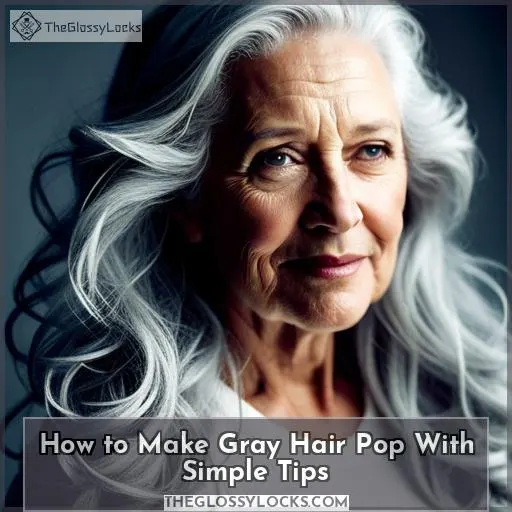 You know what they say about going grey – it's just a number! But let's be real, watching those silvery strands creep in can make you feel like you're aging before your time. However, with the right care and styling, you can enhance your natural greys to look shiny and striking.
Here's the scoop on how to make grey hair pop.
First, start with the basics – nourish your hair by using a moisturizing shampoo and conditioner formulated for grey hair once or twice a week.
Also, wash with a clarifying shampoo monthly to remove product buildup that causes discoloration.
Key Takeaways
Age and genetics are the main causes of natural grey hair.
Differentiating between natural and artificial grey hair can be done by checking the roots, uniformity, and texture.
Caring for healthy grey hair includes using moisturizing products, clarifying monthly, and using purple shampoo to neutralize brassiness.
Styling tips for natural grey hair include creating waves, trying different parts, and using shine serum or oil for a polished look.
Enhancing Natural Grey Hair Color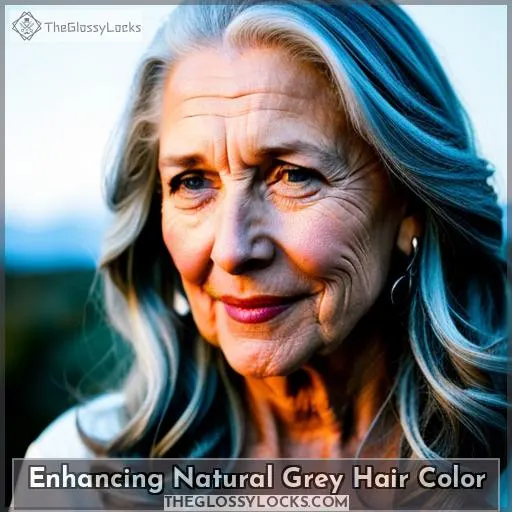 You can add brightness and combat yellowing in your silver locks with Silver Glow, a new in-salon treatment that reflects light for shine and lasts 4-6 weeks between touch-ups. The ammonia-free toner is gentle like a conditioning treatment yet boosts vibrancy between salon visits.
Customizable results range from subtle brightening to intense saturation based on your goals.
Cool water rinses after shampooing maximize toning effects. To maintain that salon-fresh silver at home, use sulfate-free purple shampoo 1-2 times per week to neutralize brassiness. Look for moisturizing formulas with nourishing oils or butters that won't dry out your strands.
Understanding the Causes of Naturally Grey Hair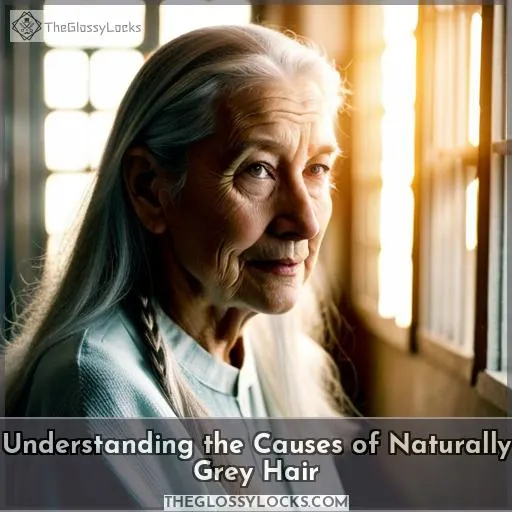 Your silver strands come from age and genetics affecting the melanin in your hair follicles. As you get older, your hair follicles produce less melanin, the pigment that gives hair its youthful color and shine.
This natural loss of melanin causes the hair shaft to turn gray or white. Genetics play a role too, dictating when and how rapidly your grays begin to sprout.
While you can't stop the passage of time, you can care for those glorious grays so they stay strong and healthy. Use a hydrating gray hair cleanser 2-3 times a week to keep your natural color looking its best.
And know that your silver locks are a badge of wisdom, experience, and power – wear them with confidence.
Differentiating Natural Grey Hair From Highlights and Blended Color

Differentiating Natural Grey Hair From Highlights and Blended Color
Seeing strands of silver doesn't always mean they're naturally grey – sometimes it's just highlights or blended color disguising the greys.
Check the roots – if your hair is grey at the scalp, it's likely natural. Highlights and blended color won't reach the roots.
Look for uniformity – natural greys tend to be scattered randomly while highlights and blended colors appear more methodical.
Examine the lengths – natural greys may be coarser in texture while color-treated hair maintains consistency.
Note variations in shade – natural greys can range from silver to salt and pepper.
Consider when it started – if your hair rapidly changed, it's apt to be artificial color and not natural greying.
Embrace your beautiful natural greys with pride and care. Let them shine through with the right gentle shampoos and conditioners.
Caring for Grey Hair

You've embraced your silvery strands. Now it's time to nourish them.
Start with a moisturizing cleanser to wash away buildup without stripping hair. Look for formulas with hydrating oils and proteins specifically for grey locks.
Follow with a weekly mask. Let it penetrate for 10-15 minutes before rinsing out.
For daily conditioning, use a lightweight formula that won't weigh down fine textures.
Lastly, incorporate a pre-shampoo treatment once a month. This gives an intensive moisture boost to restore softness and shine to every strand.
Tips to Enhance Your Client's Grey Highlights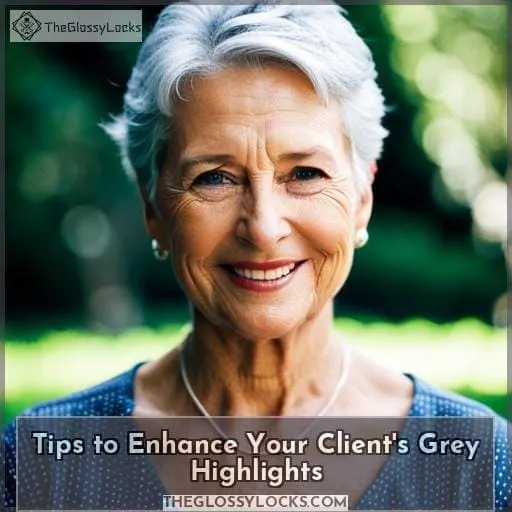 Transform your highlights into a shimmering silver masterpiece with the perfect blend of light and dark tones.
Target areas to accentuate with lighter babylights around the face. This illuminates their features with a halo effect.
Alternate highlighting techniques like balayage and foils. Mix soft melted and brighter streaks of silver for dimension.
Refine regrowth in a shadow root for a seamless grow-out. Customize depth according to their base shade.
Add cosmetic toners between appointments for an anti-yellow boost. Recommend take-home options to extend vibrancy.
Finish with a glossing serum. The added shine helps reflect light and amplify luminosity.
Target the right tones and placement during their consultation. Ask how they'd like to enhance their natural grey hair. With the perfect recipe of highlights, toners, and hydrating care, you can transform their hair into a breathtaking canvas of shimmering silver.
Debunking the Myth of Natural Grey Hair

You'd benefit from recognizing that natural grey hair isn't inherently dull or unattractive. While some may believe silver locks lack vibrancy and depth, the right customized routine can reveal their radiant potential.
With strategic blending, toning, and hydration, grey hair's metallic sheen stands out with luminosity.
Rather than masking it as undesirable, embrace your snowy strands' possibilities.
Your white hair and natural grays have possibilities beyond what your gray-haired clients may realize. We can help transform dull, lackluster grays into a youthful look. With the perfect blend of highlights vs.
lowlights vs. babylights, customized toners to correct brassy tones, and ultra-hydrating masks, you'll bring out beautiful dimension from root to tip.
Together, we'll embrace the possibilities of your gorgeous strands.
Frequently Asked Questions (FAQs)
Does grey hair require special products?
Yes, gray hair benefits from specialized products. Like skin, it requires gentle cleansing and hydration to stay healthy. Using the right shampoos and conditioners will help maintain your silver strands' beautiful shine and dimension.
How often should I get my grey hair trimmed?
Get your gray hair trimmed every 4-6 weeks to remove split ends and keep it looking healthy as it grows out. This will maximize volume and movement too. Go for light layers to remove any weight, allowing your silvers to shine.
Is Silver Glow safe for color-treated hair?
Yes, Silver Glow is safe for color-treated hair. Its gentle formula, without ammonia or harsh chemicals, works like a conditioning treatment, so it won't damage hair. You'll get all the brightening benefits to enhance your silver tones, regardless of previous color processing.
Are there any styling tips for grey hair?
Here are some styling tips for your gray hair. Use volumizing products and texture sprays to add body. Soft waves and beachy textures give an effortless look. Play with different parts and sections to frame your face.
Finish styles with a serum or oil for shine. Embrace braids, buns, and updos to show off your gorgeous grays.
Is there a way to make grey hair look more voluminous?
Use volumizing shampoos and conditioners, avoid heavy oils or products that weigh hair down. When drying, flip your head upside down to get volume at the roots. Style with some waves or curls instead of stick straight hair.
Add layers and texture with point cutting. Try volumizing sprays like dry shampoo too.
Conclusion
Your grey hair can be a work of art! With the right care and styling, you can make your natural grey hair shine like a diamond. Understanding the causes of natural grey hair and how to differentiate it from highlights and blended color is key.
Whether you're looking to enhance your grey highlights or embrace your natural grey hair, there are several tips and tricks you can use. Start by using shampoos and conditioners specifically designed for grey hair and adding volumizing products such as hairsprays.
You can also add dimension with perms, semi-permanent color, or with a new in-salon treatment like Silver Glow.
Trim your hair every 6-8 weeks and accessorize with headbands, pins, or clips. Finally, use makeup to highlight your features and bring out the beauty of your natural grey hair.