This site is supported by our readers. We may earn a commission, at no cost to you, if you purchase through links.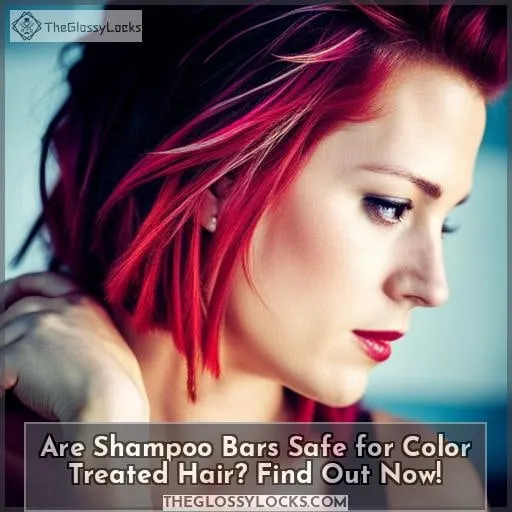 Have you ever wondered if shampoo bars are safe for color-treated hair? It's a valid concern, especially since some traditional shampoos can strip away the dye and leave your hair looking dull. But with so many brands now offering specialized shampoo bars designed specifically for color-treated hair, it's easier than ever to find one that will protect your hue while still keeping your locks clean and luscious.
In this article, we'll explore the benefits of using these special kinds of shampoo bars on colored tresses, plus tips on how to choose the right bar for your specific needs.
Key Takeaways
Shampoo bars for color-treated hair offer protection and reduce plastic waste.
Recommended shampoo bars include Peach Not Plastic, Superzero Purple Shampoo Blonde, and Klorane Mango Nourishing Shampoo Bar.
Benefits of using shampoo bars for color-treated hair include maintaining color longevity, protecting against fading, gentle cleansing without stripping natural oils, and convenience for travel.
Key ingredients to look for in shampoo bars for color-treated hair are avocado oil, chamomile extract, babassu oil, and sulfate-free formulas for color protection.
Are Shampoo Bars Safe for Color Treated Hair?
Are you searching for a shampoo bar that is safe and effective for color-treated hair? Look no further than Peach Not Plastic Shampoo Bar, Superzero Purple Shampoo Blonde, or Klorane Mango Nourishing Shampoo Bar.
These vegan, plant-based bars are tailored to enhance blonde tones without bleach and nourish the scalp with babassu oil. They also have a lower carbon footprint than traditional liquid shampoos while eliminating plastic waste in your bathroom.
Peach Not Plastic Shampoo Bar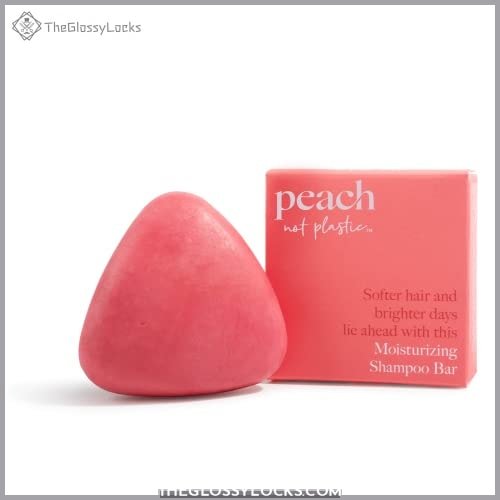 View On Amazon
Experience the difference of this vegan, plastic-free shampoo bar that leaves your hair feeling soft and manageable while helping to reduce waste. The Peach Not Plastic Shampoo Bar is an artisan-made, plant-based solid shampoo bar made with babassu oil for added moisture and scalp health.
It's gentle on hair and scalp, perfect for those with color-treated tresses who want to restore their hair's natural vibrancy without harsh detergents or sulfates.
Plus, it helps you save on plastic – one bar equals two bottles of liquid shampoo! With delightful scents available in a biodegradable format that takes up minimal shower space – what more could you ask for?
Vegan plant-based formula
Gentle on colored/treated tresses
Babassu oil adds moisture & aids scalp health
No harsh detergents or sulfates
Reduces the need for plastic packaging
Can break down quickly if not kept dry
Fragrance may be too strong (or weak) depending upon preference
Superzero Purple Shampoo Blonde
View On Amazon
Discover the Superzero Purple Shampoo Blonde to get a cool, ashier blonde shade and help reduce plastic waste! This sulfate-free, soap-free shampoo bar is formulated with clean vegan ingredients like avocado oil and chamomile extract.
With its 90% lower carbon footprint than comparable liquid shampoos, it's an eco-conscious choice that also supports initiatives against ocean plastic by being part of 1% for the Planet.
This unique purple shampoo will leave your hair feeling soft and manageable with a subtle scent after application.
Whether you're looking for an effective alternative or just want to cut down on unnecessary packaging in the bathroom, this product is worth considering – but be sure not to keep it in humid places so it lasts longer!
Effective at silvering/cooling blonde tones
Vegan plant-based ingredients
Eco-friendly & climate neutral
Slightly expensive
Weird residue may occur depending on hair type
Unpleasant smell
Klorane Mango Nourishing Shampoo Bar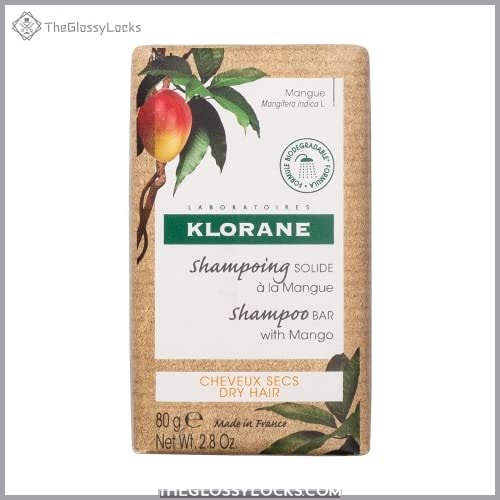 View On Amazon
Unlock a world of soft, manageable hair with Klorane's Mango Nourishing Shampoo Bar. This French-made bar soap is free of plastic containers and won't leave your hair feeling sticky like some other natural shampoo soaps.
Formulated specifically for colored hair, this mild product has the added bonus of being biodegradable – perfect for those with limited shower space.
With a delicious mango scent and the ability to help reduce yellowing in blonde tresses, it leaves your locks feeling silky smooth after every use. To get the best results from this eco-friendly alternative, make sure you massage it into roots and ends, then rinse thoroughly.
And as an extra plus point, its 90% lower carbon footprint compared to liquid shampoos makes Klorane's Mango Nourishing Shampoo Bar an even better choice if you're looking to reduce waste in your bathroom regime!
Pleasant scent
Cleans effectively without leaving residue or stickiness behind
Leaves hair soft & manageable
Potentially drying without conditioner
Occasionally packaged in plastic containers
Benefits of Shampoo Bars for Color Treated Hair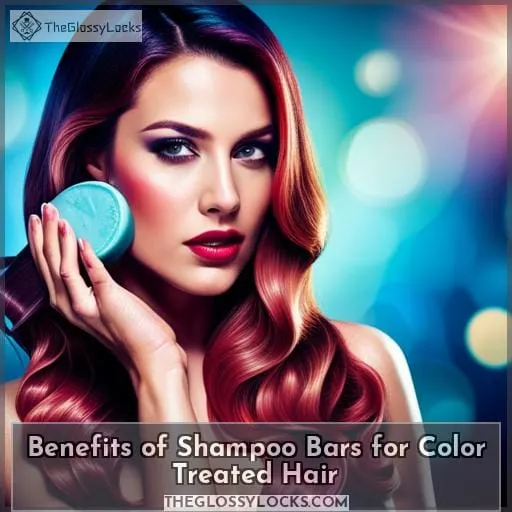 If you have color-treated hair, shampoo bars offer multiple benefits. Not only do they protect your dye job from fading and damage, but the gentle cleansing action is kind to your strands while helping reduce plastic waste in the process.
Color protection benefits
Enjoy the color protection benefits of shampoo bars to keep your hair looking vibrant and healthy. Choose from dye-friendly options that are sulfate-free, non-toxic, and packed with moisturizing ingredients such as coconut oil or shea butter.
With regular use in your hair care regimen, you can maintain long-lasting color longevity while preventing fading shades caused by heat styling tools.
Gentle cleansing action
Indulge in the gentle cleansing action of shampoo bars designed for color-treated hair without stripping away natural oils. Select products that help retain your vibrant locks and keep them healthy. The right choice should be mild enough to ensure post-color care, while still effectively removing dirt and product buildup from frequent styling or chemical treatments.
Look for ingredients like coconut oil, shea butter, avocado oil, and chamomile extract to nourish the scalp while protecting against damage caused by breakage or fading of dye molecules over time.
Sustainability and convenience
You'll love the convenience and sustainability of shampoo bars, perfect for reducing plastic waste in your bathroom. Color protection is key when selecting a shampoo bar for color-treated hair. Look out for ingredients like avocado oil, chamomile extract, or babassu oil that help maintain the hue while still providing cleansing action.
Shampoo bars come in different shapes and sizes to fit any hair type. Just rub directly onto wet roots, then massage through ends before rinsing thoroughly. Eco-friendly shampoos are made with plant-based surfactants to remove dirt without stripping away too much moisture from strands.
Try Kitsch's vegan and cruelty-free certified range that has been reformulated silicone-free, leaving you with clean, fresh locks minus the guilt of excess plastic use!
How to Choose the Right Shampoo Bar for Color Treated Hair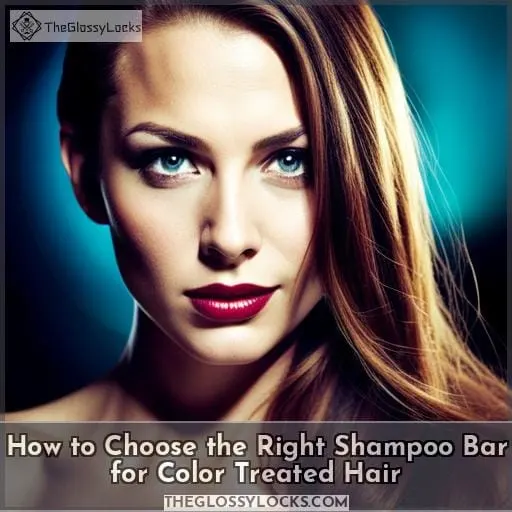 When it comes to choosing the right shampoo bar for color-treated hair, you should look out for ingredients like avocado oil, chamomile extract, and babassu oil. Additionally, opt for a sulfate-free formula that is gentle on your colored hair but still effective in cleansing.
Ingredients to Look For
When choosing a shampoo bar for color-treated hair, look for natural ingredients like babassu oil, avocado oil, and chamomile extract to nourish your locks. It's important to properly apply the shampoo bar in order to get the full benefit of its cleansing properties without stripping away any added moisture or vital nutrients.
A sulfate-free formula is generally more gentle on colored hair, so be sure you are selecting an appropriate product that won't fade or damage your color. If needed, use conditioner after washing with a shampoo bar since some can be drying if used alone – especially those containing oils and butters as moisturizing agents.
Proper storage of your chosen shampoo bars will also help them last longer while maintaining their effectiveness and preventing contamination from other products such as body washes or shampoos stored nearby in the shower area.
By understanding these key points when it comes to selecting ingredients, proper application methods, and conditioner usage whenever necessary, you'll ensure vibrant hues remain intact each time you wash!
Sulfate-Free Formulas
Reach for a sulfate-free formula to soothe your strands and help maintain the vibrancy of colored locks. Sulfate-free formulas are gentler on hair, often reducing product buildup over time without stripping away the natural oils that keep color looking vibrant.
When selecting a shampoo bar, look for options that claim to be sulfate-free. This will ensure durability and protection from fading color or damage due to harsh ingredients.
Incorporating these tips into your haircare routine can go far in preserving color while still having clean tresses.
Tips for Using Shampoo Bars on Color Treated Hair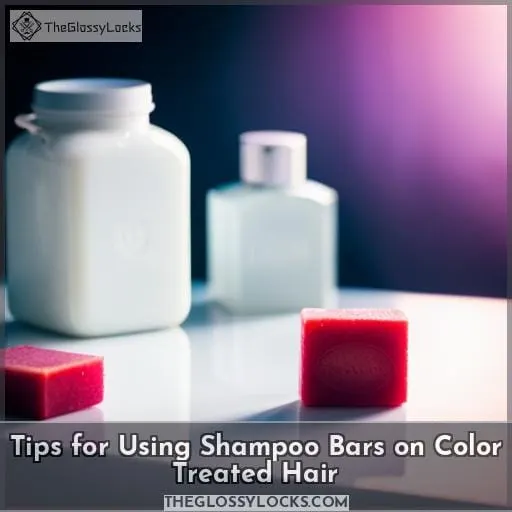 Are you planning to use a shampoo bar on your color-treated hair? You'll need to pay special attention to the proper application techniques and using a conditioner, as these will help ensure that your new shampoo bar doesn't damage or strip away any of the color.
Proper Application Techniques
For color-treated hair, proper application techniques are essential for getting the most out of your shampoo bar. Start by selecting a silicone-free product that also contains moisturizing ingredients to protect your locks from drying out.
To use, lather the shampoo bar in wet hands or apply it directly onto your roots.
For extra protection against damage, follow up with a conditioner containing natural oils like coconut oil or shea butter, even if you don't usually use a separate conditioner at home!
After showering, make sure to maintain healthy hair between washes by using protective styling products as needed and avoiding excessive heat exposure.
Lastly, look for shampoo bars scented naturally with essential oils instead of synthetic fragrances for an added boost of indulgence during each wash day experience!
Using a Conditioner With Shampoo Bars
Once you've found the right shampoo bar for your color-treated hair, using a conditioner with it can help keep your locks looking vibrant and healthy. Look for moisturizing options that will protect the dye from fading or washing out too soon.
Conditioner bars are a great eco-friendly choice as they come without packaging and often contain nourishing ingredients like avocado oil or shea butter to hydrate dry strands. If you need extra protection, opt for an intensive conditioning treatment every couple of weeks instead of daily use.
Finally, be sure to read ingredient labels carefully when selecting products. Some may include sulfates, which could strip away vital moisture in colored tresses, making them brittle and prone to breakage.
Maintaining Color Treated Hair With Shampoo Bars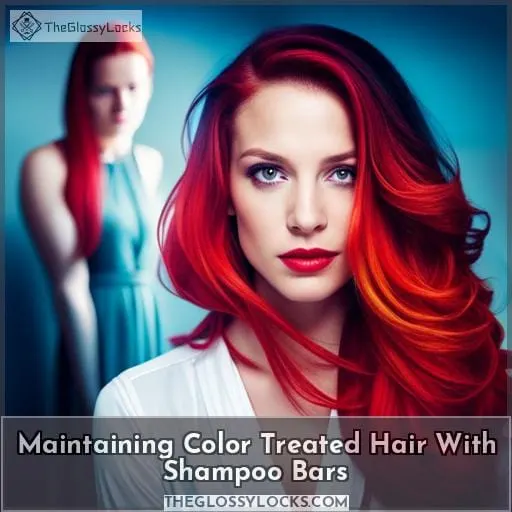 Maintaining your colored locks is just as essential as keeping them vibrant and healthy, so selecting a shampoo bar specifically designed for color-treated hair can help you achieve those results. Choosing formulas that are free of sulfates, parabens, phthalates, and other harsh chemicals, with natural ingredients, will preserve the vibrancy of your tresses without fading over time.
To maximize longevity, tips include avoiding excessive heat exposure and using high-end products that can strip color from hair follicles. Utilizing hydrating elements like jojoba oil or shea butter in the formula will also prevent dryness due to frequent cleansing cycles while promoting shine throughout each strand of hair.
Shampoo bars do not have to be complicated. Finding one suitable for maintaining color-treated locks should focus on desired outcomes, such as preventing damage, rather than fixing existing issues caused by faulty product use.
Conclusion
Caring for color-treated hair can be a challenge, but shampoo bars can make it easier. When selecting a shampoo bar for color-treated hair, look for ingredients that will protect color and provide a gentle, sulfate-free formula.
For maximum benefits, use a proper application technique and pair your shampoo bar with a conditioner. With the right products and techniques, you can maintain your hair color with ease and keep your locks looking vibrant and healthy.
Kitsch shampoo bars provide an effective, eco-friendly option for reducing plastic waste. Their vegan, cruelty-free bars are silicone-free and include plant-based surfactants for clean, soft hair. Peach Not Plastic, Superzero, and Klorane also offer shampoo bars tailored to color-treated hair, allowing you to find the perfect bar for your needs.
With shampoo bars, you can achieve beautiful, healthy color-treated hair with minimal effort.