This site is supported by our readers. We may earn a commission, at no cost to you, if you purchase through links.
While the search for the perfect grooming tool can be intimidating, I have researched what is needed to find the best beard brushes and have discovered some truly inspiring products.
Finding a beard brush should be a relatively easy task. I mean we brush our beards to look epic, as usual.
Unfortunately, however, with the recent trend in men who are growing beards, there have been many inexpensive, low-cost companies that flood the market trying to capitalize on the trend.
In this article, we will discover What is the best beard brush? regardless of the thick or long beards.
We will have the opportunity to review some excellent products that are available in the market-based, in my opinion, and experience.
But before that, we will discuss the criteria for choosing a good beard brush. In this way, you can make the most informed decision possible and get good value for your money.
Why Not Buy a Cheaper Plastic Brush on the Pharmacy Shelf?
Anyone who has grown up in his beard will know that a beard brush is a vital tool to help him control that unruly hair on his face.
It helps to give your beard a sense of direction, helps to scrape the dead cells that lie in wait in the form of scales on your beard, and will also dislodge any residue from yesterday's dinner that you can hold in His beard.
I recommend products with unique and natural materials with authentic boar bristles.
How to Choose the Best Beard Brush
Although it seems simple enough, there are some things you should keep in mind before receiving a brush.
A good quality beard brush is an investment that will help you overcome many of the common problems that accompany your beard. And here are some factors that will help you detect a good one.
Quality: A beard brush is all about the bristles. Boar hair is the obvious choice because it is more complicated and helps to untangle the curly and rough hair of the beard. The other option is horsehair. But there is a big difference in the texture between the two. The most experienced barbers in the world prefer boar hair. Unfortunately, not everything that is advertised as boar hair is real.
Stuffing bristles: it is a common practice for manufacturers to advertise their beard brushes as 'boar hair' and use filler bristles made of synthetic, You want to check the label of 100% boar hair and not merely (boar hair).
Hardness: the bristles of the brush have different textures, A first cut bristle, for example, maybe harder than a second or third cut boar hair bristle, You may want to check this depending on how sensitive your skin is.
Handle: most people do not give much importance to the handle until they hold the brush in their hands and realize that it is impossible to brush your beard, The handle should be compact but should be easy to grasp and use. The average size is 3-4 inches. Anything smaller can be difficult to use.
There is more to that but for now, I can not wait to share with you our reviews of the top beard brush brands in the market.
10 Best Beard Brushes of 2023
Many men want to grow a thicker beard: after all, thick, luxurious beards are some of the most popular beard styles.
But to have a well-groomed beard, you need a quality beard brush. We have compiled some of the top beard brushes in this buying guide.
1. Zilberhaar Boar Bristle Beard Brush
View On Amazon
There are many reasons why the zilberhaar beard brush is one of the best boar bristle beard brushes on the market.
First and foremost, the hairs on this brush are made from natural boar's hair bristles. As we found in our research, manufacturers tend to skimp this fiber and offer inferior alternatives.
Sitting with a length of about 5/8, the fibers should be able to work on this brush for any man with a beard that grows for about a month, for those men who even have a full yeard (beard for a year).
Although the handle may seem a bit smaller, especially compared to other beard brushes on the market, many experienced bearded men loved the fact that they could quickly get it in their car, Dopp-set or even leather messenger bag save up before noon.
With the finely carved pear handle, you have complete control over styling your beard as it gets longer.
Unlike many of the more popular beard brushes made in China, this brush is made from ZilberHaar in Germany.
To make you feel even more comfortable with the quality of this product, it comes with a lifetime warranty. If you don't like it at any time or start to fall, you can get a full 100% refund.
The zilberhaar boar bristle beard brush is a quality offer at an affordable price. The handle offers control and stability for desired results. The natural boar's hair bristles ensure that your beard conditioning agent is sufficiently distributed.

Quality brush for an affordable price
Can easily work on a long or short beard
100% pig bristles
Slightly larger, so not travel-friendly
2. CanYouHandleBar Beard Oil Brush
View On Amazon
Everything about the brush is designed to make conditioning your beard a priority, even the size and shape of the brush is no coincidence; the idea was introduced to easily combine it with the bath of a beard wax or balm.
Because it is the right adapter, carrier, and transporter of beard products, the bristles are a bit softer than some other brushes.
The result is that it may not be the best choice for anyone with a full, thick beard which needs a brush that can work deep into the hair.
This company places a significant emphasis on build quality, and this is reflected in the price.
But it is a justified price, such as the standard of craftsmanship.
CanYouHandleBar products made and made in the USA are well designed by people who you know understand what it means to create a beard.
Frankly, the only reason why this beard brush was not higher on our list, the fact that it was a bit of a specialist product, with the emphasis on brushes, was the power to move oils and balms around your beard instead of brushing.
If it was a bit bigger and with stiffer hairs, it would undoubtedly be a challenging top position.

Best brush for distributing the oil through your beard
Compact, making it easy to travel and store
A bit pricey
A bit small, which means that it makes larger beards heavy
3. Badass Beard Care Beard Brush
View On Amazon
The best part of this brush, and why you should choose a beard brush, is due to the quality and construction of the hair. With this 100% natural brush, your beard will look fuller and thicker, and you can distribute the beard oils excellently.
With a hardwood handle that extends the length of the brush to an impressive 6.75 ″, you give ultimate control when styling your beard.
Compared to some of the rounded or oval brushes that we've reviewed, this brush is extremely long and not the one you want to take with you.
Apart from that, another great feature of this beard brush was the cut hair. With the non-uniform head, it should not be a problem to reach the base of your skin while brushing your beard.

The sturdy handle ensures strong control during brushing
Natural hairs offer uncompromising quality
Competitively priced
It's great compared to others who can't use this for afternoon touch-ups
4. Seven Potions Natural Boar's Hair Bristles Bread Brush
I have been personally using Seven Potions beard products for the last year or so. I love high-quality beard care products, and this beard brush lives up to the brand's solid reputation.
From the look, the brush has an oval shape, made of pearwood with 100% natural boar's hair bristles.
The wooden side of the brush has the Seven Potions logo engraved with the laser that looks and feels unique.
But let's talk a little more about the shape of the mango.
The size of the brush allows a safe and comfortable grip, and I would not call it big and indeed not small.
I think the size is more regular and it is big enough to tame the length and thickness of the beard.
Moving towards the boar hair, I mentioned at the beginning that it is the first cut and you might wonder what that means.
The first cut is the hair that is cut very close to the body of the animal, and not the ends of the nose hair, which is also the part of the hair that has the best spine. And this particular feature is what makes this beard brush my favorite.
This also makes it excellent when it comes to cleaning the beard since the brushing of impurities is a matter of seconds, which makes the beard softer and cleaner, Speaking of softness, although the bristles are firm, these are natural bristles.
This means that the beard becomes straighter and super soft after some brushes and prepares your beard effectively for the application of your favorite products for the care of the beard.
Great all-round design
No handle makes traveling easier with
Performs very well
Very firm, first cut hair can aggravate sensitive skin
No handle can reduce the level control for smaller hands
5. Grow a Beard Brush and Comb Set
View On Amazon
Made to fit in the pockets With Grow a Beard Brush, you can take care of your beard wherever you are.
It is made from sustainable and sustainable bamboo, while the hairs are made from a bear.
This makes the brushwork exceptionally well in removing dirt from your facial skin and beard, while also helping to distribute the beard oil evenly.
The product is also completely environmentally friendly and comes in an elegant package. The package comes with a wooden beard comb, making this set an excellent gift for a bearded man in your life.
This set meets most of your beard care needs at a bargain price. Now that is a good balance between quality and price.

Removes dirt, massages the skin, and keeps a beard healthy
Pocket size
Inexpensive
Eco-friendly and also comes with a beard comb
Bristles fall out after a while
The comb has rough edges
6. Smooth Viking Beard Brush
View On Amazon
The construction is proper, and the brand is strong.
Again, everything is natural and well-made so that you can rely on a quality brush.
However, it is worth mentioning that the company takes its name from this. , because that helps to sketch the image of the product you are buying.
Smooth Viking beard care tries to replicate the image evoked when thinking of the Vikings; battle-ready, terrifying warriors.
You are looking for a well-groomed, healthy shorter beard.
Some users suggest that it no longer penetrates thicker beards and others.
Probably because the bristles are so compact and a bit shorter, so if you can only touch the surface of your beard.
What you may not know is that the Vikings thought appearance and personal hygiene were essential.
So the implication is that you buy a beard brush that is strong and robust, while it is refined and polished enough to appeal to the well-kept man.
That's actually what the perfect beard should do.

Great for a short beard that gives great results
Looks amazing, and great branding
Fight to get longer, thicker beards
7. Beardoholic Beard Brush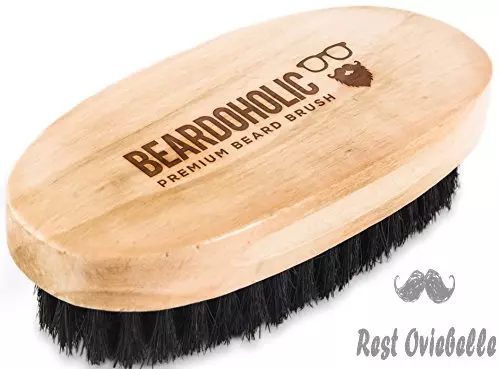 View On Amazon
Yes, the benefits of using a quality beard brush are numerous. Although not all beard brushes are the same, those who rise to the top have a few things in common. Like bear brushes, and the ease with which the brush separates the natural oils from your skin for another.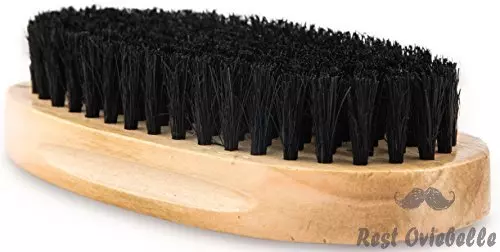 Beardoholic's Beard Brush responds to the bubble in both categories – and in others – and is a product that deserves your attention while striving to improve your care game in the new year.
Brushing is a must if you want your beard to look its best and the Beardoholic beard brush offers several benefits, including the two shown above.
It has a sturdy, ergonomic design that fits naturally in your hand, and the wooden bamboo handles provide optimal control.
The bristles on the Beardoholic beard brush are as soft as you can find them anywhere and are ideal for wiping off stubborn knots and even preventing painful ingrown hairs.
The bristles are long enough to bring dead skin cells to the surface, where you can easily wash them with a high-quality beard shampoo or washing.
And again, a boar brush is ideal for the even distribution of oils, both natural and human-made oils, which help to condition and hydrate your beard.
The result is a beard that is softer, stronger, and easier to manage. You will even appreciate how your skin feels after using this brush.
Rope a beard, and it catches the loose hair
Compact
30-day money-back guarantee to a client's trial, and
Free shipping worldwide
The most compact classes( for those who prefer a larger brush might be to look at other options.
8. Cremo Boar Hair Beard Brush
View On Amazon
Known for its incredible range of shaving creams, Cremo is expanding its brand across the men's care spectrum into a new range of beard care products.
Made from 100% pig bristles, this brush effortlessly disperses the natural oils in your beard to make it silky smooth, and healthy.
With a length of just a few centimeters, the wooden handle is easy to grasp to untangle and maintain your facial hair.
If you find that static electricity is a constant problem that you must combat when it comes to brushing, the natural fibers in this brush are antistatic and do not pose a problem.
Finally, the hairs are unevenly cut, making this brush easy to reach to the skin level.
Although there is no handle, this beard brush is perfect for people who are just starting to take their beard maintenance a little more seriously.
The boar bristles of the bear will work great with spreading conditioner in your beard.
Smaller shape perfect for men with limited cupboard space
Inexpensive and has all the right functions for a high-quality beard brush
Perfect for beginning bearded men
The body is thicker, making it difficult to use as a travel brush
9. Beardeur Beard Brush
View On Amazon
As with most of the previously mentioned, brushes, Beardeur Brush has bristles that are made of 100% boar hair.
This brush has an excellent track record and prides itself on being the perfect manly gift! Smooth, rough, scruff, and it makes for a clean, well-maintained look.
After using it, your beard is much softer and more manageable than ever before.
You will also notice that the texture has improved and it's a cleaner and healthier place to live.
The product has been designed to provide you with a firm grip and to make it easier to be able to do to take care of your facial hair.
As the boar bristles distribute the beard oil is easy due to your beard.

Cleans, conditions, and enhances the chin texture is
Is Evenly distributes the oils on your beard to
With Premium quality boar bristles
Are Quite cheap
This brush is very compact and can be a little bit too small for the larger bore
They are too soft to handle thicker media
10. Grave Before Shave Beard Brush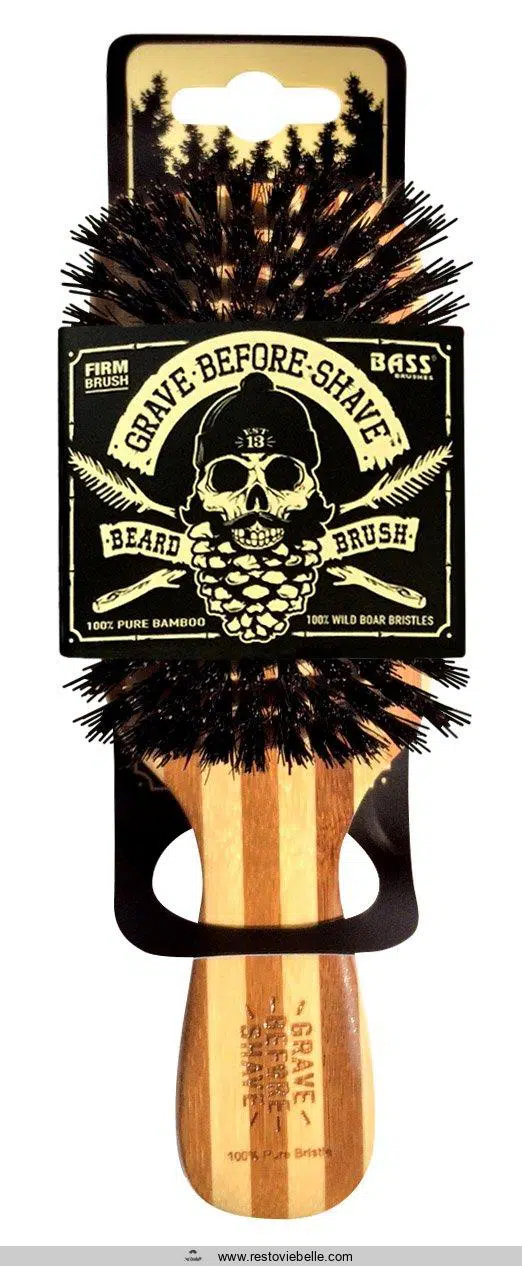 View On AmazonShaped in the classic paddle shape, this brush is ideal for beard men with a thicker and longer beard.
While not quite as versatile as other beard brushes we've reviewed, its performance is quite strong, thanks in part to its reliance on boar hair, making it great for many different beard styles.
For the environmentally-conscious men out there, you'll be pleased to hear that the handle on this brush comes from sustainable wood (bamboo): reducing our overall impact on the world's forests.
According to Grave Before Shave, they do state that no animals have been harmed in the production of this brush, making it one of the best choices for men who want a brush that does not rely on animal slaughter.
When looking at product reviews at popular online retailers, we saw a few men complaining about initial outages: however, this quickly became a non-issue after a few uses.

Perfect for men who often change beard style
The handle offers much more control
Both eco-friendly and cruelty-free
Can shed a little on first use
Beard Brush Vs Comb
When it comes to beard comb vs brush, the best beard brush and comb are your unique tools that solve a specific set of challenges.
Usually, a beard comb will be optimized to comb your beard. There are many different types of beard combs available in the market (as we have reviewed extensively here). However, there are some things you should keep in mind if you plan on choosing one.
Being that the combs are for style purposes, they combine very well with beard balms and beard waxes since the introduction of beeswax into those products will help keep your beard in order throughout the day.
Finally, beard combs can also be an excellent way to train your beard so that it grows in a uniform direction. Therefore, if your mustache can be rolled in your mouth while you eat, or just all day, a small mustache comb will help train those hairs to come out the sides and away from your mouth.
the beard brushes are not designed for style.
Of course, a beard brush can make your beard look great, but it is essential to touch this fundamental difference.
When you use a beard brush, it will give you a much more complete appearance than that of a comb.
This appearance of a full beard occurs due to the variation of the length of the bristles and helps lift each hair of the face (conversely, a comb can be coupled a little more to the beard).
Second, beard brushes do not offer the same control as a comb, which hurts your styling ability a bit.
While a comb helps to train the beard follicles, a brush will offer much higher performance compared to a comb to properly prepare the beard follicles.
So, Which One Should I Use?
In large part, it will be reduced to personal preference.
For some men with beards, they believe that a brush can be better if it is in the initial stages of growth of the beard (less than a couple of months) since it can be used to train the follicles of the beard and grow in the right direction and give it a little more full of a look.
Of course, the selection between the best beard brush and comb is not a rule written in stone, so you will want to decide which will work best for you.
How to Use Your Beard Brush?
When using a beard brush, it is essential to know how to brush your beard for the best results.
Here are the necessary steps you should take:
Make sure your beard is dry before brushing.
Run the first brush to remove all the big clutter that has collected in your beard.
Spread a small amount of beard oil on your facial hair.
Brush again and follow the grain of your facial hair, starting at the bottom of your beard.
Then use a brush to beard in the best beard style.
FAQs About Beard Brush
How many times do you brush your beard?
Regardless of the quality of the brush, it is essential to keep this simple rule in mind: Don't brush your beard for more than a couple of times a day.
Over-clean your beard, it will cause a lot of unnecessary stress is located at the base of the follicle, which can lead to long term damage of the hair shaft or a complete break.
Even if the bristles of the brush are made of soft hair, still it can cause any damage.
Can you use your hairbrush on your beard?
You'll be able to use your hairbrush to your beard: no, no, no, no, no, no, no, not really.
Hairbrushes are created in a very different way than a beard brush.
They are usually made up of different brush compositions, plastic is a popular material for the bristles, and the hairs are much sparser.
And this will lead to a decrease in to control the access and the implementation of hair.
A hairbrush, and can work in a pinch, but it's not a long-term solution, as they are fundamentally different in a beard brush.
Is a beard brush or comb better?
In general, a beard brush works better than a comb for giving your beard a fuller, thicker look. The brush hair bristles lift your hair away from the skin to help make the appearance of a hefty beard.
How do I clean a Beard Brush?
If you are using a brush, you need to have to know how to clean it at the beginning of the loosening of the hair, which is tangled up in the bush.
And pull beard hair while trying not to pull out of bristles. The last step is to rinse the brush if the material allows.
Conclusion
If you want your beard to grow long and healthy, or look carefully, then you have to get the best beard brush yourself. With the help of this simple implementation, you can go from an ungroomed and unbothered beard to someone with a well-groomed beard, which makes you look like a worthy gentleman.
As always, we encourage your contribution:
If you have any comments about the brushes we have listed here, or about the subject of any man's preparation, we would like to hear from you.
References
primandprep.com
beardoholic.com
toolsofmen.com