This site is supported by our readers. We may earn a commission, at no cost to you, if you purchase through links.
The best beard scissors are indispensable for trimming your facial hair, even if you are already equipped with high-quality beard trimmers.
Of course, most men will quickly grab their best beard trimmer and claim that they can easily perfect their own beard trim, but can they really?
With pair of quality beard scissors, you can indeed quickly and easily blend and trim your beard with more precision on certain areas than with a beard trimmer.
When looking for the best beard scissors and best mustache scissors are ergonomic design and comfort almost as important as a sharp blade.
Buying this type of beard trimming scissors aid may take some research on your part as you will use it most often, especially if you have a long beard or a short, trimmed bead that needs daily maintenance.
In this article, you'll learn about the ten possibly best beard scissors out there to keep your facial hair and mustache and Fu Manchu Mustache in top shape.
You will also learn where you need to for beard and mustache scissors and what really separates good and bad products.
How to Choose the Best Beard and Moustache Scissors
Efficacy is probably the most important factor in grooming scissors, but comfort in using them comes second – especially for left-handers or anyone with above-average fingers. Here are things to keep in mind.
Steel Quality
At this point, it all comes down to deciding whether to go for German or Japanese stainless steel.
Both are of high quality but differ in sharpness and durability and offer different experiences. Japanese stainless steel is more delicate because it is more refined.
However, it has a curved razor blade for an exact and smooth cut. Japanese steel is one of the most precise materials out there.
Because it is more refined, this steel dulls more quickly and must be sharpened regularly.
You probably suspect that German steel is stronger and more durable than the Japanese alternative.
The cutting edge is slightly chamfered to hold the bristles without slipping.
Because the steel is less refined, it will take some time for the German steel to dull or develop nicks, but this does not mean that you do not need to sharpen it.
You know the right time has come to deal with the beard and mustache sculling and pulling the hair on your facial hair instead of cutting smoothly through it.
Blade Length
There are many models of trim scissors on the market, and most are about the same length.
However, if you have a longer, thicker beard, you will want to look for a longer pair of beard scissors designed and only use longer blades than a good pair of scissors designed to cut mustaches.
For mustaches, their shorter blades make it easier to handle smaller cuts, but for beards, especially bushy ones, you'll need scissors strong enough to handle all that tough, stubborn hair cut in one go.
Handles and Grip
Handles on scissors are important for staying comfortable while trimming and even making it easier to cut accurately. However, handles also need to be large enough to fit your fingers.
Some scissors also have finger rests, which are the bars at the bottom of the scissor ring that can be removed for more space.
Size
Professional hairdressers use beard scissors that are usually long, from 5.5-inch pair of scissors or 14 cm to a maximum of 7 inches or 17.75 cm. These are the best facial hair scissors you will find.
Obviously 18 cm too long, even for the largest beard. If your facial hair is thick and long, 5.5 inches is the optimal size.
In all other cases, trimming scissors about 5 inches are the best choice. For men who care about wearability, a 4 inch or 10 cm long travel beard and mustache scissors are unbeatable.
Right-Handed and Left-Handed
Most of the models you will come across are designed for right-handed people, as only about six percent of the world's population is left-handed.
However, using right-handed scissors can be uncomfortable and make it difficult to get the right cut. Fortunately, some manufacturers offer options.
For left-handed people, but in most cases, you will need to learn how to adapt to the use of right-handed models.
Tension Screw
A round knob in the place where the scissors' blades are held together is known as a turnbuckle or screw.
As the name suggests, this feature allows you to adjust the tension of adjusting the scissors change. In other words, it brings both blades closer.
Many people think this will also change the sharpness of the scissors, but it doesn't. For that, you have to sharpen the blades or use hire a professional to do it for you.
10 Best Mustache & Beard Scissors of 2023
We have reviewed the top beard trimming scissors and compared features to find the best beard and mustache scissors on the market used by professional hairdressers.
Keep reading for more detailed and full product reviews on benefits and features.
1. Ontaki German Steel Beard Moustache Scissor
View On Amazon
Built tough and made from the finest Japanese steel, these proper pair of beard shears are not only designed to handle all your beard and mustache trimming tasks, but they can also be used to trim the hair on your head, thanks to their durable design and the sharp and precise cuts it offers.
This perfect pair of barber scissors are also considered travel friendly and comes with a cover that protects the blades and a comb that you can use to comb your beard before trimming.
These true pair of beard shears are designed for both professional and amateur use.
These Ontaki scissors are designed with a shallow arc to the back of the blades and have a fine edge that stays sharp longer than traditional scissors.
These thin blades make it easier to shape your beard—model for a well-groomed look.
Japanese steel
Extra sharp cut
It comes with a cover and comb…
Precise cuts
Holds a cut longer
Adjustable turnbuckle
Turnbuckle can be difficult to adjust.
Designed for right-handers only
2. Tweezerman G.E.A.R. Mustache and Beard Scissors and Comb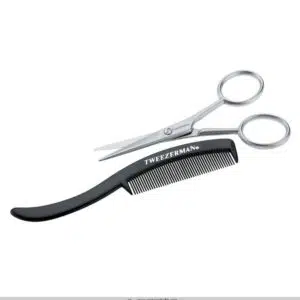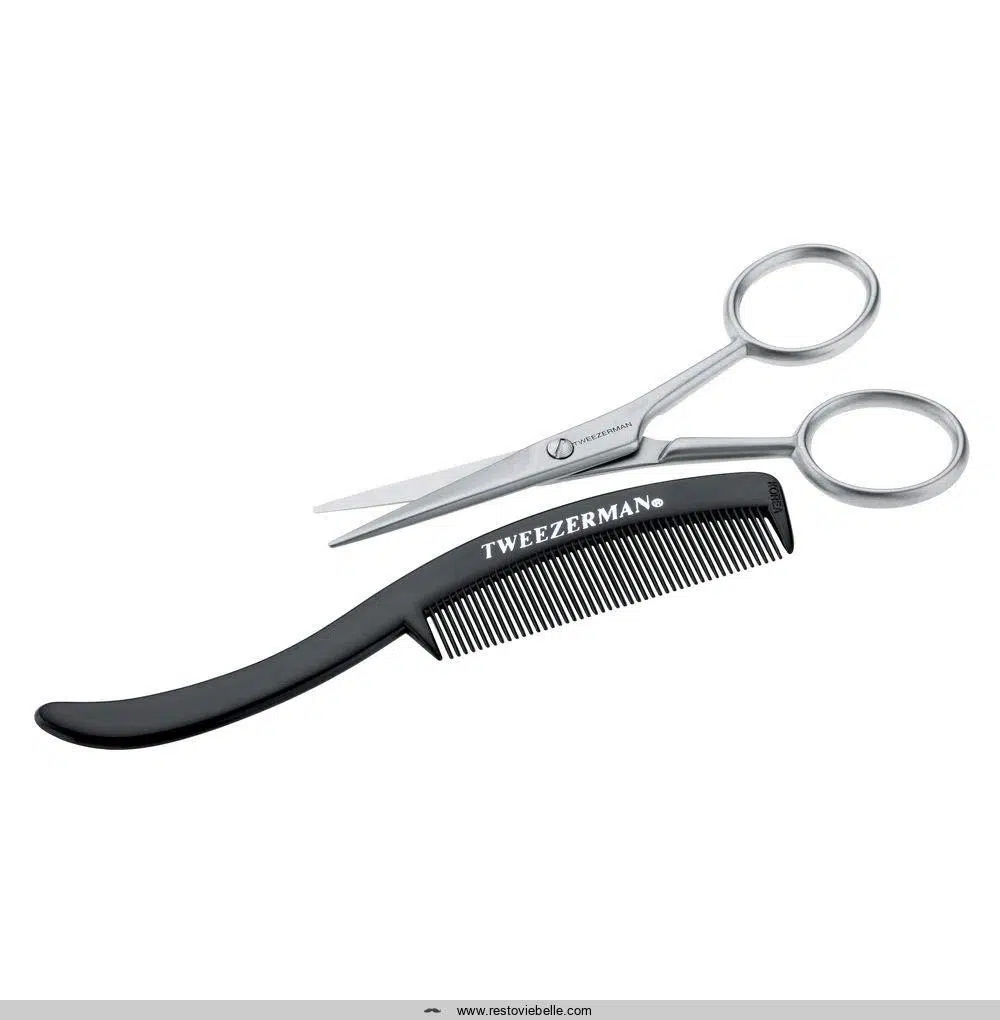 View On AmazonTweezerman has a cool name, a loyal fan base, and a long list of quality products to back up their great reputation, and when it comes to the best mustache scissors, look no further than their G.E.A.R. beard scissors and comb.
While suitable for general thinning and trimming, the G.E.A.R. scissors for beard works particularly well for detail work thanks to the sharp, straight, micro-serrated blades to prevent hair from slipping. Their stainless steel blades are also very durable.
You'll also love their ergonomic design, with large finger loops that don't pinch your fingers while providing superior control.
In other words, they are very comfortable to use, and the comfort helps users a lot to get the kind of precise cut they need. The grip is big enough for even the toughest male hands.
On the other hand, despite the handles, the scissors' overall size is small, making them ideal for those who do not have large, thick mustaches or beards.
But you can also use them to trim your nose and eyebrow hair. But again, it isn't easy to use the G.E.A.R. facial hair scissors for detail work.
We love the sharpness of the blades: a sharpness that reaches all the way to the tips: and that they don't tug or pull your hair while trimming. Their stainless steel rarely, if ever, needs sharpening.
The scissors are also supplied with a comb.
While some reviewers say the comb is not of the highest quality, it is helpful to have it on hand while cleaning your mustache and beard.

Sharp at the ends
Generous finger holes
Great for detail work
Blades are not adjustable
3. Beardoholic Beard Scissors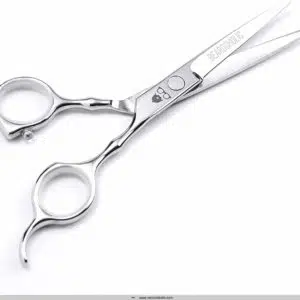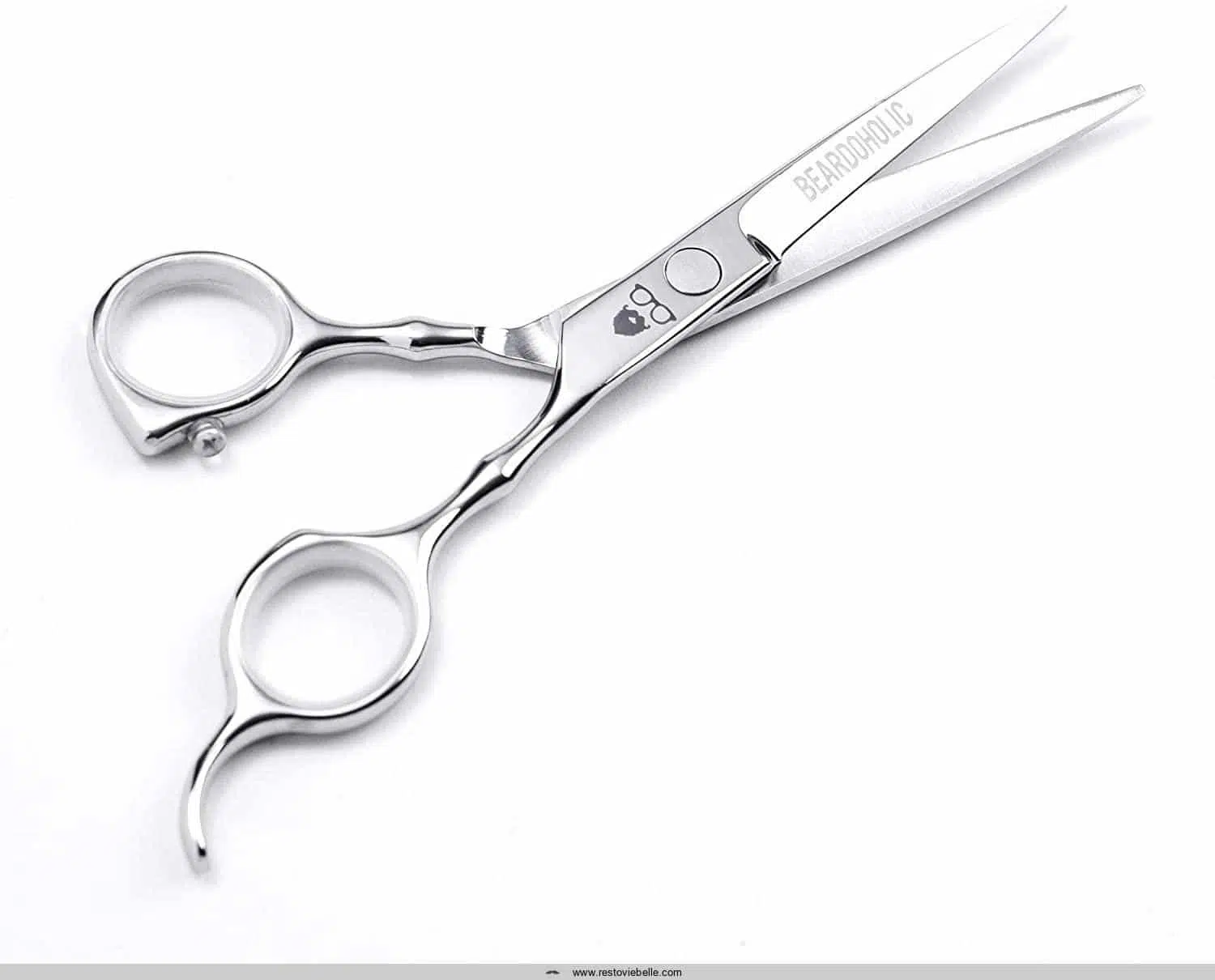 View On AmazonBeardoholic beard scissors do best, thanks to their sharp blades with a curved razor blade, cutting facial hair quickly and more accurately than ever, cutting facial hair quickly and more accurately than ever.
You never have to worry about them sticking to your hair as they are surgically sharp and surgical. Give a clean, smooth, and accurate cut every time.
Even after years of use, you won't notice them getting dull or rusty. The top-quality Japanese stainless steel that these beard scissors are made of is extremely durable and will last for years.
Because adjusting the tension is very important, there is an adjustable screw that you can use to adjust the density according to your needs. The screw also allows for an effortless opening of the blade and noiseless cutting.
The finger holes are large enough for most men's hands, and they are also covered with rubber for a better fit and to keep the steel out of your fingers.
If your fingers are very bulky, there is an option to remove the rubber and have a comfortable grip.
In case you need a break from work, a handy finger rest comes in handy as it keeps your hand still and prevents you from making trimming mistakes.
Regardless of your beard's type and size, you can use this product as it simply works for any bearded man who has stray, coarse, unruly hair or split ends.

Exceptionally sharp blades that do not pull or tug hairs
Adjustable stress screw for noiseless and fast cutting
Cozy grip with rubberized holes to steer clear of finger's squeezing and scratching
Best, sturdy Japanese stainless steel that doesn't look uninteresting or rust
Left-handed guys may well uncover them a bit challenging to use
4. BEARDCLASS Mustache and Beard Scissors Kit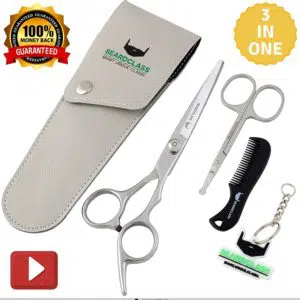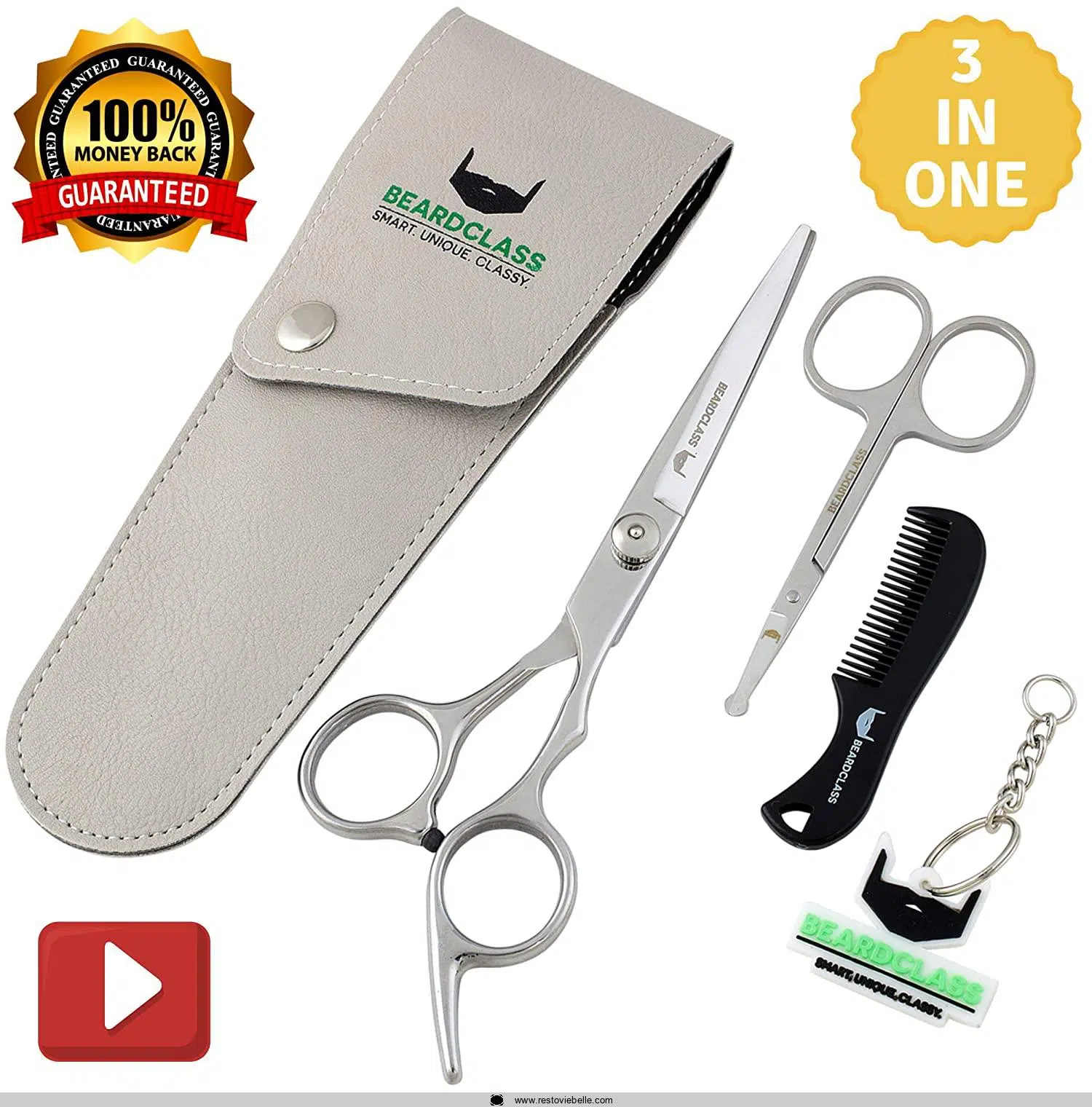 View On AmazonThis set by Beardclass comes with many nice extras, and there are not only beard scissors but also a mustache comb, nose hair scissors, and a carrying bag for the longer beard scissors.
The beard trimming scissors are versatile and designed for both right and left-handed users. Very comfortable in hand. Both scissors are made of stainless steel, so they are not as sharp as a pair of Japanese steel and may need to be sharpened more often.
This mustache and beard scissors kit comes with everything you need to make a long beard, your mustache, sideburns, and nose hair, and includes a comb you can use to make sure you get a smooth, polished look.
Not only do you get durable beard scissors with purchase, but you also get a carrying case, comb, and nose hair trimmers. The scissors designed for beard use may need to be sharpened regularly depending on how often you use them, as the blades have a shorter cutting time than a Japanese steel model. Considering the low price and all the free extras you get, this set gives you better value for money.
Created for right and left-handed consumers
Developed out of stainless steel
Durable
Includes numerous totally free extras
Ought to be sharpened usually
5. Suvorna Men's Beard & Mustache Trimming, Cutting, and Styling Scissors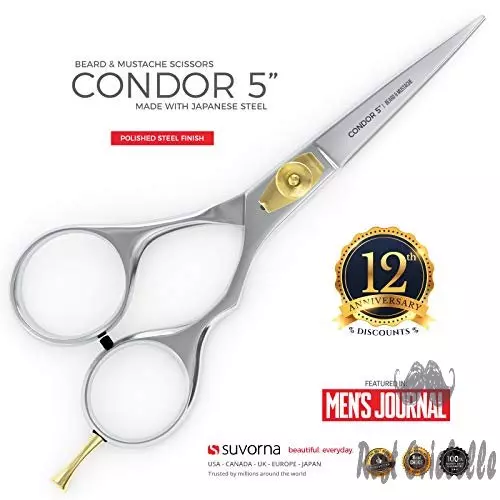 View On AmazonWhile there is nothing wrong with using beard and mustache trimmers, nothing beats quality scissors when it comes to precision. The Suvorna beard and mustache scissors for men are one such pair and make it easier to cut stray or unruly hair. Remove.
Let's take a closer look at these scissors:
They are made to last and come with a lifetime warranty and a 60-day free return policy. If you don't like them, you cannot ask for a refund or exchange.
The Japanese stainless steel blades have extremely sharp convex edges and are firmly attached.
The finger holes are large enough for men with larger hands to use them comfortably.
They also have a removable ring finger rest, which is always handy.
The folks at Suvorna mirror the stainless steel to create a highly reflective, smooth surface resistant to moisture and oxidation.
Suvorna's Beard and Mustaches is suitable for thin, thick, and heavy whiskers, but especially for coarse hair that's thicker than most.
The sharp edges of the blades allow you to get a clean, smooth cut every time.
The adjustment screw allows users to adjust the tension.
The scissors come with a comb and an attractive storage pouch that is small enough for travel purposes.
Razor-sharp blades
Huge fingers holes and removable finger rest
Straightforward to modify for fine cutting
Not produced for left-handers.
6. EQuinox Professional Beard Shears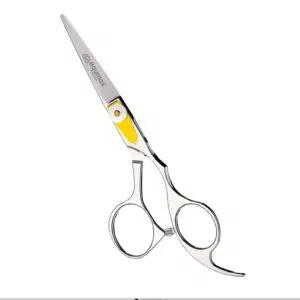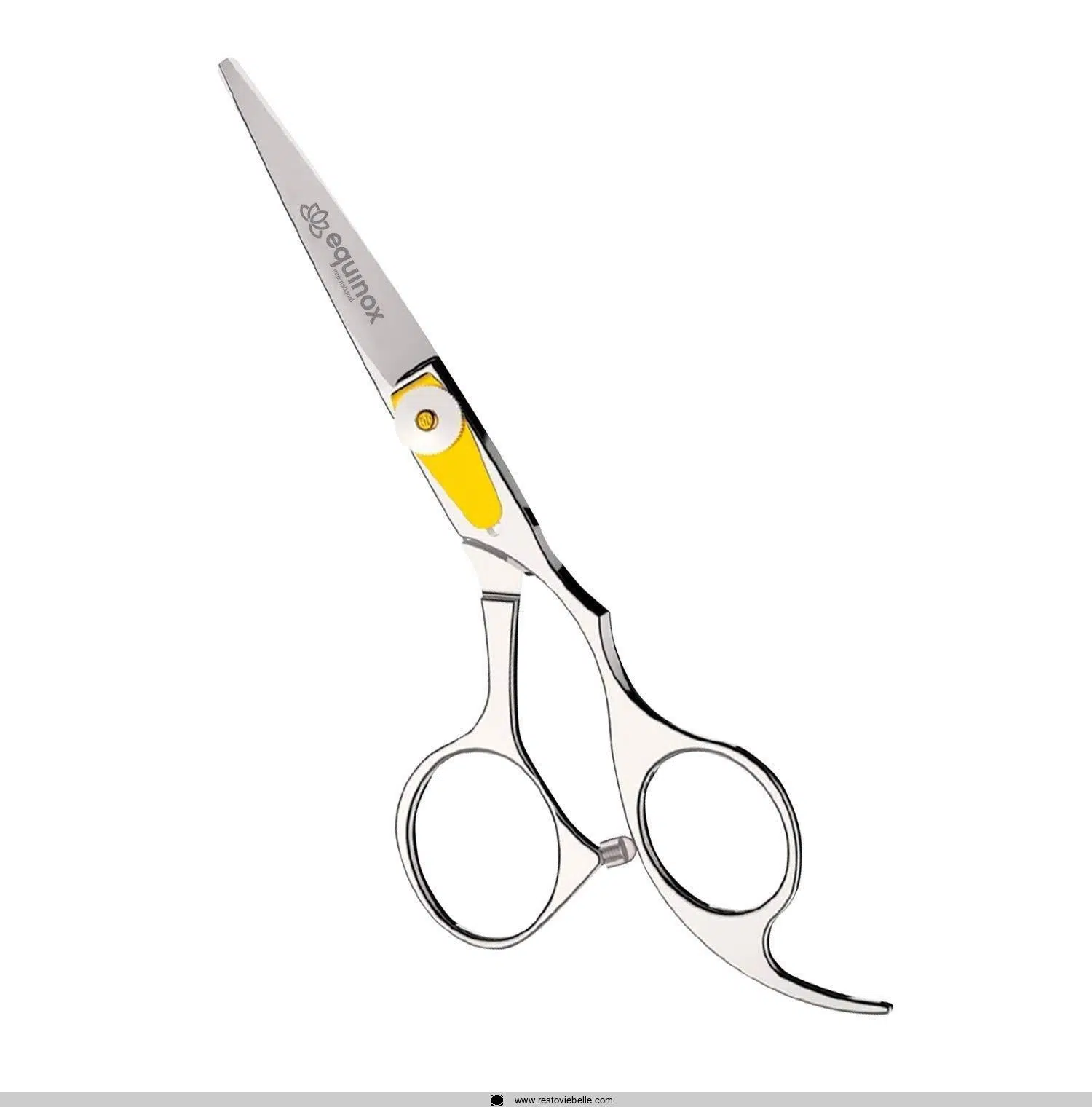 View On AmazonThe first thing you'll notice when you get your hands on the equinox professional beard shears is how light and handy they are, which means that anyone can easily handle them.
Please note: these beard scissors come in a plastic package. Vacuum housing and are covered with lubricating oil.
Check before first use. Wash with mild soap and water and dry with a soft cloth to remove the oil.
The most important thing with beard scissors is, of course, the blades. Fortunately, this product has exact blades and hand-sharpened cutting edges.
The beard and mustache scissors have a smooth stainless steel structure, making them look elegant in a salon, hairdresser, or at home. Facial hair never gets caught in the blades.
With the adjustable gold-colored turnbuckle, you can effortlessly adjust the hair scissors to the desired tension level.
Finally, the ergonomic, comfortable grip The handle's design makes them easy to use by anyone, regardless of their experience in beard trimming.

Exact blades and hand-sharpened cutting edges
Distinctive, comfy grip handle style
Adjustable gold-painted stress screw
Light-weight fashion for much less difficult managing
Lengthy lasting stainless steel
The finger holes may be tiny for some.
Not for left-handed individuals
7. Curved and Rounded Facial Hair Scissors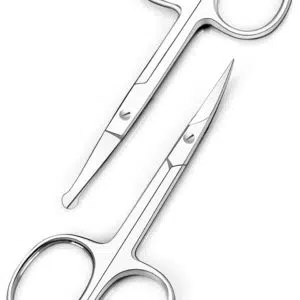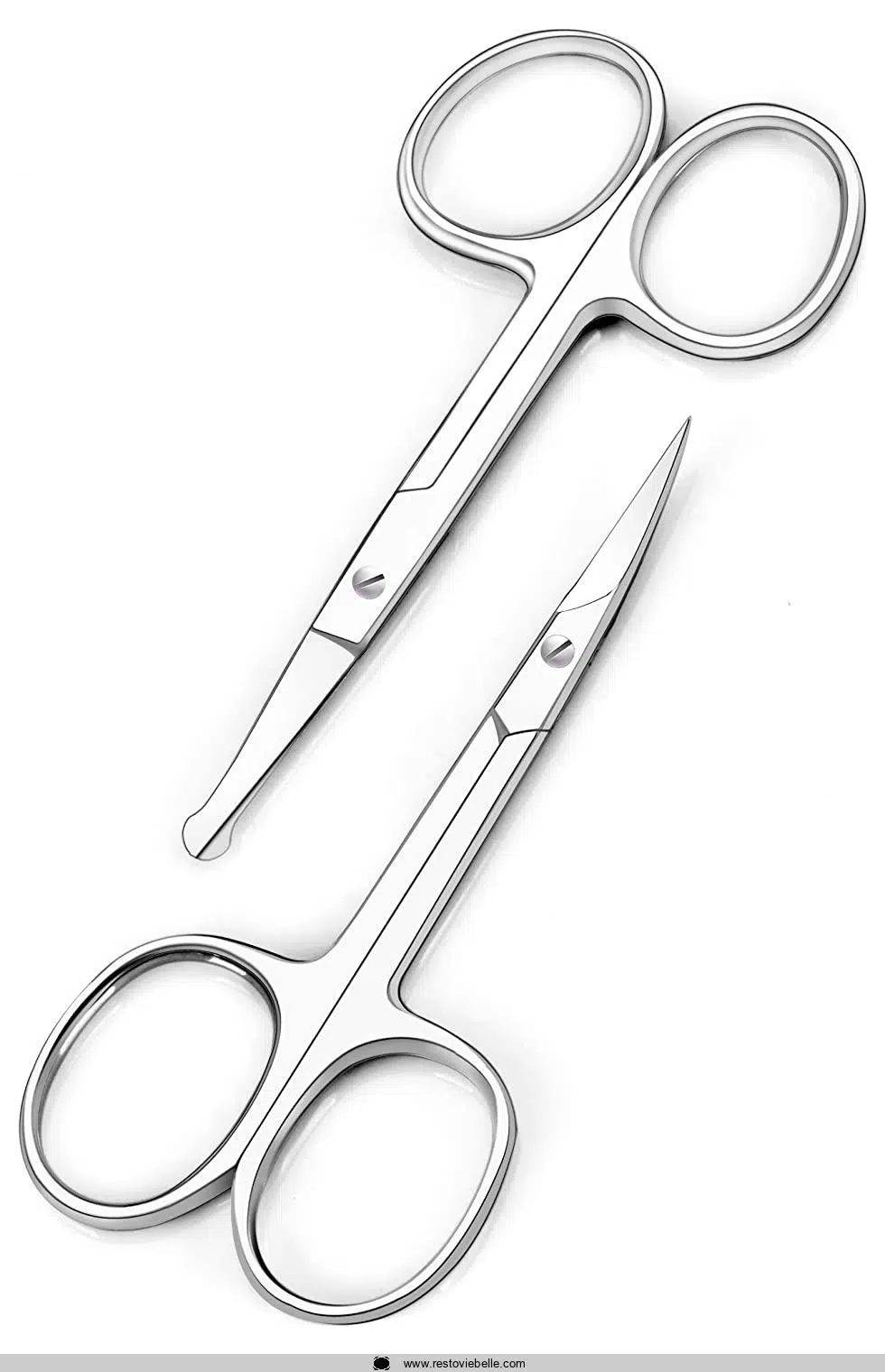 View On AmazonThe curved and rounded facial hair scissors are available as hair scissors for a bargain price, giving this product an excellent value for money.
The blades are razor-sharp, made of surgical stainless steel, and thus last five times longer than regular stainless steel beard scissors.
The blades' tips are rounded and curved to help you trim your nose, hair, ear, and mustache without hurting yourself.
Most other beard scissors do not offer this feature. The product is made of surgical stainless steel.
This material will keep your scissors from rusting or staining but wipe them clean from time to time.
Use a delicate, dry material for cleaning and keep your scissors in the closed position when not in use. This will double their life.
The ergonomically designed handle gives these scissors a comfortable grip, and their small size makes them very convenient to even cut nose hair and take it with you when traveling.

Curved, rounded blade ideas help make for safer trimming.
Round handles make for a cozy grip.
Sharp blades make for fast, accurate cutting.
A bit small for guys with bigger hands
8. Professional Barber Shears/Salon Razor Edge Hair Cutting Scissors
View On AmazonThere's plenty to love about these scissors: While some reviewers rightly point out that they aren't the sharpest scissors you can hope for, they offer exceptional value for money, so for any man looking for a good pair of scissors, his beard, and mustache worth considering.
Why?
First, they are made from 100% stainless steel, making them exceptionally durable and easy to maintain. And they feature finely adjustable turnbuckles for versatility and control.
They are also nice and light, easy to use, and good for a quick trim for a full shave or just every few days. They are easy to maneuver and provide a nice hold.
This is partly because they have non-slip handles and come with loop adjusters: you get exactly the grip you want, giving you excellent control and balance, which is important if you're risking scratching your precious face or cut.
It is also worth noting that they are good for both rights and left-handed beard men.
At 6.5 inches in length, they are slightly longer than others on this list, which makes them feel very professional. Indeed, many professionals seem to swear by these scissors, which might allay your concerns about their sharpness.

Really sturdy
Very adjustable
Comfy to hold and light-bodyweight
Some declare they are not as sharp as they'd like
9. Suvorna Hoopoe 5 Men's Grooming Scissors
View On AmazonLast but not least, we have another product from Suvorna.
Their 5-inch Hoopoe model beard and mustache scissors are the thinnest scissors out there as they are extremely light and perfectly balanced in proportions.-}
The scissors are made from premium Japanese stainless steel, like everything else on this list, and the turnbuckle is imperceptibly small, so your facial hair doesn't get caught in it while trimming a mane.
Shaped for right-handed users, these scissors come with a finger rest, large finger holes (and silicone rings to make them smaller), plus a small leather travel pouch.

Exceptionally sharp blades
Adjustable tension screw
Super ergonomic grip best even for left-handed individuals
Come in a leather circumstance with a magnetic close to the characteristic.
The screw catches and pulls hairs sometimes.
A bit much more on the pricey side
10. Badass Beard Care Beard & Mustache Stainless Steel Trimming Scissors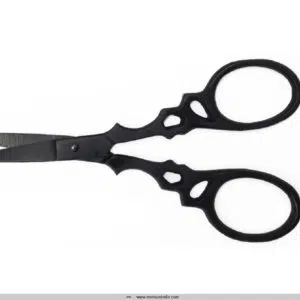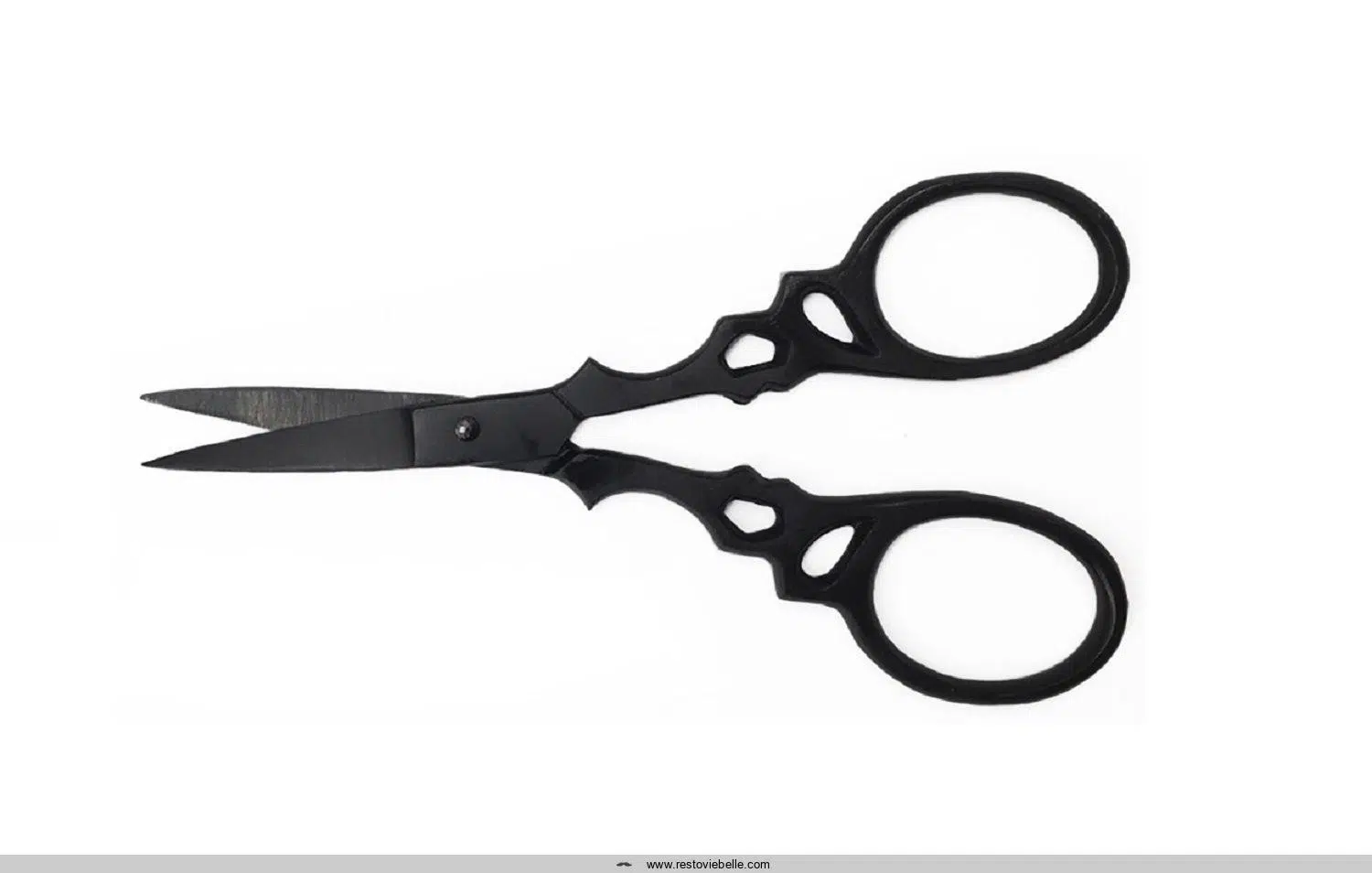 View On AmazonThese stainless steel scissors from Badass Beard Care have sharper blades designed for durability and a cleaner cut. These eye-catching matte black scissors are just the right length for all beard types, so you should have no trouble getting in and keeping your beard in shape while catching all those coarse stray hairs. The manufacturer offers a 100 percent satisfaction guarantee, giving buyers every reason to give these scissors a try. The blades are 13.5 cm long, perfect for beginners as the scissors are easier to handle and operate.
This model does not come with any extras, including a carrying case, so you will need to buy your own to protect the blades and avoid injury. Mean sharpening them more often depending on how often you trim your beard. Overall, the scissors are well made and have a very masculine design that most buyers will appreciate.
Light-bodyweight
Ergonomic grip
Matte black color
Reduced price
One hundred percent fulfillment, make sure.
Could demand regular sharpening
It does not come with a carrying pouch
Beard Scissors Vs Hair Scissors
What distinguishes normal hair scissors from specific mustache and facial hair scissors?
Well, not much. The scissors sold for facial hair use are often just a smaller version of regular scissors that hairdressers use on scalp hair.
One of the products in our list of ten best beard and mustache scissors below is actually high-quality hair scissors, which works perfectly for longer and rougher beards.
For men with shorter beards and those who need more attention to detail in their mustache area, smaller is usually 4-5 scissors best: but for larger beards that you usually maintain, Getting the job done easier with 5.5-6.5 scissors.
Of course, the whiskers manufacturers and the people who market them sometimes claim that the beards need their own special scissors, but that's not the case.
Apart from a smaller size and sometimes rounded safety tips, there is not much difference between beard, mustache, or scissors.
How to Use Beard & Moustache Scissors Properly
Although it is tricky and slightly uncomfortable at first, follow these steps to use the beard and mustache scissors correctly:
Use beard shampoo and possibly beard conditioner if you have one and wash your beard and pat it dry with a clean towel.
Comb the beard well, as explained in our beard comb guide, to reveal all the hair at the ends
Make sure your beard is completely dry before proceeding.
Carefully cut one side into pieces using a comb as a guide.
Do not cut too much or cut the same length everywhere.
Comb the cut side down to see the result
Cut the same side.
Comb the hair from under the chin and cut any loose hair.
Comb the hair back and trim away any remaining stray animals.
Rewash the beard to remove any hair residue.
Using beard oil and brush your beard to replenish cut ends.
First of all, remember that it is always better to cut your beard dry. This is because your beard hangs differently from your face due to gravity and the hairs stick together. When dry, it is its usual self, and you can trim more precisely.
Besides, consider using a comb to trim the correct length every time. By combing the beard at a slight angle, you can decide what to remove with what comes through the teeth.
Make sure to cut the same amount with some consistency, especially careful not to cut too much. Consider pulling out less than you want at first, then comb the hair back a few times to see how close you are to the desired length.
Maintenance of the Best Beard Scissors
Your high-quality, affordable beard scissors will likely stay sharp longer if you clean them after each use and store them in a dry place. If you keep them in a wet place, the risk of rust is higher.
Of course, no matter how much you give, the blades will inevitably become dull after about 6 months of use.
Make sure to sharpen them as soon as this happens to prevent them from pulling or pulling on the hair and causing uneven cuts.
Conclusion
Now that you know everything there is to know about finding the beard scissors that will work for you, you need to make the right choice.
The best beard scissors are important tools specially designed for beard use and are easily made with thicker, heat-free heat.
These scissors are designed with hard materials and can sharpen the edge much longer than the traditional scissors.
As always, we close our product view to ask for your feedback and suggestions.
References
baldingbeards.com
beardoholic.com
beardresource.com
shavespy.com