This site is supported by our readers. We may earn a commission, at no cost to you, if you purchase through links.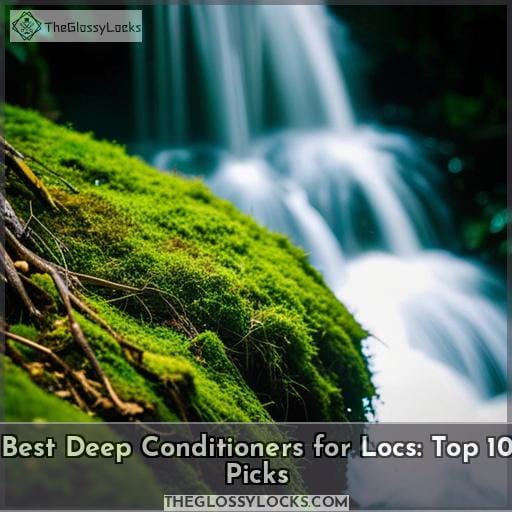 Are you looking for the best deep conditioner to keep your locs hydrated and healthy? We've compiled a list of our top 10 picks, so you can choose the perfect one for your hair.
From Palmers Cocoa Butter Biotin Conditioner to Locafella Locs Deep Conditioner, each product on this list is designed specifically with loc wearers in mind. Not only will these products help add moisture back into your locks, but they'll also protect them from damage due to styling or other treatments.
In addition, we'll discuss why deep conditioning is essential for keeping locs healthy and provide some tips on how you can maximize its benefits at home.
So if you're ready to make sure that those gorgeous dreadlocks stay beautiful and vibrant throughout their life, then read on!
Key Takeaways
Palmer's Cocoa Butter Biotin Conditioner and Eden Bodyworks Jojoba Monoi Conditioner are among the top deep conditioners for locs.
Deep conditioning helps with detangling, reducing frizz, adding shine, and strengthening hair strands.
Moisture is important for locs as it prevents dryness and damage, protects against harsh elements, and promotes healthy hair growth.
To deep moisturize locs, use natural oil-based conditioners, choose premium-quality deep conditioners, follow instructions carefully, and consider using apple cider vinegar.
Top 10 Deep Conditioners for Locs
If you're looking for the best deep conditioners to use for locs, look no further. Palmer's Cocoa Butter Biotin Conditioner, Eden BodyWorks Jojoba Monoi Conditioner, OKAY Coconut Leave-in Conditioner, Locafella Locs Deep Conditioner, Dr.
Miracle Healthy Coconut Oil Deep Treatment, and more are all excellent options to keep your locs healthy and strong throughout any season.
1. Palmers Cocoa Butter Biotin Conditioner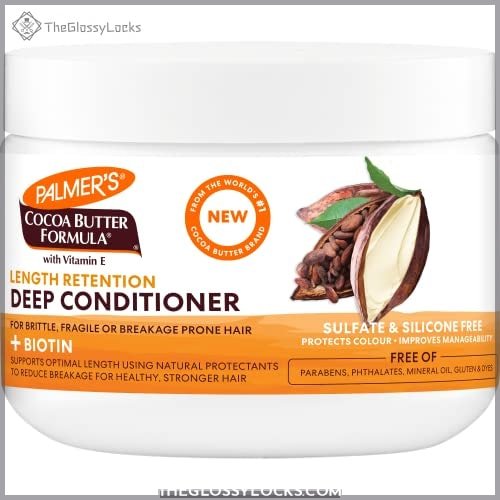 View On Amazon
Experience intense hydration and healthier hair growth with Palmer's Cocoa Butter Biotin Conditioner, a luxurious cream that will leave your locs feeling soft and nourished. This deep conditioner is formulated to nourish each hair fiber while protecting against fragility, brittleness, split ends, and breakage.
It contains natural ingredients such as biotin for healthy hair growth along with cocoa butter to help moisturize the scalp.
Suitable for all natural textures from 1-4C curls, it adds moisture while optimizing the body's natural cycle of regrowth without containing any sulfates or silicones – perfect if you're looking for an organic way to care for your locs! The pleasant smell makes this product even more enjoyable when using regularly in conjunction with Palmer's Cocoa Butter Formula Shampoo & Leave In Conditioner; both providing optimal results after only 5 minutes of application time under a shower cap (with added heat).
Users report immediate improvements in their texture and curl definition alongside softer locks due to its light yet hydrating formula – so why not give it a go?
Contains Natural Protectants To Prevent Fragileness And Brittleness
Sulfate And Silicone Free
Pleasant Smell
Enhances Curls For Optimal Results
Adds Moisture While Optimizing Hair Growth Cycle
Lacks Slip Typically Found In Deep Conditioners
2. Eden Bodyworks Jojoba Monoi Conditioner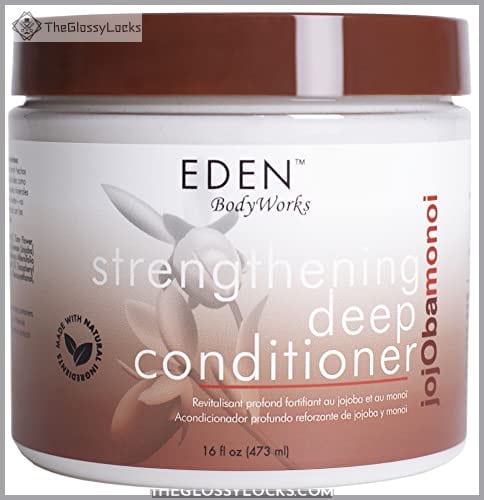 View On Amazon
Eden Bodyworks Jojoba Monoi Conditioner is a vegan-friendly, sulfate-free formula that nourishes and detangles your locs while restoring moisture and elasticity. This conditioner contains jojoba oil, monoi oil, and shea butter to deeply hydrate the hair follicles for healthy growth.
It's packed in a convenient two pack of 32 fl oz bottles so you won't run out anytime soon! In addition to being paraben-free, this product helps banish dryness from bleached hair, leaving it feeling softer with improved manageability.
Users report immediate improvements in their curl definition as well as softening effects on their locks after use, thanks to its pleasant coconut scent.
Vegan-friendly
Sulfate-free
Restores moisture & elasticity
Hydrates & protects against damage
Suitable for bleached hair
Pleasant coconut scent
Not suitable for all natural textures (1C-4C)
Can leave residue if used too frequently
May not be strong enough if you have very dry or damaged locs
3. OKAY Coconut Leave in Conditioner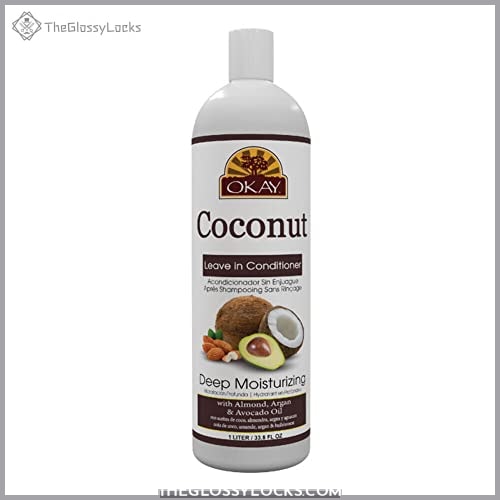 View On Amazon
OKAY Coconut Leave-In Conditioner is a luxurious hydrator that infuses dry, brittle hair with nourishing moisture and a coconut scent for a smooth, beautiful finish. Formulated without sulfates or silicones, it contains natural ingredients like Avocado Oil and Shea Butter to help protect against damage while replenishing moisture and elasticity.
This easy-to-use conditioner comes in an ample 33oz bottle, so you can enjoy long-lasting hydration even after multiple uses.
Sulfate & silicone-free
Contains natural ingredients like avocado oil & shea butter
Ample 33oz bottle size offers lasting hydration
Not suitable for dyed/color-treated hair
4. Locafella Locs Deep Conditioner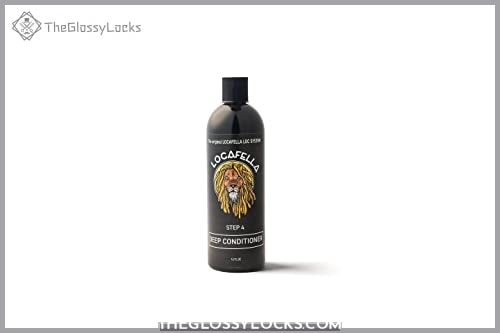 View On Amazon
Locafella Locs Deep Conditioner is a luxurious paste that helps to soften and hydrate your locs, nourishing them with essential vitamins and minerals. It contains natural ingredients such as Biotin, ProVitamin B5, Olive Fruit Oil, Coconut Fragrance Oil, and more to strengthen hair strands while controlling frizz.
This deep conditioner can be used on dreadlocks for all types of hair—from thinning locks to thick braids or twists. Its mild coconut scent provides an added layer of luxury during the conditioning process.
With regular use, this product will bring life back into even the driest locs in no time at all!
Enriched with nutrients like Biotin & ProVitamin B5 for stronger & healthier-looking locks
Softens & hydrates dry locs
Mild coconut scent adds a layer of luxury during the conditioning process
Penetrates deeply without weighing down or making your scalp greasy afterward
Not suitable for new starter locs
Scent may not be pleasing to some users
5. Dr Miracle Healthy Coconut Oil Deep Conditioner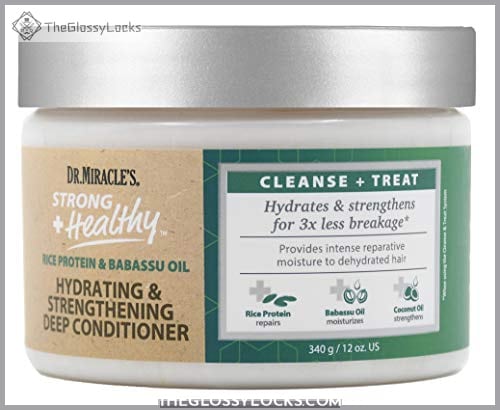 View On Amazon
Dr. Miracle's Healthy Coconut Oil Deep Conditioner is a powerful masque, clinically proven to reduce breakage by 3x and leave your hair feeling nourished and hydrated. It is formulated with Rice Protein, Babassu Oil, and Coconut Oil for intense reparative moisture.
This product helps strengthen the hair from root to tip while providing a luxurious experience that leaves you feeling pampered.
This deep conditioner is free of parabens & sulfates, and it also smells great! The generous bottle size makes it long-lasting, so you can keep using it until all of its benefits have been experienced.
Plus, the easy application process ensures that your time in the bathroom won't be wasted on complicated routines or waiting around for results.
Clinically proven formula reduces breakage by 3x
Nourishes & hydrates damaged hair
Generous bottle size lasts longer than other products
Easy application process saves time in the bathroom
Pleasant scent provides an enjoyable shower routine
May not work as well on finer or bleached hairs
Results may vary based on individual use
6. Aussie on Mend Conditioner
View On Amazon
Aussie On Mend Conditioner is a powerful triple-oil formula that banishes dryness and delivers soft, bouncy hair with volume. This deep conditioning mask contains Avocado, Australian Jojoba, and Macadamia Oils to intensely nourish locks while providing intense hydration for all hair types.
It's formulated without parabens or dyes, making it gentle enough even for bleached tresses.
Best of all, this product only takes 3 minutes to use! After application, you can enjoy manageable curls that have been restored from within with renewed elasticity and strength – plus plenty of extra shine too!
Perfectly suited to combat the harsh winter weather head-on, Aussie On Mend will help keep your locks looking their best year-round.
Triple-oil formula provides intense hydration
Restores moisture & elasticity in just 3 minutes
Gentle enough even for bleached hair
Not as long-lasting as some other conditioners
7. Mokita Naturals Conditioner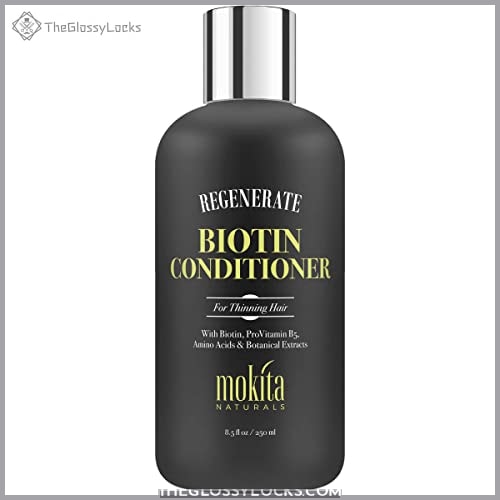 View On Amazon
Mokita Naturals Conditioner helps to restore moisture and shine to your locs while providing essential nourishment for the scalp, so you can rock those luscious locks with confidence. It is enriched with Biotin and ProVitamin B5, designed to protect hair from sun rays, pollution, and heat.
This deep conditioner works well on all hair types, including dyed hair. After just one use, it leaves your locs soft yet strong.
To use, massage it into wet strands for 1-5 minutes before rinsing off. Users report that the shampoo lathers well but requires thorough rinsing after each use.
Enhances highlights in colored or highlighted hair
Leaves locks feeling thick & full without needing rewashing for days afterwards
Pleasant scent & easy application process
Shampoo needs thorough rinse out for best results
May require pairing with other products (like their volumizing shampoo) for optimal results
8. Bogavia Hair Treatment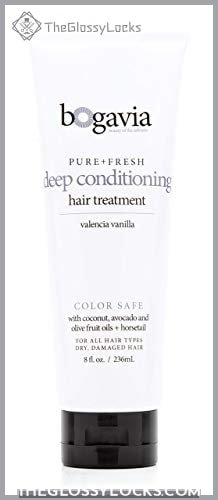 View On Amazon
Treat your locs to Bogavia's plant-powered, deep moisturizing formula for weightless hydration and bouncy, healthy hair. This vegan and clean beauty formula is free from parabens, chemical preservatives, artificial fragrances, and other harsh ingredients.
Its key components of Aloe Vera, Horsetail extract, and Hibiscus flower oil provide intense nourishment, while Shea butter, Coconut Oil, and Avocado Seed Oil deeply hydrate the scalp.
The unique blend helps repair damaged strands by smoothing out split ends, improving texture, elasticity, and overall shine with regular use. This product can be used daily as a conditioner or weekly as an intensive treatment/mask depending on individual care needs and routine preferences.
People have praised its pleasant scent, lightness, effectiveness, and variety of uses, as well as its affordability when it comes to protecting and maintaining locs and all natural textures types!
Repair damaged strands, smooth out split ends, and improve texture & elasticity
Plant-based clean beauty formula free from Parabens, Chemical Preservatives, Artificial Fragrances, Sodium Lauryl Sulfate, Silicones, Mineral Oils, Gluten, and Soy
Pleasant scent, lightweight, effective, suitable for all hair types including dry, color-treated, wavy, textured, coarse, fine, etc.
Use daily as a conditioner or weekly as an intensive mask
Stick residue reported in some cases, not ideal if looking only to maintain healthy locks
Strong orange creamsicle smell might trigger migraines in some
9. Cantu Shea Butter LeaveIn Conditioning Mist

View On Amazon
Experience the luxurious hydration of Cantu's Shea Butter Leave-In Conditioning Mist to nourish and strengthen your hair. This paraben-free, dye-free conditioner is enriched with natural ingredients like Coconut Oil, Avocado Oil, and Shea Butter for maximum moisture retention.
Its formula helps protect from sun damage while reducing frizz and providing a light refreshing mist that won't weigh down your locs or leave them feeling greasy.
With 8 oz in each bottle, this product will last you long after its first few uses! The pleasant coconut scent makes using this product even more enjoyable as it leaves behind an inviting aroma on your locks all day long.
And because it's designed specifically with delicate baby hair in mind, you don't have to worry about any harsh chemicals stripping away color-treated strands either, making this one of the best deep conditioning treatments out there today!
Paraben & Dye Free Formula
Enriched with Natural Ingredients like Coconut Oil & Shea Butter
Pleasant Coconut Scent
Designed Specifically For Baby Hair
Reduces Frizz & Protects From Sun Damage
Softens Strands Without Breaking Them Down
Some People May Not Like The Smell Of Cocoa
10. Nizoral Deep Moisturizing Conditioner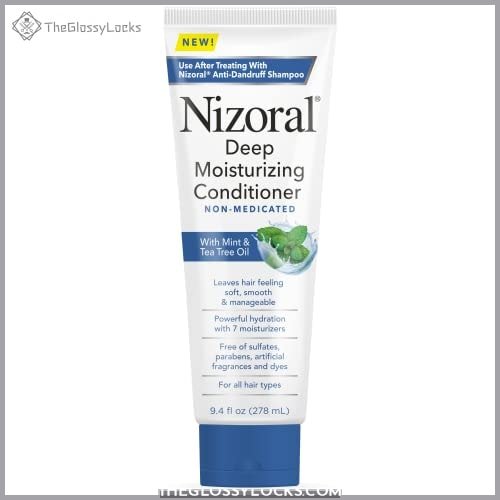 View On Amazon
For optimal hydration and nourishment, try Nizoral's Deep Moisturizing Conditioner that leaves hair soft and smelling great. Its unique formula is designed to work after the brand's Anti-Dandruff Shampoo, clinically proven not to strip away its medicine while restoring moisture levels in your locks without harsh sulfates or parabens.
Containing Mint Tea Tree Oil for a pleasant scent, this heavy-duty conditioner is suitable for all hair types – including short cuts! With regular use, it helps manage frizziness and adds essential nutrients back into dry strands.
Designed specifically for use after Nizoral shampoo
Clinically proven not to strip away the shampoo's medicine
Contains Mint Tea Tree Oil
No artificial fragrances or dyes
Not suitable as a standalone product
Can be too thick/heavy duty if used excessively
Limited availability
How Does Deep Conditioning Benefit Locs?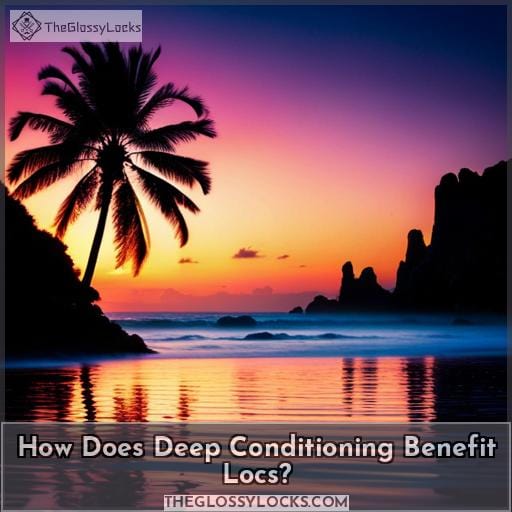 By deeply conditioning your locs, you can enjoy the nourishing benefits of natural oils and powerful ingredients like Biotin and Cocoa Butter for a strong, healthy mane. Deep conditioners help retain moisture in hair strands while promoting scalp health.
DIY hair mists with Aloe Vera juice, lavender essential oil, apricot oil, and distilled water are also beneficial for locs. To keep them hydrated at all times, use warm showers or a humidifier along with a silk/satin scarf every night before bedtime.
Additionally, regularly deep condition mature locs once or twice per week. Shampoo first, then apply deep conditioner. Use premium natural products free from harsh chemicals to protect against dryness.
Choose an appropriate product depending on weather conditions – winter requires more moisturization than summer months.
Utilize lightweight leave-in moisturizers such as coconut oil sealed with olive or tea tree oils between washes to prevent brittleness and breakage.
The Importance of Deep Conditioning for Locs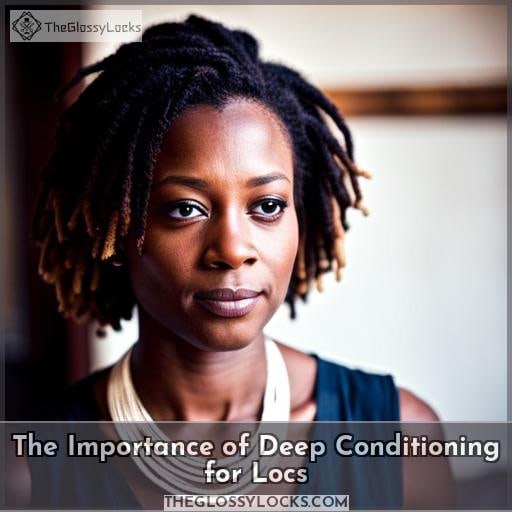 Caring for your locs with a deep conditioner is essential to keep them soft, moisturized, and healthy. Deep conditioning helps restore moisture, reduce frizziness, add shine, and strengthen each hair fiber.
It also provides protection from damage caused by the sun or harsh chemicals used in styling products.
The right product will be determined by your particular hair type and routine, but it's recommended that you deep condition at least once a week for best results. You should use natural oil-based products to prevent the buildup of residue on the scalp and opt for premium brands that are designed specifically for locs, such as Palmer's Cocoa Butter & Biotin Length Retention or Eden Bodyworks Jojoba Monoi Conditioner, among others.
Additionally, always make sure you properly dry your locks after washing them to avoid mildew smells. It's also important to use natural oils like coconut, olive, or tea tree regularly to maintain hydration levels while preventing breakage from occurring due to excessive twisting when dry, which can cause follicle damage over time.
With these tips in mind, you'll soon notice healthier-looking dreadlocks!
Why Should You Deep Condition Your Locs Regularly?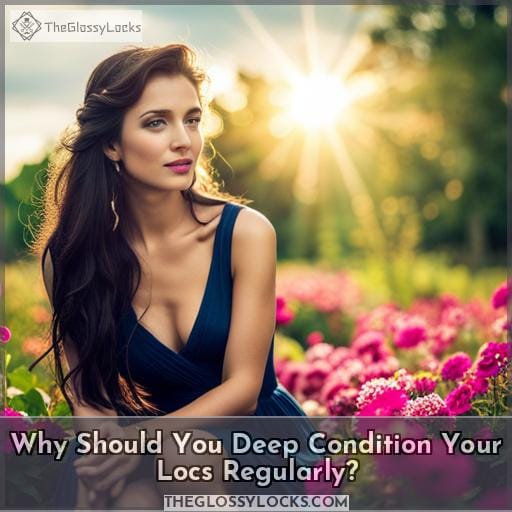 Regularly deep conditioning your locs is essential to keep them hydrated, strong, and healthy.
Detangling and reducing frizz: Deep conditioners can help detangle knots in locs while keeping the hair shaft coated with moisture to prevent breakage from occurring when combing or styling.
Adding shine: Conditioners also add shine by coating each strand with a protective layer that seals in natural oils for added luster and bounce without weighing it down or making it oily-looking over time.
Strengthening and softening hair strands: Intense conditioning treatments infuse moisture into strands, which helps strengthen them internally while providing softness externally by smoothing cuticles on the outermost layer of hair fibers for improved elasticity against damage caused by heat-styling tools such as curling irons or flat irons.
Moisturizing scalp health: When applied correctly using specialized products designed specifically for dreadlocks like Aunt Jackie's Curls & Coils Line, they are able to penetrate scalp skin more deeply than regular conditioners, helping nourish follicles and improving overall healthfulness from root up!
Regularly deep conditioning keeps your locs looking their best all year round, no matter what weather conditions you find yourself exposed to! So make sure you prioritize this important step in maintaining optimal hydration levels within both your scalp and locks alike!
The Benefits of Intense Conditioning for Locs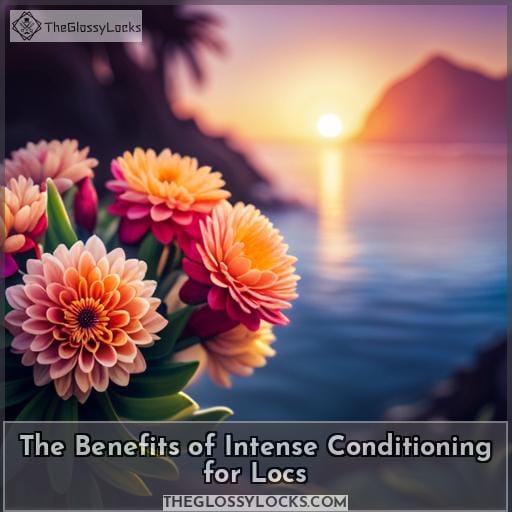 Maintaining moisture in your locs is essential for healthy hair growth and overall appearance. Deep conditioning with the right products can provide numerous benefits, from strengthening to moisturizing to restoring elasticity.
Finding the best deep conditioner for locs includes researching premium brands like Palmer's Cocoa Butter Biotin Conditioner, Eden Bodyworks Jojoba Monoi Conditioner, OKAY Coconut Leave In Conditioner, Locafella Locs Deep Conditioner, Dr.
Miracle Healthy Coconut Oil Deep Treatment, Aussie On Mend Reconstructing Hair Mask, Mokita Naturals Regenerate Volumizing Shampoo, Bogavia Hair Treatment, Cantu Shea Butter Leave-In Mist, or Nizoral Anti-Dandruff Shampoo and its accompanying moisturizer.
To achieve beautiful and vibrant locks that will last you a lifetime of love, it begins with proper hydration from these top 10 deep conditioners specifically designed for dreadlocks care!
Importance of Moisture:
Maintaining moisture in your locks is essential for healthy hair, so make sure to keep them hydrated and nourished. Deep conditioning with quality products can help protect against dryness and damage due to the elements.
Regular oiling of the scalp helps seal in moisture, while natural conditioners like shea butter or honey provide additional nutrients. Humidifiers at night can also be beneficial as they help retain moisture throughout the day.
Benefits of Deep Conditioning:
By deep conditioning your locs, you can enjoy softer and shinier hair, improved strength and elasticity, and a healthier scalp environment with enhanced curl definition.
Here are some recommendations for deep conditioners based on different hair textures (1-4C):
For all textures, you can try Palmers Cocoa Butter & Biotin Length Retention or Eden Bodyworks Jojoba Monoi Conditioner.
If you have damaged and bleached locks, OKAY Coconut Leave In Conditioner can add moisture and volume.
To reduce breakage, you can use Locafella's Deep Conditioner and Dr Miracle's Healthy Coconut Oil Treatment Mask.
For strengthening strands, Aussie On Mend and Mokita Naturals are great options.
If you have dryness, Bogavia Hair Treatment can help repair your hair.
And for nourishing babies' delicate curls, Cantu Shea Butter Mist is a vegan-friendly choice.
Recommended Deep Conditioners
Explore a range of luxurious conditioners designed to deeply hydrate and nourish your locks, from coconut leave-in treatments to avocado oil masks. Top 10 Deep Conditioners for Locks: Palmer's Cocoa Butter & Biotin Length Retention, Eden Bodyworks Jojoba Monoi, OKAY Coconut Deep Moisturizing Leave-In Conditioner, Locafella Loc Deep Conditioner, Dr.
Miracle's Strong & Healthy Hydrating & Strengthening, Aussie Reconstructing Lock Deep Conditioner, Mokita Naturals Lock Deep Conditioner, Bogavia Deep Conditioning Hair Treatment; Cantu Shea Butter Hydrating Leave-In Conditioner and Nizoral's deep moisturizing conditioner.
These products provide intense moisture retention and scalp health benefits while also protecting hair length for long-lasting natural beauty in all weather conditions.
Wrap Your Locs When You Sleep to Protect and Retain Moisture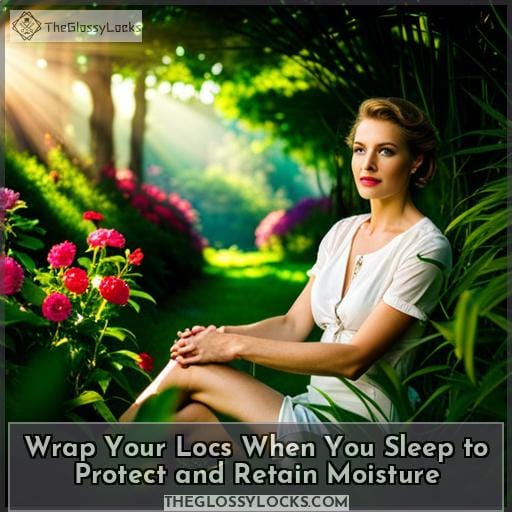 Wrapping your locs in a satin scarf or bonnet each night not only shields them from damage but also helps to lock in the moisture you've worked so hard to restore. After deep conditioning your locs with premium conditioners and natural oils, it's important to give them extra protection during sleep.
This will help ensure that the hydration stays locked in as opposed to evaporating overnight.
Additionally, nighttime protection prevents friction caused by tossing and turning, which can lead to breakage or unraveling of dreadlocks over time. To further protect hair when sleeping, choose a fabric like silk or satin for its smooth texture, which won't tug on strands while moving around at night.
Investing in protecting your locks at nighttime is an essential part of any successful loc care regimen – just as important as maintaining proper hydration throughout the day! With consistent moisturization and nightly protection routines, you'll be able to enjoy healthy locks all year long without worrying about dryness due to environmental factors such as climate change.
How to Deep Moisturize Your Locs for Optimal Hydration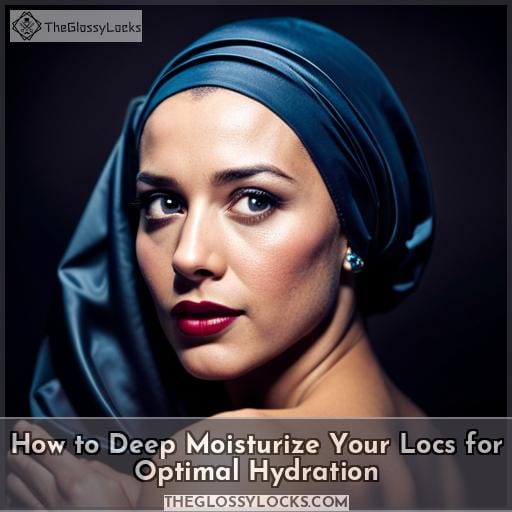 Having healthy locs starts with proper hydration and moisture. To achieve optimal hair health, deep conditioning is essential. Deep conditioning can provide extra protection for your locs as well as restore moisture and reduce frizziness.
Make sure you use a natural oil-based conditioner before applying any type of deep conditioning product or technique.
Use premium quality deep conditioners specifically designed for dreadlocks. Look out for ones containing biotin and vitamin B5 that promote length retention, hydrate the scalp, and penetrate into each strand of hair thoroughly.
Follow instructions carefully when using a hot oil treatment or traditional mask. They should be used once per week at most to avoid overloading strands with oils, which can lead to buildup over time.
Consider using apple cider vinegar in place of regular conditioners as it helps clarify scalp issues while providing light nourishment without weighing down locks too much.
Finally, keep up consistent care routines by protecting them overnight with satin scarves/bonnets so the hard work doesn't go downhill due to breakage! With these tips in mind, you'll have beautifully looking locs all year round!
Conclusion
Caring for your locs can be a challenge, but with the right deep conditioners, you can keep them healthy and moisturized. Our top 10 picks provide essential nourishment to help protect against damage and reduce breakage.
Intense conditioning restores moisture, softens, and detangles locs while shielding them from sun, pollution, and heat. Proper moisturization prevents brittleness and dryness. To retain moisture, wrap your locs in a satin scarf or bonnet at night.
Regularly deep conditioning your locs with the right products will keep them looking and feeling their best.
These conditioners are specifically formulated to provide intense hydration and nourishment to locs. They help restore moisture, improve elasticity, and promote healthy hair growth.
Here are some of the best deep conditioners for locs:
Palmers Cocoa Butter Biotin Conditioner
Nizoral Deep Moisturizing Conditioner