This site is supported by our readers. We may earn a commission, at no cost to you, if you purchase through links.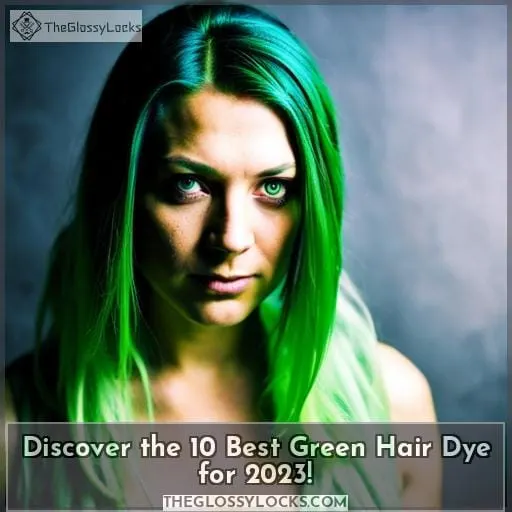 Ready to switch up your look? Embrace the trend of green hair and turn heads with a vibrant shade! Whether you want an electric neon, emerald, or mint hue – there are plenty of products available that will give you the perfect color.
It's important to consider factors such as hair type and damage when choosing the best green hair dye for yourself.
With just a little bit of research into what suits your specific needs, you'll be ready to rock some crazy colors like never before!
Key Takeaways
Consider factors such as hair type, skin tone, and desired shade when choosing a green hair dye.
Different shades of green work best for different hair types.
Opt for natural ingredients over harsh chemicals when possible to maintain healthy hair and prevent damage.
Consider your hair care routine and how long you want the color to last when choosing a green hair dye.
How to Choose the Best Green Hair Dye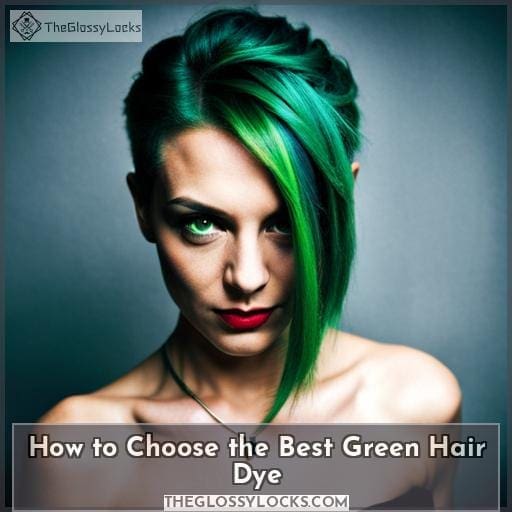 Choosing the best green hair dye for your style can be daunting, especially with so many shades and brands on the market. To make sure you get a color that suits your skin tone, hair type, and shade preference, as well as lasts longer than expected without compromising on the quality or safety of ingredients, consider researching brands to see which have a good reputation among consumers.
Considering Hair Type and Shade Preference
When choosing a green hair dye, consider your hair type and desired shade to ensure you get the look you want. Different shades of green work best for different hair types. For example, lighter tones are better suited to blonde or pre-lightened locks, while darker greens such as emerald and lime show up more vibrantly on browns and blacks.
Ask yourself if you prefer an electric hue or something subtler like matcha. Or if you'd rather mix colors with hints of blue or yellow. Research brand reputation too. Opt for natural ingredients over harsh chemicals where possible, as it can affect fade rate.
Reputation of Brands
It's important to consider the reputation of the brands that offer green hair dye.
Manic Panic Electric Lizard Hair Color has been a top choice for over 40 years. It is praised for its cruelty-free and vegan formula, which is free from ammonia, parabens, gluten, PPD, and MEA.
Lime Crime Unicorn Hair Jello offers vibrant shades at an affordable price point.
Pulp Riot Neon Area 51 glows in UV/blacklight, while Jerome Russell Green is perfect for temporary pieces or accents.
Alternatives such as Keracolor Emerald or Rebellious Colours Voodoo provide strong conditioners to maintain healthy hair during application.
All of these brands offer something unique with pricing models and color selections tailored to you!
Hair Care Routine and Longevity of Color
You'll want to consider your hair care routine and how long you'd like the color to last when choosing the perfect green dye. Depending on your hair type, some colors may fade faster than others or require more frequent touch-ups.
For example, if you have light blonde or bleached hair, a semi-permanent dye will provide vibrant results that can last up to four weeks with proper maintenance and care. If you have darker colored or unbleached black hair, permanent dyes are recommended for a longer-lasting color payoff but should be used sparingly as they can damage delicate strands over time.
Research brand reviews before application so that fading is minimized while still achieving desired results under UV light!
Top 10 Best Green Hair Dyes
Looking for the perfect green hair dye? Look no further! ARCTIC FOX PHANTOM GREEN Hair Dye, Manic Panic Electric Lizard Green, Pulp Riot Neon Hair Color Area 51, Garnier Nutrisse Emerald Green Hair Dye, Jerome Russell Green Hair Color Spray, Crazy Color Emerald Green Hair Color, Paintglow Voodoo Green Hair Dye, La Riche Directions Alpine Green, StarGazer Tropical Green Hair Dye, and Adore Electric Lime are some of the best green dyes available that will provide you with long-lasting vibrant color.
These products promise to nourish your hair while it colors and maintain its integrity all at once.
ARCTIC FOX PHANTOM GREEN Hair Dye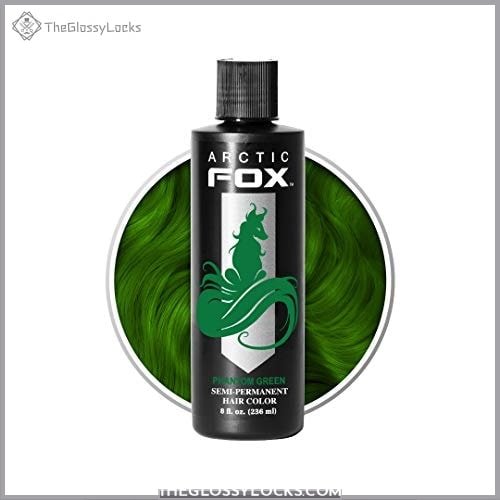 View On Amazon
Try Arctic Fox's Phantom Green Hair Dye if you're looking for a long-lasting color that creates vibrant and bold shades. With over 4,000 five-star reviews on Amazon, it's sure to make an impression. This vegan-friendly cream is free from harsh chemicals such as peroxide, ammonia, or PPD, so your hair will be left feeling conditioned and nourished.
The unique green shade has strong blue undertones, making it perfect for pre-lightened hair. It also offers subtle emerald hues on darker locks. Mix it with Aquamarine to create jewel-toned teal or emerald colors.
Customers have experienced positive results when using the product. However, some tips may be needed in terms of the bleaching process and dyeing methods to get the desired effect without damaging your tresses.
Vegan-friendly formula
No harsh chemicals like peroxide, ammonia, or PPD
Long-lasting color
Color fading after a few washes
Not very pigmented on dark hair
Manic Panic Electric Lizard Green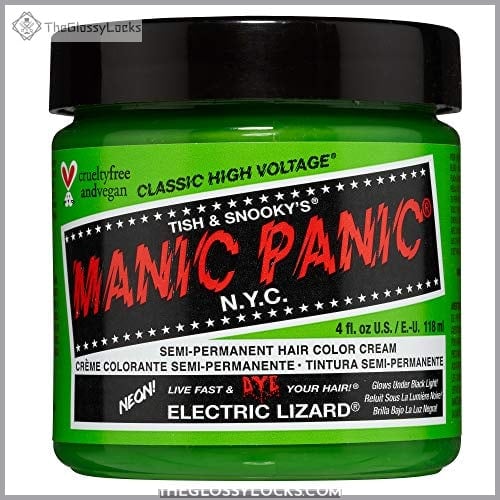 View On Amazon
Experience the electric Lizard Green of Manic Panic for a vibrant, neon look that glows under black lights and will turn heads. This semi-permanent hair dye is easy to use and less messy than other temporary colors, making it perfect for those who want to experiment with color without too much commitment.
Its vegan formula is also ammonia-free, paraben-free, gluten-free, resorcinol-free, and phthalate-free, so you can feel good about using this product on your hair.
It offers long-lasting colors on both light and dark hair, but extra care must be taken when applying as it may stain easily if not used correctly.
Vibrant & spot-on color
Long-lasting shades
Easy application
Vegan-friendly ingredients
Ammonia/Paraben/Gluten Free
Can be messy in application
Stains easily
Fades faster compared to other dyes
Pulp Riot Neon Hair Color Area 51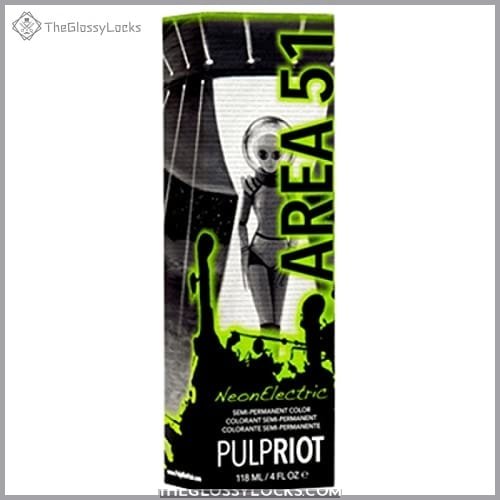 View On Amazon
With Pulp Riot Neon Hair Color Area 51, you can get the most vibrant green hues imaginable with a long-lasting glow that'll make everyone take notice. This vegan and ammonia-free formula provides reparative and restoring properties to maintain and improve the integrity of compromised hair while delivering powerful results.
It's easy to apply, taking only 15-30 minutes without needing peroxide or ammonia for development.
Customers have experienced positive results with this product: vibrant colors, glowing under UV/blacklight, non-drip formula that spreads easily – not forgetting its sweet scent! However, some users may experience patchy results due to their natural hair color not being suitable or disappointment in terms of how long it lasts compared to other dyes they've used before.
Non-toxic formula free from harsh chemicals such as parabens, PPDs & MEA
Vegan-friendly & cruelty-free
Easy application process without the need for peroxide
Vibrant colors & lasting glow under blacklight
May fade quicker than expected depending on one's individual hair type
Patchy coloring if applied onto an unsuitable base color
Color will likely wash out after several weeks
Garnier Nutrisse Emerald Green Hair Dye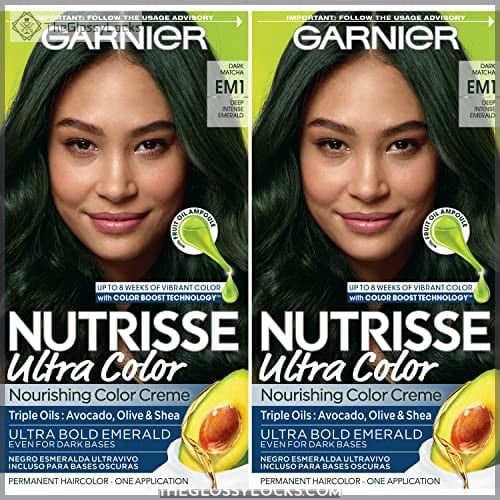 View On Amazon
Garnier Nutrisse Emerald Green Hair Dye promises bold, boosted permanent color even on dark hair, with a nourishing formula that contains grape seed and avocado oil. The complete kit includes an after-color conditioner infused with three fruit oils to help maintain the integrity of compromised hair.
This vegan-friendly option is easy to apply and can provide long-lasting results when used properly. However, some customers have experienced uneven application as well as allergic reactions due to its chemical smell during application.
Color accuracy has also been questionable at times for those seeking true emerald green tones without red undertones present in the final result – though these may fade over time into a desaturated deciduous leaf green hue after 4-5 washes depending on hair type and if it's prelightened or not beforehand.
Additionally, this product may become difficult to find in stores since it's been discontinued, although you can still purchase online albeit at marked-up prices.
Vegan-friendly formula
Nourishes while coloring
Non-drip creme formula
Uneven color application
Chemical smell during the process
Poor color accuracy
Jerome Russell Green Hair Color Spray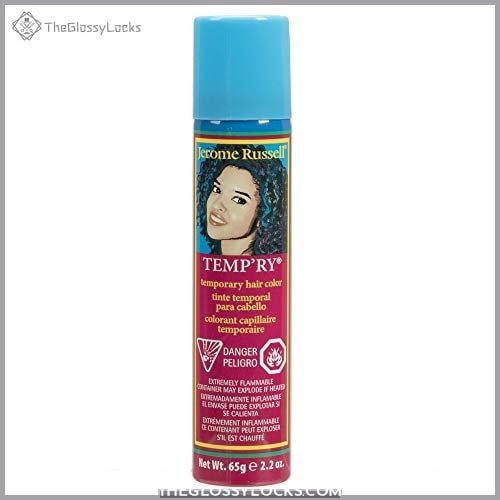 View On Amazon
You can achieve an electric lime look with Jerome Russell Green Hair Color Spray for a temporary, vibrant color that won't break or flake your hair. The aerosol product is easy to apply and provides beautiful results without the commitment of permanent dye.
While it may come off easily and can stain nails if not applied properly, this green hair spray offers you a chance to express yourself in style while still protecting your locks from damage.
With Jerome Russell Green Hair Color Spray, you'll be able to stand out from the crowd with ease!
Easy application process
Doesn't break or flake the hair
Temporary color allows experimentation without commitment
Can come off easily if not applied correctly
May stain nails
Not suitable on light blonde/white hairs
Crazy Color Emerald Green Hair Color


View On Amazon
Experience a vibrant emerald green hue that lasts up to nine weeks with Crazy Color's Emerald Green Hair Dye. It's sure to lighten up your locks like a firework! This vegan-friendly and conditioning hair dye is perfect for those looking for an exotic and vibrant color without having to use harsh chemicals or bleach.
It comes in an iconic pink bottle containing four 3.3oz bottles of creamy formula. The dye can last between three and nine washes on bleached hair, depending on the type. For optimal results, it is advised that you bleach your hair down to a light yellow stage before applying the cream.
Vegan friendly
Conditioning formula
Easy application
Iconic pink bottle design
May wash out quickly in unbleached hair
Fading may occur after the first wash
Color does not transfer onto pillows
Paintglow Voodoo Green Hair Dye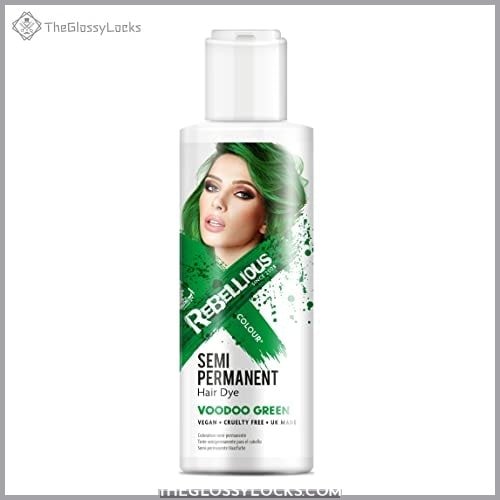 View On Amazon
PaintGlow Voodoo Green Hair Dye offers an electrifying color that will turn heads and make a statement! This vegan-friendly, cruelty-free hair dye is made in the UK without any harsh chemicals or animal by-products.
It conditions and colors your hair while avoiding damage associated with chemical dyes.
Gentle enough for frequent use, this semi-permanent color lasts between 4 to 8 washes depending on the type of hair you have. Easy to use, simply apply within 15 – 30 minutes without mixing with peroxide or ammonia; each tube contains 70ml which may require two purchases if you have thicker hair.
Get ready for vibrant green locks that can be touched up anytime using PaintGlow Voodoo Green Hair Dye!
Vegan friendly & Cruelty Free
No harmful chemicals
Conditions & Colors Hair
Lasts 4 – 8 Washes
Easy Application without Mixing Peroxide/Ammonia
Color May Not Show On Darker Hairs
Quickly Fading Colors
La Riche Directions Alpine Green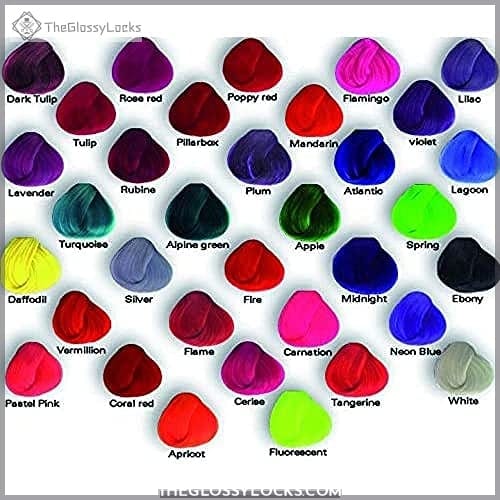 View On Amazon
Discover the lush, desaturated deciduous leaf green of La Riche Directions Alpine Green – a vegan-friendly semi-permanent dye that'll have you feeling ready to take on anything!
This long-lasting color is formulated without peroxide for all hair types and can be mixed with other shades for an endless array of possibilities. With just one tub usually covering shoulder-length hair, it's easy to apply using a tint brush and results in smooth hair texture.
Vibrant color fades beautifully over four to five washes into a stunning alpine green hue, which looks great on any skin tone or style preference.
Vegan-friendly & not tested on animals
Long-lasting & works well on most hair types
Does not require mixing with peroxide
Easy application via tint brush
Results in smooth textures
Fades beautifully after 4–5 washes
May stain skin but can be removed by scrubbing
May stain surfaces such as bathtub
Color may lighten over time
Small tub size – may need two tubs for long/thick hair
StarGazer Tropical Green Hair Dye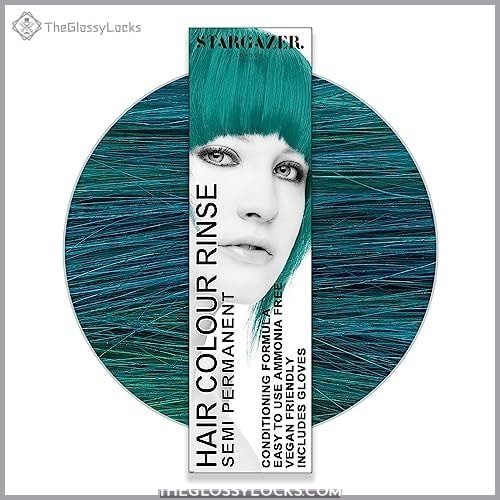 View On Amazon
Unlock a tropical paradise with StarGazer's brilliant UV green hair dye, shimmering like an oasis in the night. This product offers vibrant color without compromising on softness or quality of your locks, thanks to its conditioning agents and ammonia-free formula.
The easy-to-use box includes gloves for added protection when applying the dye to natural, dyed, or bleached hair.
No ammonia needed
Conditions as well as colors
Lasts several weeks depending on washing frequency
May require prelightening for bright color
Can be difficult to remove even with strong bleach
Fades quickly after the first wash
Adore Electric Lime Hair Dye

View On Amazon
Transform your hair with Adore Electric Lime Hair Dye for vibrant and long-lasting color that won't rub off on clothes! This vegan, cruelty-free formula is free from alcohol, peroxide, and ammonia. The 164 Electric Lime shade brings an electrifying burst of life to the hair without staining skin or rubbing off onto clothing.
For almost 20 years, users have enjoyed using this product for its quick application, glossy shine, and natural-looking vibrancy. It's no wonder why many consider it one of the best green dyes around! Mixing in Clover creates an emerald hue perfect for those seeking something special.
Although affordable compared to other brands, there are still some points worth noting. The liquid/gel texture can be messy during application, and you may need multiple applications if you want longer-lasting results as fading out nicely after just one wash is not guaranteed.
Vibrant color
Quick & easy to use
Made in the USA
Free of harsh chemicals
Vegan & Cruelty-Free
Can stain everything
Color may not last very long
Messy during application
Achieving Green Hair Without Bleaching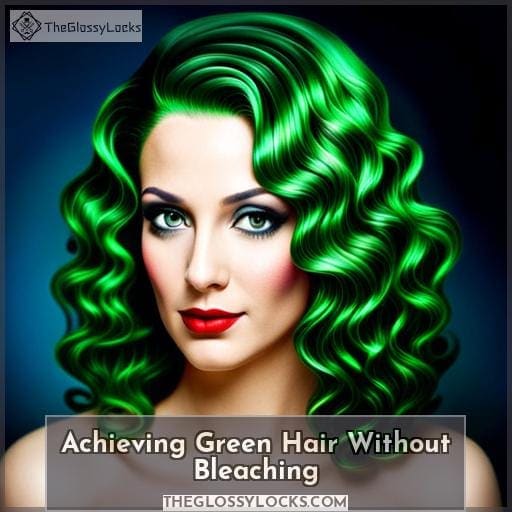 You can get the bright green hair of your dreams without having to bleach it, thanks to the range of semi-permanent options available! Whether you're looking for a subtle green tint or an electric neon hue, there are products out there that will suit all preferences.
For dark hair colors without bleaching involved, try Arctic Fox Semi-Permanent Hair Dye in Iris Green. Or if you're after something more vibrant and glowing under UV light, opt for Pulp Riot Neon Hair Color Area 51.
If you have light-colored or pre-lightened hair, then Manic Panic Electric Lizard is a great choice as it's free from harsh chemicals such as ammonia and PPD.
To further protect your locks, mix in some avocado oil before applying dye – this helps reduce damage caused by chemical ingredients while keeping your strands hydrated post-coloring session too.
With so many shades on offer like rose gold and lilac, why not experiment with color today?
Factors to Consider Before Dyeing Hair Green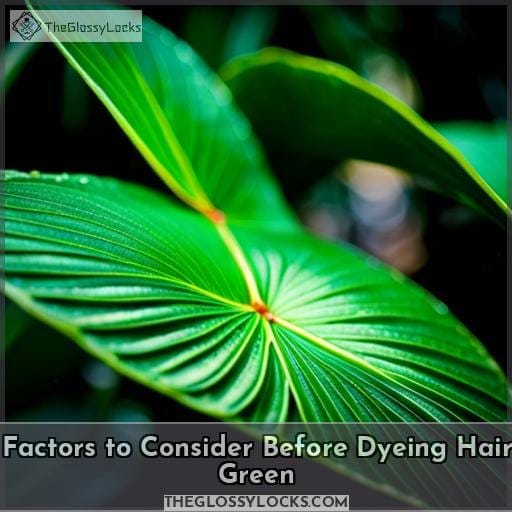 If you're thinking about dyeing your hair green, there are a few factors to consider before taking the plunge. Firstly, it's important to choose the right shade of green for your skin type and undertones.
Additionally, be aware of potential damage and fading that may occur with certain dyes. Maintenance is also key – use sulfate-free shampoo and Olaplex or natural ingredients to protect your hair from drying out or becoming brittle after the coloring process has been completed! Finally, make sure you trust the advice given by an expert author when selecting which product is best for you.
Skin Type and Undertones
Choosing the right green hair dye for your skin type and undertones can make all the difference in how vibrant and long-lasting your color is.
For warm undertones, blue-based green hair dyes like emerald or teal will work best. For cool tones, try a yellow-based option such as lime light or electric lizard.
Darker shades like dark forest or juniper may be necessary if you don't want to bleach natural black hair before dyeing it green.
With careful selection, knowledge of tonality, and the proper bleaching process, you can achieve beautiful glowing locks without damaging them too much.
Hair Damage and Fading
No matter which green hair dye you choose, it's important to consider how the product will affect your hair health and the longevity of color. To do this, minimize damage by ensuring a safe dyeing process. Also, consider bleaching tips for lightening dark locks.
Additionally, look out for UV sensitivity if opting for neon shades. Take precautions against allergic reactions when using harsh chemicals in products.
Permanent green hair dye is easy to maintain but can cause more damage than semi-permanent dyes.
Maintenance and Trust in the Author
Maintaining green hair can be a challenge, but with the right routine and care products, you can keep your color vibrant for up to 8 weeks.
Interestingly enough, according to Alvira's research, over 50% of people found their green hair dye lasting longer than expected.
Choosing the correct product is key. Leah Marie Priest has a degree in Cosmetology and extensive experience as a hair artist, so her advice should always be taken seriously when selecting this high-maintenance color.
To protect from fading questions or temporary options, there are protection tips such as using cool water rinses, sulfate-free shampoo, and natural ingredients like Olaplex or coconut oil.
Product experts agree that these precautions are essential when embracing this trend – trust them!
Which Shade of Green Will Suit Me?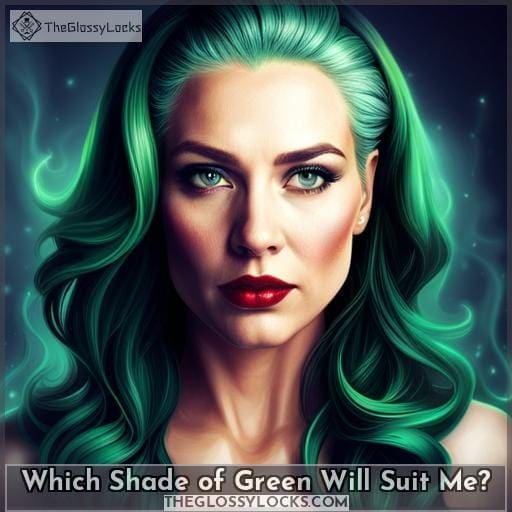 Finding the right shade of green to accentuate your look depends on your natural hair color and undertones. For light hair, you can easily achieve mint or lime colored hair. If you have dark brown or black hair, then Juniper Dark Forest and Emerald Green will work best for a noticeable result without bleaching.
Manic Panic Electric Lizard is a bright and noticeable green dye that works well on light colors, while Manic Panic Venus Envy offers a deeper, richer tone that shows up better on darker shades of brown/black locks.
L'Oreal Paris Colorista Green Semi-Permanent dye is designed for brunette hues but visible across all types, whilst L'Oreal Paris Colorista Lime Neon Semi-Permanent Dye works best for blondes, ombres & highlights looking to add some vibrancy into their life! For an electric emerald tint, Renbow Crazy Color GO TOXIC UV semi-permanent gives maximum shine, whilst Rebellious Colours Voodoo Green creates deep conditioning color suitable for any skin tones, so there truly are options out there no matter which hue you're after; mix them together if desired too!
Remember though: always do research beforehand, such as checking ingredients lists & reading reviews from users who've tried each product before making any decisions about what route to take when coloring your mane – oh plus don't forget the importance of prepping tresses prior with washing using cool water only followed by investing in Olaplex or similar products containing natural ingredients including honey + avocado oil etc.
Can I Dye My Hair Green at Home?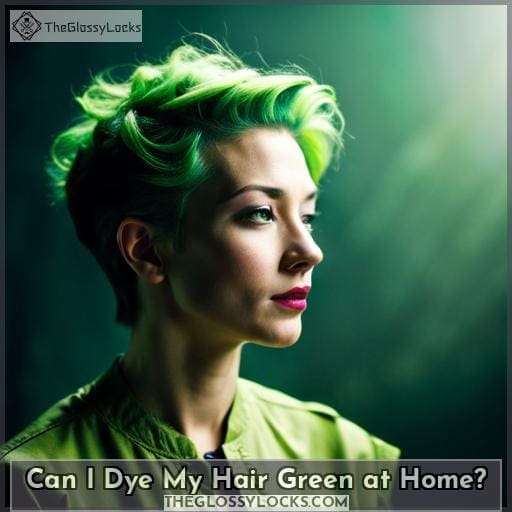 Applying green hair dye at home can be a fun and rewarding experience, as long as you take the necessary steps to ensure that your hair is safe from damage. To get the best results, it's important to follow some tips for protecting and maintaining healthy locks, such as using cool water when rinsing after application, selecting sulfate-free shampoo products with nourishing ingredients like Olaplex or natural oils.
Steps to Apply Green Hair Dye
Before taking the plunge into green hair dye, take time to learn the steps for a successful application. Mix your chosen color with developer according to instructions and apply it evenly throughout your hair using gloves and other skin protection measures.
Let it process according to directions before rinsing thoroughly in cool water. Use sulfate-free shampoo afterwards for best results.
Tips for Protecting and Maintaining Hair Health
To keep your green locks looking their best, it's important to take steps to protect and maintain the health of your hair. Hair protection includes using cool water for rinsing, avoiding sulfates in shampoos and conditioners, and adding Olaplex or natural ingredients like coconut oil or shea butter into regular treatments.
This helps prevent color fading from occurring too quickly while keeping hair healthy between dye jobs. Minimal upkeep will also help retain vibrant color longer. Use a clarifying shampoo once every two weeks as needed for a gentle cleanse with minimal stripping of the color pigment molecules from the hair shafts.
With these simple tips, you can enjoy bright green locks with minimal effort!
How On-trend is Green Hair?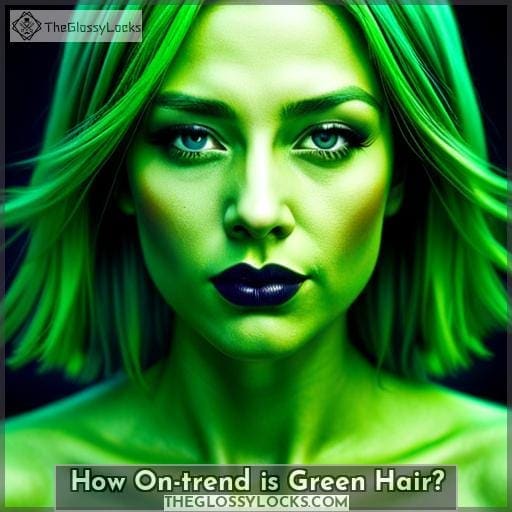 You can achieve a powerful statement with green hair, as it suits every skin tone and comes in many hues such as teal, emerald, apple, pine, and electric lizard. Whether you're looking for subtle highlights or a bold all-over color, there are plenty of styling options to choose from.
From Lady Gaga's neon lime to Billie Eilish's forest green hair, the possibilities are endless! For darker hair types, Juniper Dark Forest is an excellent choice that will add depth, while Hillary Duff's minty hue lends itself well to lighter locks.
When using temporary dyes like Manic Panic Electric Lizard, make sure your base color is lightened enough before application so you get full vibrancy under UV lights. Properly caring for colored strands is essential when it comes to maintaining your desired shade.
Frequently Asked Questions (FAQs)
How long does green hair dye last?
Green hair dye typically lasts 3-9 weeks, depending on the type and brand chosen. Semi-permanent dyes last significantly longer than temporary ones; some can even be washed out after 25 to 40 washes. Permanent green hair dyes offer a long-lasting option for those wanting maximum vibrancy and longevity, with color lasting up to 8 weeks.
Is green hair dye safe for my hair?
Green hair dye is generally safe to use, depending on the ingredients and how often you apply it. Look for dyes free of harsh chemicals like ammonia or PPD, as well as those that are vegan and cruelty-free.
Can I mix green hair dye with other colors?
Yes, you can mix green hair dye with other colors to create unique and interesting shades. Experiment by blending different hues or combining a lighter shade of green with another color for an ombre effect.
How does green hair dye work on dark hair?
Green hair dye works best on light or pre-lightened hair, but it can also be used on dark hair. Darker shades like emerald and juniper forest are ideal for achieving the desired color without bleach. Products such as Manic Panic Electric Lizard, Lunar Tides Juniper Forest, and L'Oreal Paris Colorista Matcha are great alternatives to create a vibrant green shade that lasts.
Is green hair dye damaging to my hair?
Green hair dye won't damage your hair if you take the necessary precautions. Choose a gentle, ammonia-free formula and use cool water to rinse after processing. Use sulfate-free shampoo to avoid stripping away color and add Olaplex or natural ingredients for extra protection.
Conclusion
If you're looking to make a powerful statement with your hair, green is the color of the moment. You can find a dazzling hue to suit your skin type and preferences, with a range of shades from teal to emerald.
There are plenty of options to choose from, whether you're looking for a temporary color boost with Jerome Russell's Green Hair Color Spray or a more permanent look with Garnier Nutrisse's Emerald Green Hair Dye.
Before dyeing your hair green, consider the shade you want, your hair type, and the brand reputation to achieve the best results. With the right product and care, you can find the perfect green hair dye for a trend-setting look.