This site is supported by our readers. We may earn a commission, at no cost to you, if you purchase through links.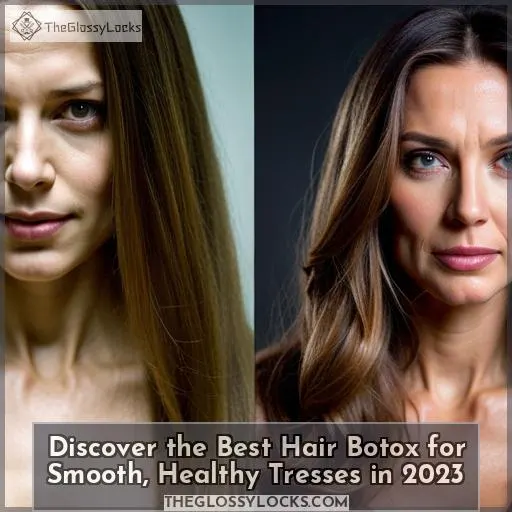 Surprise! Botox isn't just for your face anymore. Get ready to wave goodbye to those pesky frizzies with the latest in hair care – Hair Botox treatment. Forget what you know about harsh chemicals and long salon visits; this revolutionary new treatment is a game-changer, offering smooth, healthy tresses without all the fuss.
Whether you're dealing with damaged strands or just looking for that extra bit of shine, we've got you covered as we explore everything from steps and formulas to aftercare tips when it comes to finding the best hair botox of 2023.
So put down that bottle of hairspray and discover how easy getting beautiful locks can be!
Key Takeaways
Hair botox is a deep conditioning treatment that repairs damaged hair using collagen proteins.
It fills gaps in cuticles, smooths texture, reduces curl pattern, and strengthens strands.
Popular formulas contain keratin protein and plant extracts like GK Hair to repair damage, reduce curl, and add shine.
The benefits of hair botox last 4-6 months, providing smoother, stronger, and more manageable hair without daily styling.
What is Hair Botox?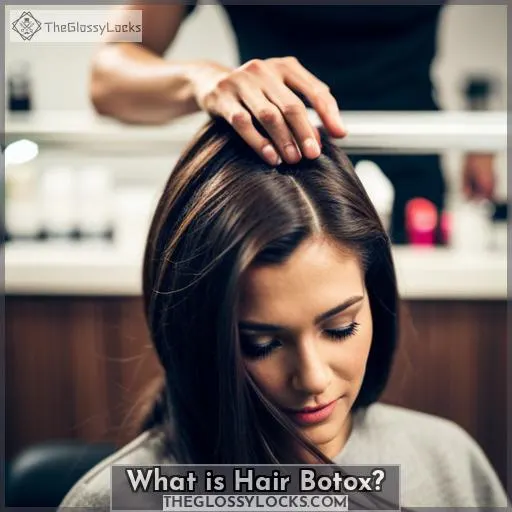 You're probably wondering what Hair Botox is and how it works to repair your damaged, frizzy hair – let's take a look!
It's actually not real Botox or needles, but rather a deep conditioning mask like other hair masks. The key difference is that it contains collagen proteins that fill in damaged areas of the hair cuticle to smooth and strengthen for bouncy, shiny locks.
This collagen coats each individual strand with nutrients and antioxidants, nourishing and repairing damage caused by heat styling tools or chemical treatments.
To apply this treatment at home, you should shampoo your hair in 1/2 inch sections, then leave the mask on for 40-60 minutes, depending on your hair texture, before rinsing thoroughly until the water runs clear.
After rinsing, blow dry your hair straight with high heat until it is 100% dry. Then, seal the cuticles using a flat iron set at 400°F. It is important to avoid washing your hair within 24 hours after the application.
One popular keratin formula for Hair Botox is GK Hair, which contains plant extracts and keratin protein. This formula repairs frayed strands, reduces curl pattern, and adds shine, making your hair more manageable.
The benefits of Hair Botox include straighter locks that last 4-6 months, as well as a smoother and stronger feel without the need for daily preparation.
How Does Hair Botox Work?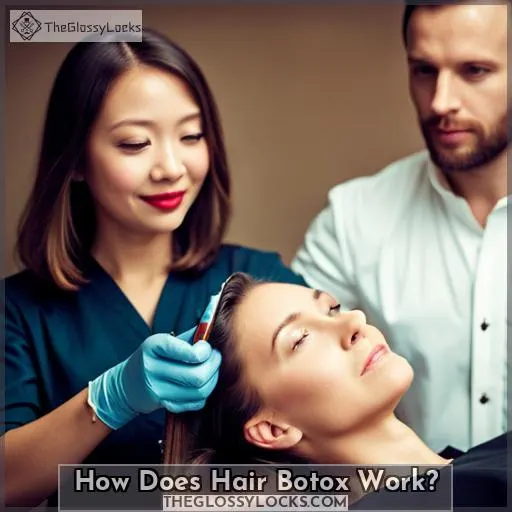 Now that you know what Hair Botox is, it's time to explore how it works. This deep conditioning mask uses collagen proteins to fill in damaged areas and smooth out hair cuticles. It also repairs frayed strands, adds shine, and strengthens the bonds between them for improved texture and bouncier locks.
To get the most out of your treatment, apply like a hair mask in sections while showering, then leave it on for 40 minutes (or 60 minutes if you have thick or curly hair). Be sure to rinse thoroughly until the water runs clear before blow-drying straight with high heat at 100%.
For optimal results, consider using GK Hair keratin formula, which contains both keratin protein plus plant extracts designed specifically for filling gaps in cuticles while repairing your mane.
Benefits:
Strengthens & Repairs Damaged Frizzy Hair
Reduces Need For Daily Styling Prep
Adds Shine & Reduces Frizz
To maintain these amazing results, aftercare is essential. Start by prepping with GK pH+ shampoo beforehand, then follow up post-wash with a moisturizing shampoo/conditioner duo plus weekly deep conditioning masks tailored specifically towards each type of mane depending on their needs: fine-haired folks should use micellar water rinses, whereas medium/thick coily heads would benefit from an oil-based prewash followed by lightweight conditioners, while curlies should opt against harsh shampoos, instead opting towards intense hydration options void of any moisture-stripping ingredients such as sulfates.
With this knowledge now combined alongside cost-effective home care strategies, there's no reason why everyone shouldn't be able to enjoy luxurious lusciousness all year round without ever having to step foot inside a salon again!
Hair Botox Treatment Steps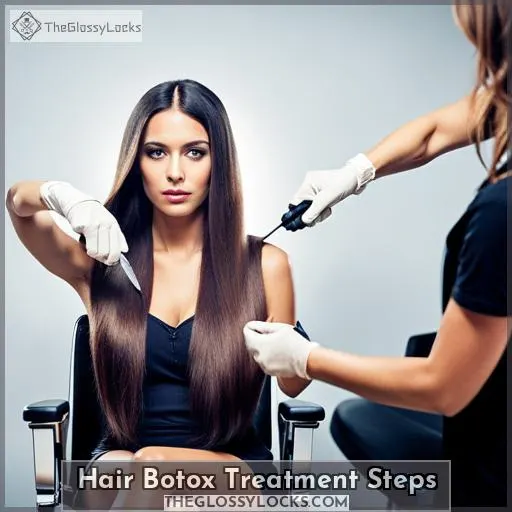 To get the best results, section your hair in half-inch increments when applying Hair Botox and leave it on for 40-60 minutes, depending on hair type. When done correctly, this Botox hair treatment can repair damage caused by styling or environmental factors while moisturizing and strengthening bonds between strands to give you smooth, manageable locks.
Avoiding sulfates is essential as they strip the natural oils from your scalp, resulting in dryness and breakage. After rinsing out the mask thoroughly until water runs clear, use a blowdryer with high heat to ensure 100% dryness before flat ironing at 400°F, which seals cuticles shut.
To keep up with results over time, an at-home treatment of GK Hair keratin formula is recommended every 3 days, followed by avoiding washing for 24 hours afterwards so that all nutrients stay locked into place within each strand of your mane! Step-by-step instructions make this easy, even if you're new to doing treatments yourself – just be sure not to miss any steps or neglect aftercare maintenance, such as using pH+ shampoo before application.
Liberate yourself from feeling powerless against dull tresses by embracing these simple steps towards mastering healthy-looking glossy locks now!
Hair Botox Formulas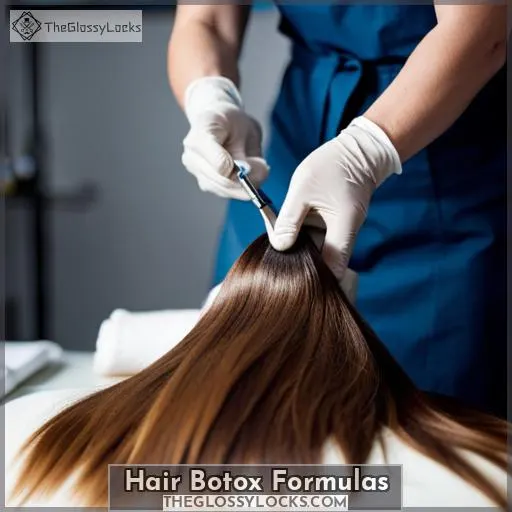 You'll instantly feel the difference when you apply a Hair Botox formula, revitalizing your hair with its unique blend of collagen proteins and plant extracts.
Keratin treatments are used to fill gaps in cuticles and repair dry, damaged hair, while smoothing treatments can help reduce curl patterns and straighten it for months.
Professional formulas also strengthen bonds within each strand to prevent frequent breakage. You can even boost shine by flat ironing at 400°F after applying pH+ shampoo before treatment, as well as using a hydrating mask afterwards for extra nourishment.
Hair Botox benefits include a reduced need for daily styling prep and a smoother texture that's easier to manage, making it look bouncier than ever before! It repairs damage while reducing frizziness and adding volume, so you don't have unruly locks getting in the way any longer!
All this combined creates an amazing result: stronger strands without sacrificing style or quality – something everyone should experience once in their lifetime!
Benefits of Hair Botox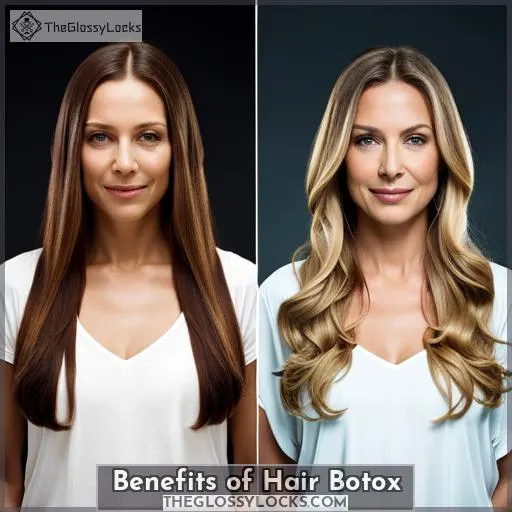 With Hair Botox, you can enjoy smoother hair that's stronger and more manageable for months.
Nourishing: Hair Botox leaves your hair feeling rejuvenated by providing key nutrients, minerals, antioxidants, and oils.
Repairs Damage & Frizziness: Collagen proteins fill in damaged areas of the cuticle while also replenishing moisture levels.
Strengthens Bonds & Prevents Breakage: Hair Botox strengthens individual strands, making them less prone to breakage from styling or environmental damage.
Adds Shine & Reduces Curls/Frizziness: It seals in shine while reducing curl pattern for a straightened look that can last up to 4-6 months.
Hair Botox helps maintain healthy locks by restoring strength lost due to heat styling or harsh chemical treatments. To prepare for the treatment, use GK Hair pH+ Shampoo to open up the cuticles, allowing them to better absorb nourishment during the Mask process.
After the treatment, use a moisturizing shampoo/conditioner combo specifically tailored towards your hair type. Fine-haired beauties should opt for a weekly micellar water rinse, while thicker tresses need an extra boost with prewash oil treatments followed by lightweight conditioners.
To further prolong the results, indulge yourself in weekly deep conditioning masks at home. This will help keep your curls bouncy without relying too heavily on products such as sulfates, which strip away natural moisture content.
Hair Botox Aftercare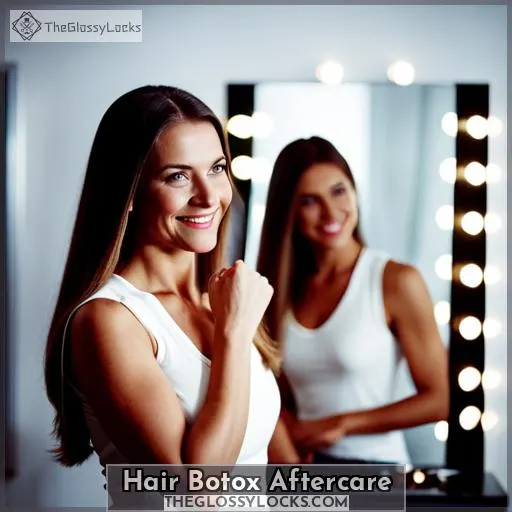 Now that you have the perfect Hair Botox treatment, it's time to focus on how to care for your newly transformed locks.
You'll want to begin by hydrating your scalp before washing out any product with a mild moisturizing shampoo and conditioner. This will help protect fragile strands from further damage while gently cleansing away residue left behind after the deep conditioning treatment.
To seal cuticles and prevent breakage, use a flat iron at 400°F or higher once hair is 100% dry – this will give you maximum control over unruly curls as well as providing an extra-sleek finish!
Lastly, make sure you rinse all products thoroughly until the water runs clear so there are no leftover residues that could clog pores or cause irritation later down the line.
Davines Renaissance Mask Dry Damaged Hair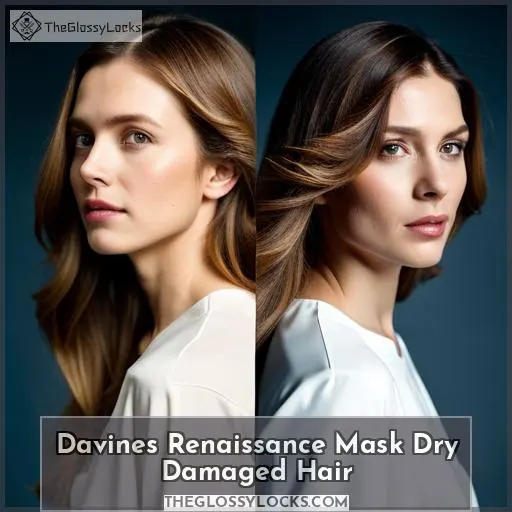 Dive into the luxurious world of Davines Renaissance Mask for Dry Damaged Hair and feel your hair become detangled, soft, and silky. This deep conditioning treatment delivers smoothing effects with its combination of nourishing ingredients that replenish damaged locks from the inside out.
It repairs broken down cuticles to improve texture while reducing curl pattern for long-lasting sleekness. You don't need to use heat styling because you can easily comb through your hair without snags or tangles after rinsing it off.
Its lightweight formula won't weigh down your hair, leaving it looking healthier than ever before with a beautiful shine that lasts up to four months.
Mielle Organics Babassu Mint Conditioner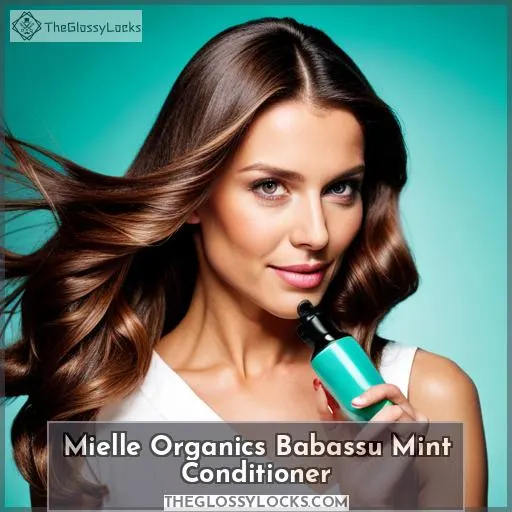 Experience the luxurious spa-like feeling of Mielle Organics Babassu Mint Conditioner as it nourishes and invigorates your hair for softness and manageability. This deep conditioner contains babassu oil and mint to help hydrate dry, brittle strands while providing protein-rich benefits.
It is suitable for all hair types from 3A to 4C, making it easy to manage thick or curly locks that are difficult to blow dry straight without breaking off. The formula's hydrating properties will leave you with a salon-worthy look that lasts long after wash day! Not only does this product provide immediate results, but when used in conjunction with other moisturizing shampoos/conditioners, it can prolong them for months afterwards.
Its luxurious liquid texture makes application a breeze, so you don't have to worry about complex instructions like more intense treatments may require – just lather up and enjoy the spa-like experience!
Matrix Instacure Porosity Spray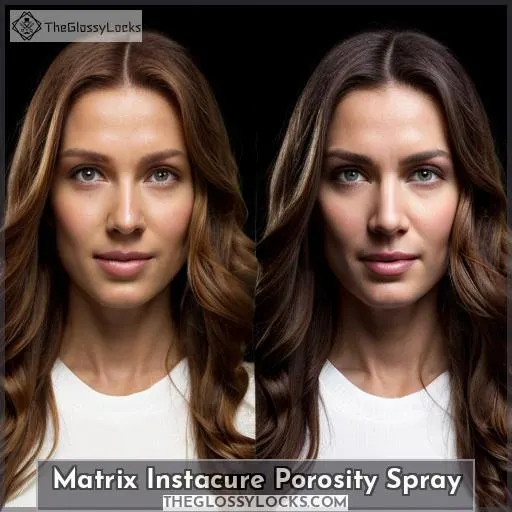 Try Matrix Instacure Porosity Spray to repair and strengthen dry, brittle hair – its liquid proteins and B5 will help thicken your locks in the blink of an eye!
The lightweight formula won't weigh down your hair, but it does restore chemical damage incurred from heat styling, as well as improving split ends.
A single spray gives you soft, shiny, smooth tresses while protecting against further damage. You don't have to rinse out this treatment either; just apply after shampooing and conditioning for best results.
Plus, detangling is a breeze too! If you're in need of the best hair botox treatment that straightens fine or damaged hair, then try Matrix Instacure Porosity Spray today – its jasmine-vanilla-rosemary scent lingers long enough for everyone to notice how amazing your mane looks, yet it's subtle enough not to overpower other fragrances if used in combination with a mask or conditioner.
Verb Ghost Hair Mask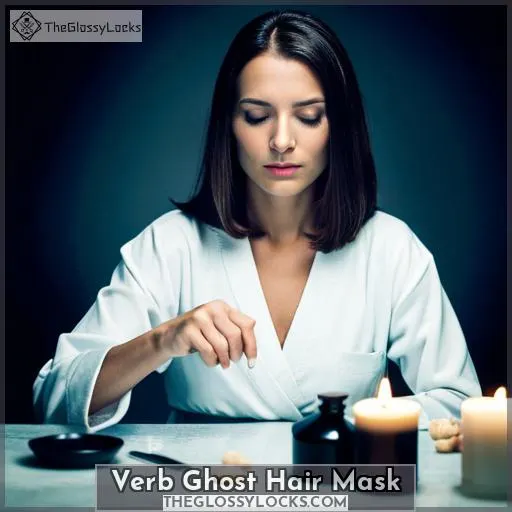 Verb Ghost Hair Mask offers a luxurious hydration boost that will leave your hair feeling soft, shiny, and rejuvenated. It's the perfect solution for those who are looking to repair split ends, damaged strands, or just generally want to maintain their locks.
Formulated with moringa oil and glycerin, it provides both moisturizing benefits as well as protection against chemical treatments such as heat styling.
Plus, it's made in the USA with cruelty-free ingredients – what more could you ask for? Verb Ghost Hair Mask is an ideal choice if you're looking for something special that will make a difference. Its unique combination of nourishing oils provides intense hydration while also helping protect your locks from damage caused by external factors such as regular blow drying or coloring sessions at the hairdressers.
Try this mask today and experience softer, smoother curls tomorrow!
Frequently Asked Questions (FAQs)
How often should I use Hair Botox?
For best results, use Hair Botox every three days. With regular treatments, you can enjoy smoother and stronger hair with increased shine and reduced frizz – all within four to six months! Plus, it takes only 40 minutes for fine/wavy hair or 60 minutes for thick/curly locks – a small price to pay for the long-lasting benefits of this amazing treatment.
Is Hair Botox safe for all hair types?
Yes, Hair Botox is safe for all hair types! But don't take our word for it – the key ingredients in this mask are natural and designed to nourish your locks without compromising quality.
Are there any side effects of using Hair Botox?
Hair Botox can be a great way to achieve smooth, full hair without any lasting side effects. However, if applied incorrectly, you may experience scalp irritation or damage to the hair cuticles.
Are there any special instructions for using Hair Botox on colored hair?
Yes, when using Hair Botox on colored hair, avoid leaving it in for longer than 40 minutes and use a shampoo formulated for color-treated hair to preserve the vibrancy of your color.
How long does the Hair Botox treatment last?
You can expect your Hair Botox treatment to last up to 4-6 months. Enjoy smoother, stronger hair free of frizz and damage for longer – you won't need daily styling or preparation! Take care with aftercare; use the right shampoo and conditioner and avoid moisture-stripping products.
Conclusion
Hair Botox is a revolutionary treatment that can transform damaged and frizzy hair into smooth, healthy tresses. By applying a deep conditioning mask full of collagen proteins, antioxidants, and oils, you can repair frayed cuticles, strengthen your hair, and improve its texture and manageability.
Whether you opt for the GK Hair Keratin Formula or the Mielle Organics Babassu Mint Conditioner, Matrix Instacure Porosity Spray, or Verb Ghost Hair Mask, you can be sure that your hair will be left feeling soft, silky, and rejuvenated.
Hair Botox is the perfect way to keep your locks looking their best, and with the right aftercare, you can maintain your results for months to come.