This site is supported by our readers. We may earn a commission, at no cost to you, if you purchase through links.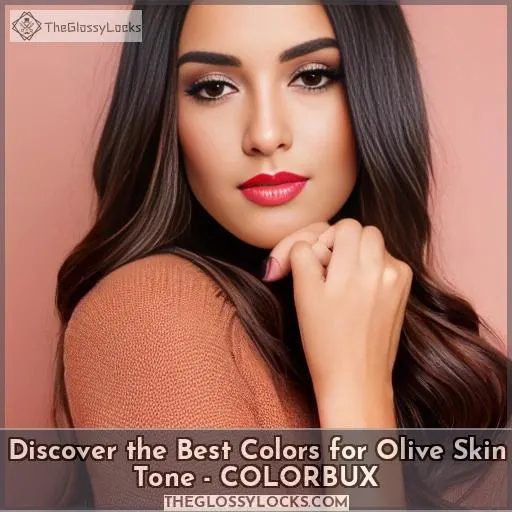 Have you ever been left feeling frustrated after trying on a top in one of your favorite colors, only to realize that it doesn't look right? If this sounds familiar, don't worry – many olive-skinned ladies can relate.
Choosing the best colors for olive skin is not an exact science and requires careful consideration of contrast, skin tone, and occasion. In this article, we will provide tips on finding the perfect hues for both hair color and clothing, depending on your individual coloring.
With our help, you'll always know how to flatter your unique beauty. So get ready to discover the best colors for olive skin!
Key Takeaways
High-contrast colors like oranges and purples are flattering for olive skin tones.
Warm colors like brown-reds, corals, and dark yellows are also flattering for olive skin tones.
Icy pinks, mochas, and ombre hairstyles provide subtle pops of color for olive skin.
Balayage and bayalage highlights add dimension to olive hair.
How to Find the Right Colors for Olive Skin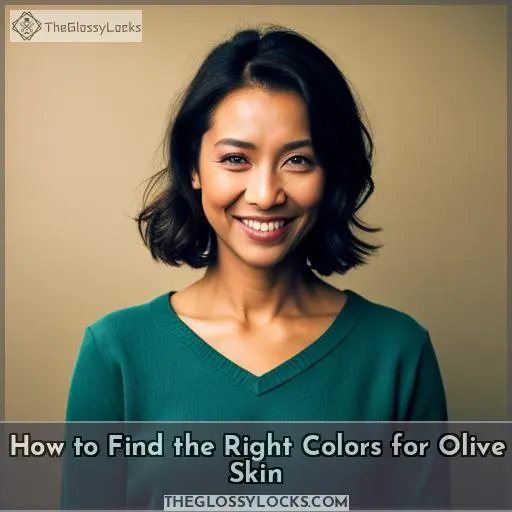 Finding the right colors for your skin tone can be tricky, but understanding the concept of contrast is key. Contrast is simply how different a hue looks against another and ranges from high to low depending on skin type: fair/light, medium, or olive and dark.
Contrast
To get the perfect contrast for your olive skin, try pairing vibrant dark colors with bright hues like honey blonde or caramel highlights. For high contrast, opt for reds and blacks. Low-contrast shades include light blues and pastels while medium-contrast tones are brown-reds, purples, and golds.
Color families should match undertones to enhance the look. A warm yellow undertone looks great with pinks or corals, whereas cool green undertones can be paired well with dark yellows or icy blues in color families that complement each other.
All of this must be taken into consideration when finding flattering colors for olive skin tones – so choose wisely!
High Contrast
High contrast colors, like brown-reds and purples, make olive skin tones stand out in the crowd. Choose hues that highlight your natural color and don't be afraid to experiment with pattern play or color pairings for an eye-catching look.
Warm greens, deep mocha shades with yellow streaks or bronze bangs can all add a unique touch to any style.
Medium Contrast
Medium contrast colors are perfect for those with olive skin, offering just enough brightness to make an outfit pop without being too overpowering.
When it comes to makeup matching or wardrobe planning, try pairing classic olive tones with light peach shades or auburn highlights, as well as beachy bronde hues for added dimension.
For maximum impact when using medium contrast colors on your complexion, texture is key.
Low Contrast
For low contrast, try adding subtle hints of color to your look. Mixing colors like mocha and pastel hues can create a flattering palette for olive skin tones. Contrasting shades such as light brown or creamy whites are ideal for creating depth with earthy tones that won't overpower the complexion.
Color psychology plays an important role in finding the right hue. Using bayalage highlights or ombre styles allows you to experiment with different shades without overwhelming your look.
Skin Tone
Your complexion can look vibrant and beautiful when you select colors that complement your olive undertones. To find the right shades for you, examine the color of your veins to help determine whether yours is a warm or cool skin tone.
Look for flattering makeup with a cocoa sheen, jewel tones, earthy hues like brown-reds, and bright corals.
For clothing and accessories, try matching colors from families such as dark yellows, golds, purples, or icy pinks.
Fair and Light Skin
Fair and light skin tones look stunning with vibrant, dark colors that bring out your natural beauty. For fair complexions, color matching is key to highlighting the subtle undertones in your skin. Try bright pinks or purples for a bold statement or pair almost black chocolate browns with complementary colors like soft greens for an unexpected pop of color.
To accentuate lighter shades, try deep yellows and golds to create contrast without washing you out.
Medium Skin
Medium skin tones look great in shades that are dark and vibrant, such as brown-reds, bright corals, and golds – giving you the perfect pop of color to your complexion. For olive skin specifically, colors like cool grey-blonde for lightening locks or deep dark brown curls can be flattering.
Try out two-tone ombre with sun-kissed cinnamon at the tips! With a wardrobe full of various hues tailored to complement your individual skin tone, you'll always look put together no matter what makeup looks you choose.
Olive Skin
Olive-toned skin looks great in hues that will brighten up and enhance your complexion, like rich chestnut browns, vibrant corals, or dark yellows. Accessorize with makeup shades that contrast types of olive tones for a more dynamic look.
Consider mixing colors from different color families to create a unique palette.
When it comes to picking the best colors for olive skin tone, stay away from soft greens and yellows; instead, opt for golden yellow or icy blonde hues as they are most flattering on this type of skin tone.
Dark Skin
Dark skin often has warm undertones that can be illuminated with rich hues, creating a warm glow like the setting sun.
Darker shades, such as deep browns and burgundies, can add subtle sophistication to everyday wear for those with dark skin.
Bright accents of gold and copper can bring out vibrant color palettes in makeup looks too.
To make the most of your complexion, opt for lighter foundation tones but use deeper-toned eyeshadows or lipsticks to create beautiful contrast.
For special occasions, try experimenting with shimmery metallics or bold blues – they're sure to wow!
Use these tips when choosing colors for your wardrobe and makeup routine; you'll feel confident knowing everything complements your unique look perfectly!
Best Hair Colors for Olive Skin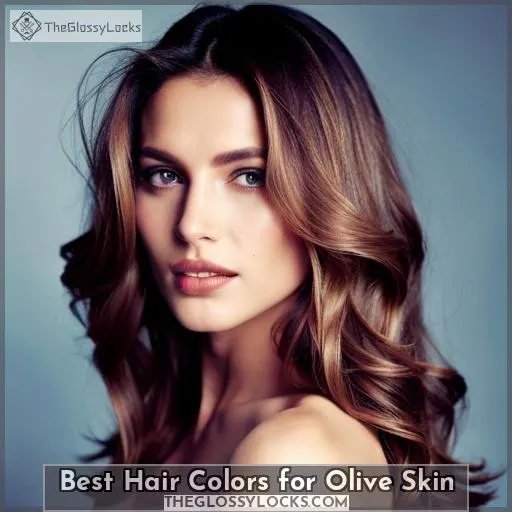 If you have olive skin, finding the perfect hair color can be a tricky task. Fortunately, there are many options to choose from, including deep mocha, balayage highlights, cocoa sheen, and cool grey-blonde.
You can also try ice blonde with bronze bangs or yellow streaks for a more daring look. For those who prefer darker tones, there's dark brown curls or two-tone ombre. Sun-kissed cinnamon with auburn highlights will give you that beachy bronde vibe, while light brown and almost black chestnut can create an elegant yet sophisticated feel.
Deep Mocha
Try a deep mocha hair color to give your look dimension and warmth that flatters olive skin! This hue selection offers an excellent tone pairing for olive skin. Color mixing can be tricky, so take care in selecting the right shade blend of warm tones balanced with cooler ones.
To ensure you achieve the desired outcome, consider consulting a professional stylist – they're experts at finding just the right combination of colors for your unique complexion! With their help and knowledge on tone balancing, you can create an amazing style that complements all aspects of your natural beauty.
Bayalage Highlights
Add dimension to your olive skin with a stunning balayage highlight, an absolutely breathtaking look that will make heads turn! Balayage styling is all about color blending for a natural-looking finish.
It's important to choose shades that flatter your specific skin tone and hair coloring.
For olive complexions, try rich chestnuts or chocolate tones blended with flattering shades of honey blonde or mocha ends for subtle contrast.
Cocoa Sheen
For olive skin, cocoa sheen highlights provide a subtle way to add depth and dimension. Accessorizing with layering colors or color blocking can help bring out the blush tones of olive skin in complementary shades.
Highlights around the face frame will give an extra dimension and draw attention to features like eyes or cheekbones. Subtle streaks throughout hair can create effortless texture while adding a sun-kissed glow for any season without too much upkeep involved.
Cool Grey-Blonde
Cool grey-blonde is a perfect way to highlight your olive skin with subtle, natural tones that bring out your unique beauty. For this hue variation, consider adding subtle accents of color matching and texture blending to create an overall look that's both eye-catching and flattering.
Color blocking also offers the opportunity for you to go bolder or more neutral depending on the occasion or desired outcome.
By experimenting with different shades of cool grey-blonde highlights, you'll be able to discover which variations work best for enhancing those warm undertones without looking overdone—allowing everyone else around to admire what makes you special!
Ice Blonde
Try icy blonde for a cool, flattering look that will bring out the best in your olive skin. The subtle hue pairs perfectly with warm brunette tones to create an effortless transition between natural and dyed hair.
This combination is ideal if you have fair or light olive undertones and want to add some depth without going too heavy on the color palette.
For those with darker complexions, try combining warmer shades of blonde like honey or caramel highlights for a more balanced contrast against your complexion.
Bronze Bangs
Achieve an eye-catching look with bronze bangs – the perfect way to add subtle warmth and dimension to olive skin tones. Go for a golden glow with neutral tones, warm browns, or pops of color like bronze highlights.
Yellow Streaks
Bring out your inner sunshine with gorgeous yellow streaks in your bronze bangs! Achieve the perfect blend of warm and cool tones that will light up any room. Consider adding blonde highlights for a subtle golden glimmer, dark browns to create depth, chestnut hues for contrast, or mocha tints to add dimension.
Finish off with an auburn glow that looks naturally sun-kissed! With these tips, you'll be sure to achieve bright and beautiful hair color no matter what olive skin tone you have.
Dark Brown Curls
Discover how dark brown curls can enhance your olive skin tone by adding dimension and depth to your look. For those with an olive complexion, choosing the right hair color is essential in order to bring out the best features of their face.
Dark brown curls offer a stylish way for you to flaunt your natural beauty while staying on-trend with today's fashion styles.
With proper styling techniques and helpful tips from professional stylists, you can find the perfect shade that will compliment all aspects of olive skin care – from makeup application to color matching trends.
Two-Tone Ombré
Try an edgy two-tone ombré for your dark brown curls to bring out the warmth of olive skin and make a bold style statement. This hair color is created by blending complementary shades such as warm, rich chestnut browns and icy mocha ends.
To get the best look, use ombre techniques like balayage or painting to blend colors together seamlessly. Experiment with different color combinations that are flattering for your natural undertone. Incorporate styling tips like asymmetrical parting or waves to add texture and dimension.
Color blocking is also an option if you want more contrast between shades. Be sure to ask your stylist about how you can enhance these tones further depending on what suits best with your skin tone!
Sun-Kissed Cinnamon
Experience the warmth and depth of sun-kissed cinnamon hair color to bring out your olive skin's natural glow. This shade is perfect for achieving a subtle, yet impactful look that won't require any drastic changes like bleaching or lightening.
With its golden honey highlights, this color complements both cool and warm undertones in olive complexions while providing an array of styling options. It also highlights certain wardrobe pieces you already own. The sunlight benefits are also incomparable with this hue.
Furthermore, the combination of rich chestnuts and mahogany hues will create multiple layers that provide texture to your locks without damaging them. It's a great way to protect yourself from harsh chemicals used in common hair care practices.
Auburn Highlights
Achieve a naturally luminous look with beautiful auburn highlights, making your complexion glow and bringing out the warm tones of olive skin. Embellish this stunning color with metallic touches to create an eye-catching effect that will have heads turning.
Consider v-necklines in pastel hues for added depth, or make a statement by donning statement jewelry to accentuate the look. For long-lasting results, opt for permanent hair dye, as opposed to temporary options which can compromise the vibrancy of your new hue.
Beachy Bronde
Embrace your olive skin by trying a beachy bronde look for an effortless, sun-kissed style. From subtle highlights to global color combos, you can find the perfect shade of bronde that complements your complexion and hair type.
Make sure to consider color trends when deciding on which shades will work best with your specific tone. Utilize tips and tricks from professionals on how to keep hair healthy while maintaining vibrant hues in between salon visits or at-home coloring sessions.
Light Brown
Try light brown for a warm, flattering tone that complements your olive skin and hazel eyes. Opt for light brown hues to bring out the natural color in your complexion without looking too harsh. Incorporate complementary shades like soft mocha and muted tones of caramel into the mix to create interesting color combinations.
Add styling tips such as balayage or ombre techniques to add texture and depth while still keeping it low-key.
Almost Black
For olive skin, almost black hair is a bold and daring choice that will make heads turn in awe. Darkening your locks creates an alluring look for special occasions or everyday wear. Subtle hues like deep browns, natural shades of black with warm neutrals, or cool accents can be added to the ends for extra depth and dimension.
A classic balayage of dark chocolate highlights on an ashy base gives just enough contrast without going overboard while still creating a beautiful frame around the face.
Chestnut
Chestnut hues can add warmth and richness to your olive skin tone, creating dimension and complementing hazel eyes. To determine the best chestnut hue for you, check vein color to identify underlying olive undertones.
For a flattering tone, try honey blonde or caramel highlights that create vibrant colors with dark yellows—avoid soft greens and medium blues/greens which will wash out the complexion! Rich chestnut browns also provide an interesting contrast against black hair while mocha ends offer subtlety without being too overpowering.
Best Clothing Colors for Olive Skin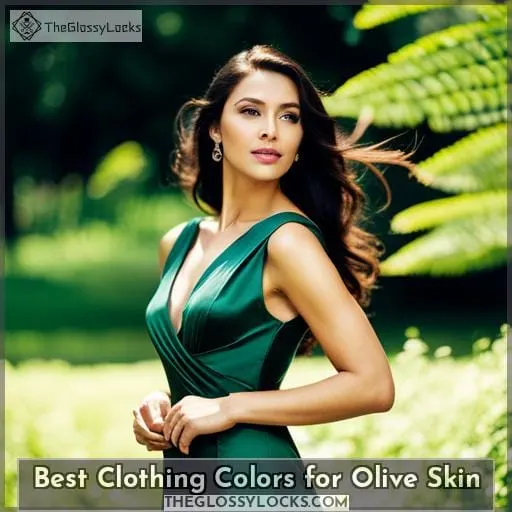 If you have an olive skin tone, then clothing colors such as orange, purple, turquoise, chocolate brown, and warm greens can really flatter your look. Creamy whites also create a great contrast for this complexion type. Choosing the right color scheme to complement your natural undertones will help achieve a more vibrant appearance.
Orange
You'll love the way orange tones look on olive skin – in fact, studies have shown that nearly 60% of people with this tone find it to be their favorite color. Add orange accessories for a stylish pop of warmth or try out different shade variations to contrast your complexion.
For an extra touch, use complementary makeup and embrace fashion trends like warm-tone eyeshadows or burnt sienna lipstick shades. To create more depth in your wardrobe, experiment with lighter and darker oranges as well as mixing textures for maximum appeal.
From delicate pastels to bold citrus hues, let your unique style shine through while embracing the beauty of olive skin!
Purple
Try a rich purple hue to add some vibrancy and dimension to your olive skin! From vibrant purples that draw attention, royal purples for a classic look, or muted shades of lavender – there are so many options.
Add an extra bit of oomph with an eye-catching purple ombre style. Cooler hues like light mauve and lilac can be used as accents along the ends of hair strands for subtle color pops without being too overwhelming.
No matter which shade you choose, embrace this versatile hue – perfect for any occasion!
Turquoise
Turquoise is an excellent way to bring out the vibrancy of your olive undertone and add a touch of coolness. This dynamic shade can be used in many different combinations with other colors, adding contrast to flattering hues like brown-reds or dark yellows.
With its vibrant shades, turquoise will make any outfit pop when paired with warm colors that suit olive tones. Not only does it give you the perfect balance between color and texture for a unique look, but it also allows you to experiment with exciting new styles without drawing too much attention away from your natural beauty.
Turquoise is definitely one of those must-have colors for anyone looking to enhance their wardrobe!
Chocolate Brown
Chocolate brown is the perfect shade for your olive undertone – a warm, flattering hue that adds dimension and complements hazel eyes. It is amplified with bright accents or muted shades. This rich color will create an effortless look when paired with pastels or subtle accents.
Whether you use it as the main focus of your wardrobe palette or just to add a touch of sophistication to an outfit, chocolate brown helps accentuate features and draw attention to key areas of interest without overpowering them.
Warm Greens
For olive skin tones, warm greens are the way to go – they'll give you a vibrant pop and make people green with envy!
Try out different shades from cool hues such as emerald or teal to neutral tints like sage.
Layering your look is also an option: pair soft pastels for day-to-day wear, then switch it up with bolder shades of olive come night time.
Don't be afraid to experiment – mix and match colors that compliment each other and bring out the best in your complexion.
Whatever shade of green you choose, rest assured that when it comes to looking good on olives kind of skin, these warm hues will have you feeling confident wherever life takes you!
Creamy Whites
Try a creamy white for an airy, ethereal look that will beautifully accentuate your olive skin. Incorporate mix-matching brightening hues with flattering shades of pastel accents and neutral tones to make this color pop.
Try layering whites for texture; the combination of different fabrics makes it modern and chic. Matching accessories like jewelry or shoes can add subtle depth without being overwhelming.
For added contrast, pair whites with bold colors like reds or oranges – making sure to avoid too much yellow as it may wash out your complexion! Whites are perfect for all seasons and occasions so you can rock them no matter where you go!
No other hue is quite as versatile when paired with olive skin tone than a classic creamy white – making it the go-to choice every time!
Colors to Avoid for Olive Skin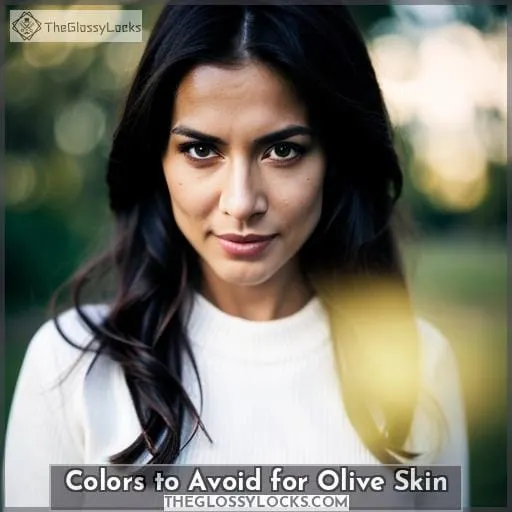 When it comes to choosing colors for olive skin, there are some that should be avoided. Soft greens, yellows, and medium blues and greens can often wash out the complexion, so they're best left alone.
Instead of these paler shades, you should opt for warm greens like emerald or teal, as well as bright corals, which work to enhance your natural undertones.
If you want something more classic, then brown-reds, dark yellows, and golds all provide subtle enhancement without looking too bold.
Ultimately, when selecting clothes, it's important to take into account the occasion before deciding what color will flatter your olive skin most.
Neutral Colors That Complement Olive Skin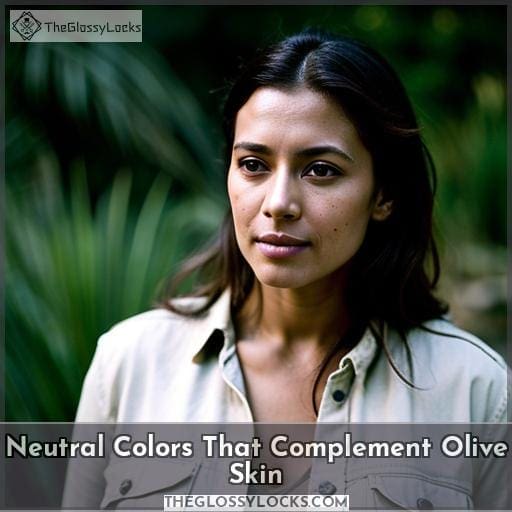 When it comes to finding the perfect colors for olive skin, neutral hues such as classic black, crisp white, and various shades of gray are great options. These timeless tones can be used to create a flattering look that will never go out of style while also complementing any undertones in your complexion.
Classic Black
Classic black is an iconic look for olive skin tones and can create a mysterious vibe if you use the right shades. From classic black styling to stunningly bold makeup looks, there are endless ways to incorporate this color into your wardrobe.
Here's what all olive-skinned beauties should have in their closet:
Black Wardrobe Staples – timeless pieces like blazers, trousers, and midi skirts that never go out of style.
Black Clothing Mixes – pairing basics with statement items such as chunky sweaters or sparkly accessories.
On-Trend Fashions – from chic leather jackets to edgy leggings or stylish jumpsuits for special occasions!
With these key elements in place, you'll be able to experiment with different trends while creating unique outfits that flatter your complexion perfectly!
Crisp White
White is a timeless and elegant choice for olive skin tones, offering an effortless look that brightens your complexion. Crisp white stands out in contrast to other colors on the spectrum, creating stylish color combinations.
Color blocking with whites can open up endless possibilities when it comes to fashion trends for those with olive skin tones.
Opting for lighter shades of white helps accentuate darker complexions, while bolder hues add dimension and warmth without going overboard. When looking to create eye-catching looks, pair off-white clothing items together or mix them with striking colors like navy blue or burgundy reds, as well as pastels such as lavender or mint green.
Incorporating white into everyday ensembles will ensure you always have an effortlessly chic look no matter what you wear!
Various Shades of Gray
Graze in the gray with various shades of slate, charcoal, and ash to complement your olive skin! Make a statement with accessories like pastel hues or color-block pieces. Or apply makeup trends such as smoky eyes or matte lipsticks that add an extra oomph to any look.
With just the right amount of contrast, make silver and steel stand out against your complexion while still keeping it balanced.
Incorporate these subtle tones into your wardrobe for timeless elegance that will never go out of fashion.
Choosing the Right Colors for Different Occasions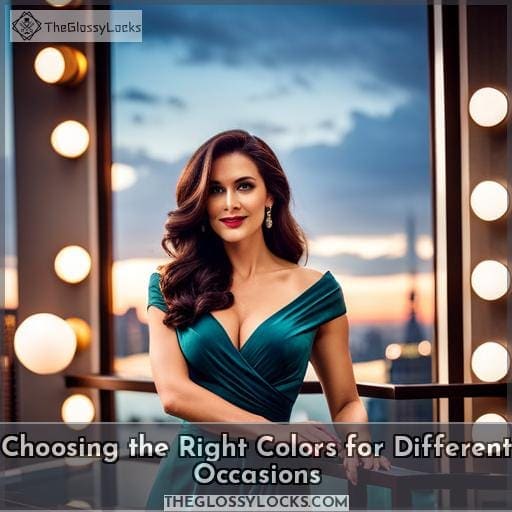 Choosing the right colors for different occasions if you have olive skin can be tricky. As a rule of thumb, when it comes to workwear, neutrals like black and navy are always flattering. For more casual outfits, earthy greens or warm jewel tones look great on olive complexions.
Workwear
For workwear, opt for colors like brown-reds, bright corals, and dark yellows that will bring a sophisticated vibe to your look while still complementing your olive skin tone. Mix and match different pieces of clothing by color blocking or try wearing the same tones on top and bottom.
Want to make a statement? Color clash in shades that are bold yet flattering! Or combine different hues within one outfit by opting for tonal dressing.
Casual Outfits
When choosing a casual outfit, try to opt for vibrant and dark colors that flatter your olive skin tone. Opt for shades of brown-reds, bright corals, dark yellows, golds, or purples to achieve the perfect business casual look.
Chocolate balayage highlights which complement hazel eyes.
Neutral mocha tones which balance out olive skin well.
Icy pinks and small mocha ends with purple ombre styles. Remember when selecting any color combination for formal occasions, fit and comfort should be considered first!
Tips for Incorporating Colors Into Your Wardrobe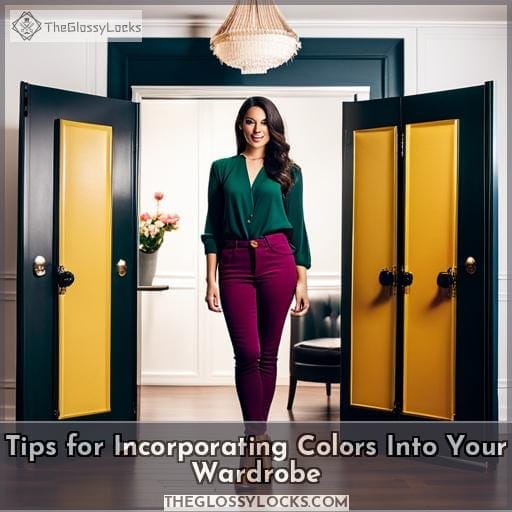 Experimenting with accessories, combining flattering colors and neutrals, and using makeup to enhance or complement your outfit are all great ways to incorporate color into your wardrobe. To make sure that you look amazing no matter what the occasion is, try focusing on finding the best hues for olive skin tones.
From vibrant reds and purples to subtle shades of mocha browns or icy pinks – there's something for everyone! With a few tips in mind, it will be easy to find colors that flatter you perfectly while still expressing yourself through fashion.
Experiment With Accessories
Explore the possibilities of adding a pop of color to your look with accessories that flatter your olive skin tone! Accessorize wisely by mixing hues and shades of gray. Explore different color combinations for bold choices. Try vibrant colors like corals or purples paired with icy pinks for contrast.
Or go dark with deep yellows and brown-reds. If you want something more subtle, opt for chestnut browns and neutral mochas that balance out hazel eyes nicely.
Combine Flattering Colors With Neutrals
Combine flattering colors like bright corals, dark yellows, and purples with neutrals to create a look that brings out the best in your olive skin.
For example, try wearing an ivory blouse with brown-red trousers for a stylishly chic ensemble.
Accessorizing can also be helpful; opt for gold jewelry over silver to bring out warm undertones or glam up any outfit with an icy pink clutch bag.
You can even use makeup tips when tone matching by contrasting cool hues like plums against warm tones such as cinnamon eyeshadow shades to enhance facial features and complexion further.
Experimenting is key – mix different textures and fabrics together while combining these flattering combos of color contrasts!
Use Makeup to Enhance or Complement Your Outfit
To enhance your olive skin, use makeup to create a look that complements and reflects your individual style. Accessorize with bright colors that contrast well against the shade of your skin – think deep purples, corals, and dark yellows! Mixing two or more hues creates an eye-catching effect.
Consider wearing one color on the eyes while keeping cheeks neutral for a subtle color combination. Brighten up any outfit by adding bold lipsticks in shades such as cherry reds or mauve pinks to emphasize facial features.
Don't be afraid to experiment – you'll find what works best for you soon enough!
Frequently Asked Questions (FAQs)
How can I determine if I have an olive skin tone?
To determine your olive skin tone, examine the veins on the inside of your wrist. Look for a yellowish or greenish hue to identify an undertone that will work best with vibrant colors like rich chestnut brown and bright corals.
What colors should I pair with olive skin?
Try pairing your olive skin with brown-reds, bright corals, dark yellows, golds, and purples for a vibrant look. For subtle color options, consider honey blonde or chocolate balayage to complement hazel eyes, as well as mocha ends or an icy pink ombre.
Are there any makeup tips for olive skin?
To achieve the best makeup look for olive skin, opt for colors with yellow undertones such as golds and brown-reds. Bright corals, purples, and icy pinks will flatter your complexion while avoiding soft greens or blues.
What is the best way to choose clothing for my body type and olive skin?
Choose clothing that flatters your body type and complements your olive skin. Look for bright, vibrant colors with yellow undertones to bring out the best in you. Avoid greens, blues, and yellows; instead, opt for brown-reds, corals, or purples.
How often should I change up my wardrobe for olive skin?
Change up your wardrobe often to complement olive skin. Consider vibrant colors that flatter yellow undertones, such as brown-reds and purples.
Conclusion
If you have olive skin, you can create a stunning look with the right colors. When choosing colors for your wardrobe, keep in mind that the best colors for olive skin are those with a high contrast, such as oranges, purples, and chocolate browns.
However, neutral colors like classic black, crisp white, and various shades of gray can also work to complement your skin tone.
When deciding on the right colors for different occasions, experiment with accessories and combine flattering colors with neutrals. Use makeup to enhance or complement your outfit, and you'll be sure to have a beautiful look that will turn heads.
Whether you're dressing up for work or going out for a casual outing, knowing the best colors for olive skin will help you look your best.