This site is supported by our readers. We may earn a commission, at no cost to you, if you purchase through links.
Are you looking for advice on how to care for and maintain colored hair? Whether you're a dyed-in-the-wool blonde or embracing the latest brunette hue, there are some tips that can help keep your color vibrant.
From using heat protection sprays to pre-conditioning before swimming, these simple steps will ensure your mane stays healthy and beautifully radiant. If it's time to change up your look or simply refresh what you already have going on, we've got plenty of ideas.
Expert advice on the latest hair trends is available, as well as understanding color numbers.
Key Takeaways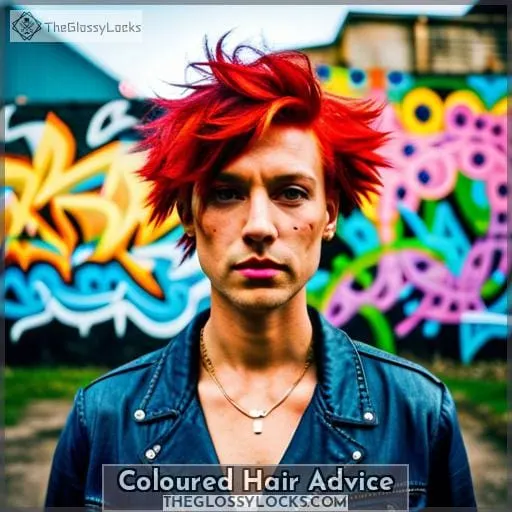 Use heat protection sprays and nourishing masks to keep colored hair healthy and radiant.
Wash hair less frequently and use color-protective shampoo with low sulfate formulas to create a protective barrier.
Consult an expert for advice on different hair coloring techniques and trends, and understand hair color numbers to choose the right shade.
Regular touch-ups every 6-8 weeks are necessary for maintaining vibrant colored locks, and following a specific hair care routine is important for maintaining beautiful and vibrant colored hair
How to Care for Colored Hair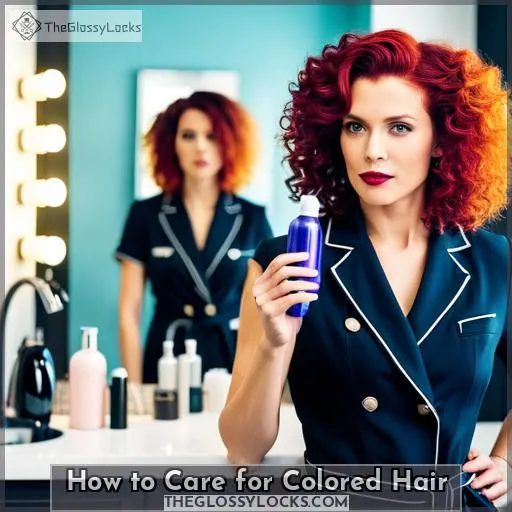 It's important to take extra care of colored hair. To begin, you should wash your hair less frequently and use color-protective shampoo when you do.
Wash Hair Less Frequently
To keep your color vibrant and prevent fading, it's best to wash your hair less often – a little T.L.C. goes a long way! Use dry shampoo, low-poo products, heat protection sprays, masks for moisture loss, and UV filter finishing spray for sun damage prevention.
Use Color-Protective Shampoo
For optimal color preservation, use a shampoo specifically designed for colored hair to keep hues vibrant and long-lasting. Low sulfate formulas create a protective barrier, while heat protection sprays aid in maximum color longevity.
Use Heat Protection Sprays
Shield your locks from heat damage with a protective spray to keep the color vibrant and long-lasting! Use filters in blow-dryers, UV protection sprays, and hair masks twice a week. Dampen hair before styling for less backlash and add fatty acids to your diet for nourishment.
Use Hair Masks
Revitalize your locks with a nourishing hair mask twice a week for long-lasting, stunning color! Glossing adds shine and preserves the hue, while preventing brassiness. Oily fish and vitamin E make all the difference in daily maintenance; they treat damaged strands with a real difference.
Protect Hair From Sun Damage
Protect your colored locks from sun damage with a UV filter finishing spray! Shield them from harmful sun rays and chlorine to maintain their vibrant color. To ensure the best care for your hair, make sure to use regular shampoos, toners, and masks.
Pre-Condition Hair Before Swimming
Prepare your hair for swimming by using a pre-conditioner to keep its color vibrant. Protect it from chlorine damage and fading caused by heat and frequent washing. Use UV filters, masks, and other products to maintain that bold shade of yours.
Eat a Diet Rich in Omega-3 Fatty Acids and Vitamin E
Fuel your hair with essential nutrients it needs to stay healthy and vibrant by eating a diet rich in omega-3 fatty acids and vitamin E. This can help keep your hair running smoothly and you'll notice the difference! Protect against color fading and nourish your locks from within.
Infographic: Things to Know Before You Color Your Hair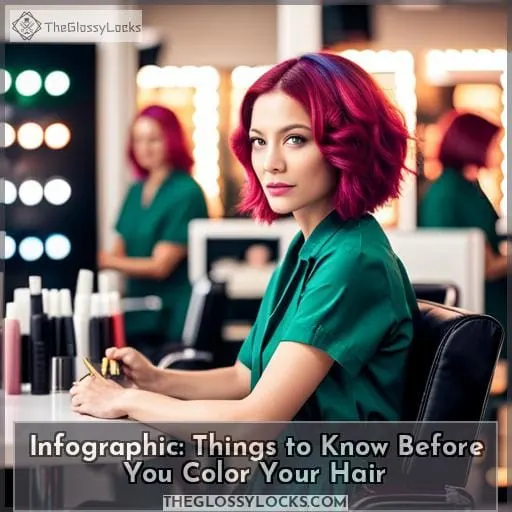 Are you ready to take the plunge and color your hair? Before you do, there are a few things you should know.
Hair Detox – Start with a deep-cleansing detox treatment prior to coloring for the best results.
Grey Toner – If grey strands appear after coloration, use toner or glaze services for balanced coverage of gray hairs.
Foilyage – Use foilyage techniques if looking for subtle highlights without needing frequent touch-ups.
Dip Dye – For those wanting something daring, dip dye is perfect as it adds vibrancy and depth in one go! Additionally, try out the color break technique which gives a natural look.
With so many shades available like blonde hair shades, best hair color, CC cream, etc., it's important to find the right shade; otherwise, you may need costly toning service later. In order not to damage colored tresses, extra care must be taken, such as using protective shampoo and conditioners regularly along with a moisturizing mask twice a week.
So now, when you are ready, give yourself a fabulous makeover while ensuring the health of your locks too!
How to Choose the Right Hair Color for Your Skin Tone and Style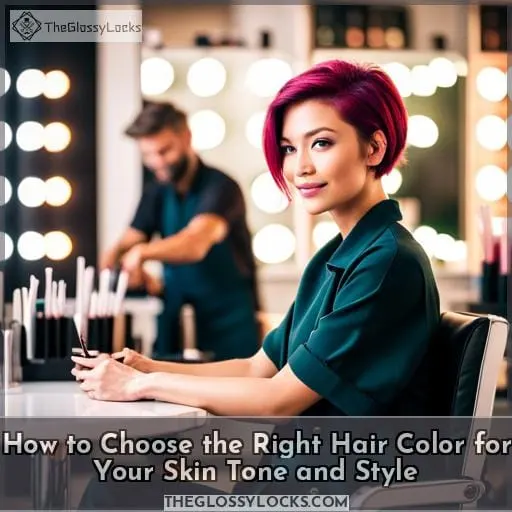 Choosing the perfect hair color for your skin tone and style doesn't have to be hard – let us show you how!
The first step is to determine if you want a natural look or something more trendy. If you're going for a natural look, consider picking colors that match your eye color and/or complexion.
For trendier looks, ombre vs balayage can give great effects depending on the kind of personality type or mood you're looking to create with your hair. Hair contouring is also becoming increasingly popular as it allows people to highlight certain features they like about themselves, such as their cheekbones or jawline, by customizing different shades around them in their hair color palette.
A good place to start when trying new trends is doing an at-home 'hair detox' where you bleach out any previous coloring before selecting the right shade for your skin tone and desired effect.
Lastly, don't forget the classic question – blondes versus brunettes? Both can work wonders as long as they complement each other's highlights (e.g., lighter streaks against dark brown) and undertones correctly without giving off an unnatural vibe.
Ultimately, finding what suits you best requires some trial-and-error, but once found, it will provide endless compliments from friends and family alike!
Protecting Colored Hair From Turning Brassy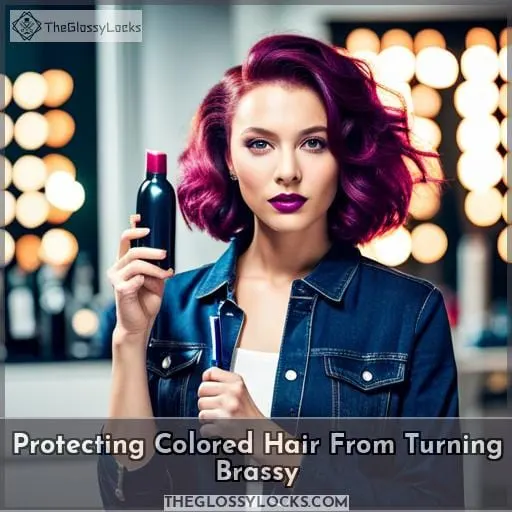 To keep your hair from going brassy, you better heed our tips! Taking preventive measures is key to preventing hair from turning brassy. It's important to consider the type of hair you have and how it will react with different products and treatments.
At home care should include using color-protective shampoo and conditioner, as well as a UV filter finishing spray if exposed to direct sunlight for prolonged periods of time. Additionally, use heat protection sprays before styling with hot tools such as curling irons or straighteners in order to minimize damage caused by heat styling that can contribute to fading color over time.
Professional services are available at salons that offer Crazy Colour or Préférence Vivids Clan ranges for the most vibrant tones, while Colorista Clan offers more natural-looking hues like blonde shades created by Préférence Vivids Formulas, which last longer than regular dyes due to its special ingredients that help maintain healthy locks even after coloring.
Taking proper steps towards protecting colored hair helps preserve vibrancy without compromising on style.
Different Hair Coloring Techniques and Effects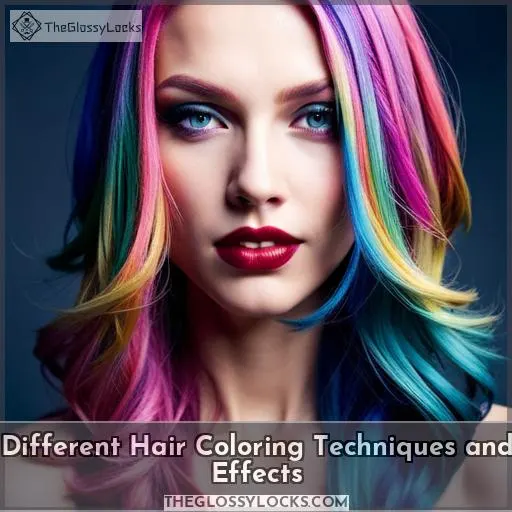 When it comes to changing up your look with hair color, there are many techniques and effects that can be used. The possibilities of beauty-enhancing styles are endless, from highlighting versus lowlighting to ash blonde versus brunette.
The foilyage technique is gaining popularity for its ability to blend colors effortlessly while providing an overall natural finish. Hair contouring is great for making subtle adjustments that create a more defined shape around the face, such as accentuating cheekbones or giving extra lift at the crown area.
For those who want something new but don't want full commitment in terms of coloring their entire head, try out a hair detox! This process involves removing any buildup from styling products and restoring shine back into locks without needing dyes or bleach involved whatsoever.
Another trend on everyone's radar right now includes bronde hair – a mixture between brown and blonde hues – creating an eye-catching contrast no matter what angle you view it from! To maintain gorgeous colored locks requires extra TLC, so make sure you keep up with regular touch-ups every 6-8 weeks for best results.
Expert Advice on Latest Hair Color Trends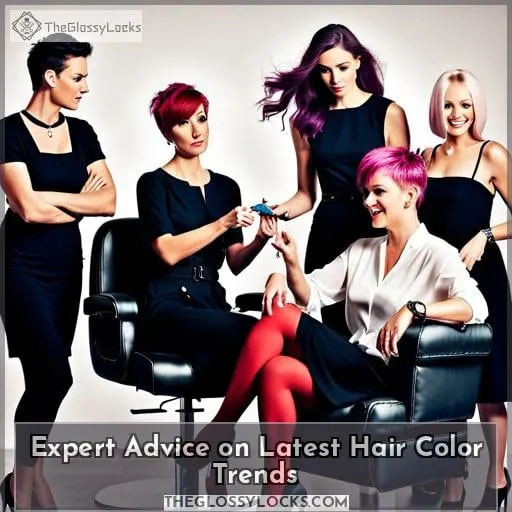 Discover the hottest hues and cutting-edge trends in hair color with expert advice that will have your locks looking out of this world! Choosing a shade to suit you can be daunting, but with the right tips and tricks, achieving salon-perfect results at home is easy.
With so many options, from ombre styles to foilyage techniques, there's something for every preference. For an instant boost of vivid color, try L'Oreal Preference Vivids formulas. Or, if it's all too much, go for a gentle color detox.
Hair toners are also great for reviving dull colors – they add shine while maintaining vibrancy, which is always a good measure when selecting shades.
Whether you're going blonde or brunette on your first-time coloring mission, use these tips and make sure that your mane looks amazing whatever color you choose!
Blonde Hair Shades: a Guide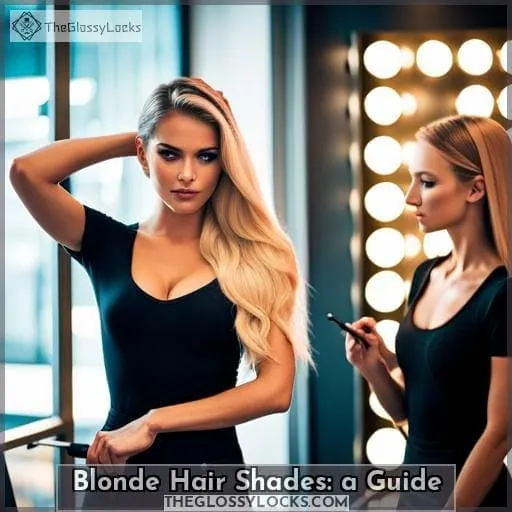 The world of blonde hair shades is vast! From ash and platinum to golden and honey, it's easy to get overwhelmed when trying to decide what hue best suits you. But with expert explanations and advice on the latest trends, you'll be able to find that perfect shade for your desired new look.
Ombre vs Balayage? Highlights versus lowlights? Ash Blonde vs Brunette – there are a lot of choices out there! Hair toners are great if you're wanting something more subtle or even just a quick fix between colorings; they can help keep brassy tones away while adding dimension at the same time.
For those looking for something striking yet still natural-looking, denim hair may be the way forward – a timeless classic that never goes out of fashion! If vibrant colors are your preference then vivids clan or formulas will give an extra boost so don't forget about those either.
All these options make going blonde simpler than ever before: whatever style or look you desire, finding your ideal shade has never been easier
Understanding Hair Color Numbers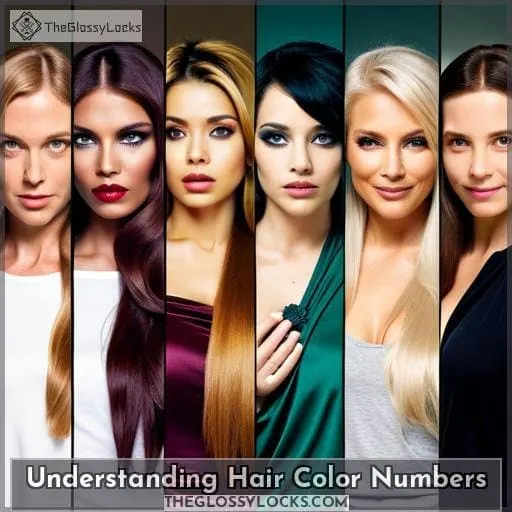 Understanding hair color numbers can help you choose the shade that's right for you. For instance, if your natural hair color is light brown, a 4 or 5 would be best – this will add subtle highlights and lowlights to give it dimension without being too drastic of a change.
Here are some tips on understanding hair colors:
Highlighting Basics: Learn about the different highlighting techniques to find one that suits your look and desired effect.
Hair Toners: Tone down brassiness with an ash blonde toner so your locks stay vibrant for longer periods of time.
Ash Blonde Tips: Achieve ash-blonde tones by mixing cool shades like deep violet and icy platinum together in foilyage techniques.
Foilyage Techniques: Create depth through strategic placement of contrasting shades using advanced foiling methods such as babylights and balayaging.
Color Longevity: Extend the life cycle of colors with Préférence Vivids Clean formulas while protecting against damaging UV rays with protective products like Colour Protecting Spray from L'Oréal Paris Elvive Extraordinary Oil range.
With these tips in mind, finding the perfect shade based on personal preference should be easier than ever!
Ammonia-Free Hair Color: Benefits and Drawbacks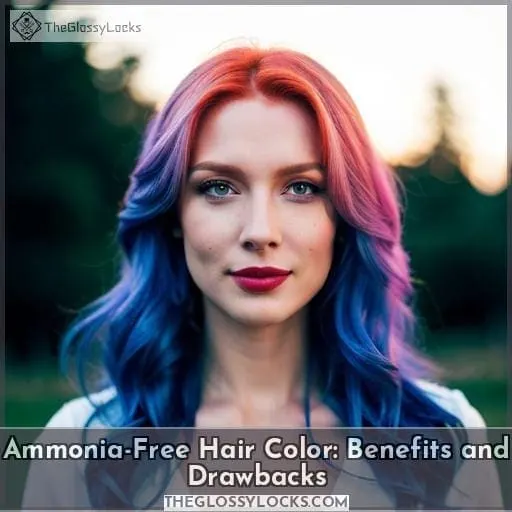 Choosing an ammonia-free hair color can provide a range of benefits, but it also has its drawbacks. Ammonia is a strong chemical that opens up the hair cuticle to allow for better color penetration, but it can also be harsh on the scalp and cause damage to the hair.
By opting for ammonia-free formulas such as Préférence Vivids Formulas, you reduce your risk of scalp irritation and minimize damage to your locks.
However, without ammonia's opening power, toning colored hair or detoxifying treatments may not work as effectively with these types of products. You could try ombre, pastelage, or dip dye techniques which use less color than full-head coverage coloring while still providing striking results! Hair contouring is another option if you want dramatic changes in appearance.
Glossing, Bronzing, and Other Hair Coloring Techniques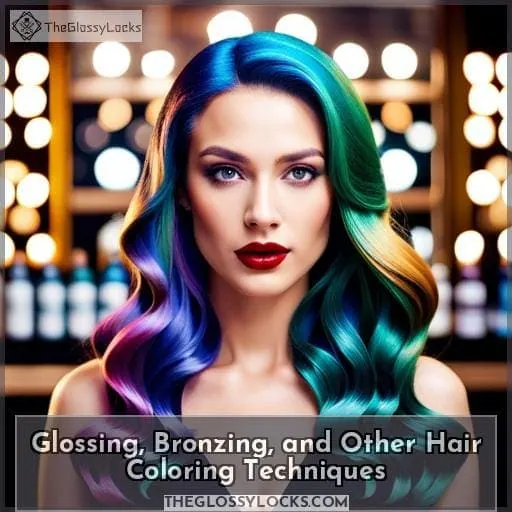 Ready to take your hair color game up a notch? From glossing and bronzing, to balayage vs foil techniques, there are plenty of ways to give your hair an extra dose of style.
Balayage vs Foil – Choose between two popular highlighting techniques for a sun-kissed look that won't fade too quickly! Balayage is great for low maintenance highlights while foils create more dramatic effects with longer lasting results.
Hair Contouring – Create depth and dimension by strategically placing lighter or darker colors into the strands. This technique gives you complete control over how light and dark sections blend together for a natural looking result.
Denim Dye – Achieve denim blue hues without bleaching out your entire head! The cool tones will add depth and texture as well as enhance existing shades of blonde, brunette or red locks perfectly.
CC Creams – Use these temporary styling creams on pre-lightened locks if you're after pastel tints like lavender or pink without committing permanently just yet!
Hair Detox – Keep brassy/yellow undertones at bay with toners formulated specifically for blondes. They'll also leave behind nourishing ingredients that help keep moisture levels balanced in colored strands so they remain vibrant longer than other treatments might do alone.
Whether it's enhancing existing color with glosses & bronzers, or stepping outside the box entirely by trying something new like contouring & denim dyeing, have fun experimenting until finding exactly what suits best!
Frequently Asked Questions (FAQs)
How can I prevent my colored hair from fading?
To prevent your colored hair from fading, you can maintain its vibrancy and shine by washing it less frequently, using color-protective shampoo and conditioner, applying heat protectant spray before styling, masking twice weekly for extra hydration, air-drying whenever possible to prevent moisture loss.
What is the difference between hair gloss and hair glow?
Hair gloss and hair glow are both styling treatments for your hair. Glossing adds shine and depth of color, while glowing enhances natural highlights for an illuminated look.
How often should I use a hair mask to protect my colored hair?
For optimal results, use a hair mask twice a week to protect your colored locks. Not only will it help reduce color fading and damage, but fans of the product report up to 80% less breakage! With proper care and nourishment, you can keep your vibrant hue for longer
How do I choose a hair color that matches my skin tone?
To choose a hair color that complements your skin tone for a natural, effortless look, opt for warm shades of browns and reds if you have yellow undertones in your complexion, or cool shades of blondes and ash browns to match pink or blue undertones.
Is there a way to make my hair color last longer?
Yes! To keep your hair color looking vibrant, wash it less often, use a color-protecting shampoo and conditioner, protect it from heat damage with sprays or air drying whenever possible.
Conclusion
To make the most of your colored hair, it is important to follow a specific hair care routine and choose the right color for your skin tone and style. If you want to try different hair coloring techniques or the latest trends, it is best to consult an expert for advice.
With the right knowledge and care, you can keep your hair looking beautiful and vibrant.