This site is supported by our readers. We may earn a commission, at no cost to you, if you purchase through links.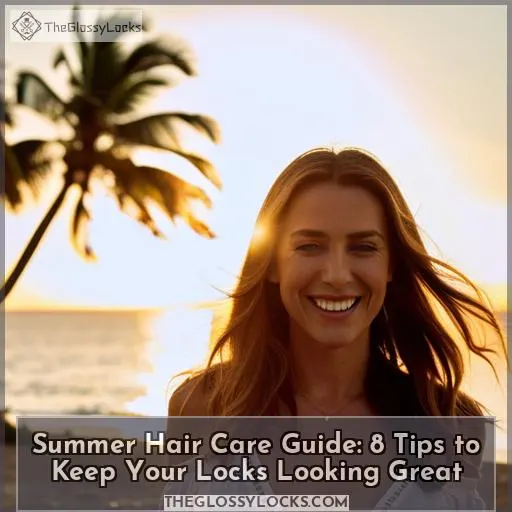 Are you looking for the perfect summer hair care guide? We've got you covered. With just a few simple steps, your locks will stay looking great all season long.
It's important to remember that the sun and heat can be damaging to your hair – but with proper protection and maintenance, it doesn't have to be! Here are eight tips on how to keep your tresses healthy during summer:
Protecting Hair From Sun and Heat:

Use hats or scarves to shield your hair from direct sunlight.
Apply UV protection products specifically designed for hair.
Adjust your washing routine to minimize heat exposure.

Maintaining Healthy Hair in Hot Weather:

Regularly trim your hair to prevent split ends and breakage.
Deep-condition your hair to keep it hydrated and nourished.
Keep reading for more information on taking care of your hair this summer season!
Key Takeaways
Protect hair from the sun and heat.
Maintain moisture in hot weather.
Prevent color fading from the sun.
Trim hair for a healthier appearance.
Protecting Hair From Sun and Heat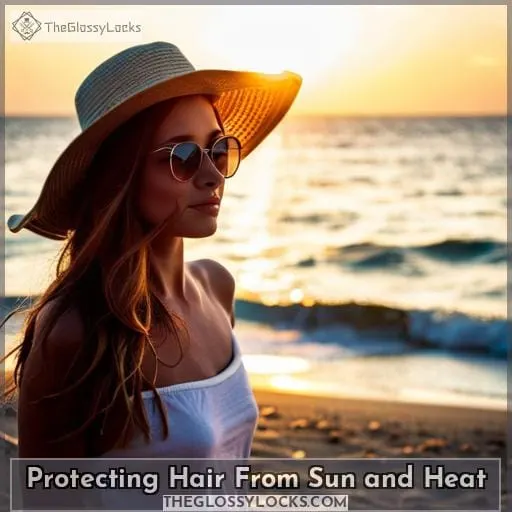 Protecting your hair from the sun and heat during the summer months is crucial for maintaining healthy locks. To start, make sure to wear hats and scarves when out in the sun. Additionally, consider applying UV protection products to both your scalp and lengths of hair before exposure or use UPF fabrics to cover up.
Finally, tweak your washing routine by adding a weekly chelating shampoo treatment or opting for cooler water temperatures instead of hot while rinsing off the product after conditioner application.
Use Hats and Scarves
You can shield your locks from the summer sun by donning a stylish sun hat or wrapping your tresses in a bright headscarf. UV rays, pool chemicals, and heat damage are all potential dangers to hair during this season.
Selecting wide-brimmed hats that cover both the face and neck will reduce direct exposure while adding an extra layer of protection for delicate strands.
Apply UV Protection
The sun beats down without mercy, searing exposed scalps. Defend your hair from damaging ultraviolet rays by using products containing UV filters. Look for ingredients like benzophenone and avobenzone, which create a protective barrier, shielding vulnerable strands from harsh light.
Tweak the Hair Washing Routine
Y'all can go longer between shampoos when it's hot out, using dry shampoo to soak up excess oils in between. Summer maladies like fried hair from dryers and sleek hairdos suffer in humid air. Space out sudsing to avoid this common summer malady. Dry shampoo refreshes hair, soaking up oils for longer between washes.
Maintaining Healthy Hair in Hot Weather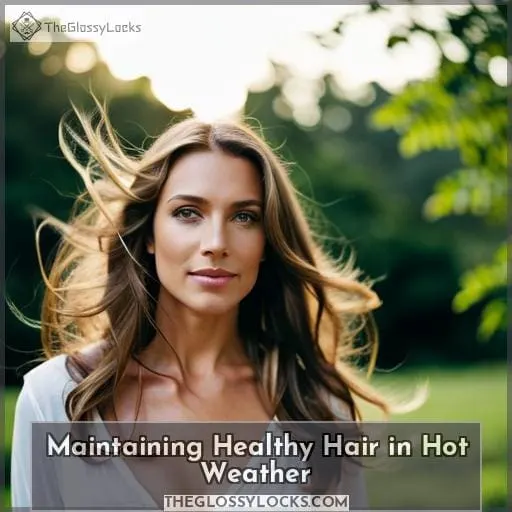 You'll want to keep your hair healthy all summer long. So be sure to get regular trims every 6-8 weeks to prevent split ends and breakage. Also, use weekly deep-conditioning hair masks to boost moisture levels and repair summer damage from sun, saltwater, and chlorine exposure.
Trim Your Hair
Get regular trims every 6-8 weeks this summer for healthier ends and to prevent split ends. Habitual trims seal the hair cuticle, keeping your tresses looking polished and removing uneven, frizzy hair and damaged hair.
Hair care experts recommend scheduling trims before and after seasons of heavy swimming for the best results in your mane's length and texture.
Deep-conditioning Treatment
Douse your parched locks in ultra-hydrating masks weekly to quench their thirst and restore moisture from root to tip.
Opt for reparative masks with strengthening proteins and oils.
Look for deeply penetrative formulas with silk proteins.
Apply generously from mid-shaft to ends as needed.
Let sit for 5-10 minutes before rinsing for best results.
Deep conditioning treatments are like an IV drip for lifeless locks, flooding hair fibers with essential hydration. For best results, distribute masks evenly and allow ample processing time before rinsing.
Frequently Asked Questions (FAQs)
What are the best hairstyles for summer that don't require heat styling?
Braid your hair before bed and wake up to effortless waves. Pull your hair up into a loose top knot or messy bun for an easy updo. Allow your hair to air dry naturally – scrunch with sea salt spray for beachy texture.
Try cute accessories like headbands, scarves, or hair clips to dress up a simple ponytail.
How often should I trim my hair in the summer months?
You should trim your hair every 6-8 weeks during the summer. This prevents split ends and keeps your hair healthy. Schedule regular trims even if your hair seems to be growing slowly. Consistent trims encourage growth by getting rid of damaged ends.
Are there any supplements or vitamins I can take to improve my hair's health in summer?
Take biotin to strengthen strands and reduce shedding. Add a vitamin C supplement to protect hair from sun damage. Omega-3s nourish your scalp and follicles. Try turmeric capsules to reduce inflammation that can lead to dandruff.
Massage coconut or argan oil into your lengths for deep conditioning. While diet affects hair, supplements can provide an extra boost.
How can I repair summer hair damage like dryness, frizz, and sun fading?
Wash and deep condition frequently. Let hair air dry or gently blot with a t-shirt. Use leave-in conditioners, masks, oils, and anti-frizz serums. Avoid using heat styling tools that worsen damage. Get trims regularly to snip split ends. Style hair loosely, and protect it from the sun and chlorine.
Are there any natural or DIY treatments I can make at home for summer hair care?
Apply a honey hair mask weekly to moisturize. Make a coconut oil hair serum by melting the oil to coat dry strands. Brew black or green tea and let it cool before using it as a rinse to add shine. Massage olive or argan oil into your scalp to soothe irritation. Mix apple cider vinegar with water for a clarifying rinse that removes buildup.
Conclusion
Fighting the summer hair care battle doesn't have to leave you deflated. Like a summer breeze, go with the flow – embrace natural styles, hydrate regularly, and protect those locks from harsh elements.
Your hair will sing all season long if you take measures to keep it healthy and happy.
Avoid overwashing, overstyling, and overexposing, and your hair will reward you in lush, vibrant ways. With some thoughtful steps, you can sail through summer with hair that shines as brightly as the season itself.
Gentle care and keen awareness will keep your tresses flowing effortlessly from beach to barbecue and beyond.