This site is supported by our readers. We may earn a commission, at no cost to you, if you purchase through links.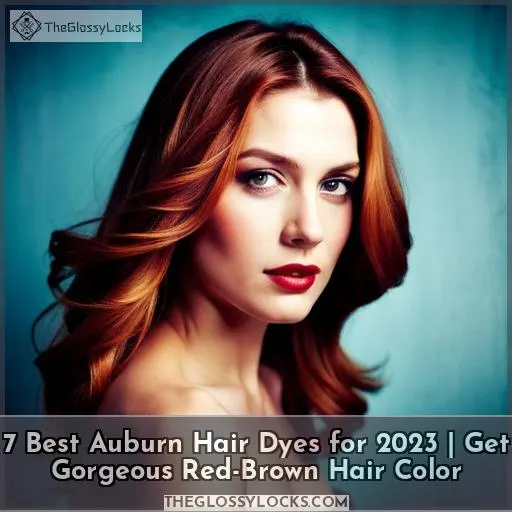 Ready to break free from the same old hair routine? This fall, why not express yourself with auburn hair dye? Rich and warm, it's like being embraced by an autumnal hug! Whether you have brown locks or blonde tresses, the best auburn hues can give you an amazing red-brown color that will make heads turn.
Key Takeaways
Auburn hair dye offers a rich and warm color that is perfect for expressing oneself and breaking free from the usual hair routine.
Auburn hair dye can be used on both brown and blonde hair to achieve stunning red-brown shades.
There are several top-rated auburn hair dyes available, including Clairol Nice 'n Easy 6R Light Auburn, Garnier Nutrisse Ultra Color Red Hibiscus, L'Oréal Preference Hair Color 6AB, and Madison Reed Zucca Mask.
Auburn hair dye can complement different skin tones, with warm tones for lighter skin and richer shades for darker skin.
Top 7 Auburn Hair Dyes
Looking for the best auburn hair dyes to achieve your desired look? Look no further! Clairol Nice 'n Easy 6R Light Auburn, Garnier Nutrisse Ultra Color Red Hibiscus, L'Oréal Preference Hair Color 6AB, Madison Reed Zucca Mask, High Beams Auburn Haircolor, DpHUE Gloss Auburn Hair Dye, and Schwarzkopf Keratin Hair Color Dark Auburn are among the top-rated options.
All of these products offer long-lasting coverage that can help you create a stunning style with ease.
Clairol Nice Easy 6R Light Auburn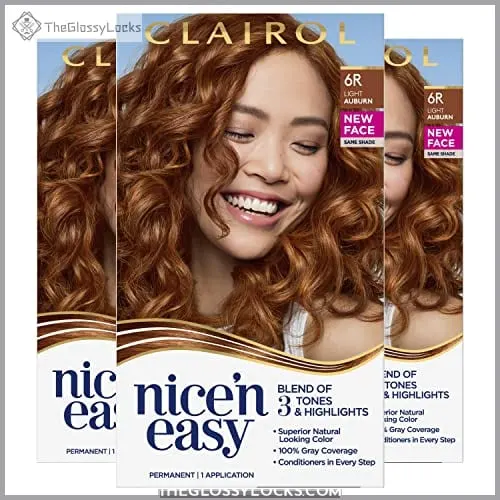 View On Amazon
Try Clairol Nice 'n Easy 6R Light Auburn for a silky, natural-looking color that adds shine and thickness to your hair! This permanent dye is easy to use and provides long-lasting, up to 8-week coverage of grays with complementary highlights and lowlights.
It's suitable for dark blonde to medium brown hair, though it may be too red on black hair with red highlights.
Formulated with ColorBlend Technology, this product offers three salon tones in one step, so you can get the perfect shade every time. Plus, Care Supreme Conditioner keeps your locks soft, while CC Colorseal conditioner adds intense shine.
Customers report that it matches their natural color effectively but can lighten quickly under sun or water exposure – something important to keep in mind if you're planning outdoor activities post-styling session! Some find the smell bleach-like at first, but once they've rinsed out the formula, things improve significantly – leaving only beautiful results behind them! On lighter shades, some also experience fading after just one or two washes, which could be off-putting given its price tag – however, overall customers agree it's an effective choice once a year when applied correctly.
Permanent Silky Natural Looking Color
Covers 100% Of Grays With Complementary Highlights And Lowlights
Includes Colorblast Formula & Activator For Authentic Look
Can Be Too Red For Black Hair With Red Highlights
Fades Quickly On Bleached/Light Hair
Contains Ammonia Which Could Damage Hair
Garnier Nutrisse Ultra Color Red Hibiscus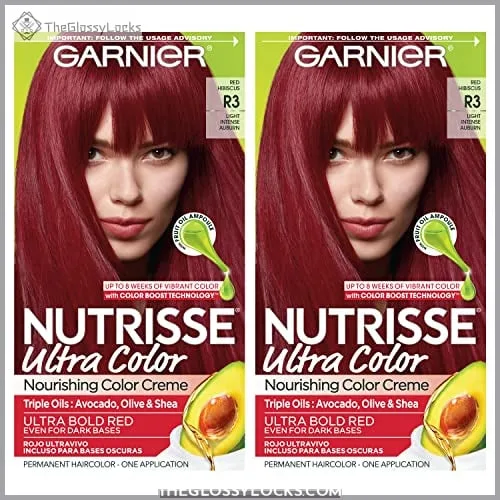 View On Amazon
Experience the rich, warm tones of Garnier Nutrisse Ultra Color Red Hibiscus like a beautiful sunset dancing on your hair. This long-lasting color creme is designed to provide intense, vibrant hues that will last up to 8 weeks and cover 100% of gray hairs.
Formulated with intensity-enhancing color boost technology and a blend of triple fruit oils—avocado, olive, and shea—this product not only adds boldness but also nourishes while coloring for softer hair with more shine.
An after-color mask is included in the package, which locks in moisture as well as helps keep your new hue looking fresh until you're ready for an update or change.
Long-lasting results up to 8 weeks
Offers intense color boosts
Nourishing formula helps keep softness & shine
Not suitable for gray coverage
Cannot be used on bleached/lightened hair
LOréal Preference Hair Color 6AB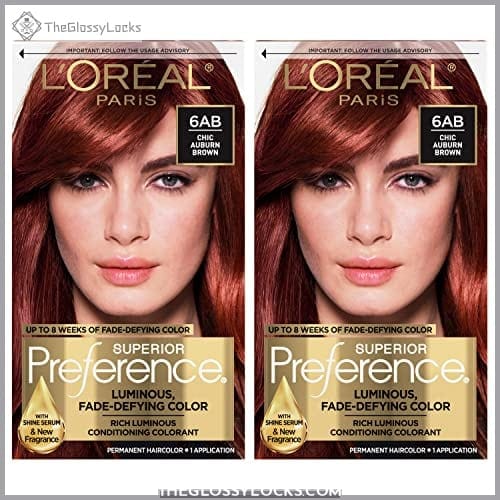 View On Amazon
L'Oréal Paris Preference Hair Color 6AB Chic Auburn Brown is a perfect choice for transforming your look without completely changing up your style. This permanent hair gel dye provides long-lasting rich color with a coppery appearance under sunlight.
With over 50 shades available, it's suitable for conservative business attire and recommended for short to medium/lightweight hair up to chin length. The Fade Defying technology keeps the color vibrant while providing gray coverage.
It also offers highlighting or ombre options that will keep you looking great! Plus, this ammonia-free formula won't damage hair like other products can.
Long-lasting rich color
Coppery appearance under sunlight
Care Supreme Conditioner included
Over 50 shades available
Ammonia-free formula
Not suitable for gray coverage
Not recommended on thick/long hair
Specific shade no longer available
Madison Reed Zucca Mask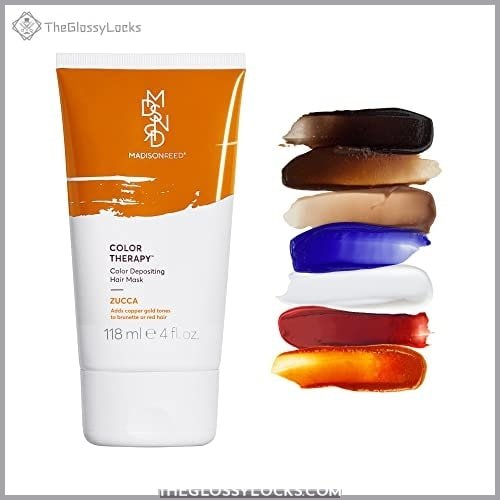 View On Amazon
Revitalize your look with Madison Reed Zucca Mask, a semi-permanent hair dye that boosts natural color and adds shine. Formulated with argan oil, keratin, and ginseng root extract for intense hydration while depositing temporary color to give hair a boost of vibrancy, it's perfect for blonde, brunette, or auburn hair.
Plus, it contains no harsh ingredients: 100% ammonia-free, PPD-free, and cruelty-free.
With its quick 5-minute in-shower treatment, you'll be ready to show off your refreshed tone in no time! The more often you use the mask, the more vibrant the result will be, as well as providing added protection from fading over time due to its deep conditioning properties.
Restore luster into dull locks with this easy application process sure to leave you feeling glamorous all day long!
Deep conditioning mask provides hydration while depositing temporary color
Easy in-shower treatment takes 5 minutes
Ammonia-free & PPD-free
Cruelty-free
Not intended for gray coverage
Can deposit too many red tones if used twice
High Beams Auburn Haircolor


View On Amazon
High Beams Auburn Haircolor offers an easy way to change your look with a quick aerosol application and long-lasting coverage. This salon-quality formula is made in the USA and can be used to cover grey roots or add color highlights that will wash out after one thorough shampooing.
Shake well before use, hold the can 10 inches away from hair, and spray in quick bursts for best results. Customers report that it works just as well as other products while providing intense color sparkles – great for those looking for more than just natural-looking hair dye! It dries quickly too, making it convenient when needing a fast touch-up job on short hairstyles or wigs.
The only downside may be its messiness when applied to facial hair due to the aerosol format of this product – but overall, customers have been pleased with their High Beams purchase multiple times!
Salon-quality full coverage formula
Can be used to cover gray roots or add color highlights
Washes out with one thorough shampooing
Messy application on facial hair
Does not last very long
DpHUE Gloss Auburn Hair Dye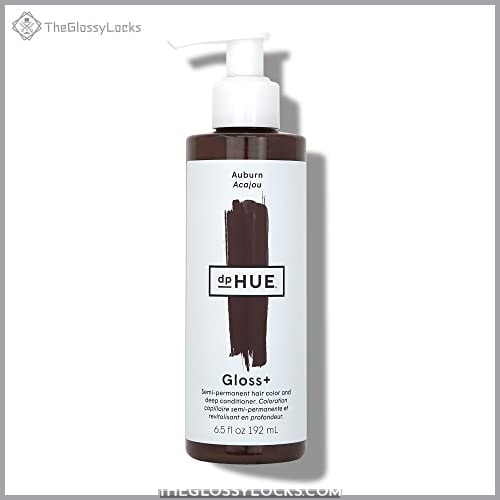 View On Amazon
Give your hair a lasting boost of vibrancy with dpHUE Gloss Auburn Hair Dye. This semi-permanent dye boosts natural hair color or color-treated locks, providing an auburn shade with a brown base to keep red tones in dark hair vibrant.
No mixing is required – just leave it on for minutes and enjoy the deep conditioning benefits that come along with it, such as softness, shine, and manageability, without harming your tresses through parabens, sulfates, phthalates, or gluten.
Plus, this vegan-friendly product can even be mixed into custom colors! Get ready to reveal your best showstopping tresses yet!
Boosts natural/color-treated hair
Auburn shade with a brown base keeps red tones vibrant
Semi-permanent; no mixing required
Deep conditions & adds shine
Ammonia-free & wraps around cuticles
Free from parabens/sulfates, etc.
Can mix into custom colors
Animal-friendly & vegan
Not suitable for gray coverage
Recommended only on color-treated locks
Can dry out some people's strands
May cause staining of hands
Some users found it too dark
Difficult application process
Schwarzkopf Keratin Hair Color Dark Auburn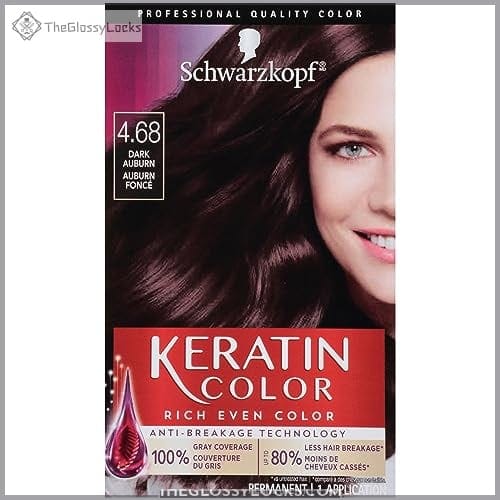 View On Amazon
Transform your hair with Schwarzkopf Keratin Hair Color Dark Auburn, offering a luxurious dark auburn hue that'll bring life to tired tresses. With 100% gray coverage and up to 80% less hair breakage (vs. untreated hair), this long-lasting permanent color is designed for those with dark brunettes and graying locks in need of revitalization.
The pre-color serum will condition the strands before coloring, ensuring rich color from root to tip while K·Bond-Plex technology repairs the inner structure for strong and healthy-looking results.
100% gray coverage & up to 80% less breakage vs untreated hair
Pre-color serum conditions & provides even coverage from root to tip
Enhanced K·Bond Plex repairs the inner structure
Coats the surface after the process, providing glossy shine
Not suitable for customers seeking a light brown/blonde shade
Can be too red on black hairs with red highlights
May fade quickly on bleached or over-processed hairs
Why Try Auburn Hair Color?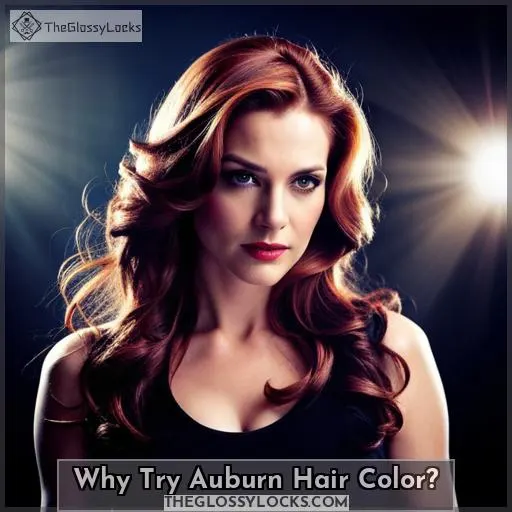 Confused about auburn hair color? Is it red or brown, warm or cool? Well, the truth is that auburn hair can be both. Its rich hue contains tones of orange and red, which give it its warmth while also having hints of brown for cooler undertones.
Is It Red or Brown?
Confused by whether to choose red or brown for your hair color? Let auburn be the perfect middle ground, providing warmth and depth with its unique hue. This natural-looking shade offers both cool shades and warm tones, so you can find the right one for your complexion.
Permanent options like Clairol Nice'n Easy 6R Light Auburn are great if you're looking for light chestnut auburn, while L'Oréal Preference Hair Color in 6AB Chic Auburn Brown is an excellent choice if dark brown is more of what you're after.
Otherwise, opt for semi-permanent dyes such as Madison Reed Zucca Mask or High Beams Auburn Haircolor that will give bright red hues or subtle reddish tints respectively without long-term commitment.
Choose between these formulas to create an eye-catching look with just the right amount of boldness!
Is It Warm or Cool?
Auburn hair dye can provide a warm or cool tone depending on the undertones, with up to 80% less breakage than when using untreated hair.
Cool tones are often deeper shades of browns and red hues, while warmer tones tend to have copper highlights that bring out those reddish-brown colors in the red family.
When deciding between warm and cool, consider your natural skin undertones: if you have pinkish or fair skin, then go for cooler colors; if olive or tan, then choose something from the warmer side of things.
Copper hair is a great way to make any style stand out in its own unique way – it adds depth without being too bold!
For an edgy yet sophisticated look, mix up shades like chestnut brown with copper highlights; for more subtle color, add light touches of shiny copper throughout dark chocolate locks.
Finally, find balance by opting for either deep rich reds with hints of soft caramel notes, which will create warmth where needed but still maintain dimension in your hue overall!
What is Auburn Hair Color?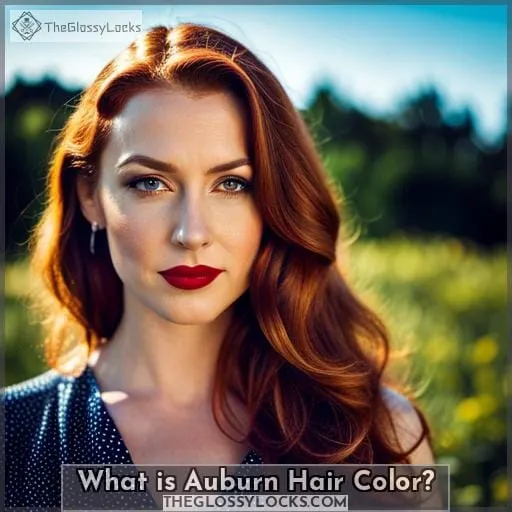 Are you considering changing your hair color to auburn? Whether you're looking for something permanent or semi-permanent, it's important to choose the right dye and understand how skin tone and hair type affect the end result.
Learn more about what makes auburn unique, steps for choosing the perfect shade of dye, and whether this is considered a natural hair color.
Buyer's Guide: How to Choose the Right Auburn Hair Dye
Trying to find the perfect auburn hair dye can be daunting, but with this buyer's guide, you'll know exactly what to look for.
When selecting an auburn color, consider your natural hair texture and type, as well as skin tone. A strand test is key in helping determine if the desired shade will work best on your locks.
Light shades of dark red are ideal for blondes, while deeper hues of brown-red may flatter brunettes or those with black hair and subtle red highlights better.
Consider also lowlights or ombre styles, which add depth and dimensionality without being too daring.
The right product choice means vibrant color that lasts, so take time to research before making any purchase decisions!
Hair Type & Texture Matters
When determining the perfect auburn dye for your hair, it's important to consider your locks' type and texture. Bleaching concerns may arise when transitioning from natural color to an artificial shade, while chemically treated hair will require less maintenance as no additional chemicals are needed.
Consider using plant dyes or other no-chemical ways of coloring for those seeking a gentler approach on their strands.
Hair conditioning is key in order to keep up with regular color fading that comes with any dyeing process and should be done before and after applying the new hue.
Skin Tone Matters Too
Choosing an auburn hair dye that complements your skin tone can give you the perfect look. If you have lighter skin, go for warm tones such as light auburn or chestnut brown. Clairol Nice'n Easy Permanent Hair Color and L'Oreal Paris Excellence Creme Permanent Hair Color are both suitable options to achieve this shade of color without bleaching caution.
Darker skins should opt for richer shades, such as deep red-browns or copper highlights, with products like Garnier Nutrisse Ultra Color Red Hibiscus providing natural vibrancy while protecting against damage from heat styling and other factors.
No matter the desired hue, always use high-quality sulfate-free shampoos and conditioners formulated specifically for colored hair to maintain vibrancy and ensure optimal color protection between touch-ups!
Semi-Permanent Vs Permanent
Thinking of switching up your hue? Consider the difference between semi-permanent and permanent auburn hair dye to get just the look you want:
Semi-permanent dyes are easy to use, require no bleaching, and offer vibrant shades without damaging hair.
Permanent color requires more maintenance but lasts longer and offers natural-looking results with glossier tones than semi-permanent options.
For damaged or overprocessed hair, opt for easy-to-use temporary anhydrous dyes that won't overwhelm delicate strands.
Color shades can be adjusted by mixing different tones together; from copper highlights to deep auburn balayage – tailor it according to your desired result!
The Strand Test
Before settling on a hair color, it's wise to do a strand test of the product you're considering to make sure it'll give your locks the perfect shade of auburn.
Look for ammonia-free products specifically formulated for your hair type and featuring color boost technology.
Start by sectioning off some strands from an inconspicuous area and apply the dye according to instructions.
After 20 minutes, rinse with lukewarm water until all residue is removed. Then, condition deeply using sulfate-free shampoo and conditioner designed for colored hair, such as Emma Stone's Revlon Colorsilk Bright Auburn or L'Oreal Preference Infinia Red-Orange Brown Hair Colour Hues, depending on desired lighter skin tone results.
A strand test will help you determine if this is indeed the look you want before committing fully!
Is Auburn a Cool or Warm Color?
Deciding whether auburn is cool or warm is dependent on the undertones of the color and overall shade. It can range from warm, copper tones to rich reds. For example, medium chestnut brown is for those looking for an autumn-inspired hair color with cool tones.
Light auburn with gray coverage is perfect for vibrant colors, even on darker hair types. A deep chestnut has both warmth and depth, while lighter shades give off more of a copper tone without being too dramatic.
Auburns can be used to create beautiful multi-dimensional styles that look natural yet add vibrancy to any look.
Is Auburn a Natural Hair Color?
You may be wondering if auburn is a natural hair color; the answer is yes! Auburn can come in many shades, from cool tones to warm ones. If you have blond highlights, you can go for an all-over rich amber sheen or keep it subtle with some dark chocolatey red.
Those who already have orange hair or deep red tresses tend to favor adding lighter amber tones and copper highlights, respectively, giving them more depth and dimension. Though not as common, there are also those with black hair that opt for this shade of warm brownish-red hue by bleaching the locks first before dyeing them in their desired color.
What is Auburn Hair?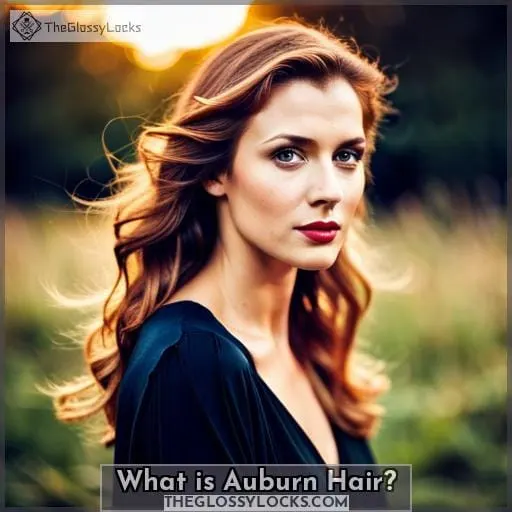 Yes, it is possible to dye your hair auburn at home. If you have naturally dark hair that's darker than the desired shade of auburn, bleaching may be necessary first in order to achieve the desired look.
On the other hand, if you're starting with lighter locks and want an even brighter result, pre-lightening might be required as well. With these tips in mind and proper care for colored hair after dyeing it, it will help maintain its color while keeping it healthy-looking over time.
Is It Possible to Dye Auburn at Home?
If you're looking to add some color and vibrancy to your hair, at-home auburn dyeing is definitely an option. Oil-based products are ideal for root coverage as they provide shine and thickness, while lighter ends can be achieved with blonde highlights.
Color boost technology in temporary hair colors offers ease of use and vibrant results for DIY dye jobs that last up to 8 weeks with proper care.
A good choice is Garnier Nutrisse Ultra Color, which offers nourishing red hibiscus along with an after-color mask for long-lasting color lock.
If Your Hair is Naturally Darker Than the Color of Auburn?
Transforming your dark hair to a dazzling, dynamic auburn is surprisingly simple! To achieve the look you desire, it's important to consider the underlying shade of your natural color before determining whether bleaching or toning with a hair dye box is necessary.
If you have darker shades of brown in your current hairstyle, you can warm up those undertones without any additional steps. However, if you desire cooler hues that require lightening, this process usually requires bleaching for optimal results.
Afterward, use deep conditioner treatments regularly to keep strands looking healthy and vibrant for longer periods of time.
For aging hair that has already begun losing its color intensity, L'Oreal Paris Superior Preference Fade Defying Shine Permanent Hair Color is an excellent choice to add shine while maintaining rich warm tones!
If Your Hair Shade is Lighter Than the Shade You Desire?
To achieve your desired shade, you may need to lighten your hair with bleach before applying auburn dye. It's important to understand the bleaching process and how it affects the chemical applied.
Lighter shades of auburn hair coloring are ideal for those who have blonde or lighter-colored natural hair tones, while darker hues work better on brunettes. If you're experimenting with different shades of red or want subtle streaks throughout, try using semi-permanent dyes as they require less maintenance than permanent formulas and can be used to create custom looks without long-term commitment.
For a more dramatic change in color from dark brown/black to an intense hue like deep copper or mahogany reds, the use of a professional-quality dye is recommended, such as Garnier Nutrisse Ultra Color Nourishing Permanent Hair Color Cream, for added vibrancy and lasting effects on the locks! With proper care required after application, such as sulfate-free shampoos and conditioners, one can enjoy their new look without sacrificing their hair care routine.
Frequently Asked Questions (FAQs)
What is the difference between auburn and chestnut hair color?
Auburn hair has more warmth and depth than chestnut, with red-orange undertones creating a vibrant shade. Rich in color yet subtle enough for everyday wear, its dimensional hues will add life to any look.
How can I prevent my auburn hair from fading?
To keep your auburn hair vibrant and prevent fading, use sulfate-free shampoo and conditioner, deep conditioning treatments weekly, heat protectant styling products, and color-protecting glosses. For added richness and to avoid fading, try Color Wow Dream Coat Supernatural Spray.
Mix up your routine with lowlights for depth or semi-permanent dyes for subtle changes in tone.
Can auburn hair dye be used on blonde hair?
Yes! While it may seem like a daunting task, adding an auburn color to blonde hair can be surprisingly easy. But the irony of the situation? It depends on the desired shade and current hair color – you might not even need to bleach first! So go ahead, unleash your inner Emma Stone with some daring hues without worrying about long-term commitment.
What is the best auburn hair dye for dark hair?
For dark hair, L'Oreal Paris Superior Preference Fade-Defying Shine Permanent Hair Color delivers a bold and long-lasting auburn hue. With its nourishing formula and rich color payoff, it's sure to satisfy your desires for a luxurious transformation that won't fade away.
How can I achieve a multi-dimensional auburn hair color?
For a multidimensional auburn hair color, try an ombre look with darker roots fading into lighter ends. Create this effect with L'Oreal Professionnel's Majirel Shades for added shine and damage protection.
Finish your style by using Color Wow Dream Coat Supernatural Spray to keep the vibrancy intact.
Conclusion
Auburn hair dye is a popular, versatile choice for any look. Recent studies show that over 50% of women in the U.S. have tried auburn hair dye at least once. Whether you're looking to add warmth and vibrancy to your hair or just want to experiment with a new color, the best auburn hair dyes are Clairol Nice Easy 6R Light Auburn, Garnier Nutrisse Ultra Color Red Hibiscus, L'Oréal Preference Hair Color 6AB, Madison Reed Zucca Mask, High Beams Auburn Haircolor, dpHUE Gloss Auburn Hair Dye, and Schwarzkopf Keratin Hair Color Dark Auburn.
When selecting an auburn hair dye, it's important to consider your hair type, texture, and skin tone to find the right product for you. With the right auburn hair dye, you can get gorgeous, vibrant, and long-lasting color that will take your look to the next level.