This site is supported by our readers. We may earn a commission, at no cost to you, if you purchase through links.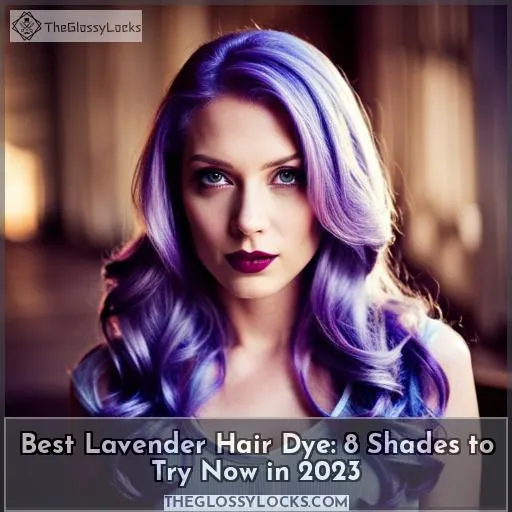 Break the chains of mundane hair color and treat yourself to something special with lavender! With its ethereal beauty, this eye-catching hue is sure to turn heads. Whether you're aiming for a subtle pastel shade or full-on purple goddess vibes, we have compiled reviews for the best lavender hair dyes available in 2023 so you can express your individuality and creativity through unique locks.
From Arctic Fox Periwinkle Hair Dye to Manic Panic Violet Night Hair Dye – read ahead and discover which one suits your skin undertone, desired maintenance level, and current hair color – all while keeping it healthy!
Key Takeaways
Consider factors such as hair health, current color, skin undertone, and desired intensity when choosing lavender hair dye shade.
Semi-permanent dyes are less damaging but require regular maintenance.
Use sulfate-free shampoo and wash with cool water to maintain lavender hair color.
Dark hair may require bleaching before applying lavender hair dye.
Factors to Consider Before Getting Lavender-Colored Hair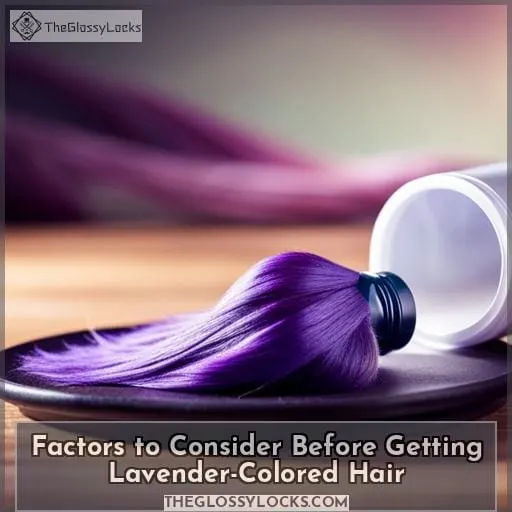 Before taking the plunge and dyeing your hair lavender, there are several factors to consider, including your current hair health, color level, skin undertone, maintenance routine needs, and preferred type of dye.
Whether you're looking for a semi-permanent or permanent hue change, making sure you have all the information beforehand will ensure that you get the best results.
Hair Health
Before deciding to dye your hair lavender, make sure to prioritize the health of your locks – especially if they're dry or brittle. Check for any existing damage and consider using a color-safe shampoo regularly.
Be aware of potential irritants in hair dye ingredients, such as ammonia, parabens, PDD, artificial fragrances, and drying alcohols. Also, make sure to conduct a patch test and strand test before applying any product all over your head.
If necessary, use semi-permanent dyes instead. They are less damaging but require regular maintenance, such as touch-ups and root cover-ups with color-safe products.
Current Hair Color
Your current hair color is an important factor to consider when deciding which lavender hue will suit you best, so take a moment to reflect on it before committing.
If your hair hasn't been bleached or lightened yet, semi-permanent dyes are the best option for adding unique shades without damage. For blondes and lighter brunettes looking for a more intense tone of lavender hair dye, opt for permanent formulas with ammonia like L'Oreal Colorista Washout Purple Semi-Permanent Hair Dye.
Depending on your skin undertone and desired intensity level, choose from options such as Arctic Fox Periwinkle Hair Dye or Lime Crime Unicorn Mochi that offer long-lasting results while nourishing strands with fatty acids and vitamins.
An ideal shade can be achieved if you pay attention to factors like dye types based on existing color levels, maintenance needs depending upon the condition of your locks, and also ingredients in the product, avoiding irritants or allergens like parabens and drying alcohols!
Skin Undertone
Choose the most flattering shade of lavender for your complexion by considering your skin undertone. Your skin undertone, whether it's cool, warm, or neutral, will determine which hue best complements your features.
For those with a cool-toned complexion, opt for pastel purples and hints of blue. Examples include Manic Panic's Violet Night Hair Dye Classic or Arctic Fox's Periwinkle Semi-Permanent Hair Color.
If you have an olive tone with yellow undertones, try warmer shades such as lilac and lavenders. Adore Creative Image Lavender Hair Dye is a good option. These shades will add dimension to medium brown hair colors without drying alcohols.
Before dyeing your hair all over, it's important to do a patch test first!
Maintenance
Maintaining lavender hair requires regular touch-ups and using color-safe products to keep its dreamy hue vibrant. To ensure long-lasting results, do a strand test before applying the dye all over and use only sulfate-free shampoo to avoid fading.
Compare reviews for at-home or salon options. Search for permanent dyes if you want your blonde or brunette locks to stay purple longer. When looking into hair dyes, consider ingredients like ammonia and peroxide that can damage locks.
With proper care, it is possible not only to achieve but maintain beautiful lavender tresses with ease.
Preferred Type
Consider the type of dye you prefer, whether it's a semi-permanent or permanent formula, to find your perfect match. Semi-permanent dyes are great for those with hair health concerns as they aren't as harsh on strands.
Permanent colors offer more intense color payoff and require less frequent root touch-ups; however, bleach may be necessary for darker hair tones before application.
Do a deep dive into product reviews and conduct a strand test to ensure desired results based on your preferred intensity and conditioning level prior to full head application of any dye! L'Oreal Paris Colorista has some great options in both semi-permanent and permanent formulas so you can get just the look you're going for without sacrificing condition – plus, use their handy shade selector tool if you need help deciding which is best!
How to Choose the Right Lavender Hair Dye Shade for Yourself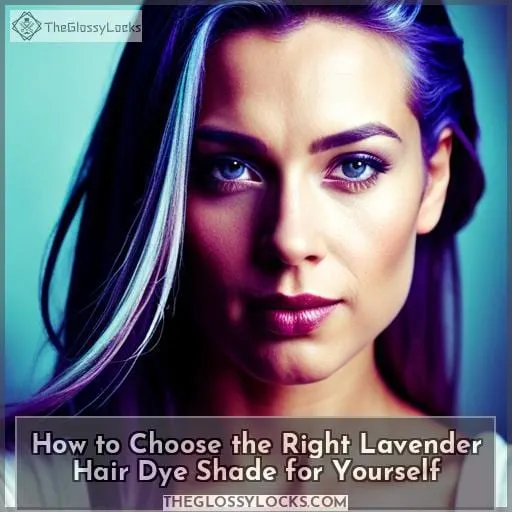 When deciding on the perfect lavender hair dye shade for you, it's important to take into account your skin undertone, current hair color level, desired intensity of color payoff, and overall condition.
Use only color-safe products when washing or styling.
Conduct a strand test before applying any product all over and watch out for potential irritants or allergens in ingredients like ammonia, parabens, PPD, artificial fragrances, and drying alcohols.
Consider workplace dress codes as some professions have restrictions on unnatural colors that may not be visible at first glance but will show up under certain lighting conditions.
An active lifestyle requires more frequent washes, which can cause dyes to fade quickly – so use sulfate-free shampoos!
With these tips in mind, plus regular touch-ups and root maintenance, you'll be able to enjoy beautiful lavender locks no matter what stage of life you're currently in!
What is Lavender Hair Color?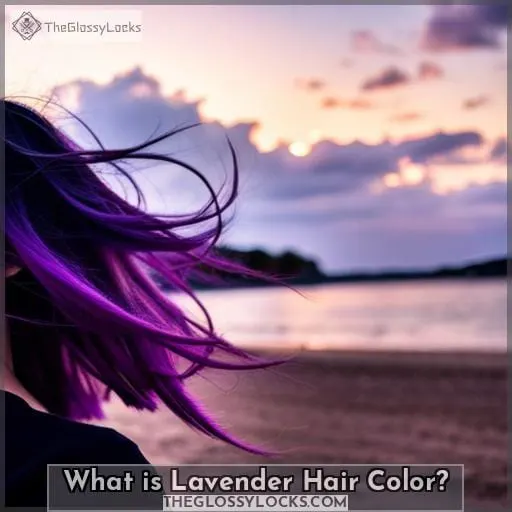 Lavender hair color is a beautiful way to express your individual style and creativity. It offers an ethereal appearance with its soft, muted purple tones. To get the perfect lavender-purple hair color, consider factors such as hair health, the current color of your locks, skin tone, and the dye ingredients used in the product you select.
Prioritize nourishing your strands before coloring them. Avoid dry or brittle locks when going for this hue! Before applying any product to all of your tresses, it's best to do a strand test first. This will help you avoid allergic reactions or sensitivities that might arise from some dye ingredients like ammonia or parabens containing PDD (p-Phenylenediamine).
Also, take into account if bleaching may be necessary for optimal payoff on darker hues than platinum blonde ones! With proper care through regular touch-ups using sulfate-free products and cool water washes, you can maintain vibrant pastel lavender hues for longer periods of time while ensuring healthy-looking tresses at all times!
Top 8 Best Lavender Hair Dyes:
Looking for the perfect lavender hair dye? ARCTIC FOX Periwinkle Hair Dye, Celeb Luxury Viral Colorwash Pastel Lavender, Revlon ColorSilk Digitones Lavender, Lime Crime Unicorn Hair Dye Mochi, Ion Permanent Brights Lavender, Crazy Color Lavender Hair Dye, and Manic Panic Violet Night are some of the best brands available.
Each one offers a unique take on this popular color trend that will leave your hair looking vibrant and healthy.
ARCTIC FOX Periwinkle Hair Dye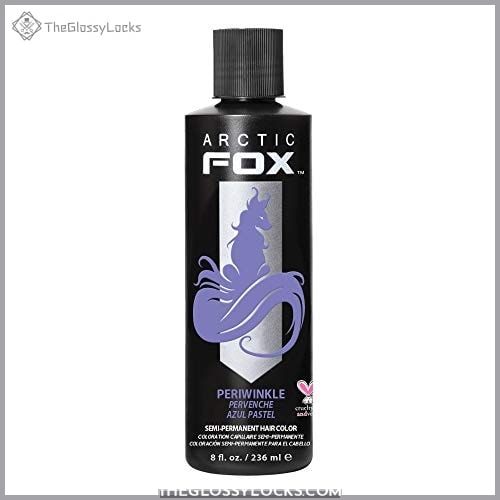 View On Amazon
Transform your hair to a magical dreamy blue-lavender hue with ARCTIC FOX Periwinkle Hair Dye. This vegan and cruelty-free hair color offers vibrant, long-lasting results that help restore vibrancy and condition your locks without harsh chemicals.
With no peroxide, ammonia, ethyl alcohol, or PPD in the formula, you can use this semi-permanent dye frequently for salon-quality results at home.
Reviews praise its pleasant scent as well as impressive color payoff, so why not give this product a try?
Vegan ingredients & cruelty-free
No harmful chemicals that damage hair
Gentle enough for frequent use
Long-lasting color with less smearing
Not suitable on dark-colored hair (level 9)
Color may fade after a few washes
Celeb Luxury Viral Colorwash Pastel Lavender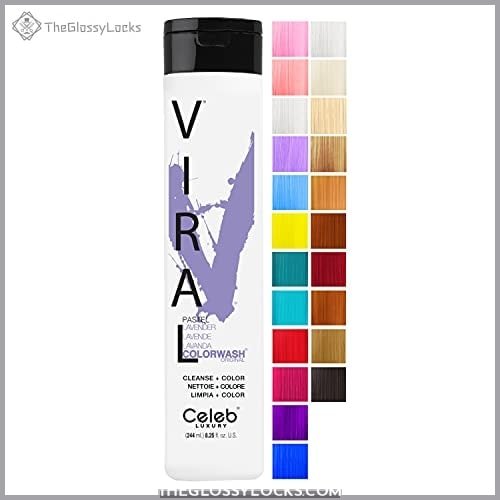 View On Amazon
Experience a commitment-free hair transformation with Celeb Luxury Viral Colorwash Pastel Lavender. This vegan, sulfate-free, and paraben-free formula helps to cleanse, color, and add shine to your locks.
It is super pigmented, allowing you to maintain salon freshness without the long-term commitment of a dye job.
The conditioning formula can help eliminate the need for a separate conditioner after use, leaving your mane feeling soft and silky. Apply it to dry hair for better results, as this product works best on previously dyed hair of the same color.
Although some users have experienced dryness or no difference in their tresses' hue from using this product, many reviews praise its pleasant scent and impressive vibrancy when applied correctly! Just make sure you wash it all off properly, otherwise, you might be left with frizzy or sticky strands that aren't so fun.
Commitment-free color depositing shampoo
Plant-based & zero sulfates
Cleanses & adds shine while coloring
Long-lasting – one bottle lasts months
Works best on previously dyed similar colored hairs
Conditions Hair
Not suitable for untreated hairs
May leave frizzy/sticky strands
Can make hair dry
Not liked by some users
Revlon ColorSilk Digitones Lavender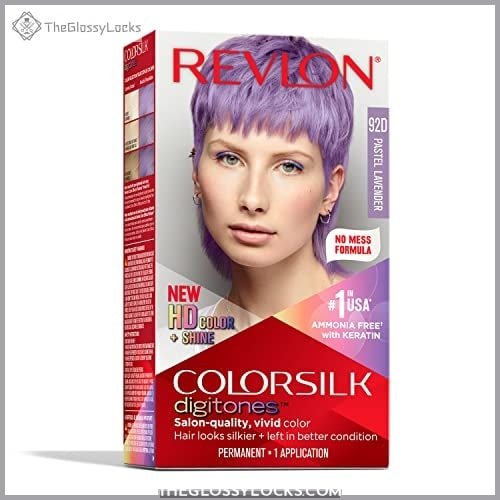 View On Amazon
Revlon ColorSilk Digitones Lavender is an ammonia-free hair color that delivers vivid, high-definition color with no mess and no drip – like painting your locks with a brush of perfection! Co-developed by salon experts, this salon-quality dye leaves your hair in better condition than before.
It's available in 5 shades and packaged with a UPC of 309970218256. This product is suitable for all hair textures as it infuses each strand with vibrant bursts of luxurious color while nurturing them for healthy, resilient shine.
Reviews praise the product for its long-lasting results and minimal fading even after multiple washes.
Long-lasting results
No mess or fuss application
Better condition than before usage
Developer needed to use this product
May require bleaching on dark-colored hairs
Lime Crime Unicorn Hair Dye Mochi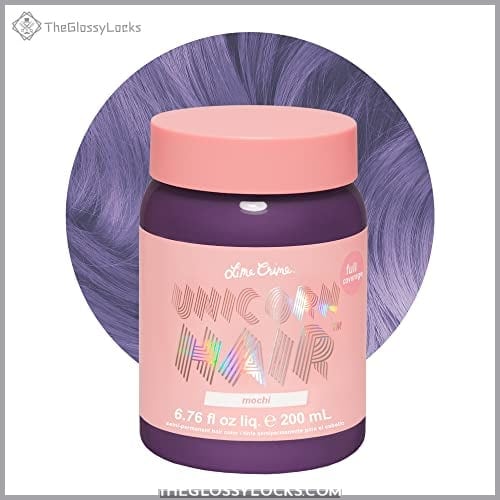 View On Amazon
Lime Crime Unicorn Hair Dye Mochi offers a dreamy lavender hue with its conditioning formula and sugary citrus vanilla scent, perfect for light to medium blonde hair. This vegan and cruelty-free product contains fatty acids and vitamins that condition the hair while depositing natural-looking color.
It adds a tint of color to dark blonde or light brown hair as well, but may require pre-lightening on darker shades.
Easy application makes this dye great for DIYers who want vibrant results without harsh chemicals like ammonia or peroxide in their products.
Easy application
Vegan & Cruelty-Free Formula
Contains Conditioning Ingredients
Long-Lasting Color Results
May Require Pre-Lightening On Darker Shades
Inconsistent Results For Some Users
Can Cause Allergies
Ion Permanent Brights Lavender


View On Amazon
Ion Permanent Brights Lavender delivers a bold and vibrant hue that lasts, with superior gray coverage thanks to its micro-pigmentation technology. This vegan and cruelty-free crème consistency provides an easy application, suitable for pre-lightened or highlighted hair.
Developed in Italy by an expert team of chemists, this product ensures long-lasting color results without fading. A developer is necessary for use with the product, while it may require a lot of bleach for black hair to achieve the desired result.
Vibrant color that lasts
Easy application
No harsh chemicals used
Long-lasting results
May require bleaching before applying dye
Can have an unpleasant smell
Instructions are hard to read due to small print on packaging
Crazy Color Lavender Hair Dye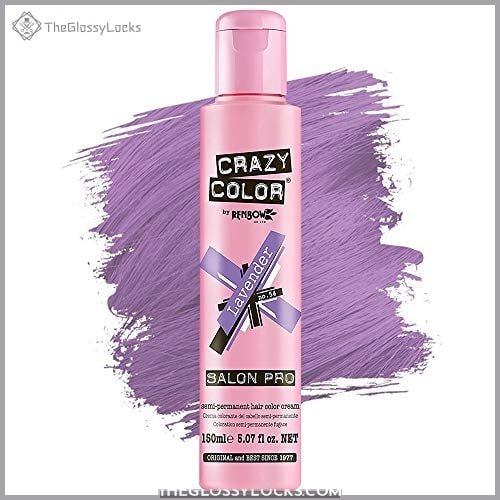 View On Amazon
You'll be in awe of the vibrant, dreamy lavender shade Crazy Color Hair Dye will give your hair! This semi-permanent, vegan, and cruelty-free dye is easy to apply on pre-lightened or bleached hair. It has a conditioning formula enriched with a triple oil complex (sunflower seed oil, avocado oil, and raspberry oil), offering long-lasting results without any harsh chemicals.
Mix it up for custom colors – from soft pastels to bold hues – and let your creativity run wild! The color may initially appear weak, but under certain lighting conditions, its vibrancy shines through.
For best results, ensure your target area is light enough. A dark blonde or brown base won't show much color payoff.
No harsh chemicals
Easy application
Enriched with oils for condition
Inconsistent results reported
Color may bleed after the first wash
May not effectively color grey hair
Manic Panic Violet Night Hair Dye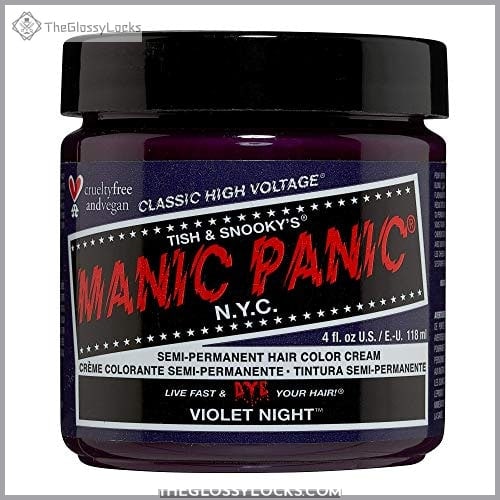 View On Amazon
Manic Panic's Violet Night Hair Dye offers a deep, cool purple tone that'll make your locks stand out. It's ready to use with no developer required. The vegan and cruelty-free formula is free from harsh chemicals like ammonia, parabens, gluten, and phthalates.
Achieve vibrant color results on pre-lightened or bleached hair by mixing multiple colors for endless possibilities.
This semi-permanent dye lasts four to six weeks before gradually fading away with proper aftercare. It's perfect if you want a temporary change of color without committing long term.
Vegan & Cruelty-Free Formula
Ready to Use – No Developer Required
Mixable Colors & Tones for Endless Shade Possibilities
Lasts 4–6 Weeks With Proper Care
May Stain Easily And Is Difficult To Remove From Surfaces
Directions Should Be Followed For Best Results
Frequently Asked Questions (FAQs)
What is the difference between lavender and lilac hair color?
Lavender and lilac hair color differ in their hues; lavender is a pale purple with a bluish tint, while lilac is brighter and has more of an orange or pinkish tinge. Choose the right shade for you based on your skin tone, desired intensity, current hair color level, and condition.
How long does lavender hair dye last?
Lavender hair dye typically lasts 10-12 washes, depending on the type of dye used and your aftercare routine. Darker dyes may last longer than lighter shades, while semi-permanent formulas tend to fade faster.
To prolong the color, use sulfate-free shampoos and conditioners, avoid hot water when washing hair, and touch up roots regularly.
How do I maintain my lavender hair color?
To maintain your lavender hue, use sulfate-free hair care products, wash with cool water, and regularly touch up roots. Invest in a color-depositing shampoo and consider consulting a professional for the best results.
Additionally, check workplace dress codes as some professions have restrictions on unnatural hair colors.
Is it possible to dye dark hair with lavender hair dye?
Yes! Dark hair can be dyed with lavender hair dye, although you may need to bleach it first. It is recommended to perform a strand test to determine if the dark hair will accept the color and how long it will last.
What is the best way to remove lavender hair dye?
To remove lavender hair dye, it's best to use a color-stripping shampoo. This is an effective method for freeing your strands from pigment without causing damage.
Conclusion
Finding the perfect lavender hair dye doesn't have to be a daunting task. With the right products and care, you can achieve an ethereal look that suits your individual style.
Whether you opt for a permanent or semi-permanent option, be sure to consider your hair health, current color, and skin undertone before taking the plunge.
Popular lavender hair dyes like ARCTIC FOX Periwinkle, Celeb Luxury Viral Colorwash, Revlon ColorSilk Digitones, Lime Crime Unicorn Hair Dye, Ion Permanent Brights, Crazy Color Lavender, Manic Panic Violet Night, and ADORE Creative Image all offer unique color payoff and conditioning ingredients to help keep your hair looking and feeling its best.
With the right product and care, you can achieve the best lavender hair dye look of your dreams!