This site is supported by our readers. We may earn a commission, at no cost to you, if you purchase through links.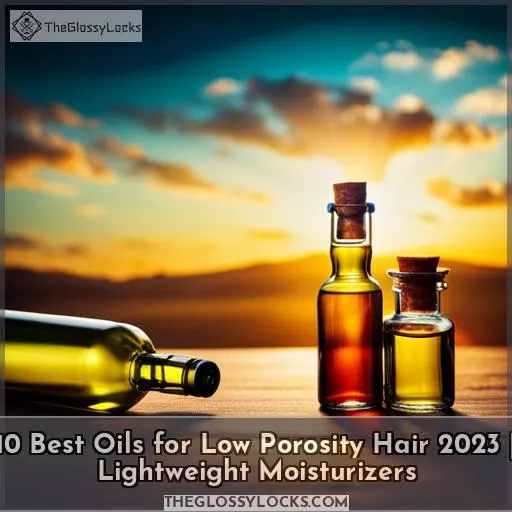 Do you feel that your hair is weighing down on you? Are all the products and treatments seemingly failing to nourish it? Chances are, if this has been a persistent issue for some time now, then chances are high that your hair may have low porosity.
It's time to break free from the heaviness of un-nourished locks – let us explore 10 best oils specially tailored for low porosity hair! From lightweight moisturizers such as Argan Oil and Grapeseed Oil to heavier options like Baobab oil and Fractionated Coconut oil, we've got just what you need in order to help liberate your mane into its true potential.
Join us as we explore the best oils available in 2023 specifically designed with LOW POROSITY HAIR in mind!
Key Takeaways
Lightweight oils like Argan Oil, Sweet Almond Oil, Grapeseed Oil, Baobab Oil, and Fractionated Coconut Oil are ideal for low porosity hair.
Argan Oil contains oleic acid and linoleic acid, which help seal in moisture and promote hair growth.
Sweet Almond Oil is packed with vitamins E and A, rejuvenating skin, hair, and nails.
Grapeseed Oil is rich in antioxidants and natural plant compounds, reducing frizz and breakage while enhancing shine and softness.
What is Low Porosity Hair?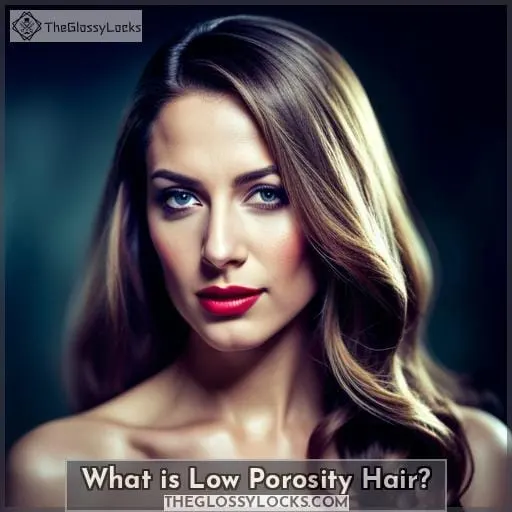 You have a unique hair texture that requires special care and attention, so understanding the porosity of your locks is key for keeping them healthy and nourished.
Low-porosity hair has tightly closed cuticles, making it difficult for oils and treatments to penetrate. To ensure essential nutrients reach the cortex of low-porosity strands, selecting lightweight oils such as argan oil, sweet almond oil, or safflower oil is ideal.
Handcraft Apricot Kernel Oil provides excellent hydration without leaving heavy residues behind, while Kate Blanc Cosmetics Argan Oil will restore damaged locks with its powerful moisturizing properties.
Viva Naturals Sweet Almond Oil adds shine, while Plant Therapy Fractionated Coconut Oil absorbs quickly into the scalp without leaving a greasy residue behind.
These are just some of the many options when considering which product best suits your individual needs! Understanding porosity types gives you better control over products used on low-porosity hair.
Why Does Hair Porosity Matter?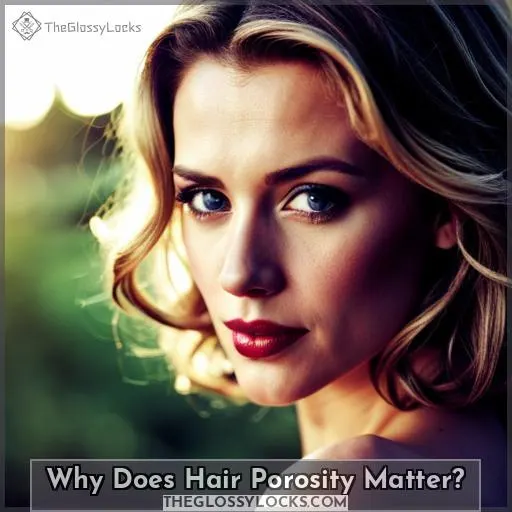 Understanding your hair porosity is essential for discovering the perfect products to keep it healthy and hydrated. Hair porosity refers to how much water or oil can penetrate a strand of hair, which could affect its texture, color, and overall health.
There are three levels of porosity: low (difficult to absorb moisture), medium (normal absorption rate), and high (easily absorbs moisture). Low-porosity hair has tightly closed cuticles that do not easily allow oils or treatments to penetrate the surface of the shaft.
Therefore, selecting an oil with low molecular weight is important in order for it to be absorbed into the strands effectively.
Lightweight natural oils like apricot kernel oil provide nourishment without leaving behind a greasy residue. They also infuse vitamins E & A into each strand, providing intense hydration benefits that aid in reducing brittleness, frizziness, and breakage associated with this type of texture.
With all these conditioning tips in mind, when selecting an appropriate lightweight moisturizing oil such as organic sweet almond, it will help ensure proper maintenance, giving your tresses what they need most – love!
Lightweight Oils for Low Porosity Hair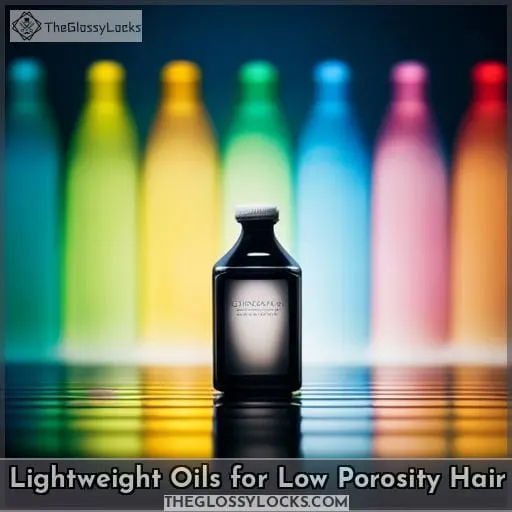 If you have low porosity hair, lightweight oils are essential for keeping it moisturized. Argan oil, sweet almond oil, grapeseed oil, baobab oil, and fractionated coconut oil are great options that can help nourish your hair and keep it looking healthy.
Argan Oil
Argan oil is an ideal option for moisturizing and nourishing low porosity hair, providing a silky smooth finish with no greasy residue. It contains oleic acid and linoleic acid, which help to seal in moisture, promote hair growth, boost scalp health, and reduce split ends.
Its light texture allows it to penetrate the hair shaft easily, while its high Vitamin E content gives it natural antioxidant properties that protect from damage caused by free radicals.
Additionally, argan oil also pairs well with jojoba oil, as they both have similar moisturizing power but different textures, making them great for sealed-in hydration on low porosity strands!
Numeric List:
Moisturizing Power
Texture
Greasiness
Argan Oil provides amazing benefits for those with Low Porosity Hair – restoring damaged strands back to life without overloading your locks or leaving behind any residual buildup!
Sweet Almond Oil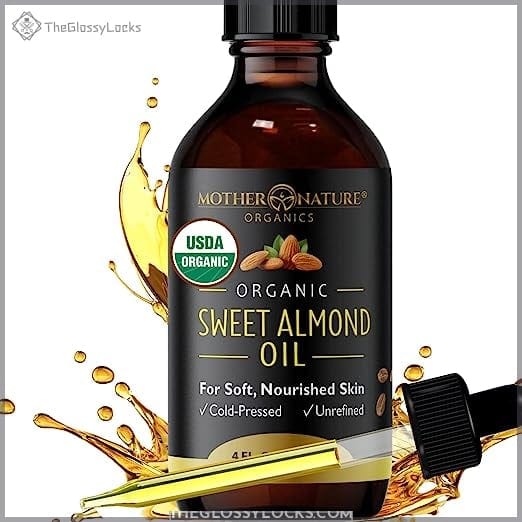 View On Amazon
Try Sweet Almond Oil to nourish, hydrate, and protect your hair from sun damage while adding a subtle sweet scent of almonds. This 100% pure, USDA Certified Organic oil is unrefined and cold-pressed to retain higher nutrient levels.
Packed with vitamins E and A, it rejuvenates skin, hair, and nails, providing anti-aging benefits that reduce fine lines, wrinkles, blackheads, scars, and dark spots. It rehydrates dry skin, offers long-lasting moisture, and protects from sun damage.
Additionally, it brightens uneven tones with its smooth, lightweight texture that absorbs easily. This oil won't clog pores, making it a perfect natural massage oil that relieves stress.
100% pure & organic
Retains high nutrient levels
Packed with vitamins E & A
Reduces fine lines & wrinkles
Scent may not be almondy enough
Leaves a greasy residue on the skin
Grapeseed Oil
Grapeseed oil is packed with antioxidants and natural plant compounds, making it a great choice for nourishing low porosity hair – up to 20 times more Vitamin E than olive oil! It helps reduce split ends and improves the elasticity of hair follicles.
Its light texture makes it non-greasy yet highly moisturizing, while its molecular weight ensures that active ingredients can penetrate deep into the cortex.
Benefits include:
Hydrating without clogging pores
Reducing frizz & breakage
Enhancing shine & softness
Rich in Vitamins A & E for skin rejuvenation
Grapeseed Oil has been known to be an effective moisturizing oil that does not leave residue; perfect for those who want their locks looking healthy and vibrant!
Baobab Oil
Baobab oil is a lightweight, moisturizing oil that helps relieve itchiness and makes your low-porosity hair soft and silky. It's easily absorbed into the scalp for deep nourishment, while its rich nutrition reduces split ends.
It also has anti-inflammatory benefits, making it great for those with sensitive skin or who suffer from dandruff or other scalp irritations.
Baobab care can be done in many ways. You can apply it directly to the hair as a pre-shampoo treatment, massage it into damp or dry strands, use it as an overnight mask, or add it to shampoo or conditioner before lathering up.
Fractionated Coconut Oil
Fractionated Coconut Oil is a popular choice for low porosity hair, providing hydration and protection without leaving an oily residue. Viva Naturals Sweet Almond Oil, Kate Blanc Cosmetics Organic Jojoba Oil, Plant Therapy Fractionated Coconut Oil, and Handcraft Apricot Kernel oil 100% Pure and Natural are all excellent lightweight oils that easily penetrate the hair shaft.
These oils offer SPF protection as well as moisturizing fatty acids, which can help keep your scalp healthy while nourishing it with natural supplements like vitamins A & E.
Best Oils for Low Porosity Hair
Discover the best oils for low porosity hair with this comprehensive guide. From Nutiva Organic Coconut Oil to Righteous Roots Rx Growth, you'll find an oil that meets your needs. Rich in vitamins and essential fatty acids, these carefully selected products nourish and protect the hair while improving manageability and shine.
Product: Nutiva Organic Coconut Oil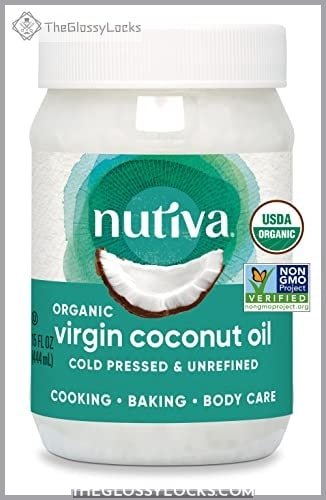 View On Amazon
Try Nutiva Organic Coconut Oil for a nutrient-dense, all-natural oil with an abundance of health and beauty benefits. This versatile oil is cold-pressed to retain its natural nutrients and contains 63% medium-chain triglycerides (MCTs) and 50% lauric acid that are beneficial for overall health.
It's perfect for cooking, baking, skincare treatments, or personal hygiene needs as it adheres to USDA certified organic guidelines without the use of dangerous chemicals or hexane.
Suitable for various diets such as vegetarian, vegan, raw food, paleo, ketogenic, and gluten-free, this product is made using sustainably farmed coconuts, ensuring premium quality standards! The creamy texture absorbs quickly into the skin, leaving no greasy residue while providing anti-aging properties due to its high vitamin A & E content, which also helps fight sun damage and minimize blemishes on your face! Plus, you get fast shipping and great customer service from Nutiva when purchasing this amazing product!
Naturally extracted nutrient-dense oil
Cold-pressed extraction process retains higher nutrition levels
Contains MCTs/lauric acid, making it an ideal addition in different diet plans, including vegetarian/vegan, etc.
No use of dangerous chemicals like hexane, etc.
Premium quality with quick absorption capabilities
Not cold-pressed, so not true coconut taste/texture felt by some users
Yellowish color might be off-putting at first glance
Can feel quite heavy on application
Product: Organic Babassu Oil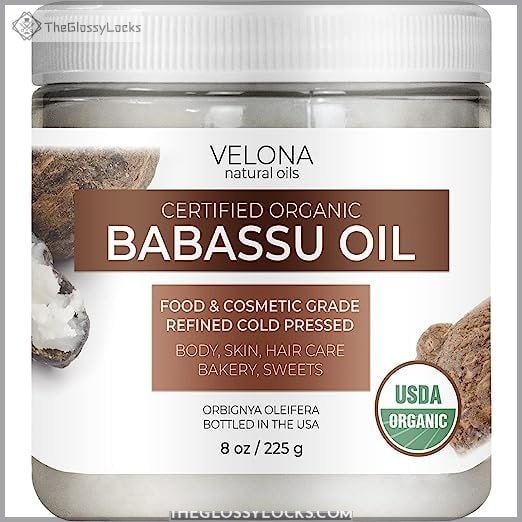 View On Amazon
Give your low porosity hair the nourishment it needs with Organic Babassu Oil from Velona. This oil is fast-absorbing and leaves a silky, non-greasy, moisturized feeling on the skin. It has a smooth and creamy texture with no detectable odor, making it suitable for sensitive skin.
Its versatility allows you to use it in homemade butters or as an alternative to coconut oil, perfect for those who prefer fragrance-free skincare products! Organic Babassu Oil can help reduce signs of early aging while protecting against sun damage and rehydrating dry skin.
With its thick consistency due to fatty acids content, this product helps reduce blemishes, acne scars, pimples, and fine lines—all without clogging pores.
Fast absorption
Suitable for sensitive skin
Can be used in homemade butters
Helps reduce early signs of aging
Protects against sun damage
May cause breakouts on some skin types
May make hair look greasy
Not life-changing for 4A & 4B low porosity hair
Product: Tropical Holistic Olive Oil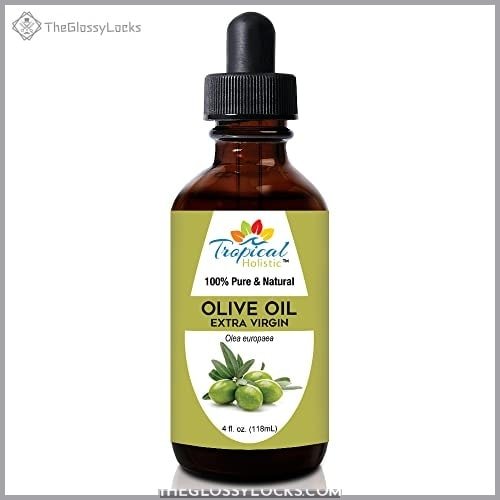 View On Amazon
Treat your hair with Tropical Holistic Olive Oil for deeply nourished and incredibly hydrated locks. This organic extra virgin olive oil is made from premium olives, grown without agricultural chemicals or impurities.
Sustainably sourced and minimally processed, this product is never tested on animals – meaning you can trust that it's of the highest quality. The heavy texture absorbs quickly into the skin without clogging pores or leaving behind any greasy residue; great news if you prefer fragrance-free moisturizers! With regular use, your hair will be left feeling soft to the touch while its natural shine will be restored in no time at all.
Unrefined & cold-pressed to retain higher nutrient levels
Rich in vitamins A & E for rejuvenating skin, hair, and nails
Rehydrates dry skin & protects against sun damage
Non-greasy texture with fast drying time
Pricey compared to other oils
No scent
Product: Organic Castor Oil Kit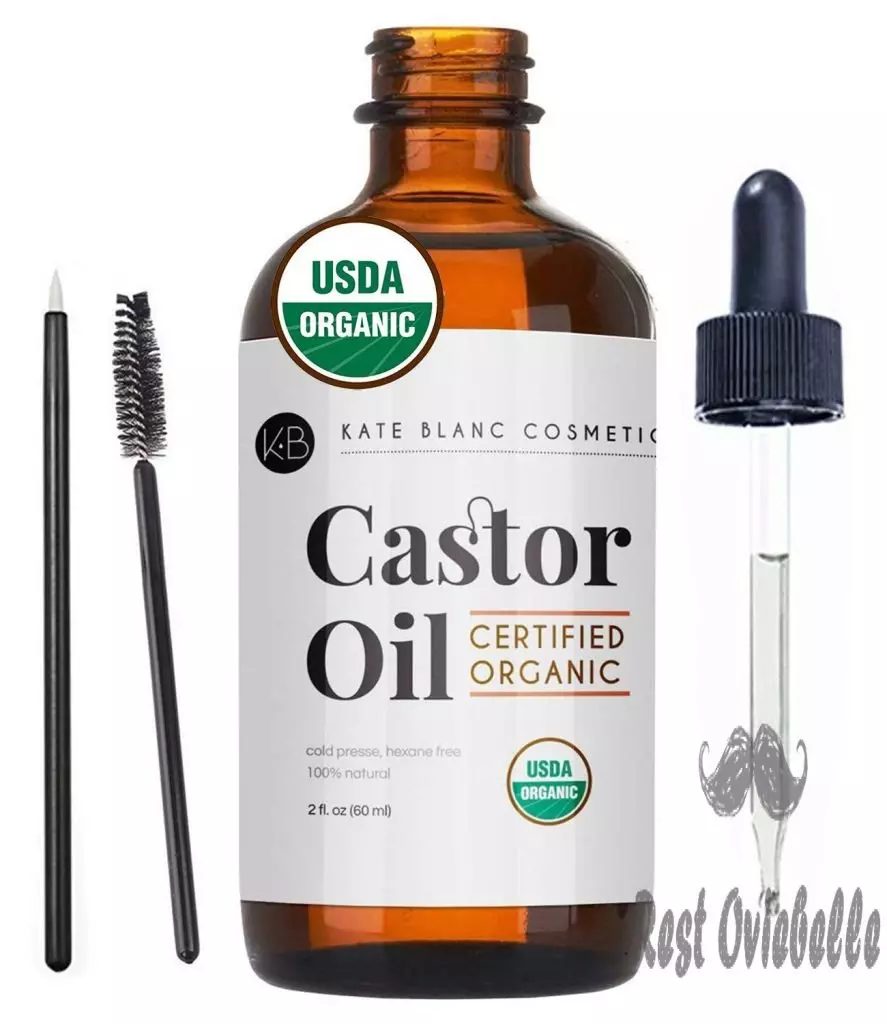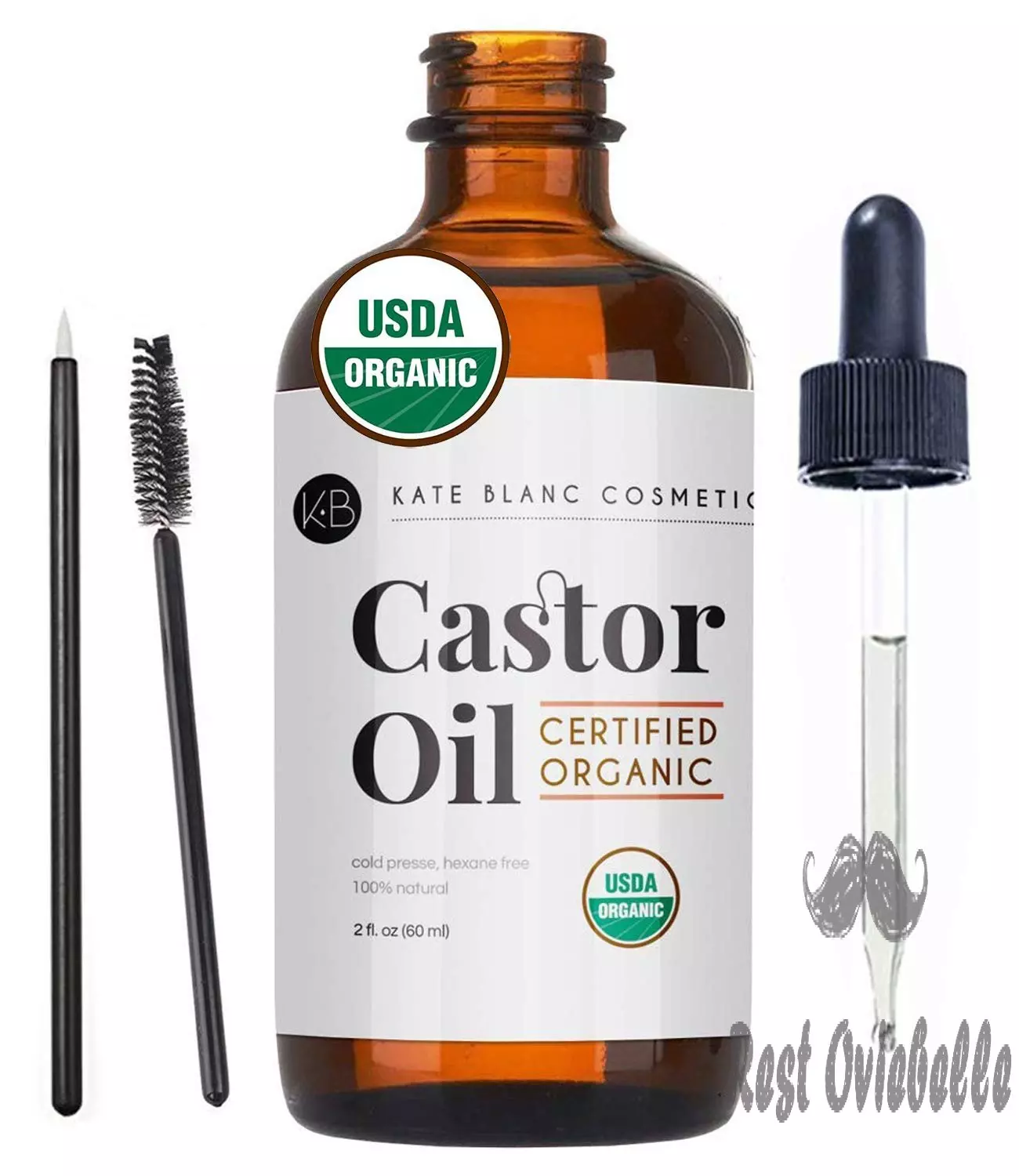 View On Amazon
The Organic Castor Oil Kit by Kate Blanc Cosmetics provides nourishment and hydration, leaving your skin feeling soft and smooth. This product is 100% authentic, pure, and natural. It's certified USDA organic and cold-pressed with no hexane added.
It comes complete with a convenient glass dropper for easy application. Not only does this oil promote eyelash and eyebrow growth, but it also stimulates hair growth while reducing hair loss – all without irritating sensitive skin! Additionally, the thick consistency due to moisturizing fatty acids helps reduce blemishes such as acne or pimples, along with scars or fine lines on the face too.
Plus, customers can trust in its quality as it has a one-year warranty plus a full refund guarantee to make sure you're always happy!
Nourishing & hydrating
Promotes eyelash & eyebrow growth
Stimulates hair growth & reduces hair loss
Reduces blemishes/acne/pimples, etc.
Thick texture may not be suitable for some people
Heavy scent could be overwhelming
Product: NOW Avocado Oil Moisturizer

View On Amazon
Try NOW Avocado Oil Moisturizer to keep your skin soft and supple without the greasy feel. This 100% pure liquid moisturizer absorbs quickly into the skin, leaving no residue behind for a smooth finish.
Its heavy texture is ideal for those with sensitive skin who don't want any fragrance added to their skincare routine.
It can also be used as a massage oil or even as an alternative body lotion or face cream! Rich in vitamins E and A, this product helps reduce blemishes and acne, while also helping fight against signs of aging like fine lines.
Heavy texture absorbs quickly into the skin
Leaves no greasy residue
No scent making it suitable for those with sensitive noses
Rich in Vitamins A & E which help reduce blemishes & acne
Sustainably sourced from certified organic farms
Not great at locking moisture
Glass dropper not ideal if spills are likely
Can leave an oily feeling on some people
Product: Organic Sweet Almond Oil
Organic Sweet Almond Oil, rich in Vitamin A and E, is an excellent choice to rehydrate dry skin and protect from sun damage. It acts as a natural massage oil with essential fatty acids that help with cell regeneration.
When selecting oils for low porosity hair strands, consider Handcraft Blends Apricot Kernel Oil. Its lightweight texture provides hydration while the nourishing benefits of sweet almond oil increase shine without greasiness.
Product: Organic Shea Butter Raw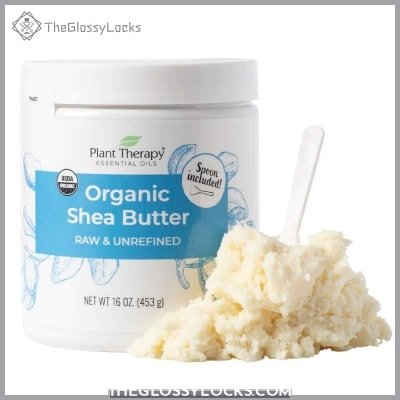 View On Amazon
Unlock the nourishing and moisturizing benefits of Organic Shea Butter Raw for your dry and damaged skin. This 100% pure, unrefined shea butter is made from premium quality African olives that are sustainably sourced and minimally processed.
With its smooth texture and no detectable odor, it's perfect for those with sensitive skin who prefer fragrance-free products.
It absorbs quickly into the skin without leaving a greasy residue or clogging pores.
Additionally, it's excellent to use in DIY lotions, creams, balms, or soap making due to its thick consistency, which helps lock moisture into your hair follicles, reducing frizziness, split ends, and scalp damage too!
Rich in Vitamins A & E along with other nutrients
Perfect choice for those with sensitive skin
Absorbs quickly without leaving any greasy residue
Retains moisture, aiding in the reduction of frizziness and split ends
Suitable option when creating homemade beauty treatments such as soaps, lotions, balms, etc.
Heavy texture may not suit some users
Not suitable if looking for an unscented product
Product: US Organic Grape Seed Oil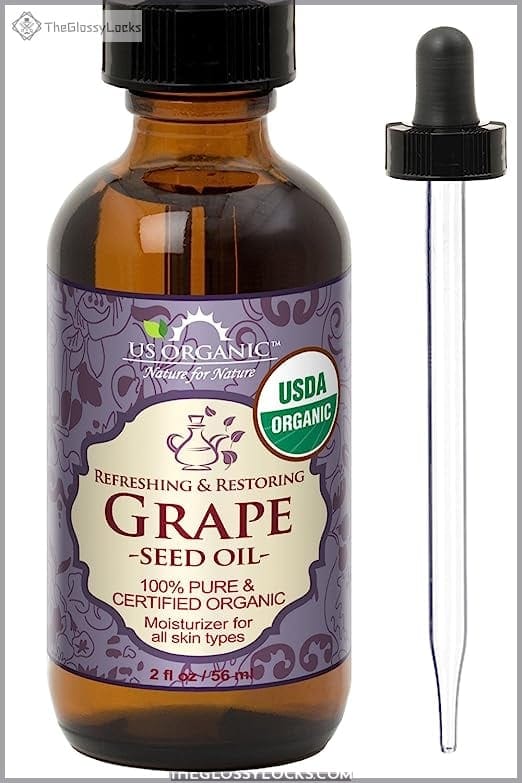 View On Amazon
US Organic Grape Seed Oil will nourish and hydrate your skin like a blanket of warmth, leaving it feeling soft as silk. Certified by the USDA for authenticity and quality, this oil is extracted using the cold-pressed method from premium quality grapes sourced from Turkey, Argentina, Chile, France, or Italy.
It contains essential fatty acids such as Oleic (C18:1) and Linoleic (C18:2), which are beneficial to both hair and skin health. Rich in antioxidants and natural plant compounds, it has a high smoke point of 420°F, making it suitable for cooking at higher temperatures without compromising on taste or nutrition.
Its versatility doesn't stop there; it can be used as a massage oil due to its light texture that won't leave you feeling greasy afterwards nor clog pores. This makes it perfect for all skin types, including oily ones! Protecting itself through an amber glass bottle keeps away any damage coming from air exposure or sunlight, ensuring each application provides maximum benefit every time.
USDA certified organic & 100% pure
Contains essential fatty acids
High smoke point of 420°F
Lightweight texture
Non-comedogenic
Amber glass bottle protection
Expensive compared to other oils
Not tested on animals
Product: RAW Organic Wheat Germ Oil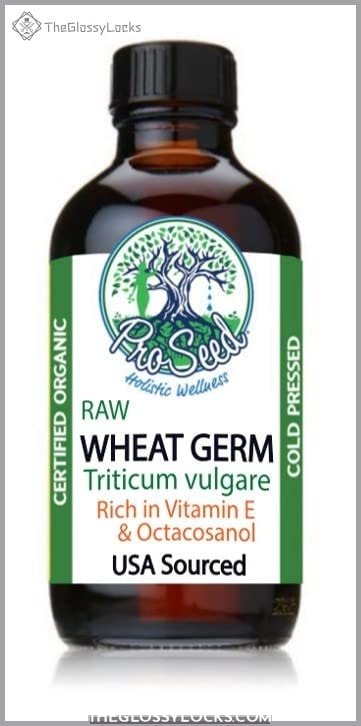 View On Amazon
RAW Organic Wheat Germ Oil is a nutrient-packed oil, extracted from the germ of the wheat kernel and cold-pressed to maintain its natural goodness. It is certified by NAHA (National Association for Holistic Aromatherapy) and is packaged in an amber glass bottle with a twist cap closure – no dropper or spout included.
The oil contains essential proteins, fiber, vitamins, minerals, and fatty acids that have numerous skin benefits when used externally or internally as part of your holistic approach to health.
The oil has an earthy scent, making it unsuitable for daytime use or crowded environments. However, it absorbs quickly into the skin without clogging pores. Its nourishing properties make it ideal for moisturizing dry hands and cuticles.
Additionally, it can improve overall complexion by treating rashes, acne flare-ups, or itching caused by dryness.
Unrefined cold-pressed oil
Rich in antioxidants and plant compounds
Loaded with essential nutrients
Suitable for sensitive skin
Dark glass bottle packaging
Earthy smell not suitable for daytime or crowded areas
No dropper/spout included
Product: Righteous Roots Rx Growth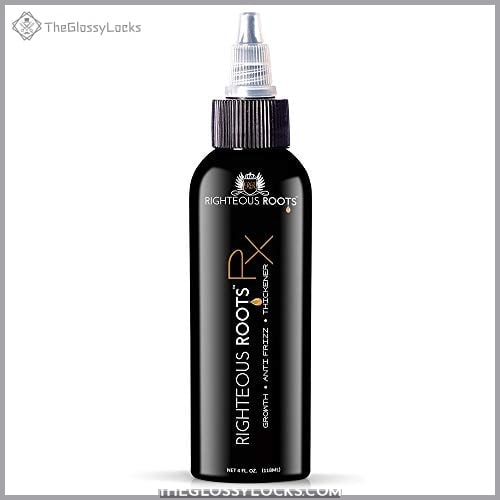 View On Amazon
Righteous Roots Rx Growth is a nourishing and moisturizing oil blend that helps promote healthy hair growth, reduce breakage and frizz, and provide SPF protection. This product contains an expertly blended combination of natural oils, including Rosemary oil for promoting hair growth, Peppermint oil which offers SPF protection for the scalp, Coconut Oil to soften gel cast and smooth split ends, as well as promote easy detangling with reduced frizziness.
Jamaican Black Castor Oil strengthens roots while Olive Oil hydrates without leaving any greasiness or heaviness behind. Avocado Oil adds moisture along with Grapeseed, which provides antioxidant benefits.
Tea Tree oil has antiseptic properties that help fight infection on the scalp, while Jojoba scavenges free radicals from the skin to minimize aging effects of pollution.
Promotes Hair Growth & Reduces Breakage & Frizz
Provides UV Protection
Non-Greasy Formula With Various Oils For Maximum Hydration And Moisture Retention
May Make The Hair Appear Greasy If Too Much Product Is Used
Not A Game Changer For Everyone
How to Use Argan Oil for Low Porosity Hair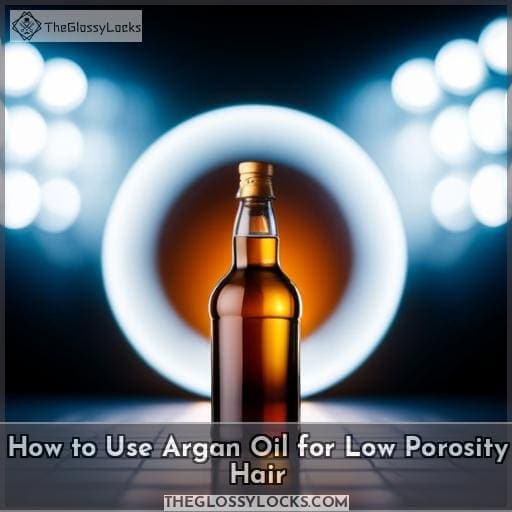 Argan oil is the perfect choice to nourish and hydrate your low porosity hair – its natural antioxidants restore life to dull, damaged locks. The moisturizing benefits of argan oil are ideal for locking in moisture, while its sealing properties help keep it from evaporating away.
Essential oils such as lavender, rosemary, and peppermint can also be added for additional hair care benefits. For best results, use a deep conditioning treatment with Kate Blanc Cosmetics Argan Oil. Follow it up with an avocado or camellia oil-based leave-in conditioner before styling your hair.
To maximize the hydrating effects of this combination, try using it once a week. Apply it on dampened strands after shampooing and let it sit overnight before rinsing out completely in the morning.
In addition to regular treatments, you can also massage some argan oil into the scalp when washing to remove product buildup.
What Are the Best Essential Oils for Low Porosity Hair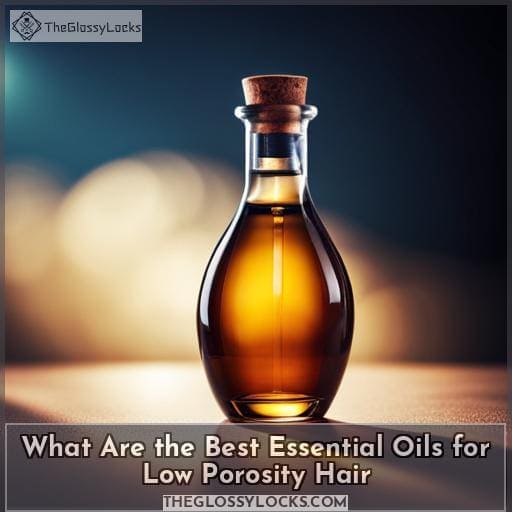 You can use essential oils like lavender, rosemary, tea tree, and peppermint to help keep low porosity hair hydrated and nourished. These lightweight oils are ideal for penetrating the hair shafts of those with this type of hair.
Lavender oil helps protect against sun damage while also promoting good scalp health; it's a great choice for dry or damaged locks.
Rosemary oil has antiseptic properties that make it perfect for treating flaky scalps; its moisturizing effects provide deep conditioning benefits as well.
Tea tree oil is known to reduce dandruff buildup in the scalp while peppermint adds shine and softness to dull strands. These four essential oils are an excellent combination when used together on low-porosity hair types.
Apricot kernel oil is another option that provides intense moisture without being greasy or heavy – perfect if you want a natural product that won't weigh down your locks!
A blend containing argan oil will offer protection from UV rays and add extra hydration too, giving you lusciously healthy-looking tresses!
How to Apply Oil to Low Porosity Hair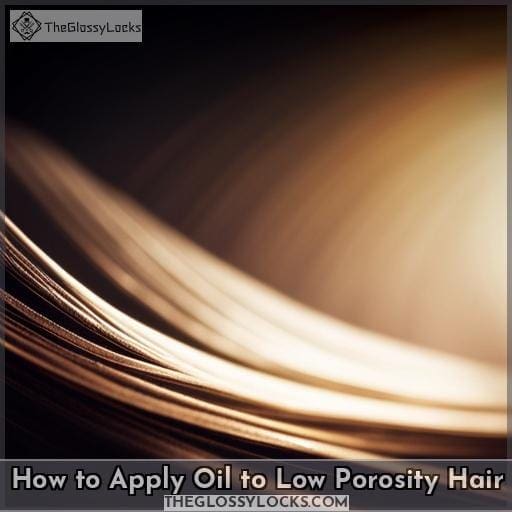 To maintain the health of your low porosity hair, it's important to apply oil regularly. Studies have shown that up to 80% of individuals with this type of hair found noticeable improvements after using oils.
Here are five steps for applying oil effectively:
Use a light and non-greasy oil, such as Argan Oil, which can penetrate the hair shafts better than heavy oils like Castor Oil or Shea Butter.
Massage the scalp in circular motions while conditioning it with natural essential oils, such as Lavender Essential Oil, Rosemary Oil, Tea Tree Oil, and Peppermint Oil.
Apply styling products sparingly so they don't weigh down your locks or block moisture from entering them.
Apply an even coat onto dampened strands before blow-drying or heat styling. This will seal in moisture without leaving an oily residue behind!
Opt for clarifying shampoos once a fortnight to remove product buildup from roots and restore their structure back to normalcy.
Moisturizing dry scalps by using lightweight argan oil helps improve overall texture.
Difference Between Moisturizing Oil and Sealing Oil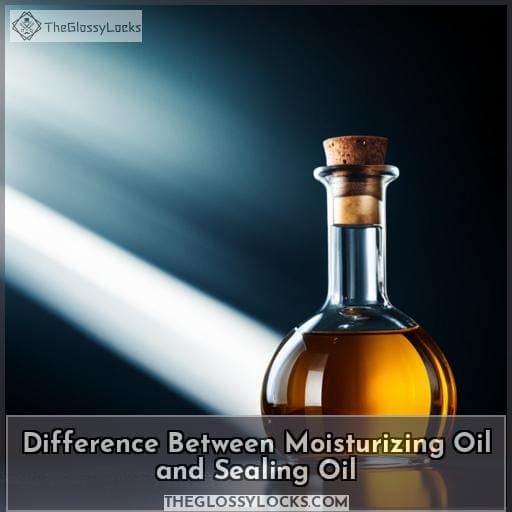 Understanding the difference between moisturizing and sealing oils is essential to effectively nourish low-porosity hair. Moisturizing oils help retain moisture in the hair, while sealing oils form a coating around it that locks in hydration.
Choosing appropriate oil for your specific hair porosity and type can make a huge difference when caring for low-porosity tresses. When selecting an oil, consider factors such as its moisturizing power, texture, greasiness, and overall effect on your strands.
Lightweight natural oils like argan oil or jojoba are great options as they have smaller molecules which penetrate deeply into the cortex of each strand, providing maximum hydration without leaving behind any residue.
For best results, choose lightweight organic formulas that will not only add tons of moisture but also seal it further inside so you can get lasting benefits from every application!
Shampoos for Low Porosity Hair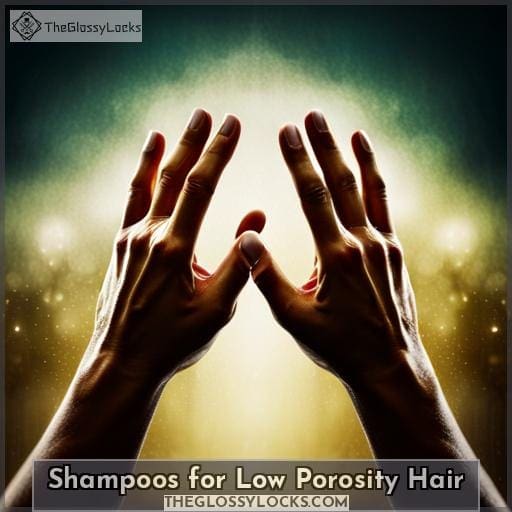 Regularly using clarifying and deep conditioning shampoos can help low porosity hair absorb moisture better. To maximize the benefits of these cleaning products, it's important to select ones that are tailored for this type of hair.
The types of oils used in the product.
Deep conditioning properties.
Ability to retain moisture.
Hair growth stimulation through vitamins or nourishing ingredients like sealing oil.
Lightweight oils such as jojoba, olive, argan, coconut, or avocado help penetrate the cuticle layer without weighing down strands. They also provide essential nutrients like antioxidants and fatty acids, which nourish follicles from root to tip, promoting a healthy scalp and natural shine.
Product selection should take into account any existing damage – adding extra steps with masks/treatments if needed – but overall, look for lightweight formulas that offer both cleansing and moisturizing benefits best suited for low porosity hair type!
Frequently Asked Questions (FAQs)
What is the difference between low-porosity and high-porosity hair?
Low-porosity hair is like a fortress, impervious to moisture and treatments, whereas high-porosity hair is more porous and open, allowing for easy absorption of oils.
How often should I oil my low-porosity hair?
Oil your low-porosity hair regularly to keep it healthy and hydrated. Experiment with different oils, including lightweight ones like sweet almond oil, argan oil, and jojoba oil.
What are the benefits of using oils for low-porosity hair?
Oils can help to deeply condition and moisturize low-porosity hair, reducing dryness, breakage, brittleness, and frizz. They also lock in moisture for improved manageability and shine while nourishing the scalp.
How can I tell if an oil is suitable for low-porosity hair?
Look for lightweight oils that can easily penetrate the hair shaft and be sure to check labels for 100% pure, cold-pressed ingredients.
Are there any other treatments that can help low-porosity hair?
While oils are great for low-porosity hair, other treatments like deep conditioning and clarifying shampoos can help as well. Regular washing is also key to prevent product buildup, which can weigh down the hair and strip it of its moisture.
And don't forget regular oiling! Lightweight oils that penetrate easily will keep your locks hydrated without feeling greasy or weighed down.
Conclusion
It's no secret that low porosity hair can be difficult to manage. The cuticles are tightly closed, making it difficult for oils and treatments to penetrate.
From Argan Oil to Sweet Almond Oil, these oils are rich in omega-3 fatty acids and have a light texture, making them suitable for low porosity hair. These oils can help promote hair growth, reduce hair loss, and reduce frizz and split ends.
For best results, look for 100% pure, cold-pressed oils that are specifically designed for low porosity hair. With the right products and proper care, you can keep your hair looking and feeling healthy and hydrated.