This site is supported by our readers. We may earn a commission, at no cost to you, if you purchase through links.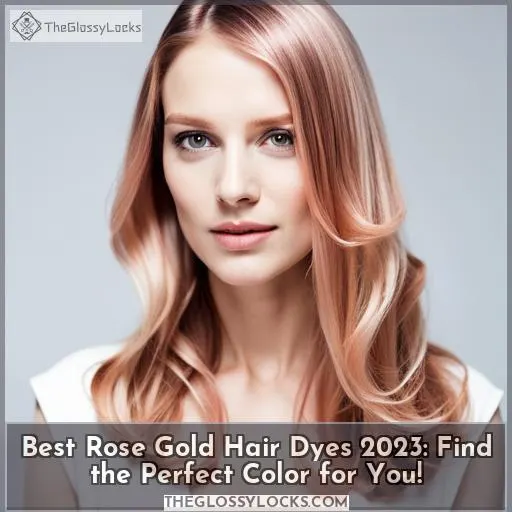 Are you looking to add a little more sparkle and pizzazz to your hair this year? Rose gold hair color is the trendiest hue of 2023, with everyone from Bella Hadid to Emily Ratajkowski rocking it.
Lucky for you, we've put together a comprehensive list of our top 8 best rose gold dyes so that achieving that glamorous look will be easier than ever! Get ready as we take an in-depth journey through all things rose gold—from how to choose the right shade and product, tips on dyeing at home without bleaching or fading quickly, and much more!
So if you're after dazzlingly beautiful tresses in one of 2021's hottest hues – keep reading!
Key Takeaways
Rose gold hair combines pink, red, and blonde shades for an effortless look.
Undertones, products, and professional advice are important for achieving desired results on all hair types.
Patch test products and seek professional advice before dyeing.
Use sulfate-free shampoo and color-depositing conditioners to maintain the vibrancy and longevity of the rose gold color.
What is Rose Gold Hair Color?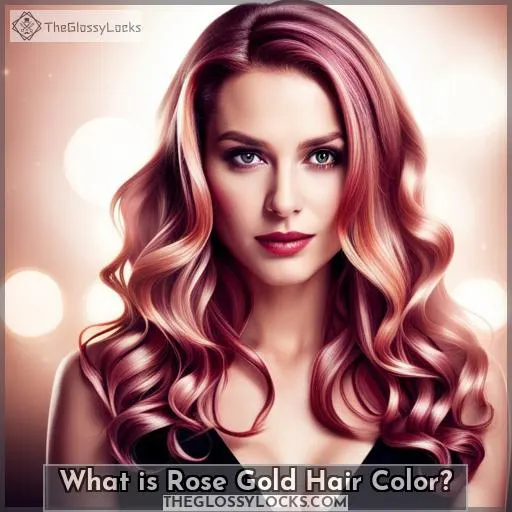 Discover how the perfect shade of rose gold can make you stand out, no matter your skin tone or hair type. Rose gold is a popular trend that combines pink, red, and blonde shades for an effortless look.
With different undertones to consider and various products available on the market, it's important to ensure your hair care routine includes sulfate-free products with color protection properties. Seek professional advice if needed and patch test each product before use to achieve safe results that suit all types of complexions and hair colors.
From fair/light tones through medium hues up until deep ones, brunettes can easily achieve a hint of rose gold without fully changing their hue.
How to Choose the Best Rose Gold Hair Dye for Your Hair?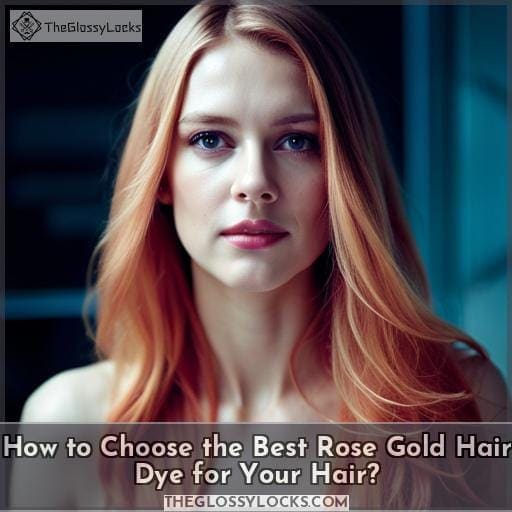 Choosing the right rose gold hair dye for your unique look can be daunting, so it's important to consider your natural hair color, desired shade, and duration of color before diving in.
To make sure you are getting the best results possible, here are a few tips:
Firstly, patch testing is essential – especially if you have sensitive skin or scalp.
Secondly, seek professional advice when necessary. Experts know all about different shades of dyes and how they work with various types of hair.
Lastly, always use conditioner after dyeing to ensure protection from fading or damage due to sun exposure or heat styling products.
Remember that these colors may need more than one application depending on their depth and hue intensity.
With the right product selection and proper care techniques, such as minimal heat usage along with using sulfate-free shampoo/conditioners specifically designed for dyed colored treated hair, will help keep those beautiful rose gold locks looking gorgeous longer!
Top 8 Best Rose Gold Hair Dyes
Are you looking to make a bold statement with your hair color? Rose gold is the perfect shade for those who want to stand out and show off their unique style.
From Ion's Rose Quartz Hair Color, L'Oreal Paris Colorista Spray, Clairol Natural Instincts Hair Dye, MiseenScene Hello Bubble Foam Color, IROIRO Pastel Rose Gold Hair Color to OUAI UV Heat Protection Oil and Sparks Long Lasting Bright Hair Colors – there are plenty of options when it comes to achieving that beautiful rose gold hue!
Pravana Chromasilk Vivids also provides vibrant shades of rose gold that last longer than ever before.
1. Ion Rose Quartz Hair Color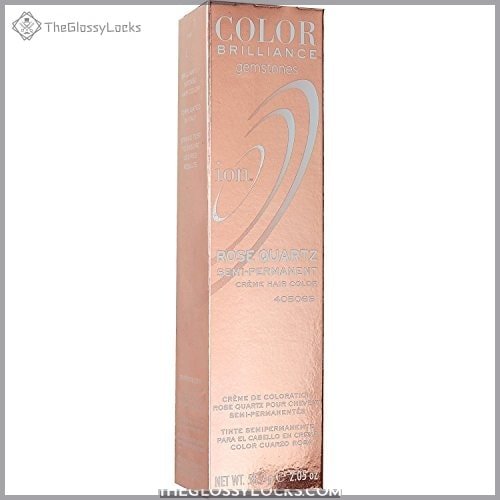 View On Amazon
Ion Rose Quartz Hair Color is a brilliant, ammonia- and peroxide-free choice for achieving an intense rose gold hue.
This vibrant shade will give your hair a silky smooth finish with plenty of shine. Plus, it's gentle enough on all types of hair that it won't cause any damage during application.
For those wanting to make a statement without the commitment of permanently dyeing their locks, Ion Rose Quartz Hair Color is perfect!
No ammonia or peroxide
Ready to use
Vibrant color and shine
Not suitable for dark tones
May require lightening prior
2. L'Oreal Paris Colorista Rose Gold Spray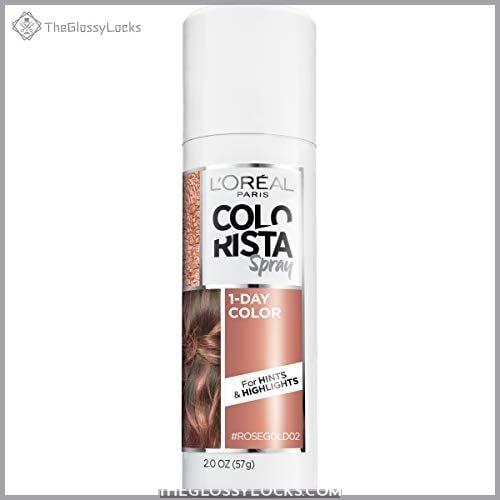 View On Amazon
With L'Oreal Paris Colorista Rose Gold Spray, you can express your inner wild child in the most whimsical way! This versatile temporary hair color spray is quick and easy to apply while being gentle on your hair.
It features pure pigments for bold colors and offers a range of vibrant hues from bright blues to pastels and golds. The color will wash out after one day of wear. Whether you're looking for something fun for Halloween or simply want an extra pop of color at music festivals or sporting events, this product has got you covered without any long-term commitment.
Quick and easy to apply
Gentle on hair
Features pure pigments for bold colors
Washes out after one day
Not permanent
No gray coverage
3. Clairol Natural Instincts Hair Dye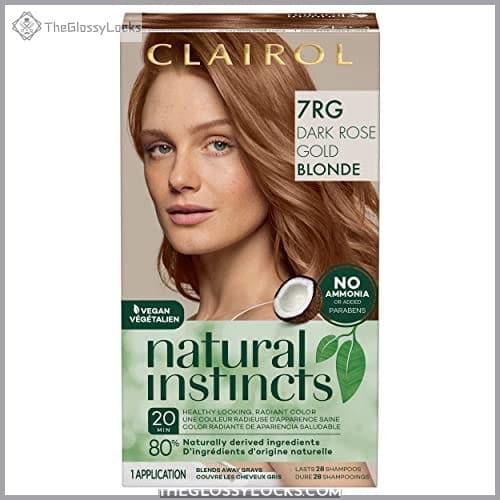 View On Amazon
For an easy-to-use, no-drip cream formula that blends away gray hairs and boosts shine for radiant, healthy-looking hair, Clairol Natural Instincts Hair Dye is a great option.
With 38 shades of blonde, brown, black, and red to choose from, this demi-permanent dye provides the perfect touch of color without any added ammonia or parabens.
The coconut and aloe vera in the dye leave your hair feeling nourished after each application while still maintaining its natural texture.
Plus, it lasts up to 28 washes, so you don't have to worry about frequent reapplication!
It's no surprise why this product has such high ratings – it offers everything you need for beautiful rose gold hues with long-lasting effects!
Easy-to-use cream formula
No ammonia or added parabens
Contains coconut and aloe vera
Lasts up to 28 washes
Limited shade selection
May require multiple applications depending on the desired effect
4. MiseenScene Hello Bubble Hair Color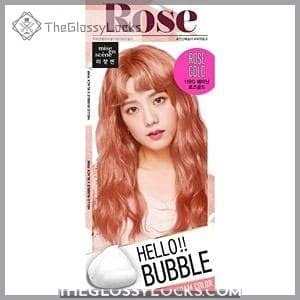 View On Amazon
Mise En Scene Hello Bubble Foam Color is the perfect way to achieve vibrant and long-lasting rose gold tones with its luxurious, bubbly formula that will leave your hair feeling softer than ever before! This do-it-yourself hair coloring kit ensures even application and coverage for all types of tresses.
It comes with a set of gloves and cape, as well as nourishing ingredients to minimize any damage during the process.
You can trust this product's bubble foam formula for an easy yet professional result without having to go out of your house. Its range in colors includes bright blues, pinks, reds, purples, pastels, silver, and gold – perfect for those who want an eye-catching new look on special occasions such as Halloween, sports events, music festivals, or themed parties but don't want it permanently just yet.
Easy Do-It-Yourself bubble foam hair coloring
Provides even application & coverage
Offers a wide range of vibrant colors
Nourishes & minimizes damage
Color may not show up properly if bleaching is insufficient
May wash off within 1 week if bleaching is insufficient
5. IROIRO Pastel Rose Gold Hair Color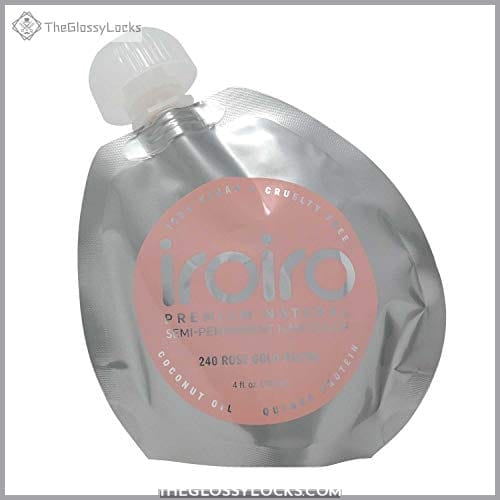 View On Amazon
IROIRO's Pastel Rose Gold Hair Color is a cream-based hue that gives your hair an alluring rosy tint while protecting it from damage. The dye is formulated without ammonia or peroxide, and it gradually fades into the natural color of your hair over the course of three weeks.
The formula also contains coconut oil, which nourishes and protects the strands, leaving them softer and shinier. With its great saturation and thickness, you can achieve vivid results with just one application, as long as you have fully bleached or lightened your hair beforehand.
To avoid any initial orange tones, it's recommended to wait at least 48 hours before washing out the dye.
Creamy formula provides even coverage
Lasts up to 3 weeks when used correctly
No ammonia or peroxide required
May require prelightening prior to use
Orange tones may appear initially
Difficult to remove if not applied properly
6. OUAI Hair Oil UV Heat Protection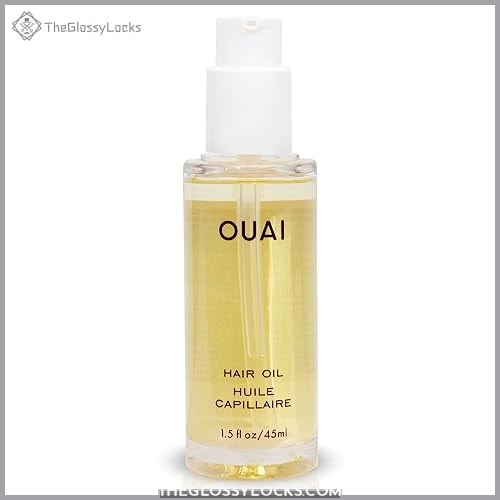 View On Amazon
Try the OUAI Hair Oil for luxurious protection and nourishment to help keep your rose gold hair color vibrant. Formulated with African galanga, ama, and Asian borage oils, this lightweight oil helps to protect from fading while taming frizz and split ends.
Apply 1-3 drops of the 45ml bottle onto wet or dry hair after a blowout for a sleek finish that won't leave it feeling greasy or heavy.
Customers have praised this product's effectiveness in making their locks soft while also providing an alluring scent reminiscent of fresh flowers! It can even be used as an overnight mask for extra hydration without sulfates added – perfect before styling your new look!
Lightweight formula
Protects against heat damage & UV exposure
Tames split ends & frizz
Adds shine
Not suitable for those with nut allergies
Results may vary depending on individual's hair type
7. Sparks Rose Gold Hair Color

View On Amazon
Unleash your inner goddess with Sparks' Rose Gold Hair Color, a long-lasting paste that conditions as it colors for healthier locks. This cruelty-free and ammonia-free formula is easy to use and doesn't require a developer.
Reviews praise its fantastic bright color that's also easy to apply and lasts longer than expected. Positive customer reviews guarantee you'll be happy with this purchase before you even open the jar! And don't worry about damaging your hair – this product will leave it stronger and healthier-looking than ever before.
Discover what all the fuss is about by trying Sparks' Rose Gold Hair Color today!
Ammonia-free
No developer needed
Conditions hair as it colors
Limited shade range
Messy application process
8. Pravana Chromasilk Rose Gold Hair Color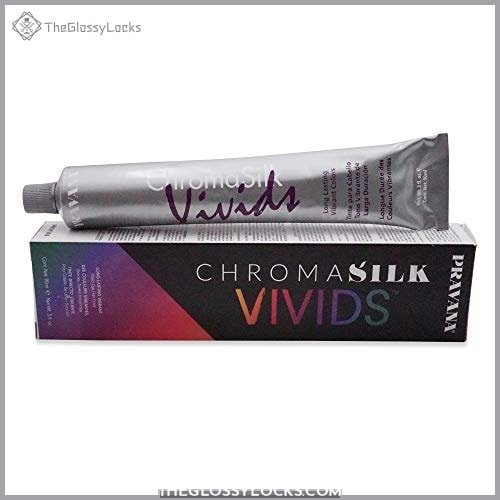 View On Amazon
For vibrant, long-lasting rose gold color, give Pravana Chromasilk Hair Color a try! This luxurious hair dye provides an all-over rose gold hue that is perfect for any hair type. It can be used on both natural and previously colored tresses. Formulated with silk amino acids, it provides shine and softness to the ends of your hair.
Easy to apply at home or in the salon, its no-drip creme formula ensures even coverage without damaging your locks. Say goodbye to gray hairs and hello to gorgeous new hues with beautiful results.
Provides a beautiful rose gold hue
Gives vibrant and long-lasting results
Contains Silk Amino Acids for added shine and softness
Results may vary depending on starting color and condition
Follow instructions carefully and perform strand tests before use
How to Dye Your Hair in Rose Gold at Home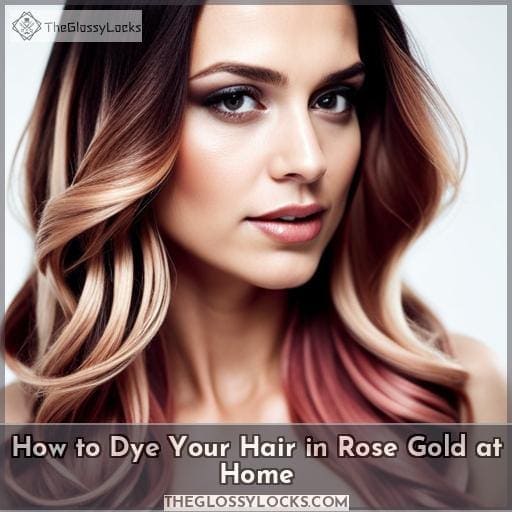 You can easily transform your hair into a vibrant rose gold hue at home with the right products and techniques.
Get professional advice – Before bleaching or dyeing your hair, it's important to consult a professional stylist for their opinion on the best approach and product selection for achieving rose gold hair color.
Do strand testing – Patch-testing is essential before applying any kind of bleach or ammonia-free formula onto your scalp as allergic reactions may occur if not done properly beforehand.
Choose an ammonia-free dye – Look out for formulas that don't contain damaging ingredients such as peroxide or ammonium hydroxide, which can cause irritation when applied directly to the skin, especially around the face area.
Protect from fading – To make sure that the color stays vibrant longer, use sulfate-free shampoo and conditioner combined with heat protectants when styling in order to prevent fade due to UV ray exposure, leaving you feeling confident about rocking those colorful locks! Popular brands like Kenra Rose Metallics offer permanent shades, while Clairol Natural Instincts Semi-Permanent offers up to 28 washes of shine-boosting pigments, perfect for reviving dull-looking tresses!.
How Long Does Rose Gold Hair Dye Last?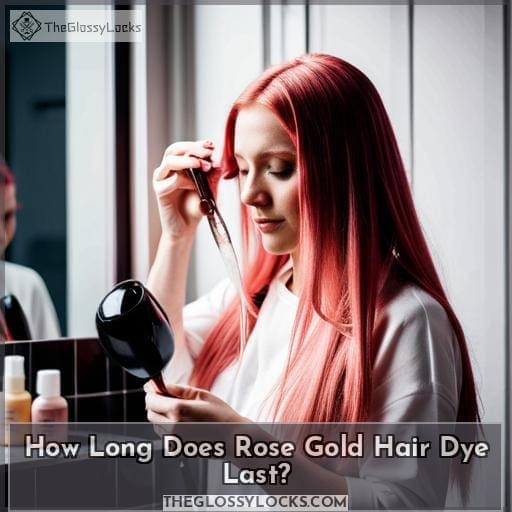 With your natural hair color, desired shade, and duration of color in mind, rose gold hair dye can last anywhere from 15 to 28 washes or four to six weeks. However, it may fade into blonde, coral, or brown depending on the lightness of the bleach used.
To make sure you are choosing a quality product that will give you optimal results while protecting your locks against fading and damage, choose ones with:
Ammonia-free formulas
Natural ingredients for conditioning
Professional advice for best results
A permanent option like Schwarzkopf Igora Royal Pearlescence Pastel Hair Color is formulated without ammonia and lasts up to eight weeks.
For temporary dyes, try out Mise En Scene Hello Bubble Foam Color, which gives vibrant colors quickly without damaging your tresses.
Don't forget that professional advice should be taken before any drastic changes as this could save time and money – ultimately helping maintain those gorgeous locks for a longer period!
Can I Dye My Hair Rose Gold Without Bleaching It?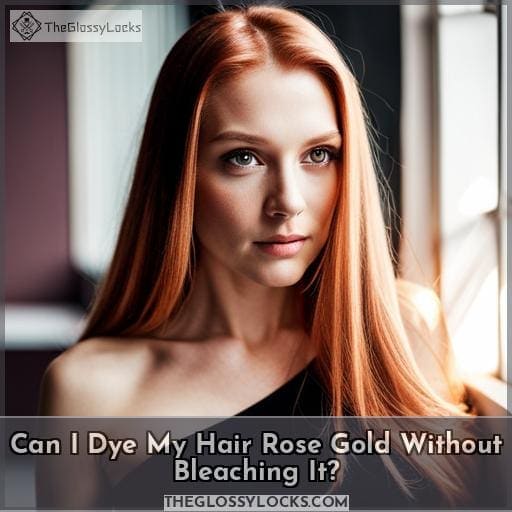 Although bleaching is typically necessary to achieve a true rose gold color, it's possible to get close without taking such drastic measures. If you want subtle and chameleon-like qualities, then consider dyeing your hair in lighter shades with some of the best brands for rose gold that offer permanent or semi-permanent dyes.
These include L'Oreal Paris Colorista Spray, Clairol Natural Instincts Hair Dye (Dark Rose Gold Blonde), Sparks Long Lasting Bright Hair Color, Pravana Chromasilk Vivids Rose Gold Hair Color, and Ion Brilliance Permanent Brights Crème Hair Color (Rose Quartz).
For darker hair colors like brown or black, opt for more vibrant options like Mise En Scene Hello Bubble Foam Colour in Rose Gold.
All these products come packed with nourishing ingredients that help keep your tresses healthy while giving them beautiful hues at the same time! To maintain your look over time, ensure to use color-protecting shampoos and conditioners, as well as avoiding heat styling tools which can cause fading of the dye sooner than expected.
Lastly, follow proper hair care techniques by having regular trims every 6-8 weeks so you can enjoy a gorgeous rose gold hue all year long!
Does Rose-gold Hair Fade Quickly?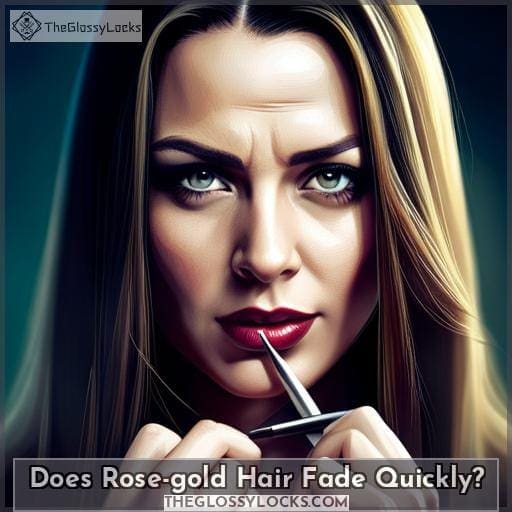 Rose gold hair is a stunning and vibrant hue, but it does fade over time. How quickly the color fades depends on several factors such as heat styling, bleaching level, gray coverage needs, and which type of rose gold dye you use.
Permanent dyes can last anywhere from 15 to 28 washes depending on the brand like Wella Color Touch or Kadus Permanent Hair Color. Semi-permanent dyes may only last up to 8 weeks before fading out slowly as they don't penetrate into your hair's molecular structure like permanent colors do.
Temporary rose gold coloring products often wash off with just one shampoo–perfect for those who want an occasional change without commitment! To keep your color looking lustrous longer, try avoiding heat styling tools that could damage your strands and strip away color molecules faster than usual.
Additionally, protect against sun exposure by wearing hats or using UV protection sprays when outdoors for extended periods of time.
How Do You Get Rose Gold Tint in Your Hair?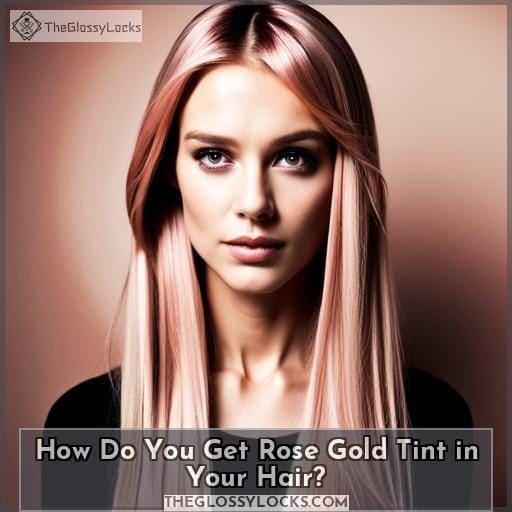 Curious if brunettes can go rose gold and wondering how to maintain the color? Rose gold hair is a gorgeous combination of pink, red, and blonde tones that anyone can rock – no matter their natural hair color.
With the right shade for your skin tone, you'll be able to achieve a beautiful rose tint in your mane with long-lasting results.
Can Brunettes Go Rose Gold?
You can easily achieve rose gold hair as a brunette by lightening your hair and applying a tinted gloss. With careful application, you can get long-lasting color that lasts up to 8 weeks! Use ammonia-free dyes such as L'Oreal Paris Colorista Spray, Clairol Natural Instincts Hair Dye for Dark Rose Gold Blonde, or Ion Color Brilliance Permanent Brights Creme Hair Color in Rose Quartz for best results.
Don't forget to use thermal protectors like OUAI Hair Oil UV Heat Protection and finish with color depositing conditioners like Khloé Kardashian's Platinum Blonde Conditioner for added protection against fading.
For temporary options, try Mise En Scene Hello Bubble Foam Colour or L'Oreal Paris Superior Preference 1 Day Washable Colour Spray in Rose Gold – perfect if you're looking to experiment without the commitment of permanent dye!
Is Rose Gold Hair Hard to Maintain?
Maintaining rose gold hair requires a commitment to using sulfate-free and color-protective products. It also involves avoiding heat styling and protecting your hair from sun exposure. Regular touch-ups are necessary to keep the color looking fresh. To prevent fading, it is recommended to use premium shampoo with added benefits like damage-repairing treatments.
Dry shampoos can be used to revive matte gloss without excessive heat or chemical services. When choosing products, look for ammonia-free formulas that won't strip away vibrancy or harm your scalp. It is important to perform patch testing before coloring. With proper care and the use of quality products specifically designed for maintaining rose gold hues on all hair types, you can keep this vibrant color looking fresh.
Frequently Asked Questions (FAQs)
What products should I use to maintain rose gold hair?
To maintain rose gold hair, use sulfate-free and color-protecting products. Avoid heat styling and sun exposure to prevent fading. Also, avoid chlorine or saltwater for a few days post-coloring. Try different rose gold options while prioritizing safety with allergy tests before applying any dye.
Can rose gold hair dye work on dark hair?
Yes, rose gold hair dye can be used on dark hair. With the right shade and bleaching process, you can achieve a beautiful pink hue that is sure to turn heads.
Is it safe to dye my hair rose gold at home?
Dyeing your hair rose gold at home can be safe with the right precautions. Patch test first, use an ammonia-free dye, and seek professional advice if needed.
Are there any vegan options for rose gold hair dye?
Yes! For a vegan-friendly rose gold dye, try IROIRO Premium Natural Semi-Permanent Hair Color. It's infused with coconut oil and is cruelty-free, so you can color your hair guiltlessly, knowing that no animals were harmed in the process.
With its vivid color and long-lasting shine, it will give you an eye-catching look without compromising your values.
Does rose gold hair dye work on all skin tones?
Rose gold hair dye can be adjusted to suit different skin tones and complexions. Fair or light skin tones look best with pastel or softer pink rose gold shades, while medium-toned ones can opt for warmer hues like coral, peachy, copper, bronze, etc.
Conclusion
We've reviewed all the top rose gold hair dyes of 2023, and trust us, you won't be disappointed with the results! Whether you're seeking a permanent, semi-permanent, or temporary rose gold hair dye, there's something for everyone.
With the incredible range of options available, you're guaranteed to find the perfect shade of rose gold for your hair, skin tone, and desired look.