This site is supported by our readers. We may earn a commission, at no cost to you, if you purchase through links.
Are you looking for the best hair moisturizer for black men? Look no further! We have put together a comprehensive list of the top 10 products available in 2023.
From leave-in conditioners to styling creams, these high-quality products will help keep your hair healthy and hydrated.
High porosity African American hair is prone to dryness, frizziness, and tangles, so it needs special attention when selecting a product. Our list includes lightweight oils like OKAY Black Castor Oil as well as heavier butters such as TGIN Butter Cream Moisturizer – all-natural ingredients that will nourish your mane without harsh chemicals or synthetic fragrances.
Find out which one works best with your unique texture by reading on!
Key Takeaways
Hydrates, nourishes, repairs damage, controls frizz, softens, and promotes growth.
Provides healthy, shiny, manageable locks.
Leave-ins condition, smooth, and define curls.
Shea butter, oils like coconut and argan nourish without buildup.
As I Am Double Butter Cream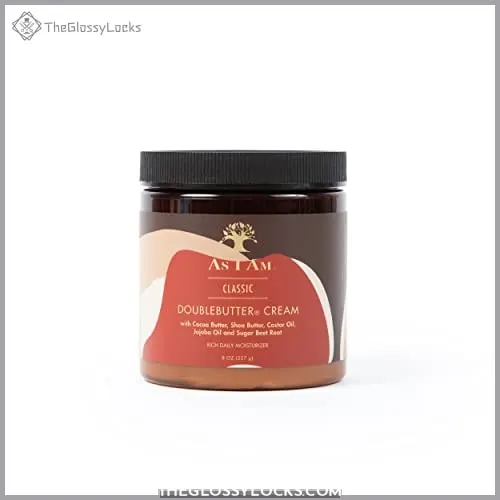 View On Amazon
Experience the power of As I Am Double Butter Cream to transform your curls and coils into soft, shiny perfection! This organic cream is specifically designed for curly, dry, and coily hair. It contains natural emollients like shea butter, coconut oil, and argan oil, which deeply nourish each strand to restore health while repairing damage.
The rich blend helps combat dryness with its moisturizing properties that leave hair feeling softer and more manageable than ever before. With added pro-vitamin B5, it repairs split ends and strengthens strands by locking in moisture throughout the day or night.
Reviewers report that this product does an excellent job of reducing skin dryness and crepiness without leaving behind a greasy residue. Better yet, a little goes a long way, so you get plenty of bang for your buck. All curl types from 4C to 1C can benefit from using this product thanks to its ability to help define curls while reducing frizz all at once.
Hydrates and nourishes deep down
Repairs damage and reduces frizz
Softens and conditions, restoring health
Defines curls naturally
No sulfates, parabens, silicones, etc.
Priced higher than some other products
Strong scent not ideal for everyone
TGIN Butter Cream Moisturizer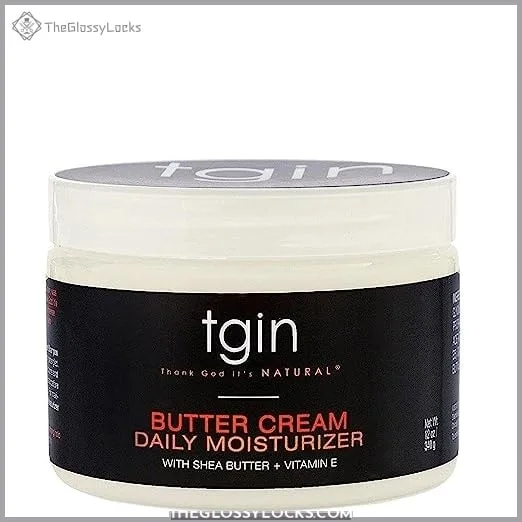 View On Amazon
Try TGIN Butter Cream Moisturizer for soft, hydrated curls that will last all day long. This cream formula is specifically designed to lock in moisture, promote hair growth, and improve the shine and softness of natural curly hair.
It's packed with nourishing ingredients like shea butter, vitamin E oil, and cocoa butter to help define curls while reducing dryness and itchiness at the same time.
Not only does this product reduce frizz, but it's also lightweight enough so your locks won't feel heavy or stiff after use – making it perfect for styling too! With regular use, you'll have healthy-looking coils that are full of life in no time.
It's sulfate- and paraben-free
Helps condition the scalp
Lightweight yet moisturizing
Pleasant scent
Great for styling too!
Can be difficult to spread due to its thick consistency
The color makes spreading hard as well
The amount used depends on the individual's hair type
OKAY Black Castor Oil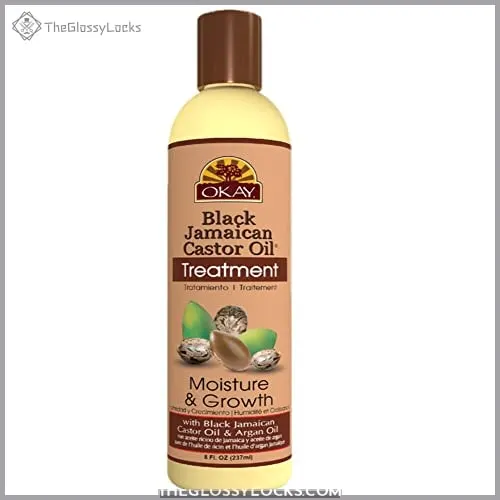 View On Amazon
Moving on from the TGIN Butter Cream Moisturizer, let's take a look at another great option for black men looking to moisturize their hair—the OKAY Black Castor Oil.
This deep conditioning intensive therapy treatment is designed specifically for all hair types and textures, especially those that are dry and brittle or damaged. It works to nourish and replenish your scalp's natural oils while strengthening it with its rich vitamin E content, as well as omega fatty acids which promote circulation in the scalp to encourage healthy growth.
The argan oil helps provide hydration while also giving you emollients meant to improve manageability of your strands.
Plus, this product is paraben-free, silicone-free, sulfate-free, and cruelty-free, so you know it'll be gentle enough even on sensitive scalps! You can trust that this 8 oz bottle will last quite a while too since just one application should give you noticeable results in no time!
Nourishes and replenishes scalp's natural oils
Rich in Vitamin E and Omega Fatty Acids
Formulated with Argan Oil for hydration
Paraben-free, Silicone-free, Sulfate-free, Cruelty-free
Some dislike the initial smell
Can be difficult to squeeze out the product
Cantu Men Hair Beard Conditioner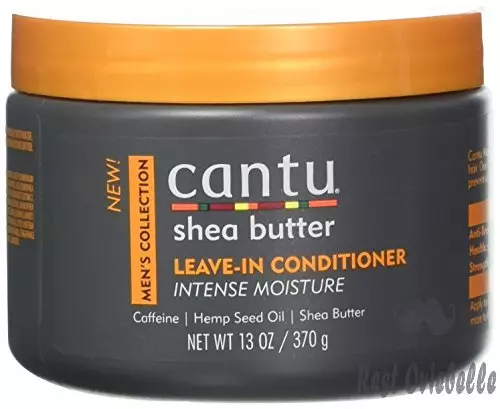 View On Amazon
Revitalize your hair and beard with the powerful scent of Dr. Teal's Cantu Men Hair Beard Conditioner. This sulfate, paraben, and mineral oil-free product is designed to condition and moisturize both hair and beard while leaving a strong masculine scent behind.
It's perfect for all types of afro hair, from 4C to 1C, as it helps define curls, reduce dryness/itchiness, make styling easier, and leave you feeling refreshed after each use.
The 14.4 oz bottle is sure to last through many uses, as only a little bit goes a long way in providing intense moisture that will instantly transform coarse wavy locks into soft manageable tresses without sacrificing any style! However, some reviewers have reported receiving an older formula version when purchasing from Amazon, which did not provide the same level of conditioning or fragrance they were expecting, so be sure to check before buying if possible!
Additionally, there have been reports that although most find the smell pleasant, others may find it too strong, causing headaches due to their sensitivity. So make sure this won't be an issue for you before investing in this product! With regular use, this vegan-friendly option can help nourish scalp oils, resulting in increased thickness and shine throughout your mane.
Sulfate-, paraben-, & mineral oil-free
Leaves beard soft & hair moisturized
Works well as a leave-in conditioner
Some received old formula versions on Amazon
Strong but pleasant scent could cause headaches
Product photo sometimes different than what's received
Carols Daughter Hair Milk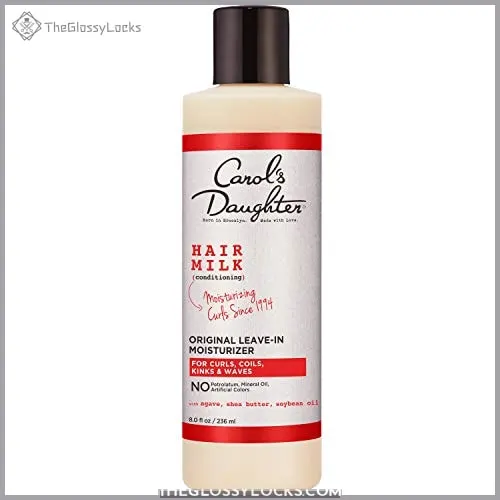 View On Amazon
Carols Daughter Hair Milk is a leave-in conditioner that locks in moisture while making the curls of black men feel soft and bouncy, like freshly washed silk sheets. It's infused with shea butter, soybean oil, and agave nectar, and it absorbs quickly into hair fibers to deliver nourishment without weighing down any curl type from 4C to 1C.
It's perfect for wash and go styling as it reduces frizz and helps define your natural coils. The thick creamy formula contains no sulfates or parabens, so there are no harsh chemicals damaging your scalp or follicles over time; just lots of hydration! As an added bonus, this product has a strong rose scent, which some may find irresistible but others might not be too fond of.
A little goes a long way when using Carols Daughter Hair Milk, so you don't need to use too much for desired results. However, if you do overdo it, it can make your hair appear greasy rather than moisturized.
Locks in moisture while leaving curls feeling soft & bouncy
Absorbs quickly without weighing down any curl type
Reduces frizz & defines natural coils
Strong rose scent, which some may not like
Can be too greasy if used excessively
Takes experimentation to find the right amount
Alikay Naturals Hair Parfait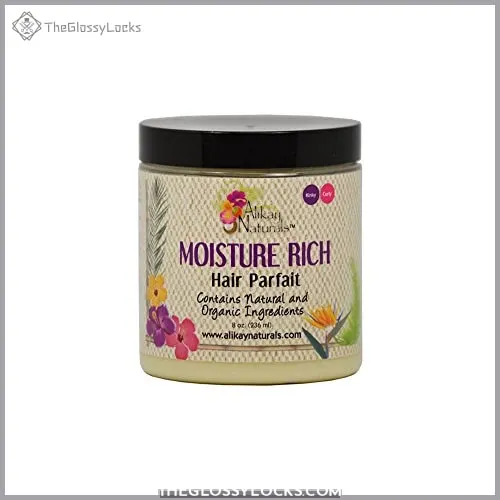 View On Amazon
Transform your curls with Alikay Naturals' Hair Parfait for lasting hydration and softness. This product is a natural way to moisturize curly and kinky hair, formulated with shea butter, argan oil, coconut oil, and avocado oil! It has a thick consistency that needs warming in the hands before using it on your locks.
The parfait contains plant extracts as well as oils, so you know it's providing nourishment to every strand of hair from root to end. Not only does this product provide moisture, but its scent is also like no other; fruity yet subtle enough not to overpower when styling or in public settings.
Plus, this single item will last you quite some time since a little bit goes such an incredibly long way – perfect for those days when we all want our wallet just slightly thicker than usual!
Formulated with natural ingredients, including shea butter, argan oil, and coconut oil
Provides intense hydration and nourishment for dry/coarse hair
Pleasant fruity scent that isn't too overpowering
Thick consistency can be heavy on finer strands
Can be pricey
Maui Moisture Vanilla Bean Hair Butter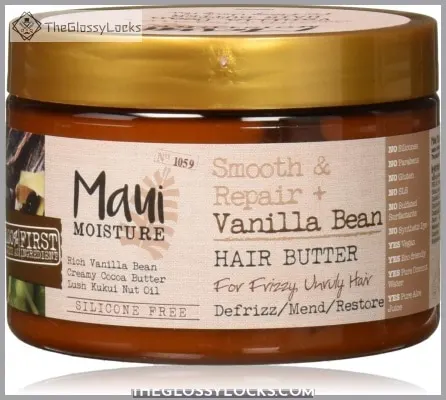 View On Amazon
Maui Moisture's Vanilla Bean Hair Butter is a luxurious cream that helps restore moisture, softness, and shine to coarse, thick natural hair. It is infused with aloe vera, vanilla bean extract, coconut oil, and kukui nut oil.
This vegan product effectively detangles strands while providing hydration without residue or build-up. It also gently smooths the cuticles of each strand, making it ideal for wavy or curly textures, as well as those transitioning from relaxed to natural styles.
The sweet yet subtle scent makes shower time more enjoyable, while its lightweight formula leaves hair feeling soft and touchable all day long.
This versatile butter can be used both in the shower as an intensive conditioning mask treatment or applied afterwards on damp hair for maximum nourishment.
Restores moisture & adds shine
Softens & smoothes cuticles
Defrizzes & detangles
Sulfate-free & paraben-free
Vegan-friendly formulation
Pleasant but not overpowering scent
Can cause buildup if overused
A few found similar products cheaper
Roots Naturelle Hair Oil Moisturizer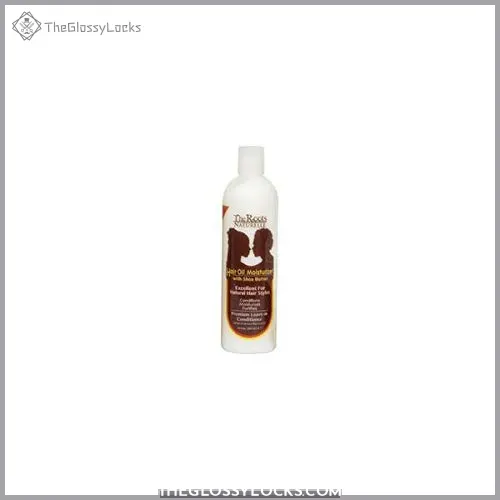 View On Amazon
From the creamy, sulfate-free Maui Moisture Vanilla Bean Hair Butter to Roots Naturelle Hair Oil Moisturizer, there's an effective hair moisturizer for every black man.
The Roots Naturelle Hair Oil Moisturizer comes in a 12 fl oz bottle and contains natural ingredients that help restore moisture to thick, coarse hair. It can be used on either damp or dry hair and should be applied to the ends of your locks for maximum nourishment.
This product helps reduce frizz while softening your strands, giving you healthier-looking tresses with improved texture! Plus, it's vegan-friendly and free from parabens, so you're sure to only get good stuff when using this oil moisturizing treatment.
Not only does it hydrate, but its lightweight formula won't weigh down your mane, leaving you feeling refreshed with manageable curls that are full of life! You may even find yourself wanting more volume after just one use, as this product really works wonders at bringing out those bouncy coils! However, some men may not enjoy the slight coconut scent, which could linger in their locks if they don't wash thoroughly afterward – something worth noting before purchasing this item.
In addition, applying too much oil could leave a greasy residue behind, which will require additional cleansing – so make sure not to go overboard!
Vegan-friendly
Lightweight formula
Reduces frizz & hydrates
Improves texture & adds volume
May have a strong scent
Greasy residue if overused
RENPURE Coconut Leave-in Conditioner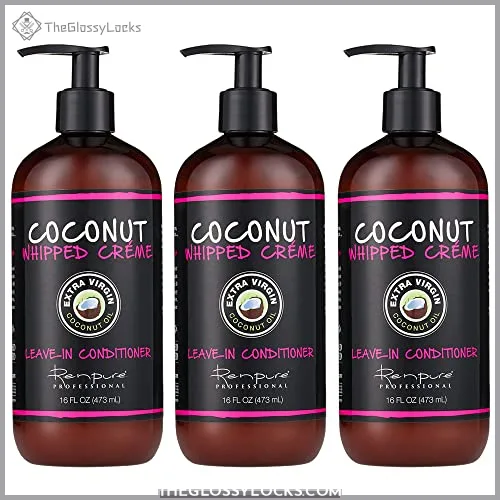 View On Amazon
Experience the nourishing benefits of RENPURE Coconut Leave-in Conditioner, designed to instantly absorb into hair fiber and provide moisture without weighing it down. This lightweight formula is part of Renpure's collection of plant-based products, free from sulfates, parabens, dyes, gluten, and phthalates.
It works great on coarse or dry hair that's damaged or tangly for a softer feel with less frizz. The sweet coconut scent will leave your hair smelling delicious while also helping define curls as it repairs damage and reduces breakage for healthier results over time.
This versatile product can be used on damp or dry locks – just apply a small amount to focus on ends where most hydration is needed – then style as desired! Best suited for those with wavy or curly strands who want long-lasting moisturizing effects without needing much product each use; customers have seen improved texture in their tresses after regular use along with decreased frizziness, which helps manageability too! Some may find the fragrance too strong, but overall this conditioner leaves users feeling liberated by its power to transform dull locks into soft bouncy ones full of shine belonging only you could create at home!
Instantly absorbs into hair fiber
Conditions & seals in moisture
Reduces frizz & defines curls
Lightweight Formula
Long-Lasting Moisture
Improves Texture & Decreases Breakage
Sweet Coconut Scent
Fragrance might be overpowering
Not suitable for all types/textures
Can weigh down fine/thin textures if not applied correctly
Shea Moisture Curl Enhancing Smoothie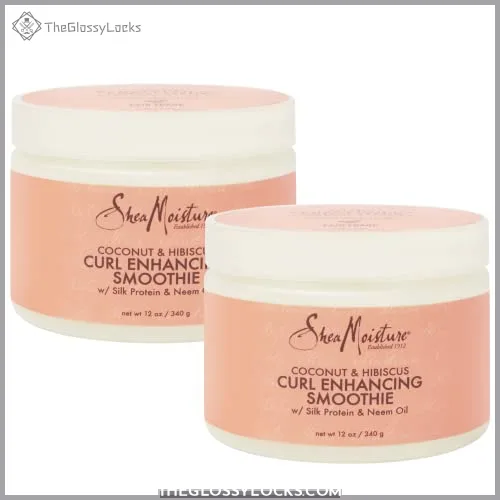 View On Amazon
Try Shea Moisture's Curl Enhancing Smoothie for curly hair that's as soft and bouncy as a fluffy cloud. This conditioning cream defines curls, reduces frizz, and locks in moisture to keep your curls looking their best.
It's formulated with natural ingredients such as shea butter, coconut oil, hibiscus flower extract, neem oil, and silk protein. These nourish the scalp while protecting against damage from heat styling tools or environmental factors.
The rich formula helps soften each strand of hair without weighing it down. So you can enjoy full-bodied volume all day long.
For maximum benefit, apply sparingly to damp or dry hair before styling. Start at the ends and work upward, giving yourself enough time to let the product fully absorb into strands. An extra amount can be used to help smooth and style throughout the day. Finish with a scrunch setting to add shine and definition.
In humid climates, this product is especially helpful. However, a few customers have reported a greasy feeling when too much is applied. Results may vary depending on usage frequency and the type of conditioner used prior to application.
Overall, positive users have experienced softer, shinier, and more manageable hair after using, provided they followed the instructions properly.
Pros:
Reduces frizz & defines curls
Leaves hair moisturized & soft
Smells great
Nice fragrance
Pleasant smell
Sweet Coconut Scent
A little goes a long way
Finishing product for scrunched setting
Keeps Hair From Being Frizzy
Enhances Natural Curls
Softens And Makes Hair Behave
Can make hair greasy if too much is used
Weighs Hair Down If Over Applied
Frequently Asked Questions (FAQs)
What is the best way to apply moisturizer to black men's hair?
After washing your hair, apply a dime-sized amount of moisturizer to damp strands. Use your fingers or a comb to evenly distribute from roots to ends. Let it sit for 4-5 minutes before rinsing and styling as desired.
How often should I use a moisturizer?
Moisturizing your hair regularly is key to keeping it healthy and hydrated. It's recommended that you apply moisturizer at least twice a week for the best results, as this helps replenish lost nutrients and oils that keep your scalp balanced.
What are the benefits of using a moisturizer?
Moisturizing your hair helps to hydrate, nourish, and repair damage. It softens and conditions while controlling frizz, promoting healthy growth. Choose the right product for your type/porosity for optimal results and apply daily after washing with a small amount evenly distributed from roots to ends.
What is the difference between a moisturizer and a leave-in conditioner?
Moisturizer is a product that provides hydration and nourishment to the hair, while leave-in conditioner seals in moisture, smooths cuticles, reduces frizz, and helps define curls. It is applied after shampooing and then rinsed off; leave-in conditioners stay on the hair for added protection.
Are there any ingredients that I should avoid in a moisturizer?
Yes, watch out for sulfates, parabens, phthalates, silicones, and alcohol. These can cause buildup or dryness, so opt for natural emollients like shea butter instead.
Conclusion
With so many hair moisturizers available on the market, it can be overwhelming to choose the best one for black men. Fortunately, we've done the hard work for you and compiled the top 10 hair moisturizers for black men in 2021! From Shea Moisture's Vanilla Bean Hair Butter to Alikay Naturals Hair Parfait, these products are sure to leave your hair feeling soft, shiny, and nourished.
With a wide variety of formulas and ingredients that cater to different hair types and needs, you're sure to find the perfect hair moisturizer for you! So don't wait any longer.