This site is supported by our readers. We may earn a commission, at no cost to you, if you purchase through links.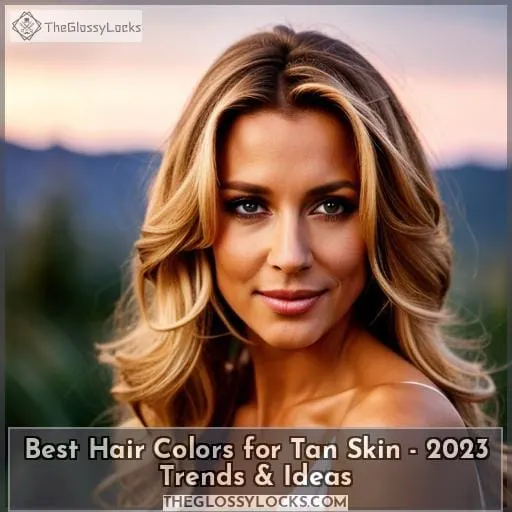 Are you looking for the perfect hair color to match your tan skin? You're in luck! Whether you prefer a sun-kissed red or light golden brown, there are so many hues and shades that will enhance your features.
With the right knowledge of how to determine your skin tone and understanding what colors suit it best, finding the perfect hue is easy.
From ash blondes and honey glows to soft chestnut browns – this article has everything you need with 2023's most fashionable trends & ideas for beautiful hair colors for women with tan skin.
So don't wait any longer; let's get started on finding yours!
Key Takeaways
Sunkissed red cherry hair offers a vibrant, beachy look. Use purple shampoo to prevent fading.
Rose gold mixes pink and orange tones for a natural, glowing tan look. The wrist vein test helps find the right shade.
Auburn and reddish bronze are best for darker tan complexions.
Red highlights add vibrance to tan skin.
The Best Hair Colors for Tan Skin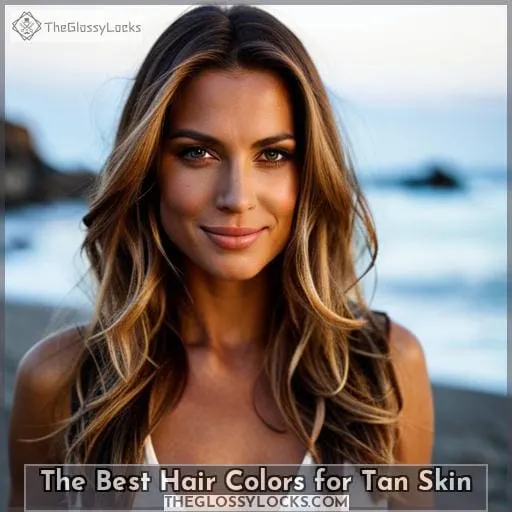 If you have tan skin, you can't go wrong with sun-kissed red hair for a subtle yet vibrant look. For those who prefer something lighter, dark ash blonde or rose gold work beautifully, and cinnamon and golden brown are great options if you want to exude warmth.
Sunkissed Red
You'll look like you just stepped off the beach with sun-kissed red hair, as bright and vibrant as a ripe cherry! To achieve this beautiful color, get color-matched to ensure your undertone is taken into account.
Add warm tones for skin testing with dark brown or honey highlights for extra brightness. Balance out fiery red shades by adding some cool highlights in areas that need more brightening.
With these tips and tricks, you can easily create an effortless sun-kissed glow all year round! For maximum staying power, use purple shampoo to help keep colors from fading too quickly and touch up roots every 4-6 weeks so they don't become visible against warmer colored strands.
Dark Ash Blonde
Dark ash blonde is a stunning shade that will make your complexion glow with warmth and radiance. It is perfect for those who desire something less vibrant than fiery red, yet still want to stand out from sun-kissed red or warm browns.
Dark ash blonde is a great choice. Blonde bobs of this hue look especially beautiful framing the face. Bronze blondes pair perfectly with honey highlights for an on-trend finish. Add texture to any style by incorporating darker contrasting shades like ash blonde in between lighter colors like champagne and golden tones.
Rose Gold
Rose Gold makes your tan skin glow with its warm, rosy undertones. With a mix of pink and orange hues, it's the perfect way to create vibrant colors without damaging your hair.
For highlighting techniques, opt for subtle babylights or balayage that will keep the rose gold looking natural and fresh. To make sure you get the right shade of rose gold for your skin tone, test yourself in natural light or do a wrist vein test to determine what color works best for you.
When caring for this color, use purple shampoo if blonde tones start to look brassy and touch up roots every 4-6 weeks.
Rose Gold is an eye-catching hue that adds life into any style – especially on those with darker complexions – so go ahead and show off that golden blush!
Cinnamon
Cinnamon is a great hair color choice for those with tan skin, as it can bring out the warmth of your complexion and give you an alluring sun-kissed look. Rich colors like auburn and reddish bronze will work well on darker complexions, while warm mahogany tones create a subtle yet stunning cinnamon glow.
Toffee highlights are also excellent for further emphasizing the natural beauty of tanned skin. Chestnut brown or dark chocolate hues add depth to any style without looking too severe, while lighter shades such as beige blonde flatter light tan skins perfectly.
With its range of flattering options, there's something special about choosing cinnamon hair when you have tan skin – no wonder it's so popular!
Golden Brown
Try out golden brown for a sun-kissed look that brings warmth to your complexion. This stunning hue pairs perfectly with subtle highlights and eye-catching hues such as light brown or ginger. With proper hair maintenance, you can achieve natural shine and luster in a rich brunette shade.
Golden brown is ideal if you're looking to make an impact without going too far overboard; it's just the right amount of depth while still remaining soft enough not to overwhelm other features on your face.
The Best Brown Hair Colors for Tan Skin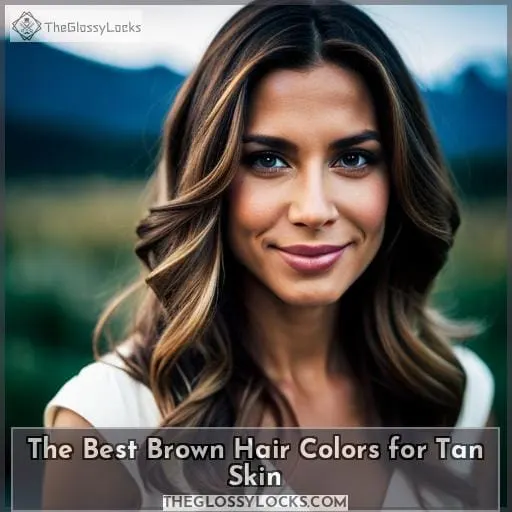 If you have tan skin, then you're in luck! Brown hair colors are the perfect choice for your complexion. From light golden brown to chestnut and mahogany hues, bronzed brown or a classic brown to blonde ombre – there are plenty of shades that work well with tanned skin tones.
Light Golden Brown
Light golden brown provides a warm, sun-kissed look that flatters tan complexions with its subtle sheen. This color is perfect for creating an effortless summer vibe, with warm tones, red highlights, and copper hues.
Blonde streaks or colorful balayage can also be used to add dimension and depth to light golden brown hair on tan skin.
Chestnut Brown
Chestnut brown is a perfect choice for tan skin tones as it adds warmth and depth to your look, like adding spice to a dish. This shade of hair color complements those with tanned skin without making them appear washed out or too bold.
For those who are looking for subtle red undertones, chestnut brown can provide that twist while still maintaining the natural beauty of your complexion. When styling this hair color on tan skin tones, try balayage highlights or soft money pieces for extra dimension and texture.
Be sure to use purple shampoo if you notice any brassiness in your locks from the sun's rays! Finally, don't forget about regular trims and conditioning treatments post-coloring – they're key components in keeping this stunning hue vibrant all season long!
Mahogany Brown Hair
Mahogany brown hair is a great way to add rich dimension and heat up your tan complexion. Whether you have platinum blonde, copper highlights, or just want to warm up your tones with temporary coloring, this hue will surely do the trick.
To get the most out of it, moisturize regularly for shine. Be aware of bleaching effects. If you have olive skin, opt for light copper highlights. Use cool-toned products on blondes.
With these tips and tricks, plus knowledge about the best hair colors for tan skin, you'll achieve a beautiful look that compliments your unique complexion perfectly.
Bronzed Brown
Give your tan skin a bronzed glow with bronzed brown hair! Bronzed brown is perfect for those looking to add warmth and vibrancy, without going too dark. This hue can range from light coppery tones to deeper shades of deep auburn – both will make tan skin look refreshed and glowy.
For an extra touch of glamour, consider adding some burning red or pink highlights throughout the length of your locks.
Brown to Blonde Ombré
Try a brown to blonde ombré for an instantly glamorous look that will brighten your tanned skin! This style evokes sophistication, with soft golden streaks mixed in chocolatey hues. For added dimension, mix burgundy shades or copper gloss into the blend. To achieve a more subtle look, add ash brown and pink highlights throughout for softer blonde streaks that are sure to turn heads.
How to Determine Your Skin Tone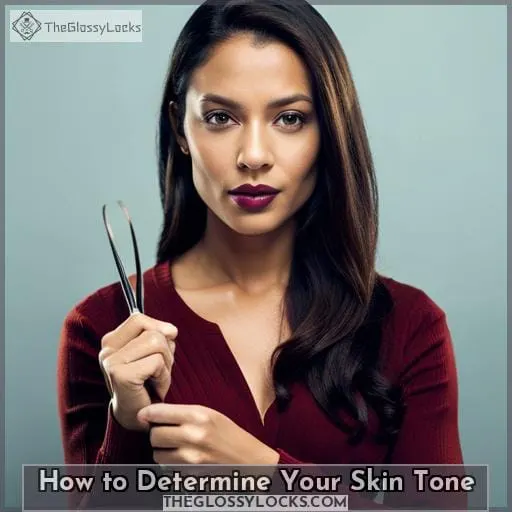 To accurately determine your skin tone, consider doing the wrist vein test in natural light to see if you have cool or warm undertones. This will help you mix and match tones and subtle highlights for a look that best suits your complexion.
Here are some tips on how to determine skin tone:
Check the veins of your wrist in natural light – blue indicates cool undertones while green suggests warm ones.
Look at swatches of colors against your face – pastel shades usually work best with tan skin tones as they don't overpower the complexion but still bring out warmth and vibrancy.
Try different hues from both ends of the color spectrum like deep reds or sand-colored blondes for warmer tans, then add protective care products accordingly such as purple shampoo for blonde shades or argan oil treatments for dark locks!
Don't be afraid to experiment – try mixing up textures like wavy curls with softer hues, highlighting sections lightly throughout hair with golden streaks, adding dimension through balayage techniques, etc.
With these tips in mind, you'll be able to find just the right balance between contrasting colors that compliment and highlight each other perfectly without making it too garish nor bland; allowing yourself to shine naturally despite whatever shade looks great on you!
What Hair Colors Are Suitable for Tan Skin?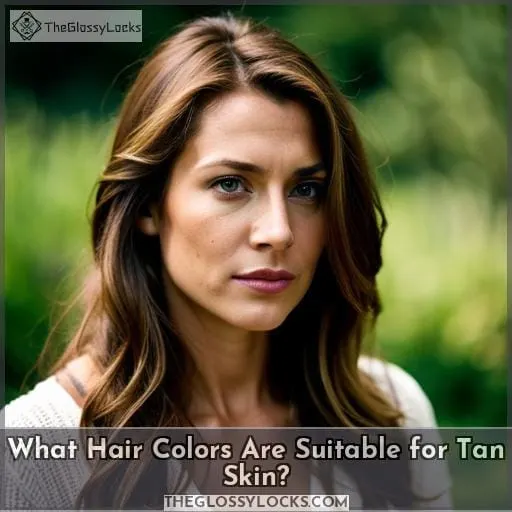 You can bring out your natural beauty with a hair color that complements your tan skin, such as honey blonde or bronzed brown. Blonde shades like beige, golden strawberry, and dark ash work well for those with tan complexions.
For brunettes, warm browns are the way to go—think light brown, golden chestnut, and mahogany red-brown.
Avoid cool tones if they have blue undertones as they will make your complexion look darker rather than brighter. And don't forget to give yourself regular trims and use purple shampoo if blonde tones start getting brassy.
Beautiful Hair Colors for Women With Tan Skin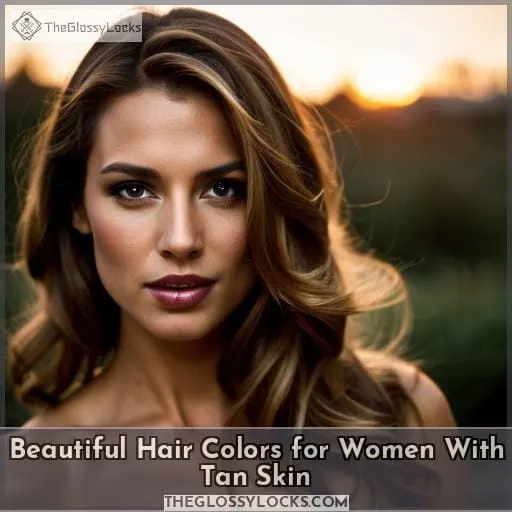 If you have tan skin, then you're in luck! With the right hair color and highlights, your complexion can glow with an ash blonde mane or a honey-glow look. A soft chestnut brown hair color is also great for those with tan skin tones, as well as a beautiful beige bob.
You could even go for a more three-toned look to really make your features stand out.
Ash Blonde Mane
Ash blonde manes are a great way to bring out your tan skin's natural warmth and add some subtle depth. Try an ashy shade of platinum blonde with light red highlights for a stunning contrast of cool and warm tones, or opt for soft cinnamon highlights in light brown strands to create the perfect balance.
Play around with color combinations that will best flatter your complexion. For example, pair dark ash blonde with golden caramel lowlights or go for rich mahogany reddish-brown hues topped off by bronzed brown accents.
Whatever style you choose, make sure it complements your complexion, giving it vibrancy and life without overwhelming it!
Honey Glow
You'll be a golden goddess in honey glow – just like the sun's rays reflecting off glistening waves on a beach.
For tan skin, warm tones are ideal and this is where honey highlights shine!
Soft copper tones will complement your complexion perfectly while adding warmth to your mane.
Warm auburn shades will also add life to your look, with sun-kissed highlights for added depth and dimension.
If you're looking for something even brighter, strawberry blonde could be the perfect fit; it has enough rosy hues to keep things interesting but not too overwhelming!
With all these options available, you can find the perfect shade of gold that radiates beauty as bright as sunshine itself!
Soft Chestnut Brown Hair
Soft chestnut brown hair is a stunning option for those with tan skin, as its warm tones and amber highlights complement the complexion. Consider adding a lob style to showcase this hue or incorporate gray streaks for an edgy look.
Additionally, you can enhance your color with copper glow lowlights or opt for dark mocha curls.
Beige Bob
A beige bob is the perfect way to flaunt your tan skin and create an effortless, beachy look. Give it a subtle boost by adding golden blonde highlights or copper tones. This will give you depth and dimension in all the right places.
Go for a layered cut with warm highlights. This will add texture to your hair without overpowering it.
Finish off with some light curl or wave action, creating soft movement that looks both natural yet glamorous at once.
Three-Toned Look
Try a three-toned look to show off your beautiful tanned skin: mix shades of blonde, brown, and red for an eye-catching style. Contrasting colors create interest, while complementary tones add dimension. Warm hues like golden blonde, bronze brown, or sun-kissed red are all perfect choices for a sun-kissed complexion; cool shades such as beige blondes and dark chocolates can also work well in combination with muted highlights.
Frequently Asked Questions (FAQs)
What are the best highlighting techniques for tan skin?
For tan skin, try balayage, babylights, and honey or caramel highlights for a beautiful look.
Are there any tips for maintaining colored hair on tan skin?
Maintain your color with regular conditioning and trims. Combat brassiness in blondes with purple shampoo.
Will hair color make tan skin look brighter or darker?
Coloring your hair can make your tan skin look brighter or darker, depending on the shades you choose.
What type of products should be used for tan skin tones?
If you have tan skin, use products that make your hair color look brighter. Try balayage and babylights for highlights, condition after coloring, and use purple shampoo if blonde tones get brassy.
How often should hair color be touched up for tan skin tones?
Touch up your hair color every four to six weeks for a tan skin tone. Enhance and maintain your look with vibrant, sun-kissed tones.
Conclusion
It's time to stop dreaming and start doing – take the plunge and find the best hair color for your tan skin in 2023! Whether you're looking for a classic look or a bold, modern style, there are plenty of options to choose from.
From a sun-kissed red to a dark ash blonde, you can find the perfect hue to complement your tan skin. Try experimenting with soft chestnut browns, honey glows, and ash blondes to get the look you desire.
Don't forget to use the paper test or wrist vein test to determine your skin tone before you begin.