This site is supported by our readers. We may earn a commission, at no cost to you, if you purchase through links.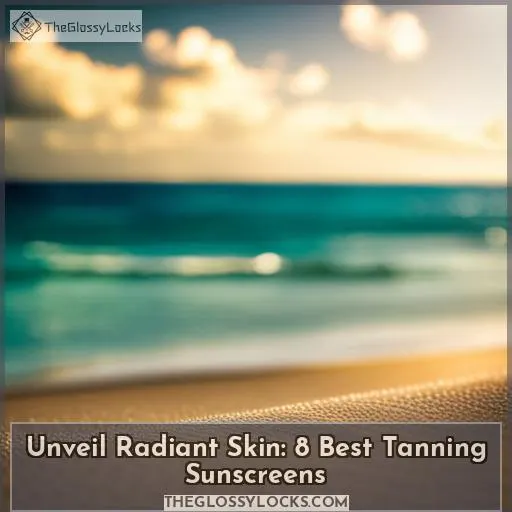 Unleash your skin's potential with the ultimate guide to achieving that radiant, sun-kissed glow.
Discover the 8 best tanning sunscreens that strike the perfect balance between protection and achieving that coveted tan.
Whether you're lounging by the beach or soaking up the sun poolside, these sunscreens, carefully handpicked for their efficacy, will be your partners in mastering the art of safe tanning.
Gone are the days of compromising your skin's health for a tan. From the tropical-infused moisture of Coppertone SPF 15 Tanning Sunscreen to the sun-defying protection of Sublime Sun Sheer Protect Oil SPF 30, each product on this list is a testament to the liberation of sun-soaked beauty without the sacrifice.
Elevate your tanning game, seize the power of intelligent sun care, and bask in the mastery of a stunning, safeguarded tan that empowers your confidence like never before.
Key Takeaways
Opt for SPF 30+ sunscreen for balanced protection and a tanning effect.
Prioritize water and sweat resistance for enduring sun enjoyment.
Consider your skin compatibility and choose sunscreens with natural ingredients.
Make sure to apply properly to maximize the sunscreen's effectiveness.
Coppertone SPF 15 Tanning Sunscreen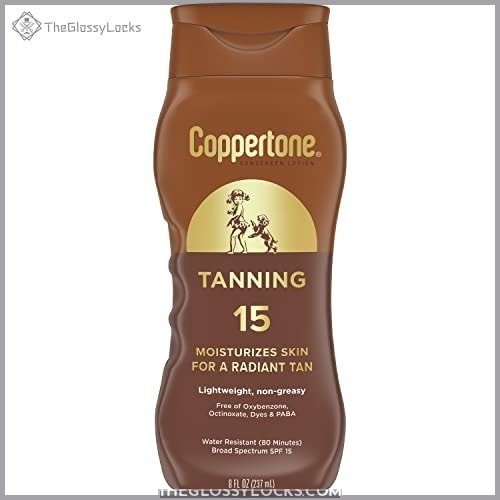 View On Amazon
When it comes to achieving a healthy tan while protecting your skin from the sun's harmful rays, look no further than Coppertone's SPF 15 Tanning Sunscreen – a trusted companion with over 75 years of sun protection innovation.
This sunscreen offers you a lightweight, non-greasy formula enriched with Vitamin E for both sun defense and skin hydration. Its water-resistant feature lasts for up to 80 minutes, making it ideal for beach and pool adventures, ensuring uninterrupted enjoyment of outdoor activities.
Coppertone's legacy and recognition as the most trusted sunscreen brand in the 2022 BrandSpark American Trust Study speak to its effectiveness and quality. With its easy spray-on application, you can achieve even coverage effortlessly, making the journey towards an even tan smoother.
Lightweight, non-greasy formula enriched with Vitamin E for sun protection and skin hydration.
Water-resistant for up to 80 minutes, ideal for beach and pool activities.
Trusted brand with a legacy of sun protection innovation.
Easy spray-on application for even coverage.
Some users might find the formula too watery compared to previous versions.
Individual reactions can vary, and there are reports of rashes and burns after application.
Some users have noted changes in the formula's effectiveness.
Moisturizing Tanning Oil SPF 15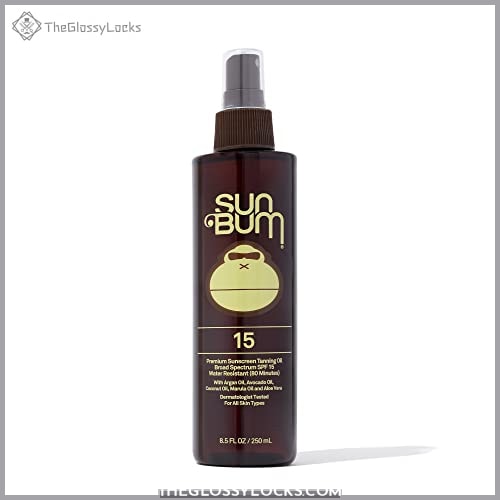 View On Amazon
Immerse yourself in the luxurious experience of achieving a radiant, sun-kissed glow with the Moisturizing Tanning Oil SPF 15. This SPF 15 Dark Tanning Oil is a perfect blend of sun protection and skin nourishment, making it an essential companion for your sun-soaked adventures.
Infused with a cocktail of natural ingredients, including Aloe Vera, Green Tea Butter, Marula, Argan, Coconut, and Avocado Oils, this tanning oil not only helps you achieve a beautiful bronzed tan but also pampers your skin.
Nourishes and smoothens the skin while providing SPF 15 UVA/UVB protection.
Contains a blend of natural ingredients like Aloe Vera and various nourishing oils.
Hawaii 104 Reef Act Compliant, making it environmentally friendly and reef-safe.
Water-resistant formula ensures the longevity of protection during outdoor activities.
Suitable for all skin types and appreciated for its easy application and pleasant scent.
Some concerns have been raised about the actual reef safety of the product.
While the product claims to offer SPF 15 protection, users should still exercise caution in the sun.
Results may vary based on individual skin types and tanning expectations.
Bronzing SPF 50 Sunscreen Spray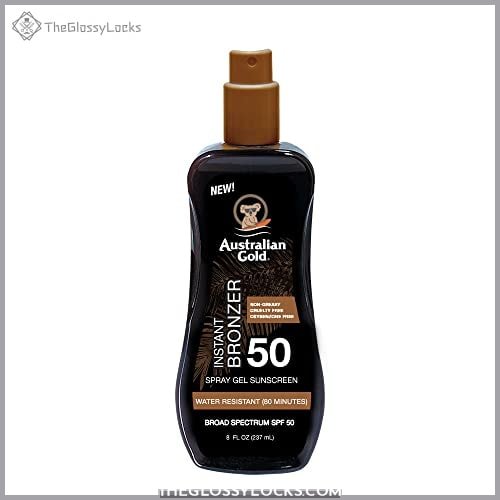 View On Amazon
Indulge in a touch of sunlit luxury as you explore the remarkable world of sun care. Feel the warmth of Australian ingredients embracing your skin, while our innovative spray gel creates a seamless fusion of moisture and a radiant, sun-kissed glow.
Let the tropical scents transport you to faraway shores, and enjoy the ease of application with our unique spray pump.
Experience a sunlit embrace like never before, courtesy of Australian Gold's SPF 50 Bronzing Sunscreen Spray Gel.
Pros:
High SPF Protection: Offering broad-spectrum SPF 50 protection, shielding your skin from both UVA and UVB rays.

Bronzing Effect: The inclusion of a Caramel Bronzer imparts a natural-looking, golden glow for that sun-kissed appearance.

Australian Ingredients: Enriched with Kakadu Plum extract, a Vitamin C powerhouse, and the antioxidant prowess of Tea Tree Oil for added skin benefits.

Innovative Spray Pump: The hybrid spray-on application combines the convenience of continuous spray with the precision of a lotion, ensuring even coverage and easy absorption.

Non-Greasy, Lightweight: Delivers a sheer, non-greasy finish that won't weigh you down or damage swimwear.

Sweat and Water-Resistant: Stays effective even during water activities, providing up to 80 minutes of water resistance.

Cruelty-Free and Environmentally Friendly: PABA, Dye, Alcohol, and Gluten-Free, and Hawaii 104 Reef Act Compliant for an eco-conscious choice.
Cons:
Limited International Shipping: Availability might be restricted for international customers.

Slight Slippery Feeling: Some users noted a slightly slippery sensation during drying.

Storage Consideration: Texture inconsistencies may arise due to improper storage conditions.
Tropical Tanning Sunscreen Spray SPF 15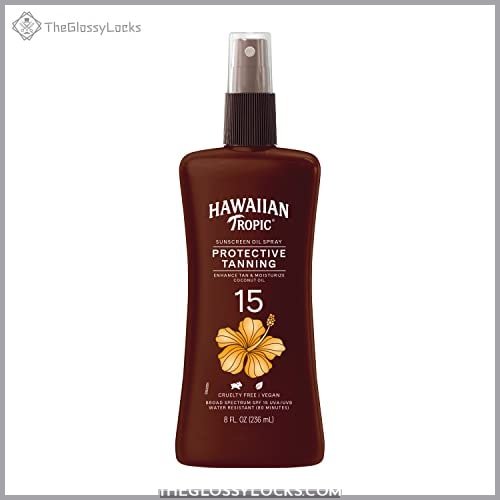 View On Amazon
Explore the benefits of Tropical Tanning Sunscreen Spray SPF 15 for achieving a healthy, sun-kissed glow while keeping your skin protected from harmful UV rays.
Infused with exotic island botanicals and nourishing antioxidants, this sunscreen offers a lightweight and non-greasy feel, making it an ideal choice for those seeking effective sun protection without a heavy residue.
The broad-spectrum UVA/UVB sunscreens ensure your skin stays shielded from sun damage, while the antioxidants contribute to soft and radiant skin.
Exotic island botanicals and antioxidants provide nourishment and skin benefits.
Lightweight and non-greasy texture for comfortable application.
Effective broad-spectrum UVA/UVB sun protection prevents sunburn.
Positive user feedback on its effectiveness and ease of use.
Suitable for achieving a tan while maintaining skin health.
Some users reported issues with product consistency and texture.
Mixed opinions on tanning effectiveness; results may vary.
Concerns about receiving fewer items than expected from certain sellers.
Experience the freedom of basking in the sun's warmth while knowing you're safeguarded with Tropical Tanning Sunscreen Spray SPF 15.
Achieve that sun-kissed glow you desire, and relish in the confidence that comes from taking care of your skin.
Tropic Glow Tanning Oil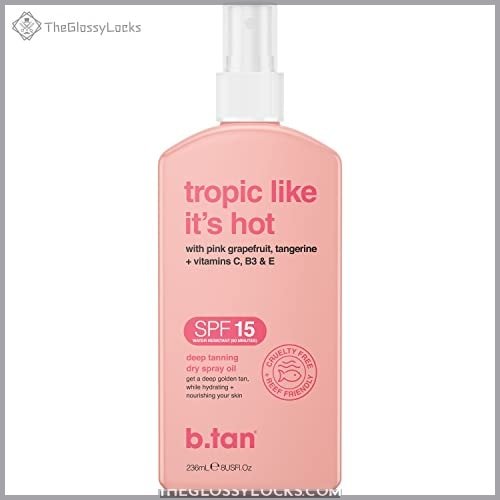 View On Amazon
Discover the radiant potential of the Tropic Glow Tanning Oil as you embrace the sun's warm embrace. Its unique blend of natural ingredients works in harmony to enhance your skin's luminosity and provide a gentle, golden glow.
Designed by B.Tan, this tanning oil offers more than just a sun-kissed tan—it's enriched with pink grapefruit, tangerine, and a trio of vitamins (C, B5, and E) to nourish your skin as you bask.
With a convenient spray-on application, the oil is easy to use. Its delightful coconut scent adds a touch of tropical allure.
Quick and easy application with a spray-on feature.
Pleasant coconut scent for an enjoyable tanning experience.
Contains self-tan for accelerated and deeper tanning results.
Enriched with a blend of vitamins for skincare benefits.
Nourishes and hydrates the skin while promoting a golden tan.
Vegan, cruelty-free, and paraben-free formulation.
Some users experienced inconsistency in the evenness of the tan.
Mixed feedback on the scent, ranging from lovely to not favorable.
Results may vary, with some users experiencing patchy outcomes.
Not suitable for those seeking SPF protection.
Limited bronzer compared to other products.
Caution advised due to quick tanning results from self-tan.
Cardon Men's SPF Moisturizer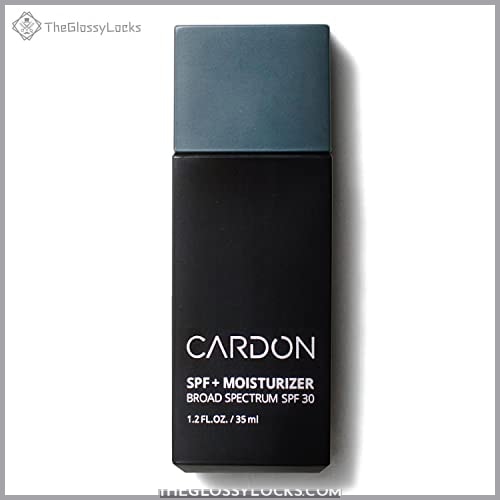 View On Amazon
Transitioning from the previous discussion on the Tropic Glow Tanning Oil, let's now delve into the realm of men's skincare with the remarkable Cardon Men's SPF Moisturizer. This advanced Korean skincare solution offers a modern approach to grooming, catering specifically to the needs of men.
Pros of Cardon Men's SPF Moisturizer:
Dual-Action Benefits: It combines deep hydration with broad-spectrum SPF 30 protection against UVA and UVB rays.

Premium Ingredients: Enriched with cactus extract and chia seed oil, providing soothing and firming effects.

Award-Winning: Recognized by Ask Men's Grooming Award for Best Face Sunscreen.

Versatile for All Skin Types: Suitable for all skin types, including cocoa-colored skin.

Easily Absorbed: Users appreciate its quick absorption without leaving a white cast or residue.

Compact and Stylish Packaging: The sleek black packaging embodies both style and substance.

Positive User Feedback: Many users praise its effectiveness, smooth texture, and subtle marine scent.
Cons of Cardon Men's SPF Moisturizer:
Price Point: Some users find it slightly expensive for the quantity provided.

Comparative Cost: Mentioned to be on par with Neutrogena's Triple Protect Face Lotion in terms of quality.

Small Quantity Needed: While effective, some users note that only a small amount is required.
Transitioning smoothly from discussing the tropical allure of tanning oil, the Cardon Men's SPF Moisturizer introduces an innovative perspective on skincare, offering men the dual benefits of hydration and sun protection in a stylish package.
Sunset Glow Oil by SOL DE JANEIRO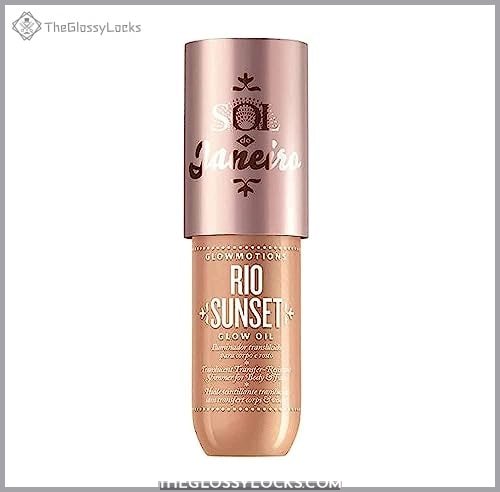 View On Amazon
Introducing the Sunset Glow Oil by SOL DE JANEIRO – your Brazilian beauty secret for a year-round radiant complexion. Embrace a luscious, beaming glow with this luxurious oil, capturing the essence of Rio's captivating sunset.
The generous 2.50 Fl Oz unit combines versatility with indulgence, catering to all skin types.
Its translucent champagne shimmer not only enhances your natural radiance but also leaves a velvety smooth and nourished sensation. The Sunset Glow Oil's delightful beach scent adds an enchanting touch, while its sweatproof formula ensures a lasting glow, even in humid conditions.
With positive feedback highlighting its irresistible scent, easy application, and effective moisturization, it stands as a go-to choice for those seeking both a captivating glow and a delightful sensory experience.
Translucent champagne shimmer for a radiant glow.
Versatile use as a base or standalone.
Lasting, sweatproof effect in humid conditions.
Enriched with nourishing ingredients.
Irresistible beach-inspired scent.
Relatively expensive compared to alternatives.
Some users report minor challenges with the application.
Limited quantity (2.50 Fl Oz) for long-term use.
Sublime Sun Sheer Protect Oil SPF 30

View On Amazon
Experience the sun-kissed allure of Sublime Sun Sheer Protect Oil SPF 30 – an exquisite blend of nourishing ingredients that pamper your skin while offering powerful UV protection. Feel the confidence of a dewy glow that stands up to water and sweat, perfect for your active sunny escapades.
Enriched with vitamin E, argan oil, shea butter oil, grapeseed oil, and sunflower oil, this L'Oreal Paris creation introduces an innovative approach to sun care. Its formula, non-greasy and quickly absorbed, ensures a dry finish, making it ideal for on-the-go use.
The product offers broad spectrum UVA/UVB SPF 30 protection as well as ultra water and sweat resistance, establishing it as a reliable shield against harmful rays. This sun care solution is particularly tailored for fair-skinned individuals and those allergic to traditional sun creams.
The positives are striking. The formula boasts a pleasant scent and imparts a dewy glow to the skin. Moving to the flip side, some users encountered minor challenges. Among these was the issue of the spray landing on surfaces, presenting an inconvenience.
Additionally, the product takes some time to dry on the skin, leading to a slightly slippery sensation during the drying process.
Nourishing blend of ingredients, including vitamin E, argan oil, shea butter oil, grapeseed oil, and sunflower oil.
Quick absorption and dry finish for convenience and comfort.
Broad spectrum UVA/UVB SPF 30 protection and ultra water and sweat resistance.
Suitable for fair-skinned individuals and those allergic to traditional sun creams.
Provides a pleasant scent and imparts a dewy glow to the skin.
Some users experienced challenges with the spray getting onto surfaces.
Takes time to dry on the skin, leaving a slightly slippery feeling.
Choosing the Right Sunscreen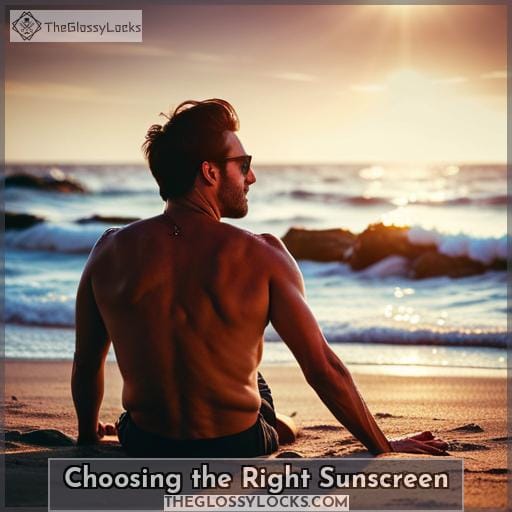 When it comes to finding the right protection for your skin under the sun, making the right sunscreen choice is crucial. Achieving that coveted tan while safeguarding your skin requires careful consideration.
Here's what to keep in mind:
SPF Selection: Opt for a sunscreen with at least SPF 30. This provides adequate protection while allowing some tanning.

Water Resistance: Choose a water-resistant formula if you'll be in the water. Remember to reapply after swimming.

Skin Compatibility: Make sure the sunscreen is compatible with your skin type. If you have sensitive skin, consider hypoallergenic options.

Application Tips: Apply generously and evenly, about 15-30 minutes before sun exposure. Don't forget to reapply every two hours, and after sweating or swimming.

Natural Ingredients: Look for sunscreens with natural ingredients like aloe vera and coconut oil. These additives provide added hydration.
Selecting the best tanning sunscreen involves balancing protection and achieving your tanning goals. By keeping these factors in mind and tailoring your choice to your skin's needs, you can enjoy the sun responsibly and confidently.
Conclusion
Embrace the journey toward sun-kissed, radiant skin with the finest tanning sunscreens at your disposal. Remember, The golden glow of confidence starts with proper sun protection. From Coppertone's timeless legacy to B.
Tan's innovative approach, these products offer the ideal combination of protection and nourishment. Whether it's the tropical allure of Hawaiian Tropic or the skincare elegance of Cardon, each option caters to your distinct needs.
Thus, let your skin luxuriate in the sun's warmth, knowing you've unlocked the secret to safe, beautiful tanning.