This site is supported by our readers. We may earn a commission, at no cost to you, if you purchase through links.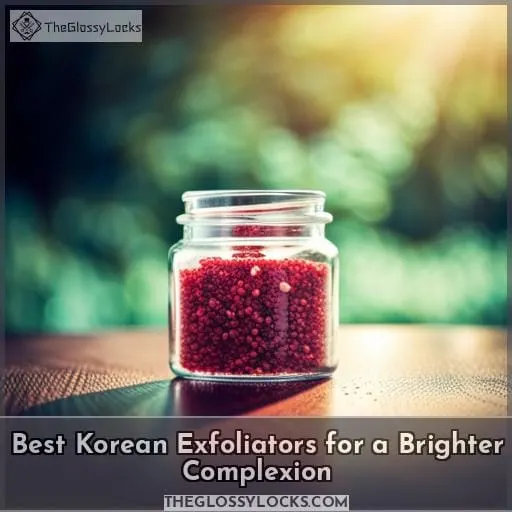 Unlock the secrets of brighter, smoother skin with the best Korean exfoliators! With their innovative ingredients and natural formulas, these must-have products can help you achieve a glowing complexion.
From award-winning black sugar masks to gentle peeling gels and toners infused with tea tree oil, there's something for all skin types in this list of top Korean exfoliators.
Key Takeaways
Korean exfoliators promote brighter and smoother skin through the use of innovative ingredients and natural formulas.
Exfoliation offers benefits such as increased cell turnover, resulting in a brighter complexion and smoother skin.
There are two main types of exfoliators: chemical and physical. Chemical exfoliators penetrate the skin to dissolve dead cells, while physical exfoliators mechanically remove dead skin cells.
It's important to choose the right exfoliator for your skin type and concerns and to follow the recommended usage guidelines for optimal results.
10 Best Korean Exfoliators
Korean skincare is a must-have in any beauty routine, and exfoliation plays an important role. Get ready to discover the best Korean exfoliators including SKINFOOD Black Sugar Mask, Dr.G Brightening Peeling Gel, ISNTREE Chestnut BHA Toner, ROKKISS Tea Tree Peeling Gel, TONYMOLY Floria Skin Care, Vegan Facial Peeling Gel, COSRX Niacinamide BHA Toner, Neogenlab Wine Lift PHA Pads, SOME BY MI AHA BHA PHA Toner, and Benton Aloe B.
1. SKIN FOOD Black Sugar Mask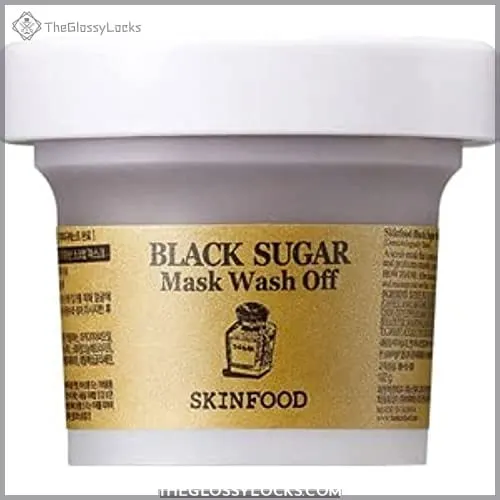 View On Amazon
You can experience the ultimate in skin renewal with SKIN FOOD's Black Sugar Mask, a gentle exfoliator that hydrates and nourishes while removing dead skin cells for a smoother, brighter complexion. This one-step application includes black sugar to reduce sebum build-up and remove blackheads without harsh microdermabrasion scrubs or strong chemical acid peels.
Not only does it provide essential vitamins and nutrients from plant oil and rice wine for hydration, but it is also part of the Korean Beauty trend rooted in food since 1957. The reviews are positive, as users report improved skin texture, reduced blemishes, and a softer face before steaming.
All of these benefits can be achieved with regular use once or twice a week after cleansing, while avoiding the eye and lip areas.
While its authentic K-Beauty status is unquestioned, some suggest that the packaging may not be suitable when shipped overseas.
Reduces sebum build-up & removes blackheads
Includes essential vitamins & nutrients from plant oil & rice wine
Authentic K Beauty product; part of Korean beauty trend since 1957
Improved skin texture reported by users; softer face before steaming
Packaging may not be suitable when shipped overseas
2. DrG Brightening Peeling Gel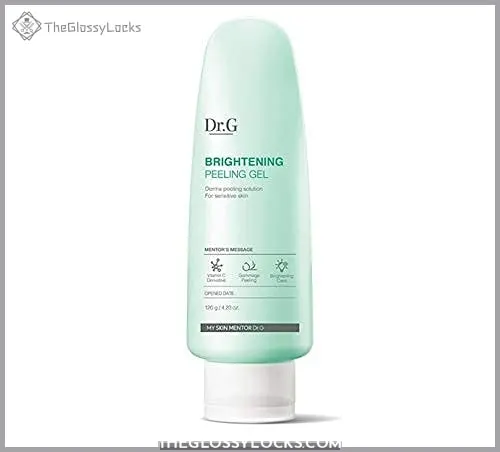 View On Amazon
Discover the power of DrG Brightening Peeling Gel to reveal smoother and brighter skin with its vitamin brightening effect. Formulated with natural cellulose, Vitamin C and E, black willow extract, honey, trehalose, and hollyhock, this gentle exfoliator works to improve your skin texture, giving it a softness that you can feel.
With its low-stimulation natural peeling effect, users report no irritation or dryness, even on sensitive skin types, making it perfect for all-year-round use.
Effective in improving skin texture & brightness
Non-irritating grittier consistency
Suitable for oily or sensitive skin
Skepticism about the peeling removing dead skins entirely
May require slightly more product than other brands
3. ISNTREE Chestnut BHA Toner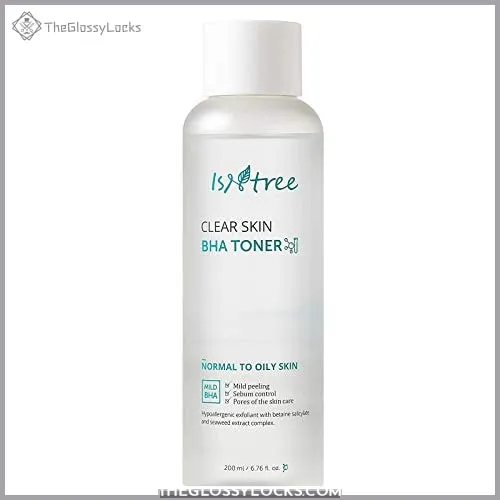 View On Amazon
Unlock your skin's true potential with ISNTREE Chestnut BHA Toner, a gentle and lightweight exfoliating toner that can help clear clogged pores! This hypoallergenic formula helps eliminate skin cell buildup in the T-zone without causing any irritation or redness.
The included pads make sure no product is wasted while providing maximum use. With 4% BHA content, this dermatologist-tested toner works to reduce acne, blackheads, and balance out oil production for all types of complexions, including sensitive skin.
Users have noticed an improved complexion within days of using it as well as minimized pores and improved texture after regular use over several weeks.
Cleans face effectively; removes makeup well
Helps reduce breakouts
Hypoallergenic; suitable for sensitive skin
Included pads maximize usage without wasting product
Reduces acne & blackheads; balances out oil production
Gradual results & improvement in complexion & texture
Not suitable for areas with redness or irritation (e.g., rosacea-prone areas)
Limited impact on pore reduction/prevention
Towards the end of the bottle caused slight redness on the face
4. ROKKISS Tea Tree Peeling Gel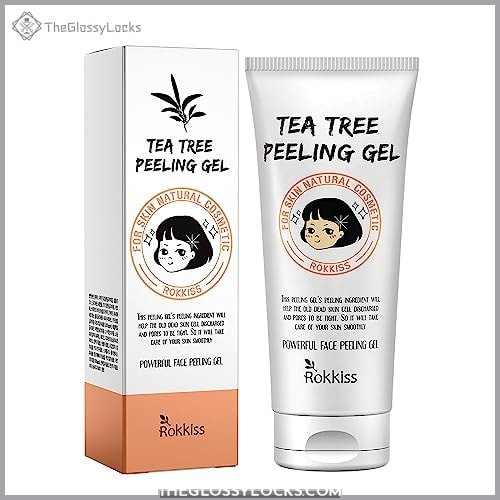 View On Amazon
ROKKISS Tea Tree Peeling Gel is a gentle gommage-type exfoliator that effectively removes impurities and dead skin cells, leaving your complexion smoother and brighter. It is formulated with natural cellulose to eliminate dryness, congestion, and dullness.
Additionally, it contains hyaluronic acid, which provides intense hydration for improved elasticity. The tea tree oil, eucalyptus leaves extract, and licorice root extract in the gel offer soothing effects without causing irritation or sensitivity.
Backed by research and ethical practices from the renowned ROKKISS brand in Korea, this product is known for its high-quality skincare solutions at an affordable price point.
Gentle exfoliation without irritating the skin
Removes impurities and dead skin cells
Hydrates and nourishes the skin
Not ideal for achieving deep exfoliation results quickly
5. TONYMOLY Floria Skin Care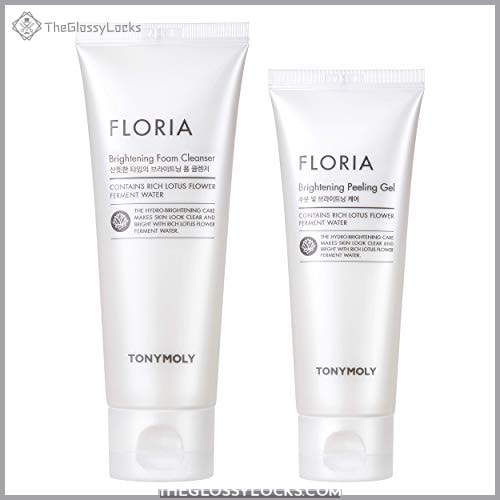 View On Amazon
Experience the gentle, yet powerful exfoliation of TONYMOLY Floria Skin Care and watch as it instantly smoothens your rough skin texture for a brighter complexion! This non-abrasive formula removes dead skin to leave your face feeling softer.
Formulated with granules for exfoliation that are product-derived rather than from dead skin, this gel is suitable even for sensitive types.
It's watery and easy to use, perfect for winter use on dry and sensitive skins. Using a small quarter-sized amount on dry face will help achieve desired results without being too harsh or abrasive on the delicate surface of the facial area.
However, some users have reported a strong scent, while others find it fresh yet pleasant, still pleasing their senses.
Plus, its hypoallergenic properties make it an ideal choice even if you happen to be prone to allergies or sensitivities in general! Its lightweight consistency absorbs quickly into pores, allowing optimal absorption of subsequent products used afterwards.
Rejuvenates & smooths dull complexion gently
Non-abrasive & hypoallergenic
Suitable even for sensitive skins
Lightweight & quick absorption
Advanced vegan formula sustainable packaging
6. Vegan Facial Peeling Gel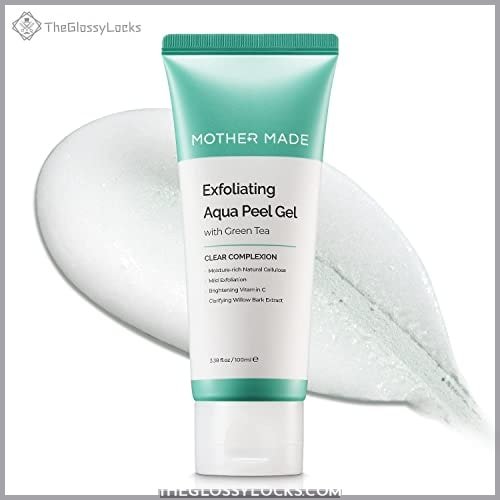 View On Amazon
Smooth and hydrate your skin with Mother Made's Vegan Facial Peeling Gel, formulated with natural skin conditioners like Green Tea, Vitamin E, and Hyaluronic Acid. This super gentle exfoliating gel helps remove dead skin cells, impurities, and buildups in pores without harsh microdermabrasion scrubs or strong chemical acid peels.
The advanced vegan formula is suitable for all types of sensitive skins; it is hypoallergenic as well as dermatologist-tested, so you can trust that it will work wonders on your face! Plus, its sustainable packaging (40% PCR plastic & soy ink printed FSC boxes) makes sure no waste ever goes to landfills.
Contains natural ingredients like green tea extract, vitamin E, & hyaluronic acid that nourish the delicate facial area.
Provides a super gentle exfoliation effect without causing any irritation or redness.
Preps the skin for better absorption of other skincare products afterwards & prevents a flaky makeup finish too.
Suitable even on body parts such as feet where dryness may be more prominent due to a lack of daily care.
Can be slightly expensive compared to other options available in the market but worth every penny spent!
Requires extra caution when used near eyes since the product does contain small granules which could cause discomfort if it comes into contact with the eye area accidentally.
7. COSRX Niacinamide BHA Toner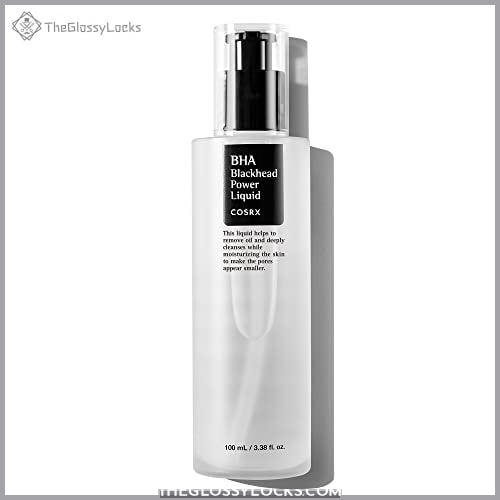 View On Amazon
Feel refreshed and renewed with COSRX's Niacinamide BHA Toner, a gentle yet effective exfoliating toner that helps to clear clogged pores, reduce acne and blackheads, balance oil production, and give your skin a brighter complexion.
With 4% Betaine Salicylate concentration in its hypoallergenic formula made without parabens or sulfates, this product is suitable for all skin types, including sensitive ones.
Willow bark water provides mild but deep exfoliation while hydrating the surface of the skin with essential vitamins it needs so much. It absorbs quickly into the skin, leaving no oily residue behind. Users love how lightweight it feels on their face! Even if there's brief tingling as expected from powerful products like these, it won't cause any irritation whatsoever due to the dermatologist-tested nature of COSRX products.
Clears clogged pores & reduces acne & blackheads
Balances oil production
Hypoallergenic & Dermatologist tested
Can dry out some skins after long use
8. Neogenlab Wine Lift PHA Pads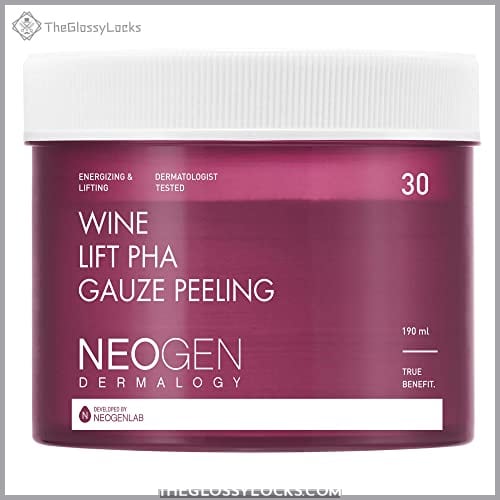 View On Amazon
Try Neogenlab Wine Lift PHA Pads for gentle exfoliation and powerful antioxidant effects to instantly remove dead skin cells, improve texture issues, reduce breakouts, and help achieve the glass skin look.
Formulated with polyphenol-rich purple wine ingredients plus 4 peeling agents (PHA, AHA, BHA & LHA), this product also includes more than 10 types of berries for antioxidant benefits as well as a peptide complex to provide firmness.
This advanced vegan formula is suitable even for sensitive skins since it's completely free from parabens or sulfates.
Instantly removes dead skin cells.
Provides mechanical exfoliation through the gauze side.
Suitable for oily/acne-prone skin and all other types too; hypoallergenic & dermatologist tested.
Addresses texture issues; leaves makeup apply evenly on the face without flaking off.
Some users reported horribly wrong reactions like over-dried out areas due to the product.
9. SOME BY MI AHA BHA PHA Toner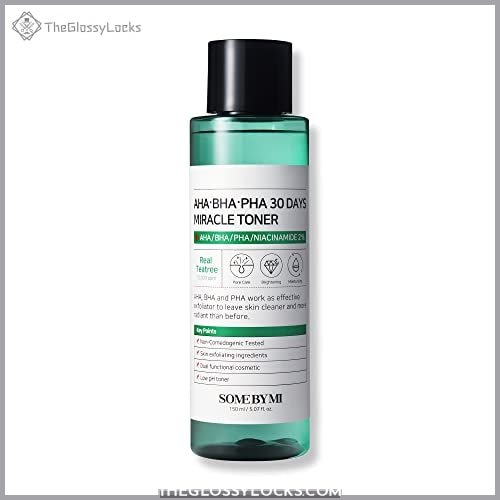 View On Amazon
Discover the SOME BY MI AHA BHA PHA Toner; a gentle yet effective facial toner formulated with 10,000 ppm tea tree water extract and patented ingredients that provide acne care, sebum and oiliness control, plus daily exfoliation for all skin types.
This Miracle Line product from Korea is suitable for oily to dry skins alike as it contains AHA (alpha hydroxy acid) to improve the texture and tone of your face.
Papaya extracts, as well as witch hazel, further work together towards removing dead cells on top of its Truecica content that helps maintain healthy pH balance levels in your complexion no matter the season or weather changes.
Free from 20 harmful chemicals usually found in other beauty products, this one is ideal even if you have quite fragile barriers that can be easily damaged by most cosmetics out there.
Users' reviews back up its effectiveness when used twice daily, either morning or evening, yielding satisfactory results such as reducing acne over time along with improved moisturization. It is comparable enough to Paula's Choice Skin Perfecting 2% Liquid Exfoliant without irritation or too much harshness since it works wonders, especially designed for damaged skin.
Just don't forget sunscreen application during mornings before going out under those sunny rays outside.
Acne care treatment
Sebum & Oiliness Control
Moisturizing Effect
Daily exfoliation
Gentle formula
Initial sensitivity reported because of high tea tree leaf content
Comparable effectiveness versus Paul's Choice Skin Perfecting 2% Liquid Exfoliant
Possible need for sunscreen protection
10. Benton Aloe BHA Facial Moisturizer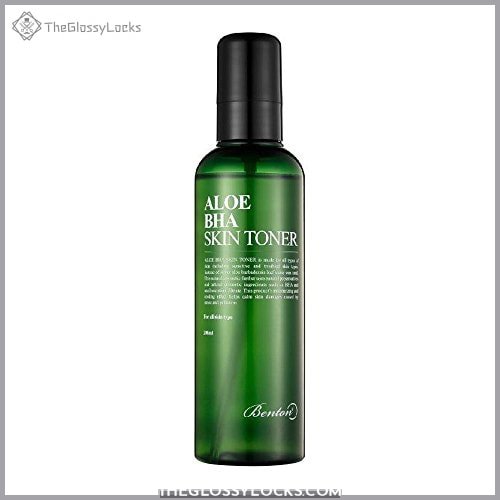 View On Amazon
Experience the calming hydration of Benton Aloe BHA Facial Moisturizer for all skin types, including sensitive! This crystal clear liquid comes in a pump-type product and is formulated with aloe barbadensis leaf water, sodium hyaluronate, aloe barbadensis leaf juice, snail secretion filtrate, and 0.
To use it, simply take moderate amounts of the product and apply evenly on your face, then gently tap to absorb. The light texture won't leave your face feeling oily, so you can enjoy clean exfoliation without irritation or dryness.
But there are some cons that should be considered before purchase: the new bottle design has been poorly received by users, although this doesn't affect performance significantly. Also, some people find the price point high considering the effects experienced from using it.
Finally, you may need extra hydration post-usage if used regularly as part of an intense regime.
Used during warmer months for calm dewy preparation
Doesn't irritate skin & clears out pores
Lightweight & effective formula which leaves your complexion brighter
Refreshing feel when applied onto facial area
Improves complexion minimizing pores & reducing breakouts
New bottle quality is poor preferred old pump design
Benefits of Exfoliation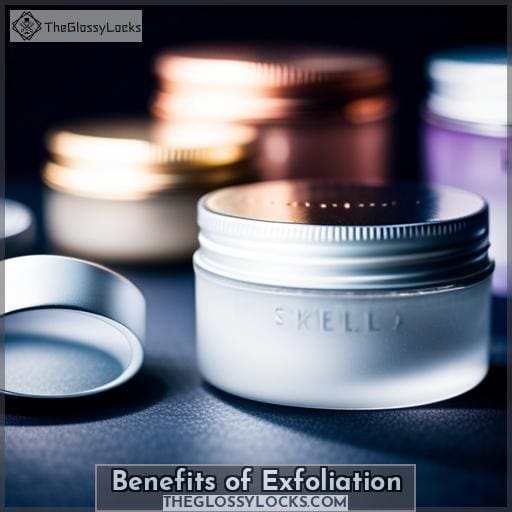 Exfoliation is a key part of any skincare routine, allowing you to reveal smoother and brighter skin. By increasing your skin cell turnover, exfoliating can be effective for all types of skin – from dry and sensitive to oily or combination.
It's an important step in achieving healthy-looking skin with a glowing complexion.
Increased skin cell turnover
Reap the rewards of increased skin cell turnover with a gentle exfoliator. Achieving healthy, radiant skin requires balance in hydration and cellular rejuvenation through regular exfoliation. Korean skincare techniques provide effective yet gentle ways to remove dead cells from your face for a renewed glow without irritation or over-stimulation.
Exfoliating two to three times per week is beneficial when included in an overall balanced skincare routine alongside hydrating moisturizers and sunscreens that protect against UV rays. Choose an appropriate best Korean exfoliator tailored to your individual needs for optimal results.
For example, if you have congested pores or dry patches on the face, chemical peels may be the right choice.
By incorporating these simple but effective methods of skin cell renewal regularly into your beauty regimen, you can enjoy a smoother complexion and improved absorption of other products. So why wait? Start taking care of your skin today and embrace the benefits of increased skin cell turnover.
Smoother
Enjoy the smooth, soft skin that comes with gentle exfoliation. Regularly using chemical or physical Korean exfoliators can help improve your complexion and create a youthful glow. Chemical exfoliators, such as AHAs and BHAs, can provide deeper refinement, while physical scrubs are effective for tackling visible flakes.
For all skin types, refining texture will reveal brighter and clearer-looking skin. Regular use of an appropriate product will nourish your face to keep it feeling renewed.
brighter complexion
Unlock a brighter complexion with chemical exfoliants like AHAs and BHAs. Consider the skin brightening power of Korean skincare for gentle yet effective glow-enhancing effects. Examine ingredient selection to target dead cells while avoiding irritation, then tailor your exfoliation techniques accordingly.
From enzyme peels to scrubs or even specialized spa treatments, there are various options to choose from. Natural ingredients such as black sugar, strawberry seeds, pearl powder, and green tea extract can work wonders in combination with soothing botanical extracts for best results.
Effective for various skin types
Experience smoother and brighter skin with Korean exfoliators suitable for all types of skin, including dry, sensitive, oily, or combination. With customized routines and product recommendations tailored to individual concerns like age spots or acne scars, the frequency of exfoliation should be determined by your specific skincare regimen.
Ingredient analysis helps identify the best type of exfoliator for you, from physical scrubs to chemical peels.
Choosing and Using Exfoliators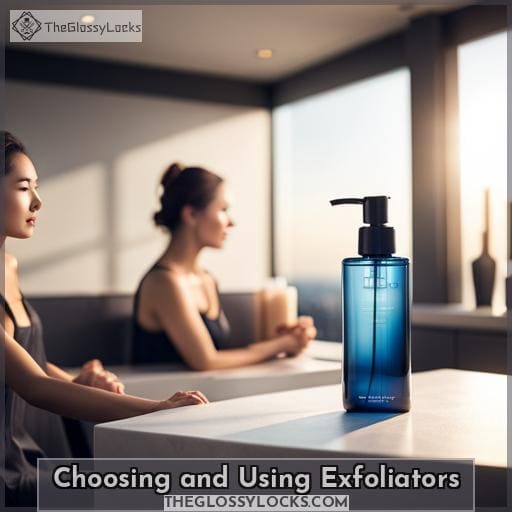 Choosing the right exfoliator is an important step in achieving healthy, glowing skin. Chemical and physical exfoliators offer different types of benefits; chemical being more gentle and great for sensitive skin, while physical provides a deeper cleanse.
For a more luxurious experience, Korean products are known to use premium ingredients that provide extra nourishment while still effectively removing dead cell buildup.
Chemical vs Physical Exfoliators
Discover the difference between chemical and physical exfoliators to find out which one is best for you! Chemical exfoliants use acids such as AHAs and BHAs, enzymes from fruits like pineapple or papaya, or other natural botanicals.
Physical exfoliators physically remove the outermost layer of skin with scrubs containing ingredients like black sugar granules or rice wine extract.
Balance both types with proper hydration for fresher-looking skin.
Tips for Choosing Exfoliators
Understanding which exfoliator is right for you can help you achieve glowing skin. Common mistakes include using products that are too harsh or not tailored to your individual needs, causing sensitivity and irritation.
When choosing a product, take note of its ingredients and read reviews to make sure it matches your skin type.
Frequency recommendations vary depending on the product, so follow instructions carefully if there are any. Experts advise checking with a dermatologist first before trying out new skincare products, as well as seeking their insights on what kind of K-Beauty exfoliants work best for different types of exfoliation methods and agents available today.
Benefits of Korean Exfoliators
Korean exfoliators provide a range of benefits, such as removing dead skin cells, revealing smoother and brighter skin, and providing intense hydration.
For instance, the SKIN FOOD Black Sugar Mask helps reduce sebum build-up while hydrating the face with essential vitamins and plant oils.
The DrG Brightening Peeling Gel contains natural cellulose for gentle renewal without irritation.
The ISNTREE Chestnut BHA Toner is unscented and helps balance oil production in all skin types.
The ROKKISS Tea Tree Peeling Gel soothes the skin with tea tree extract, while the Vegan Facial Peeling Gel from MOTHER MADE uses green tea extracts for a healthy complexion.
The COSRX Niacinamide BHA Toner clears clogged pores, and the Neogenlab Wine Lift PHA pads use purple wine ingredients to instantly remove dead cells, leaving behind a glassy smoothness.
The SOME BY MI Aha/Bha/Pha toner is effective for acne-prone or dry skin due to its 10k ppm of tea tree water extract content.
The Benton Aloe BHAs provides 0.5% of snail secretion filtrate as well.
All of these products will help you achieve a glowing appearance thanks to their gentle exfoliation technique that fits perfectly into any K-beauty skincare regimen.
Korean Spa Exfoliation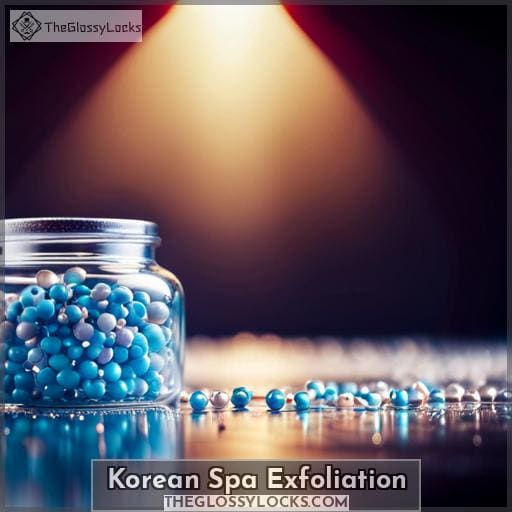 Experience the transformative power of a classic full-body Korean scrub, with its inexpensive green scratchy rayon mitts, for softer and brighter skin. Found in jjimjilbang spas all over Korea, this ancient spa treatment removes dead skin cells to reveal smoother and more youthful-looking skin beneath.
Shea butter is typically used to nourish the body after exfoliation as it helps lock in moisture for intensely hydrated results that last long after you've left the spa! The process also encourages cell renewal while improving circulation, which can help give your complexion an extra boost of vitality – perfect if you're feeling run down or need some self-love!
For those who want to experience traditional Korean culture at its finest, look no further than a good old-fashioned scrub session at your local jjimjilbang.
Importance of Exfoliation and Aftercare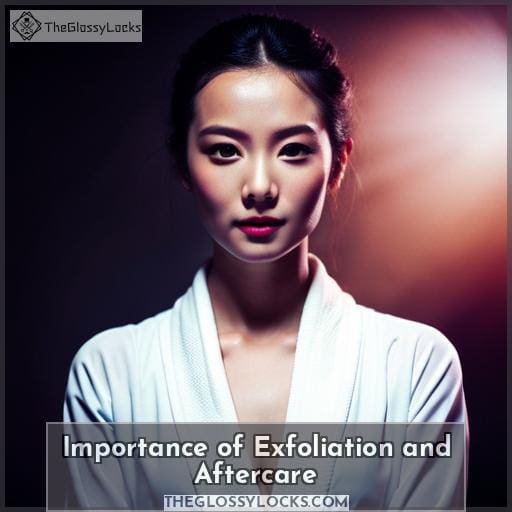 Exfoliation is essential for skin renewal and can help improve the appearance of the complexion. With proper exfoliation, dead skin cells are removed to reveal smoother, brighter-looking skin.
For best results, use only a small amount of exfoliator once or twice a week in combination with other skincare products such as cleansers and moisturizers. Aftercare is just as important; make sure you apply sunscreen during the day after using any type of exfoliant product or treatment for maximum protection against UV damage.
Korean beauty products offer some of the best options when it comes to gentle yet effective physical or chemical ingredients that will leave your complexion looking healthier than ever before! From SKIN FOOD Black Sugar Mask derived from vitamins & plant oils designed specifically for reducing sebum build up while nourishing & hydrating your face -to TONYMOLY Floria Brightening Gel made with granules providing non-abrasive scrubbing action ideal even for sensitive skins -these incredible K Beauty formulas are perfect solutions if you're searching for something special in order take care of all types off post-exfollation needs like texture improvement&pore minimization without irritation.
Conclusion
Like a breath of fresh air, exfoliation is the key to achieving a brighter and smoother complexion. Korean exfoliators are formulated with premium ingredients to provide gentle yet effective exfoliation for all skin types.
From chemical exfoliators like AHA and BHA to physical exfoliators like scrubs and mitts, there are many ways to reap the benefits of exfoliation.
Korean spa treatments and Turkish hammam gloves are also great for exfoliating. Whatever your preferences, Korean exfoliators are the perfect way to renew your skin.