This site is supported by our readers. We may earn a commission, at no cost to you, if you purchase through links.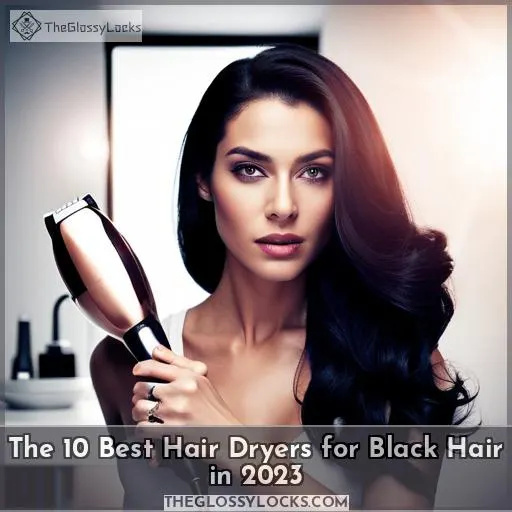 Do you feel like your hair gets frizzy and unmanageable after blow drying? It's time to invest in a quality, reliable hair dryer that won't leave your locks feeling lifeless. Like a knight in shining armor, the best hair dryers for black natural hair can transform unruly strands into sleek tresses fit for royalty.
From hot tools with tourmaline technology to affordable all-purpose options, we've rounded up the top 10 best hair dryers for African American textures in 2023. Let's take an epic journey through the world of blowout bliss! With our helpful guide, you'll learn what features are essential when shopping around and how to properly maintain your new device so it lasts as long as possible – without sacrificing style or performance.
Ready, set, go!
Key Takeaways
Adjustable airflow and temperature settings, cool shot button
Ionic dryers condition and reduce frizz
Diffusers are beneficial for black hair
Clean vents and replace filters regularly
Top 10 Best Hair Dryers for Black Hair
Discover the best hair dryers for black hair with our top 10 list, including the Andis Tourmaline Ceramic Hair Dryer, Turbo Power 3200 Hairdryer, INFINITIPRO CONAIR Hair Dryer, Hot Tools 24K Gold Volumizer, and more.
These professional-level products provide power and control to ensure your locks look their best. With options that reduce frizz while preserving natural oils and moisture, as well as attachments for texture, body, or detangling, you can trust these hair dryers will bring out the beauty of your mane.
Andis Tourmaline Ceramic Hair Dryer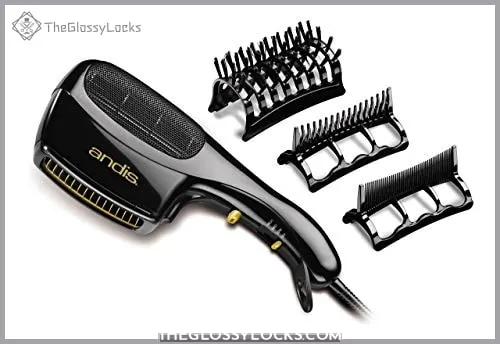 View On Amazon
If you're looking for a frizz-free, versatile styling tool with conditioning benefits, the Andis Tourmaline Ceramic Hair Dryer is an ideal choice. It's suitable for all hair types, with 1875W power and ceramic and tourmaline technology to preserve natural oils and moisture while reducing frizz.
It also includes 3 attachments to customize your desired style in no time! The attachments are texture, body detangling, and straightening comb. The dryer has ionic conditioning that helps reduce static electricity while enhancing the natural luster of the hair.
This lightweight dryer weighs just 1 lb and has a concentrator nozzle specifically designed for sleek styles. It also has 2 heat/speed settings and a cold shot button that adds shine after each use.
Frizz-free – ionic tech produces 50% more ions for less frizz
Styling control – 3 heat/2 speed settings & cool shot button
Includes 3 attachments – texture, body detangling & straightening comb
Ionic conditioning reduces static electricity & enhances natural luster of the hair
Expensive compared to other products on the market
May require multiple passes if thick or wavy textures are used
Concentrator nozzle may be too narrow when trying to achieve larger curls
Turbo Power 3200 Hairdryer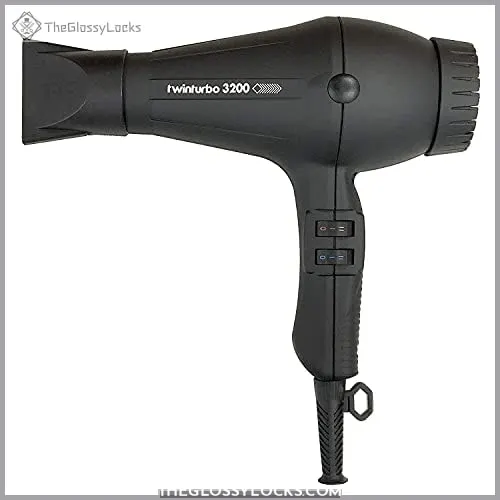 View On Amazon
Take a stylish leap forward with the Turbo Power 3200 Hairdryer, an ultra-modern device sure to revolutionize your hair game. Offering a 2000 Hr K lamination motor, 4 temperatures, and 2 speeds for maximum styling flexibility, this hairdryer is well-equipped for any type of look.
The anti-overheating feature protects both you and your locks, while the removable stainless steel filter makes cleaning up after yourself easy as can be.
Perfectly lightweight at only 490 grams, it means less arm strain during use – something we all need when styling our manes! With its professional AC Motor plus infrared heat and ceramic tech, you can rest assured knowing that not even frizzy unruly strands will stand in your way from achieving salon-quality results right at home in no time flat.
Powerful 2000Hr K lamination motor
Four temperature settings & two-speed settings
Cool shot button for added protection against heat damage
Removable stainless steel filter allows easy cleanup
Lightweight design reduces arm fatigue during use
High wattage may cause overheating issues if used on higher power levels too often
The long cable could get tangled easily
INFINITIPRO CONAIR Hair Dryer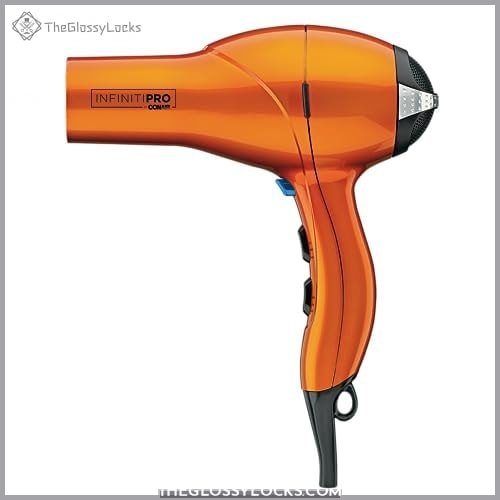 View On Amazon
Experience the power of Conair's InfinitiPro Hair Dryer to get salon-quality results in no time flat. With its professional AC motor, 3X longer life, and Ionic tech for up to 75% less frizz, you can give your hair a smooth and shiny finish with every use.
Customize your drying experience with three heat settings and two speed settings, plus a cool shot button that helps set styles in place. The dryer also includes an infrared heat feature, which preserves natural oils, as well as ceramic technology for even heat distribution along the cuticle, thus reducing damage from overstyling or blow-drying too frequently.
Plus, it comes complete with both diffuser and concentrator attachments for more control when creating looks like beach waves or sleek straight styles! Enjoy all these features without fear of overheating due to its anti-overheating device, so you can trust each use will be safe while still achieving powerful precise styling results at home!
Professional AC Motor provides long-lasting performance
Up To 75% Less Frizz using ionic tech
Even Heat Distribution reduces damage from overstyling
Expensive compared to other brands on the market
Some users find it is heavier than expected
Hot Tools 24K Gold Volumizer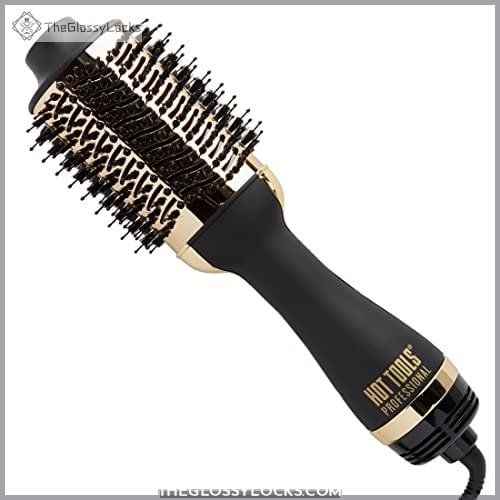 View On Amazon
Try the Hot Tools 24K Gold Volumizer and experience a world of salon-quality styling at your fingertips! This one-step tool provides quick, even heat for voluminous blowouts. Its oval brush design with curved sides smooths hair while the rounded edges add volume to achieve beautiful results.
Ionic technology reduces frizz and static, allowing you to style without worry as it is suitable for all hair types.
The rotating temperature control and two heat/speed settings further customize your look with ease – perfect if you've got curly or wavy styles that need taming! Plus, its lightweight design ensures comfort when holding it in hand during use, making this an ideal choice for quick morning routines or on-the-go glamour sessions alike.
Quick, even heat
Oval brush design smoothes & adds volume
Reduces frizz & static
Rotating temperature control & 2 speed settings
Lightweight design for comfortable time styling
Suitable for all hair types
Not effective on very thick curls
No nightlight indicator
May not be powerful enough depending on desired look
DevaCurl DevaDryer Hairdryer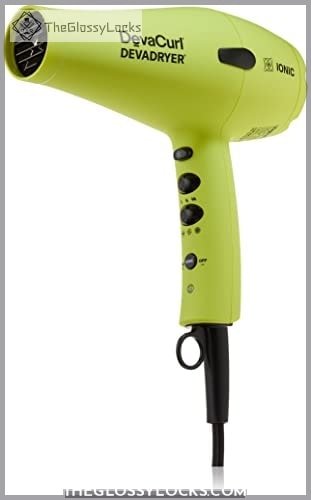 View On Amazon
The DevaCurl DevaDryer Hairdryer is the perfect tool for achieving voluminous curls and sleek blowouts with its alternating ionic technology, lightweight design, 360-degree airflow diffuser, and customizable settings.
With a powerful 1875 watts of power combined with ceramic coating and tourmaline technology, the hairdryer reduces heat damage and frizz while preserving natural oils and enhancing shine.
The patented DevaFuser surrounds curls in 360-degree airflow, reaching the roots for faster drying times.
Weighing just 1 lb, it is great for travel. Achieve salon results every time without worrying about damaging your hair, all at a much lighter weight than traditional dryers.
Alternating Ionic Technology offers voluminous curls or smooth blowout options
Lightweight design makes it ideal for travel
Customizable temperature/speed settings allow you to customize your style
Patented Devafuser provides maximum root coverage during the drying process
Expensive compared to other models on the market
Diffuser attachment requires some skill level
Not suitable for straight hair
Revlon Infrared Hair Dryer
View On Amazon
Discover the Revlon Infrared Hair Dryer for maximum drying power and precise styling to customize any hairstyle. With its 1875 watts of power, two heat settings, two speed settings, and cool shot button, this hair dryer has all you need to create your desired look with ease.
The ceramic coating helps reduce heat damage from over-drying, while the tourmaline technology neutralizes charge in your locks for reduced frizz and static.
Whether it's sleek straight looks or bouncy curls that you're after, this powerful hair dryer is sure to help get those perfect styles every time without damaging delicate strands of hair.
1875 Watts of Power
Ceramic Coating & Tourmaline Technology Reduces Heat Damage & Frizz
Attachable Concentrator Nozzle & Volumizing Diffuser Attachment
Can be Heavy Depending On Use Time
Not Ideal For Traveling Due To Size And Weight
Remington Damage Protection Hair Dryer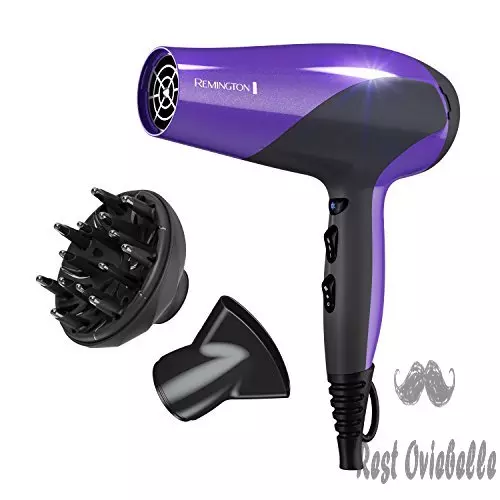 View On Amazon
Experience the ultimate in damage protection with Remington's 1875W hair dryer, featuring advanced protective coating and micro conditioners – perfect for faster drying without sacrificing your hair health.
Boasting 3X more protection than standard models, this salon-quality blowdryer offers unparalleled heat resistance to protect your delicate strands from breakage while delivering healthy results every time.
With its ceramic plus ionic plus tourmaline grill technology and two speed settings, you can customize airflow for optimal styling that adds volume while fighting frizz.
Advanced protective coating
Proprietary micro conditioner
High wattage for fast drying
Special grill reduces frizz
Heavier design than other models
SupSilk 3in1 Hair Dryer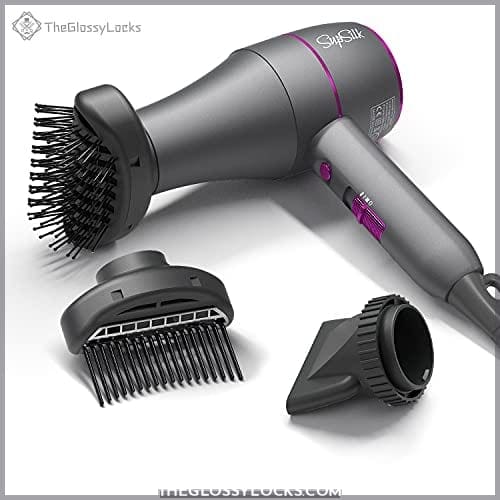 View On Amazon
Try the SupSilk 3in1 Hair Dryer for versatile styling, quick drying, and a sleek look that lasts. This dryer makes it easy to customize airflow and temperature settings for different hair types while providing salon-level performance at home or on the go.
The lightweight design features three attachments – a volumizer brush, a tooth comb, and a styling nozzle – with an attachment lock system to keep them in place during use. Plus, its cleanable filter prevents overheating while protecting your strands from damage due to excessive heat exposure.
And with its decorative plated parts giving off a modern look, you'll be sure to make heads turn wherever you go!
Versatile for all hair types
Salon performance at home & while traveling
Customizable airflow & temperature settings
Attachment lock system
Cleanable filter
Modern look
Safe to use
30% smaller than standard models
Brand reputation?
Price point?
Warranty?
Consumer reviews?
What to Look for in a Natural Hair Dryer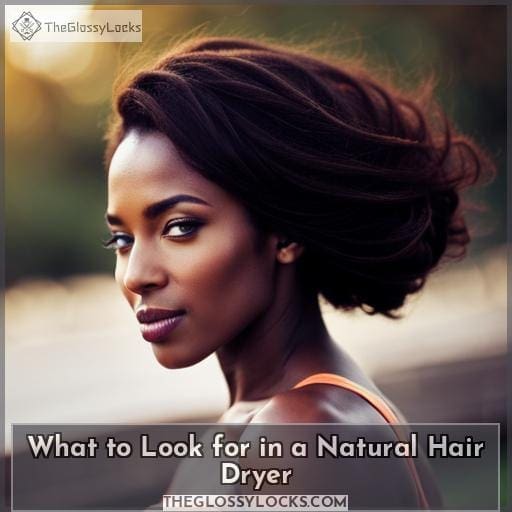 When shopping for a natural hair dryer, you'll want to consider the nozzle size, cord length, and wattage. Nozzles that are too small or short will make it difficult to get an even distribution of heat across your hair, while long cords give you more flexibility when styling.
Look for a wattage under 1900W as this is gentle enough on all types of Afro-textured hair and won't damage delicate strands.
Nozzle Size
Choose a nozzle size that is longer and narrower for natural hair to minimize damage while still drying your curls quickly. Look for models with adjustable heat settings, ceramic/ionic/tourmaline technology, long cords, and concentrator nozzles suitable for different hair types.
Pick one with frizz reduction properties to create a smoother style without the risk of breakage or split ends.
Cord Length
When shopping for a natural hair dryer, look for one with a longer power cord to ensure the device can reach your entire head—so you don't have to be tied down by wires. Avoid wattages over 1900W and short, wide nozzles that may damage delicate strands.
Choose styles with adjustable heat settings and diffusers; use these tools plus tension settings if needed.
Wattage
When finding the perfect natural hair dryer, look for one with wattage under 1900W to minimize damage and preserve your hair's health. Choose a dryer that offers heat settings, a cool button, and ionic technology for additional protection.
Low wattage is best; use picks if needed! Consider attachments such as diffusers and concentrators—these can help create styles without causing blow-dry damage or frizzing out curls.
How to Dry Natural African Hair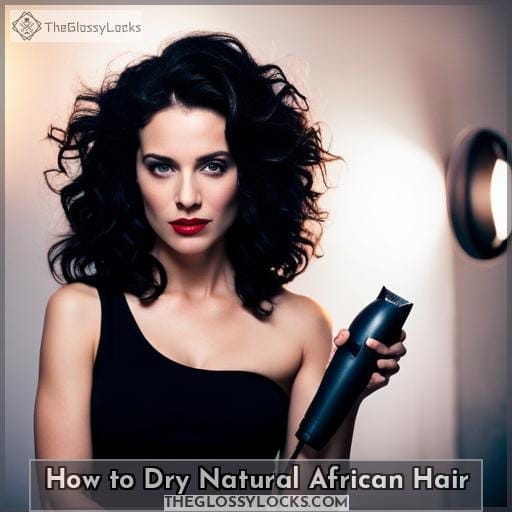 To effectively dry African hair, invest in a natural hair dryer with heat and speed settings that are gentle on the curls while speeding up your styling routine – like riding a wave of wind to get where you want to go.
Heat control is key for preventing damage, so opt for low heat settings when drying. Look out for models with flexible bristles that can smooth without tugging and attachments such as concentrators, which allow precise hot air application.
Budget-friendly options include Infinitipro and Hot Tools 24K Gold Volumizer. Both have ceramic technology, which helps retain moisture while reducing frizz and static electricity when straightening or curling the locks.
For added volume, try using an oval brush version such as Revlon One-Step Hair Dryer & Styler or DevaCurl's diffuser.
Avoid short wide nozzles since they may cause excessive tangling. Instead, select models with longer power cords (under 1900W) plus precision nozzles/piks if styling flexibility is required too!
Lastly, look out for those game-changing features – the cool button flattens wig lines, whereas reverse drying stretches tight coils, minimizing damage from over manipulation.
The Benefits of Using a Hair Dryer for Black Hair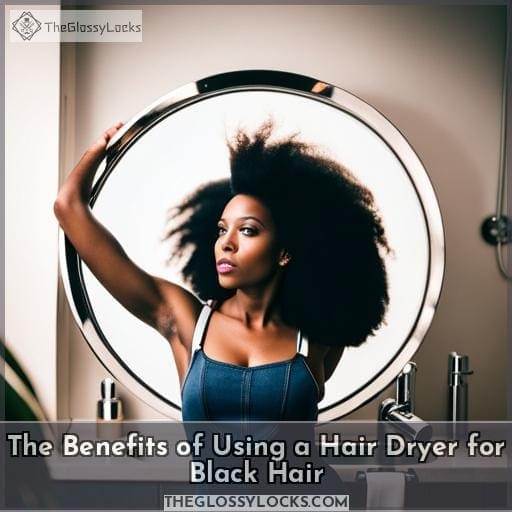 Using a hair dryer for black hair can bring your locks to life with improved texture, reduced frizz, and effortless styling. The best hair dryer for black hair should be versatile enough to accommodate all types of Afro-textured tresses, including 4b/4c type.
Low heat settings are ideal as higher temperatures can cause damage due to the fragile nature of many natural hairstyles, such as kinks and coils.
Furthermore, controlling the airflow will help you achieve smooth results without compromising on volume – perfect if you want that salon finish! For protective styles like wigs and weaves, the too cool button flattens wig lines, while diffusers allow springy curls to come alive without any pesky flyaways in sight.
Precise nozzles also aid styling, so make sure to opt for one with a longer power cord than short wide ones, which only create an uneven blowout result instead of the smoother-looking style desired by most people who wear their natural hair every day at home or in public spaces.
Revlon One-Step Hair Dryers provide great benefits for straightening, drying, curling, volumizing, and even detangling tight curls. It's a top drugstore brand that usually costs around $40 and usually gives amazing outcomes.
Ionic technology conditions, smooths, and reduces frizz, requiring fewer passes when using a flat iron and creating beautiful sleek looks. This easily changes the perception about how people treat their own individual unique strands, making them more confident in trying different styles.
They become real game changers within the beauty industry and the African American community itself, offering plenty of possibilities for experimentation, versatility, heat control, and prevention before, during, and after the entire process.
How to Choose the Right Hair Dryer for Your Hair Type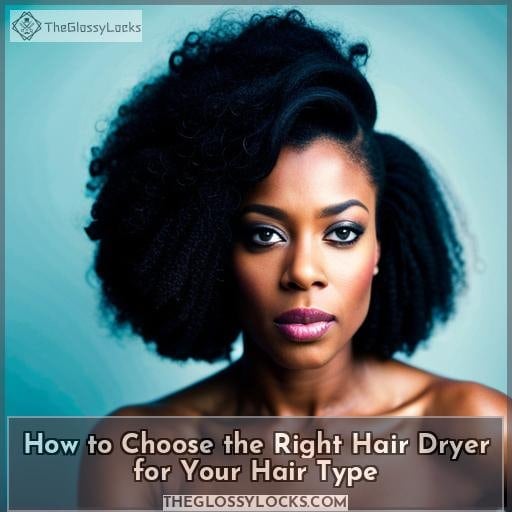 Choose the right hair dryer for your hair type with features like ceramic and tourmaline technology, ionic conditioning, and multiple attachments to help you achieve a salon-quality look with less damage.
To find the best fit:
Look for wattage levels under 1900W to avoid heat damage.
Opt for multiple settings, including a cool button feature. This is great if you have natural or curly hair prone to frizziness or thick curls that need detangling and stretching out without damaging them further.
Check if it has Ionic tech, which conditions while reducing flyaways.
Consider versatility across different Afro hair types, looking beyond just texture when choosing a hairdryer.
A lightweight design is also ideal as it reduces strain on arms but still gets the job done quickly thanks to low, steady heat.
Tips for Preventing Heat Damage When Using a Hair Dryer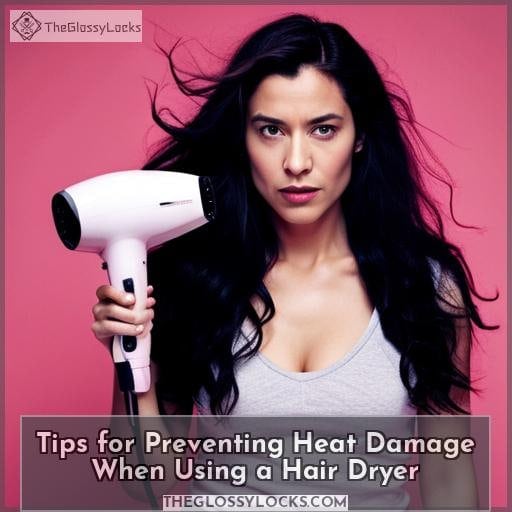 When styling your natural hair with a hairdryer, opt for low heat settings and extended drying times to protect delicate strands from excessive damage.
Opt for versatile styling tools that can handle all types of Afro hair textures while providing low, steady heat.
Look for lightweight designs with cool buttons so you don't overheat your hair when traveling or needing more speed settings than available at home.
Use cooling shot buttons to lock in styles as well as provide an extra burst of cool air after prolonged use on higher temperature levels to prevent further damage due to overheating.
Choose longer cords and travel-size models if needed; this ensures easier mobility without sacrificing safety or power capabilities necessary during drying sessions.
A quality dryer should be able to provide both gentle care and fast results without causing any long-term harm. The key is finding one that suits your needs best! With careful consideration given towards features like adjustable airflow speeds, cord length, power output, weight balance, etc.
How to Style Black Hair With a Hair Dryer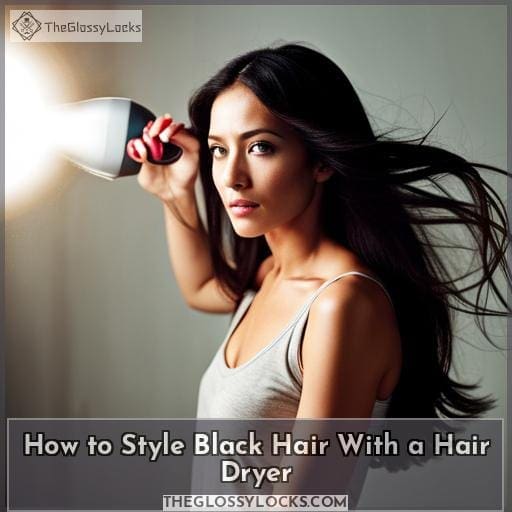 Styling black hair with a hairdryer can be challenging, but when done correctly, it can produce amazing results. To get the best look for your natural curls and coils, you'll need to find the right heat settings and attachments for your hair type.
For maximum control over frizz and volume, opt for a hairdryer that has boar bristle brushes or combs. These tools help stretch textured curled locks without causing damage. Additionally, make sure to select one with an extra-long power cord so you don't have to keep unplugging while styling sections of your hair! You should also consider looking at models that come equipped with infrared heat technology.
This technology helps further reduce frizz by drying from within each strand of hair rather than simply heating up the surface like traditional dryers do.
For tangle-free styling, go in search of brush attachments or blowout styles, such as those found on Revlon's One-Step Hair Dryer & Styler – perfect if you're short on time! This tool is designed specifically for tight curls using advanced ionic technology, resulting in shinier, more silky locks after each use – plus it's budget-friendly too!
Using these tips will ensure a manageable sleek finish every time, but remember: low steady heat is key, along with lightweight tools, so as not to exceed 1900W wattage, which could cause some serious damage over time!
Here are 5 items that will help style black hair effectively:
Heat settings suitable according to individual needs
Extra long power cords
Infrared Heat Technology
Brush attachments/blowouts
Low steady temperature (under 1900 W)
How to Properly Care for Your Hair Dryer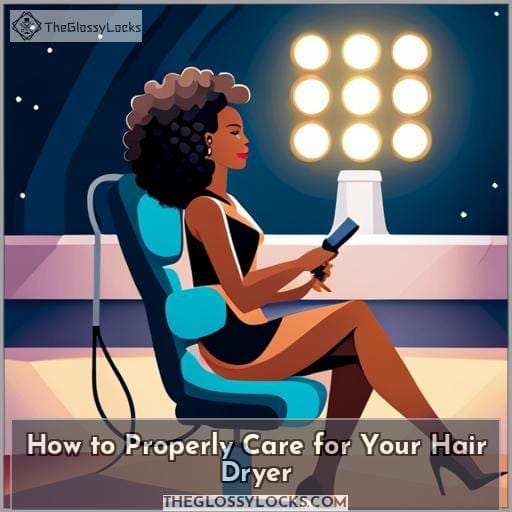 To care for your hairdryer properly, remember that the average life expectancy of a hair dryer is approximately 1000 hours – so be sure to clean out its filters and replace them when needed!
Make sure you use it at an appropriate temperature and distance from your scalp. Use the lower heat settings or cool setting for fragile hair such as extensions, wigs, gel manicures, and passion twists.
Additionally:
Change attachments regularly – Ensure all parts are in good condition before using.
Clean out air vents – Dust can clog up airflow, which hinders performance and efficiency.
Avoid overusing it on one area – Doing this could damage delicate strands like eyelashes, causing them to break off prematurely due to excess heat exposure.
Take breaks between styling sessions – This will help reduce wear and tear on both you and your dryer, allowing time for some self-care while keeping frizz levels low with longer-lasting style results!
With these tips in mind, caring for black hair just got easier with more efficient drying times without sacrificing protection against damaging heat, resulting in beautiful styles every time, even during at-home beauty trends like box braids or crochet braid styles!
Frequently Asked Questions (FAQs)
What are the differences between a professional salon hair dryer and a home hair dryer?
View On Amazon
Professional salon hair dryers offer more power and features, such as a DC motor for less noise and tourmaline & ionic technology. Home models are usually lightweight with customizable airflow and temperature settings, as well as attachments for different hairstyles.
Are there any natural hair dryers that are suitable for use on African hair?
Yes! Andis, Bio Ionic, TwinTurbo, and Infinitipro are all great for African hair. Choose one with low wattage and gentle heat settings to keep your curls looking healthy without damage or frizz. Look for features like diffusers that lift curls or cool buttons that flatten wig lines to get the best results.
What are the benefits of using an ionic hair dryer?
An ionic hair dryer allows you to achieve professional-grade results with less damage, frizz, and static. It uses negative ions to condition your hair while drying it faster than traditional blow dryers.
Ionic technology also helps keep natural oils in the scalp for a smoother finish and shinier look.
Are there any hair dryers designed specifically for styling black hair?
Yes! There are several dryers designed for black hair, such as the Andis Tourmaline Ceramic Hair Dryer and the Turbo Power 3200 Hairdryer. Both have heat/speed settings with Ionic technology to reduce frizz. The Revlon One-Step is great for natural hair, while the Hot Tools 24K Gold Volumizer adds volume quickly.
How often should a hair dryer be cleaned and maintained?
Clean your hair dryer regularly to prevent damage and maintain its performance. Replace the filter every few months, remove buildup, and use a soft cloth dampened with rubbing alcohol or white vinegar to keep it clean.
Conclusion
With a plethora of hair dryers on the market, it can be daunting to find the perfect one for black hair. Luckily, you have the experts to guide you on your journey. From the Andis Tourmaline Ceramic Hair Dryer to the NITION Ionic Hair Dryer, there's a wide variety of options to choose from.
As you shop, keep an eye out for features like nozzle size, cord length, wattage, and heat settings. Utilizing these features can help you achieve the look you want without damaging your hair. Additionally, make sure to look for products that are versatile and lightweight for easy styling.
With the right hair dryer for black hair, you'll be able to create a look that's both stylish and healthy.