This site is supported by our readers. We may earn a commission, at no cost to you, if you purchase through links.
Ready to lighten up your look? If you're looking for a hair color that will make you glow, then this is the article for you.
Whether it's warm tones like golden blonde or cool shades of icy ash blonde, we have just what it takes to create a stunningly beautiful new look. And if you're wondering what shade works best with pale skin, don't worry! We'll guide you through all of our favorite picks so that everyone can find their perfect hue.
So let's get started on finding out which hair colors make us look lighter – here are some great options!
Key Takeaways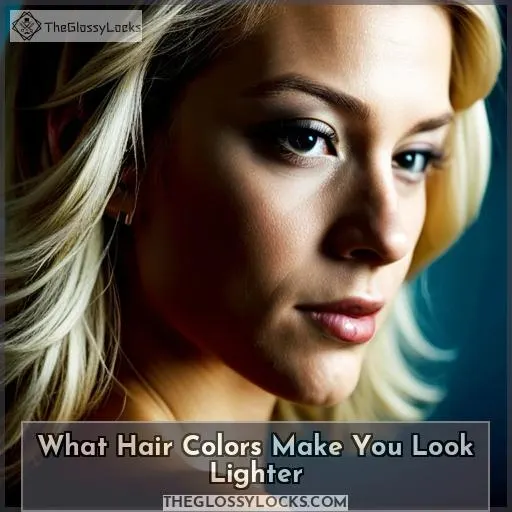 Blonde hair colors with warm undertones, like honey blonde or copper, can make pale skin look lighter.
Those with cool undertones should choose ashy blonde and brown shades.
Cinnamon hair color can add warmth and sun-kissed vibes to pale skin.
Mixing shades, like light browns or champagnes, can create an effortless ombré effect.
Our Favorite Trendy Hair Color Ideas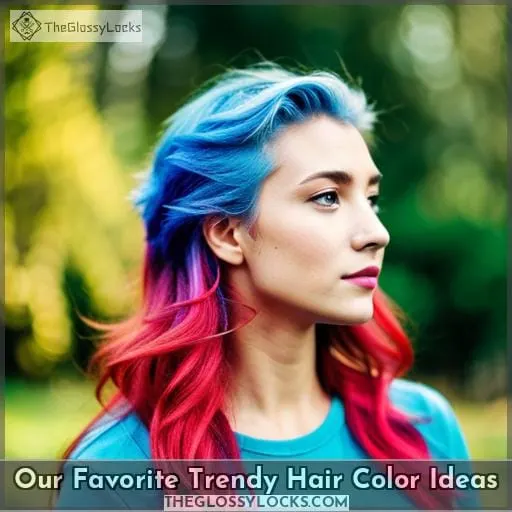 You're sure to find the perfect hair color for you with over 32 options available, from honey blonde to candy apple red and even bold rainbow looks – all designed specifically for those with pale skin.
For a good hair day every time, warm undertones should stick to deeper hues such as honey blonde, copper, or caramel, while cool undertones should opt for ashy blondes and browns. White Blonde is also an option if you like light shades of blonde that won't wash out your complexion.
Mushroom Brown is great if you are looking for something in between dark and light tones of brunette without appearing too washed out on pale skin.
Get creative by adding money pieces – black highlights on a base of white/blonde – or try pastel ombre colors like smoky lilac or bubblegum pink! With so many trendy hair colors available, it's never been easier to make a statement look that will flatter your unique style and bring out the best in you!
Brown Ombre Hair Color for Women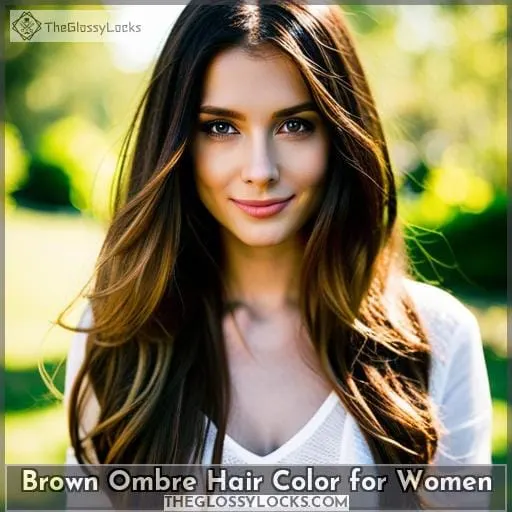 Try brown ombre to add dimension and give your tresses a cool, metallic sheen that flatters both warm and cool undertones! Brown ombre is an easy way to transition from dark roots to lighter ends without the commitment of all-over color.
To maintain the look, use a high-quality shampoo specifically designed for colored hair. It's also important to select shades carefully – opt for slightly cooler tones if you have fair skin or warmer hues if you're more tan or olive-toned.
For those with pale skin, it's best not to go too light as this can make your complexion appear washed out.
When styling brown ombre hair color, adding some waves will enhance its beauty while keeping it looking natural yet sophisticated at the same time! With a proper care and maintenance routine in place, this trendy style will last longer while enhancing shine as well as vibrancy in between salon visits.
Make sure you get creative when choosing colors – from cinnamon highlights on a golden brown base through copper shades with subtle highlights up until smoky lilac balayage – these are just some of the many options available that work great on pale skin types! So why wait? Get inspired today by trying out one of these stunning hair colors perfect for any occasion!
Black to Brown Ombre Hair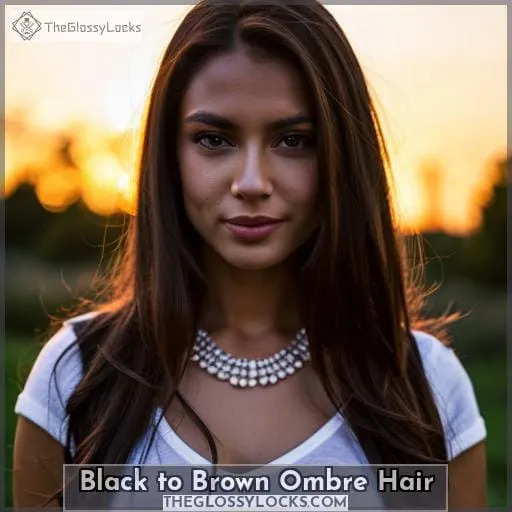 If you're looking to add dimension and a cool metallic sheen to your tresses, black-to-brown ombre is the way to go.
The key with this technique is color matching: selecting shades that flatter your skin tone. For pale complexions, opt for cooler tones like honey blonde or mushroom brown. For deeper hues like caramel or copper, try warmer undertones.
To keep hair healthy, use shampoos specifically designed for colored hair and be sure not to lighten too much as it can make skin appear washed out.
Add some waves in styling for natural sophistication and maintain vibrancy between salon visits with products such as Matrix Total Results Color Obsessed Shampoo & Conditioner System or Keep Me Vivid Shampoo & Conditioner system! So why wait? Get creative today by trying one of these stunning looks perfect for any occasion – long ombre locks paired with soft highlights are always a classic choice when going black-to-brown!
Chocolate Brown Hair Color for Women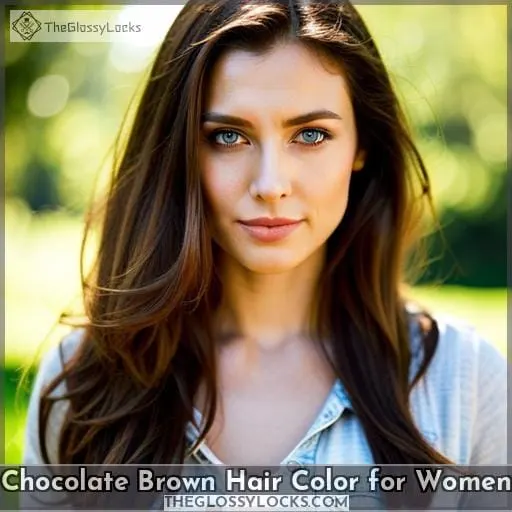 For a rich and flattering hue, chocolate brown hair is perfect for any skin tone. Whether you opt for subtle caramel highlights or ash undertones, it's easy to customize this classic shade to your desired look.
A medium brown shade looks best with dark roots, but if you want something bolder, try a rich dark brown that will give you an intense contrast from root to tip.
Whatever style works best for your unique features, don't forget Matrix Total Results Color Observed Shampoo & Conditioner System, which helps maintain vibrancy between salon visits.
Caramel Highlights
Ash Highlights
Copper Tones
Chocolate Shades
Platinum Blends
So why not take advantage of this beautiful hue? With so many options available, there's sure to be one that suits your complexion perfectly – get creative today by experimenting with different combinations until you find just the right balance of depth and brightness!
Platinum Blonde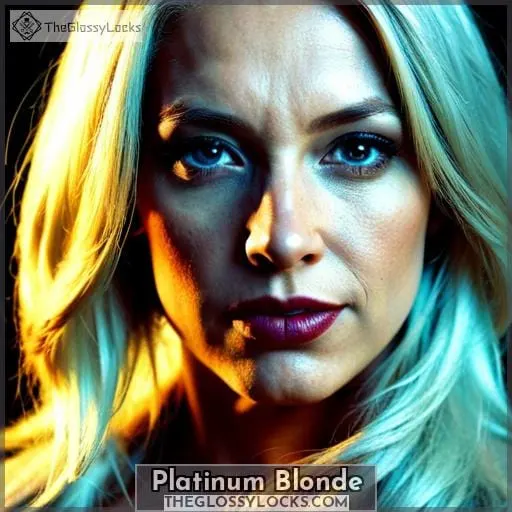 Transitioning to platinum blonde from chocolate brown is a great way to add some pizzazz and diversity to your look. Platinum blonde is the perfect shade if you have cool undertones, as it will bring out the best in your skin tone! This bold hair color requires maintenance to keep its vibrancy, but with Matrix Total Results Keep Me Vivid Shampoo & Conditioner System, you can ensure that this blonde shade stays true for longer.
There are plenty of styling options available for platinum blondes. Sleek waves or curls are always popular choices! If going all-over platinum isn't quite what you're looking for, then consider ash-blonde or honey highlights on the warmer side.
These both look amazing against dark roots and create an effortless transition between shades.
For more ideas and inspiration, take a look at celebrity stylists' social media pages. They often post stunning images that show off their work with different colors like pink dip-dyes or blue balayage streaks! Finally, if straight-up bleaching isn't something you want to try out just yet, then copper tones may be a better alternative.
Caramel Brown Hair Color for Women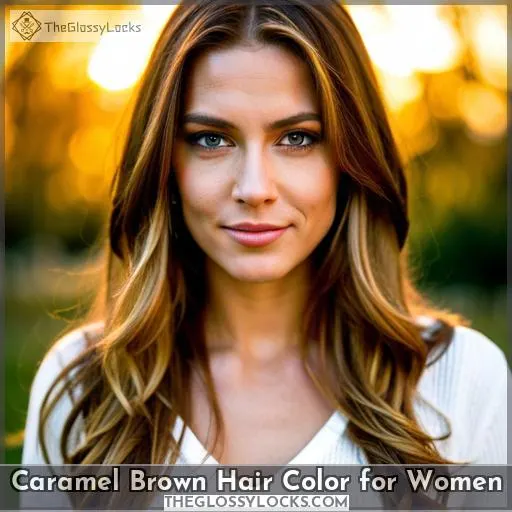 You'll instantly look sun-kissed and sophisticated with caramel brown hair color, perfect for women of all skin tones. This warm yet subtle hue adds depth to lighter shade blonde hair colors while still providing a natural brunette hue.
When caring for your caramel brown locks, it is important to use products specifically designed to maintain the vibrancy of this unique hair color.
If you want something trending in the latest trends, try some highlights or lowlights in shades like honey blonde or copper red, which add dimension without being too overpowering on their own – great if you are just starting out with colored tresses! Undertones play an important role when selecting the right shade, so be sure to chat with a professional stylist before making any changes.
With careful consideration and the help of a pro hairdresser, there's no doubt you'll find just the right blend of undertones that work best for your complexion and style preferences.
Ash Blonde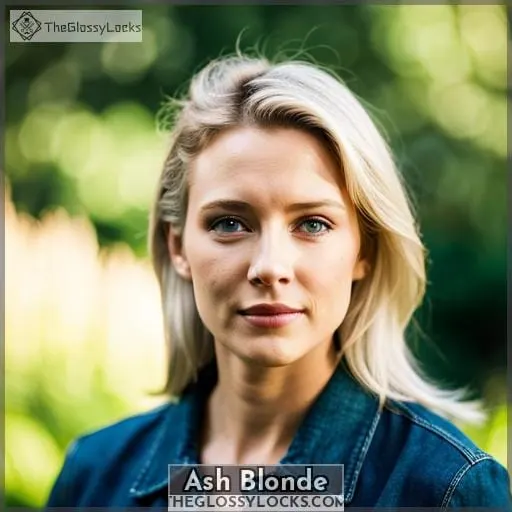 Try ash blonde for a chic and sophisticated look that flatters different skin tones! This cool, light hair color is perfect if you're looking to switch up your style without going too bold.
Ash brown shades are also a great way to incorporate subtle highlights into natural hair color. For best results, use products designed specifically for maintaining vibrant colors like the Matrix Total Results Keep Me Vivid Shampoo & Conditioner System.
Hot pink or rainbow hues can add an edgy flair, but they may require more upkeep than other lighter shades of blondes and brunettes.
Copper tones will bring out depth in light hair colors while still providing an overall natural-looking effect and even adding warmth when paired with pale complexions or blue eyes.
Whatever hue you choose, ash blonde has the power to give your tresses new life!
Copper Hair Color for Women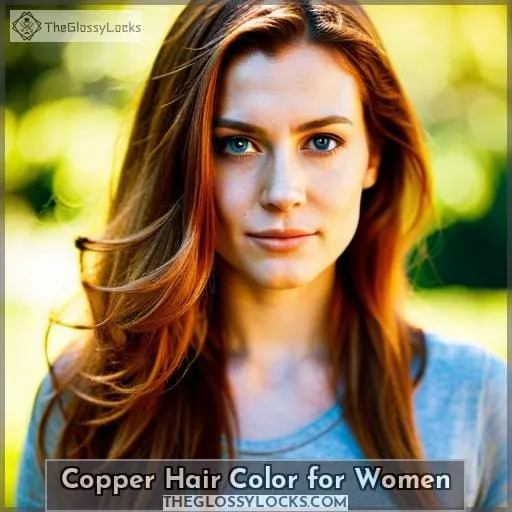 Take your hair color to the next level with copper! This warm hue is perfect for pale skin and blue eyes, as it adds natural-looking depth and a metallic sheen.
There are plenty of benefits that come along with this vibrant color. Copper can help you get the look you've been dreaming of without compromising on healthy hair care habits! It adds volume and protects against damage from heat styling tools.
Styling tips include using a conditioning system like Matrix Total Results Keep Me Vivid Shampoo & Conditioner System after dyeing to maintain vibrancy while still preserving softness. Plus, it seals in moisture for extra hydration! Consider mixing shades like light browns or champagnes together for an effortless ombré effect.
Since copper won't fade easily over time, proper maintenance routines will keep this shade looking its best longer than most other colors.
Jet Black Hair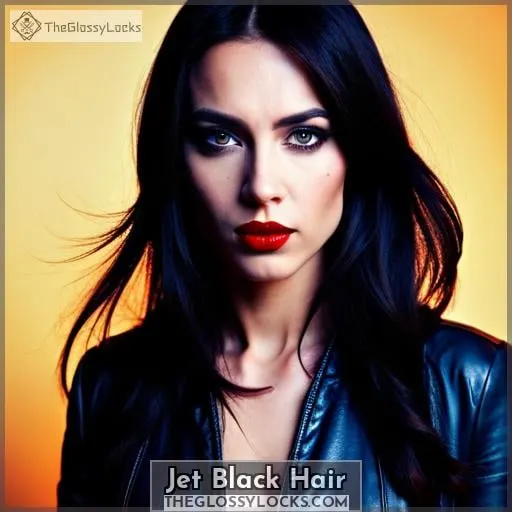 Experience the ultra-shiny, fierce look of jet black hair to bring out your inner goddess! This bold hair color is perfect for pale skin tones and copper undertones. Jet black adds intensity with small doses, creating a truly vibrant look that stands out from the crowd.
With proper black hair care maintenance, this shade can last even longer than most other colors! With natural dark roots and rich deep hues at the ends or full coverage throughout each strand, this hue will make you feel unstoppable in any situation.
From day one of application until several months later after regular touchups, jet black will always maintain its vibrancy no matter what season it is outside.
Plus, pairing with lighter highlights like vibrant blonde to create subtle dimension makes this color all the more beautiful when styled as an ombre fade or sun-kissed balayage transition into different shades of browns and blondes for an effortless finish.
Embrace your inner beauty by unlocking empowering looks through brightening up those dark tresses! There's something special about having healthy shiny locks in daring colors that radiates confidence whenever you step into a room – so don't be afraid to take risks when going darker or brighter—you deserve it!
Medium Brown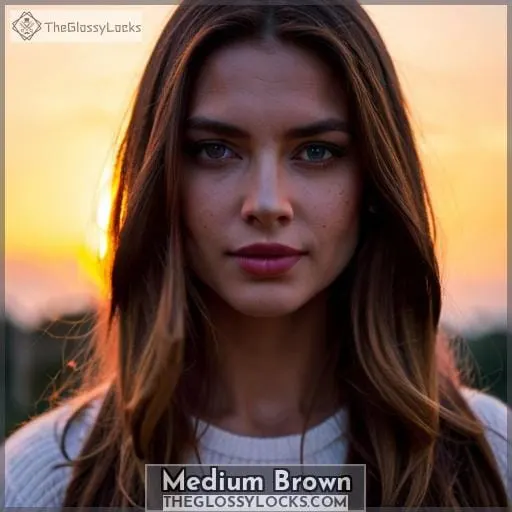 Feel the warmth of medium brown hair and add depth to your complexion with this trendy shade! Perfect for those looking to lighten up their look while still keeping a natural hue, medium brown offers equal parts vibrancy and subtlety.
This warm color suits different undertones and adds dimension without overpowering the face. Its matte finish is great for making features stand out, creating an effortless yet polished look that can last a long time if you take care of it properly.
Pair with lighter highlights like blonde or copper to create subtle movement in dark tresses, or go bolder by incorporating fantasy shades such as blue or pink into your style! If you're worried about maintaining color vibrancy over time, then use Matrix Total Results Color Obsessed Shampoo & Conditioner system – its blue pigment helps preserve tones for longer periods between salon visits.
To keep black tints from washing out pale skin, opt instead for rich dark browns which provide just enough contrast against fair complexions without being too harsh on the eyes.
What Color Hair is Best for Pale Skin?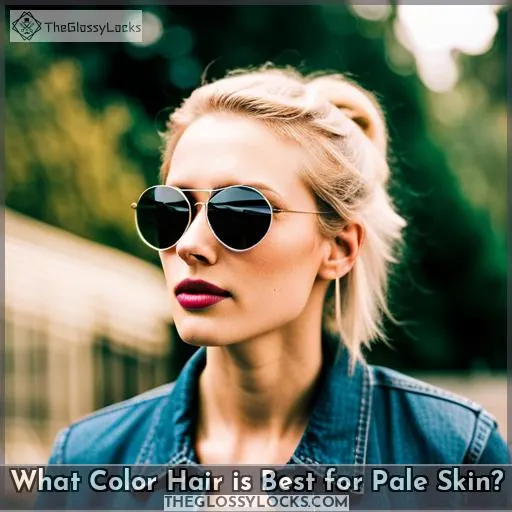 Discover the best hair color for your pale skin by identifying your undertones and exploring options like honey blonde, copper, caramel, ash blonde, or even bright hues like pink. To get started, consult with a professional colorist who can help guide you to the right hue that will flatter your complexion.
For warm undertones, opt for deeper colors such as copper, while cool tones should stick with lighter ashy blondes and fantasy hues. Going too light or too dark may make pale skin appear washed out, so it is important to find a balance between extremes.
When maintaining different shades of hair, consider changing up products to keep vibrancy alive.
The Best Blonde Hair Colors for Pale Skin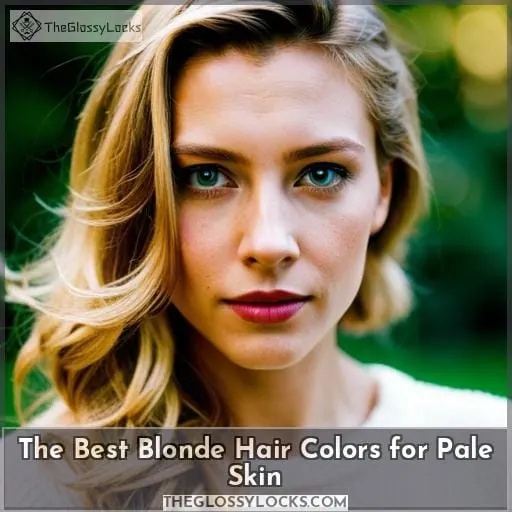 If you have pale skin, blonde hair is a great way to enhance your features and make you look more radiant. Honey blonde, white, bronde (brown-blonde), mushroom blonde, and champagne are all excellent options for those with fair complexions.
Honey Blonde
Embrace the warmth of honey blonde to give your pale skin a natural, sun-kissed look. Highlights add texture and depth while maintaining vibrancy. Those with cool undertones should opt for cool-toned blonde, while those with warm undertones can use statement-making colors like copper or caramel.
White
Try white for a look that is on-trend and sophisticated. Make pale skin pop with this cool-toned blonde, adding an edgy yet natural vibe. For cinnamon hair, ash blonde or copper tones provide good ombre contrast. Hot pink brings out the lightest shade of porcelain complexion, while rainbow hues may add a bit of brassiness and notes of red throughout.
Bronde
Experience the perfect blend of blonde and brunette with bronde hair color for pale skin. Achieving this look is easy; just match your skin tone to a good hair color like medium shades. To have a natural-looking transition from brunette roots, consult with a professional colorist who can use a progressive toning system.
The benefits of bronde are that it's low maintenance but still has an edge over regular blondes! Color maintenance requires specialized products and possibly changes in your current hair care routine if you want to keep rainbow hues vibrant or bold reds fiery for a longer duration.
Mushroom Blonde
You can elevate your pale skin with mushroom blonde hair color. To achieve this look, use a cool tone on warm undertones or vice versa. Maintaining the color requires specialized products and changes in your routine if you want to maintain vibrancy and longevity.
Use a salon locator for Mushroom Blonde Care tips or add balayage highlights for lighter skin tones using the color wheel.
Champagne Blonde
Achieve a subtle yet striking look with champagne blonde hair, which flatters pale skin and blue eyes. For cool undertones, use rich shades with neutral tones; for warm undertones, opt for golden highlights.
Keep Vivid shampoo/conditioner to help maintain vibrancy, while Color Obsessed is best for touch-ups. If using the balayage technique, use the color wheel to create lighter hues on the lightest range complexions.
The Best Brunette Hair Colors for Pale Skin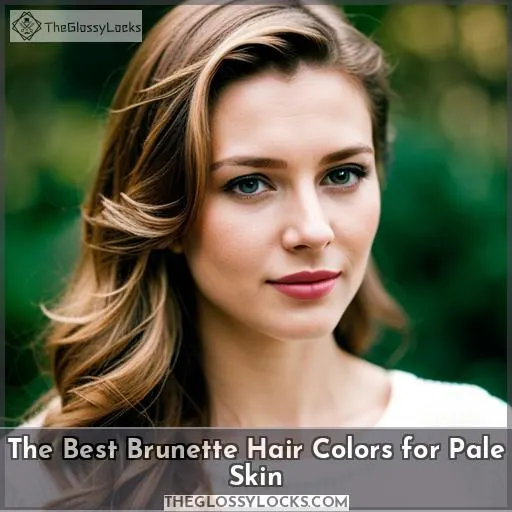 If you have pale skin, brunette hair is a great way to add depth and dimension. Try mushroom brown for an ashy finish, milk chocolate for a subtle yet stunning look, or opt for brown with face-framing blonde highlights if you want something bolder.
Mushroom Brown
Embrace the subtle, smoky shades of mushroom brown to bring out your pale skin's natural beauty. It's a great low-maintenance choice that can be spiced up with highlights or lowlights for more depth and dimension.
Here are some tips for maintaining this look: 1) Use Mushroom Brown Care products designed specifically to protect color; 2) Schedule regular touch-ups at a salon; 3) Add face-framing blonde highlights or chocolate brown lowlights as desired.
Milk Chocolate
Try milk chocolate hair for a deep, rich hue that complements pale skin. It is perfect for those who want to avoid the dreaded washed-out look from going too light or dark. Copper highlights and lowlights add dimension, while hot pink livens up deeper hues – perfect if your skin tone doesn't want a full head of black hair! Rainbow bold colors are also an option with this shade, but they may require more maintenance to keep vibrant shades popping.
Brown Hair With Face-Framing Blonde Highlights
Transform your pale skin into a golden goddess with brown hair and face-framing blonde highlights for an utterly breathtaking look! The right color palette can make morena skin tones pop, while copper highlights bring out the best in pale pink.
Ash blonde is low maintenance yet still looks stylish when paired with cinnamon hair or rainbow hues.
Espresso Brown With Subtle Highlights
Spice up your pale skin with espresso brown and subtle highlights for a modern, stylish look. The perfect mix of copper highlights and different shades will make you stand out from the crowd.
The Best Red Hair Colors for Pale Skin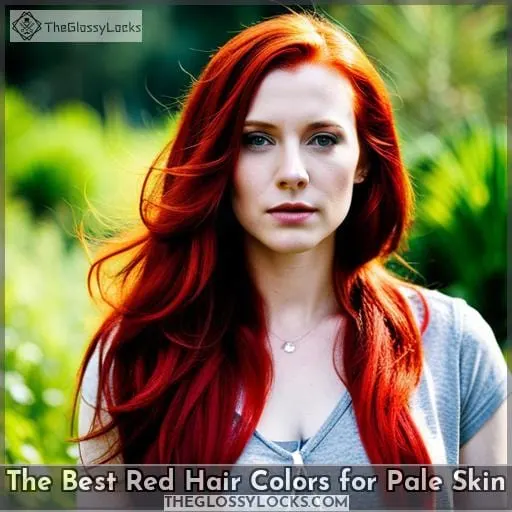 If you have pale skin, red hair can be a great way to add warmth and vibrancy. Try cinnamon for a sun-kissed look, light or dark auburn for an earthy feel, burgundy for something bolder and richer in color, or copper if you want to add some shimmer! For the best results, it's important to identify your undertones first as this will help determine which shades will flatter your complexion the most.
Cinnamon
Discover the impact of a hint of cinnamon hair color on your pale complexion for an unexpected warm and sun-kissed look. This timeless hue is an ideal choice for cool or warm undertones and will make you stand out from the rest.
With proper care and maintenance, it can add a low-maintenance touch to any style while also being one of the trendiest hair colors around! Whether you want to go all over or just at the tips, cinnamon is sure to give you that extra boost in confidence we all want.
Light Auburn
Embrace the beauty of light auburn hair color to add warmth and definition to your pale complexion. This shade is great for both cool and warm undertones, making it one of the best options out there! Get advice from a professional colorist to find the perfect shade that complements your skin tone.
Plus, this low-maintenance hue will keep you looking on-trend with less effort – good news for busy people! Experimenting with an undertone can be a good idea too; try different shades until you find what works best for you.
Dark Auburn
Try dark auburn for a dramatic flair. Copper tones, burgundy shades, and candy apple red add depth and sophistication to pale complexions. Light auburn is great for both cool and warm undertones too! Experiment with different hues until you find the one that works best for you.
Burgundy
You will love the depth and sophistication that burgundy hair colors lend to pale skin. Try copper tones, auburn shades, or hot pink for warm undertones, while rainbow hues are perfect for cool undertones.
Copper
Copper hair is sure to bring out the warmth in pale skin, creating a sun-kissed look. Red highlights can add texture and dimension, while hot pink or rainbow hues are perfect for cool undertones.
The Best Fantasy Hair Colors for Pale Skin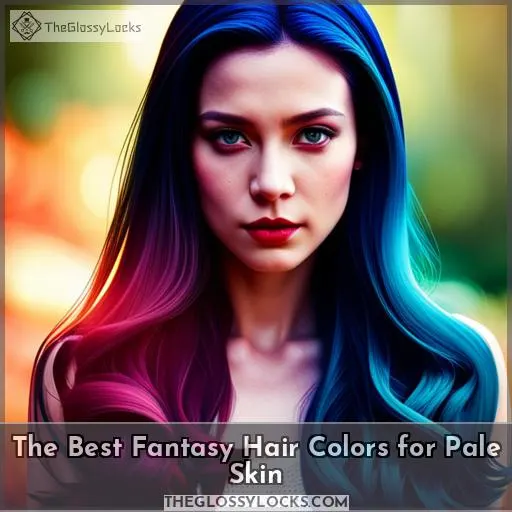 If you have pale skin, fantasy hair colors can be a great way to add some flair and fun. Money pieces are a creative option that will give your black hair on pale skin an edgy look, while charcoal, smoky lilac, pastel blue, and bubblegum pink shades can all create eye-catching results.
Money Piece
You can achieve a subtle yet eye-catching style with the money piece. Black highlights placed on a blonde base look great on pale skin, and maintenance is key for color vibrancy. Hot pink or rainbow hair also flatters fair complexions, while copper hair color adds shimmer for those with warm undertones.
Charcoal
For those with pale skin, charcoal is an edgy and sophisticated shade that can create a dramatic look. It works particularly well for individuals with warm undertones who want to add depth to their hair through dark roots combined with copper hair color.
Proper maintenance is crucial, so it's important to use a shampoo and conditioner system specifically designed to keep hues vibrant, such as Matrix Total Results Keep Me Vivid.
Smoky Lilac
Embrace your inner ethereal beauty with smoky lilac, a unique shade perfect for pale skin. Accentuated by copper highlights and pink hues, this deep brown color will unleash the power of rainbow hair.
Pastel Blue
Try rocking the trend of pastel blue for a magical look that will make you stand out! Show off your unique style with copper highlights to accentuate. Balance this hue with hot pink and rainbow hues for enhanced hair care vibrancy.
Bubblegum Pink
Show off your bold and vibrant side with bubblegum pink hair! Brighten up pale skin with this eye-catching hue, while adding hot pink highlights to accentuate it. Stand out from the crowd by pairing it with rainbow hues or copper hair color for a unique look.
Frequently Asked Questions (FAQs)
What type of maintenance do I need for colored hair?
Maintaining vibrant colored hair requires regular upkeep. For long-lasting results, use specialized shampoos and conditioners tailored to your shade – like Matrix Total Results Color Obsessed Shampoo for reds or Keep Me Vivid for rainbow hues – plus deep conditioning treatments every few weeks.
What are the best products to use for colored hair?
Transform your colored hair with the best products! Achieve extra luscious locks, bright vibrancy, and a radiant look that will dazzle. Give Matrix Total Results Color Obsessed Shampoo and Conditioner a try for long-lasting color or the Keep Me Vivid system for brighter hues.
How can I choose the right hair color for my skin tone?
Choose a hair color that complements your skin tone for an eye-catching look. You can go bold with sunflower blonde or rock the trendiest copper hue.
What are the best styling techniques for colored hair?
Take control of your colored hair! For a vibrant look, use shampoos and conditioners specifically designed for color-treated hair. Experiment with different styling techniques such as money pieces, highlights, or dip-dyeing to add dimension and texture.
Be creative and have fun! With the right care, you can make any look work for you.
Is it safe to dye my hair at home?
Dyeing your hair at home can be safe if you take the right precautions. Use high-quality, gentle formulas, and always perform a patch test to avoid irritation or an allergic reaction.
Conclusion
Now that you know all the best hair colors for pale skin, it's time to take action! Whether you're aiming for an edgy, bold look or a softer, more subtle appearance, you'll find hair colors that suit your style and flatter your complexion.
With so many options, it can be hard to choose. Reach out to a professional colorist for advice and to ensure a smooth, safe transition.