This site is supported by our readers. We may earn a commission, at no cost to you, if you purchase through links.
Are you looking for a low-maintenance and versatile hair type? Then look no further than 1C hair! Take it from Sarah, who switched to 1C hair last year. After years of struggling with her naturally wavy 2A strands, she decided that the time had come to switch things up.
In this article, we'll take an in-depth look into everything about 1C Hair – what it is, benefits & drawbacks of having such a hairstyle, as well as tips on styling and caring for your locks.
Key Takeaways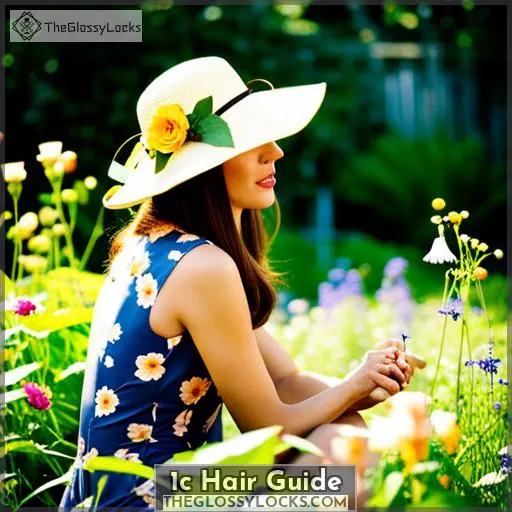 1C hair is low-maintenance and versatile, with subtle body, arcs, and bends throughout the mid-sections.
To maintain 1C hair, use lightweight nourishing products, protect against breakage and split ends, and avoid unnecessarily prolonging time spent wetting the strands.
Embrace layers and shag cuts for volume and movement. Use deep conditioning treatments, anti-frizz serum, and silk or satin pillowcases to combat frizz, flyaways, and dry ends.
Use mousses, gels, and creams to add moisture and hold curly shapes without weighing hair down. Wash 1C hair no more than twice a week with sulfate-free shampoo and conditioner.
What is 1C Hair?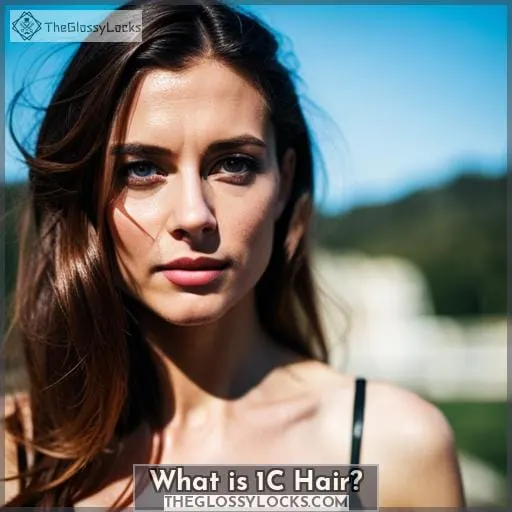 You've got unique, beautiful hair – and understanding your 1C locks can help you get the most out of them! Type 1C is a straight hair type that features subtle body, arcs, and bends throughout mid-sections.
Strands lie flat at the root with ends curling inward toward the chin. While this type of hair shares some characteristics with types 1B and 2A (curls vs waves), it has more coarse strands which result in added weight for great body but also makes it susceptible to frizz, flyaways, and poofiness from mid-lengths down.
To maintain your fabulous mane while keeping its moisture retention intact as well as fighting off any unwanted frizz or poofiness due to humidity or dryness, use lightweight nourishing products such as Pureology Hydrate Sheer Shampoo & Conditioner along with an occasional Ouai Treatment Mask (for extra hydration).
For protection against heat damage during styling, use Kérastase Nutritive 8H Magic Night Serum Hydrating Treatment before blow-drying on a low heat setting using JVN Complete Pre-Wash Scalp & Hair Treatment Oil for additional defense against breakage/split ends.
To keep up appearances overnight, apply Bumble and bumble Surf Texturizing Finishing Foam followed by Marc Anthony Instantly Thick + Biotin Styling Cream plus JVN Complete Hydrating Air Dry Hair Cream.
Then, sleep on a silk/satin pillowcase so curls don't rub into each other causing tangles come morning time. Additionally, use microfiber towels when drying instead of conventional ones since they are gentler yet still absorbent enough not to prolong time spent wetting the strands unnecessarily, increasing chances for damaging split ends due to overhandling.
Embrace layers if you want volume coupled with movement without having too much added weight creating a limp look nor making already thick tresses unmanageable. Opt for a shag cut enhancing natural texture, thus allowing even easier upkeep than simply layering alone while avoiding getting stuck in a mundane styling rut.
How is 1C Hair Different From Other Hair Types?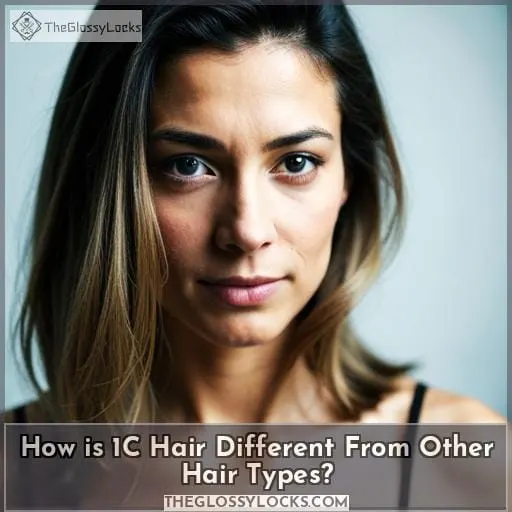 Understanding the differences between your hair type and other types is key to finding the products and techniques that work best for you. Type 1C hair is straight with subtle body, arcs, and bends throughout mid-sections.
Strands lie flat at the root but have ends curling inward toward the chin while being more coarse than other straight strands like 1B or 2A. This makes it susceptible to frizz, flyaways, and poofiness from mid-lengths down, as well as easy to hold curl when air drying well.
To make the most of this unique texture, follow these tips:
Washing Tips – Avoid over-washing and use lightweight nourishing products on the scalp and conditioner on the ends.
Haircare Routine – Use a silk/satin pillowcase, microfiber towels, and longer length to make maintenance easier.
Frizz Control – Apply leave-in serum overnight to fight off poofiness under humidity.
Styling Techniques – Soft bends/voluminous ponytails add volume; layering cuts create texture; shag cut enhances natural shape without much styling effort.
For a healthy-looking head of 1C hair, it's important to only use sulfate-free shampoo and deep conditioners, which help repair damage caused by oil production, along with using the lowest heat setting when blow-drying paired with a heat protectant product.
Also, try adding mousse gel creams before styling for added softness, moisture, and hold, creating a soft waves look that is low maintenance yet still beautiful.
Knowing one's own hair type and understanding how to look after it can bring out the fullest potential for the healthiest, most full locks!
What Are the Benefits of 1C Hair?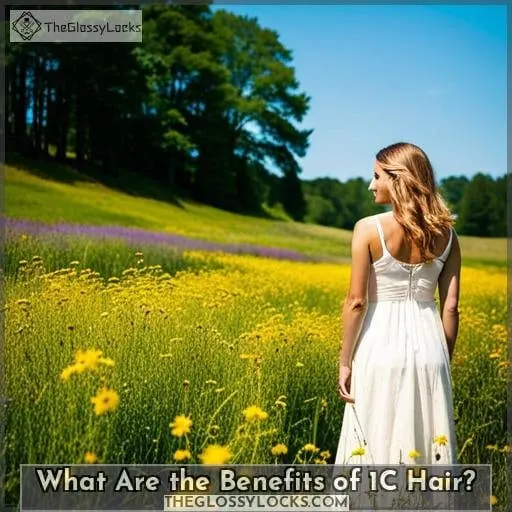 If you have 1C hair, then you know that it is a great choice for low-maintenance styling. Not only does your hair look naturally healthy and beautiful, but its versatility makes it easy to customize into any style or texture.
Moreover, the damage resistance in 1C strands helps protect your locks from heat and other environmental elements.
Low Maintenance
With minimal effort, you can keep your locks looking naturally beautiful and healthy! To make the most of 1C hair, follow a haircare routine that includes lightweight nourishing products like leave-in serums.
Longer styles are easier to maintain and when layered they add volume and movement. Air drying is recommended instead of blowdrying to prevent heat damage. Use natural finishes for curl enhancement or soft bends.
Frizz prevention starts with avoiding over-washing as well as using silk/satin pillowslips or microfiber towels while sleeping.
Versatility
Discover the versatility of 1C hair – from soft bends to voluminous ponytails, you'll be amazed at what it can do! For silky waves and frizz prevention, use lightweight leave-in products. To maintain scalp health and achieve a shag cut, invest in quality hair care tips such as a satin pillowcase and avoid the vicious cycle of daily hair washing.
Finally, top off your routine with an overnight leave-in serum to help combat flyaways or poofiness caused by its coarse texture.
Natural Healthy Look
You can effortlessly achieve a natural, healthy look with 1C hair! Layers and shag cuts help accentuate its texture while adding volume. My friend found the right product to protect from heat damage and now rocks soft waves without much effort.
Maintaining moisture is key for keeping flyaways at bay – try using lightweight, nourishing products for longer-lasting results. For frizz solutions, use leave-in serum overnight or apply anti-frizz cream during the day as needed.
Damage-Resistance
By taking care of your 1C hair, you can help ensure it remains resilient and damage-resistant! Deep conditioning helps keep the texture smooth while protecting against further dryness. Heat protection is also essential to prevent frizzing or breakage due to styling tools.
Frizz-fighting leave-in serums can be used overnight for extra hydration, and natural finishes are recommended during the day.
Layering cuts add volume without sacrificing length, and thicker types benefit from voluminous ponytails, which will enhance body in addition to concealing flyaways. Oily scalps may need more frequent washing, but moisturizing shampoos should always be used on these strands.
What Are the Downsides of 1C Hair?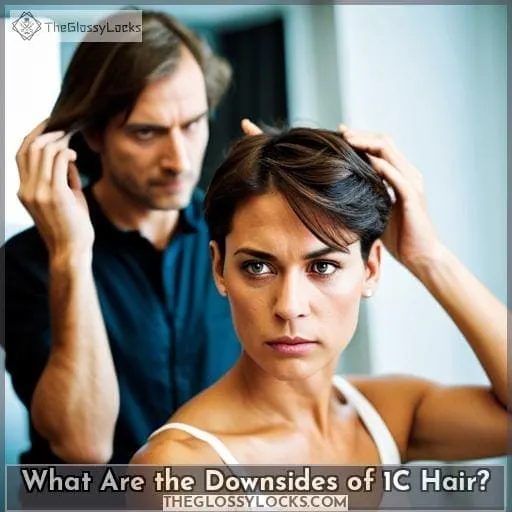 If you have 1C hair, then you know that it comes with its own special set of challenges. From frizz and flyaways to increased scalp oiliness, poofiness, knots, and tangles, as well as dry ends – all these things can be difficult to manage.
All of these issues require regular maintenance to ensure your hair stays healthy-looking and shiny.
Prone to Frizz and Flyaways
Unfortunately, you may find yourself dealing with frizz and flyaways as a result of having 1C hair. To combat this, use deep conditioning treatments to keep your strands healthy and nourished. Utilize heat protection when blow-drying or using hot tools. Apply an anti-frizz serum for extra control.
Consider layering cuts or a shag cut to add texture without the hassle. If all else fails, think Sienna Miller and embrace the natural wave! Marilisa Sears suggests that 1C is versatile enough to be styled in multiple ways while still looking polished, like Shelly Gregory's signature beachy waves.
Increased Scalp Oiliness
With 1C hair, you may find your scalp producing more oil than usual. Combatting frizz and scalp oils is the main issue with this straight hair category, but it doesn't have to be a challenge! Using hydrating products from Pureology Hydrate Sheer line can help restore balance and reduce dryness.
The usual straight hair woes don't apply here. Try JVN Complete Pre-Wash Scalp & Hair Treatment Oil for a great pre-shower treatment that will nourish without weighing down your strands. Keep in mind that heat damage can also contribute to an increase in oils, leading to a vicious cycle of product buildup on the scalp.
Knowing which type of hairstyle works best for each individual's unique head of hair is key when trying out various haircuts or styling techniques, especially if they involve heat tools!
Poofiness
You can avoid poofiness from mid-lengths down by using lightweight, nourishing products and conditioning the ends. Curl retention is easier with 1C hair compared to other straight hair types as it holds shape better, and air drying helps prevent frizz.
Heat damage should be avoided, so use the lowest setting when blow-drying. A heat protectant spray is also recommended for extra protection. Product selection plays an important role in maintaining 1C hair. Choose shampoos that are sulfate-free and conditioners that provide moisture without weighing it down.
Hair type matters too, as a single type may not adequately address all of your needs.
Knots and Tangles
Unfortunately, due to the coarse nature of 1C hair, knots and tangles can often form. However, with a few preventative measures, you can keep your locks looking smooth and healthy. Moisturizing is key – use hydrating shampoos and conditioners, as well as leave-in serums or oils, to fight frizz.
Curling techniques should also be used sparingly with heat protection in place for lasting styles without damage. Hair oils are great for nourishing strands while keeping them tangle-free. For many hairstylists, this is one of the major benefits when working on 1C hair – despite being more prone to tangling than other types! However, it's also one of its main concerns; a great struggle that requires understanding in order to overcome it successfully.
Dry Ends
Because of its coarse texture, 1C hair tends to have drier ends. Good news: there are ways to keep them moisturized and healthy!
Hair stylist Shelley Gregory recommends using a light oil such as argan or coconut on the lengths of your hair for damage protection and frizz prevention. Additionally, use heat styling with caution – opt for lower temperature settings if possible – and always apply a protective product prior to blow drying or straightening.
For curl retention, try wet-setting your locks overnight in rollers or braids; this is a great option especially in humid climates! Firm believers in proper care routines will be happy with similar results from other types of hair too – it's all about finding what works best for you!
How Should You Care for 1C Hair?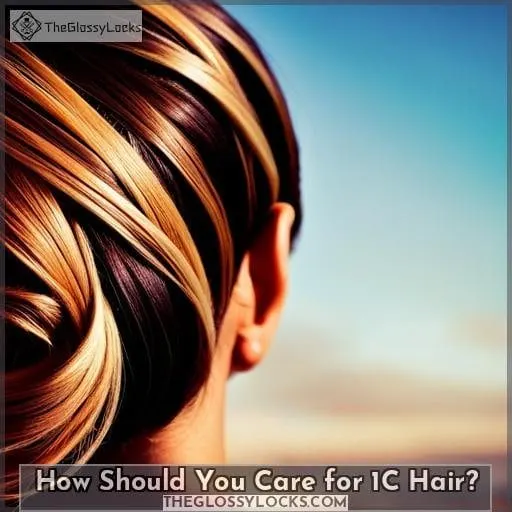 Hey there! Caring for 1C hair can be a challenge, but with the right approach, you can make your curly hair look amazing.
To get started, try to avoid over-washing and use lightweight, nourishing products that won't weigh down your curls. Make sure to condition and nurture the ends of your hair regularly as well. This will help keep it healthy and strong.
Use a silk or satin pillowcase at night, along with microfiber towels when drying off after showering. These materials are gentle on delicate strands while helping them retain moisture more effectively than traditional fabrics do.
Air dry whenever possible to protect against heat damage. If needed, finish up with natural styling options like gels or curl creams instead of using hot tools every day.
Avoid Over-Washing
Avoiding over-washing is key to maintaining healthy 1C tresses. Washing a few times a week should do the trick. Scalp care is essential, so use lightweight hair oils and protect ends with leave-in conditioner.
Moisturize daily and avoid heat styling tools as much as possible. Hairstylist Marilisa Sears suggests outright short layers on the thinner side for great air-dried results. By avoiding over-washing, you can keep your locks looking their best all day long.
Use Lightweight, Nourishing Products
You'll want to use lightweight, nourishing products on your 1C hair to keep it looking its best. Frizz control, heat protection, and natural styling are key for this type of hair.
Nourishing hair care
Scalp care
Frizz control
Heat protection
Natural styling
Investing in quality products specifically designed for 1C hair is essential. Look out for mild shampoos and conditioners that won't strip your strands of their necessary oils! Also, be sure to give extra attention when cleansing the scalp as well as ends, which tend to be drier than other parts of the strand.
Condition and Nourish Ends
To keep your strands looking their best, nourish and condition the ends as they tend to be drier than other parts of the hair strand. Incorporate conditioning rituals into your hair care routine for ultimate frizz control and protection against heat damage.
A deep moisturizing mask or leave-in serum is great for replenishing hydration levels and sealing in moisture while styling techniques like air drying can help reduce breakage. Use a microfiber towel when drying after shampooing to prevent further dehydration that causes split ends.
Use Silk or Satin Pillowcase and Microfiber Towels
Sleep soundly and wake up with softer strands by swapping out your cotton pillowcase for a silk or satin one – you'll be glad you did! Frizz prevention is key to 1C hair care, so using these materials helps reduce friction and retain moisture in the hair.
Microfiber towels are another great way to air dry without heat damage while also absorbing excess water from the strands.
Use leave-in serum overnight and keep anti-frizz on hand. Nourish ends regularly and enjoy voluminous ponytails minus flyaways and poofiness.
Air Dry and Use Natural Finishes
Avoiding heat damage and achieving a natural finish is easy – just air dry your locks with a microfiber towel! This will not only reduce the risk of breakage but also keep frizz at bay, so you can enjoy beautiful, healthy-looking 1C hair.
Air drying encourages the distribution of scalp oiliness throughout strands, adding shine and volume. When styling products are necessary, use low-temperature settings on blow dryers or opt for leave-in serums that provide nourishment without causing heat damage.
Use Leave-in Serum to Fight Frizz Overnight
Fight frizz and flyaways overnight with a nourishing leave-in serum! Reduce poofiness from mid-lengths to ends while protecting your strands from damage. Those with 1C hair can benefit greatly by using an anti-frizz serum on damp or dry hair, creating soft waves that won't get weighed down.
For added texture, volume, and movement, try a voluminous ponytail – the perfect style for day or night! You don't need to worry about humidity ruining your look when you have the right product in hand.
What Are the Best Hairstyles for 1C Hair?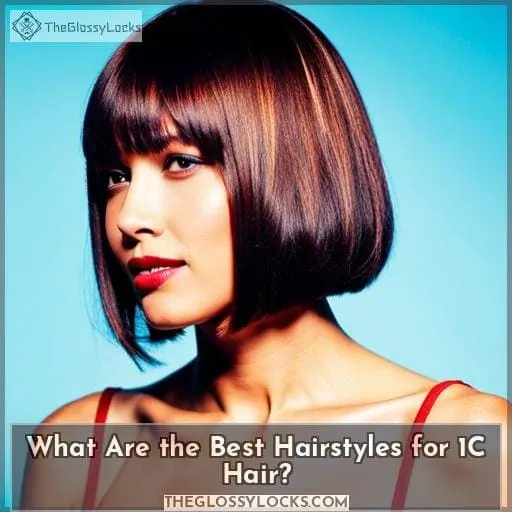 If you have 1C hair, then you're in luck! There are plenty of fun and stylish hairstyles that will work perfectly for your hair type. Soft waves are always a great choice as they add texture and dimension to the look without making it appear too heavy or voluminous.
A voluminous ponytail is also an excellent option, as this style looks full yet sophisticated at the same time.
Soft Waves
For a low-maintenance style that won't require extra styling products, soft waves are the perfect choice for 1C hair.
Start with a heat protectant product before blow-drying to help preserve moisture retention.
Utilize curling irons or wands on alternate days to maintain soft curls while also fighting off any unwanted frizz.
Select products carefully – lightweight formulas like mousses and gels will give you just enough hold without weighing down the hair too much.
When it comes to maintaining 1C hair, understanding your own unique needs is key when selecting which tools and products work best for achieving beautiful yet effortless styles! With proper care such as using heat protection sprays before styling as well as sulfate-free shampoos and conditioners regularly, you can go a long way towards achieving healthy-looking locks all year round!
Voluminous Ponytail
Experience the beauty of a voluminous ponytail with 1C hair. Create texture and body while concealing frizz and flyaways. Soft waves add movement to your look without requiring styling products. Alternatively, try layering or shag cuts for added volume.
To achieve a voluminous style, use heat protection before blow-drying on the lowest setting. Gather all your strands into one hand, then tie them loosely in an elastic at nape height. Use bobby pins if needed to secure it firmly, but not too tight as this can damage delicate hair follicles over time.
Finish off with a leave-in serum for extra nourishment against humidity and poofiness overnight. This is especially important for 1C locks that tend to have drier ends than other straight types of hair.
What Are the Best Haircuts for 1C Hair?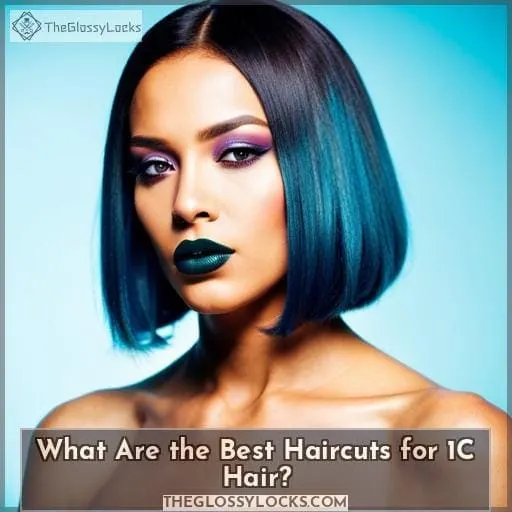 If you have 1C hair, the two most popular haircuts are layering and shag cuts. Layering can help give your hair more volume, while a shag cut will help create movement in your locks.
Layering
You can add volume and texture to your 1C hair with layering, creating a low-maintenance look that enhances natural movement. Layering is ideal for 1C hair because it allows you to keep length while adding body and definition.
This cut looks best when air-dried or styled with heat protectant products on the lowest setting possible. To help reduce frizz when you're done styling, use a leave-in serum like Kérastase Nutritive 8H Magic Night Serum Hydrating Treatment overnight so your locks will stay smooth throughout the day.
Soft bends are also great for 1C hair since they give off an effortless vibe without too much effort required from the user! Natural finishes should be achieved by using lightweight nourishing products like Marc Anthony Instantly Thick + Biotin Styling Cream or JVN Complete Hydrating Air Dry Hair Cream, which provide moisture without weighing down strands too much, allowing them to move freely in their layers as intended!
Shag Cut
A shag cut is the perfect way to enhance your 1C hair's natural texture and movement while also providing a low-maintenance look. For this type of hair, opt for layers that add volume and curl-enhancing products to fight frizz.
Additionally, make sure you use heat protection when styling with any hot tools.
Here are some tips on how to build up this classic hairstyle:
Curl Enhancing – Use light hold mousses or gels specifically designed for curls to give them definition without weighing them down.
Frizz Fighting – Look for hydrating oils or serums that help lock in moisture while fighting humidity.
Heat Protection – Apply lightweight thermal protectants before using hot tools like curling irons or straighteners.
Volume Building – Experiment with root lifters and texturizers if your goal is more lift at the crown area of your head.
With these tips in mind, you can confidently rock a shag cut no matter what time of year it is!
What Are the Best Products for 1C Hair?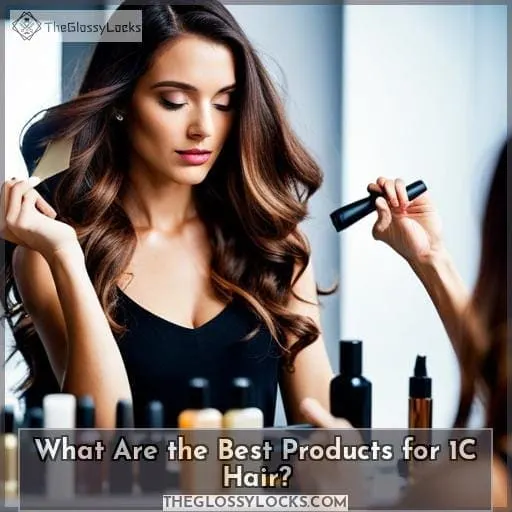 If you have 1C hair, finding the right products to care for your curls can be a daunting task. Fortunately, there are several essential products that work well with this type of hair: shampoo and conditioner, treatment mask, hydrating serum, scalp and hair treatment oil, texturizing finishing foam, and styling cream.
Shampoo and Conditioner
Finding the right shampoo and conditioner for 1C hair can be tricky, but with the right products, you'll have gorgeous locks in no time! Look for moisturizing formulas that provide hydration without weighing your hair down.
Use a sulfate-free shampoo to avoid stripping natural oils. Consider detangling strategies and heat protection when selecting products. Frizz control is also important – try using serums or leave-in conditioners to tame flyaways and keep your mane looking smooth all day long.
Rinse out conditioner before combing through wet strands.
Use low-heat settings on styling tools such as blow dryers, curling irons, flat irons, etc.
Apply heat protectant spray before applying any hot tool
Remember that every head of 1C hair is different – it may take some trial-and-error to find what works best for you! Don't be afraid to experiment with different brands or techniques until you find something that leaves your strands looking healthy, shiny, and full of life.
Treatment Mask
Try using a treatment mask like the Ouai Treatment Mask once a week to deeply nourish and hydrate 1C hair. This product helps reduce frizz, protects from heat styling, and provides scalp care all in one go.
Your hair will be softer and more manageable for any style you wish to try out – it's especially great for air drying! For an extra boost of hydration, apply it before shampooing or as an overnight treatment.
Either way, you'll see results that are worth the effort. Hair styling can become easier with regular use of this product, along with other recommended products like serums, creams, gels, etc., which help keep 1C hair healthy while controlling flyaways and poofiness due to humidity or over-washing.
Hydrating Serum
To keep 1C hair looking its best, use a hydrating serum such as Kérastase Nutritive 8H Magic Night Serum Hydrating Treatment to lock in moisture and nourish the ends. This can help combat frizziness as well as protect from heat damage when styling.
Use natural finishes and anti-frizz serums for long-lasting results. Deep conditioning treatments will add an extra layer of protection against flyaways and poofiness.
To ensure your 1C hair looks healthier than ever, avoid over-washing and use microfiber towels instead of regular cotton ones.
Scalp and Hair Treatment Oil
Give your 1C hair the nourishing boost it needs with JVN Complete Pre-Wash Scalp & Hair Treatment Oil. You'll notice a difference in no time! The lightweight, non-greasy formula is designed to protect and condition both scalp and strands.
This oil works great for all types of straight hair, but especially type 1C as its coarser texture benefits greatly from extra care like this product provides.
Perfect for achieving lasting hold on styles such as voluminous ponytails or layering cuts, try out JVN Complete Pre-Wash Scalp & Hair Treatment Oil today and see why it's become a must-have amongst those with straighter textures looking to keep their locks healthy and manageable!
Texturizing Finishing Foam
For an extra boost of texture and volume, try Bumble and bumble Surf Texturizing Finishing Foam. This lightweight foam adds body to your hair while still providing a natural finish that lasts up to 15 hours with just one application! Curly ends are tamed without weighing them down, frizz is held in check for the whole day, and heat protection is achieved through its UV filter shield technology.
Styling Cream
Enhance and protect your locks with Marc Anthony Instantly Thick + Biotin Styling Cream, giving you a salon-level style that lasts all day. Curl-enhancing agents provide lasting hold and definition, while heat protection shields hair from damage.
Frizz control leaves you worry-free even in humid climates, with split-end repair to keep tresses looking healthy. Hair moisturizing ingredients nourish each strand for maximum shine and softness—without weighing it down! This is an essential product in any hair care routine, especially for those with 1C hair.
Infographic: 6 Tips to Maintain and Care for 1C Hair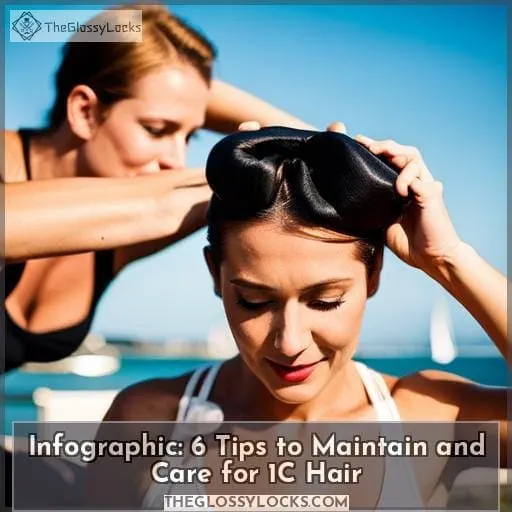 Discover the 6 tips you need to know for maintaining and caring for your wavy hair, so that you can have healthy, full-of-life locks! To care for 1C hair properly, it is important to use a sulfate-free shampoo and conditioner.
Avoid over-washing as this can cause dryness or even lead to breakage. Deep conditioning is also key in keeping your curls hydrated and bouncy.
Protecting your strands at night with protective styles such as braids or buns will help keep them from becoming tangled while sleeping.
When drying 1C hair, always start by gently blotting away excess moisture with a microfiber towel before finishing off air drying the rest of the way. This helps prevent frizziness, which tends to be more prone on type 1C strands due to its coarser texture compared to other straight varieties (1B & 2A).
Soft bends create beautiful natural texture, whereas voluminous ponytails accentuate the body/volume of these locks nicely, helping conceal flyaways/frizz along the way! Layering adds volume + movement, while shag cuts enhance existing texture, giving low maintenance yet stylish vibes overall.
For optimal results, try experimenting with different haircuts suited specifically tailored towards type 1C textures. Don't be afraid to get creative either, adding layers where necessary doesn't only add depth but adds definition too, making every strand count! Maintaining healthy tresses isn't an easy feat; however, following the steps above should aid in achieving the desired outcome – gorgeous looking ringlets minus all damage inflicted via extreme heat exposure while still being able to maintain their shape come rain, hail, or shine.
So why wait? Invest time into understanding your own unique curl pattern today, discovering what works best regarding length, style, etc.
Frequently Asked Questions (FAQs)
How can I tell if I have 1C hair?
To determine if you have 1C hair, observe strands that lay flat at the root with ends curling inward. This hair type is often thicker than other straight types and more susceptible to frizz or flyaways from mid-lengths down.
To maintain its optimal appearance, utilize lightweight hair products and regularly condition your ends.
Are there any hairstyles that are especially suited to 1C hair?
Yes! 1C hair is versatile and can be worn in many different styles, such as soft bends, voluminous ponytails, and layered cuts. Shag cuts also enhance natural texture while being low maintenance. To achieve a beautiful look, make the most of it with lightweight products that nourish ends.
Is 1C hair more or less prone to breakage than other hair types?
1C hair is more prone to breakage than other hair types as its strands are thicker and coarser. To prevent this, use lightweight nourishing products, regularly condition the ends, and sleep on silk or satin pillowcases.
Air dry your locks instead of blow-drying, layer for volume and movement, and use a leave-in serum overnight to fight frizz.
How often should I wash 1C hair?
Wash your 1C hair no more than twice a week. Use a sulfate-free shampoo and conditioner to avoid over-drying, and make sure to deep condition regularly. Protect your hair at night with an anti-frizz serum, air dry whenever possible for best results, and use a microfiber towel when necessary.
Do I need to use a specific type of brush for 1C hair?
Yes, a specific brush is important for 1C hair. Use a boar bristle brush to smooth and distribute natural oils from the scalp through the strands. Wooden combs are also great for detangling and styling without damaging the cuticle layer of the hair shafts.
For best results, start at the ends of your tresses and then work upwards to the roots in sections.
Conclusion
Your 1C hair type comes with its own set of challenges, but with the right care, you can reap the rewards of your unique hair. To keep your hair looking its best, remember to avoid over-washing. Use lightweight, nourishing products, condition and nourish ends, use a silk or satin pillowcase and microfiber towels, and use leave-in serum to fight frizz overnight.
With these tips, you can enjoy the natural beauty of your 1C hair and find the perfect hairstyle and cut that will bring out its best qualities. Embrace the waves, add some layers, and treat your hair with the care it deserves.