This site is supported by our readers. We may earn a commission, at no cost to you, if you purchase through links.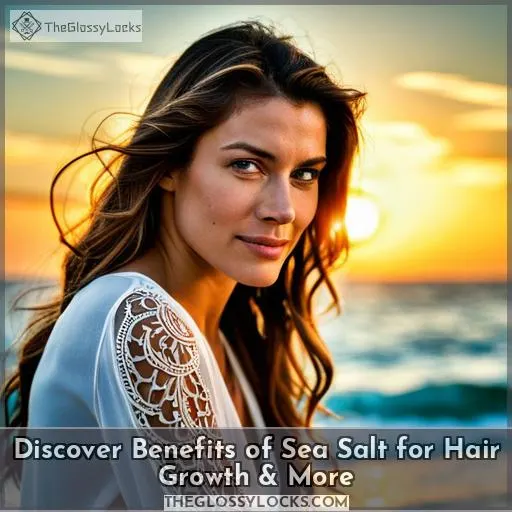 Exploring the benefits of sea salt for hair can be like discovering buried treasure. Sea salt is a powerful ally in your quest for healthy locks, as it nourishes, volumizes, and promotes growth. With its absorbent properties, sea salt helps control excess oil and provides essential nutrients that encourage luscious hair growth without blockages at the root.
Whether you're looking to exfoliate or cleanse your scalp with a weekly detox treatment or add texture and volume with an all-natural spray formula, there are countless possibilities when it comes to harnessing the power of sea salt for healthier, stronger tresses!
Key Takeaways
Nourishes, volumizes, promotes healthy growth.
Exfoliates and cleanses the scalp, removes buildup, stimulates blood flow.
Zinc encourages scalp regeneration.
Mineral content balances the scalp, reduces dandruff and itchiness.
Benefits of Sea Salt for Hair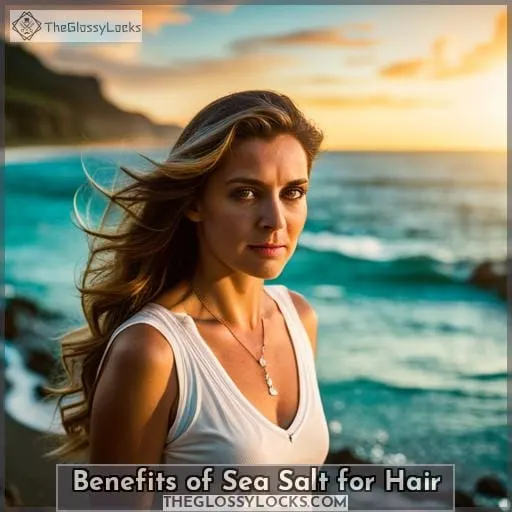 You'll love the way sea salt helps your hair look and feel, giving it volume, texture, and a natural curl that's sure to turn heads. Sea salt is ideal for absorbing excess oil from the scalp, which can lead to stronger hair growth, as well as give you more control in styling.
The minerals found in sea salt are also essential for stimulating blood flow, which encourages nutrients and hormones to reach follicles, promoting healthy strands. A gentle scrub of this natural ingredient will exfoliate the skin on the scalp, removing dead skin cells, bacteria, or product build-up.
Once applied with a selected cocktail of other minerals like calcium, potassium, magnesium, and sodium, these help nourish and balance out any itching or dandruff issues you have, so your tresses remain hydrated all day long!
For an even bolder look, opt for some of those specialized sea salt styling products available on shelves now. They hold shape better throughout busy days while adding thickness at the same time, making thinning-haired folk appear fuller instantly without using heavy pomades or muds either.
Exfoliating and Cleansing the Scalp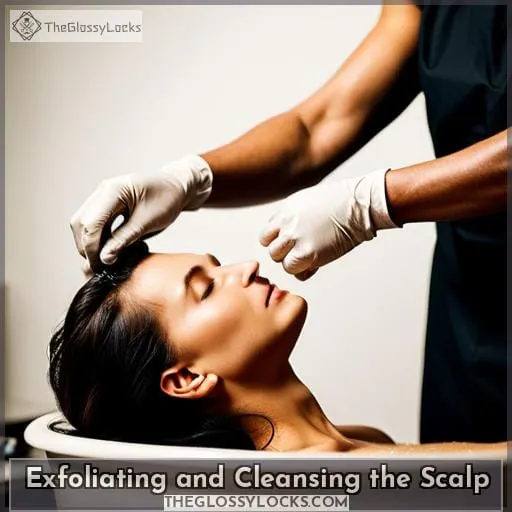 Experience the power of exfoliation and cleansing as you massage sea salt into your scalp, encouraging blood flow to nourish those follicles for lush growth! Sea salt is a natural exfoliator that gently removes oil, product build-up, and bacteria, while its combination of essential minerals like calcium, potassium, magnesium, and sodium helps balance the scalp.
After massaging it in with warm water, be sure to follow up with an equally nourishing detangling conditioner or mask containing essential oils for optimal hydration without drying out strands.
Get creative by spritzing some sea salt spray onto wet or dry locks before blow-drying – this will give them added body & texture; perfect if fine tresses are needing help achieving fuller styles too! So go ahead, take back control from unruly tresses – unleash their true potential today with just a pinch (or two) of modern-day magic.
Volumizing and Texturizing Hair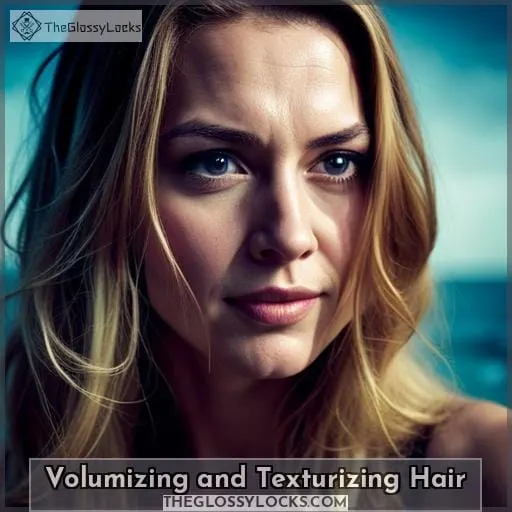 Try spritzing sea salt spray onto your wet or dry hair before styling for instant volume and texture. Comb it through afterwards to achieve a tousled, beachy look with just the right amount of grit! Its natural carbohydrate complex adds thickness while brassica oil gives hair that glossy shine – perfect for achieving those flowy waves you've been dreaming about.
Sea salt is also great if you have thinning strands; it can add some much-needed body and fullness without weighing them down with products like pomade or mud.
For an easy way to get creative, this powerful ingredient should be on everyone's radar! So go ahead – give your locks a boost by adding in some sea salt love today, and unleash their true potential for good.
Promoting Hair Growth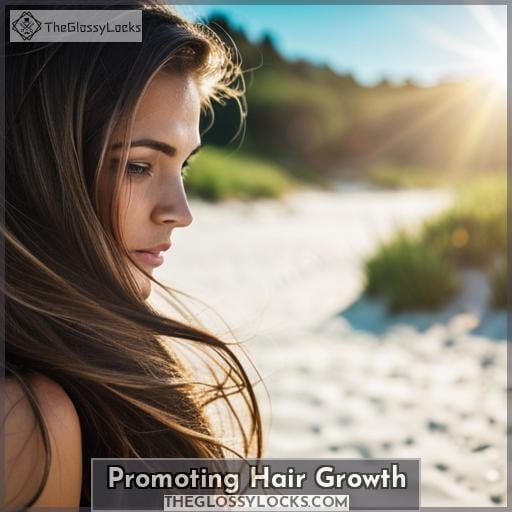 Sea salt spray is a great way to help promote hair growth. It not only makes styling easier but also boosts scalp health and encourages healthier, thicker strands with its unique blend of minerals and nutrients.
Sea salt helps remove dead skin cells that block follicles from producing new hair when applied directly to the scalp in small amounts. Additionally, it increases blood flow around the area, allowing essential nutrients to reach your roots more effectively.
These factors are crucial for maintaining voluminous and healthy locks. You can use sea salt-infused products on both wet or dry hair, depending on the desired texture.
How to Use Sea Salt on Hair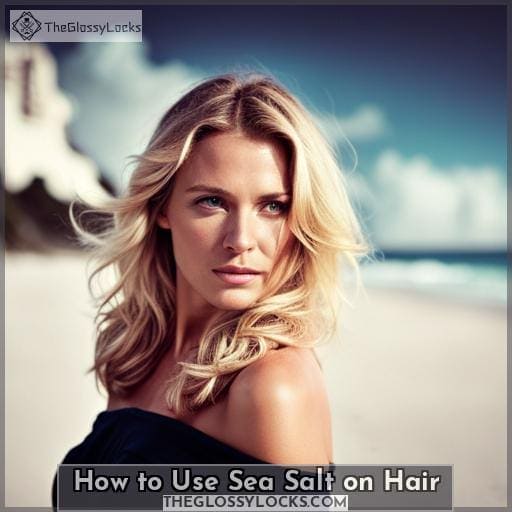 To reap the benefits of sea salt, massage a small amount onto your scalp and strands for an invigorating cleanse that'll leave you with stronger, healthier hair. This key ingredient can help promote healthy hair growth while also providing texture and volume to your locks.
Here are just some ways you can use sea salt on your mane:
Try French Rivera Salt Scrub Shampoo – this product combines mineral-rich Dead Sea salts with detoxifying charcoal powder to clarify the scalp from dirt and oil buildup while adding luscious healthy strands.
Use a few drops of pure essential oils mixed in water as a pre-shampoo treatment for dry or oily scalps.
Mix equal parts conditioner and fine grainy Kosher Sea Salt into a paste, then apply directly to wet or freshly washed hair.
Sea Salt Spray for Different Hair Types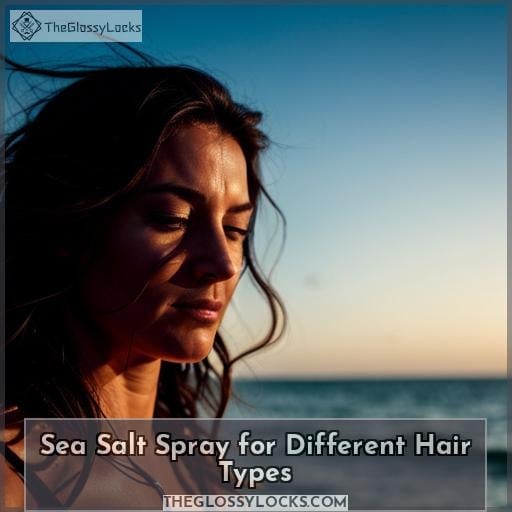 Sea salt spray is a great option for any hair type, but it has specific benefits depending on whether you have thick or fine hair. For those with thin locks, sea salt spray helps to create texture and volume while absorbing excess oils.
This makes it easier to style as well. On the other hand, thicker tresses can benefit from sea salt spray's ability to add some grit and hold without leaving your mane feeling heavy or greasy.
Benefits for Fine Hair
You'll love the volume and texture that sea salt spray can add to your fine hair. Christophe Robin's Cleansing Purifying Scrub with Sea Salt is an excellent way to help strengthen the scalp's natural defenses while delivering body and bounce.
The purifying conditioner gelée adds shine, softness, and hydration without weighing down locks.
Fine-grained sea salt grains gently exfoliate dead skin cells from the scalp while adding lift at roots for lasting style support with minimal product buildup.
Enjoy voluminous locks without compromising on health – try sea salted solutions today!
Benefits for Thick Hair
Thick hair can also benefit from sea salt spray, with its ability to add thickness and texture for a fuller look. Research shows that over 70% of people experience improved styling results! Christophe Robin's Cleansing Purifying Scrub is an excellent exfoliant that clarifies the scalp without stripping it of natural oils.
It also contains rich conditioners that nourish each strand while providing body and bounce. This product is perfect for creating the beachy waves you love! By using sea salt, your mane will be healthier than ever before, thanks to its minerals and nutrients that balance out oil production and reduce itching or dandruff.
Frequently Asked Questions (FAQs)
Is sea salt safe for color-treated hair?
Sea salt can be used on color-treated hair, but with caution. Its exfoliating and nourishing properties can help maintain healthy locks; however, its dehydrating effects could strip away the pigmentation if overused.
To ensure vibrant tresses, look for sea salt products containing moisturizing ingredients to balance out any potential damage.
Are there any side effects of using sea salt on hair?
Yes, there can be side effects of using sea salt on hair. Overuse can dry out strands, so use gentle products with nourishing ingredients to avoid dehydration. Avoid alcohol-based sprays and go easy on scalp exfoliation as too much scrubbing may irritate the skin.
To maximize benefits without damaging your locks, choose a product appropriate for your hair type and texture.
How often should I use sea salt products on my hair?
Use sea salt products sparingly, no more than once a week. For optimal results, combine them with nourishing ingredients like minerals and oils to counterbalance any drying effects.
Can sea salt be used on chemically treated or processed hair?
Yes, sea salt can be used on chemically treated hair if done carefully. However, avoid overuse and look for products with nourishing ingredients to offset any potential dehydration. Massaging it into the scalp stimulates blood flow while exfoliating dead skin cells and product buildup.
Can sea salt be used on kids' hair?
Yes, sea salt can be used on kids' hair. Look for nourishing products with minerals and oils that gently exfoliate the scalp, reduce itching and dandruff, while adding texture and volume.
Conclusion
Like a perfect beach wave, sea salt can add texture and body to all types of hair. Sea salt is a natural wonder when it comes to good hair health. It can cleanse and exfoliate the scalp, encourage hair growth, and volumize and texturize the hair.
Sea salt can be used in a variety of ways depending on the hair type. However, using a sea salt spray is a great way to reap the benefits of sea salt for hair. Whether your hair is thinning, thick, or somewhere in between, sea salt can help you create the perfect look with natural body and volume.
So, if you're looking for a new way to give your hair a natural boost, try sea salt and see the results for yourself.