This site is supported by our readers. We may earn a commission, at no cost to you, if you purchase through links.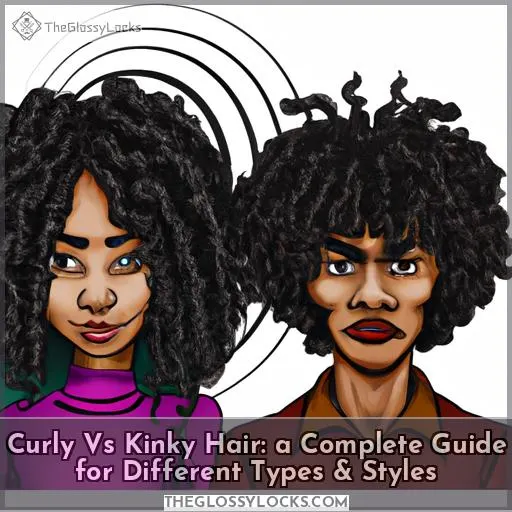 Curious about the difference between curly and kinky hair? You've come to the right place! In this article, we'll delve into what sets these two hair types apart, as well as provide helpful tips on how to style your hair according to its type.
From twist outs for kinks to scrunching for curls – get ready because there's something here for everyone! So let's explore curly vs.
Key Takeaways
Curly hair has a pronounced curl pattern and is more prone to dryness.
Kinky hair has denser, tight coils and requires extra moisture.
Coconut Hibiscus Enhancer promotes shine and hydration for any curl or coil type.
Protective styles like braids and twists are beneficial for kinky hair.
What is Curly Hair?

You know your hair type and texture, so you can easily differentiate between curly and kinky. The former is textured with a pronounced curl pattern, while the latter is more wiry with tight coils. To care for curls or kinks properly, it's important to understand how they differ in terms of moisture retention, styling tips, and products.
Curly hair has well-defined curl patterns that are susceptible to dryness due to limited oil distribution. On the other hand, kinky hair lacks a defined pattern when dry but requires adequate moisturizing tips due to its torsion twist nature, which makes it even more fragile than curly types 3A – C (or 4A – 4C).
Haircare products like Coconut Hibiscus Enhancer promote shine and hydration specifically tailored for any type of curl or coil, while Argan Oil Treatments protect against heat damage and environmental stress.
For an easy updo, try Messy Buns, while Space Buns and Twist Outs showcase natural curls without weighing them down! Hair health depends on understanding these differences – be sure not to neglect either if you want gorgeous locks that last!
What is Kinky Hair?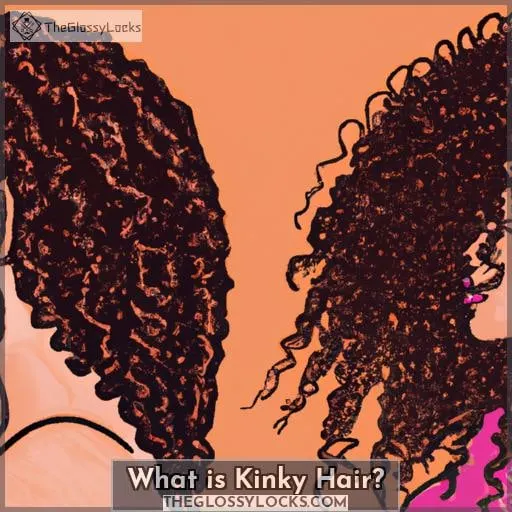 Knotty and compacted, kinky hair is a subcategory of curly hair with tight coils and wiry texture. It's the coarsest of all wavy patterns, so it needs special moisture-rich care to reduce breakage.
The torsion twist nature makes this type more fragile than 3A-C (or 4A-4C) curls and requires protective styles like braids or twists for better porosity.
To enhance naturally gorgeous S or Z-shaped curves, use products like Coconut Hibiscus Enhancer, which will add definition to your locks without weighing them down – you deserve those beautiful b curls!
Curly Vs. Kinky Hairstyles

You may have heard of popular hairstyles for curly and kinky hair, such as space buns, twist outs, and messy buns. But what are the key differences between these styles when it comes to curly vs kinky hair? In this discussion, we will explore how each style can be used to showcase natural curls or waves in different ways depending on your particular texture.
Space Buns
Show off your natural texture with space buns—a fun and trendy updo that's perfect for curly or kinky hair! To achieve this look, part the hair in the middle and create two double buns on each side. Curly types will need to add moisture before combing their locks into place, while kinky textures should take extra care to avoid shrinkage when coiling their ringlet-shaped curls or corkscrews.
Twist Outs
Try a twist out to showcase your unique texture and bring life back into your curls or coils! Perfect for protective styling, this look can be achieved with a few simple steps: start by moisturizing tips before sectioning off kinky hair strands.
Then use bobby pins to secure each coil as you twist from root to tip. To ensure maximum curl definition, review product reviews that cater specifically to curly hair umbrella while preventing shrinkage.
Messy Bun
Create a fun and carefree look with a messy bun – the perfect updo for those days when you want to flaunt your natural curls! This hairstyle is easy to create, requiring minimal styling time.
For hydration tips before starting, apply curl creams or hair oils onto strands in loopy shapes. Secure micro braids around the perimeter of each section, then twist them together into one giant knot.
To define kinky textures further, use textured cream or curling custard on individual sections while holding up loops with bobby pins until dry. This will ensure that strands form into their coarsest type without unraveling throughout the day.
With this style, you can show off your unique texture and achieve an effortless yet put-together look in no time!
The 9 Types of Curls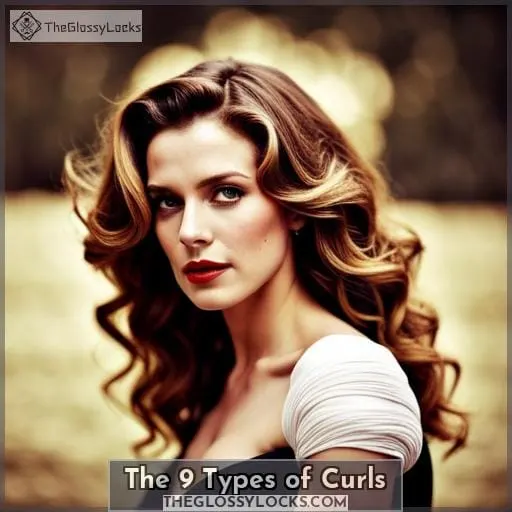 Are you familiar with the nine types of curls? These include Type 2a, 2b, 2c, 3a, and 3b. It's important to understand the differences between these curl types in order to properly care for your hair and maintain its health.
Type 2a
You'll love how Type 2a hair has a subtle wave pattern that won't get weighed down by product. With its gorgeous texture, it's more prone to looser hair types when styling with protective styles or drying techniques.
When washed and conditioned properly, this type of curly hair can look stunning! Product comparison is key for scalp care; use lightweight formulas to avoid buildup in the strands and maintain your true curly feel.
Once you've got your products sorted out, establish a healthy regimen tailored specifically for your unique curls: air-drying instead of heat-styling can help preserve their natural shape and keep them looking beautiful!
Type 2b
Your hair is likely Type 2b if it has a distinct wave pattern that holds the shape of your curls more than other types. It gives volume retention and root volume, which can help with manageability issues.
Curl clumping helps to create defined coils, while protective styling can be a good idea for preserving them.
They are usually b-coils with pronounced curl patterns and compressed corkscrew-shaped curls too! With such a variety of coil styles available, you will have an abundance of looks to choose from when styling your hair! Whether you want loose waves or tight spirals, Type 2b offers endless possibilities for exploring different hairstyles without sacrificing the health of your tresses.
Type 2c
Let your curls take center stage with Type 2c hair! These coils are voluminous and tightly wound, so you can flaunt a stunning look that's eye-catching and full of body.
With medium-sized coils that have a unique zigzag shape, moisture retention is key to keeping them healthy. Proper scalp care is also important for maintaining curl definition, while heat protection ensures long-lasting results when styling.
When selecting products tailored to this well-known hair type classification, be sure to keep product selection simple as too many may weigh down the delicate tresses.
Type 3a
You can flaunt type 3a hair, which consists of voluminous and loosely-wound curls that create a soft wave pattern. To keep these subtle differences in check, moisturization tips are essential for maintaining healthy curls.
Use styling tricks to protect your coils from heat damage while still looking fashionable. Opt for the right hair care products: select lightweight formulas to avoid weighing down tightest kinky hair type 4c tresses or heavier creams and gels if you have looser curls such as 2b or 3c varieties.
Type 3b
Type 3b hair is characterized by voluminous, spring-like curls with a more defined curl pattern than type 3a. Moisturizing products, hair oils, and detangling tips are essential for keeping these coils in check.
To protect them from heat styling damage while still looking fashionable, use the right tools like curling creams and large barrels to speed things up! Kinky hairstyles can be used to showcase tight curls as well.
Messy buns or twist outs can make all the difference when it comes to weak points such as dryness or frizziness.
With proper care and maintenance of your curly locks, you'll be sure to enjoy beautiful natural textures!
How to Care for Your Curls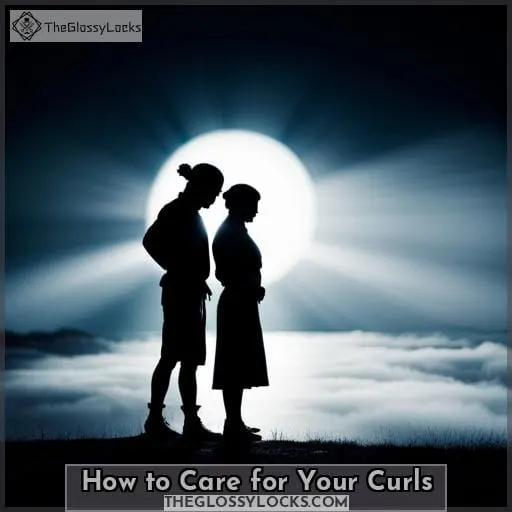 Now that you know the nine types of curls, it's time to learn how to properly care for your hair. Whether your locks are curly or kinky, there are some essential tips and tricks you should use to ensure healthy-looking tresses.
Use sulfate-free shampoo and conditioner.
Deep condition on a regular basis.
Incorporate natural oils into your routine, such as coconut oil or argan oil.
Avoid heat styling tools whenever possible.
Look for products specifically designed for curl patterns or shapes, such as curl creams and gels, when shopping around. When looking at product reviews, make sure they're tailored towards different hair types, depending on whether yours is more wavy, coiled, curly, etc.
Kinky hairstyles can be tricky, so look out for tutorials showing how to create updos like space buns without causing too much breakage.
Frequently Asked Questions (FAQs)
What is the difference between curly and kinky hair?
Curly hair is textured with a pronounced curl pattern, whereas kinky hair is wiry and dense in texture. Curls are more prone to breakage, while kinks struggle with moisture retention. Popular styles for both include space buns, twist outs, and messy buns to showcase their natural beauty.
4C kinky type has the tightest curls, which can shrink when dry; however, all types need special care and hydration for shine and strength.
What is the best way to style curly and kinky hair?
Style curly and kinky hair with space buns, twist outs, or messy buns. These hairstyles define curls while offering long-lasting hold without weighing your hair down. Nourish strands with coconut hibiscus curl enhancer or argan oil for added moisture and shine.
How to prevent damage to curly and kinky hair?
To protect curly and kinky hair from damage, use a combination of nourishing products and gentle styling techniques. Use natural oils to provide intense hydration, while avoiding heat-based tools that can cause irreparable harm.
What is the Andre Walker Hair Typing System?
Have you ever wondered what hair type categories exist? The Andre Walker Hair Typing System is a system used to categorize the different types of hair, ranging from Type 1 (Straight) to Type 4 (Kinky).
It helps identify and understand different textures for optimal styling and care.
What is the difference between 4A, 4B and 4C kinky hair?
Kinky hair is classified into 4A, 4B, and 4C types. Each type has unique characteristics. 4A is loose with defined curls, whereas 4B has a zigzag pattern with less definition. Finally, the tightest type of kinky hair is referred to as '4C', which lacks a curl pattern when dry and shrinks more than other types.
Conclusion
With the advent of the 21st century, people's hairstyles have been changing dramatically. Curly and kinky hair types have become increasingly popular as they allow for greater creativity and versatility.
However, many people are unaware of the differences between curly and kinky hair. Understanding these differences is important for proper hair care as both types require special care and moisture.
Curly hair is more textured than straight and wavy hair and has a pronounced curl pattern. On the other hand, kinky hair has a denser texture and can be categorized as 4A, 4B, or 4C. Popular hairstyles for curly and kinky hair include space buns, twist outs, and messy buns.
It is estimated that over half of Americans experience some degree of curl or kink in their hair. With the right products and hair care techniques, anyone with curly or kinky hair can enjoy beautiful and healthy locks.