This site is supported by our readers. We may earn a commission, at no cost to you, if you purchase through links.
You may have heard that jet black hair can make you look older. While it's true that certain colors and tones of hair can affect your overall appearance, choosing the right color is vital to looking younger for longer.
In this article, we will explore the effects of jet black hair on skin tone, how it makes your strands look thinner, and why soft black might be more flattering than a starker hue.
Key Takeaways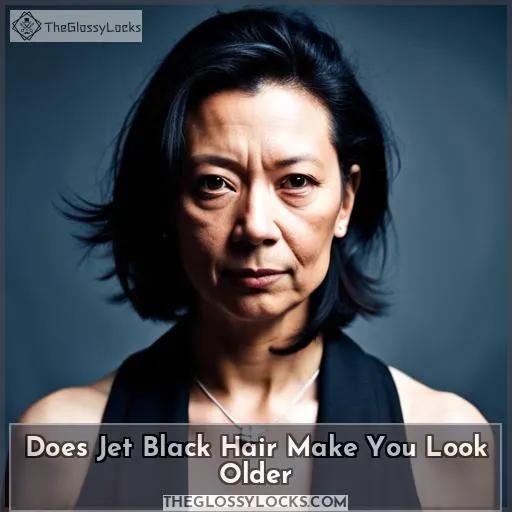 Jet black hair can make you look older.
Darker colors, such as dark brown or jet black, should be avoided as they can cast shadows on the face and neutralize undertones in the skin.
Balayage techniques using soft black or multi-dimensional browns can give a youthful glow.
Softening black hues into muted tones creates a healthier, shinier look that is far more flattering than jet black.
The Effects of Hair Color on Appearance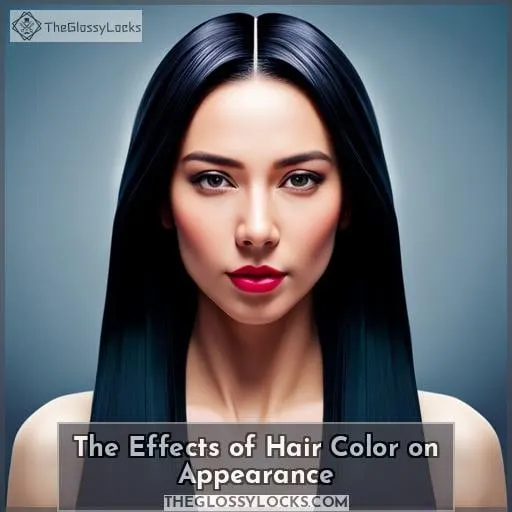 You can give yourself eternal youth by choosing the right hair color. Jet black is not always a good option, as it often casts shadows on your face and makes your hair look flat and thin.
Highlights and lowlights in shades of caramel, honey gold, copper, and strawberry add warmth to facial features while brightening up skin tone. Bronde, with its darker base and warm blonde highlights, works great for any age.
It perfectly toes the line between blonde and brunette without looking too harsh or aged.
To further improve aging gracefully, choose colors that neutralize undertones in skin complexion while complementing eye color.
How Hair Color Can Affect Skin Tone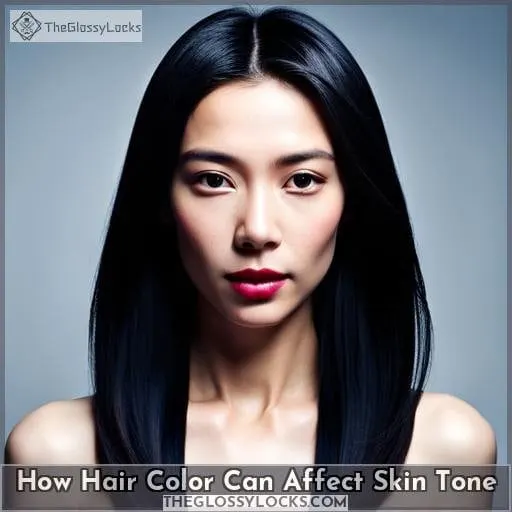 By selecting the right hair color, you can bring out your natural skin tone and make it look brighter. Natural red tones, like ginger and strawberry blonde, will add a gorgeous pop to your complexion without making your hair appear thinner or finer.
Darker colors, such as dark brown or jet black, should be avoided if possible because they can cast shadows on the face and neutralize any undertones in the skin, making you look older.
Warmer highlights are more flattering for most people. Try adding auburn highlights to enhance brunettes, champagne blonde for blondes with cool skin tones, and honey blonde, which gives an overall youthful glow with its golden hues.
All of these shades create softness around facial features that brighten up the complexion.
Gray hairs stand out less when paired with darker colors, but lighter shades, such as warm light browns, help blend gray evenly throughout while providing dimension at the root level so that strands appear fuller rather than flat or thinned-out by heavy dyes from deep bases like black and navy blue.
The Negative Effects of Jet Black Hair on Appearance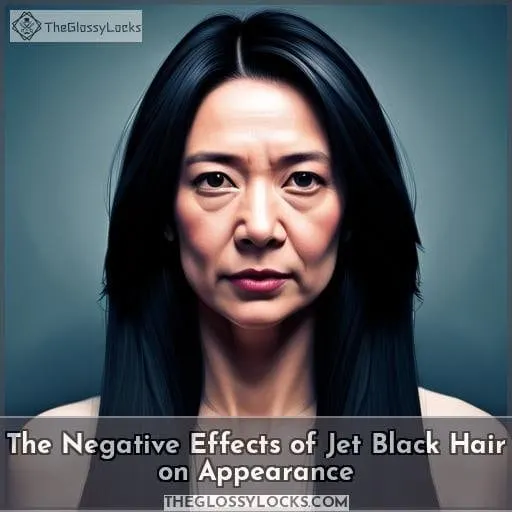 Immersing yourself in jet black hair can cause a darkening of your complexion, making it appear aged. Your strands may look flat and thin. The lightness of your scalp enhances grey hairs, making them stand out more.
If you're considering jet black hair dye as an option to look younger, then think again! Instead, opt for softer alternatives such as natural red tones like ginger or strawberry blonde that won't make your hair appear thinner or finer.
Dark reds bring out darker skin and neutral undertones. Auburn enhances brunettes and gives skin radiance with its warm tint. Soft tortoiseshell using balayage to create ribbons of color like chocolate browns and caramels plus gold highlights all together looking sun-kissed.
Champagne blonde also brings alive cool toned blondes' and redheads' Goldilocksesque tones while honey blonde adds shine with its golden balayage highlights around the face framing area creating youthful glow without going too far from home base – bronde is perfect for any age balancing between blonde and brunette shades while golden chocolate catches sunlight yet keeps roots firmly rooted in brunette coloring department.
Inky blacks softened into muted tones give healthier shinier head whilst caramel hues add warmth bringing vibrancy to facial features minus aging effect.
How Jet Black Hair Can Make Hair Look Thinner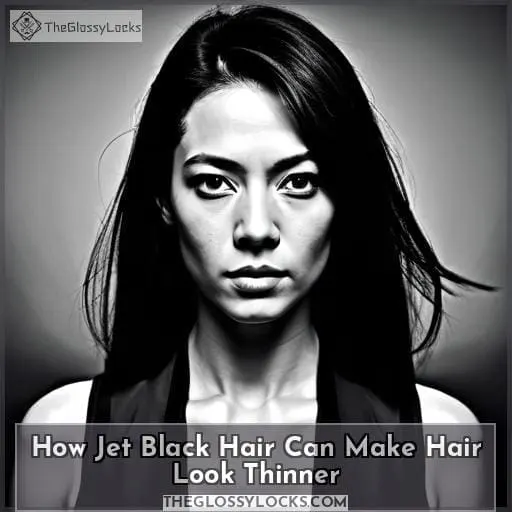 If you're looking to keep your hair looking young and natural, jet black hair isn't the way to go. Jet black dye can make your strands look flat and thin, bring out the lightness of your scalp, cast shadows on your face, and neutralize red undertones in skin – all making you appear much older than desired.
Instead, opt for a softer black shade that still gives off some luster or use dark brown hues with highlights or lowlights to give dimension. If blonde is more up your alley, then champagne tones are great for those with cooler skin tones, while strawberry blondes will give warmer skins a youthful glow.
Brunettes should add warmth by using caramel highlights around their face, which also helps draw away from any hollow areas caused by aging gracefully! Balayage techniques like ombre provide sun-kissed effects without needing drastic color changes, whilst golden chocolate creates an excellent blend between brunette roots and blonde locks without straying too far from natural base colors, giving a stunning end result no matter what age!
The Negative Effects of Jet Black Hair on Skin Tone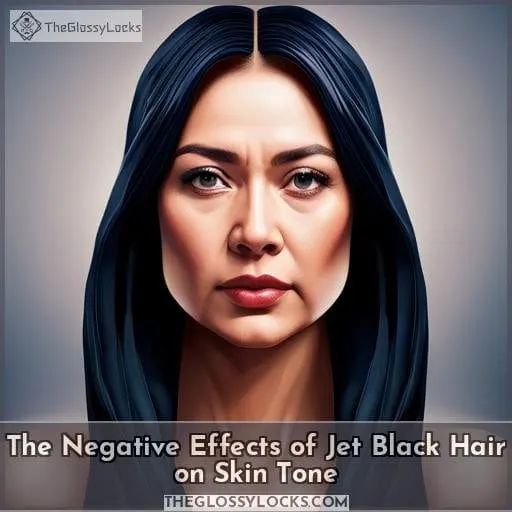 Choosing jet black hair can cast shadows on your face, making you appear older and paler than desired. Studies show that jet black hair dye can neutralize red undertones in skin up to 50%! If your complexion has orange-red base tones, this is definitely something to avoid.
Instead of choosing a flat monotone color, why not try gray coverage with the help of lowlights or highlights? Hair lifting products are also available for those looking for more volume and body while brightening their overall look.
Enhancing color with caramel highlights will add warmth to facial features while creating a youthful glow around the face.
To achieve these amazing results without damaging tresses, opt for gentle formulas like oil-based lighteners or ammonia-free dyes that gently lift colors, helping maintain beautiful healthy locks full of life no matter what age we are at.
Why Soft Black Hair is More Flattering Than Jet Black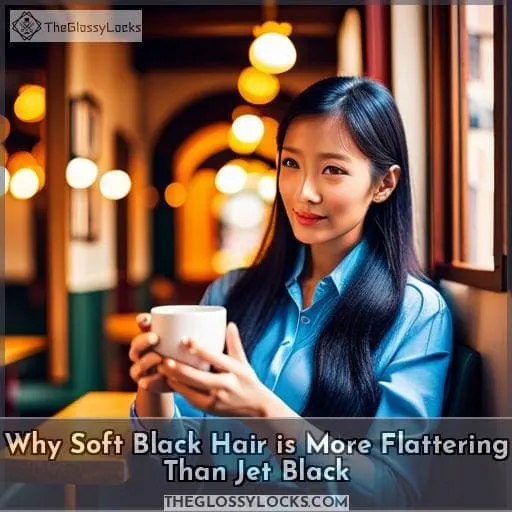 Softening your black hues into muted tones creates a healthier, shinier look that's far more flattering than jet black. Using balayage techniques to add warm hues such as strawberry blonde and champagne blonde adds dimension and richness to your hair, instead of the harsh contrast from a monotone color.
Grey strands are blended in with the warmer shades for an overall youthful glow of golden blonde, which is much softer on skin tone than jet black hair. To achieve this effect, the best thing you can do is to go for natural-looking highlights rather than artificial streaks or dyes that will make it obvious you've changed up your style too drastically.
The Effects of Dark Brown Hair on Appearance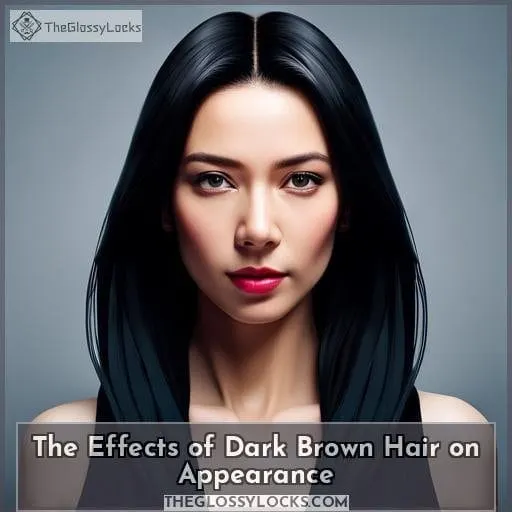 Choose dark brown hair to bring out your eye color and give you a youthful, vibrant look. Dark brown hair is the perfect shade of choice for those who want to appear younger without going too light or too dark.
You can use highlighting techniques like balayage with lighter and darker shades to create multi-dimensional brown that gives you a sun-kissed effect.
To further enhance this most flattering hair color, opt for warm highlights such as caramel, honey gold, copper, or strawberry, which will add brightness and make you look more radiant.
Selecting the right shade of brown that matches up with both your skin tone and eye color is key when it comes to creating a truly stunning end result.
How to Use Brown Highlights and Lowlights to Enhance Hair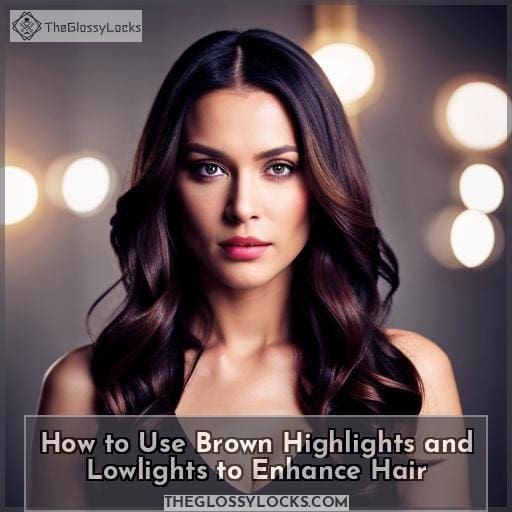 Adding highlights and lowlights to your dark brown hair can create a fuller, more dimensional look that complements your complexion and eye color. To achieve this, it is important to choose the right highlighting techniques for older women who may be looking for a better way to enhance their appearance.
Lighter shades of red or auburn are great choices when considering hair colors as they will brighten up duller complexions while providing dimension without making you appear too old. When selecting darker hues such as chestnut browns or even black tones, make sure not to go too dark so they don't overpower the overall look by draining out any skin tone warmth from the scalp area.
Additionally, lighter shades framing around the face draw attention away from hollow areas like cheeks which can add years onto an individual's age inadvertently if not done properly with careful consideration given towards choosing appropriate complementary colors against one's natural skin tones and eye coloration preferences.
It is also important to maintain proper scalp care maintenance routines in order to keep the highlights and lowlights vibrant over time.
The Effects of Red Hair on Appearance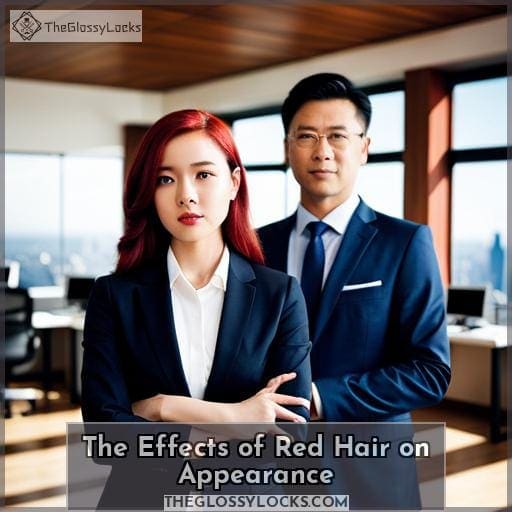 Choosing the right red hue can add a youthful glow to your complexion and brighten up your eye color. Natural ginger tones, strawberry blonde, dark red, or auburn hues all make for beautiful hair colors that won't make you look older.
Soft tortoiseshell is a dynamic range of chocolate browns, caramels, and warm gold together that creates a perfect sun-kissed effect with a naturally deep black base color. For those looking for an even brighter option, try single-season highlights using lighter shades of colors such as honey blonde or champagne.
This will give the skin tone more contrast, making it appear younger without appearing washed out from too much lightness in one's hair shade.
When opting for darker shades, daily sunscreen is necessary to protect the scalp's natural moisture level, which helps maintain healthy locks worthy of envy! A lighter shade of color framing the face draws attention away from hollow areas towards healthier features like eyes.
The Effects of Blonde Hair on Appearance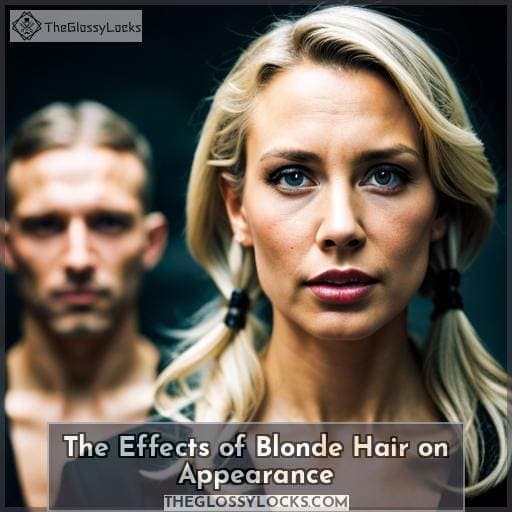 If you want to make a dramatic change to your look, blonde hair can be the perfect way to do so. Blonde highlights add a brightening effect that instantly makes you appear more youthful and vibrant. These shades offer cool tones that will reduce any signs of aging in an instant, whether it's bronde beauty or honey blonde hue.
Caramel highlights are great for brunettes as they give warmth and softness around facial features. They add depth but not darkness like jet black hair does. For those with lighter skin tones who desire something brighter than browns, strawberry blonde offers smooth-as-butter color without making you look older from dark hues such as black or reddish browns.
If done right, blondes can add luminosity, enhance natural curls and waves while still looking believable – all key components for achieving timeless beauty!
Frequently Asked Questions (FAQs)
What hairstyle is best for those wanting to look younger?
For a more youthful appearance, consider adding soft highlights and lowlights to your hair. Opt for warm caramel tones to add dimension and brightness around the face, or try strawberry-blonde shades that enhance the natural color of your hair.
By framing the face with lighter colors, you can divert attention from any complexion concerns and achieve a more youthful look.
What maintenance is required to keep red hues vivid and fresh?
Maintain your red hues with glossy treatments every six weeks to keep them vivid and fresh. Achieve a vibrant and youthful look that reflects light around your face. Enhance your hair color for the perfect sun-kissed effect and choose shades that neutralize undertones and brighten eye color.
How can I choose the most flattering hair color for my complexion?
Choose a hair color that complements your complexion and eye color. Add highlights and lowlights for dimension instead of solid, flat colors.
How can I soften inky black hair without using harsh chemicals?
To soften inky black hair without using harsh chemicals, consider switching to softer black shades. You can also try adding balayage highlights for dimension and face-framing colors to draw attention away from any hollows.
Choose a flattering hue that complements your complexion and enhances your facial features for the perfect sun-kissed effect.
What are the benefits of multi-dimensional brown hair?
Transform your look with multi-dimensional brown hair. Its rich ribbons of chocolate, caramel, and warm gold give a sun-kissed glow that flatters any complexion. Soften facial features while adding brightness and shine for a youthful radiance.
Conclusion
Overall, the right hair color can make you look years younger. Whether it's jet black, dark brown, red, or blonde, choose the shade that complements your complexion and brightens your eye color. Consider adding highlights and lowlights and using techniques like balayage to create dimension and give the appearance of thicker, fuller hair.
With the right color, you can achieve a youthful, vibrant look that will make you feel confident and beautiful. So, go ahead and be bold. Pick the right shade of hair color and watch as it transforms your look into one that is bright, beautiful, and full of life.
You deserve to be the best version of yourself, and the right hair color can help you get there.