This site is supported by our readers. We may earn a commission, at no cost to you, if you purchase through links.
Ready to take the plunge and go gray? Going gray isn't as simple as telling your hairdresser to chop off all of your dark hair. Whether you're transitioning from dyed hair or just embracing naturally occurring grays, there are several ways you can achieve a sleek look without sacrificing style.
Key Takeaways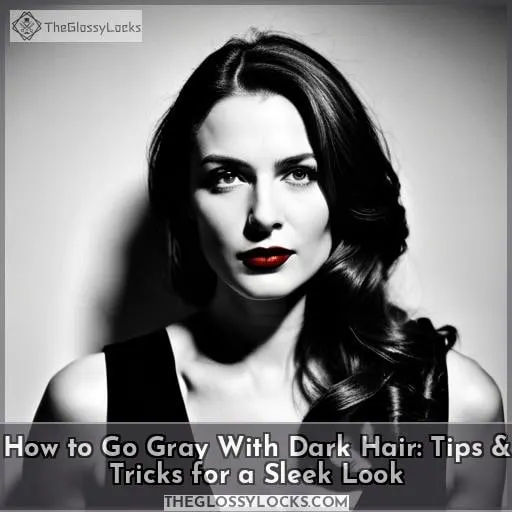 Transitioning from dark hair to gray can be achieved through highlights, lowlights, dye-stripping, or dyeing pigmented hair silver or gray tones for a more dramatic transformation.
Regular use of purple shampoo and conditioner helps counteract brassiness in gray hair, while deep conditioning masks keep the hair soft and shiny.
Clairol Temporary Root Touch-Up is recommended for covering single strands, root lines, temples, or brows during the transition process.
Incorporating different colors into the hairstyle and adjusting the hair care maintenance routine are essential steps in preparing for the growth of gray hair.
How to Go Gray?

If you're looking to transition from dark hair to a gray hue, you can use highlights or lowlights to blend your existing shade with the growing out grays. Then, opt for root touch-up products once enough growth has been achieved. The process of transitioning may take up to six months or even a year, so be prepared for regular trims and shorter haircuts along the way.
You could also try dye-stripping techniques if opting for the cold turkey method is not an option. If needed, purple shampoo/conditioner will help counteract brassiness while hydrating deep conditioning masks keep coarse grays soft and shiny.
There are various ways of going gray, but don't forget that glosses are necessary as well.
Going Gray: Cold Turkey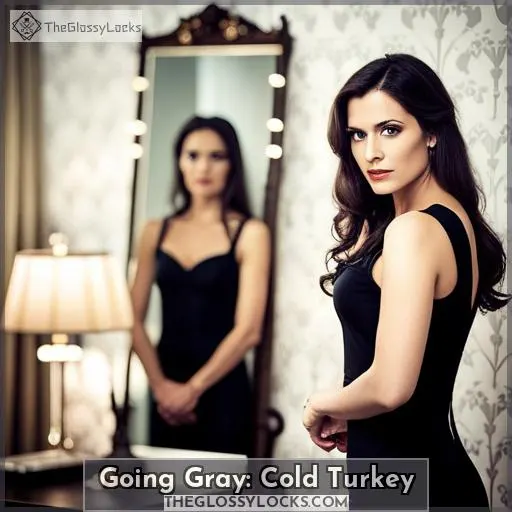 Going gray with dark hair can be an intimidating process, but it doesn't have to be! Whether you're looking for a dramatic transformation or just need a subtle change, the cold turkey method is one of the quickest and most effective ways to transition your look.
From buzz cuts and pixie cuts to long styles, there are pros and cons for each route that should be considered before taking the plunge. So let's dive in – no matter what style you choose – and explore all of your options when it comes to going gray with dark hair.
Buzz Cut
Try giving yourself a buzz cut for an instant transition to gray hair! Good Housekeeping Institute Beauty, Health, and Sustainability Lab Director Birnur Aral opted for the big chop when she skipped her monthly color visit.
Pros of a buzz cut include low maintenance and fast transitioning, while cons may be too short length or baby highlights. Gray transitioning requires a coloring process with silver strands, natural gray color, purple shampoo/conditioner, and styling products like glosses to keep brassiness at bay.
Pixie Cut
Consider a pixie cut for an effortless transition to gray hair! Get inspired by celebrities with gorgeous gray hairstyles and shave off the old color for less maintenance. Follow the best styling techniques: hydrate your hair, use color trends, monitor regrowth, and you'll look fabulous in no time.
Gray transitioning requires silver strands and natural gray hues; purple shampoo/conditioner keeps brassiness at bay while glosses lock in shine.
Long Hair
Embrace your long locks as you transition to gray hair; with the right care, you'll be looking like a silver snowflake in no time! Highlighting roots and glossing tips are key for a natural grow-out process.
Incorporate hydrating hair masks into your routine and look to stylish grey celebrities for inspiration. Dyeing techniques range from box dyes to cold turkey – whatever feels best for you! Don't forget regular trims during the gray hair grow-out process.
Pros and Cons
Grow out your gray hair with confidence and know the pros and cons of each transition method so you can make an informed decision. Fading processes such as permanent color or gray highlights may turn brassy, but silver shampoo helps counteract yellowing.
Salon transitions are often preferred, while going cold turkey is a great video-documented route for those comfortable with it.
Going Gray: Salon Transition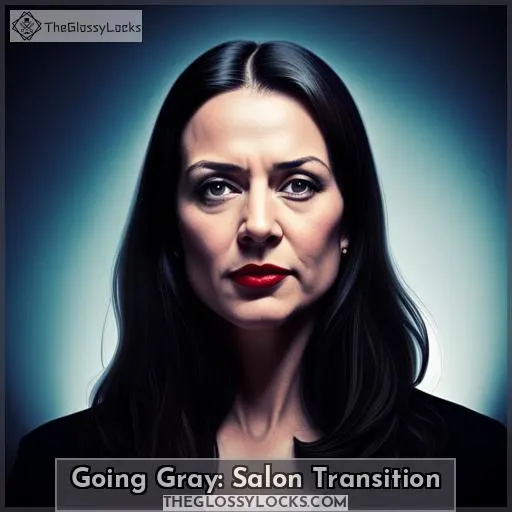 Discover a new you by transitioning to gray hair in the salon – with careful highlights and lowlights, you can make the process smoother while still making a statement. It's important to plan ahead, as some pre-transition planning will be necessary.
Use dyeing techniques that are suitable for your type of hair color and texture, along with expert advice on how best to combine various methods for an overall look that flatters your features.
You may also want to try different treatments before going all silver – consider using purple shampoo or glosses occasionally once the transition is complete in order to maintain its natural shine over time.
Read silver hair transition stories of women all around who took part in this liberating experience – it might just give you fun ideas on how cold turkey could work out well too!
Going Gray: Dye Strip Technique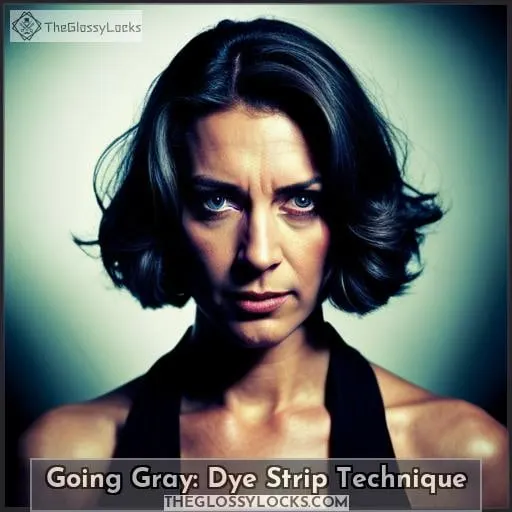 Take the plunge into a new look by considering the dye strip technique to transition your dark hair to gray! Dye stripping is one of the most popular salon services used for transitioning from darker colors to gray, as it can help blend any underlying tones that appear in natural grays.
Gray glosses are also great for softening and toning down brassiness while maintaining vibrancy and shine.
When incorporating this method into my own silver journey, I was surprised at just how quickly I achieved results. Within weeks, I had a pepper pattern of my natural hair showing through undertones of subtle highlights and lowlights added by my colorist.
This helped create an overall blended effect with some strategic streaks of color thrown in here and there for good measure.
My celebrity hairdresser recommended using purple shampoo/conditioner weekly, along with deep conditioning treatments twice monthly, so that going gray would not leave me feeling dry or brittle.
The Easiest Way to Go Gray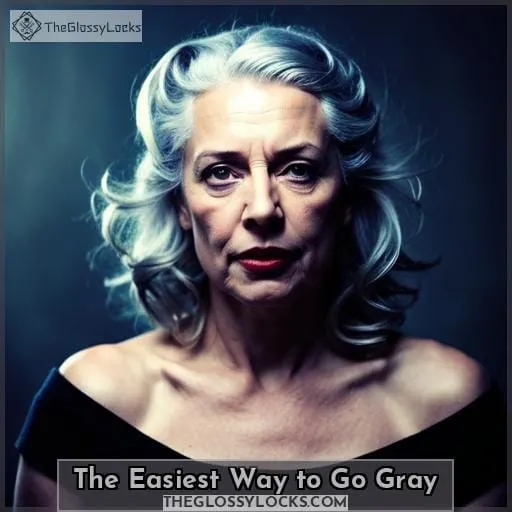 Embrace the journey to a new you with the easiest way to transition your hair from dark shades to gorgeous grays – dye stripping! This method of lowlight blending helps blend any underlying tones that appear in natural grays, creating an overall blended effect.
Use gray glosses and purple shampoo/conditioner weekly for softening and toning down brassiness while maintaining vibrancy and shine. Root touch-up products, such as Clairol Temporary Root Touch-Up, will help cover single strands, temples, root lines, or brows without leaving hair stiff or sticky.
To complete your haircare routine, try silver shampoos like Clairol Professional's Shimmer Lights Blonde Silver Shampoo, which is designed specifically for blonde/silver hair types. Deep conditioning treatments twice monthly will keep coarse grays looking soft and shiny while avoiding dryness or brittleness.
Don't forget about gray highlights too – they can turn brassy, so use toners or ash-colored glosses regularly! A lot of women find transitioning this way much quicker than other methods – giving them their desired result in weeks instead of months – making it one of the most popular choices out there on how to go gray with dark hair done right!
Growing Out Gray Hair

When it comes to transforming your look and achieving the ultimate gray hair, you may want to consider letting your roots grow out. Weaving in highlights or lowlights can help blend existing shades with growing gray hairs, and removing old hair dye from natural strands can be done for a fully gray look.
Dyeing pigmented hair silver or grey tones is also an option if you're looking for something more dramatic right away.
Letting Roots Grow
Before transitioning from dark hair to gray, let your roots grow out at least two inches. This will help create a natural demarcation line and make the process easier for dark brunettes or those with home hair dye.
Root touch-ups can cover single strands, temples, and brows without leaving one's locks stiff or sticky. Use toner glosses to diminish brassiness while purple shampoo/conditioner keeps grays soft and vibrant! Deep conditioning treatments twice monthly add extra nourishment for beautiful color that lasts! Senior Beauty Editor April suggests using Dark Brown Hair Color products as an alternative way to go gray with ease.
Weaving Highlights/Lowlights
Try weaving in highlights or lowlights to blend your existing shade with the growing gray hair. Color lounge techniques, such as adding darker ribbons of color, can help achieve a natural look and a full silver transition.
At-home products like dye molecules, toners, glosses, and masks are available for coloring gray shades at home. Darker tones will require more pigment, but masks can help tone down brassiness while adding hydration.
Removing Old Hair Dye
If you're looking to go fully gray, removing old hair dye from natural gray strands is a great way to start. Cover up grays with glossing products and use purple shampoo to maintain your desired shade.
Dyeing Hair Fully Gray
Take the plunge and transition your look to a stunning silver shine with permanent or demi/semi-permanent hair color! Dye stripping, gray glosses, and special shampoos are all essential components of going fully gray.
Get ready for inches of gray growth by incorporating different colors into your hairstyle, choosing the best products for maintaining hair color change, and finding inspiration in some of the coolest blonde shades on celebrities.
Adjusting Haircare Maintenance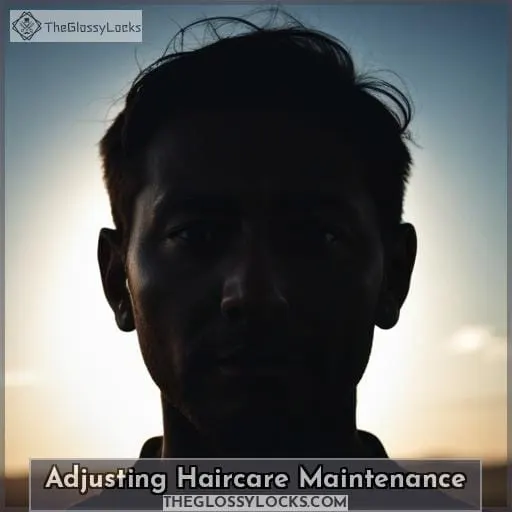 To keep your hair looking its best during the gray transition, you'll need to adjust your haircare maintenance routine. Time spent at a salon for regular sessions may be replaced with more time spent caring for yourself and styling at home.
Purple shampoo/conditioner is essential to maintain gray hair – it keeps brassiness away! Glosses can also help counteract yellowing in silver strands and make them look shiny. A hydrating deep conditioning mask could also come in handy if you have coarse grays that are prone to dryness or breakage.
Root touch-up products like Clairol Temporary Root Touch-Up will ensure no one notices any new growth between appointments or trims, while very beautiful buzz cuts can take care of all potential damage from heat tools without the time investment of a salon session – plus they're low maintenance too!
Finally, don't forget about inspiration: there are plenty of celebrities rocking gorgeous gray hairstyles these days so browse around online for some main ways on how to style yours as well!
Avoiding Brassiness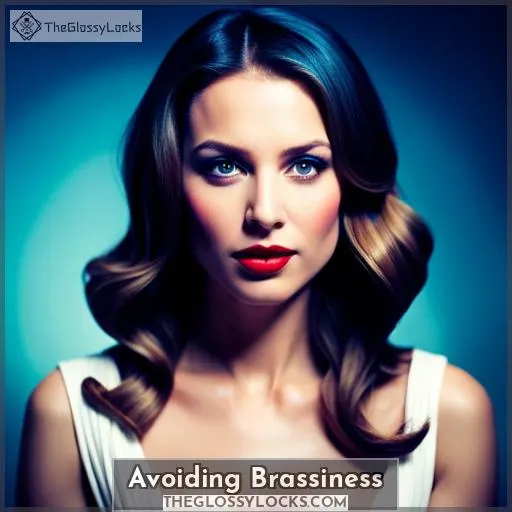 Avoiding brassiness while transitioning to gray hair can be a challenge, but using purple shampoo/conditioner and glosses helps keep your silver strands looking shiny and vibrant. A great option is Clairol Shimmer Lights Blonde Silver Shampoo for medium blonde hair – it tones down brassiness without drying out the hair.
Deep conditioning masks are also essential for coarse grays prone to dryness or breakage, as they hydrate locks from root to tip. Glosses provide a cooler blonde shade at the end of the lifting process that will counteract any yellowy tints in your color.
For even more inspiration on how to style your new look, check out celebrities with gorgeous gray hairstyles! Going gray may seem daunting at first, but it's actually quite easy when you have all the right products – just remember this is a gradual process, so don't get too impatient waiting for full results!
Inspiration for Going Gray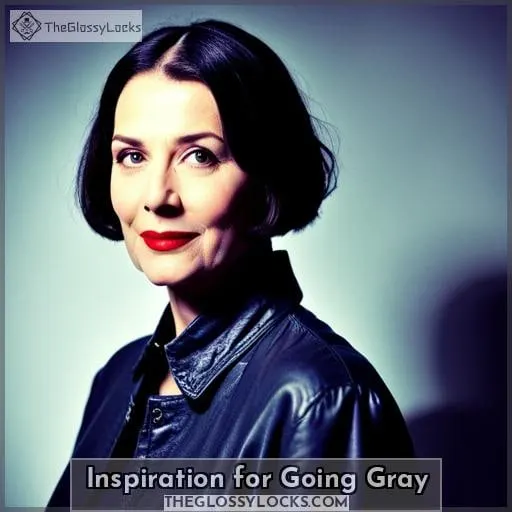 For inspiration on how to rock the gray hair look, check out the stunning styles of celebrities who have gone gray! Look for root touch-up products and purple shampoos that will help you keep your silver strands looking vibrant without worrying about brassiness or breakage.
Gray highlights can also provide a softer transition if you're not ready to go fully gray yet.
Deep conditioning masks are essential for coarse grays prone to dryness or breakage – they'll leave locks hydrated from root to tip. A gloss at the end of the lifting process is a great option too, as it provides cooler blonde shades which counteract any yellow tints in your color.
If you want an easy way to learn more about these tips and tricks, there are lots of YouTube channels with related videos like Good Housekeeping Institute's 'How To Go Gray With Dark Hair.
Frequently Asked Questions (FAQs)
How should I prepare for the transition to gray hair?
Prepare for the transition to gray hair by allowing your roots to grow, weaving in highlights or lowlights, and using toner or glosses. Use purple shampoo/conditioner and styling products to maintain color. Consider root touch-up products, deep conditioning masks, and temporary dye as needed.
Are there any health risks associated with stripping hair dye?
Stripping hair dye may lead to irritation and dryness. It is important to use protective gloves, avoid contact with the eyes, nose, and mouth, and carefully follow the instructions to minimize the risk of scalp discomfort or allergic reactions.
What should I do if I have gray hair but still want to dye my hair?
If you want to dye your gray hair, consider the type of color you're using. Permanent or semi-permanent colors will last longer than temporary shades and effectively cover most grays. Be sure to use a product specifically designed for gray hair as it can be more difficult to color over these strands.
How often should I use purple shampoo or conditioner?
Use purple shampoo or conditioner regularly to maintain the vibrancy and shine of your grey hair. Experience the power of this color-correcting formula as it neutralizes brassy tones, resulting in beautiful silver locks that will turn heads.
Does gray hair require special styling products?
Yes, gray hair may require special styling products to maintain its luster and keep it in place. Choose a hydrating conditioner, plus purple shampoo/conditioner for brassiness, and experiment with glosses or mousses to style your new look.
Conclusion
Going gray is no small feat, but with the right approach, you can make the transition with grace and confidence. If you're looking to go gray, the most important thing to remember is to be patient and kind with yourself throughout the process.
The journey may be long, but it will be worth it in the end as you discover new ways to make gray hair look stunning on you. Just ask Birnur Aral, the Director of the Good Housekeeping Institute Beauty, Health, and Sustainability Lab.
She went gray after skipping her monthly hair color visit and hasn't looked back since. With the right product, preparation, and technique, you too can look and feel amazing with your new gray tresses.