This site is supported by our readers. We may earn a commission, at no cost to you, if you purchase through links.
Do you have gray hair? Baking soda can be your secret weapon to restore its natural color and shine.
Imagine if all those grey strands were replaced with luscious locks that glinted in the sunlight like sun-kissed waves on an ocean shore. That dream could become reality when you use baking soda as part of your regular beauty routine.
Baking soda is a powerful cleanser that hydrates and clarifies hair while gently removing buildup from products, dirt, pollution, and other impurities that dull our tresses' appearance over time.
Plus, adding vinegar will add volume back into flat or limp grey locks while helping protect against further damage caused by external factors such as harsh weather conditions or heat styling tools.
Key Takeaways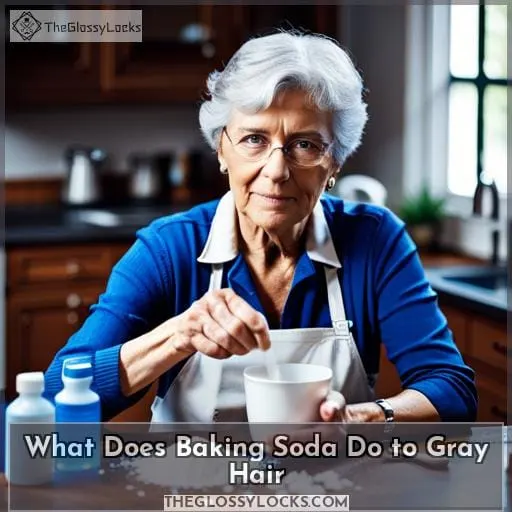 Baking soda is a natural remedy that can restore color and shine to gray hair. It works as a powerful cleanser that removes buildup and clarifies the scalp without long-term risks if used correctly. Baking soda can add volume and balance pH levels for hydration benefits, but its long-term use can cause damage and dryness, so it should be limited to 10 minutes.
To achieve the best results, a moisturizing conditioner should be used afterward.
The Science Behind Gray Hair: Why Does It Happen, and How Can We Slow It Down?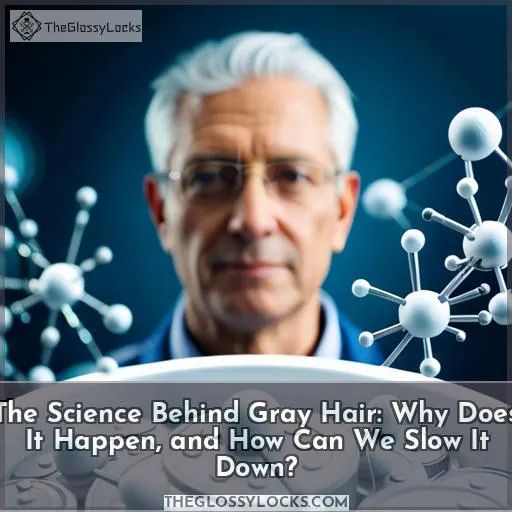 You may have noticed some of your hair turning gray, but understanding the science behind it can help you slow down this sign of aging. Gray hair occurs when melanin production decreases over time due to genetics, stress, and nutritional deficiencies.
Hydrogen peroxide and coconut oil are among the natural remedies that can be used to reduce yellowing or restore the original color in grey hair. Baking soda is also an effective remedy for gray hairs as its clarifying properties exfoliate the scalp while increasing volume and shine without causing dryness or split ends.
Essential oils such as amla can improve overall health by providing vitamins A & C, which help protect against graying due to a lack of nutrition. However, these remedies will not reverse graying permanently; they only provide temporary brightening effects at best.
To ensure optimal results without any adverse effects, it's important to research possible side-effects before using baking soda/vinegar mixtures on your locks.
Understanding Baking Soda: How Can It Benefit Gray Hair?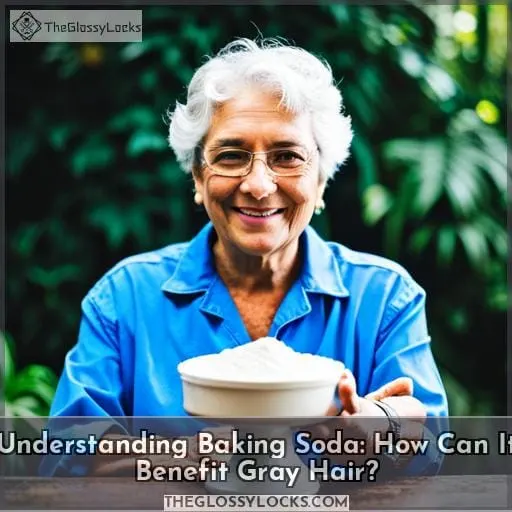 Continuing the journey to understand gray hair, let's explore how baking soda can benefit it. Strengthening strands is just one of the many advantages that come with a baking soda treatment for your white hairs! Baking soda exfoliates and clarifies the scalp while also balancing its pH levels, adding shine and volume.
Alongside this, apple cider vinegar or lemon juice will help moisturize hair further while providing similar effects as baking soda alone. These remedies may provide temporary brightening effects. However, be cautious before using them as they can potentially cause dryness or split ends if left on for too long.
The combination of these remedies can provide the following benefits:
Increased Shine & Protection
Restoring Volume & Color
Balanced PH Levels
Improved Appearance Without Damage
Ultimately, understanding what baking soda does for grey hair brings us closer to managing this sign of aging in a safe yet effective way without sacrificing quality!
Using Baking Soda for Gray Hair: Tips and Tricks for Best Results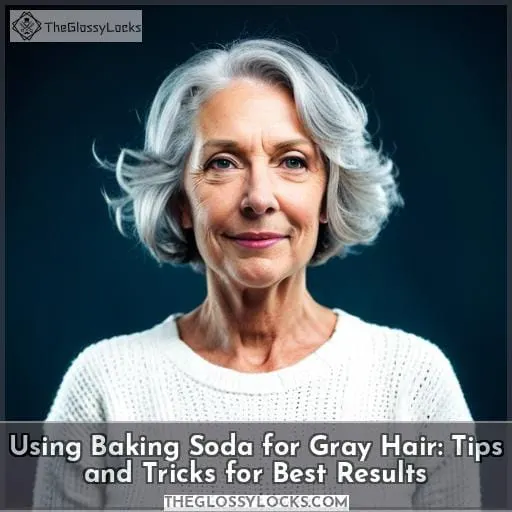 Discovering the optimal way to use baking soda and vinegar for gray hair can help you maintain your desired look without sacrificing quality. Applying tips, such as avoiding over-washing with hot water, ensuring a balanced pH level when mixing the solution, and being aware of any allergies or sensitivities are all important steps to take before embarking on this journey.
Natural alternatives like coconut oil or essential oils may also be a good idea as they provide protection from damage while helping with white hair discoloration. It's best not to leave the mixture on too long though; prolonged use could cause dryness or split ends in some cases.
Regularly using these remedies is key – it will restore volume and shine while protecting strands from further damage! With that said, it's still important to remember that baking soda won't reverse graying; its effects are more temporary than permanent solutions like hydrogen peroxide which can lighten gray hairs but has potential side effects if used too frequently.
To get started safely experimenting with this natural remedy for grey hair make sure you know what works best for your particular type of tresses and always keep an eye out for potential signs of adverse reactions!
Baking Soda Vs. Apple Cider Vinegar: Which is the Best Remedy for Brassy Gray Hair?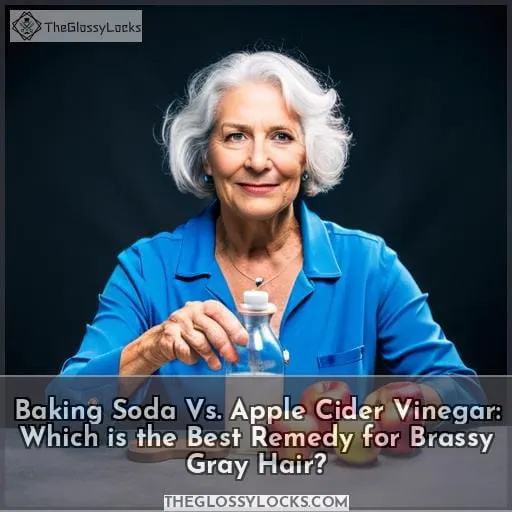 Now that you know the basics of using baking soda and vinegar for gray hair, it's time to explore which one is best.
Apple cider vinegar and baking soda both have their own unique benefits when used on gray hair. When trying to restore natural color, apple cider vinegar offers a more gentle approach than hydrogen peroxide or lemon juice, as it won't strip away the existing color completely.
On the other hand, baking soda can provide a brighter result in some cases but may be too harsh for those with sensitive scalps or dry strands since it has clarifying properties that could cause damage over time.
Ultimately, though, depending on what kind of results you're looking for, either option could work well.
Potential Risks of Using Baking Soda on Gray Hair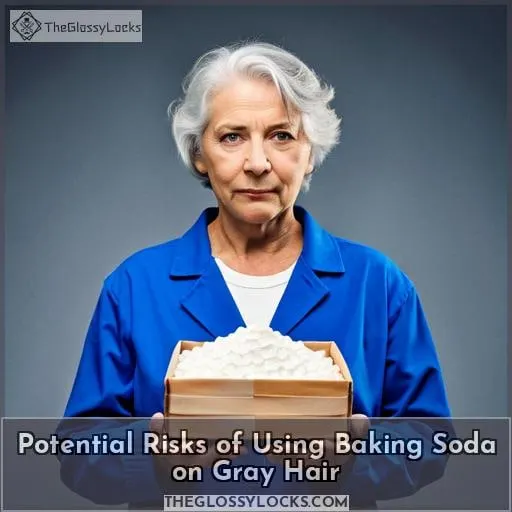 It's important to be aware of the potential risks of using baking soda on your gray hair, as it can cause dryness and damage over time. While this remedy may provide temporary brightening effects, regular use could lead to discoloration, split ends, and an imbalance in scalp pH levels.
To avoid these issues while still benefiting from baking soda for gray hair, try adding other natural remedies like lemon juice or coconut oil into your routine. Additionally, consider using apple cider vinegar rinses regularly instead of only relying on baking soda.
Be sure to research all possible outcomes before making any changes so you know what results you should expect from each product. This will help you make a well-informed decision about which one is best for your unique situation.
With proper preparation and cautionary measures taken beforehand, there are plenty of ways that you can effectively care for graying strands without risking further harm or damage.
Just keep in mind the potential risks of regular use, including discoloration, scalp balance disruption, and split ends due to too much exfoliation.
Other Natural Remedies for Improving Gray Hair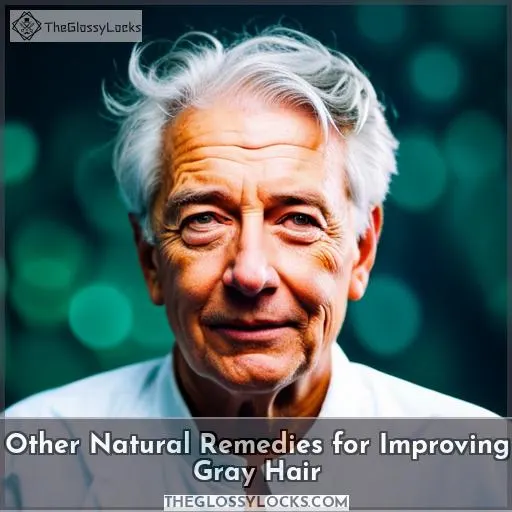 In addition to baking soda, try incorporating other natural remedies into your hair care routine for a healthier head of gray hair. Coconut oil provides much-needed hydration and nourishment, while lemon juice can help lighten the color of gray hairs without damaging them.
Essential oils, such as rosemary or lavender, can also be beneficial in conditioning the scalp and promoting healthy growth.
For a more intense treatment option that is especially effective at combating yellowing strands, mix together equal parts baking soda and warm water to create a natural mixture that will not only brighten up your locks but also protect them from further damage due to environmental exposure, such as sun or wind.
Apple cider vinegar rinses are great for restoring balance in pH levels on both skin types and scalps alike – just make sure you dilute it properly! Lastly, amla is packed full of essential nutrients that will impart shine back into dull graying tresses when used regularly over time.
Keep these tips handy so you don't have to worry about discoloration anymore – happy styling!
Managing Gray Hair: Benefits of Washing With Baking Soda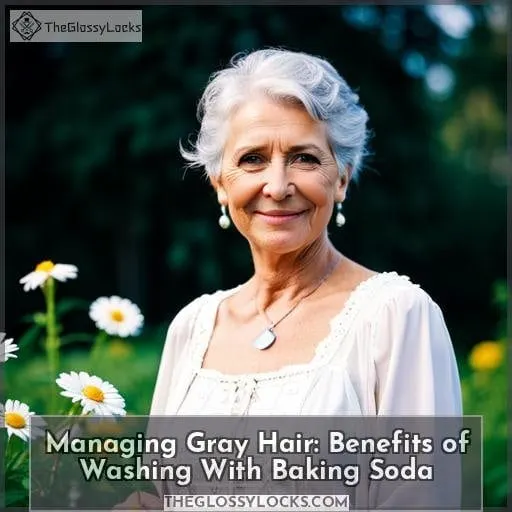 Washing your hair with a mixture of baking soda and vinegar can help bring back volume, shine, and vibrancy to gray strands. It's an easy alternative solution for those looking to improve the appearance of their gray hair without having to resort to harsher chemicals or treatments.
Cleanses excess oils from the scalp at a cellular level.
Adds volume while restoring natural color and protecting against damage.
Balances pH levels on the skin/scalp for hydration benefits.
Creates vibrant locks that look healthy – no more dullness!
Baking soda is gentle enough not to strip away essential moisture but strong enough to cleanse deep down into follicles in order to reduce product buildup or dirt accumulation. This helps maintain healthier strands over time as well as prevent future breakage due to its cleansing abilities at such a deep level.
Frequently Asked Questions (FAQs)
How long should I leave baking soda and vinegar on my hair?
Avoid leaving baking soda and vinegar on your hair for an extended period as it may lead to dryness, split ends, and damage. For optimal results, limit the application to a maximum of 10 minutes. Any duration beyond that may result in regret for using this combination.
What are the long-term effects of using baking soda and vinegar on my hair?
Long-term use of baking soda and vinegar on gray hair can cause damage, dryness, and split ends. To protect your hair's natural vibrancy, it is important to be careful when using such remedies. Limit the time they are left in place and always follow up with a moisturizing conditioner.
With caution, these treatments can provide benefits like increased shine, volume, and balanced pH levels.
Is hydrogen peroxide safe to use on gray hair?
Hydrogen peroxide can lighten gray hair, but consistent use may cause damage over time. It is important to be cautious and research potential adverse effects before using it on your hair.
Are there any other natural ingredients that can help improve gray hair?
Discover dazzling results with natural ingredients such as coconut oil, apple cider vinegar, amla, and essential oils. You can enjoy increased shine and volume while protecting your gray hair from discoloration.
Are there any benefits to washing gray hair with baking soda?
Yes, there are benefits to washing gray hair with baking soda. It can help restore volume and shine, balance pH levels, and clarify the scalp. It may also reduce yellowing and fade discoloration while protecting from damage.
Conclusion
Your gray hair is a part of who you are, and with the right knowledge and care, it can be your best feature. Baking soda can help restore volume and shine to gray hair, while the addition of apple cider vinegar can help reduce yellowing and bring out its natural color.
While these methods can provide temporary benefits, they may not be enough to stop graying in its tracks. However, with the right combination of natural remedies and a healthy lifestyle, you can keep your hair looking and feeling its best for years to come.
So, embrace your gray hair with confidence and let it be a reflection of the strength and beauty that comes with age.