This site is supported by our readers. We may earn a commission, at no cost to you, if you purchase through links.
Discovering how to grow out gray hair can be a challenge, especially if you're not sure of what the process entails. There's no one-size-fits-all approach when it comes to transitioning your locks from their natural color to an even mix of white and silver strands.
Many people opt for highlights or lowlights – but others choose more drastic measures such as shaving their head or going cold turkey on coloring altogether.
From extensions and braids through to toner applications and wavy styles – we'll explore 10 ways that will help keep your look on point during the transition period so that by 2022, everyone will know just who wears those stunning grays best!
Key Takeaways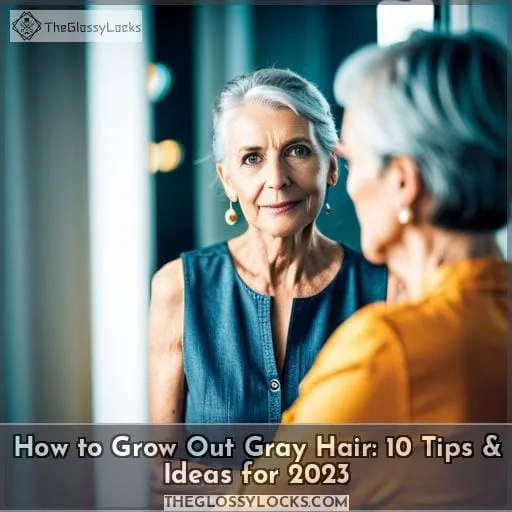 Highlights or lowlights can help soften the transition from colored hair to gray.
Accessories like glasses, hats, and lipstick can distract from growing roots.
Styling options such as braids and waves add texture to gray hair.
Embracing uniqueness and self-confidence is key to rocking gray hair.
Going Gray: the Basics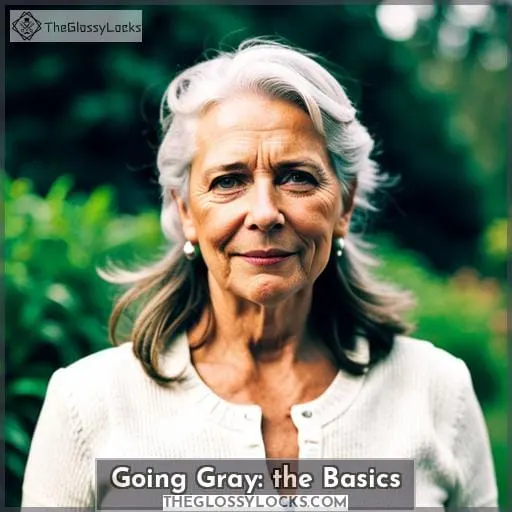 Embrace the change to a new look by exploring all the creative options available for transitioning your locks. Highlights, extensions, and styling wavy are just some of the great ways you can enhance your look with gray hair.
Going gray doesn't have to mean cutting off all dyed ends – highlights help soften grow out lines while still keeping some natural color intact. Or try shaving your head for an expedited process without sacrificing any style — there's no right way as long as it works best for you! Balayage adds depth, braids add dimension; accessories like glasses or hats can also draw attention away from growing roots if needed.
Whatever route you take on your quest towards mastery over how YOU choose to rock grey strands will be worth every step taken on this liberating experience so don't forget: going gray is beautiful too!
Different Methods of Going Gray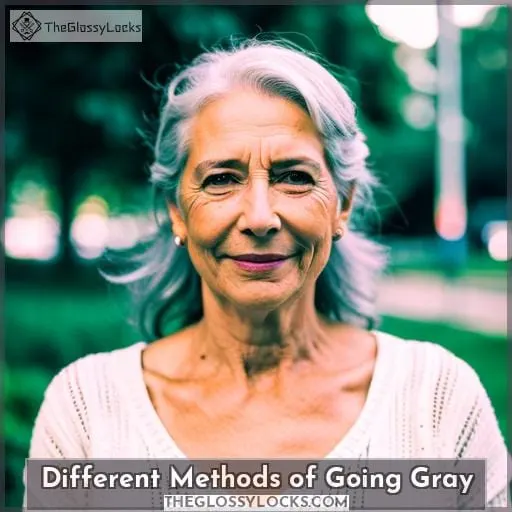 You have a few options for going gray, from highlights to shaving your head. For something in between, try the big chop or extensions to add length and hide grays. Balayage is an edgy option that can draw attention away from roots, while braids can be used to give dimension and depth.
Highlights
You can transform your look by adding highlights to soften the transition from colored hair to gray – a journey of self-discovery and liberation! Benefits include hair care, color matching, and styling options.
With maintenance tips like monthly visits or a big chop if needed, you'll find the perfect natural gray hue. Matching headbands or accessories are also great for keeping attention away from roots, while Irina Duncan's tutorials help with application techniques.
Shaving the Head
Shave away the fear of change with a bold new look by shaving your head – an empowering statement that will make you stand out! Supporting others, embracing change, and learning to care for silver strands are just some of the mental impacts experienced.
Eleanor Ensing Verkoeyen's years of experience can help guide first-timers, while Susan Mello offers her tips on choosing a style.
The Big Chop
Take the plunge with The Big Chop! Braiding, accessorizing, toning, or waving your hair can help you transition to gray. Cold transitioning is the biggest challenge – but baby highlights and full color create a unique gray transitioning coloring process.
Extensions
Extend your style and camouflage gray hairs with extensions – they're like a magic cloak for transitioning to silver! For pampered tips, consider hair care, color selection, length retention, and root coverage.
Look into Lisa Fennessy, Kiva Sherr, or Julianne Statnick's advice. Marci Robin experienced an unexpected length of time before she embraced her grays – but it was all worth it! Take the plunge with extensions today for beauty that never fades.
Balayage
Embrace a bold look with balayage, an edgy hair color technique that'll draw attention away from your gray roots. Get amazing results with blonde hues and protect your locks while transitioning to gray gracefully.
Follow Sabine Simon and Tari Walsh-Kelley's advice on home hair dyeing. Consider protecting the health of your hair when choosing a gray shade. Explore maintenance tips for long-lasting coverage. Pick professional colors carefully and research at-home products before investing in them.
Discover how to create striking looks without damaging delicate tresses or compromising on quality! Balayage is perfect for those seeking liberation through beautiful silver strands.
Going Cold Turkey
Going cold turkey on dyed hair can be daunting, but it's also liberating! Transitioning tips from Jackie Schindler Moffatt, Lisa Parker Gresham Muses, and Sustainability Lab Director Birnur Aral will help boost confidence.
Take care with Gray Care tips from Pepper Pattern of My Natural Hair for a beautiful transformation ritual.
Braiding the Hair
Braiding your hair is an excellent way to add dimension and depth while growing out gray locks – like a beautiful silver crown! From DIY at-home braids, protective styles with fun accessories, or finding an amazing hairdresser for intricate designs: 1) Try new techniques; 2) Take extra care of your hair; 3) Embrace change.
Transitioning tips from experts help you find the perfect look that fits you best. Fresh glasses? Celebrity colorist? Get creative and make it yours! Liberate yourself and enjoy the freedom of gray maintenance.
Using Toner
Using toner is an easy way to customize a look that's uniquely yours. Benefits include color matching, gray hair care, and gorgeous gray hairstyles. Pros and cons of salon vs DIY must be weighed, as well as natural pigments versus purple shampoo use.
Wearing Accessories
You can add personality to your gray hair look with accessories! Glasses, lipstick, headbands, and hats all complement the beauty of gray locks. Accessorizing tips from Kristi Ellis Harris can help you find the perfect pieces for long-term self-care.
Styling Wavy
To give your graying locks an elegant look, try styling them into wavy curls! A toner will bridge the gap between dyed and gray hair. Accessories like glasses, lipstick, headbands, and hats can accentuate a beautiful silver tone.
Growing Out Gray Hair

Embracing the transition to gray hair is an empowering experience, and over 50% of women have reported feeling more confident after taking the plunge! If you're thinking about growing out your gray hair, there are a few different ways to do it.
Root Touch-Up Dark Brown Powder or Clairol Shimmer Lights Blonde Shampoo can be used as spot treatments between colorings for precision coverage of grays.
Going cold turkey may be daunting, but it's also one of the quickest paths to embracing your natural locks. Consider braiding or accessorizing with glasses and hats to add dimension and depth during this linear experience.
Alternatively, highlights offer softening grow-out lines that work best on light browns or blondes, while extensions provide length along with hiding those pesky grays!
Balayage is an edgy way to draw attention away from roots using strategically placed streaks of color. Plus, toner bridges the gap between dyed hair and grey by reducing yellow tones quickly at home without needing a trip to the salon every time.
Finally, don't forget wavy styling, which helps blend new growth in an already colored mane.
Growing out gray can seem intimidating at first, but just take that first step towards liberation today – trust yourself and pick what works best for you, knowing all outcomes will be beautiful no matter what route you take.
Highlights Method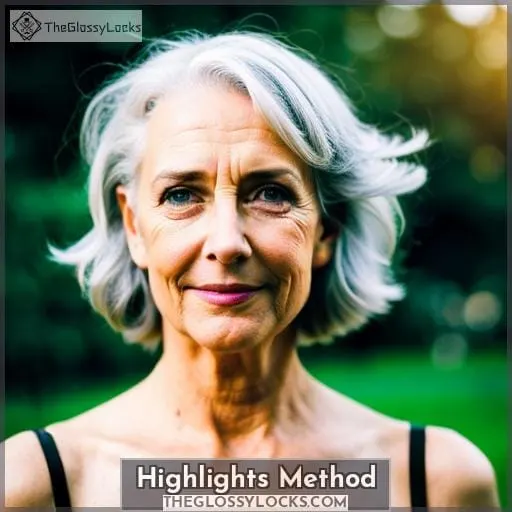 Try softening your transition to natural hair with highlights, which blend nicely into light brown or blonde locks.
To ensure a seamless look, take time when color matching and talk through any questions with your stylist. Root touch-ups every few weeks using Clairol's Good Housekeeping Seal approved kit will help keep grays from popping up in between appointments.
Lisa Callow, Carol Love, Gabrielle Bass, and Cindy Verrett recommend transitioning slowly over several months for best results. This allows you to adjust gradually as well as giving the illusion of thicker tresses while waiting out grow-out lines.
Shyanne Hall suggests experimenting by placing different colors around face framing sections like temples or parting line for added dimension that won't show roots too soon after coloring.
When going gray starts feeling right again, don't forget about styling options such as braids or waves that add texture without compromising on the freedom of letting those silvers shine brighter than ever before!
Shaving the Head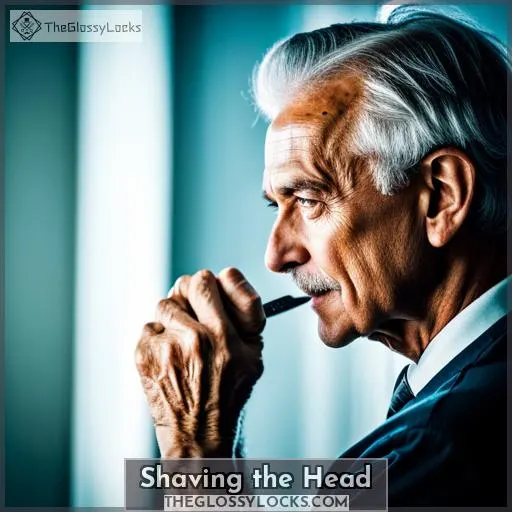 You can take the plunge and shave your head to jumpstart the process of growing out gray hair, quickly creating an edgy look that could redefine your style. Shaving is a bold choice that requires commitment but offers unexpected liberation: there's no waiting for grow-out lines or demarcation lines as grays inch in.
Bethany Heitman, senior beauty editor at Glamour magazine, suggests going full natural silver rather than dyeing it back to its natural gray color.
Start by finding inspiration from women who have already made this transition.
Take small steps such as wearing hats or scarves before fully committing.
Consult a professional hairstylist for advice on maintaining and styling options once you've shaved off all your hair.
Make sure products like shampoo are specifically designed to care for grey locks, like Clairol Professional Shimmer Lights Blonde Shampoo, which tones down brassiness on blonde and silver hair.
You'll be surprised at just how liberating shaving your head will be! Making these bold choices opens up new possibilities into self-expression, so go ahead – embrace those grays with grace!
The Big Chop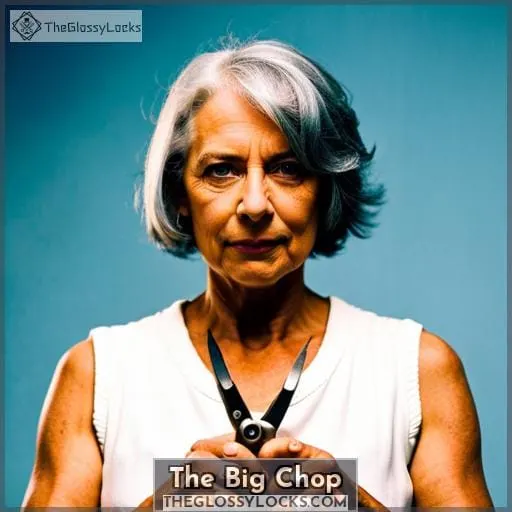 Ready to make a bold statement? The Big Chop is an excellent way to transition into gray hair. This style requires you to cut off all of your dyed or colored hair, leaving behind only the natural gray growth.
While it can be intimidating at first, taking this leap will help you embrace change and achieve the self-confidence needed for a positive self-image.
Barbara Mariani from Good Housekeeping suggests that if you're apprehensive about chopping off your locks in one go, then consider asking your stylist for darker ribbons of color as part of an overall ombré look when dyeing molecules are still present in some areas while others have begun transitioning out gracefully with grays coming through slowly over time.
She also recommends investing time in salon sessions every two weeks until most or all dye has been removed.
Achievement unlocked: You now have shorter but super stylish silver strands! To complete this look with confidence, there are several styling tips available. You can use accessories like glasses, headbands, or hats. You can also braid sections away from your face, create wavy curls with mousse or texturizing spray, and use toner between root colors.
Extensions

Take your look to the next level with extensions, a great way to hide gray roots and add length while transitioning into gray hair. Extensions come in various forms such as clip-ins or tape-in methods for more permanent looks.
When using this method, it's important to follow braiding tips for a seamless blend of natural and colored hair.
Toning options can help bridge the gap between dyeing and going full silver. Products like Clairol Shimmer Lights Blonde Shampoo are great for toning down brassiness on blonde or silver locks, while Root Touch Up Dark Brown Powder provides precision coverage over grey hairs with ease!
Hair accessories also play an important role during transition – rock glasses, headbands, hats – any accessory that helps you feel confident about embracing change! For those who want to go cold turkey faster than the highlights option allows, consider shaving your head bald before growing out grays from scratch.
The gradual process of growing out grey can be daunting, but by investing time into finding the best products along with emotional support from other women, you'll get there soon enough without compromising too much on style.
Thanks to all these helpful tips available online nowadays, written by freelance writers who have already gone through this journey themselves and know how quickly the pepper look of my roots grew back once I switched completely onto a cooler blonde shade.
Balayage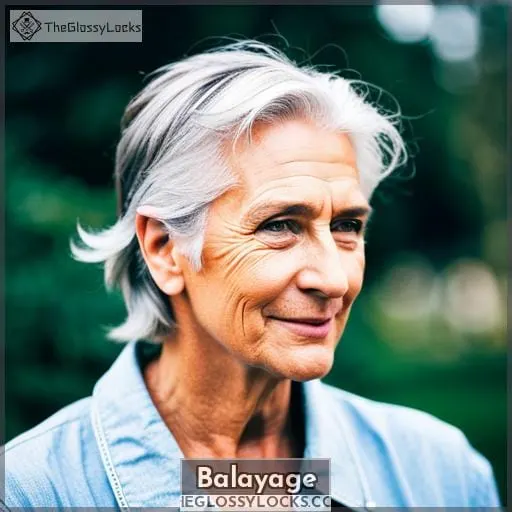 Try balayage to give your look an edgy twist while transitioning into a unique silver shade! Balayage is the perfect way to blend in colored hair with gray strands. It involves painting highlights at the bottom of your hair, which helps draw attention away from your roots and creates a softer grow-out line.
Gh Institute Contributing Editor Kiyah Wright recommends starting this process gradually, as it can take several rounds of color lifting before reaching desired results. Make sure you're using products that are designed for gray coverage; some dyes may cause an unrelated allergic reaction or damage if used improperly.
Be patient during the end of the lifting process: use lots of conditioner and shampoo designed for color-treated hair – something like Clairol Professional Shimmer Lights Blonde Shampoo – so you don't run out too quickly on product usage throughout the transition phase! Styling wavy also adds dimension to grey locks and makes them appear fuller than usual even when growing out new growth; plus, add accessories like glasses, headbands, or hats whenever needed for an extra confidence boost during the transformation journey!
Women empowerment begins with taking risks – let go of what others think about how we should look by embracing our natural beauty through a little bit of courage every day!
Going Cold Turkey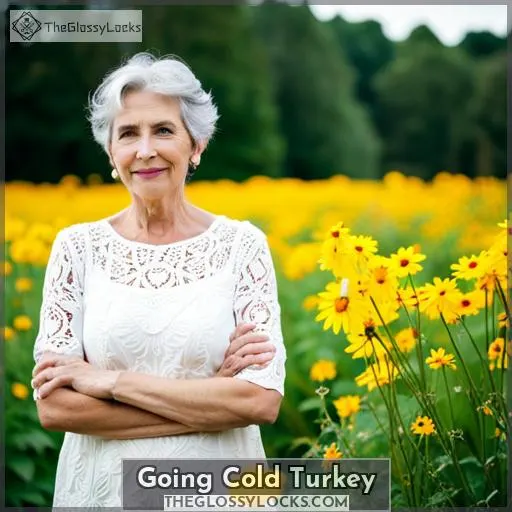 Embrace your self-confidence and jump into uncharted waters by taking the plunge and going cold turkey to transition to a stunning silver hue!
From braid hacks, toner tips, hat tricks, and gray glosses – there are many ways you can rock this look.
Braids: Adding dimension with braids not only looks great but also helps blend new growth in.
Toner Tips: Using toners bridges the gap between dyed hair roots and natural grays for an effortless finish.
Hat Hacks: Hats are accessories that provide more coverage for a smooth transition while adding extra flair too!
Gray Glosses: Gloss serums add shine to dull locks while making them appear healthier than ever before – they're perfect if you want some extra sheen on those newly grayed strands.
Rocking gray is all about embracing yourself as much as possible during this transformation process; let go of any expectations imposed by society or others around you when it comes time to take off from where you began!
By allowing yourself space to wholeheartedly explore what works best for transitioning – whether it's through styling options such as balayage, extensions, or other methods like rocking accessories – be sure to keep up consistent care so your hair becomes stronger with each passing day.
Women empowerment starts within us; allow yourself the freedom to discover beauty in being unique without judgmental hesitation today!
Maintenance for Gray Hair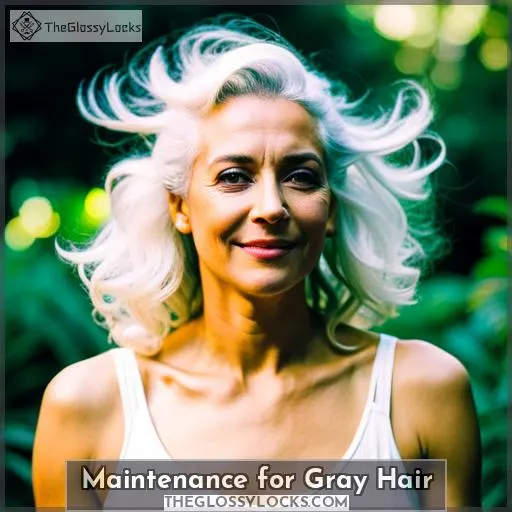 Maintaining gray hair can be a rewarding experience, and with the right care regimen, you can ensure your locks remain healthy and vibrant.
There are many color choices out there to choose from, such as highlights, balayage, or going cold turkey – all of which will give you the confidence boost needed to rock this style.
When it comes to caring for gray hair specifically, invest in products that nourish and hydrate, like shampoos specifically formulated for silver strands.
Additionally, don't forget about accessories like hats or scarves that offer added coverage during those days when grays feel more exposed than usual. These items could even become part of an outfit if styled correctly! Try looking up some gray inspiration on platforms such as Instagram or Pinterest if ever feeling stuck about how best to take advantage of what's available in terms of styling options today.
Finally, remember: growing out natural grays is only possible through self-acceptance.
Frequently Asked Questions (FAQs)
What are the best products to use when growing out gray hair?
Discover the best products to use for growing out gray hair! Root Touch-Up Dark Brown Powder, Clairol Shimmer Lights Blonde Shampoo, and a Safe Home Lead Water Test Kit – all designed to make the process easy and accurate.
With these tools, you'll achieve the desired results quickly without compromising your natural look.
How can I make the transition to gray hair easier?
Take the plunge and try highlights, extensions, or balayage to bridge the gap between your natural gray and dyed hair. Mix up accessories like glasses, lipstick, or headbands to draw attention away from any roots! Embrace this journey with confidence; you can go cold turkey if you're feeling bold.
Is there an age when gray hair should not be grown out?
No age is too old to grow out gray hair! Make the transition easier by trying highlights, extensions, or balayage – be adventurous and experiment.
Are there any tips for styling gray hair?
Try styling your gray hair in different ways! Experiment with waves, braids, accessories, or toners to give it a unique look. Highlight the transition from dyed strands to grays for an edgy style. Try going cold turkey and shave off the old color or chop it all at once for dramatic results.
Is it better to go to a professional salon for gray hair maintenance?
Going gray is an empowering experience, but it can be tricky to maintain. For the best results and expert advice, consider visiting a professional salon – they'll help you achieve the look you desire with their expertise and knowledge.
Conclusion
Growing out gray hair is a personal journey that requires acceptance and taking risks. Women should support each other during the process of growing out gray hair, as it can be a difficult transition. There are many different methods to go gray, from highlights to shaving the head, the big chop, extensions, balayage, going cold turkey, braiding the hair, using toner, wearing accessories, or styling the hair wavy.
Whatever method you choose, it is important to maintain your gray hair with regular trims and treatments.