This site is supported by our readers. We may earn a commission, at no cost to you, if you purchase through links.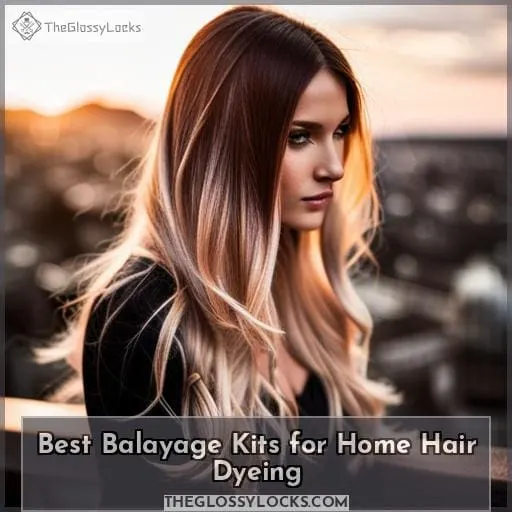 Are you ready to take your hair coloring game up a notch? Balayage is the perfect way to add beautiful sun-kissed highlights that look totally natural. And with the right kits and tools, it's now easier than ever to achieve salon-worthy results from the comfort of your own home.
We've rounded up 8 of our favorite balayage kits for hair dyeing at home so you can find one that best suits your needs and budget.
Read on for more information about each product as well as step-by-step instructions on how to get started with balayage at home today!
Key Takeaways
Madison Reed Balayage Kit and L'Oreal Paris Frost Design Caramel are recommended for professional-grade results at home.
Clairol Nice 'n Easy Balayage Blondes and Garnier Nutrisse Blonde Highlighting Kit provide hair and scalp protection with a glossy finish and non-drip formula.
DpHUE Blonding Brush Highlighter and eSalon Balayage Highlighting Kit offer clear instructions and professional-grade formulas for impressive DIY results.
Jerome Russell Bblonde Highlighting Kit includes avocado oil and lifts up to 8-9 levels for salon-quality balayage at home.
8 Best Balayage Kits for Hair Dyeing at Home
Looking for a salon-grade balayage at home? Check out the Madison Reed Balayage Kit, L'Oreal Paris Frost Design Caramel, Clairol Nice 'n Easy Balayage Blondes, Garnier Nutrisse Blonde Highlighting Kit, Revlon Permanent Hair Color Kit, and dpHUE Blonding Brush Highlighter.
For more professional results, try eSalon's Balayage Highlighting kit or Jerome Russell Bblonde highlighting kit.
1. Madison Reed Balayage Kit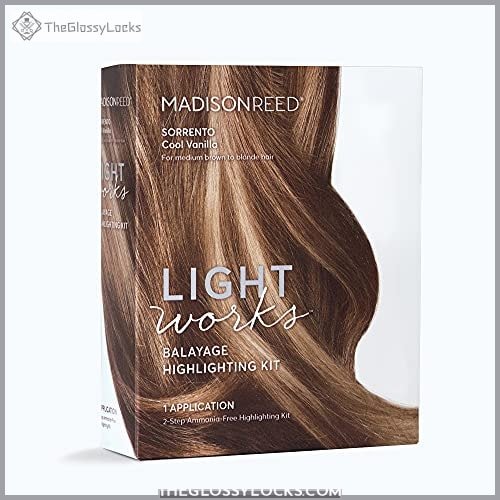 View On Amazon
You can get a professional-grade look with the Madison Reed Balayage Kit, which offers luxurious color and shine that will have you glowing! This two-step salon process comes 100% paraben, ammonia, and cruelty-free.
It includes a precision wishbone balayage tool plus lightening cream, lightening activator, finish toning glaze, and activator. With three pairs of gloves for protection from stains on your skin as well as a cap to keep hair in place during application, this kit has everything you need for at-home highlighting results.
The Bond Building Cleansing Treatment ensures healthier-looking hair post-treatment, while the Color Protecting Shampoo & Conditioner guard against fading between treatments so your color pops longer!
Easy at-home solution
Suitable for Blonde to Light Brown Hair
100% Paraben Free/Ammonia Free/Cruelty-Free
Includes everything needed including 3 Pairs of Gloves
Bond Building Cleansing Treatment Color Protectant Shampoo & Conditioner included
Difficult application process
Mixed user reviews
2. Loreal Paris Frost Design Caramel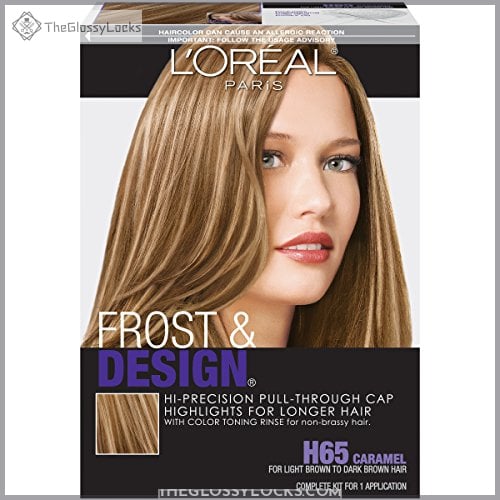 View On Amazon
Experience professional-looking results with L'Oreal Paris Frost Design Caramel, designed to help you create bold or subtle highlights. This precision pull-through cap offers two hook options for an effortless application process and a toning rinse for shiny, non-brassy hair.
The non-drip formula comes with gloves and an overcap so that the product won't stain your clothes.
It's suitable for long hair past shoulder length – perfect if you're looking to add dimension without going too drastic!
Customer experiences have been mixed. Some find it crumbly and challenging to apply, while others report vibrant results when lightening their medium brown hair first before use. Some caution is advised as using this kit may result in brassy tones if not left on long enough.
However, many people have reported positive feedback from using this product regularly over time.
International shipping is available in select countries, making it more accessible than ever before!
Precision pull-through cap design allows precise highlighting
Toning rinse added shine & prevents brassiness
Suitable for any length of hair past shoulders
Non-drip formula avoids staining clothing
Difficult/time-consuming application process
Not suitable for all types of blonde shades – Results depend heavily on the original color
3. Clairol Nice Easy Balayage Blondes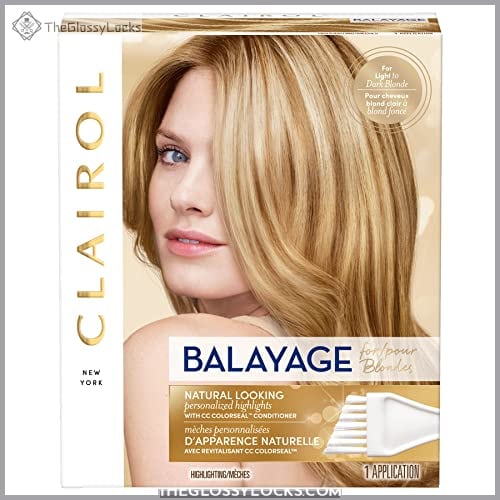 View On Amazon
Discover gorgeous highlights with Clairol Nice Easy Balayage Blondes—the perfect way to achieve salon-quality results in the comfort of your own home! This kit includes everything you need for hair and scalp protection, allowing you to customize your highlights.
You can avoid messy mistakes and select exact strands for lightening; however, some users have found it crumbly and challenging to apply. It's sufficient for shorter hair but may require multiple boxes if used on longer locks.
On the other hand, some packaging issues have been reported as well as mixed reviews on gray coverage, though it does provide a glossy finish upon application.
Includes everything needed for hair & scalp protection
Allows selection of exact strands
Provides glossy finish after use
Some users find it crumbly & difficult to apply
May require multiple boxes if used on long locks
Packaging issues reported
Mixed reviews on gray coverage
4. Garnier Nutrisse Blonde Highlighting Kit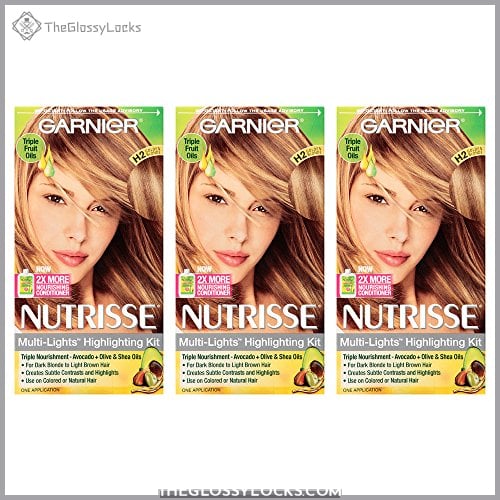 View On Amazon
Garnier Nutrisse Blonde Highlighting Kit gives you the nourishment your hair needs, plus bold highlights for an eye-catching look. With its triple fruit oils blend and color boost technology, this kit provides long-lasting results to help achieve a beautiful blonde shade.
It contains grape seed oil and avocado oil designed to nourish hair while giving it added shine.
The Express Retouch Gray Hair Concealer offers temporary gray coverage when needed, so you can get salon-quality results at home with ease.
For those looking for darker shades than blondes, there are 45 nourishing shades available ranging from light browns all the way up to true red colors – ensuring everyone finds their perfect shade! Don't worry about staining clothes after showers either; Garnier is known worldwide as a leader in innovative haircare solutions with over 100 years of experience in providing products that won't ruin fabric afterward!
Lightening your hair before use guarantees vibrant hues will be achieved too – making sure you turn heads wherever life takes you next!
Nourishing ingredients such as triple fruit oils blend & grape seed and avocado oil
45 different colors available including true red options
Non-drip creme formula ensures precise application
Color may fade within 15 days
Can only be used on prelightened/natural light blonde hair
5. Revlon Permanent Hair Color Kit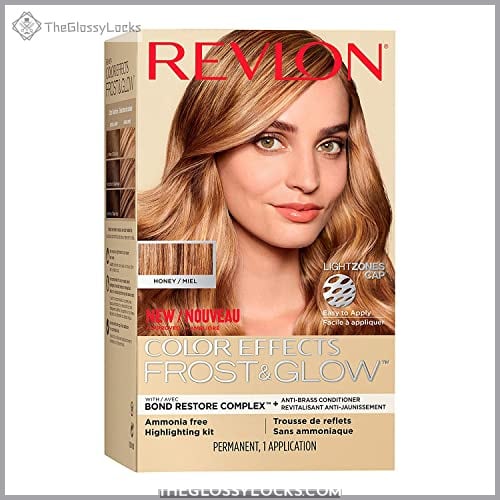 View On Amazon
Revlon's Permanent Hair Color Kit offers two ways to highlight, allowing you to achieve a salon-like look with ease from the comfort of your home. It includes the LightZones Cap and Hook for precise blonde highlights or paint balayage streaks.
Additionally, it features Bond Restore Complex technology that minimizes damage after achieving highlights. The kit also comes with a violet-pigmented conditioner designed to eliminate brassy tones and leave hair looking shiny and natural.
Choose between two ammonia-free shades – Honey for various brown hair shades and Blonde for blonde and light brown hair – depending on the color you'd like your locks to be!
Easy application with a precision applicator.
Both ammonia-free and paraben-free formula available in two different colors – Honey and Blonde shades suitable for various types of brunettes or blondes, respectively.
Minimizes damage due to its bonding complex technology included in its formulation.
Some users have reported that the quality of the cap string is not up to par.
Currently, the kit is only available for online orders from Amazon.
6. DPHUE Blonding Brush Highlighter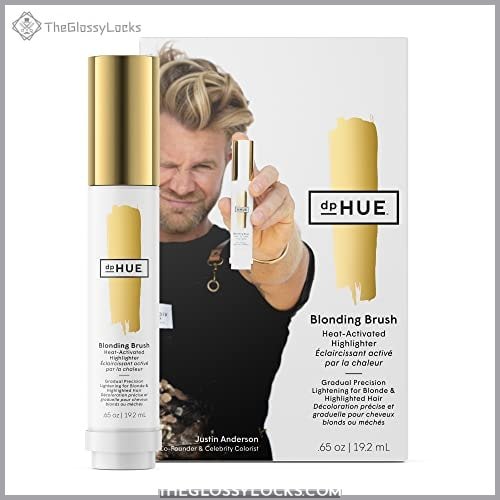 View On Amazon
Explore dPHUE's Blonding Brush Highlighter for an effortless, sun-kissed look. This convenient product is designed to lighten pre-lightened or natural light blonde hair with ease. It contains lemon juice and hydrogen peroxide for a gradual, nourishing highlight effect.
The soft bristles of the brush make application simple; just hold strands between your forefinger and thumb before painting onto targeted areas.
Easy application as a highlighter
Effective in creating whitish highlights on sandy blonde hair
Ineffective for lightening roots
Requires assistance when applying
May not work effectively with all types of hair
7. ESalon Balayage Highlighting Kit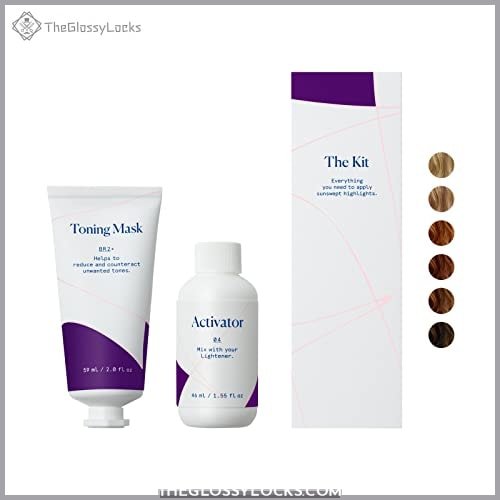 View On Amazon
eSalon's Balayage Highlighting Kit offers a professional-grade formula for sun-kissed color without a salon visit. The two-part kit includes lightener, activator, highlight shampoo, toning mask, and gloves along with an application brush and tray.
It provides the opportunity to create natural dimension using the balayage technique as well as gradual lightening over time.
Using this kit, you can enjoy the convenience of at-home highlighting while still getting salon-quality results – all in one go! Clear instructions make it simple for even novice users to achieve their desired outcome with ease.
When used correctly, however, people have found great success in adding beautiful blonde highlights without compromising texture or shine.
Clear instructions
More convenient & cost-effective than salons
Works well on low porosity hair
Great results when following techniques
Multiple shade options for customization
Caution needed with high porosity hair
May turn hair orange if misused
Difficult returns if unsatisfied
Didn't meet expectations
8. Jerome Russell Bblonde Highlighting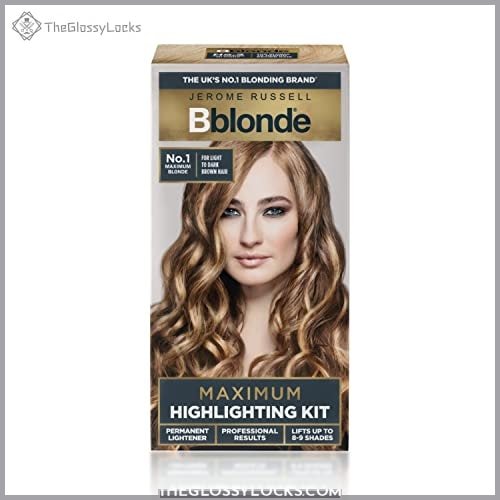 View On Amazon
Bring out your inner blonde with Jerome Russell's Bblonde Highlighting Kit and get the perfect highlights without a trip to the salon. Formulated with Avocado Oil, this kit is designed specifically for lightening pre-lightened or natural light blonde hair.
Plus, it comes complete with a highlighting cap and hook, making touch-ups at home easy.
This product contains lemon juice and hydrogen peroxide, which provide gradual lightening power along with conditioning agents that protect your locks from damage during the process.
It may also not be suitable for those wanting more dramatic results as it can only lift color one level higher than where you start from, but it still leaves beautiful subtle tones behind nonetheless.
Includes highlighter cap & hook
Leaves hair soft & shiny
Professional salon formula
Contains Avocado Oil
Cap quality could be improved
Only lifts color 1 level higher than starting point
Can't achieve dramatic results
What is Balayage Hair?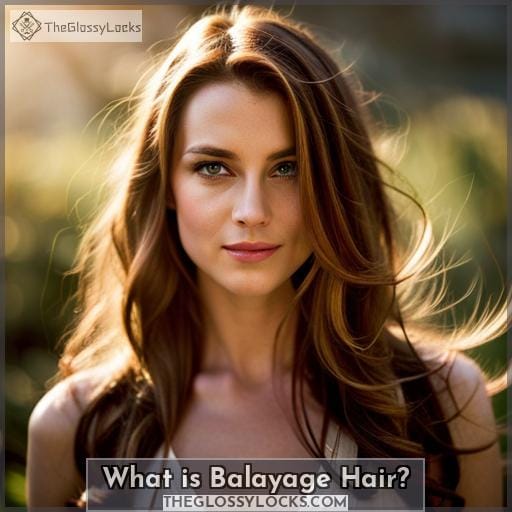 Transform your look with balayage, a freehand highlighting technique that creates natural-looking ribbons of lightness in your hair.
Balayage is easy to maintain and can be customized for any style. Plus, it gives you sun-kissed highlights without the need for frequent touchups on dark roots. With so many color choices available from the best balayage kits for hair dyeing at home, like Madison Reed's Light Works Kit or Loreal Paris' Frost Design Caramel kit, there's a shade perfect for every blonde and brunette alike.
To achieve salon-quality results at home, use an at-home highlighting kit complete with gloves, cap, and hook tool, as well as bleach powder activated by developer.
From thin streaks to thick slices, having fun while experimenting will result in beautiful multidimensional highlights that last up to 8 weeks, giving you effortless beachy vibes all year round!
How to Balayage Your Hair at Home Step by Step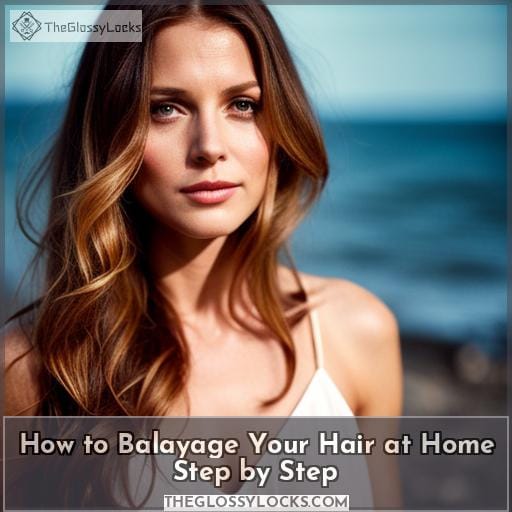 Ready to give yourself a salon-worthy makeover? Follow these easy steps for balayage at home and get ready to be amazed!
Start by selecting the right product. Make sure you choose a kit that is specifically designed for balayage, like L'Oréal Colorista or Garnier Nutrisse Blonde Highlighting Kit. Read through the instructions carefully before starting your application process.
Prepare your hair by washing it with shampoo and conditioner. Let it dry completely before beginning to section off strands of hair to highlight. Use clips or pins if necessary while applying color throughout different sections of your head so you can keep track easily when highlighting each area separately.
Mix all components according to directions and apply generously using an applicator brush on clean, damp hair in thin strips from root to tip in order to achieve desired results without oversaturation or bleaching certain sections too heavily, such as ends which tend to have a more porous texture due to sun exposure.
When done properly, rinse out thoroughly (avoid hot water) then style as usual, adding heat protection products and finishing serums to maintain healthy-looking locks long term.
With quality DIY kits available today, there's no need to spend hours in salons getting special highlights – just follow these simple steps to start creating customized looks perfect for any occasion!
How to Care for Balayage Hair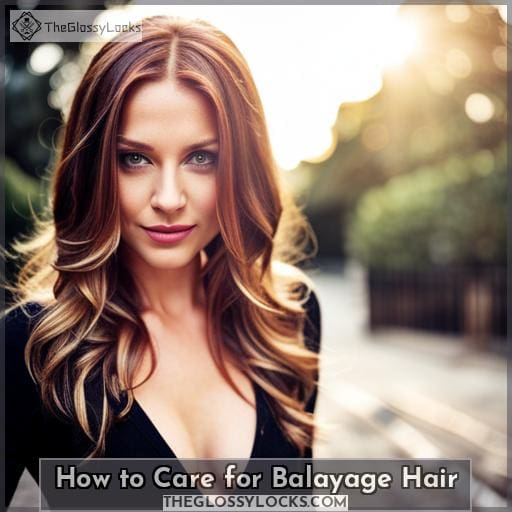 Once you've achieved your balayage look, it's important to take care of your hair for long-lasting results.
Use a sulfate-free shampoo and conditioner designed specifically for color retention when washing hair.
Protect from sun damage by using leave-in conditioning treatments or UV protection sprays with SPF 15 or higher before stepping outside in summer months.
Avoid excessive heat styling and use thermal protectants to minimize damage when blow drying or using hot tools.
Trim regularly every four to six weeks as split ends can cause breakage that will undo all the hard work of achieving beautiful highlights!
For extra shine, opt for glossing products formulated with nourishing oils like argan oil which help keep locks looking glossy and vibrant between salon visits!
Following these simple steps ensures that you'll get the most out of any home balayage kit while keeping colored strands looking healthy year round!
How to Do the Balayage Step by Step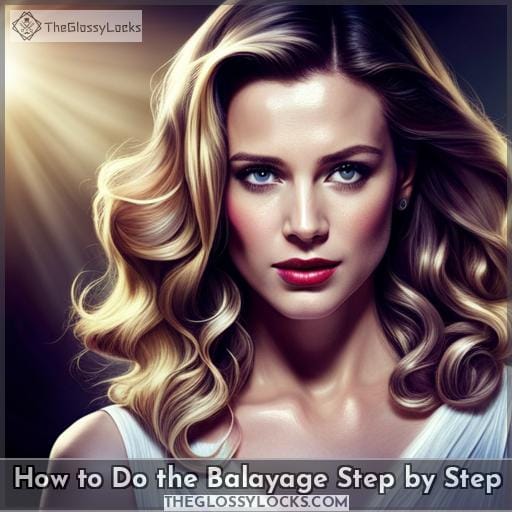 Create your own salon-grade balayage highlights with these step-by-step instructions:
Start by selecting the right kit, with a bleach volume peroxide that matches your hair color. Next, mix the peroxide according to the instructions and apply it to a balayage comb.
Section off small strands of dry hair using clips or ties and brush on random streaks of lightener from root to tip for an effortless look.
Leave it in for 20–45 minutes depending on desired results, then rinse out carefully and blow dry lightly with medium heat setting before styling as usual!
4a) For best results when doing DIY Balayage at home, use prelightened hair instead of regular dye kits; this will help you achieve vibrant colors without brassy tones.
4b) It's also crucial not to skip conditioning after highlighting – this seals in pigment while preventing excessive absorption.
5a) Don't forget about strand tests either — they're essential for gauging timing & potential outcomes.
5b) Finally, remember that compared to foil highlights, Balayage is easier because dark roots blend seamlessly into lighter tips & strands – no more need for constant touch-ups!
Can You Compare a Balayage Done With a Kit at Home to a Professional Balayage?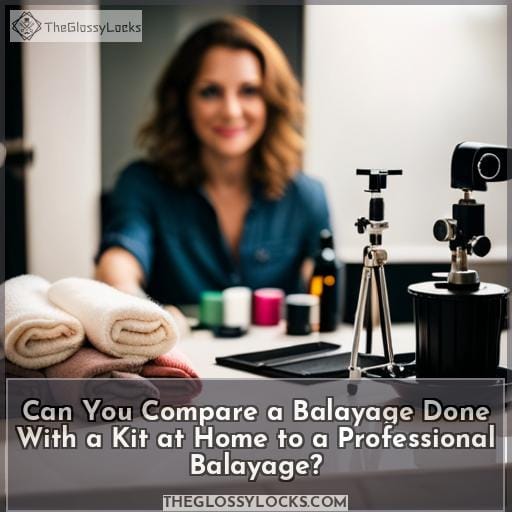 You may be wondering if you can get professional-looking results when dyeing your hair at home with a balayage kit. The answer is yes! With the right supplies, some patience, and practice, it's possible to achieve salon-level results without ever leaving your house.
Balayage kits provide everything needed for creating beautiful highlights that blend seamlessly into existing color – from gloves to applicator combs and lightening cream.
Quality products will ensure you get consistent coverage that looks natural yet makes a statement; many also include nourishing ingredients like avocado oil or grape seed oil for additional protection while lightening strands.
Conclusion
At the end of the day, achieving a salon-grade balayage look at home is now easier than ever. With the help of the best balayage kits for hair dyeing at home, you can achieve a stunning hair transformation with minimal effort.
From the Madison Reed Balayage Kit to the Jerome Russell Bblonde Highlighting Kit, there's something for everyone. Each kit is designed to provide amazing results and can be used on various hair colors.
So why not give yourself a salon-grade makeover without breaking the bank?