This site is supported by our readers. We may earn a commission, at no cost to you, if you purchase through links.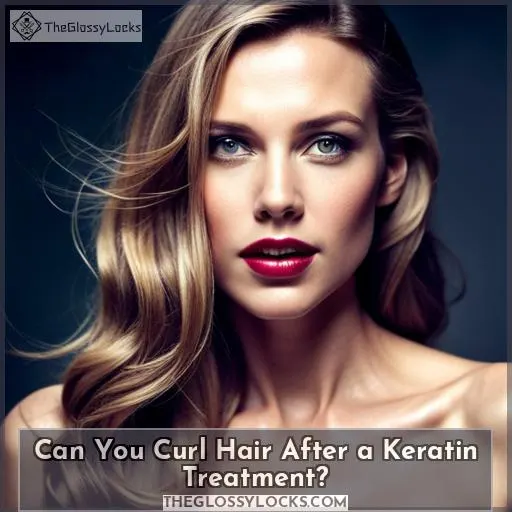 Breathe easy, you can still curl your hair after a keratin treatment. Despite costing up to $600 per session, the transformative power of these treatments is worth every penny as they reduce frizz and add shine for up to 16 weeks.
But if you thought that meant having to completely give up curling your hair – think again! With some careful styling techniques and the right products, it's possible to achieve beautiful curls even after a keratin treatment.
Key Takeaways
Curling hair after a keratin treatment is possible with the right products and tools.
Start curling three days after the keratin treatment for the best results.
Use low to medium heat for fine or color-treated hair when curling after a keratin treatment.
Regular trims and deep conditioning are essential for maintaining the results of a keratin treatment.
Can You Curl Your Hair After a Keratin Treatment?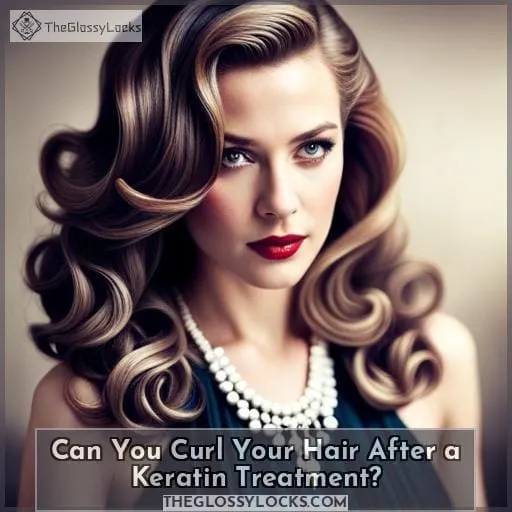 With the right hair products and styling tools, you can get glossy curls that stay frizz-free for up to 16 weeks after a keratin treatment. To ensure curl longevity, it's important to make sure your hair is healthy before any type of curling or heat styling process.
A great way to achieve this is by using Biotin Collagen Keratin Shampoo from H.Y Vitamins. This shampoo contains beneficial ingredients such as Keratin and Argan & Coconut Oils that promote growth while restoring pH balance and providing hydration for colored hair.
For extra protection when curling post-keratin treatment, opt for the Conair Infinitipro Hot Air Styler with tourmaline ceramic technology.
For those looking for more defined waves or ringlets, then look no further than the ghd Soft Curl Curling Iron.
And don't forget about Denman's signature 7 rows of round-ended nylon pins on their D3 brush.
Finally, remember to always use a good quality leave-in conditioner prior to heating, along with an efficient heat protectant spray afterward.
How to Curl Hair After Keratin Treatment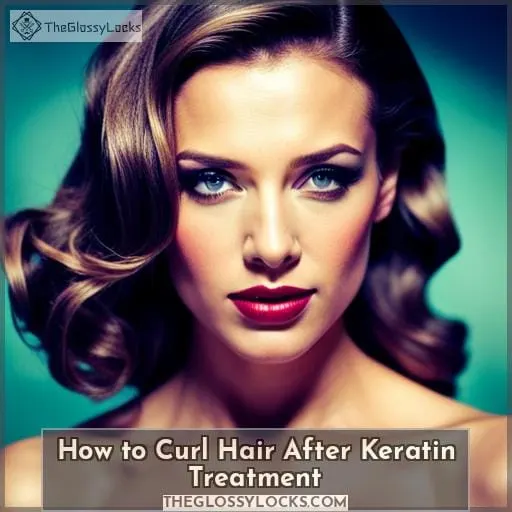 Are you looking to curl your hair after a keratin treatment? Booking your hairstylist is the easiest option, but if you'd like to do it yourself, make sure that the keratin has dried out properly. Test a strand of your hair before starting and use the right tool for the best results.
Easiest Option: Book Your Hair Stylist
For those who want to curl their hair after a keratin treatment, the easiest option is to book an appointment with your trusted hair stylist. You'll be sure of long-lasting beautiful locks with up to 24-hour hold for curls created using the ghd Soft Curl Curling Iron and styling products like Biotin Collagen Keratin Shampoo.
Ask your stylist about heat protection sprays and maintenance tips, such as regular trims or deep conditioning masques.
Make sure you use sulfate-free shampoo and avoid pool or sea water when possible.
Check the Keratin Has Dried Out Properly
Ensure your keratin treatment has thoroughly dried before curling to get the best results. Monitor drying time, heat exposure, and moisture levels for optimal styling techniques. Keeping a keen eye on these factors maximizes hair texture, curl hold, and longevity of the keratin treatment's effects.
Avoid overexposure to heat to prevent any damage and ensure that curls last longer without losing their shape or bounce. To prevent moisture loss, use sulfate-free shampoo and conditioner, along with leave-in treatments like argan oil or coconut oil.
Do a Strand Test
Before you curl your hair after a keratin treatment, make sure to do a strand test first – it's like checking the pulse before diving in! Doing so will help you determine if your hair is resilient enough for styling and how long the effects of the keratin treatment may last.
These tests are important for understanding post-treatment care needs and methods, ensuring the longevity of results.
Check resistance levels with tension on damp strands
Experiment with different types of curls or waves
Explore various styling options to get the desired look
Use the Right Tool
Choose the right tool for a perfect curl – from hot air stylers to curling irons and brushes. For post-keratin treated hair, use heat protectant sprays and utilize curling techniques like overnight twists or diffusing with a round brush to achieve the desired look.
Opt for styling options that are gentle on your locks, such as tourmaline ceramic technology tools, which evenly distribute heat with less damage. A regular haircare regimen is also essential in maintaining the keratin coating while creating beautiful curly hairstyles without compromising the quality of hair strands.
Set the Right Heat on Your Curler
Adjust the temperature on your curler to achieve beautiful, long-lasting curls after your keratin treatment! Choose a curler with adjustable heat settings that is suitable for all hair types. Opt for a ceramic or tourmaline curling tool that evenly distributes heat without damaging delicate strands.
Use a low-to-medium setting if you have fine or color-treated hair; a medium-high setting is perfect for thick, curly manes.
Tips for Maintaining Your Keratin Treatment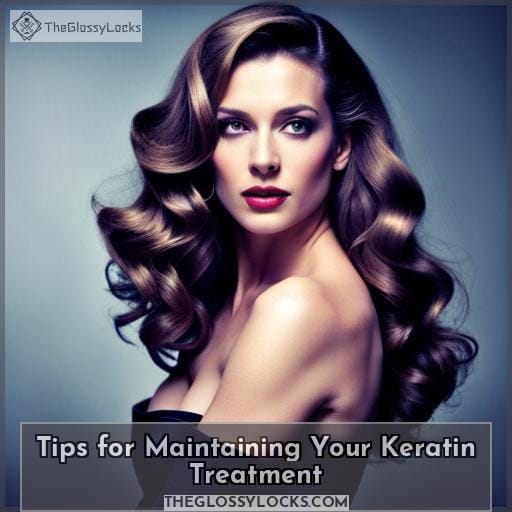 To keep your hair looking shiny and smooth, make sure to follow a few simple post-treatment maintenance tips. Following the right styling techniques, using appropriate products for aftercare, protecting against heat damage while curling or straightening your hair, and long-term maintenance are all key components of preserving keratin treatments.
Styling Techniques:
Define your curl pattern with quality curling tools like Biotin Collagen Keratin Shampoo from H.Y Vitamins and Conair Infinitipro Hot Air Styler.
Create loose waves with the ghd Soft Curl Curling Iron or overnight twists for beautiful curls using Denman's Curly Hair Brush D3.
Always use a heat protectant spray when styling your hair to reduce breakage caused by excessive heat exposure.
Product Recommendations:
Use sulfate-free shampoo to preserve keratin treatment results, as harsh sulfates strip away natural oils that provide moisture to the strands.
Choose conditioners that contain coconut oil and argan oil to maintain hydration levels in treated strands over time.
Apply a deep conditioning mask once a week for added shine and nourishment.
Avoid sea water or pool water by either wearing a swimming cap, rinsing out salt residues immediately afterwards with fresh tap water, or applying conditioner before submerging yourself into any body of liquid!
Long-Term Maintenance:
Regular trims, along with professional touch-up appointments at set intervals (every 3 months), help preserve the original effects achieved through the initial procedure.
Coloration process must occur before each appointment, not directly after, to ensure the specifically formulated blend works best in maintaining the desired outcome throughout the entire period!
How Often Should You Get a Keratin Treatment?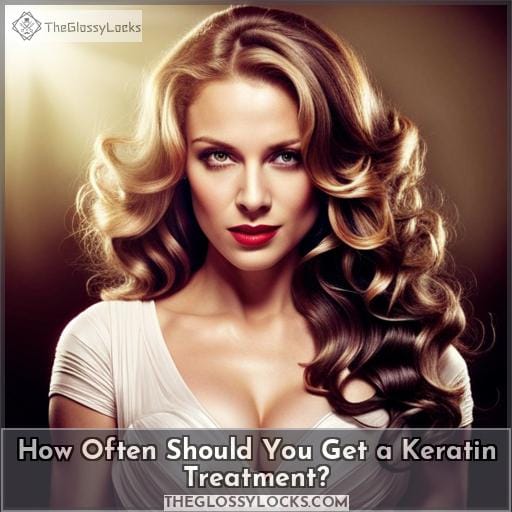 Maintaining your keratin treatment is key for achieving and sustaining healthy, frizz-free locks. How often should you get a keratin treatment? It depends on the state of your hair and how well you take care of it between treatments.
Monitor your hair's condition: Pay attention to changes in texture, color, or shine that may indicate a need for additional treatments sooner than expected. Otherwise, plan on getting one every 3-6 months depending on porosity level and desired result maintenance.
Invest in quality aftercare products: Shampoo with sulfate-free products designed specifically for keratin-treated hair, such as Biotin Collagen Keratin Shampoo from HY Vitamins. Condition regularly with Moroccan Argan & Coconut Oils infused creams like Peter Coppola's Smooth Infusion Masque to keep moisture levels balanced while protecting against environmental factors such as wind or sun exposure, which can cause breakage over time if left unaddressed at regular intervals (weekly).
Maintenance styling techniques: When styling post-keratin-treated curls, create loose waves by using the Conair Infinitipro Hot Air Styler. Then, twirl small sections around the ghd Soft Curl Curling Iron before finishing off the look by brushing through the Denman Curly Hair Brush D3.
What to Expect When Curling Hair After Keratin Treatment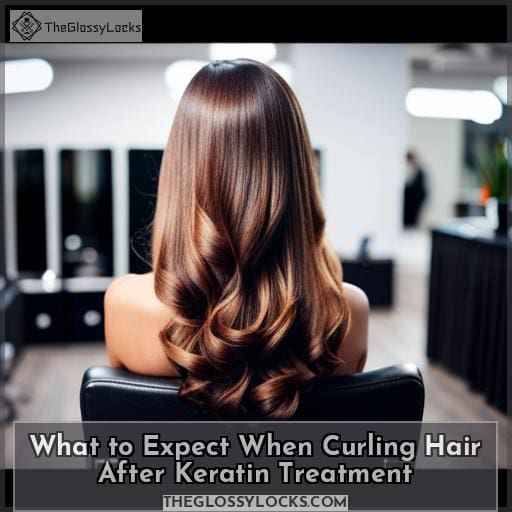 When styling your locks after a keratin treatment, you'll want to ensure that the results of the smoothing process last as long as possible. To get the most out of your curls and maintain those smooth tresses, there are a few steps you should follow.
Start off by using heat protection spray when curling hair – this will help keep it from getting damaged due to high temperatures or excessive use.
Additionally, opt for styling products specifically designed for curly hair – they'll be less likely to weigh down or damage already-treated strands!
When it comes time to curl your locks, try different techniques such as using a diffuser with air drying instead of an iron if possible; experiment with twisting overnight for defined curls; and invest in quality tools like Conair's Infinitipro Hot Air Styler which utilizes tourmaline ceramic technology and advanced ionic technology combined with attachments that provide fast even heat distribution while reducing frizziness at any temperature level!
Lastly, don't forget about maintaining those luscious waves: deep conditioning masques can help preserve curls' longevity while avoiding swimming pools or sea water is key since saltwater damages treated follicles significantly more than untreated ones do.
By taking these precautions now before reaching out for another treatment soon down the line – letting go of unruly frizzy manes won't have been in vain!
When is the Best Time to Curl Hair After Keratin Treatment?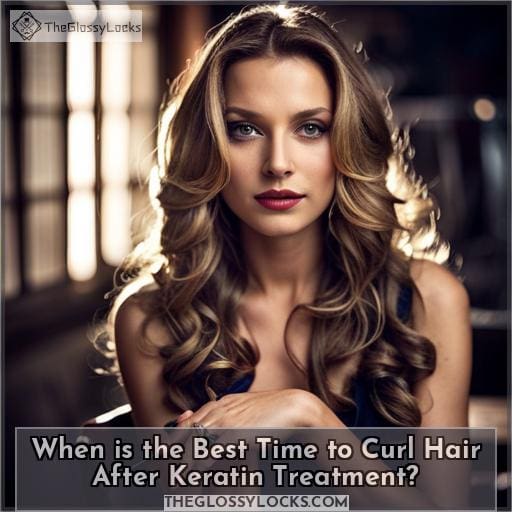 The best time to lock in those luscious curls after your keratin treatment is three days after, when you can enjoy the full benefits of your post-treatment care. During this period, it's important to use sulfate-free hair styling sprays and products.
Also, avoid heat-based tools like curling irons or blow dryers. If you must style with hot tools for a special occasion, make sure to apply a suitable heat protectant spray beforehand. This will help prevent damage while also locking in long-lasting curls that won't easily be affected by humidity or environmental conditions throughout the day.
When ready for curling techniques, start out slow and steady using smaller sections at first. Get comfortable with each curl pattern before proceeding onto bigger sections of hair later on if desired. With proper technique comes better results, which makes up keeping longer-lasting effects.
Be sure not to forget about maintenance either. Regular trims every few months, along with deep conditioning treatments, are essential parts of making sure your curled locks have staying power over time too!
Side Effects of Curling Hair After Keratin Treatment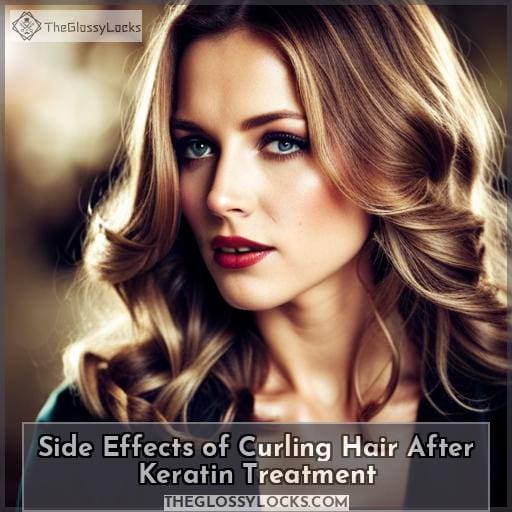 Curls are a beautiful way to bring life and body to your hair. However, when it comes to curling hair after a keratin treatment, there are some precautions you should take in order for the curls to last without causing any damage.
Before beginning your styling routine, it's important that you consult with your hairstylist or read up on all the necessary steps needed for successful post-keratin treatments.
One of the main challenges when curling after a keratin treatment is avoiding over-heating. Too much heat can break down proteins in the cuticle and reduce the longevity of both straightening and curl effects.
This may lead to potential damage or split ends caused by dryness and brittleness.
Proper maintenance tips should also be followed, such as using sulfate-free shampoos/conditioners and getting regular trims every 4 weeks (or more often if necessary). This helps to keep each strand healthy while achieving long-lasting results from treatments like Brazilian blowouts or Cezanne smoothing services.
To ensure optimum health for curly hair post Keratin Treatments, we recommend using the Biotin Collagen Keratin Shampoo from H.Y Vitamins, the Conair Infinitipro Hot Air Styler, the ghd Soft Curl Curling Iron, and the Denman Curly Hair Brush D3.
These products have been tried and tested by professionals worldwide! With proper use before and during styling processes, they not only ensure nourishment but also reduce the risks associated with side effects of high temperatures on treated strands.
So make sure you follow safety guidelines provided by experts when creating those lovely ringlets after undergoing any kind of thermal smoothing service!
The Final Takeaway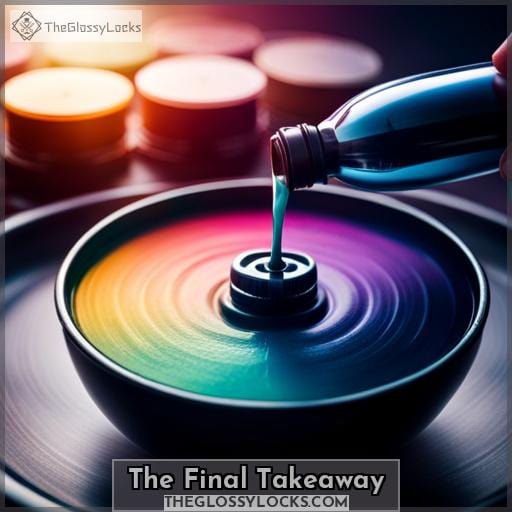 No matter your hair type, a keratin smoothing treatment can help you achieve soft, manageable locks with the right aftercare. It's important to follow the instructions when it comes to post-keratin styling and care in order to maintain results for as long as possible.
To get started on healthy curls after a keratin treatment, there are some helpful tips and product recommendations that should be taken into consideration:
Styling Techniques:
Bouncy Curls
Sleek Waves
Defined Ringlets
Regular Trims
Deep Conditioning Masque
Virgin Coconut Oil
Olive oil
Product Recommendations:
Biotin Collagen Keratin Shampoo
Conair Infinitipro Hot Air Styler
Color Before Treatment
Protect from Sea/Pool Water
Sleep on Silk Pillowcase
Denman Brush D3
Ghd Soft Curl Iron
Maintenance Tips:
Air Drying
Avoid Heat Styling
Limit Treatments 3x/Year
Avoiding sulfate-free shampoo and conditioner products free of harsh ingredients
Avoiding heat styling tools whenever possible
Keeping temperatures low enough not to exceed 365°F (185°C)
Coloring hair before treatments or waiting two weeks afterwards for better results – never color immediately after!
Curling Options:
Twists Overnight
Use diffusers for air drying
Experiment with these tips and product recommendations to find what works best for you and achieve your desired style each time.
Conclusion
Curling your hair post-keratin treatment may seem like a challenge, but with the right products and tools, it can be done! When curling, make sure to use a professional hot air styler or curling iron to ensure the heat isn't too high and damaging your hair.
Biotin Collagen Keratin Shampoo and Pure Argan oil are good products to use before and after styling. A Denman Curly Hair Brush is also a great tool for creating ringlets. With proper care and maintenance, you can have beautiful, bouncy curls after a keratin treatment.