This site is supported by our readers. We may earn a commission, at no cost to you, if you purchase through links.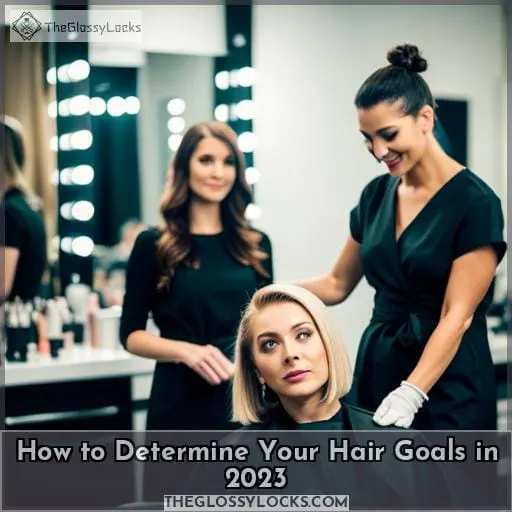 As the clock strikes midnight on December 31st, 2021, and we usher in a new year, it's time to determine your hair goals for 2023. Whether you're looking to restore or strengthen your strands or just want some extra shine and volume, this guide will help you set achievable targets that'll ensure your hair looks its best for years to come.
Key Takeaways
Hair type, length, thickness, and strength should be considered when determining hair goals.
Volumizing hair care products with ingredients like hydrolyzed collagen and linseed extract can help achieve the desired volume.
Frizz control and shine can be achieved with the use of essential amino acids, hydrolyzed soy protein, and hydrolyzed pea protein.
Embracing natural hair texture and using personalized volume-boosting formulas can help in achieving hair goals of full-bodied and fabulous hair.
Determine Your Hair Type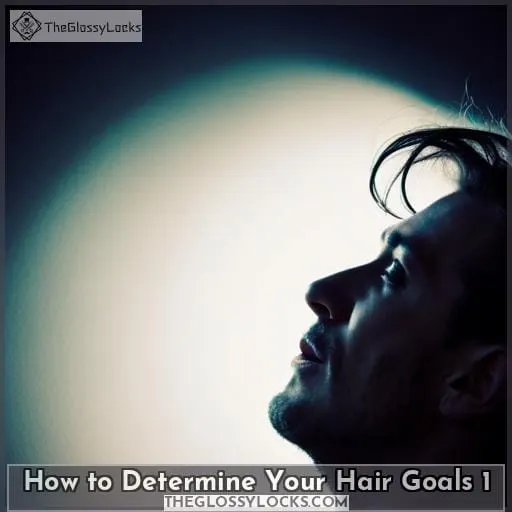 Take control of your hairstyle and discover the perfect balance of volume, shine, frizz control, manageability, and softness for you! The first step is to determine your hair type. Identifying what kind of texture you have will help you tailor a regimen specifically tailored to meet your individual needs.
Curly-haired individuals may need extra hydration or thermal protection, while fine-haired individuals struggle with volume. However, all hair types can benefit from sulfate-free products that preserve the natural oils in their scalp, such as shea butter.
Furthermore, understanding how scalp oils affect growth allows users to set realistic expectations when it comes to achieving specific goals like big hair energy selfies! Additionally, personalized formulas can be created through AURA's custom quiz, allowing people more options when finding a suitable product for their unique situation.
With this knowledge in hand, anyone can pick up the right ingredients necessary for properly nourishing their locks, ensuring they look great without ever sacrificing any quality along the way!
Assess Your Hair Length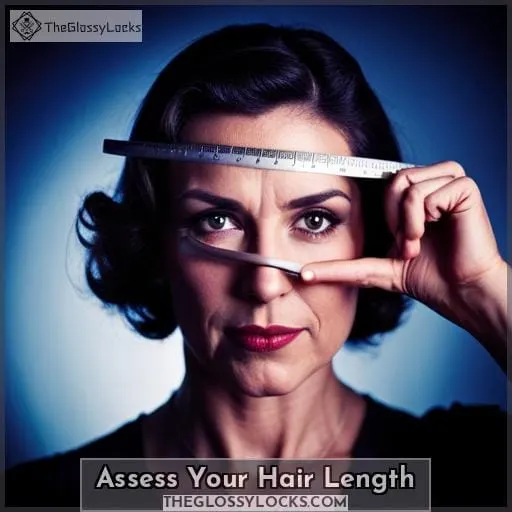 Once you know your hair type, assess the length of your locks to determine what kind of care they need. Longer hair often needs more hydration and gentle styling options like air drying or braiding to reduce breakage.
For those with shorter styles, products that focus on natural volume may be beneficial for adding additional body without weighing down individual strands.
Rosemary leaf extract encourages healthy growth by restoring own particular hair objectives; allowing users to maintain their own natural oils rather than stripping them away with harsh treatments or chemicals found in other products on the market today.
It all starts by knowing your texture and understanding how best to approach achieving desired results depending on length as well as lifestyle factors such as daily activities and climate conditions too.
Evaluate Your Hair Thickness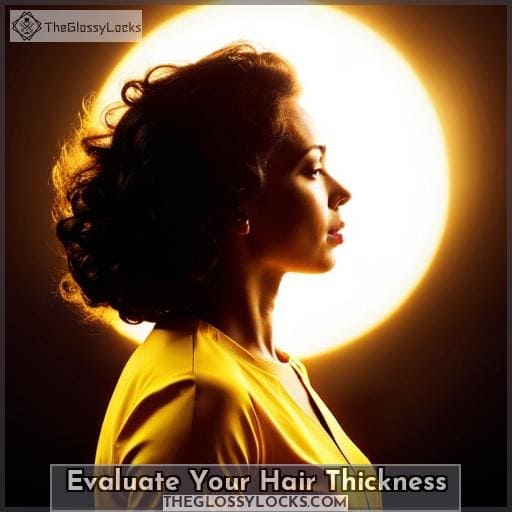 Evaluate your hair thickness to determine the best volumizing options for achieving your desired aesthetic, so you can confidently show off big energy selfies and look fabulous no matter what!
Anachronistically speaking, a dream of full locks is within reach when using personalized formulas designed specifically for you. Fine-haired individuals may struggle with keeping large volume in their strands, but there are ways to make it work.
Hair care options containing hydrolyzed collagen and linseed extract help create a thickening illusion without weighing down individual hairs or compromising natural oils. For even more lift, try adding vegetable alternatives like hydrolyzed soy protein, which helps lock in moisture while strengthening those thinning areas of the scalp too.
Air drying is also an excellent option as it reduces breakage from excessive heat tools that could further weigh down thinner tresses over time – giving them some extra love and support instead!
All these tips combined ensure users get the perfect style every single time – letting them take on any occasion with confidence, knowing they're looking their absolute best!
Consider Your Hair Strength

As you consider your hair strength, take a look at the texture and elasticity of each strand. A lack of luster or volume in fine hair can be remedied with volumizing ingredients like hydrolyzed collagen and linseed extract, which create thickening results without compromising natural oil production.
To keep those strands looking lush, try adding vegetable-based alternatives such as Vitamin B6 to support good health or Hydrolyzed Soy Protein for an extra boost in hydration and shine.
From shampoos to styling products crafted specifically for big hair energy goals, there's something out there just waiting to give you the perfect style every single time! So don't let lackluster locks get you down; embrace whatever unique combination works best for your individual needs while feeling confident knowing that no matter what occasion comes up next, you'll have all the tools necessary to showcase yourself proudly with big energy selfies galore!
Aim for Shiny Hair

Now that you've considered your hair strength, let's talk about aiming for shiny hair.
To promote healthy scalp oils and support natural hair growth, look for vitamin E as well as essential amino acids in shampoos or conditioners.
For added shine without heavy product build-up, leave-in products with water-soluble ingredients are superior options since they won't weigh down already fine strands over time! Vitamin B6 works wonders too—it helps balance out any excess oil production on your scalp so you don't need to worry about it affecting your style later on!
Finally, try incorporating AURA's volumizing formulas into your routine if that's what it takes to get those big energy selfies everyone loves seeing online these days – because after all, when it comes down to it, nothing says confidence quite like having thick luxurious locks full of body and movement!
Embrace Your Natural Hair Texture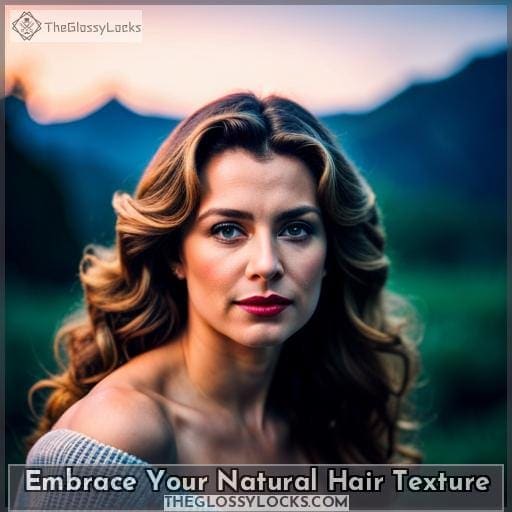 Embrace your natural hair texture and show off the perfect hairstyle with volume-focused formulas that allow you to flaunt your own big hair energy! Fine textures can make it harder for individuals to achieve natural volume, but deep conditioners infused with hydrolyzed soy protein are great for locking in hydration without weighing down strands.
Also, consider adding vitamin B6 into scalp oils as this will help balance out any excess oil production while promoting healthy hair growth.
With the right state of mind and proper products, creating a volumized look is possible – even if you have finer locks! Achieving voluminous tresses requires personalized formulas tailored to individual needs.
AURA's quiz allows users to create their own combination of product goals such as frizz control or added shine alongside more traditional styling methods like blow-drying or curling irons.
No matter what kind of style you're going for, having access to products specifically designed around achieving greater body and movement can make all the difference when it comes time to put together an outfit that really pops! So don't be afraid to express yourself – embrace your natural texture so that everyone knows just how confident and powerful you truly are!
Address Fine Hair Issues

Do you have fine hair that tends to fall flat after styling? Are your blowouts always left feeling limp and lifeless? If so, you may need to reassess the products in your hair care routine. Weighty hair products can drag down fine strands, while flat blowouts are an indication of a lack of volume.
Take stock of what's already in your arsenal and consider personalizing your hair care with formulas designed for added body and movement.
Weighty Hair Products
Don't let heavy products weigh you down – find volume-focused formulas that give your locks all the lift and shine they need!
Volumizing tips include finding lightweight alternatives to hair care, such as sweet almond extract, blue-green algae extract, or linseed extract for anti-frizz ingredients.
Look for an expert blend of body-boosting ingredients like Panthenol, Vitamin B6, and Hydrolyzed Soy Protein that let hair cells retain moisture without flattening out.
For fine textures struggling with flatness due to product weights or naturally limp strands, try AURA's line of personalized formula selections designed specifically around achieving greater volume in every hairstyle!
Show off your big energy confidence by embracing these volumizing tips and see just how powerful a statement you can make with lifted tresses.
Flat Blowouts
Tired of dealing with flat blowouts? Let AURA take the hassle out of achieving volume and create a personalized formula that will give your tresses a much-needed lift! Try these styling tips to get maximum results:
Get specialist heat protection spray for blowout techniques.
Use lightweight ingredients like amino acids to give hair health while adding life.
Look for volumizing products that won't weigh down fine hair or cause unhealthy split ends.
Better care for your hair by incorporating hydrating and nourishing formulas into your routine.
Take back control over lackluster locks with proven strategies from AURA's experts, designed specifically around creating fuller, more luxurious hairstyles in any climate or environment – no matter what type of texture you have! From optimizing existing haircare routines to providing targeted solutions tailored precisely to individual needs, there's something here for everyone looking after their big energy confidence through better volume management options.
Focus on Volume in the Shower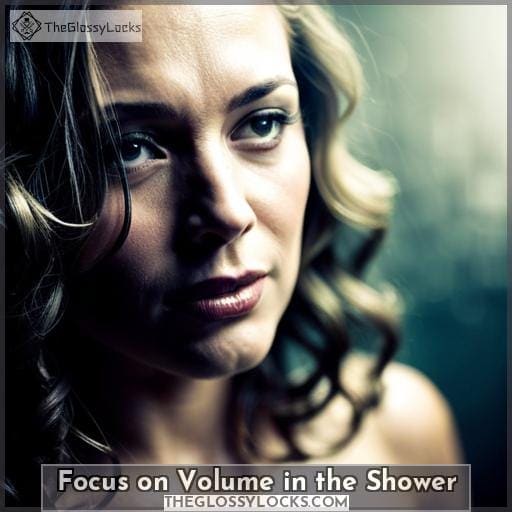 If you're looking to add volume and body to your hair, you may be wondering how best to do so. By determining the reasons behind wanting more volume, such as dull or thin-looking locks, it can help guide your personalized routine for thickening up those strands in the shower.
Benefits of Volume
Invigorate your hair with volume-focused formulas that offer long-lasting body and movement. Whether you're seeking greater curls, fuller hair, or simply more thickness, incorporating products designed for added volume into your shower routine can help achieve big hair energy goals.
Panthenol is a key ingredient in AURA's volumizing line, which provides shine, frizz control, and manageability without weighing down the strands. Vitamin B6 balances scalp oils to promote healthy growth, while hydrolyzed soy protein locks in moisture and strengthens fragile tresses lacking lift.
Hydrolyzed pea protein helps prevent breakage and boosts limp manes for thicker-looking results without compromising hydration levels.
With personalized options tailored to individual needs through AURA's quizzes, plus tips on our Instagram/TikTok accounts, create an exciting look full of bounce!
Reasons for Wanting Volume
Feeling flat? Boost your confidence with added volume and create a look that exudes energy. Whether you're dealing with fine, limp hair or need an extra oomph to get through the day, volumizing products can help.
Haircare experts have formulated special ingredients like Panthenol and Vitamin B6 to balance scalp oils and lock in moisture for fuller-looking strands. Hydrolyzed Soy Protein strengthens fragile tresses while Hydrolyzed Pea Protein prevents breakage without compromising hydration levels.
With personalized haircare products tailored specifically for individual needs plus tips on our social media accounts – it's time to embrace big hair energy selfies!
Explore Volume-Boosting Formulas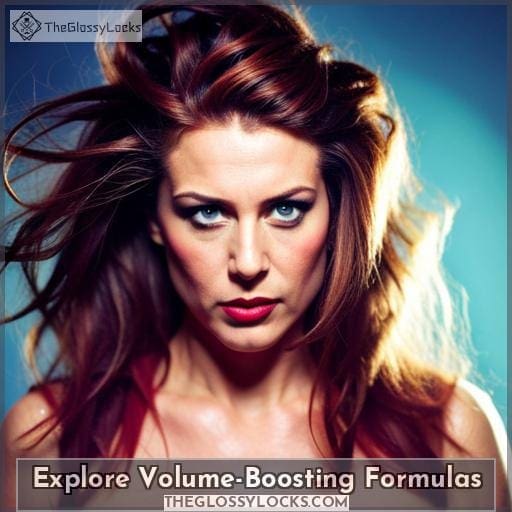 Looking for thicker, fuller hair? To achieve volumizing effects and reach your desired hairstyle goals, there are a few key ingredients to look out for. Panthenol is known to give shine, frizz control, manageability, and softness without weighing down the hair.
Panthenol Benefits
Reap the benefits of Panthenol to instantly invigorate your locks and add volume without weighing them down. Panthenol is a powerful hair-enhancing ingredient that provides shine, frizz control, manageability, and softness while balancing scalp oils for healthier growth.
To get the most out of this magical product, try adding it to your final rinse after using herbal remedies or deep conditioners – you'll be amazed at how quickly you see desired results! With its help plus other tried-and-true tips like personalized formulas from AURA's Hair Care Quiz along with big hair energy selfies tagging AURA on Instagram or TikTok, you'll have lush locks full of life in no time flat.
Vitamin B6 Benefits
Boost your hair's body and texture with Vitamin B6, a powerful ingredient that supports healthy growth while locking in moisture for lasting volume.
Balances scalp oils.
Supports stronger strands.
Seals in hydration.
Enhances definition of wavy curls.
Cleans the cuticle for healthier locks!
Not only does it help you achieve voluminous looks, but it also gives your tresses all-over shine without weighing them down — what more could you ask for? Whether boosting body or sealing in moisture is top priority, Vitamin B6 has got you covered, so try incorporating this amazing vitamin into your routine today!
Hydrolyzed Soy Protein Benefits
Experience the power of hydrolyzed soy protein in your hair care routine to strengthen weak strands and lock in moisture for lasting volume. Enjoy volumizing effects, improved texture, and environmental stress relief—all without weighing down hair.
Aloe vera helps fortify small protein particles that bond together to clean the cuticle while hydrating locks.
Hydrolyzed Pea Protein Benefits
Discover how hydrolyzed pea protein can help strengthen and protect your hair from breakage while adding volume, hydration, and shine! Incorporate it into your routine for improved texture, balanced scalp oils to support healthy hair growth, as well as frizz control.
With herbal remedies like coconut oil or rosemary essential oil, you will have different aspects of hair covered in the following months. It's a good idea to try AURA's Hair Care Quiz personalized formulas for volumizing effects that won't weigh down locks.
Discover Personalized Hair Care Solutions

Find the perfect hair care solution for you with AURA's personalized formulas that combine volume-boosting ingredients specifically tailored to your needs! Understanding what your hair goals are is essential when it comes to finding the right path.
Whether you have fine, straight hair or need a little extra frizz control throughout the year, AURA has something for everyone.
Start by taking their quiz and get recommendations on products best suited for you based on the time of year and cleanliness of your scalp. From there, explore volumizing tips designed just for fine-haired struggles – such as Panthenol, which gives shine without weighing down strands, or Vitamin B6, which helps balance scalp oils while supporting healthy growth.
Get ready to unleash some big energy in those selfies with luxurious locks full of body!
Frequently Asked Questions (FAQs)
What type of products should I use to add volume to my hair?
Try using products that contain Panthenol, Vitamin B6, Hydrolyzed Soy Protein, and Pea Protein for added volume. These ingredients provide shine and manageability without weighing down your hair.
Are there any natural ingredients that can help boost my hair?
Yes, there are natural ingredients that can help boost your hair. Panthenol adds shine and frizz control without weighing down hair. Vitamin B6 balances scalp oils to support healthy growth, while Soy Protein locks in moisture and strengthens strands for added volume.
How often should I use volumizing hair care products?
It depends on your hair type and desired look. For finer hair, using volumizing products 1-2 times a week is recommended to maintain fullness without weighing it down.
Are there any tips or tricks to help keep my hair looking voluminous?
Try volumizing ingredients in your shower routine, such as panthenol and vitamins B6 and B Hydrolyzed soy protein will lock moisture in, while hydrolyzed pea protein strengthens hair. Use AURA's personalized formulas to help create big hair energy! Follow them on Instagram/TikTok for more tips and tricks.
What are the benefits of using personalized hair care solutions?
Personalized hair care solutions provide many benefits, such as volume-focused formulas tailored to your individual needs. These can make hair appear thicker and more luxurious, balancing scalp oils for healthy growth while locking in moisture.
Ingredients like Panthenol offer frizz control and manageability without weighing down the locks, and Hydrolyzed Pea Protein boosts your style with added hydration that won't break or fall flat.
Conclusion
Your hair goals are within reach! With the right knowledge and some personalized hair care solutions, you can achieve a shiny, healthy, voluminous look that's perfect for your unique hair type and texture.
Start by determining your hair type, assessing your hair length, evaluating your thickness, and considering your strength. Then, embrace your natural hair texture and focus on volume-boosting formulas to achieve an enviable 'do.
Panthenol, Vitamin B6, Hydrolyzed Soy Protein, and Hydrolyzed Pea Protein can add shine, strength, and volume to your hair, without weighing it down.
With AURA's personalized hair care quiz, you can create a unique formula that meets your individual hair goals and enables you to flaunt your fabulous, full-bodied hair.