This site is supported by our readers. We may earn a commission, at no cost to you, if you purchase through links.
Surprised that getting curly hair for black men can be easy? Think again, because we've got 6 steps to help you achieve the perfect curls.
From using heat protectant sprays and sea salt sprays to blow-drying your hair and creating curls with styling products, these tips will make sure you get the look you desire without damaging your precious locks.
Going beyond just achieving great looks, however, we'll also cover how to choose a great hairstylist as well as which shampoos and conditioners are best suited for black men's hair care needs.
Plus, don't forget about natural oils and butter that help nourish your scalp!
So if it's time for some stunning new curly styles – read on!
Key Takeaways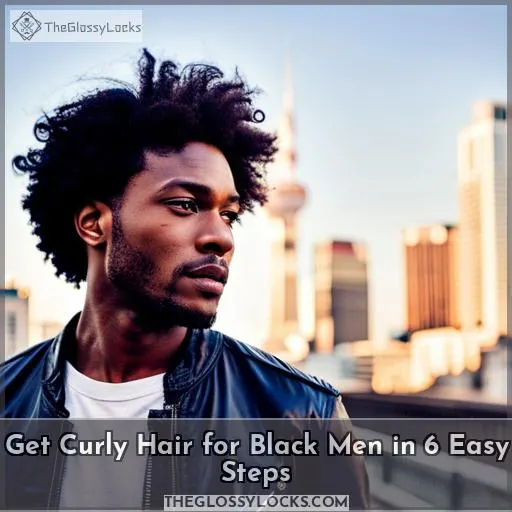 Use sulfate-free shampoo and moisturizing products to nourish and hydrate curly hair.
Incorporate heat protectant sprays and sea salt sprays for added protection and texture.
Find a great hairstylist and choose the best shampoo, conditioner, and styling products tailored to your hair type.
Utilize lightweight hair dryers with diffusers and adjust product usage based on hair density for optimal results.
Steps to Get Curly Hair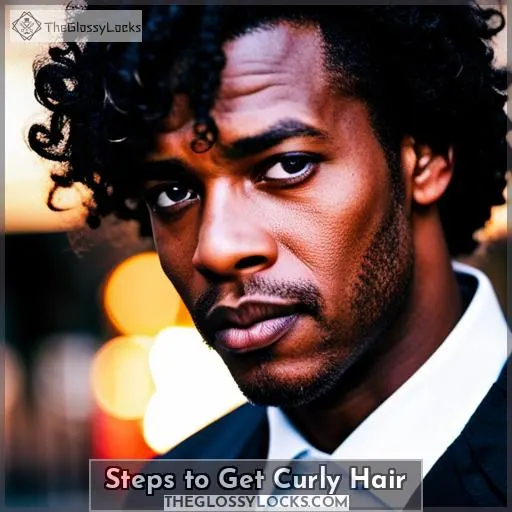 Hey there! Getting curly hair can be a challenge, but with the right steps, you'll have gorgeous curls in no time. Start by washing your hair with a sulfate-free shampoo and then apply heat protectant spray before blow-drying it.
Once dry, add some sea salt spray to enhance your curls and create more definition when forming them using either an iron or diffuser for the final look.
Wash Your Hair
Wash your locks with Jack Black Coconut Oil Shampoo to nourish and soften, leaving them ready for styling.
Get some heat protection product before using hot tools like a curling iron or blow dryer to avoid heat damage. Also, use an anti-frizz shampoo followed by hair mousse for extra hold and definition when styling curly hair.
Deep conditioning helps reduce breakage, while moisturizing shampoos can help prevent future problems such as split ends or even worse – hair loss! Finally, experiment with different techniques until you find the style that works best for you: twists, braids, curls.
With these simple steps in place, you're sure to achieve those beautiful curly tresses black men desire so much!
Apply Heat Protectant Spray
Spray on some heat protectant and watch as your locks transform into luscious, luxurious curls with just one spritz!
To prevent any heat damage to the scalp or hair follicles when using hot tools like curling irons or blow dryers, always apply a good quality protection spray. It also helps to keep your curls moisturized for longer periods while controlling frizz.
Incorporate different styling techniques such as beach waves made with sea salt sprays and tips from family members on drying curly hair upside down for more volume.
Explore new products such as gels that will help you achieve the texture of your dreams without damaging it in the process!
With these few steps in place, you can soon flaunt those beautiful black man's curly tresses that everyone covets so much!
Sea Salt Spray for Curly Hair
Try spritzing some sea salt spray on your locks for a beachy, textured look! Sea salt sprays are great for achieving natural-looking curls without the use of heat. They provide definition and control to curly hair while keeping it hydrated and healthy.
The benefits include frizz control, humidity resistance, volume enhancement, as well as protection from UV rays and chlorine damage.
Here are some styling tips:
Use in conjunction with a hairdryer to set the style.
Keep away from roots if you don't want added volume.
Experiment by mixing product types such as gels or mousses.
Add oil between applications to keep moisture locked in all day long.
With these simple steps incorporated into your haircare routine, you can easily enjoy beautiful soft curls full of shine – no matter what environment or weather condition throws at them!
Blow-dry Your Hair
After you've spritzed on some sea salt spray, blow-dry your hair with a lightweight dryer for defined and frizz-free curls! Use heat protectant products to keep your locks safe from the hot air. Choose styling products specifically designed for curly hair so they don't weigh it down.
Add natural oils like argan or coconut oil when using gel or mousse to help lock in moisture. For maximum volume at the roots, use an upside-down technique while drying with a hairdryer set on low speed and high heat settings.
Experiment by mixing light-hold hairsprays that provide definition but still move naturally throughout the day.
Create Curls for the Final Look
Finish off your style with a few gentle curls for an extra touch of definition and texture! Protect your hair from the heat by using a spray-on heat protectant. Then, spritz in some sea salt spray to give it more body. Use curl control mousse or natural oils like argan or coconut oil for longer-lasting hold.
Finally, use a hairdryer set on low speed and high heat settings to create tight ringlets at the root area. This will add volume without making them crunchy! For added definition, you can also use bobby pins as needed.
With these tips, you'll have curly hairstyle perfection that lasts all day long – perfect for black men looking to stay stylish throughout any season.
Hair Care for Black Men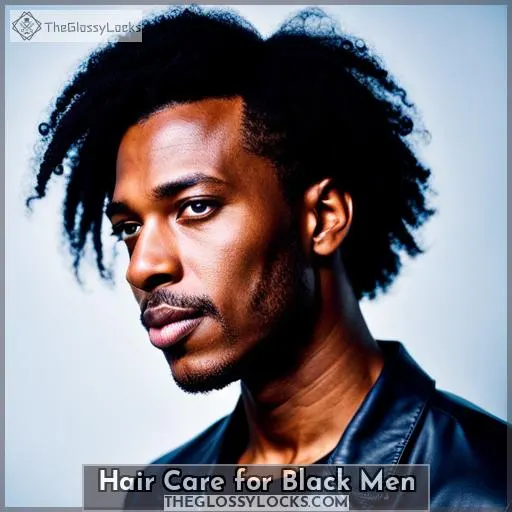 If you're a black man looking to get perfect curls, the first step is to find a great hairstylist. Make sure they have experience with styling curly hair and that their techniques are gentle on your strands.
Then, choose the best shampoo and conditioner for your type of curl – something lightweight but nourishing that will keep your locks hydrated without weighing them down.
Choose a Great Hairstylist
Finding the right hairstylist who can give you exceptional results is key to achieving the perfect curly look. Choose a stylist with experience in trimming and styling black hair, as well as knowledge of natural oils that will help keep your curls healthy.
Ask about their product selection and heat setting techniques to ensure they use products that won't damage your damp or straight hair.
With an experienced professional by your side, you'll have access to a wide range of styles for every occasion – no matter how picky or daring!
Choose the Best Shampoo and Conditioner
Choosing the right shampoo and conditioner for your curls is essential to achieving a healthy, bouncy look. Deep conditioning masks provide much-needed nourishment, while hair products like premium shampoos and high-quality curl-defining gels help protect them from heat styling.
Curl maintenance also includes using curl-defining conditioners that will keep your curls hydrated longer, as well as leave-in conditioners to lock in moisture throughout the day.
Use Hair Styling Products
Hey there! If you're looking to get perfect curls as a black man, it's important to choose the right styling products.
Jack Black Coconut Oil Shampoo is great for those with frizzy hair.
Dream Coat Curls Frizz-Free helps reduce frizz without leaving your hair crunchy or weighed down.
For defined tangle-free curls, try Curl Control Mousse by VERB. It combines nourishing oils and butter for added hydration.
Finally, StyleCraft Peewee Dryer: Portable and Lightweight can help manage thick long curly strands.
FHI Heat 2000 Salon Pro Dryer provides ceramic technology for smooth results.
And don't forget Jamaican Black Castor Oil – its amazing properties are sure to make your locks look thicker and healthier!
So why not give these tips a go today?
1. Jack Black Coconut Oil Shampoo
Transform your locks with Jack Black Coconut Oil Shampoo, a luxurious liquid formula that nourishes and softens curls without weighing them down. This shampoo cleanses hair while providing conditioning benefits for improved manageability.
2. Dream Coat Curls Frizz-Free
Experience the power of Dream Coat Curls Frizz-Free for yourself – its one-step solution will give you smooth, defined curls without crunchiness or heaviness. The sulfate-, gluten-, alcohol, and paraben-free formula uses natural oils to protect your hair from heat damage while providing styling benefits.
With this frizz-fighting hair oil, your wavy locks can get a boost! Start by applying it at the base of your hair and use a portable diffuser to achieve the best results.
Get ready to show off those beautiful luscious curls today! Enjoy long-lasting protection from humidity when using Dream Coat Curls Frizz-Free — no more worries about looking like an electrical storm hit you every time there's wind outside!
3. Curl Control Mousse for Curls

Try out VERB's Curl Control Mousse and see the incredible difference it makes in defining your curls! This paraben-free, gluten-free product gives thin, curly hair a lift with up to 82% less frizz. Use the right products to achieve your desired texture of curly hair, like this mousse combined with tips from experts, for the best results.
Men can also use these styling products for their own hairstyling needs – natural oils will keep moisture locked in while using a hairdryer and diffuser helps achieve that perfect curl look without causing damage.
4. StyleCraft Peewee Dryer: Portable, Lightweight

Take your hairstyling on the go with the StyleCraft Peewee Dryer. This 1000-watt power folding design is lightweight and perfect for travel, giving you access to different methods of hair care and styling anywhere you need it.
It offers two heat settings, which help protect natural hairs while providing optimal drying results in a short amount of time.
With all these benefits, why not incorporate this into your daily haircare routine? A good sea salt spray will help keep curls looking their best throughout the day – just make sure to use a low setting when blow-drying for an extra boost without any damage or over-drying.
Enjoy beautiful locks around town with the StyleCraft Peewee Dryer!
5. FHI Heat 2000 Salon Pro Dryer

Upgrade your styling game with the FHI Heat 2000 Salon Pro Dryer! Lightweight and powerful, this professional-grade blow dryer has everything you need to look and feel your best. It has two heat settings so you can customize each style, ceramic technology for a mirror-finish result, and multiple attachments for ultimate versatility in hair care.
Combine it with a good quality conditioner and oils to maximize softness without sacrificing volume or cut.
With such an impressive piece of equipment on hand, there's no doubt that any hairstyle will be achievable.
6. Jamaican Black Castor Oil, Hair Growth

Experience the power of Jamaican Black Castor Oil and see how it can help nourish, thicken, and strengthen your hair follicles while increasing blood flow to the scalp! Its moisturizing benefits are perfect for maintaining healthy curls and stimulating growth results.
Use this versatile oil on its own or combine it with a butter or rinse-out conditioner – whichever suits you best! It's great for styling tips, such as adding texture to thinning hair or controlling unruly frizz.
Get ready to show off your beautiful curly locks with an all-natural product that will give you salon-quality results without breaking the bank.
Use of Natural Oils and Butter
Try incorporating natural oils and butter into your styling routine to help nourish, thicken, and strengthen your hair while adding texture and definition without weighing it down.
Coconut oil is a great way to keep frizz at bay while providing hydration for curly locks. For more intense moisturizing benefits, try Dream Coat Curls Frizz-Free or VERB's Curl Control Mousse.
Castor Oil can also be used as an all-natural solution for air drying with results that last days!
With these simple steps, you'll have the power to achieve good grooming habits leading up to a wide range of curly hairstyles – plus, you won't have any adverse effects on color-treated or naturally curly hair!
So go ahead – embrace the beauty of natural curls by taking advantage of these amazing products today!
Let Your Hair Dry Naturally
Allow your hair to air-dry naturally for a hassle-free way to show off those gorgeous curls! To maximize the moisturizing benefits and hair growth, use natural oils like coconut oil or Jamaican Black Castor Oil.
They provide heat protection while styling tips help define each curl without weighing it down.
For long-lasting results, be sure to deep condition regularly and never brush out wet curly texture of the black man's natural free-flowing hair.
Natural Oils and Butter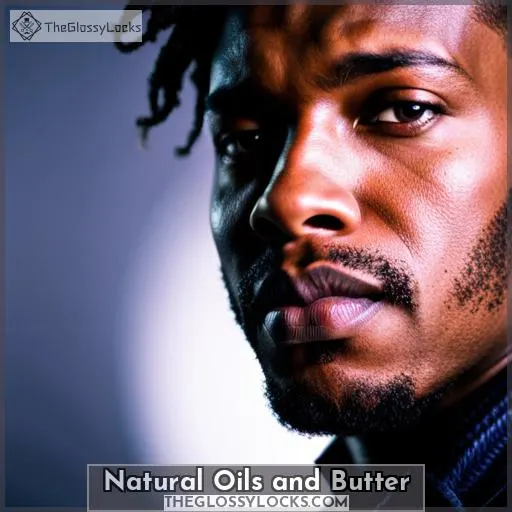 Slather on some natural oils and butter to get your locks looking thicker and healthier – just don't forget the diffuser!
Coconut oil, frizz-free mousse, hair dryers: these are all essential tools in achieving perfect curls for black men.
Natural oils like jojoba oil or shea butter are packed with nutrients that help nourish and protect your scalp from damage while enhancing shine. And when combined with a good hair care routine, it's easy to see why this is one of the simplest steps towards full use of curly products for black men.
To start off strong, begin by shampooing with Jack Black Coconut Oil Shampoo as it helps cleanse while removing buildup from styling products; then apply Dream Coat Curls Frizz-Free followed by VERB's Curl Control Mousse which adds bounce without making your curls crunchy – plus it's free of gluten and parabens!
Finish off drying strands with FHI Heat 2000 Salon Pro Dryer before topping everything off with Jamaican Black Castor Oil to give an extra boost in hydration – leading you closer than ever towards lusciously soft healthy curls!
Hair Dryer for Curly Hair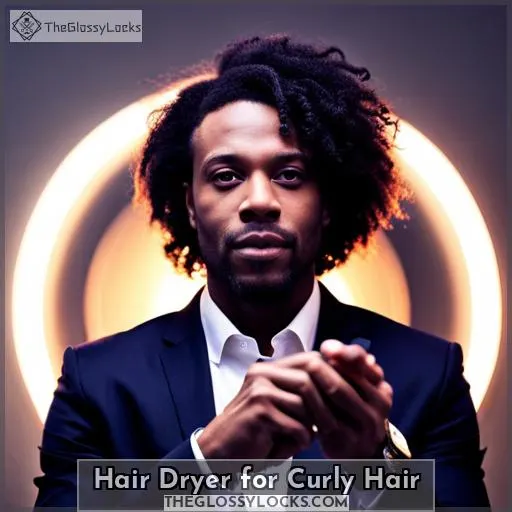 Grab a hair dryer designed for curly locks and take your style to the next level with smooth, shiny curls that last all day!
Start by applying heat protective spray before styling.
Follow this with a sea salt spray or natural oil of your choice as well as butter application.
Attach the diffuser attachment to ensure even distribution of airflow without drying out curls too much; it will give you a dry finish instead of creating frizz or unruly waves.
If a straight look is more desired, switch up attachments and use low heat on the medium speed setting – one of the most important tips for achieving a particular hairstyle!
Finally, always remember great hair starts from within – so make sure you're following a healthy diet plan full of nutrition while drinking enough water daily to keep your scalp hydrated!
Tips for Curly Hair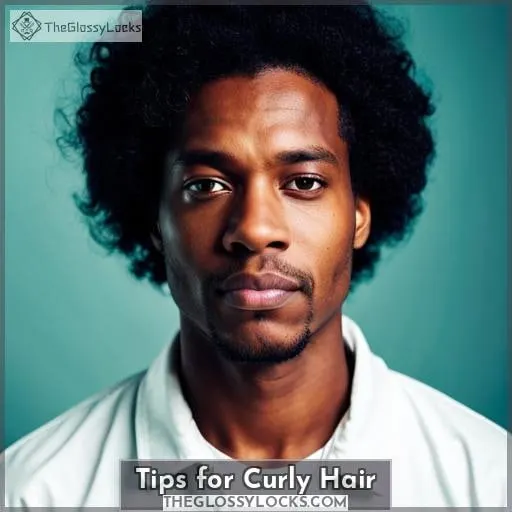 Now that you know how to use a hair dryer for curly hair, let's move on to other tips and tricks.
Moisturizing Tips – Use moisturizers specific for curly hair with natural oils like argan or coconut oil in order to keep your curls looking healthy and strong.
Detangling Techniques – Hair should be detangled while wet using a wide-tooth comb from root to end, avoiding breakage; finger-detangling is also helpful!
Heat Styling – When heat styling, make sure not only do temperature settings remain low but also attachments used match the desired look.
Hair Density – For thicker locks, more product will be needed compared to finer ones, so adjust accordingly for good results!
Hair Care Routine – Find an appropriate routine that works specifically suited towards black males' needs, such as incorporating conditioners after shampooing, which provides the necessary nutrients the scalp requires.
Following these steps can help achieve fuller use of their natural curls as well as give them the more defined style they wish for!
Frequently Asked Questions (FAQs)
What products should I use to define my curls?
For beautiful, defined curls that last without leaving your hair feeling crunchy or weighed down, try Dream Coat Curls Frizz-Free! It's paraben-free and combines the benefits of gels, serums, and creams so you can show off your gorgeous locks with confidence.
How often should I wash my curly hair?
Generally, curly hair should be washed every two to three days for the best results. Use a sulfate-free shampoo and conditioner specifically designed for curls to keep them hydrated, healthy, and bouncy.
Avoid scrunching with towels, which can cause frizz. Instead, use an old t-shirt or paper towel to gently dab the excess moisture out.
How can I avoid frizz when styling my hair?
Avoid frizz by using a high-quality shampoo and conditioner tailored to your hair type. Focus on moisturizing products that lock in hydration, such as mousse or styling cream. When drying your hair, use a diffuser to prevent it from becoming too dry and brittle, which can lead to breakage and more frizz.
Are there any heat-free styling techniques for curly hair?
Yes! There are several heat-free styling techniques for curly hair. Try air-drying with a t-shirt wrapped around your head, using products like mousses and gels to define curls without crunchiness, or braiding wet hair overnight for beachy waves in the morning.
Are there any natural ingredients that help promote healthy hair growth?
Yes! Jamaican black castor oil is a natural and effective way to promote healthy hair growth. Rich in fatty acids, it helps nourish scalp tissue and increases blood circulation for better nutrient delivery.
Conclusion
Achieving curly hair as a black man is all about taking small steps to achieve the perfect look. With the right products, styling techniques, and tools, you can easily achieve the curls you desire. It's like a science experiment, but with a little bit of trial and error, you'll find what works best for your hair.
With a bit of patience and dedication, you'll be able to achieve the stylish, healthy, and beautiful curls you want.