This site is supported by our readers. We may earn a commission, at no cost to you, if you purchase through links.
Are you wondering if your hair is curly enough for a Deva Cut? You're not alone. A lot of people with wavy and curly hair feel lost when it comes to caring for their curls.
But first things first: what exactly is a Deva Cut? It's an innovative technique invented by Lorraine Massey specifically designed to maintain natural curl patterns – something no other hairstyle does quite so well! With this cut, you'll get three phases of cutting on dry hair: texturizing, diagonal angle cut and unique face-framing cuts.
Not only will your curls look amazing after getting a Deva Cut but it also has several benefits such as reducing frizziness and adding volume without making them too puffy or losing shape over time.
So let's find out more about how to determine if your hair type suits this particular style – plus tips on taking care of it afterwards too!
Key Takeaways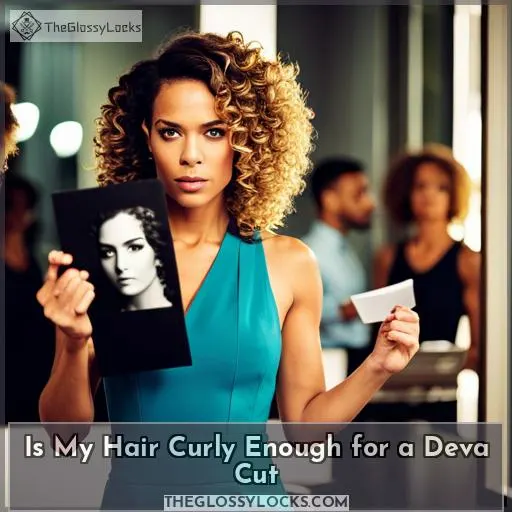 Deva Cut is suitable for anyone who wants to enhance their natural curls, regardless of their curl type. The technique used in Deva Cut focuses on enhancing the individual curl pattern and avoiding traditional straightening methods, which reduces frizz and damage.
Maintaining a Deva Cut requires using products specifically designed for curly hair, avoiding heat styling tools, regularly deep conditioning and moisturizing, using anti-frizz products, investing in quality hair tools, and getting regular trims.
What is a Deva Cut and Who is It for?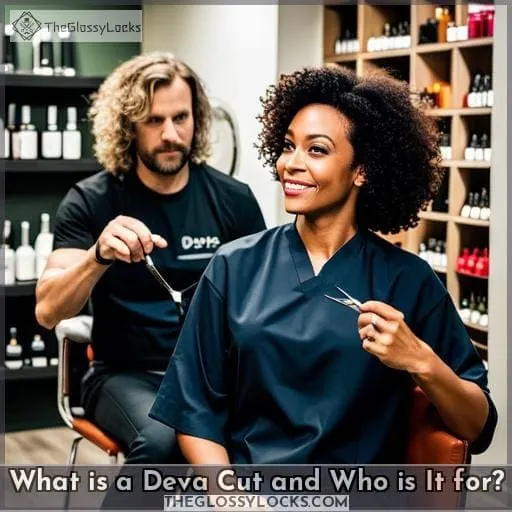 A Deva Cut is a specialized technique for cutting curly and wavy hair on dry hair, invented by Lorraine Massey. It's popular among those with naturally curly or wavy locks who are looking to enhance their curls.
The cut takes around 50-75 minutes and consists of three phases: texturizing, diagonal angle cut, and unique face-framing cut.
Those seeking the perfect curl pattern should identify their natural hair type – types 2 through 4 – as this will help in determining which techniques work best for them. Different textures require different approaches when it comes to cutting. Rezo Cuts add movement while Twist Cuts create more volume compared to the Deva Cut that focuses on preserving your existing curl pattern.
Despite potential issues such as tight curls or frizzy ends, there are many benefits associated with getting the right haircut.
What Are the Benefits of a Deva Cut?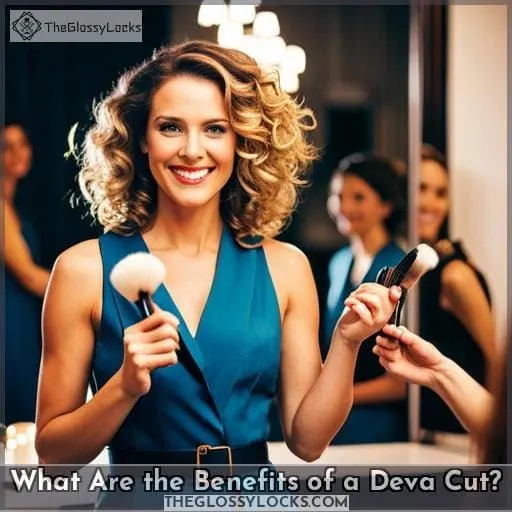 With a Deva Cut, you can transform your wavy or curly hair into the perfect combination of texture and volume – like a masterpiece painting on canvas. Managing curls becomes easier with this cut as it promotes better control over styling techniques and products.
Your regular hair routine will be much more manageable when applying Deva products to maintain that desired shape for longer periods of time.
A benefit of this type of cut is its ability to help straighten unruly hairs without altering the natural curl pattern too much, preserving the beauty in each individual strand – something other cuts cannot do! Here are 5 reasons why getting a Deva Cut might be worth it:
Enhances curl definition
Hair stays hydrated
Decreases frizzing
Allows for various styling options
Curls stay bouncy all day long!
With these benefits in mind, investing in such an impressive look may not only bring out your inner confidence but also encourage others around you to embrace their own unique wavy or curly hair patterns too!
How to Determine Your Hair Type?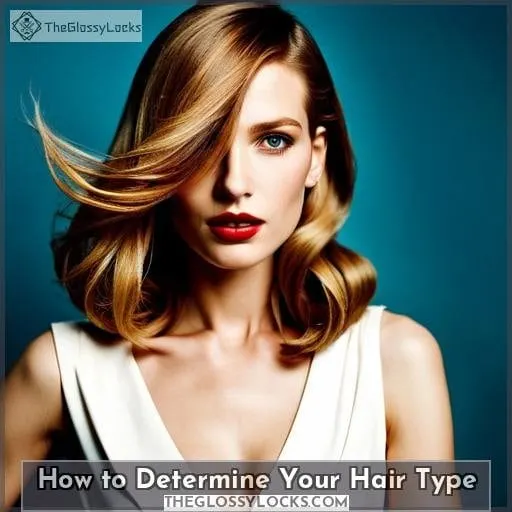 Are you wondering if your hair is curly enough for a Deva Cut? Determining the right curl type can help. There are four natural hair types, starting with Curl Type 2 which has loose curls that are easy to form into spiral-like shapes.
Curl Type 3 has tighter and more defined spirals, while Curl Type 4 consists of very tight kinks or coils that may require extra care when styling.
Curl Type 2
If you have wavy hair with a loose S-pattern, you likely have type 2 curls. This curl type is popular among curly girls and can easily be tamed by the right styling techniques. With careful maintenance and natural form preservation, your locks will stay bouncy all day long without frizzing.
Get more definition from Deva Cut pros while avoiding cons like poodle-like volume or uneven bangs! Curly hair care doesn't have to be difficult – learn how to embrace your unique natural hair types for optimal results in terms of both look as well as feel!
Unlock the secret language of curly style today through Deva Cut's specially designed haircuts that are tailored specifically for those with type 2 curls
Curl Type 3
If you have tight, defined curls that form an S-pattern in the shape of a corkscrew, then you likely have type 3 curls.
Dry your hair with a microfiber towel.
Use products specifically designed to keep your locks from interlocking and becoming tangled.
Ask for Deva Cut reviews before booking an appointment.
Consider adding stacked layers during your trimming session to enhance its natural shape.
To maintain healthy-looking curls, use aftercare techniques such as deep conditioning or air drying.
Curly vs straight? Don't let anyone tell you what looks best on you! Enjoy the freedom of expressing yourself through every single curl – this is where Deva Cut's benefits truly come into play
Curl Type 4
Take a look in the mirror and if you see tight coils that form an elongated pattern, then you've got yourself some type 4 curls! To ensure your hair looks its best, consider getting a Deva Cut. This technique will help maintain the natural curl pattern while allowing for equal sections of each coil.
An Ouidad Cut can also be used to add movement and volume or try out a Twist Cut for an elegant asymmetrical haircut. Before booking any appointment, ask around for reviews to get the best amount of information about what kind of cut is the right approach for your hair type.
Can I Get a Deva Cut if I Have Straight Hair?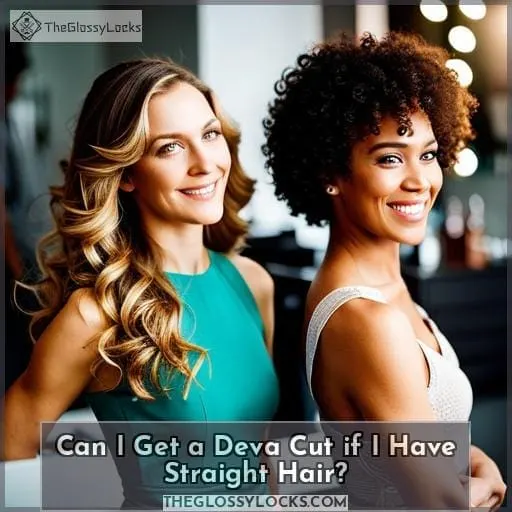 You can't get the full Deva Cut experience unless you have naturally wavy or curly locks. Unfortunately, if your hair is straight, then this cut isn't for you – but don't worry! There are other options available that can help give your hair the same beautiful and voluminous look.
Caring for curls is a labor of love. Luckily, there are styling techniques to choose from that will make it easier to manage and style your mane. First, determine which type of curly hair you have: 2A (soft wave), 2B (loose curl), 2C (tight curl), 3A (large loopy curl), or 3B-4C (coiled tight).
Knowing this information will help guide the best approach when selecting products, tools, and haircuts designed specifically for each type, as well as Deva Cut costs associated with them.
Good news though – those with straight strands aren't left out completely! A twist cut involves cutting in the opposite direction than what's natural, so it provides some texture without changing too much about its shape or structure while still giving volume at the roots like a Deva Cut would do on curls/wavy styles.
So put aside any worries about not being able to rock a gorgeous mane because no matter what kind of waves/curls one has, they'll be sure to find their perfect routine fit!
How to Prepare for a Deva Cut?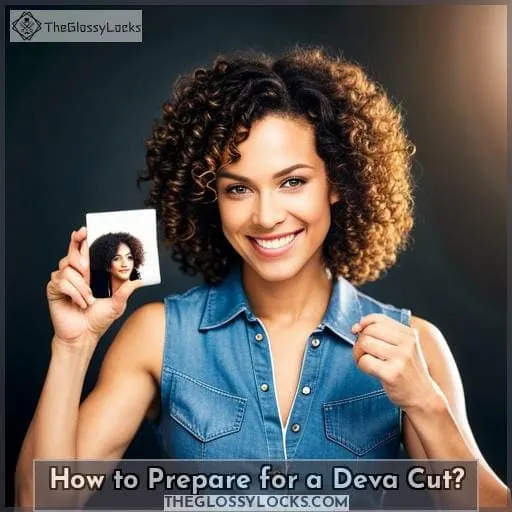 Before tackling a Deva Cut, it's important to remember that this technique was created specifically for wavy and curly hair.
To get the most out of your salon appointment, make sure you properly condition your hair in advance. It is also advised to use styling techniques such as scalp massage and product recommendations prior to drying the hair so that curls form correctly when dried naturally or with a diffuser.
For those with wavy hair looking for more definition, adding simple fringe can be an easy way to enhance their look post-cut. If you have curly strands, it's best practice not only to find the right products but also to invest in regular deep conditioning treatments done at home before heading off for your cut session.
So make sure you give yourself plenty of time to prepare ahead of scheduling an appointment.
What to Expect During a Deva Cut Appointment?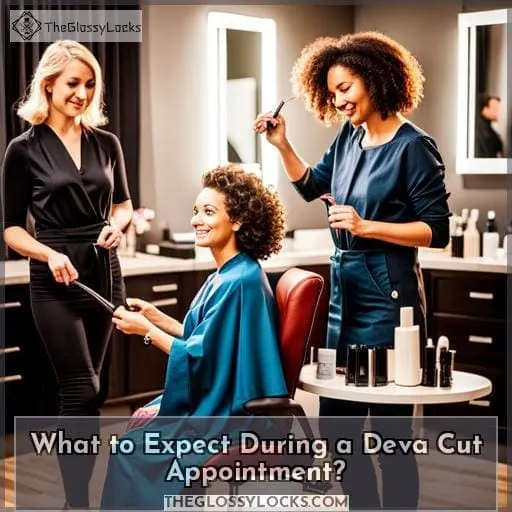 Experience the transformation of your waves or curls with a Deva Cut appointment! During this specialized cut for curly and wavy hair, you can expect to have 50-75 minutes dedicated to styling. Your stylist will take special care in three phases: texturizing, diagonal angle cutting, and unique face-framing cuts.
With these steps combined, you'll receive many benefits such as less drying time. Even if your center section looks like an uneven mess before the appointment, it will be transformed by the end. When finding a stylist familiar with Deva Cuts, make sure they are experienced in all 4 types of natural hair – type 2 (wavy), 3 (curly), and 4 plus Rezo Cuts – which focus on adding movement and volume compared to Deva's maintenance of natural curl patterns.
This will ensure that they can best assess what is needed for optimal results from their expertise.
Following through with aftercare tips provided by Lorraine Massey, co-owner at Devachan salon, is essential not only for maintaining healthy curls but also enjoying those beautiful long-lasting styles created during your visit
How to Take Care of Your Hair After Getting a Deva Cut?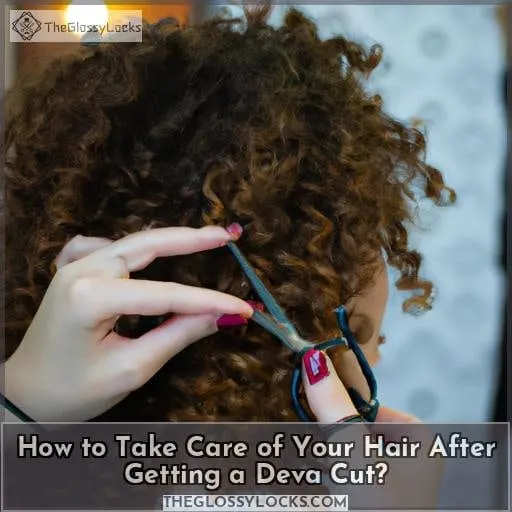 After getting your Deva Cut, enjoy the look and feel of your fresh curls by following a regular hair care routine. To maintain your natural curl pattern, use products specifically designed for curly hair types and avoid using heat styling tools as much as possible.
Adding movement to your curls can be achieved through diffusing or air-drying with a light hold gel or cream. If you want more volume in certain areas, try lifting sections of hair at the roots while diffusing or using an afro pick to fluff up the roots after air-drying.
Recent reviews rave about various styling options post-Deva Cut such as half-up hairstyles, high buns, and braids that show off those awesome new layers! Keep experimenting until you find what works best for you!
Remember that everyone's natural hair type is unique, so don't compare yourself to others too much when it comes to maintenance post-Deva cut! It can take some time before finding which products work best, but once found – stick with them consistently for optimal results over time!
| EMOTION | SENSATION | EXAMPLE |
| --- | --- | --- |
| Excited | Energetic | I'm stoked to try out my new hairstyles! |
| Confident | Empowered | My Deva Cut brings out my inner goddess. |
| Magnetic | Mysterious | People are always asking me how I get my amazing curls! |
What Are Other Techniques for Cutting Curly Hair?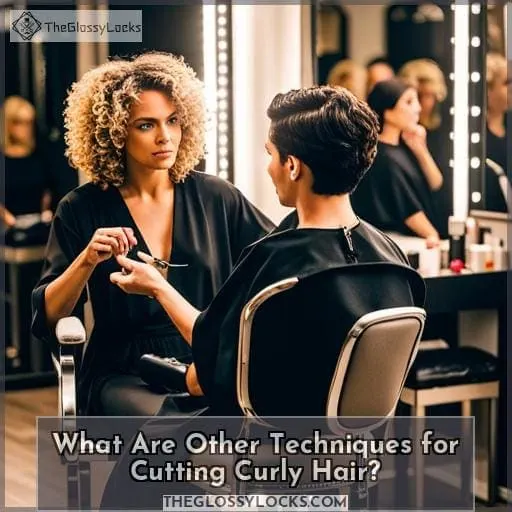 If you're wondering whether your hair is curly enough for a Deva Cut, don't worry! There are many other techniques available to help you find the perfect look for your curls. Check out Rezo Cut, Ouidad Cut, and Twist Cuts – all of which are designed specifically to enhance natural curl patterns.
Rezo Cut
Try the Rezo Cut for an edgy, voluminous look that'll turn heads! It's a huge breakthrough in curly hair care from Deva Cut. This special cut is designed to add movement and volume to your curls with its unique cutting techniques.
Natural hair types 2-4 are perfect candidates for this style, offering those with mythical creatures-like hair a brand new take on their mane! To get the best results without issues such as frizzy or uneven bangs, make sure you find a hairdresser who has been trained specifically in the Rezo technique.
Look fabulous today with this modern alternative to Deva Cutting. Try it now and leave everyone amazed by your beautiful locks!
Ouidad Cut
Discover the Ouidad Cut, an innovative way to enhance your curly texture. This new method is perfect for first-timers and promises a red-carpet wash-and-go look. While similar to the Deva Cut, it has its own unique pros and cons with different cuts available.
| Pros | Cons |
| --- | --- |
| Defined curls | Time-consuming process |
| Versatile styles | May not work well on all curl types |
| Reduces frizz | Expensive compared to regular haircuts |
Ouidad vs Deva: Both techniques have their similarities but differ in approach. While Deva focuses on maintaining the natural curl pattern, Ouidad aims at enhancing curls by cutting each strand individually for more defined ringlets.
For those curious about trying this technique out, don't hesitate! It's ideal if you're looking for low-maintenance styling options that save time and effort without sacrificing style or quality.
In conclusion, the Ouidad cut offers a fresh take on curly hairstyles that can help achieve stunning results with minimal upkeep required.
Twist Cut
Give the Twist Cut a try if you're looking for an effortless way to add more body and movement to your locks! This method is not only great for curly hair, but also works wonders on straight hair. The main characteristics of this technique are that it focuses on creating curls with lively movement without sacrificing volume.
Unlike Deva Cut vs Rezo Cut, where one cuts in order to maintain curl pattern while the other adds volume, Twists Cuts create beautiful texture with even length throughout all curls.
Tips for Maintaining Your Deva Cut?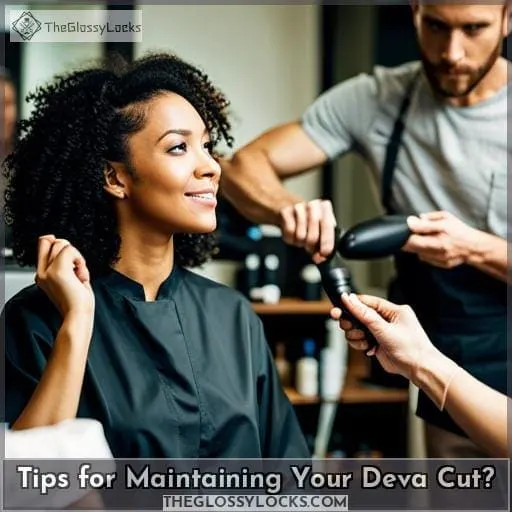 To maintain your Deva Cut, you should regularly deep condition and moisturize to keep the curls bouncy yet defined – like a fiddle-dee-dee!
In addition to these essential steps, there are other tips and tricks that can help you prolong the life of your cut. One common issue with curly hair is frizz, which can be combated by using anti-frizz products.
At-home styling is also crucial for maintaining shape between appointments. Consider investing in quality hair tools such as diffusers or microfiber towels.
Hair accessories like silk scrunchies or satin pillowcases can minimize breakage while sleeping. It's important to address any negative issues early on before they spiral out of control. For example, if you notice uneven curl patterns after washing or drying your hair differently than usual.
By following these maintenance techniques and utilizing helpful products within the hairstyling industry, you'll be able to rock those gorgeous curls all year round!
How to Find a Deva Cut Stylist?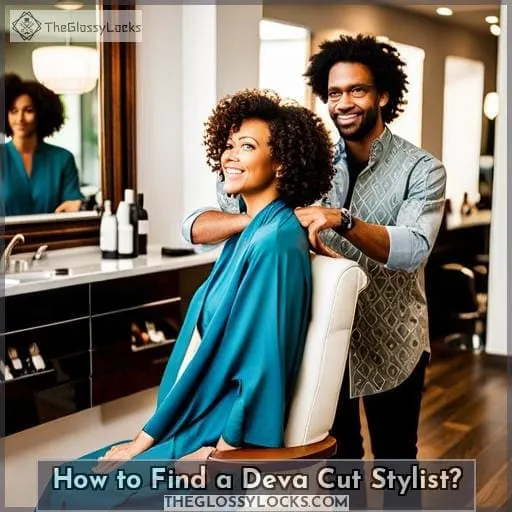 Search for a professional hairstylist who is knowledgeable and experienced in the Deva Cut technique. There are several benefits to getting a Deva Cut, such as maintaining your natural curl pattern, adding movement and volume, finding the perfect cut for your unique hair type (2A-4C), as well as preparing straightened or heat-damaged hair.
Before booking an appointment, be sure to look for reviews and before/after pictures on social media from other clients who have received the same service.
Here are some tips:
Ask your friends with curly hair about their experiences at different salons.
Look up stylists near you who specialize in cutting curly or wavy hair.
Research the techniques they use before booking an appointment.
Prepare yourself with information about how long it will take, the cost, and the post-cut care routine.
Finally, make sure whoever you choose takes the time during the consultation process to understand exactly what kind of outcome you want, while curating horizontal sections around your face shape
Frequently Asked Questions (FAQs)
How much does a Deva Cut cost?
The cost of a Deva Cut varies depending on the salon and stylist you choose. Prices typically range from $50 to $200, so it's best to do some research beforehand to find an option that fits your budget
How long does a Deva Cut last?
A Deva Cut typically lasts up to three months, depending on the style and your hair's natural growth pattern.
What should I do to prepare for a Deva Cut?
To prepare for a Deva Cut, make sure your hair is dry and free of styling products. Research the cut beforehand so that you know what to expect and can communicate effectively with your stylist.
Can I do a Deva Cut on my own?
You can definitely give yourself a Deva Cut! To achieve it, find the appropriate products and tools, practice some techniques on friends before attempting it on your own hair, and educate yourself with tutorials.
What are the differences between a Deva Cut and a Rezo Cut?
The Deva Cut focuses on preserving your natural curl pattern, while the Rezo Cut adds movement and volume. It is a different approach to styling curly hair, one that will give you unique results with an edgy feel.
Conclusion
If you have curly or wavy hair, a Deva Cut can be a great way to bring out your natural texture and volume. With the right stylist and routine, you can maintain your Deva Cut for a long time. It's important to research and find a stylist familiar with the Deva Cut technique.
Prepare for the appointment by knowing your hair type and what to expect. With the right care and attention, you can confidently show off your curls.