This site is supported by our readers. We may earn a commission, at no cost to you, if you purchase through links.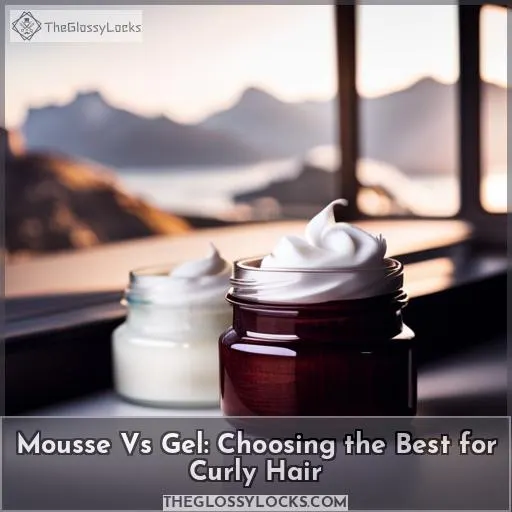 It's widely accepted that hair mousse and gel are essential for styling curly hair. But have you ever wondered why? It can be hard to choose between the two because they both provide different benefits and drawbacks when it comes to defining your curls.
Let's explore the differences between mousse vs gel so you know which one is best suited for your unique style needs.
Mousse is lightweight and provides a natural hold with light definition. On the other hand, gel offers more of a firm texture with long-lasting hold.
We'll break down their pros and cons as well as share tips on how to use them correctly.
Key Takeaways
Mousse is lightweight with a natural hold, while gel offers a firm, long-lasting hold.
Gel is great for humidity control and frizz, but overuse can result in stiffness.
Mousse adds body, texture, and frizz control but lacks a strong hold.
Consider your hair type, curl pattern, and desired outcome when choosing between gel and mousse.
What is Hair Gel?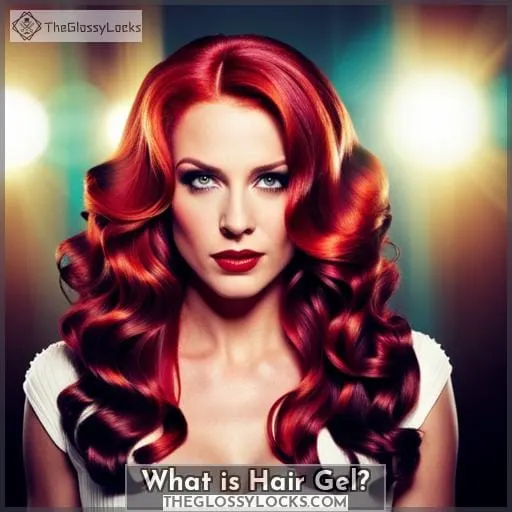 Hair gel is a firm jelly-like product that provides a strong hold to create sleek, structured looks for wavy, curly, or coily hair. It's great for humid climates as it helps control frizz and keep styles in place all day long.
However, overusing can result in stiffened locks, so use sparingly and always with a diffuser to release the cast of the gel after drying your hair.
For fine hair types looking for extra volume, mousse is best. Apply only small amounts; otherwise, it will weigh your locks down instead of lifting them up!
Use this styling product when you want curls with shape but not too much definition. If you're aiming to enhance curl shapes, then opt out of using mousse altogether since it does nothing more than just add texture without holding power.
Mousse vs Gel? Each has its own unique advantages: Gel offers humidity control while Mousse adds body and texture plus frizz control.
Whatever styling product you decide on, be sure that quality ingredients are used as they play an important role in maintaining healthy haircare results at home or from the salon chair.
Pros and Cons of Hair Gel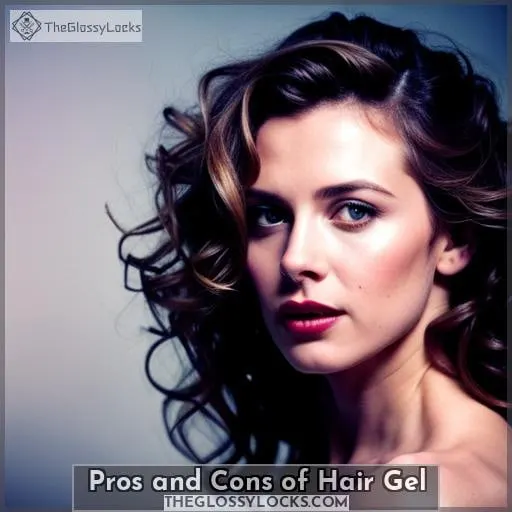 You'll enjoy strong hold and humidity control with hair gel, but it can cause stiffness if not used correctly. Gel is a firm styling product suitable for wavy, curly, coily, or straight hair that provides long-lasting hold.
It's best for thick curls as it offers great definition and can be customized with nourishing ingredients to provide high-definition styles.
Pros of using gel include humidity control, long-lasting hold, and compatibility with other products. However, there are cons to consider as well. One potential drawback is the risk of hair damage when the gel is used incorrectly.
To apply gel, use it on wet or dampened hair, then air dry or blow dry before releasing the cast created by the product using a diffuser. This method will also add shine to your hair. It's important to note that not every type of gel is suitable for every individual's unique curl pattern.
Therefore, it's crucial to choose wisely based on your desired outcome, whether it's sleekness or messiness. If needed, seek advice from a stylist who can recommend specific products based on your needs.
Quality matters when it comes to hair gel. Some popular options include All Curls High Definition Gel, which defines without leaving a crunchy feel. Curlsmith Hydro Flexi Jelly is designed to enhance waves without being greasy. Mielle Organics Styling Gel is formulated to be well-suited for all hair types ranging from 3A to 4C.
Maui Moisture Shea Butter Gel provides a medium flexible hold, while Design Essentials Curl Mousse adds texture and volume while taming frizz. Lastly, Moroccanoil Control Mousse is specifically made to reduce shrinkage, define curls, and moisturize them with its oil content, resulting in silky soft locks without stickiness.
How to Use Gel for Curly Hair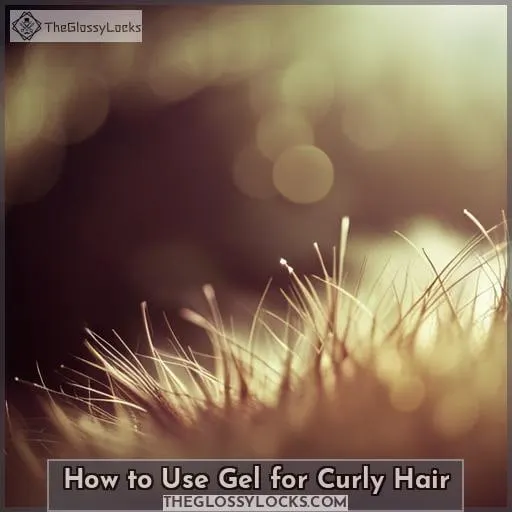 Are you looking for the best way to use gel on your curly hair? Applying a styling gel on damp hair, using a leave-in conditioner underneath it, and distributing the product evenly across strands are essential steps in achieving beautiful curls.
Application on Damp Hair
To achieve optimal results, use a gel on damp hair that offers a strong hold and definition for your curls. Blow-drying techniques, product selection, frizz control, and styling tools all affect the quality of curl definition you'll get from gels; choose one with natural ingredients to ensure healthy curls.
Frizzy curls can be tamed with products designed to add volume while providing maximum moisture and shine without drying out your strands; look for those specifically formulated for curly hair.
Using a Leave-in Conditioner
Before styling with either mousse or gel, using a leave-in conditioner helps to ensure your curls are hydrated and protected from potential damage. It adds moisture to the hair shaft without weighing it down and can shield against heat damage caused by hot tools.
Depending on the type of curl you have, there is an array of leave-in conditioners available in both spray form and cream form that will provide maximum benefits for your hairstyle. Look for ingredients such as Argan oil, Shea butter, and other natural oils that will add shine while nourishing fragile strands.
Be sure to choose a product specifically designed for curly hair – this way you'll get the right balance between hydration without excess heaviness or stickiness! With regular use of a quality leave-in conditioner as part of your mousse vs gel comparison care routine, you can expect beautifully defined bouncy curls every time!
Even Distribution of Gel
For beautiful, bouncy curls, evenly distribute gel throughout your hair to create a strong hold and define each curl. To ensure even coverage for the best styling results, use a wide-toothed comb while applying the product from root to tip.
Begin with damp hair and avoid using too much gel in one area, as it can become sticky or clumpy. For thick strands, opt for gels that offer a stronger hold compared to mousse products, which are better suited for finer textures.
Removing Crunchiness
Once you've finished styling with gel, use a diffuser to release the cast and avoid crunchy curls. For extra frizz control, consider using hair mousse after gel application, followed by another layer of mousse for increased style longevity.
To remove any potential crunchiness without compromising curl definition or hair health, apply a small amount of oil-based product, such as argan or olive oil, prior to blow drying with your diffuser attachment set on low heat.
A gentle approach is key for removing excess product buildup that can lead to excessive dryness and stiffness in curly hair styles while still providing hold throughout the day.
Recommended Hair Gels for Curly Hair

When it comes to achieving naturally defined curls, there are various hair gels available that can help. All About Curls High-Definition Gel, Curlsmith Hydro Style Flexi-Jelly, Mielle Organics Honey & Ginger Styling Gel, and Maui Moisture Frizz Free + Shea Butter Elongating Gel all provide a strong hold while nourishing the hair with essential oils and extracts.
All About Curls High-Definition Gel
You can achieve high-definition curls with All About Curls High-Definition Gel. This lightweight styling gel promises a strong hold without weighing down your hair like an anchor. It infuses natural oils and extracts to provide essential moisture while controlling frizz and humidity.
Suitable for all curl types, it's free of sulfates, parabens, alcohols, silicones, or drying alcohols – even vegan and cruelty-free options are available! With this gel, you get long-lasting definition plus the benefit of nourishing ingredients for a high-definition style that won't damage your hair.
Curlsmith Hydro Style Flexi-Jelly
Curlsmith Hydro Flexi-Jelly provides a strong hold and essential moisture to keep your curls defined and de-frizzed while blending fresh curl-loving foods with kitchen cupboard staples for unbeatable slip.
This professional-grade product is perfect for well-defined waves or natural curls, as it's humidity resistant and free from drying alcohols.
Mielle Organics Honey & Ginger Styling Gel
Mielle Organics Honey & Ginger Styling Gel is an ideal choice for individuals with curly hair seeking strong hold and definition without compromising moisture. Customers have used this gel to create defined waves that last all day! It smooths edges, adds shine, prevents frizz, and protects curls from damage.
For extra protection, pair it with Mielle Organics Curly Cocktail Curl Mousse or Moroccanoil's Curl Control Mousse for fine hair types. SheaMoisture's Frizz Control Coconut Hibiscus Shea Butter also works well in combination with the styling gel when following the curly girl method.
Maui Moisture Frizz Free + Shea Butter Elongating Gel
Experience the power of Maui Moisture's Frizz Free + Shea Butter Elongating Gel, a lightweight styling gel that nourishes your curls with shea butter and macadamia oil while providing strong hold.
Perfect for all hair types, this product is free from parabens, sulfates, and silicones. Get long-lasting protection against humidity and frizz, as well as enhanced curl definition without any crunch or greasiness.
The formula helps seal in moisture while delivering natural shine to your curls – no matter if you're air drying or heat styling! Try out Maui Moisture's Frizz Free + Shea Butter Elongating Gel today to enjoy bouncy, beautiful waves with lasting control!
What is Hair Mousse?

Hair mousse is a lightweight foam product designed to provide volume and texture for curly or wavy hair. It adds body, holds curl shape, helps fight frizz, and can help give the illusion of thicker hair due to its airy consistency.
Hair mousse has several benefits that make it an ideal choice for styling curly or wavy hair. It enhances natural curl memory and wave pattern while providing touchable texture with no crunchiness when dry.
It helps reduce shrinkage by adding definition without weighing down strands. Its nourishing ingredients, such as shea butter, coconut oil, neem oil, and sweet almond oil, help moisturize curls while controlling frizz.
Mousses contain fewer harsh chemicals than other products like gels, so they are less likely to leave behind residue on your scalp.
When applying mousse, you want to do so evenly throughout dampened (not wet) sections of your strands using an applicator brush or comb. Start at the root area and then work towards the ends in a scrunching motion. The results will depend largely on how much product is used, as well as which brand of mousse you use.
Pros and Cons of Hair Mousse

Whether you're after sleek, structured locks or messy, textured styles, mousse offers many benefits – but it's not without its drawbacks. Mousse is a lightweight foam product ideal for fine or thin hair and adds volume while providing frizz control.
It works well for loose waves and curls as it provides touchable texture with minimal hold that can be restyled throughout the day.
However, too much application may dry out your hair, leaving it brittle and dull-looking, so take care to use sparingly.
The advantages of using mousse include enhanced root volume in black hair when blow-drying with a diffuser; added definition; easier styling; humidity protection; longer-lasting results compared to other products such as waxes or gels; and no crunchiness even after long hours since there are fewer alcohols used in the formula than others like Not Your Mother's brand gel.
On the downside, if used incorrectly, some people experience flaky residue on their scalp due to overuse, which could cause irritation.
When shopping around for mousses, remember these key points: choose one specifically designed for curly/wavy types of hair; avoid those containing harsh chemicals (alcohol) which will do more damage than good; and make sure you read reviews from customers who have tried different brands before making your decision – this way you know what type of product best suits your needs.
With proper usage, quality products can provide great results whether trying an updo look or simply taming flyaways!
How to Use Mousse for Curly Hair

When it comes to styling your curly hair, mousse is a great choice that can give you the perfect balance of definition and hold. Even so, using mousse correctly requires proper technique: starting with removing excess water before application, using your fingers to apply in sections for even coverage, and choosing the right blow dryer setting for the best results.
Removing Excess Water
Once you've applied your mousse, it's important to remove any excess water for the best results. Blow-drying techniques can help lock in moisture and reduce frizz while controlling humidity levels. Curly hair hydration is key – opt for diffuser attachments or low heat settings to avoid over-drying strands.
For texture enhancement, use a wide-tooth comb on wet hair and gently detangle curls before blow-drying with a round brush or fingers scrunching as you go.
Application With Fingers
To get the most from your mousse, use your fingers to evenly distribute it over damp hair – making sure to coat each curl. Studies have found that its moisturizing effects last up to 3 days! Finger application allows you to control and create texture while keeping individual curls separated for definition without frizz.
This technique is key in order for the product's benefits of restoring essential moisture and nutrients while controlling volume and shine to be maximized. With proper styling techniques, you can achieve a look that will last longer than with gel, as well as keep hair healthy by avoiding damage due to excessive heat or chemical exposure.
Choosing the Right Blow Dryer
When choosing a blow dryer for curly hair, consider one with adjustable heat settings to minimize the risk of heat damage and achieve your desired results. Look for an ionic technology that helps smooth out frizz and reduce drying time.
A diffuser attachment is also ideal as it will help distribute air evenly throughout curls without causing any disruption or agitation. Additionally, pay attention to nozzle size. Narrow nozzles are better suited for straightening, while wider ones are great at distributing more volume into curls.
With the right combination of features in a blow dryer, you can get beautiful-looking curls without worrying about damaging your delicate strands!
Recommended Hair Mousses for Curly Hair
Curly hair requires special care and styling to look its best. For those with curly locks, there are a number of mousses available that can help enhance curls while providing strong hold without leaving the hair feeling crunchy or sticky.
Popular products include Design Essentials Curl Enhancing Mousse, SheaMoisture Curl Mousse, Moroccanoil Curl Control Mousse, and Mielle Organics' Curly Cocktail Curl Mousse.
Design Essentials Curl Enhancing Mousse
Experience maximum definition and moisture with Design Essentials Curl Enhancing Mousse. This lightweight formula helps define curls without greasiness, nourishing each strand with Sweet Almond Oil, Avocado extracts, and Vitamin B Complex.
It seals in moisture while reducing shrinkage for long-lasting styles that are enhanced in strength and elasticity—all without any crunch or frizz! From loose waves to tight spirals, this mousse is suitable for all curl types, including 4C hair.
SheaMoisture Curl Mousse
Discover SheaMoisture's Curl Mousse, a lightweight volumizing product that helps tame frizz while adding brilliant shine to your curls. This curl-enhancing formula contains Fair Trade Shea Butter, coconut oil, and neem oil for natural nourishment and moisture.
It also features silk protein, which smooths out the hair to create soft, silky curls with no crunch or stickiness left behind.
Moroccanoil Curl Control Mousse
Try the Moroccanoil Curl Control Mousse to tame your curly, coily, or frizzy hair and enjoy boosted definition with a natural hold. Infused with antioxidant-rich argan oil, it helps fight frizz while defining shape and separation.
The curl girl method approved product is also paraben-free and lightly fragranced for a pleasant scent that won't linger in your hair.
Use it as part of your everyday curly routine for revitalized curls that are soft, silky, and never sticky! This mousse contains just the right amount of nourishing ingredients, including coconut extract, to keep moisture locked in place all day long.
Mielle Organics Curly Cocktail Curl Mousse
Unlock your curls' full potential with Mielle Organics Curly Cocktail Curl Mousse. This nourishing hair product provides a lightweight hold that won't damage or weigh down locks while still defining and enhancing them.
Reviewers love the styling options it offers, from air-drying to blowouts, for maximum curl definition and shine.
Curly Haircare 101: Gel or Mousse?
Are you looking for the perfect product to define and style your curls? Gel and mousse are two popular styling products, each offering unique benefits. Gel provides a strong hold, humidity control, long-lasting definition, and compatibility with other styling products – ideal for thick or unruly hair.
Whereas mousse is a lightweight foam that adds volume and texture while taming frizz – great for loose waves or messy styles.
Functions of Gel for Curly Hair
Gel can be your curly hair's secret weapon, providing strong hold and definition like a suit of armor to protect against humidity and frizz.
Hold: Gel provides a stronger hold than mousse, making it ideal for thick or unruly curls that need control.
Ingredients: Look for high-quality gel with nourishing ingredients such as natural oils or extracts to provide essential moisture while controlling curl definition.
Texture & Volume: Mousse is better at adding texture and volume without weighing down the hair; however, gel gives more structure with less crunchiness when applied correctly.
Gel is versatile enough to use on all types of curls – from wavy to coily – but make sure you opt for one free from sulfates, drying alcohols, and other harsh chemicals that could damage the hair further down the line! Quality products will give superior results, so don't skimp on price here if you want optimal performance out of your styling product!
Functions of Mousse for Curly Hair
Mousse is ideal for creating softer, touchable styles with definition and shine, while providing lightweight hold that won't weigh down your curls. Its benefits include versatility in styling preferences, frizz control without stiffness or crunchiness, and long-lasting curl definition.
Mousse also has the added bonus of nourishing hair health due to its key ingredients like natural oils and extracts, which are free from harsh chemicals.
Curly girls can stay worry-free, knowing their tresses will be protected all day long as they rock their 'dos with confidence.
Conclusion
With over 75% of Americans having curly hair, it's important to choose the right styling products. Gel and mousse are two popular products for curly hair, each with its own set of pros and cons. Gel works best for thick, curly, or unruly hair, providing a strong hold and definition, while mousse is ideal for loose waves and curls, adding volume, body, and texture without sacrificing moisture.
Choosing the right product depends on your hair type, curl pattern, and desired outcome, so experiment to find what works best.