This site is supported by our readers. We may earn a commission, at no cost to you, if you purchase through links.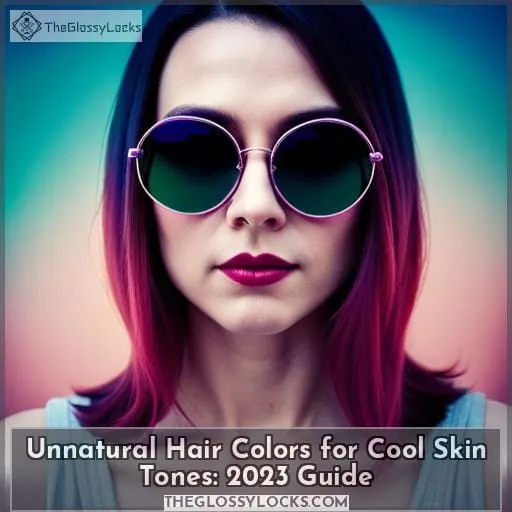 Ready to make a statement? Unnatural hair colors can be the perfect way to express yourself and show off your cool skin tone.
Here we'll provide all you need to know about unnatural hair colors that look great on cool skin tones in 2023 so you can find the right one for you.
So get ready as we explore exactly what is trending in terms of unnatural hair colors designed especially for those with a cooler complexion.
Key Takeaways
Unnatural hair colors are a great option for cool skin tones.
Stand out with bold and vibrant shades like sapphire blue and mint green.
Consider hair health and maintenance requirements before choosing an unnatural hair color.
Silver jewelry complements cool undertones, enhancing the overall look.
Unnatural Hair Colors for Cool Skin Tones in 2023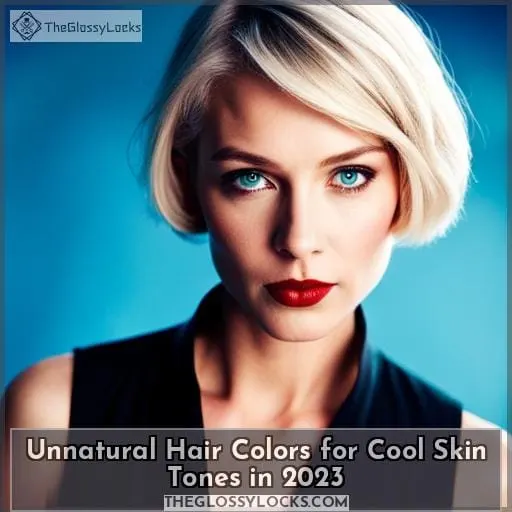 Looking for a new hair color to complement your cool skin tone in 2023? If so, consider opting for the trendy shades of platinum blonde, rose gold, pearl, burgundy, or blue.
Platinum Blonde
For people with cool-toned skin, platinum blonde is an increasingly popular choice that has been seen on over 40% of celebrities in the past year. Refreshing chic trends like dimensional smoky tones and frozen platinum shades are perfect for creating high-contrast highlights.
Modern matte effects such as balayage or ombre make great hair color ideas to show off your hair undertones even more.
Rose Gold
Try out the trendy rose gold hair color to give your cool-toned skin a subtle radiance! An excellent choice for those with fair or dark complexions, this hue is flattering and striking.
Not only does it harmonize well with cool undertones, but its low maintenance requirements make it ideal for anyone looking to experiment without having to worry about daily upkeep. Rose gold styling also looks great when paired with accessories like silver jewelry or white clothing, further enhancing the look of your hair color.
When considering an unnatural shade such as rose gold, be sure to take into account any potential damage that could occur due to bleaching.
Pearl
Pearl is the ultimate cool-toned hair color for when you want to turn heads—it's like a shimmering moonlight reflected on your hair! Perfect for any season, this light shade of blonde with its subtle hints of pink and silver works best on those who have pale skin.
It's an ideal choice if you're looking to experiment boldly with unnatural hair colors without worrying about maintenance requirements or damaging your locks.
Achieving a perfect balance between sophistication and modernity, this timeless hue will truly transform your overall look.
Burgundy
Flaunt your style with a vibrant burgundy hair color that perfectly complements your cool skin tone. From deep, dark shades to subtle hues of red, there's something for everyone who wants to make a bold statement.
To ensure longevity and prevent fading, use quality dye and invest in sulfate-free shampoo and conditioners.
Blueberry Burgundy – A royal blue hue that fades into plum.
Rich Maroon – A classic shade with just enough warmth.
Auburn Brown – An earthy blend of browns mixed together.
Coloring your hair is an exciting way to express yourself, but always remember proper care is essential! Invest in vegan masks or plant-based oils regularly if you want those bright colors to stay true even after weeks or months have passed by.
Get creative with burgundy shades today!
Blue
Show off your cool skin tone with a sapphire blue hair color, which is trending in 2023 and can give you an exciting new look. This bold shade will make heads turn, as it boasts 33% more shine than traditional dyes for an eye-catching finish.
From celebrities like Gigi Hadid to everyday people making their own fashion statement, blue hair has taken the world by storm! Whether you choose temporary or permanent dye options such as pastels or brighter shades of pink, violet, mint green, and lavender – there's something out there for everyone!
With proper styling tips and maintenance techniques using sulfate-free products on bleached hair, you'll be sure to rock this trend no matter where life takes you.
How to Tell if You Have a Cool Skin Tone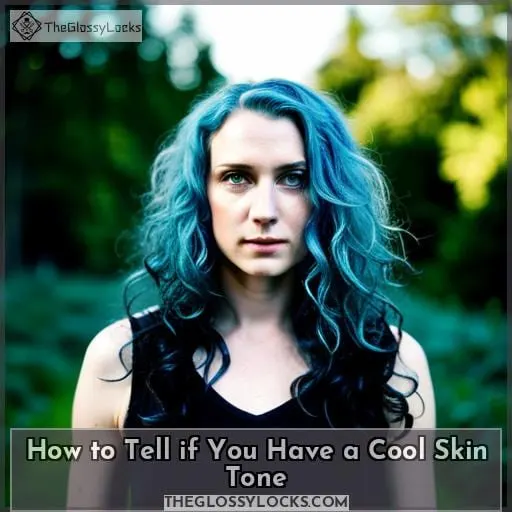 Are you looking for a bold, trendy hair color that will complement your cool skin tone? Icy blonde, sapphire blue, blue-black, mint green, and lavender are some of the best unnatural hair colors to choose from.
Icy Blonde
Make a bold statement this season with icy blonde locks that will give you an unmistakably chic and confident look. This hair color is perfect for cool skin tones as it neutralizes any pink undertones, making the complexion appear younger.
Accessorize your hairstyle with cool-toned accessories like silver earrings or rings to complete the look. To maintain healthy hair when styling icy blonde, use sulfate-free shampoos and conditioners along with plant-based oils and leave-in conditioners.
Sapphire Blue
Express yourself with a bold sapphire blue hue to give your look an edge. For those with cool skin undertones, this unconventional hair color creates a fashionable statement while still being subtle enough for everyday wear.
To maintain the dye job and ensure it complements your complexion, opt for gentle sulfate-free shampoos and conditioners along with plant-based oils or masks.
When determining if sapphire blue is right for you, consider how well its deep shades harmonize against your natural skin tone. Lighter blues may enhance pinker complexions, whereas darker tones can bring out bluer undertones in cool skins.
Finish off the look by pairing silver jewelry and black clothing items – classic neutrals that always flatter!
Blue-Black
Wow, impress your friends with a blue-black hue that brings out the coolness of your complexion! This color is perfect for those with darker, cool-toned skin. Keep in mind that some hair dyes can be damaging, but using quality products will ensure longevity and help you maintain this daring look.
Hair color trends come and go, so it's encouraged to experiment boldly to find one that complements your natural undertones. Rose golds, platinum blondes, taupes – all these colors enhance the beauty of a cool skin tone.
Mint Green
Try out the mint green hue to add a fresh, natural-looking splash of color that complements your cool skin tone. The light shade neutralizes the pink undertones in your complexion and gives you an airy feel.
For styling, use products specifically designed for colored hair with no sulfates or parabens to preserve its vibrancy. To keep it looking healthy, apply vegan and gluten-free masks as well as plant-based oils regularly; follow up with a leave-in conditioner post-wash.
Lavender
Lavender is a flattering hair color for cool skin tones, with its subtle purple undertones adding to the overall effect. Styling lavender locks can be achieved by using temporary or permanent dyes and mixing colors.
Proper hair care for colored strands includes using sulfate-free shampoo, vegan masks, plant oils, and leave-in conditioners. You can find plenty of lavender hair inspiration in magazines and online portals.
Look out for hues like lilac silver or lavender ice that will complement your complexion best.
To maintain your lavender hair color, it's important to avoid heat styling tools and UV exposure, as they can cause fading over time.
How to Choose the Right Hair Color

Are you looking to change up your look with an unnatural hair color? Before you dive in, it's important to determine the health of your hair and consider what skin tone best suits the chosen shade. Additionally, decide between professional or at-home coloring and figure out how much maintenance is required.
To help maintain vibrant shades, try using sulfate-free shampoos and conditioners along with plant-powered masks for extra nourishment.
Determine the Health of Your Hair
Before trying out any daring hair colors, it's important to assess the health of your hair. Check for split ends, breakage, and signs of damage from chemical treatments or heat styling.
If you have an existing color job, make sure it is compatible with the new shade you're considering by examining how they blend together on a strand test.
To prevent further damage when using unnatural hues, establish a regular haircare routine. This routine should involve sulfate-free shampoo and conditioner, as well as vegan and gluten-free masks and oils specifically designed for colored hair.
With proper maintenance techniques in place before applying vibrant color to your locks, you will ensure its longevity after application!
Consider Your Skin Color
When selecting a hair color, carefully consider your complexion to ensure the perfect look. Check your vein color and take the jewelry test to determine if you have cool or warm undertones. Cool tones typically react differently in sunlight than warm tones, so observe how both options work with your skin before deciding.
To maintain your hair's vibrancy, opt for vegan-friendly haircare products like masks, oils, and sulfate-free shampoos. These products are gentle on your strands while still providing maximum vibrancy.
Decide Between Professional and At-Home Color
Considering your complexion, you may choose to either go to a professional for hair coloring or achieve the desired look with at-home colorants. Hair coloring safety should always be top of mind, and it is important to consider if you have enough expertise in this area before attempting DIY dye jobs.
Visiting a salon ensures proper application and quality product selection. However, those looking for budget-friendly options can try out their own skills with kits from local stores. Whatever route chosen, remember to use sulfate-free shampoo, plant oils, and leave-in conditioners when caring for colored hair afterwards.
Figure Out Maintenance Level
To determine the right hair color for you, consider its maintenance level. Hair dye is designed to last a few weeks or months, and regular upkeep is necessary to keep your shade vibrant. Invest in quality products, such as sulfate-free shampoo and conditioner, vegan hair masks, and plant-based oils, that can help prevent color fading.
Additionally, choosing colors close to your natural tone requires less maintenance than bold shades like blue or purple. For cool skin tones looking for longevity of their unnatural hue, try using light pink hues that neutralize undertones.
Hair Color Maintenance Tips
Take care of your hair color by using sulfate-free, plant-powered shampoo and conditioner, vegan and gluten-free masks, oils made from plants, and a leave-in conditioner.
To keep hair vibrant for longer periods of time, use deep conditioning treatments to help lock in moisture.
Avoid washing your hair too often with harsh products that can strip away the dye's pigment or fade it quickly over time.
Use clarifying shampoos sparingly to avoid any buildup on the scalp or strands that will cause discoloration over time.
Additionally, make sure to get regular trims for healthy ends to prevent split ends from taking away from your overall look.
Protect your colored tresses when out in the sun by wearing hats or applying UV protection sprays before heading outside. This will help retain color vibrancy while preventing damage caused by environmental factors like humidity or windy days.
Determining Your Skin Tone
Discovering the right hair color for your cool skin tone can be tricky, but there are some simple steps to help you determine which shade is best.
Check the color of your veins and observe how they appear in natural light; greenish-blue indicates a cool skin tone.
To further confirm this, try on silver or gold jewelry: if it complements your complexion, then you likely have a cool undertone.
Experiment with neutral shades such as white and black to see what looks most flattering on you. Observe how your face reacts when exposed to sunlight, as this will also provide clues about whether or not you have a cooler hue.
Vein Color
Checking the color of your veins is an easy way to determine if you have a cool skin tone. Blueish vein tones are more common in those with cooler undertones; about 82% of people studied had this result.
Jewelry can also be used, as warm-toned gold looks best on warmer complexions and silver highlights cooler ones.
Sunlight exposure will make fair skin appear rosy, while darker shades may develop a gray or blue cast when exposed to sun rays.
When choosing hair colors that suit cool tones, look for hues with purple or blue undertones such as burgundy and taupe browns.
To keep colored hair healthy, use sulfate-free shampoo and plant oils like jojoba oil for regular conditioning treatments!
Silver and Gold Jewelry
Try on gold and silver jewelry to determine if you have cool undertones! Jewelry pairings with your skin color are essential to fashion compatibility.
Silver metals work best for those with cool undertones, as they create a bright contrast against the pink or blue hues of your complexion. Gold is ideal for warm-toned individuals who want a subtle accessory selection that complements their look without overpowering it.
Consider metal choices carefully, as they can accentuate certain features like eyes or cheekbones while complementing any outfit perfectly.
Most Flattering Colors
Discover which colors look best on you and make a bold statement with hues like platinum blonde, rose gold, pearl hair color, burgundy blue, or eggplant taupe. Your skin undertone is the key to finding flattering shades that complement your complexion.
Neutral tones such as white and black can be great for cool-toned skin, while light pink hues add an extra layer of interest without being too overwhelming.
When it comes to the coloring process and upkeep of unnatural hair colors, always opt for sulfate-free products tailored towards colored hair. Additionally, using vegan masks, plant oils, and leave-in conditioners will ensure long-lasting results.
Neutral Shades
If you're looking to upgrade your look, consider neutral shades like white, black, and platinum blonde for a timeless effect that works with your cool skin tone. Opting for lighter shades can help reduce the amount of maintenance required while still giving you an eye-catching style.
To get the best results from your hair color experimentation, analyze your skin tone to determine which colors will flatter it most effectively. Darker hues like blue-black or burgundy are also suitable for those with darker cool-toned complexions.
Neutral tones provide flexibility when it comes to styling options and bring out subtle undertones in light or medium complexions while complementing dark ones beautifully as well!
Sun Reaction
Observe how your skin reacts to the sun and see if you tan or burn to determine whether you have a cool skin tone. Sunscreen protection is essential for UV exposure, as those with cooler complexions are more likely to experience sun sensitivity and burn easily.
Avoid direct sunlight during peak hours to prevent summer skincare woes. Invest in quality sunscreen products that provide adequate coverage while still allowing the skin's natural oils to breathe through.
This helps maintain moisture levels and prevents irritation caused by prolonged heat exposure.
Keep your complexion healthy and glowing all year round with proper sun protection!
Recommended Hair Color for Cool Skin Tones
Choose a hair color that complements your complexion, from platinum blonde to burgundy and beyond. Cool skin tones often require special attention when selecting an unnatural hue for their tresses. Consider the following hues: Pearl, icy blonde, burgundy, taupe, sapphire blue, and blue-black are all great options for cool-toned complexions.
Eggplant purple and mint green can also give you a unique look. Light pink hues such as lavender or violet can add subtle dimension to darker complexions, while mahogany is perfect for fair-skinned beauties hoping to rock something bolder! Dark colors like grey or black also work well with cooler undertones.
Neutral colors like white or black will always look smashing on those blessed with cool-toned tresses.
Conclusion
It's time to stand out from the crowd and embrace the world of unnatural hair colors! Whether you have fair or dark cool-toned skin, there's something for everyone in 2023.
From pale pink hues to gothic colors like grey or black, you can find the perfect shade to complement your unique skin tone. Pearl blonde, rose gold, and burgundy hair colors are flattering and low-maintenance options, while icy blonde and blue-black will provide a bold statement.
When selecting an unnatural hair color, be sure to consider the health of your hair and the level of maintenance it requires. With the right care and a little experimentation, you can find the perfect unnatural hair color for your cool skin tone.