This site is supported by our readers. We may earn a commission, at no cost to you, if you purchase through links.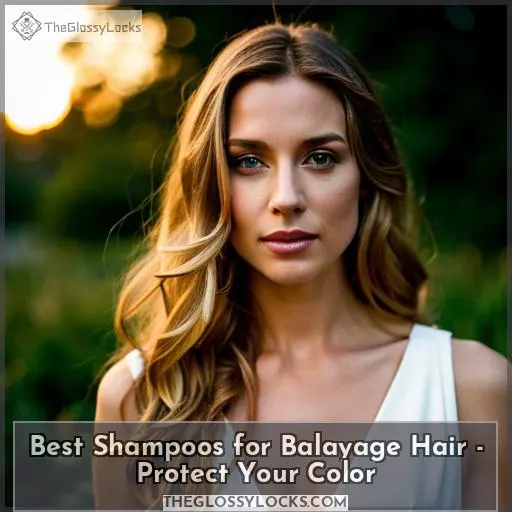 Nourishing your balayage hair is a necessity for keeping up its lovely, sun-kissed vibrancy. With the right shampoo and maintenance routine, you can preserve that beautiful color and keep it looking fresh.
From Matrix Brass Off to Redken Blondage Purple Shampoo, here are nine of the best shampoos for balayage hair – all proven to protect your highlighted locks from fading away too soon!
Are you wondering how to choose the right shampoo? We'll tell you what makes purple or color-safe shampoos so beneficial as well as provide tips on how to maintain balayaged hair with ease.
Ready for gorgeous highlights year round? Keep reading!
Key Takeaways
Matrix Brass Off and Redken Blondage Purple Shampoo are top shampoos for balayage hair.
Purple and blue shampoos neutralize brassiness and protect against UV radiation.
Look for shampoos with UV filters and sulfate-free formulas.
Regular maintenance, including touch-ups and infrequent washing, is essential for vibrant balayage color.
9 Best Shampoos for Balayage Hair
Looking for the best shampoo to use on balayage hair? Look no further than Matrix Brass Off Shampoo, Color Balance Blonde Shampoo, Fanola No Orange Shampoo, Redken Blondage Purple Shampoo, Kerastase Blond Absolu Purple, ProVoke Blue Brunette shampoo, and more.
These shampoos are specifically formulated to combat brassiness in brunettes and dark blondes while protecting color from fading due to UV radiation.
1. Matrix Brass Off Shampoo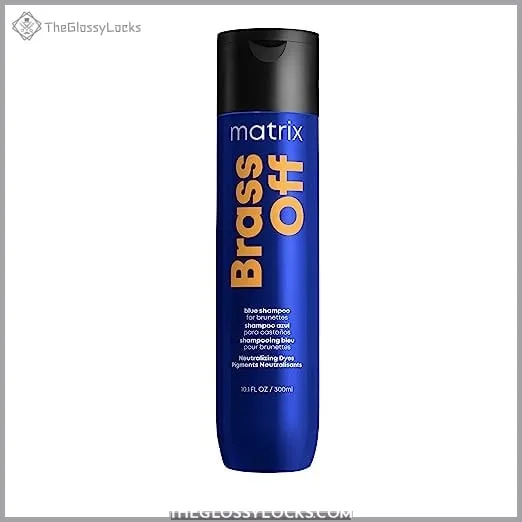 View On Amazon
If you want to keep your balayage looking its best, Matrix Brass Off Shampoo is the perfect choice for reducing brassiness and neutralizing orange undertones in dark blondes and brunettes. This anti-brass toning blue shampoo deposits blue-violet pigments to reduce brass and red tones while cleansing and hydrating hair.
It's part of the Brass Off Collection, which helps maintain color vibrancy by removing brassy, orange-toned hues that can dull even a salon fresh look.
The multi-tasking properties make it suitable for both color-treated or natural hair types, so everyone can benefit from this brilliant product! Users have seen stunning results with regular use. One user was highly impressed at how well it worked on her level 7 beige blonde after professional bleaching.
Another successfully corrected their DIY coloring disaster. A third experienced a significant reduction in brassiness after just one wash when transitioning from burgundy to blonde highlights. Yet another noted no effect on highlight colors whatsoever! Its easy application also means there's never any mess involved.
PROS:
Neutralizes unwanted orange undertones in dark blondes & brunettes
Suitable for both color-treated & natural hair
Multi-tasking formula cleanses & hydrates simultaneously
Easily applied without creating mess
CONS:
Leaves some users' hair feeling dry afterwards
Requires additional moisturizing conditioner
Can temporarily stain fingers
2. Color Balance Shampoo Blonde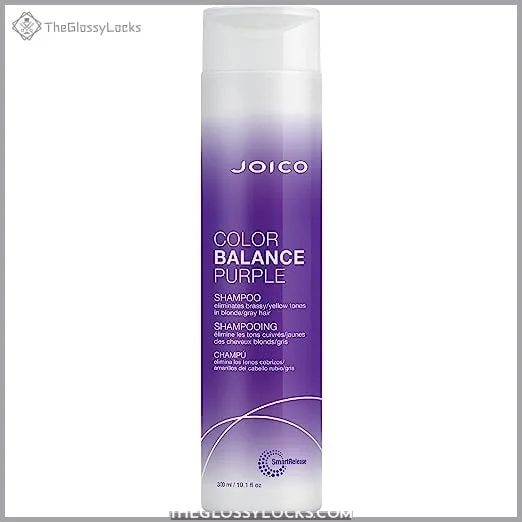 View On Amazon
You'll love the Color Balance Shampoo Blonde's ability to bring out a vibrancy in your balayage while neutralizing those unwanted yellow tones. Joico's Color Balance shampoo is formulated with violet pigments that directly attach to hair, helping you achieve desired color in just three days of daily use.
A special blend of green tea extract and UV absorbers help prevent fading and tonal changes for long-lasting results. Rest assured knowing this sulfate and paraben-free formula won't strip away any existing color treatments or keratin straightening from your locks either! The Keratin actively seeks out damage within the strands, repairing it as Arginine helps maintain healthy cuticles throughout its use too! Plus, Rosehip Oil delivers extra hydration for an added boost of nourishment when needed most.
Gently cleanses hair
Neutralizes unwanted yellow & warm tones
Boosts shine & controls static
Suitable for transitioning from ash blonde to grey hair
Does not leave a violet tint on strands
Recommended by stylists
Can be drying if not used with conditioner
Pricier product
Requires a small amount per wash
Potential issues at high elevations
3. Fanola No Orange Shampoo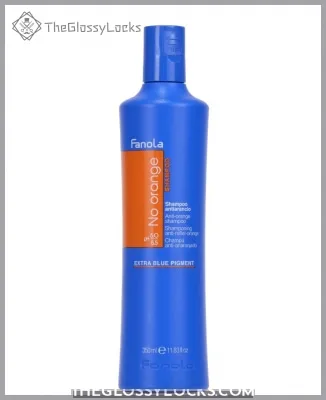 View On Amazon
Fanola No Orange Shampoo is the perfect pick for toning down brassiness in blondes and brunettes, thanks to its blue pigment which works like a charm. This shampoo contains coconut oil to give extra shine and prevent breakage/split ends.
It also has hypoallergenic Tiare flower to nourish hair cuticles, and a special blue pigment that tones grey or streaked hair. It neutralizes unwanted copper or red reflections while also hydrating the scalp.
Use once a week with gloves as it may temporarily stain fingers, but you will be rewarded with vibrant color after just one application!
Contains Coconut Oil for extra shine & prevents split ends
Hypoallergenic Tiare Flower nourishes & seals cuticles
Special Blue Pigment tones grey or streaked hair
May temporarily stain fingers, so use gloves when applying
Could have a drying effect on some users' hair
4. Redken Blondage Purple Shampoo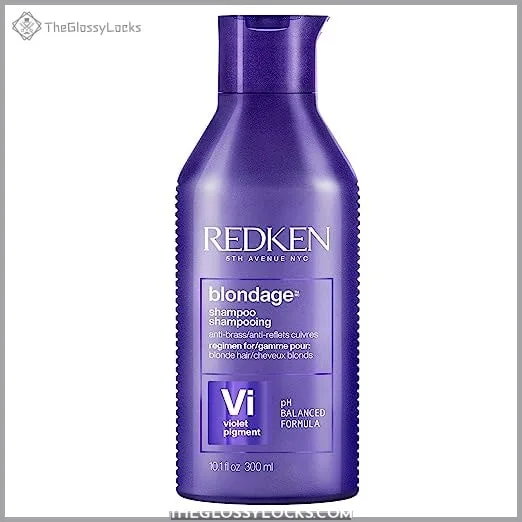 View On Amazon
Try Redken Blondage Purple Shampoo to neutralize brassy and yellow undertones, strengthen hair with protein and amino acids, and add brilliant shine! This color-depositing purple shampoo is specifically formulated for blonde or chemically treated hair that has been bleached.
It contains salicylic acid to help repair blonde locks while purplish pigments tone down grey, light blonde, or streaked tresses.
The nourishing formula contains Vitamin E, which repairs the follicles of your strands, as well as coconut oil for added hydration and extra shine. It's also paraben-free, so you know you're not putting any questionable chemicals on your head when using this product! Thanks to its UV absorbers, blondes won't have to worry about fading in the sun either, making it even easier to maintain vibrant balayage tones safely between salon visits.
For those looking for an effective way to maintain their desired color without risking further damage from harsh products, look no further than Redken's Blondage Purple Shampoo.
Neutralizes brassiness
Strengthens & hydrates
Provides anti-fade protection
Color corrects yellow undertones
Repairs split ends & adds softness
And cons:
Can temporarily stain fingers if gloves aren't worn during use
Some difficulty opening larger bottle size
5. Kerastase Blond Absolu Purple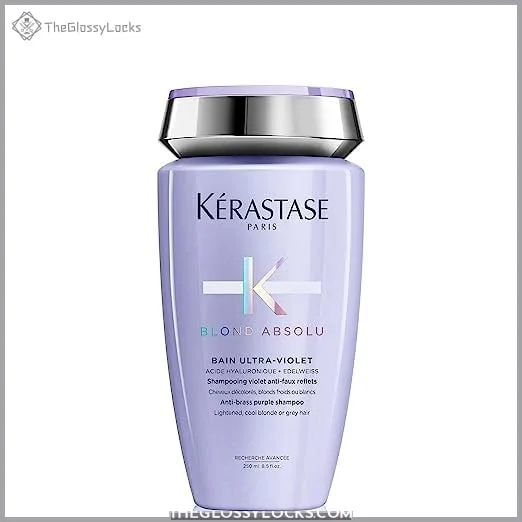 View On Amazon
Discover the benefits of Kerastase Blond Absolu Purple, a violet-colored shampoo specially formulated to neutralize warm, brassy undertones and protect against oxidation.
Enriched with blue and violet color-depositing pigments for added nourishment, Hyaluronic Acid to strengthen hair follicles, as well as repair split ends, this shampoo is suitable for lightened cool blonde or bleached/gray hair.
Users have reported that it helps brighten their locks while keeping them soft and manageable. Customers are effusive in their praise, noting how effective the product is in reducing yellow brassiness without leaving a purple tinge on gray strands if used sparingly.
Suitable for both salon-treated or natural balayage hair, users can use it once per week alternating between Bain Lumière shampoo followed by Cicaflash conditioner.
Neutralizes warm tones & brassy undertones
Strengthens & repairs damaged strands
Protects from pollution & oxidation
Brightens locks
Expensive compared to other brands
Can leave a purple tint on grey hairs if left too long
Additional products like conditioners may be required
6. ProVoke Blue Shampoo Brunette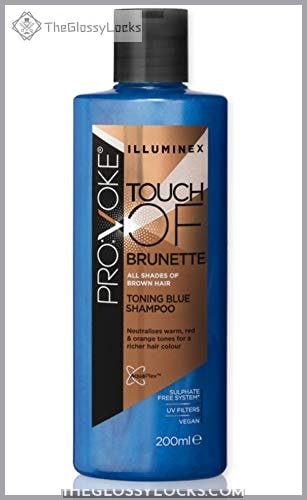 View On Amazon
Rejuvenate your hair with ProVoke's Blue Shampoo Brunette and experience the long-lasting softness, smoothness, and gloss. This liquid shampoo is specially formulated to enhance brunette or balayage hair color while brightening blonde locks.
Enriched with Inca Inchi Oil for deep hydration, it reduces the need for frequent salon visits by protecting against UV rays and color treatments. The sulfate-, paraben-, and silicone-free formula is gentle on all types of hair but especially beneficial to those seeking a chemical-free option as its hypoallergenic properties make it suitable even for sensitive skin.
Users have seen positive results in just minutes of daily use that lasts up to three days!
Removes yellow tones from dark blondes & brunettes
Ideal product for transitioning away from salon coloring / grey roots
Suitable even for sensitive skin
Deeply hydrates & protects against UV rays/color treatments
Not recommended if you prefer purple shampoos
Packaging issues reported with loose caps causing leaks
May not work well on extremely damaged/curly/wavy hair
7. Framesi Color Lover Blonde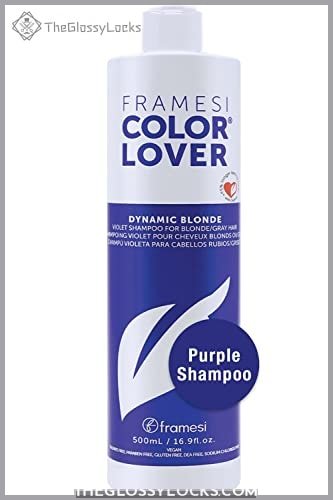 View On Amazon
For former blondes with some grey, Framesi Color Lover Blonde is the perfect light purple hair color to remove golden tones—but are you prepared for a slight lilac tint? This highly pigmented product is sulfate-free, gluten-free, and paraben-free.
It gives off a salon-fresh scent and can be used once or twice a week as needed.
User reviews claim that it helps keep their hair looking slightly purple-tinged, and they receive compliments when using this shampoo regularly.
Highly pigmented to remove golden tones
Sulfate Free, Gluten Free, Paraben Free
Gives off a salon fresh scent
Can turn your hair purple if left on for too long
Pricey
May dye nail beds/cuticles if not careful
8. Luseta Purple Shampoo Blonde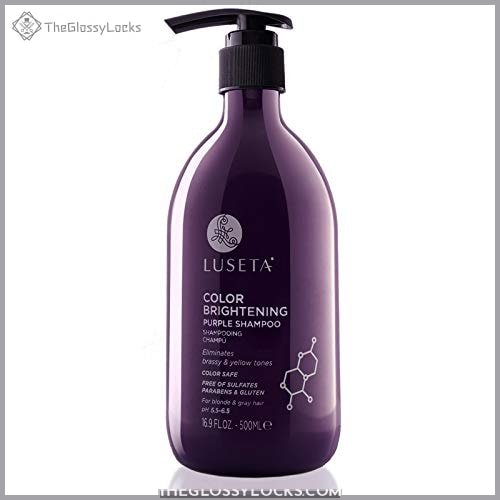 View On Amazon
Unlock the potential of your blonde or gray hair with Luseta Purple Shampoo, enriched with coconut oil and Vitamin E to nourish and repair. This color-enhancing shampoo is designed to neutralize brassy tones in blondes and remove dull yellow in gray hair.
It also helps mend split ends for a healthier look and feel, while providing a glossy finish.
Infused with coconut oil and extract, this shampoo deeply hydrates the hair, preventing brittle strands from breakage. Additionally, the Vitamin E in the formula restores hair follicles, promoting healthy growth without the use of harsh chemicals often found in other shampoos.
Suitable for both color-treated and keratin-treated locks, this sulfate-free product provides desired results within three days of regular use, leaving you feeling confident about your mane!
Not tested on animals
Sulfate-free formula
Contains Vitamin E to repair damaged follicles
Strong scent, which may be off-putting
Not suitable for dark brown/black base blonde brassiness correction
Packaging issues have been reported
9. Surface Hair Blonde Violet Shampoo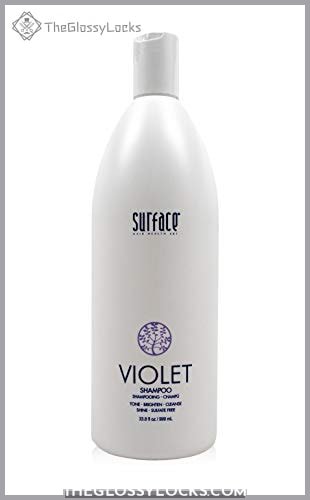 View On Amazon
Surface Hair Blonde Violet Shampoo is the perfect choice for brassy blondes looking to brighten their locks. It offers a protein-rich formula that neutralizes unwanted tones and leaves hair soft and glossy.
The shampoo is enriched with babassu oil, which helps protect against oxidation and maintain blonde color while also controlling static. It is suitable for transitioning away from salon coloring to natural gray, as well as for oily or dry hair types.
Users have experienced positive results in maintaining blonde color between salon visits due to its effectiveness in removing brassiness from lightened hair. Additionally, some users report softer and shinier tresses after using this shampoo, thanks to the nourishing properties of babassu oil.
However, it is important to note that it can be drying if used too often, so moderation is key.
There have also been complaints about packaging issues, such as no cushioning in the box, which can lead to items inside being broken upon delivery. This issue can be easily remedied by requesting extra protection during transit if necessary.
Neutralizes brassy tones & removes dull yellow from grey/white hairs
Protects against oxidation & pollution
Nourishes & increases smoothness/shine/strength
Free of sulfates & parabens
Can be drying if used too often
Packaging issues reported (no cushioning)
How to Select the Right Shampoo for Balayage Hair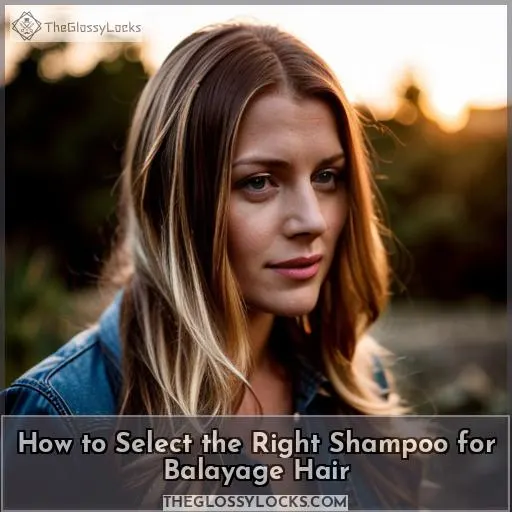 When it comes to balayage hair, selecting the right shampoo is essential for maintaining its vibrancy. Color-safe shampoos can help prevent fading and tonal changes from occurring, while purple shampoos are great for neutralizing brassiness in blondes or brunettes.
Additionally, regular maintenance such as infrequent washing and using a UV filter will also contribute to keeping your balayage looking vibrant and healthy.
Color-safe shampoo options
When selecting the right shampoo for your balayage hair, opt for color-safe formulas that protect and nourish while neutralizing brassiness. Try purple and blue pigmented shampoos to counteract yellow tones in blonde or brunette locks.
Look out for UV filters and sunflower seed oil ingredients, as well as sulfate-free options. Professional brands like Olaplex No. 4 Bond Maintenance Shampoo or Paul Mitchell Tea Tree Special Shampoo are also great choices.
Color depositing shampoos can be used between salon visits to enhance the vibrancy of your balayage look.
To achieve healthy-looking results in the long term, it's important to keep up with maintenance tips. This includes washing your hair infrequently and using a heat protectant regularly. By following these guidelines, you can maintain the beauty of your balayage hair and keep it looking vibrant and fresh.
Benefits of purple shampoo
Purple shampoo is an essential part of maintaining the vibrancy and shine of your balayage hair. It neutralizes brassiness and hydrates while also strengthening and restoring damage. By utilizing purple pigments, it helps to tone down grey, light blonde, or streaked hair.
UV filters provide extra protection against color fading from harmful rays. Meanwhile, coconut oil brings a glossy finish with added nourishment for split ends. Color-depositing shampoos can be used in between salon visits to enhance tones like ash blonde or rose gold for optimal results.
With regular use, you'll be sure to keep that beautiful balayage looking its best without compromising on health.
Tips for balayage maintenance
To keep your balayage looking its best, regular touch-ups and toner applications are key to preserving the color vibrancy. Balayage care includes using a shampoo tailored to hair tones such as ash blonde, caramel, brown, or gray; UV filters for protection from radiation; and infrequent washing with sulfate-free products.
Color-depositing conditioners can be used between salon visits, while heat styling should be minimized.
How to Maintain Balayage Hair

Maintaining balayage hair can be a bit tricky, but with the right approach, it's easy to keep your color looking fabulous. To start off, select shampoo and conditioner specifically designed for color-treated or chemically treated hair, such as Matrix Brass Off Shampoo or Joico Color Balance Shampoo Blonde.
Look for UV filters in products that protect against fading and tonal changes, like Fanola No Orange Shampoo or Redken Blondage Purple shampoo, which contain coconut oil to prevent breakage and split ends.
For an extra kick of cool tones, use bluish purple shampoos like Kerastase Blond Absolu Purple, while ProVoke Blue Brunette is perfect for brunettes.
Finally, avoid heat styling too often, cover up when outdoors, and consider professional consultations from time to time.
Conclusion
With a few simple steps, you can keep your balayage hair looking its best with the right shampoo. Opt for a color-safe shampoo to maintain vibrancy and avoid brassiness. Purple and blue pigmented shampoos help neutralize brassy tones in blonde and brunette balayage hair, while UV filters protect against color fading.
Brands offer tailored shampoos for specific hair colors and tones, such as ash blonde, caramel, brown, red, rose gold, and gray balayage.
To maintain balayage, use a color-depositing shampoo or conditioner. Minimize heat styling, protect your hair from sun exposure, and avoid salt and chlorine water. Professional maintenance or at-home balayage kits, as well as online consultations with colorists, are options to help keep your balayage looking its best.
Ultimately, with the right shampoo, balayage can be easily maintained and will look beautiful for many years to come.