This site is supported by our readers. We may earn a commission, at no cost to you, if you purchase through links.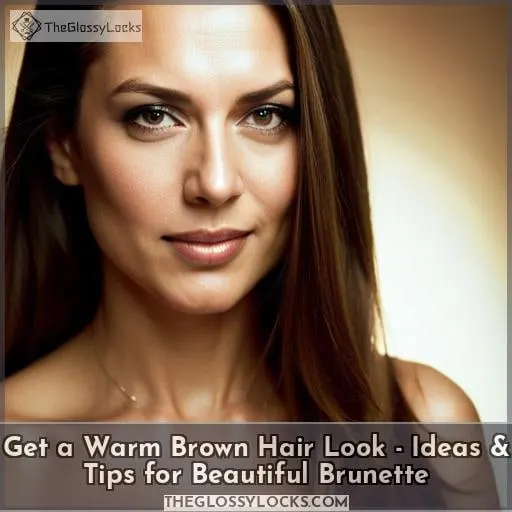 Ready to take your brunette look up a notch? If you're looking for how to get warm brown hair, you've come to the right place. There's nothing like the classic beauty of rich, warm-toned locks – and as they say: A change is as good as a holiday.
Key Takeaways
Add highlights like copper, golden, and bronde tones to enhance the base color and create depth.
Use red babylights for warmth, and baby blonde and copper highlights for dimension.
Switch to cool-toned brown to counteract brassiness and enhance warmth with copper/auburn highlights.
Try golden honey highlights for a warm, sun-kissed look and give vibrancy with babylights or copper/auburn shades.
Dye Your Hair a Warmer Shade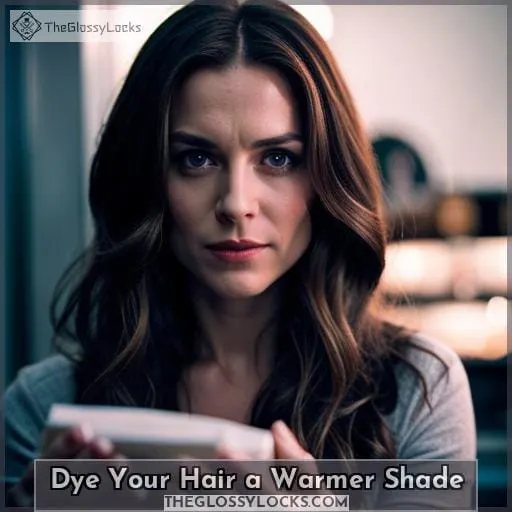 To achieve a warmer hue, you can opt for dpHUE Gloss+ to create custom colors with reddish highlights, while protecting and conditioning your hair.
Start by using a color-protecting shampoo and deep conditioner to nourish hair before dyeing. Then choose from warm undertones such as copper, caramel brown, or golden browns that will give the desired warmth.
For extra glossy treatments like balayage or babylights on select strands, are recommended for added dimension of color – be sure not to over-lighten!
Finally, limit heat tool use which causes oxidation and air dry if possible; using moisturizing products helps maintain vibrant hues in between visits at the salon.
All these tips combined help create stunning warm tones without compromising healthy locks!
Get Highlights to Enhance Base Color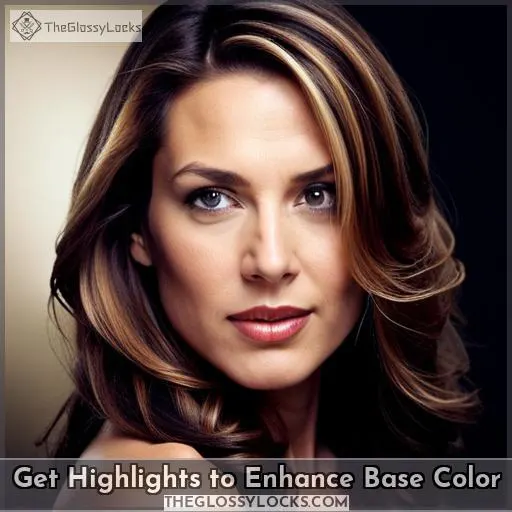 Ready to take your warm brown hair up a notch? Then why not consider adding some highlights to enhance the base color and create depth and dimension. Copper highlights will add warmth, while golden or bronde tones bring out lighter strands.
For an extra boost of vibrancy, try gloss treatments that are specially formulated for color-treated hair. Make sure you're using sulfate-free shampoos as well as deep conditioners designed specifically for neutral shades like yours.
They'll help protect against sunlight damage and keep your hue looking fresh longer.
With all these tips in mind, it's time to start experimenting with different colors until you find the perfect look!
Add Red Babylights for Warmth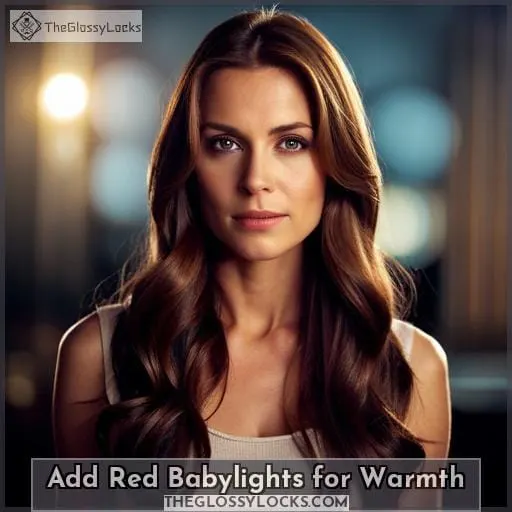 For a truly stunning look, try adding red babylights to your warm brown hair – they'll give you the ultimate sun-kissed glow! A few well-placed, baby blonde and copper highlights will create dimension while still maintaining that mahogany or bronde blondeness.
Here's how:
Visit your salon for a professional touch-up – using too much toner or highlighting at home can result in an overly bright hue.
Ask your stylist to use only enough color so as not to overpower the natural tones of your hair when coloring and/or highlighting it; this will ensure vibrancy without looking unnatural.
Leave with instructions on how best to maintain the new style by limiting heat tool use, deep conditioning regularly, and avoiding sulfates in shampooing products, which all contribute to fading over time.
With these tips, you'll have beautiful warm brown locks for months!
Maintaining Warm Brown Hair Color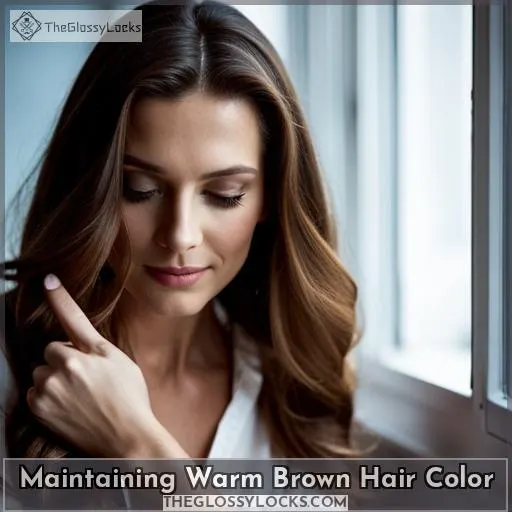 If you are looking to maintain warm brown hair color, there are a few steps that can help ensure your coloring stays vibrant and healthy. To begin with, switch to specially formulated products for color-treated hair, which will keep the hue from fading.
Additionally, protect your hair from harsh sunlight by using an umbrella or hat when outdoors in direct light.
Switch to Color-Treated Hair Products
Switching to sulfate-free, color-protecting products helps keep your warm brown hair vibrant and healthy. Color protection shampoo and conditioner help prevent fading by depositing pigment back into the cuticle.
Gloss treatments maintain vibrancy while deep conditioning prevents damage from heat styling tools or environmental aggressors.
For babylights technique, opt for ammonia-free formulas with blue or purple shampoo if you have cooler tones in your brunette hair – they neutralize any brassiness that can occur over time due to oxidation of lighter strands.
Protect Hair From Sunlight
Protect your warm brown hair from the heat of the sun with a hat or scarf to prevent fading and damage. Wrap yourself up in these accessories like a cozy blanket for an extra layer of protection, shielding you from UV rays.
To further protect your color-treated locks, use sunscreen on the exposed scalp; apply deep conditioning masks to lock in moisture; avoid brassy shades by using cool tones when dyeing hair; limit heat styling tools, which cause damage.
Use a Neutral Hair Dye
Try a neutral hair dye to add warmth and enhance your brown hue, giving you an all-over color that's both beautiful and healthy. Choose sulfate-free shampoo to keep the vibrancy of golden highlights or copper babylights intact.
Then deep condition for maximum impact. Color-safe products are recommended when blow-drying with low heat settings to avoid orange hues. Hair gloss can also be used as a finishing touch after processing time is complete for extra shine! Even when using hair dye, it's important not to forget about blow dryers and other heat tools.
Be Cautious With Heat Tools
Limit your use of heat tools when styling warm brown hair, as these can cause oxidation and result in fading over time. According to the American Academy of Dermatology, blow drying alone causes a loss of up to 40% more color intensity.
Heat-proofing products, such as mousse or serum, should be used before applying any hot tool.
Avoid bleaching or lightening agents, which will strip away the warmth from brown tones. Instead, opt for color correcting treatments like glosses that enhance and protect existing hues. Moisturizing treatments are also important. Deep conditioning is essential for maintaining vibrancy, while weekly hair masks help shield against further damage caused by heated appliances such as straighteners or curling irons.
For optimal results, always choose cool settings on heating tools and finish with cooling sprays to lock in shine and softness!
Getting Rid of Brassy Tones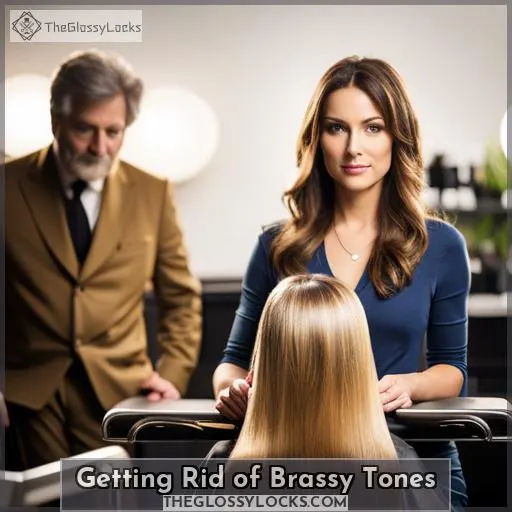 If you want to keep your warm brown hair looking fresh, there are a few steps to take. Firstly, toning with a professional hair toner can help reduce any brassiness in the color of your locks. You could also opt for blue or purple shampoo, which helps neutralize yellow tones and bring out more warmth in your brunette color.
Applying gloss treatments regularly will maintain vibrancy and make sure that it lasts longer between salon visits too! If all else fails, switching up to a cool-toned brown is always an option. However, this should be done by visiting the salon as they can ensure that you get exactly what you're after each time without taking risks at home.
Use a Hair Toner
To avoid brassy tones, use a toner like dpHUE Gloss+ to add shine and customize your shade. Try blue toners or purple shampoos for cool-toned highlights, then maintain them with gloss treatments.
Salon visits are great for intricate color jobs that require exacting application of the right tone to achieve warm brown hair without overdoing it.
With some TLC, you'll be able to get stunningly warm brown hair without compromising on quality or damaging strands – all while avoiding brassy tones!
Try Blue or Purple Toning Shampoo
For a warm, brown hue that won't become brassy over time, consider investing in blue or purple toning shampoos. These specialized products work to neutralize yellow and orange tones while adding shine – like an accessory for your hair! To get the desired results, deep condition regularly; use color-protecting shampoo; opt for gloss treatments; choose warm tones when coloring; and stick with hair toners.
Apply Gloss Treatment
Add a glossy finish to your locks with a color-protecting gloss treatment for warm brown hair. For best results, apply after babylights application and before deep conditioning to prevent oxidation.
Gloss maintenance helps keep brassy tones at bay while ensuring vibrancy of the natural hue.
Leave in for up to three minutes depending on the desired result and rinse thoroughly afterwards using cool water, as hot water can cause fading over time.
Finally, nourish locks with conditioner that is specifically designed for colored treated hair.
Switch to a Cool-Toned Brown
Switch to a cool-toned brown shade to counteract brassy tones in your hair, and enhance warmth with highlights of copper or auburn for an irresistibly sun-kissed look.
To keep brassiness at bay, use a cooling mask and opt for toning shampoos. Add ash highlights around the crown area and apply gloss treatments regularly.
For those seeking vibrant color without sacrificing softness, deep conditioning is key. Use products that are designed to reduce damage while adding shine and vibrancy.
Invest in professional help if needed. A skilled stylist will know just how much highlight is necessary before causing too much lightening!
Keep up regular maintenance with quality products specifically formulated for colored hair.
Regular Salon Visits
Regularly visiting the salon for professional touch-ups will keep your warm brown hair looking vibrant and healthy. With regular maintenance, you'll get longer-lasting color tones with fewer brassy undertones.
At home, use sulfate-free shampoos and conditioners to preserve color vibrancy between visits. The balayage technique is a great way to add low lighting without fully committing to an all-over dye job – perfect for achieving that natural sun-kissed look! Maintaining your desired shade of warm brown may require more than one visit, but with the right products and care, it can be done easily over time.
Warm Brown Hair Color Ideas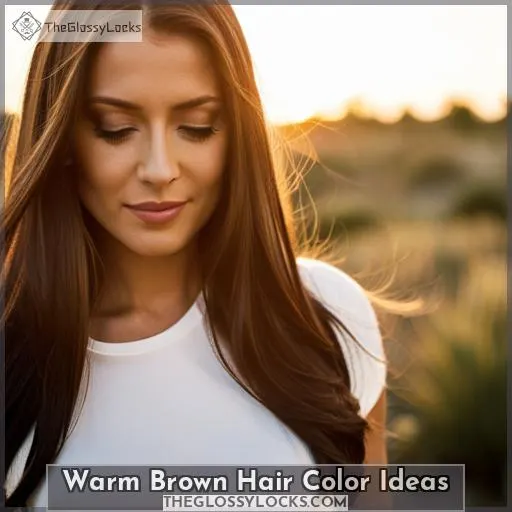 Try out golden and honey highlights to give your brunette hair a warm, sun-kissed look! Give yourself the gift of warmth with babylights for natural radiance or copper or auburn shades that instantly add vibrancy.
Keep your color protected by using sulfate-free shampoo and air drying when possible.
To maintain this gorgeous style, use gloss treatments regularly and deep condition to prevent fading. For added protection against oxidation from heat tools, opt for low heat options instead of high temperatures whenever possible.
Light browns offer subtle warmth, while medium and dark tones provide more dramatic depth.
Finally, consider adding blonde or bronze highlights for extra dimension. The possibilities are endless when it comes to having beautiful warm brown locks!
Step-by-Step Guide for Warm Brown Hair With Highlights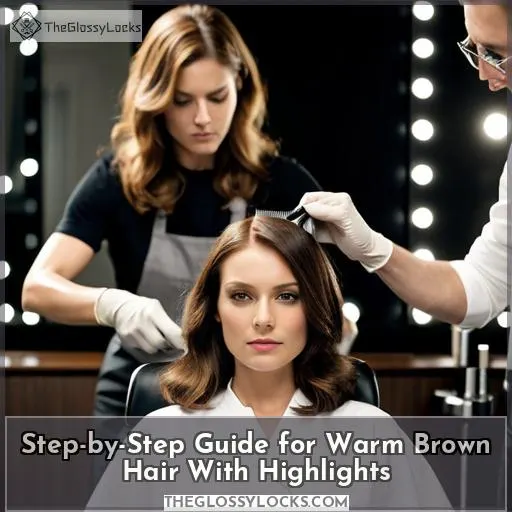 For a sun-kissed look, section your hair and apply a warm brown base for natural highlights. Then mix copper or auburn babylights to add warmth, creating golden glows that emphasize light strands.
To maintain color vibrancy and prevent fading, use sulfate-free shampoo with gloss treatments when needed. Follow up with deep conditioning to protect the hair from oxidation due to heat tool use. Air dry as much as possible and keep blowdrying at low temperature settings instead of high ones.
| Warm Brown Tones | Blonde Browns | Bronze Tones |
| --- | --- | --- |
| Chocolate | Honey | Auburn |
| Mahogany | Caramel | Copper |
The cost of this style can vary between $75-$350 depending on the type of highlights used and which salon you choose for services like balayage maintenance over all-over coloring processes – but it's worth it in order to achieve colors similar to dirty brunette or bronde tones!
The process should begin by mixing medium shades until desired results are achieved before going lighter over time if necessary – so don't be afraid to start out slow while experimenting with different mixtures till you find what works best for you!
Discover Great Deals on Warm Brown Hair Color Products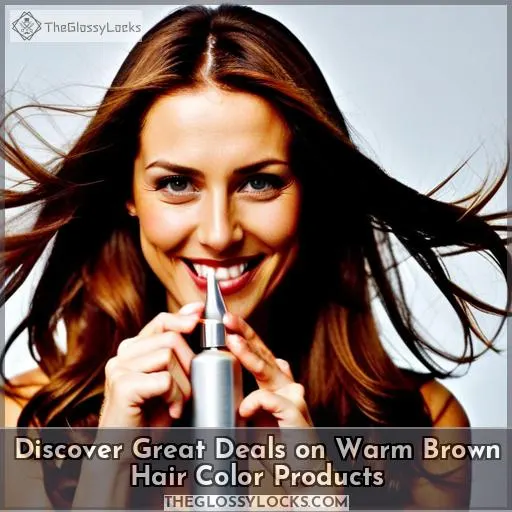 Now that you know the basics of getting warm brown hair with highlights, why not take the next step and discover great deals on color products?
From brass removal shampoos to gloss treatments specifically designed for color-treated hair, there are a range of options available.
Both cool-toned and warm-toned shades can be achieved depending on your desired results. To prevent damage from heat tools while styling, look out for sulfate-free shampoos that help maintain vibrancy in colored locks.
For those who want something more intense than just babylights or balayage techniques, opt for a professional touch. They will be able to provide intricate highlighting services tailored to your needs.
Finally, don't forget about deep conditioning treatments after any kind of coloring service.
Frequently Asked Questions (FAQs)
What warm brown shades are best for my skin tone?
To find the perfect warm brown shade for your skin tone, consider shades like chocolate, mahogany, and caramel. Rich hues of golden honey and copper auburn will also give you an ultra-flattering natural sun-kissed glow.
How often should I get highlights to maintain warm brown hair color?
Get highlights every four to six weeks, depending on your desired look. With the right products and maintenance routine, you can keep warm brown hair looking vibrant! Plus, going a shade lighter over time will give you that sun-kissed glow without having to bleach.
Is a gloss treatment necessary to maintain warm brown hair color?
Gloss treatments provide the perfect finishing touch to warm brown hair, like a glaze over a cake. They lock in color vibrancy and give your locks an extra shine boost for that show-stopping look.
What products should I use to prevent fading and brassiness?
To prevent fading and brassiness, use sulfate-free shampoo, deep condition regularly, air dry when possible, and limit heat tool use. Gloss treatments are great for locking in color vibrancy while moisturizing products help maintain the warm brown shade.
Is it better to get my warm brown highlights done professionally?
Getting warm brown highlights professionally can give you stunning, long-lasting results. An experienced stylist will use the right products and techniques to create a look tailored to your individual needs.
With professional care, your hair color will stay vibrant longer while preventing damage from over-processing or fading.
Conclusion
Beauty is in the eye of the beholder, and when it comes to hair color, warm brown hues are an excellent way to create a stunning look. With a few simple techniques, you can easily achieve warm brown hair color that will have you turning heads.
Start by dyeing your hair a slightly warmer shade, then add highlights to bring out the base color. You can use red babylights to add warmth and depth. Make sure to take protective measures to keep your warm brown hair looking vibrant and beautiful.
To get rid of any brassy tones, you can use a neutral hair dye, gloss treatments, and toners.
If you're looking for some inspiration, there are plenty of warm brown hair color ideas out there to help you find the perfect look. So don't be afraid to experiment, and you'll be sure to find a warm brown hair color that suits you perfectly.