This site is supported by our readers. We may earn a commission, at no cost to you, if you purchase through links.
Are you ready to transform your hair into something bold and beautiful? Are you uncertain of the difference between balayage and ombre, but determined to try one or both? If so, then look no further! This article will explain at last the key differences between these two amazing hair techniques.
Balayage is a coloring technique where color is painted onto the hair with a brush for an effortless transition from dark to light.
On the other hand, ombre involves more dramatic shifts in color that require prior bleaching or lightening treatments depending on your desired end result.
We'll explore all pros and cons of each style as well as how you can pick which one best suits your needs – confidence is key!
So settle in while we take an insightful journey through everything there's to know about balayage versus ombre styles today!
Key Takeaways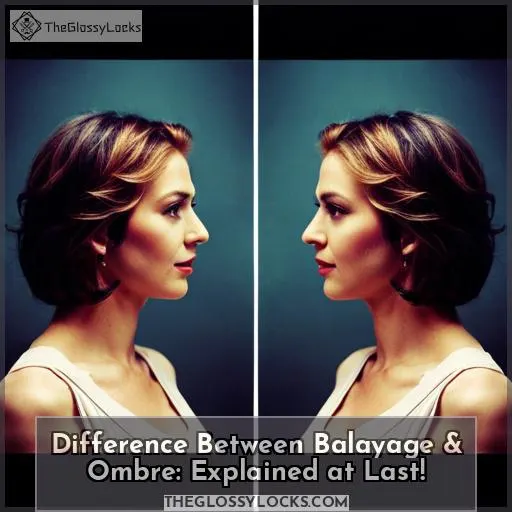 Balayage involves hand-painting color onto the hair for a natural transition from dark to light, while ombre creates a two-toned effect with darker hair on top gradually getting lighter towards the ends.
Balayage is low-maintenance and grows out easily, while ombre requires a two-step process and regular root touch-ups.
Balayage adds volume and vibrancy to the hair, while ombre provides multidimensional tones and natural movement.
Balayage suits blondes, redheads, and brown hair, while ombre is suitable for almost any hair type, length, or skin tone.
What is Balayage?

Balayage is a hand-painting technique that creates a natural, multidimensional look with stunning results. It can be used on almost any hair type, length, and skin tone and looks great on all colors.
Technique
You can achieve that sun-kissed look with the hand-painting technique of balayage – it's a low-maintenance way to add natural dimension and volume. Perfect for almost any hair type, length, or skin tone, balayage is customizable in various colors without lightening or bleaching.
Look
You'll love the natural, multidimensional tones of balayage – a look that will have you radiating with confidence! Perfect for low-maintenance styling and high-end products, this style is suitable for almost any hair type or color.
With its dramatic effect, it adds natural movement to locks while avoiding ombre styles like color melt or shadow root.
Suitable For
No matter your hair type, length, or skin tone, balayage is a great way to bring out the best in you! Customizing this gorgeous hair trend for blondes, redheads, and brunettes involves color blending and low maintenance tips.
Color choices range from ombre-style blends to natural colors that give off sun-kissed vibes of balayage.
Can Be Done on Any Hair Color
Try the balayage look to add stunning dimension and color to any hair hue! This low-maintenance style is perfect for striking blondes, customizable blending of darker strands with lighter ends, bleach-free highlights.
Makes Hair Appear More Voluminous
Adding balayage to your hair can make it appear up to 25% more voluminous, giving you a fun and flirty look. With natural movement and low maintenance, this customizable style is perfect for all hair types, lengths, and colors; from subtle highlights to high-contrast looks.
Can Be Done at Home
With the right kits and instructions, you can easily DIY your balayage project at home! Customizing hair with a colorist's hand-painted highlights for a natural effect is easier than ever. Dyeing techniques such as ombre or balayage allow for adding highlights without bleach, while maintaining the desired color.
What is Ombré?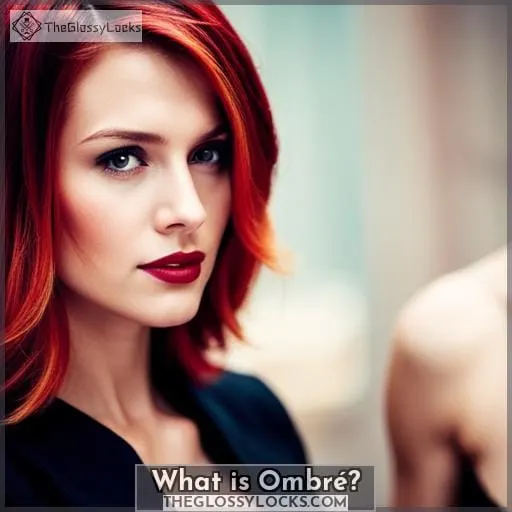 Ombre is a dramatic two-toned effect that starts with the hair darker on top and gradually gets lighter at the ends. It requires lightening or bleaching, as well as a two-step process involving dyeing the hair with an all-over base color.
Style
You can create a dramatic, two-toned effect that will turn heads with the simple art of ombré. Use maintenance such as root touch-ups and deep conditioning masks to maintain a subtle look and hair health.
Color depositing pigments provide impressive delivery without the use of bleach for band-like effects like the balayage guide suggests.
Look
Experience the beauty of two-toned hair that gradually lightens from top to bottom, creating a stunning effect. Ombré is an ideal choice for those who want multidimensional tones and natural movement in their look with minimal upkeep.
Hair experts agree it's easy to grow out and maintain color, making it a great option for most people. The good news? It doesn't require bleach! Even better, you can customize the look so it blends perfectly with your own hair color – making ombré the right choice every time.
Suitable For
Ombré is a great choice for almost everyone, regardless of your hair type, length, or skin tone. It's low-maintenance and easy to grow out with no visible roots. Plus, you can customize the color to blend in perfectly with natural hair! For those with curly locks, it gives an even better effect than balayage – creating a sun-kissed look that's unique and eye-catching.
Can Be Done With Various Colors
Discover the beauty of adding various colors to your look with ombre! Choose from caramel highlights, blonde streaks, and even a reddish hue for a subtle contrast. If you want something bolder, try blonde money pieces or add depth to your natural base.
Maintenance is easy with hair care tips like purple shampoo and regular root touch-ups.
Requires Lightening or Bleaching
You'll need to lighten or bleach your hair for a dramatic two-toned effect with ombre, so get ready to be bold! It requires bleaching the lower portion of hair and involves a two-step process. Benefits include: 1) more vibrant color blending; 2) highlighting technique creates depth and dimension; 3) maintenance tips help maintain healthy hair.
Two-step Process
To achieve the dramatic, two-toned effect of ombre, you'll need to go through a two-step process that involves dyeing your hair with an all-over base color. To protect its health and longevity, utilize upkeep tips like protective styles and color care products.
What Are the Pros and Cons of Balayage?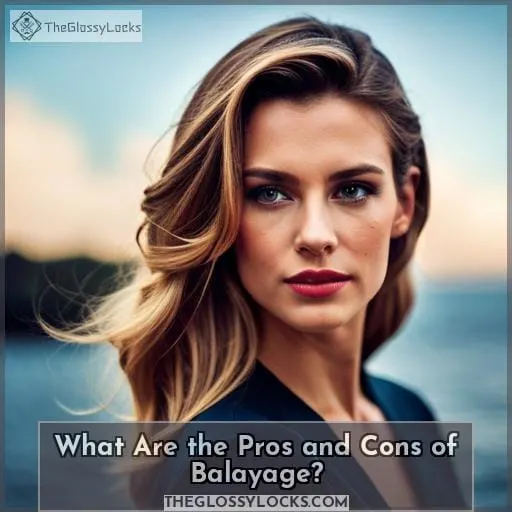 Transitioning from Ombré to Balayage, let's explore the pros and cons of this low-maintenance lightening process. With balayage, highlights are painted onto the hair for a natural look that is stunning on blondes, redheads, and brown hair alike.
It's customizable too – blending with your natural locks for an effortless dimensional look.
Another bonus is that purple shampoo helps keep your color bright while nourishing your fast-growing tresses at the same time.
But even professional hairstylists like Justin Toves-Vincilione know there are some drawbacks; namely, if not done properly, it can damage or discolor delicate strands.
So whether it's ombre or balayage that catches your eye, rest assured both styles will deliver beautiful effects with minimal upkeep required, making them ideal choices when searching for new ways to style up one's crowning glory!
What Are the Pros and Cons of Ombré?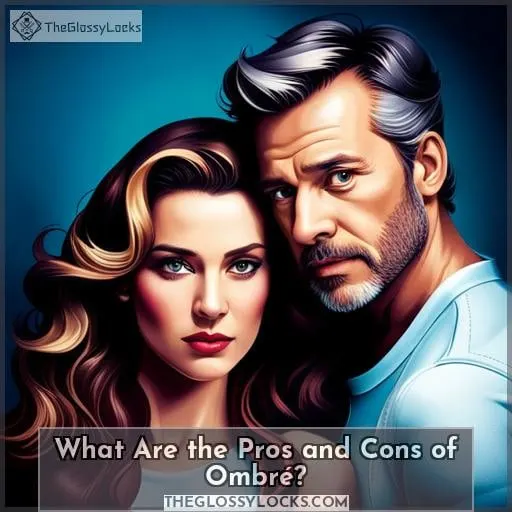 You can make a dramatic two-toned statement with ombré hair coloring, but it requires lightening or bleaching the lower portion of your locks and may require more frequent trimmings. With ombré style, you gradually lighten your hair from top to bottom for a natural-looking effect that is usually darker on top and lighter on the ends.
To avoid risks associated with balayage, you should always consult with an experienced colorist before starting any kind of hair coloring journey. It's also important to use color-safe hair care products to maintain healthy strands while achieving desired results.
The customization options available are vast too; whether it's one particular shade all over or basic types of highlight application like ombré – there's something for everyone! The only real downside is that if done improperly, a harsh ring of color can occur towards the root area, which will take time (and money) to fix correctly by a good colorist.
How to Pick the Right One for You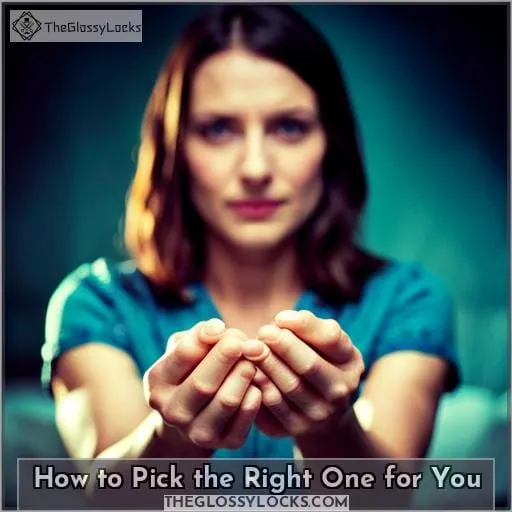 Deciding between balayage and ombre hair coloring can be daunting. However, with knowledge of the key differences between these similar techniques, you can trust your instincts to make an informed decision on which style best suits you.
Similar Techniques
Similar to ombré, balayage is a popular hair coloring technique that involves hand-painting highlights onto the locks for a multidimensional look. It's suitable for almost every hair type and length and can be customized to blend with your natural color.
The best part? You don't need bleach – just creative colors! This style is low-maintenance too as it requires less root maintenance than usual dyeing methods.
Balayage looks particularly stunning on blondes, redheads, and brown hairs but can also be done in other hues such as purple or blue depending on the desired effect.
To protect from too much sun exposure, use specially formulated shampoos with color depositing pigments.
Confidence is Key
No matter your hair color or style, having confidence in yourself is the best accessory you can rock! Take risks and invest time into finding the look that makes you feel beautiful.
Be patient with yourself as it may take a few tries before discovering exactly what works for your individual needs.
Whether it's a daring cut or an unexpected color combination, if it feels right then go for it – just remember to keep an open mind while exploring all possibilities so not even sky-high expectations can stand in the way of being uniquely stylishly confident!
Which One is More Damaging for Your Hair?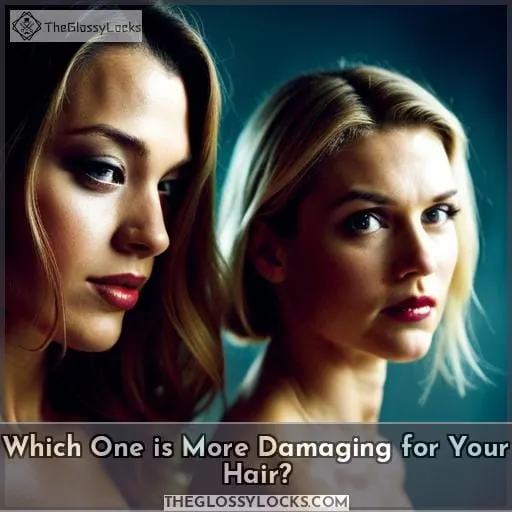 When it comes to long-term hair health, one must consider if balayage or ombre is more damaging – a question worth exploring.
Balayage may be easier and less torturous for your locks as the process involves hand painting highlights, which are usually done without bleach. This style also requires fewer touch-ups than ombre, resulting in less damage to the hair's surface over time.
On the other hand, ombre has no choice but to involve bleaching parts of your strands in order for it to keep its two-toned effect – something that can lead to significant damage when not handled correctly or executed by an experienced professional who knows what they're doing.
Keeping color fresh with regular trims and using deep conditioning masks plus purple shampoo can help maintain healthy-looking tresses while avoiding any unnecessary damage from both techniques.
Ultimately, whatever choice you make between these two styles will come down largely upon what color choices suit best with your complexion.
How Long Do These Styles Last?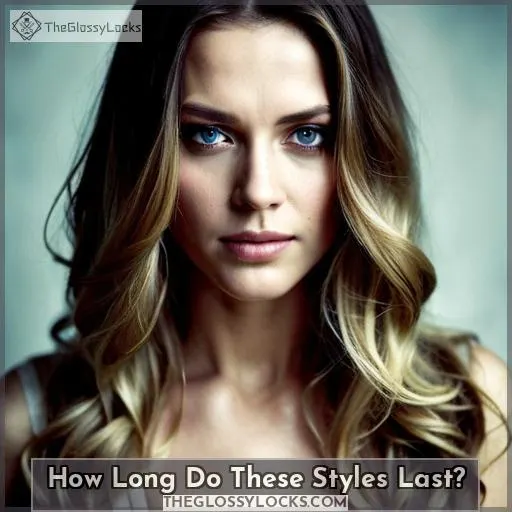 You may be wondering how long these two signature looks last – balayage and ombre. Depending on the hair type, lifestyle, and maintenance routine of each individual, they can both remain vibrant for months at a time.
When it comes to maintaining color vibrancy and hair health, there are several factors to consider. Regular trims or deep conditioning treatments with purple shampoo can help. Color choices also play an important role in deciding which look is best suited to you.
You can choose natural-looking highlights that blend well with your base tone via balayage or opt for more dramatic hues achieved by ombre's lightening process.
No matter what style you opt for, whether blondes find themselves considering caramel tones or redheads looking into copper shimmers, both styles can stay intact without frequent touch-ups! Ultimately, though, it all comes down to the commitment level of properly taking care of one's mane before making a final decision between either choice.
The Final Takeaway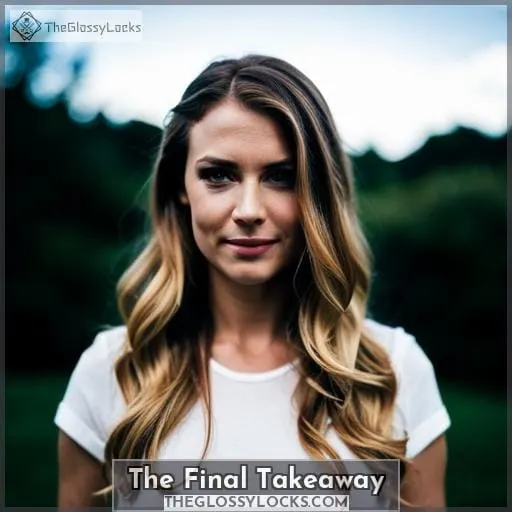 Ultimately, both balayage and ombre hair styles can last for up to four months with proper care and maintenance – so you can enjoy your mane journey without frequent touch-ups!
Balayage offers a natural look with multidimensional tones that are easy to grow out, low-maintenance, and customizable.
Ombre is the perfect match if you want something more dramatic for a two-toned effect. Lightening or bleaching the lower portion of the hair creates this look, which looks great on straight locks while adding natural movement.
Damage prevention should be taken seriously as lightening or bleaching can potentially harm your tresses if not done properly.
With either style, volumizing effects are achievable when done correctly by an experienced professional hairdresser who will choose colors that blend perfectly with your base tone in order to create stunning results that suit any hair type, length, or skin tone – giving you liberation from regular touch-ups!
Frequently Asked Questions (FAQs)
What is the best hair product to use for balayage and ombre hair?
Looking for a product to help you achieve that beautiful balayage or ombre hair? Look no further than Kerastase Blond Absolu Purple Shampoo. It will keep highlights from turning brassy, add violet-grey hues, and maintain your locks' luster.
Are balayage and ombre hair styles suitable for all hair types?
Yes! Balayage and ombre styles are suitable for all hair types. Whether you have straight or curly, light or dark locks, these techniques can be tailored to create a stunning look that enhances your natural beauty.
With the right products and care, both balayage and ombre offer versatile looks with timeless appeal.
How often should balayage and ombre hair be touched up?
Touch up balayage and ombre hair to keep the look fresh and vibrant. Depending on how quickly your hair grows, you may need a salon visit every 4-8 weeks for upkeep. Regular deep conditioning treatments can help maintain color between appointments.
How much does a balayage or ombre hair color typically cost?
The cost of a balayage or ombre hair color varies widely, depending on the salon and stylist. Generally, it's more expensive than traditional highlights but less costly than all-over bleaching.
How can I maintain the vibrancy and health of my balayage or ombre hair?
To maintain the vibrancy and health of your balayage or ombre hair, use a deep conditioning mask regularly to nourish strands. Also, use a purple shampoo every few washes to reduce brassiness and keep colors vibrant.
Conclusion
You may have been undecided about choosing between balayage and ombre hair, but now you have all the information to make an informed decision. You can confidently select the one that best suits your style, hair type, and desired look.
Whether you choose balayage for its natural, multi-dimensional tones or opt for the dramatic, two-toned effect that ombre provides, you will surely surprise and delight everyone with your new look. Remember, confidence is crucial for any style, so don't forget to proudly flaunt your new look.