This site is supported by our readers. We may earn a commission, at no cost to you, if you purchase through links.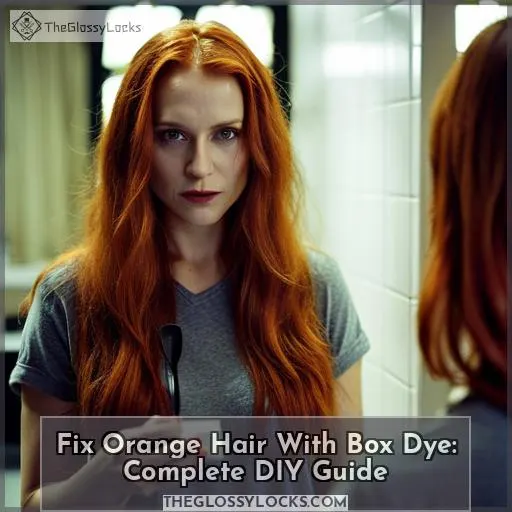 Ready to fix your orange hair? Every year, thousands of women spend hundreds of dollars on fixing their brassy tones caused by bleaching. If you're looking for a quick DIY solution and don't want to break the bank, box dye might be the answer.
In this article, we will show you how to effectively use box dye for this purpose – from selecting the right shade all the way through application – so keep reading if you are ready to take control over those annoying brassiness!
Key Takeaways
Use ash shades and blue/purple dyes to neutralize brassiness and orange tones.
Opt for permanent ash or blue/purple-based dye to eliminate brassiness in blonde hair.
Avoid warm dyes to prevent unwanted yellow/red undertones.
Prep hair by conditioning before applying dye.
Why Does Hair Turn Orange or Brassy After Bleaching?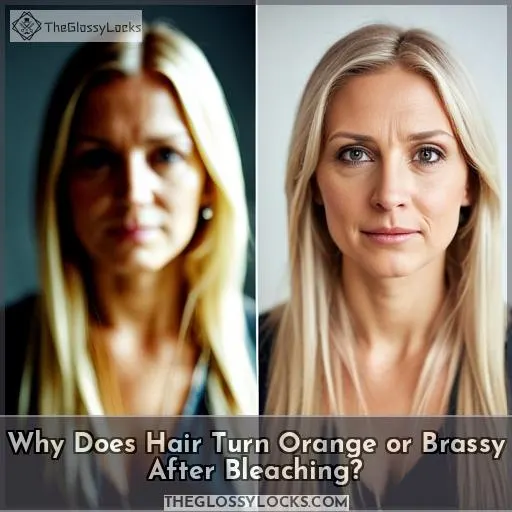 When bleaching your hair, you need to be aware that it can turn orange or brassy if not done properly.
To avoid this issue, start by understanding the color wheel. Warmer colors like reds and oranges will interact with each other on the wheel, while cooler tones such as blues and purples will neutralize them.
In order to eliminate any brassy tones when bleaching blonde hair, opt for a permanent dye in an ash shade or one with a blue/purple base. Both of these options contain pigments designed to cancel out warm hues in small sections of your strands.
For more dramatic changes that last longer than semi-permanent options, consider using demi-permanent dyes. They require lower developer levels but still provide even coverage without bleeding into other areas of your head, unlike some semi-permanent ones do at times.
Additionally, look into getting glosses applied after coloring as these give off extra shine along with toning down brassiness even further thanks to their conditioning properties.
And finally, refrain from overstyling by avoiding hot tools too often so you maintain cool tints throughout.
How to Fix Orange Hair With Box Dye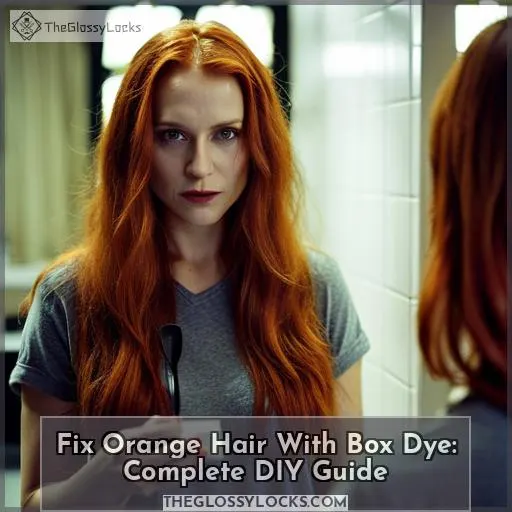 If you're looking to fix orange hair with box dye, understanding the complementary colors and which ash dye is best for your desired level will be key. Depending on how many shades of orange need neutralizing, you may need one or multiple boxes of color in order to achieve a more natural-looking result.
So let's delve into this topic further and discuss these aspects in more detail.
Complementary Colors
You can use complementary colors to enhance your hair's vibrancy and get rid of any undesirable brassiness! According to color theory, cool colors—like blue, purple, and dark ash blonde—can help cancel out warm oranges for a perfect blend.
To apply this knowledge, look for products that contain these pigments or base dyes. For example, Revlon ColorSilk Hair Color with its 3D Color Gel Technology or Ion 9A Very Light Ash Blonde Cream that provides 100% gray coverage and up to 38% less ammonia than leading professional brands.
When it comes time to rinse off the product from your hair, you'll be pleased with the results of neutralized orange tones along with added shine.
And if you're looking for something more permanent yet still gentle on your locks, try Schwarzkopf Keratin Color. It is designed not only to cover grays but also to repair the inner hair structure before coloring instead of after.
With all these options available at varying levels of commitment (and expense), you can rest assured knowing you have plenty of choices when solving brassy-orange dilemmas!
Which Ash Dye Should You Use?
To instantly neutralize orange tones in your hair, identify the level of warmth to select an ash shade that will cancel it out.
Dark orange needs dark ash blonde.
Medium orange needs medium ash.
Light orange needs light ash.
Choose a box dye with a blue or purple base and check the numbers – #1 is ashy – to effectively remove brassy-orange hues from your tresses!
Ashy browns fully neutralize while ashy blondes work without excessive darkening. Avoid warm dyes, however, so you don't end up with unwanted yellow or red undertones instead.
To maintain cool tones throughout the year and prevent brassiness, use color-safe shampoos like sulfate-free options for colored hair.
With all these tips, you can guarantee happy results every time!
How Many Boxes of Color Do I Need?
For a full head of color, you'll likely need two boxes of hair dye to ensure even coverage – just like matching socks when getting dressed!
Permanent and demi-permanent dyes penetrate the hair shaft for lasting results.
Semi-permanent dyes act as conditioners with less dramatic changes.
When fixing orange hair, choose a box dye with a blue or purple base that can neutralize warm tones without oversaturating.
Follow the instructions exactly and avoid using too much heat on your tresses afterward to keep the hues cool for longer periods of time.
| Color treated Hair | Demi-Permanent Dye |
| --- | --- |
| UV Defense | Penetrates Hair Shaft |
| Long Lasting Results | Low Developer |
What Color to Dye Over Orange Hair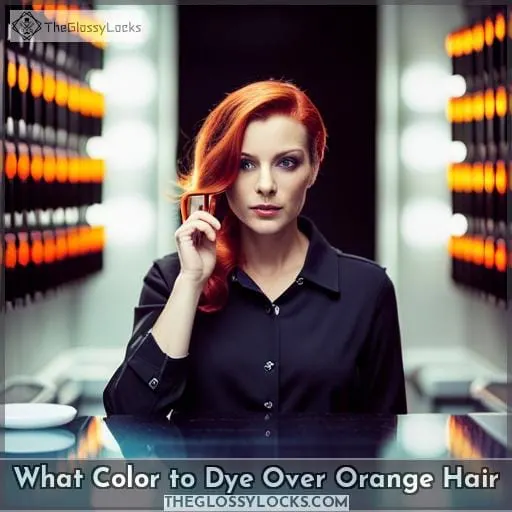 If you're looking to fix orange hair with box dye, understanding the complementary colors is key. Black dyes can cover up orange tones, while red and brown dyes are best used when only a small amount of color correction is needed.
Ash-toned shades generally work well for neutralizing the most common hues of orange – light, medium, or dark – but it's important to choose the right shade intensity in order to avoid oversaturating your hair.
Black
Black hair dye can be a great choice for orange hair, as it'll fully neutralize the warm tones. The best option is to use a black box dye with cool water and shades of brown pigments included in its formula.
This ensures that the color will last longer without fading or turning brassy over time.
Here are three benefits of using this shade:
It provides long-lasting results, so you don't have to worry about your color changing anytime soon.
It helps reduce brassiness and keeps your locks looking vibrant.
It offers complete coverage for stubborn areas such as roots and greys.
Adopting black box dye could be an ideal fix if you're looking to get rid of those undesired orange hues from your mane!
Red
Red has the power to be your ultimate savior, transforming orange hair into a gorgeous shade that will leave everyone stunned. To achieve this drastic change of color without any brassy orange hues, layer petroleum jelly across your forehead and ears before applying permanent box dye.
Choose the right color for you – if it's too light or dark than desired, add highlights or lowlights to create an even look.
For all-over coverage with no damage done, use ammonia-free dyes that contain blue/purple base pigments, which can neutralize warm tones and protect from UV rays.
Brown
To achieve stunning, glossy brown hair without any trace of orange tones, grab a box dye with blue/purple base pigments and go to town. Prep the space in old clothes and gather an applicator brush, dye kit, and the desired shade.
Mix the color according to the instructions for your hair type; if it's too light or dark, add darker shade highlights/lowlights. Apply it evenly with the brush – avoid oversaturating! Rinse it until it's clear, then condition the hair's inner structure for long-lasting results.
Ash
Transform your orange hair to an ashy cool shade in no time with the right blue-based dye!
Light Ash Blonde
Medium Ash Blonde
Ash Shade
Cool Blue Pigments
Achieve luminous, fade-resistant color and gray coverage with a light ash blonde permanent dye. Enjoy natural, multi-tonal shades that provide excellent results for medium ash blondes – plus vibrant colors from cool blue pigments.
Fixing Orange Hair With Box Dye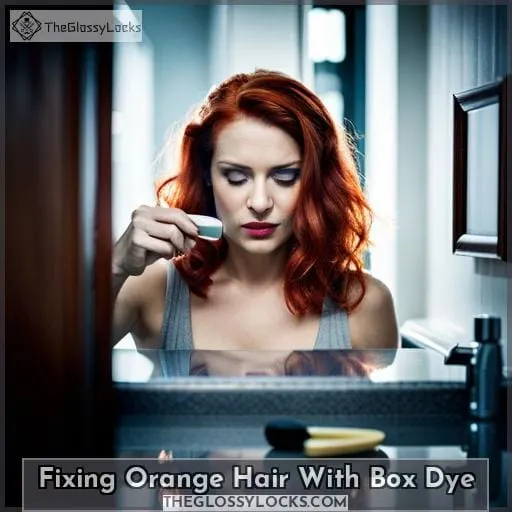 Before beginning to fix orange hair with box dye, it is important to ensure proper preparation. Gather the right materials and prepare a space that will be suitable for the application of color. Once ready, apply the product according to the instructions on the package before processing for the amount of time stated in the directions.
Step 1: Preparation
Before you begin fixing your hair with box dye, prepare yourself for the task ahead: put on some old clothes and gather a bowl, tint brush, protective gloves, and an old towel. Next, make sure to use a color-safe conditioner before applying the dye to ensure that you don't end up with unflattering orange tones.
When selecting your shade of brown, choose one that is slightly lighter than the final color desired as it will appear darker when applied.
Step 2: Application
Apply the dye to your hair with a tint brush, taking care to avoid dripping and using an even amount throughout. Choose a light-colored hair dye for DIY coloring and opt for neutral shades. Blue shampoo can help tone down any orange hues.
For light blonde hair, use ash or cool toned dyes that contain blue pigment – level #1 is usually the best choice. Ensure you evenly spread it around before rinsing thoroughly until water runs clear.
Keep in mind that oversaturating or selecting warm tones may result in unwanted brassiness, so take extra precaution when choosing colors for optimal results!
Step 3: Processing
Allow processing time to take its course, ensuring the dye's color is set and your hair looks perfect.
To ensure a smooth finish and long-lasting results, use conditioning products with silk amino acids that seal in moisture.
If you have light-orange hair or blonde tones, choose blue or ash toned dyes for neutralizing warm undertones.
For maximum impact, opt for permanent dyes which penetrate deeper into each strand of hair than demi-permanent colors. They also infuse extra nourishment from lighteners containing hydrating ingredients such as honey extract and argan oil.
Colorful shampoo specifically designed to refresh cool hues can also be used on lighter shades of orangey blondes to revive their brilliance between coloring sessions!
Step 4: Rinse and Condition
Once you're done processing, take the time to rinse and condition your hair for perfect results:
Use a nourishing shampoo with silk amino acids to seal in moisture.
For light orange or blonde tones, opt for semi-permanent box dye with blue or ash pigments.
Achieve an even neutral blonde hue without excessive darkening using super blue hair color products.
Try purple shampoos to tone down yellow and orange hues in lighter shades of blondes.
Refresh cool colors periodically using colorful shampoos designed specifically for this purpose!
To ensure vibrant locks that last long, use conditioning treatments enriched with hydrating ingredients such as honey extract and argan oil while avoiding heat styling tools like blow dryers as much as possible!
Box Dye Can Help Fix Your Unwanted Orange Hair

You can neutralize orange hair with the right box dye, giving you a luminous color that lasts. For brassy results, choose a blue-based dye to cancel out your orange locks. Ashy and cool tones contain blue pigments, so check for numbers 1 as an indication of ashiness.
Red dyes with both purple and blue bases also work well in removing unwanted warmth from your tresses, while black may be used but is difficult to remove if it's not what you wanted or expected.
If you're looking for something more natural, ashy browns will fully neutralize any warm tones while still providing good coverage without too much darkening.
| Dye | Natural Color? | Coverage & Tone? |
| --- | --- | --- |
1 Schwarzkopf Keratin Color Yes Long lasting up to 80% less breakage
2 Revlon Colorsilk Haircolor No Multidimensional color w/ shine
3 Wella Color Charm No Excellent gray coverage
4 Loreal Preference Yes Luminous fade defying colour
5 Ion Hair Colour Yes Up to 38% less ammonia
How to Get Rid of Brassy Hair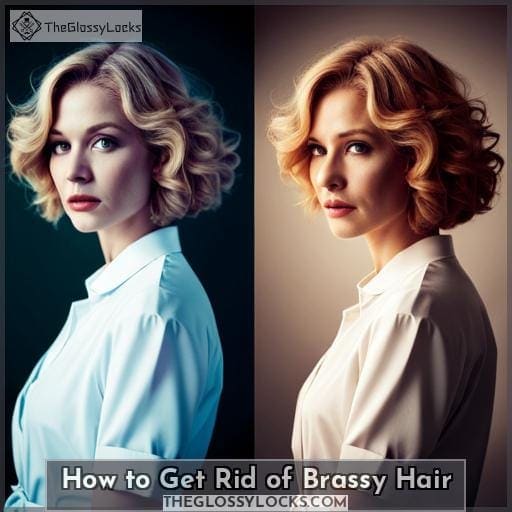 To get rid of brassy hair, try using blue or purple shampoos, which deposit pigments to neutralize warm tones and add vibrancy and shine.
Schwarzkopf Keratin Color – repairs the inner hair structure while coating it with K·Bond-Plex for up to 80% less breakage.
Revlon Colorsilk Haircolor – provides multidimensional color with UV defense and fewer grays.
Wella Color Charm – excellent gray coverage that removes brassiness and orange tones from hair.
Loreal Preference – luminous fade-defying color for up to 6 weeks in over 50 shades.
Ion Hair Colour – gentle formula free of PPD, enriched with Hyaluronic Acid, Argan Oil & Pequi Oil, providing 100% gray coverage & 38% less ammonia than leading professional brands.
When choosing a box dye shade, it's important to consider the level of melanin pigments within the color, as well as complementary colors that will cancel out any unwanted warmth in your tresses. This will result in vibrant, natural-looking results that you'll love! Try ash blonde when wanting a more subtle approach or darker hues such as browns if you're after something bolder without excessive darkening.
How to Prevent Brassy, Orange Hair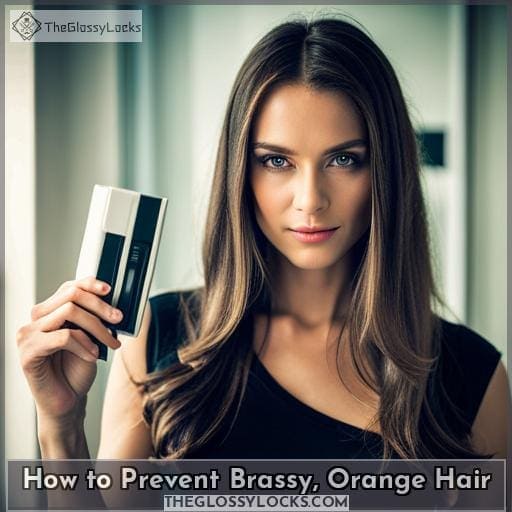 Are you trying to prevent brassy, orange hair? With the right cleansing system and by avoiding hot tools, it is possible to fix your orange hair with box dye.
Use the Right Cleansing System
To maintain your hair color and keep brassy, orange tones at bay, use a cleansing system specifically designed for color-treated hair. A range of shampoos, conditioners, and treatments are available that can help protect against fading while nourishing the scalp.
The right products will provide long-lasting vibrancy to newly colored locks without compromising on moisture or shine.
| Product | Benefits |
| --- | --- |
| Sulfate-Free Shampoo | Prevents brassiness with added hydration & UV protection |
| Hair Gloss | Enhances tone & shine while conditioning |
| Blue/Purple Based Dyes | Cancels out orange undertones |
Ashy shades contain blue pigment, which is perfect for canceling out any unwanted warmth in blonde tresses, but be careful not to oversaturate it! Brown pigments fully neutralize even more so than ash blondes – just make sure you choose the right shade when using a new box of dye as black may cover too much yet prove difficult to remove later down the line.
Lastly, don't forget about blue shampoos – they contain pigments that effectively counterbalance yellowish or reddish hues resulting from oxidation caused by sun exposure over time! Investing in quality products now ensures beautiful results tomorrow – take care of those gorgeous orange locks today!
Skip the Hot Tools
Avoid using hot tools to help keep your hair color vibrant and true, as they can quickly undo all the hard work you've put in.
For brunette hair, invest in a good quality hair gloss that will enhance tone and shine while conditioning.
If you have dark-orange or red tones due to oxidation from sun exposure over time, use blue or purple based dyes specifically designed to neutralize those unwanted orange tones.
Choose the right shade for your desired look. For example, if you want an ash blonde look, opt for a #1 specific shade of dye which contains more blue pigment than other shades—just be careful not to oversaturate it!
Finally, take care of those gorgeous locks by investing in quality products now so that tomorrow's results are beautiful!
How to Use Toner for Orange Hair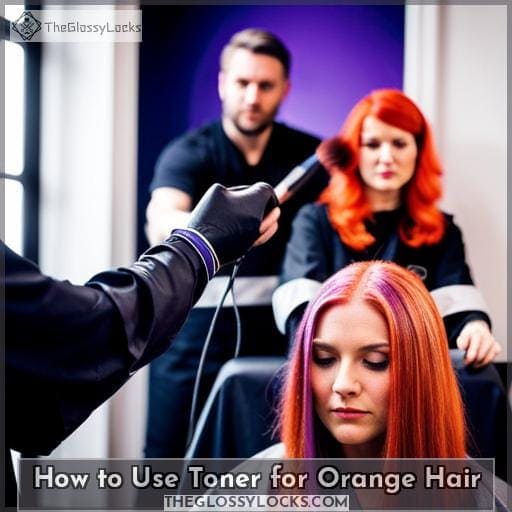 If orange hair is becoming an issue, there are a few in-salon and at-home treatments to consider. A salon toner can quickly neutralize orange hues, while a hair gloss can add shine and help tone the color.
Purple shampoo works well for blondes or lighter-colored locks, while using a hydrating mask can also reduce brassiness in darker shades of hair.
In-Salon Toner
Discover the beauty of a salon toner to take your hair from orange and brassy to beautiful and vibrant. The direct opposite of orange is blue, so when selecting a dye for medium-orange hair, go with an ash shade that contains blue pigment.
Check the numbers on the box – #1 is ashy – or use a red dye with a purple/blue base for best results.
A professional toner quickly neutralizes any brassy problems while keeping color true. Glosses enhance shine, tone, and conditioning too! Refresh regularly at salons – this will help maintain cool tones while avoiding those pesky brassiness issues associated with warmer shades.
Hair Gloss
Try a hair gloss to keep your color looking vibrant and maintain cool tones, while avoiding brassy results. It deep conditions and enhances shine, tone, and color with brown pigments that neutralize warm hues in orange hair.
Use the right shade of ash based on your hair's level chart – #1 is ashy – for best results.
Purple Shampoo
With purple shampoo, neutralize orange and red tones in blonde, silver, or light hair for a cool-toned look. Avoid harsh ingredients that could damage your locks. Choose the right dye's shade with brown pigments to cancel out orange tones and yellow pigments to tone down any brassy yellows.
For maximum color payoff, use twice a week, then switch back to sulfate-free shampoo afterwards for best results! Keep your mane looking its finest by using purple shampoo regularly.
Hair Mask
Revitalize your hair with a nourishing and color-correcting hair mask to keep those orange tones at bay. Use complementary colors like yellow pigments in the mask to tone down any brassy yellows.
A great way to get long-lasting, natural-looking results is by using an ash-based dye that contains blue pigment or purple shampoo, which deposits pigments to neutralize warm tones.
Keep your mane happy and healthy. It's the only surefire way to ensure you don't have another orange disaster on hand!
What Color Cancels Out Orange Hair?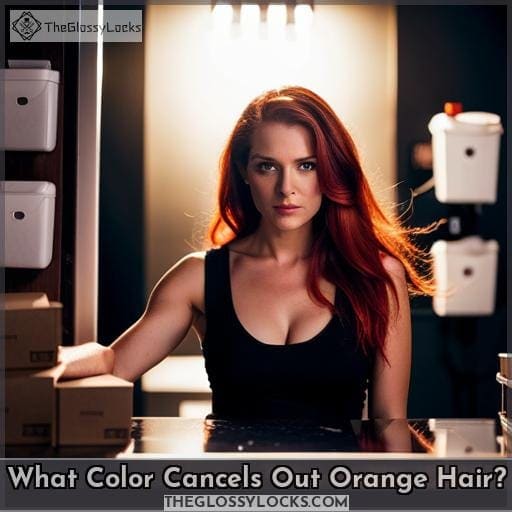 Cancel out orange hair with a blue- or purple-based dye to restore your natural shade. A quick box dye option is to select a color that has both the desired level and undertone. The right ash shade can neutralize any unwanted tones in the orange hue, so look for numbers on the packaging – #1 is ashy.
Red dyes with blue and/or purple bases are particularly effective against oranges, but you should avoid oversaturating your hair if using this method as it could lead to darkening of strands without completely removing any yellow pigments from them.
For those looking for more subtle changes, an ash blonde works well without excessive darkening occurring because its complementary colors will cancel out each other's hues quickly and easily while still providing great results! It's important not to use warm dyes when trying to effectively remove orange tones; they won't be able to reduce brassiness like blues or purples do! Additionally, black might cover up some of the undesired color initially but can be hard later on down the line when wanting to get rid of it entirely again at home.
Ashy browns fully neutralize all traces of warmth
Blue shampoo contains pigments which help tone away redness & unwanted oranges
Purple shampoos work best in light blondes where yellows need toning down
What You Need to Know Before Fixing Orange Hair With Box Dye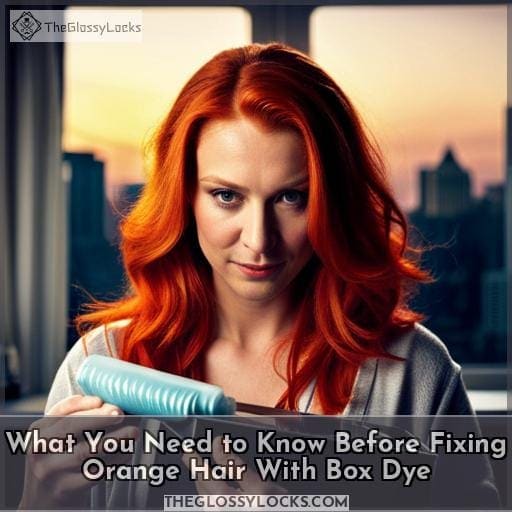 Fixing orange hair with box dye is a great way to get instant results without having to go through the hassle of making an appointment at a salon. Before you begin, it's important to know what type of melanin your hair contains and understand how complementary colors can help neutralize unwanted tones in order for you to achieve the desired outcome.
Additionally, it's essential that you select a color which has both the desired level and undertone.
When looking for products that offer quick fixes, Schwarzkopf Keratin Color 7.1 Dark Ash Blonde Permanent Hair Color Cream is perfect for long-lasting color with up to 80% less hair breakage. Revlon ColorSilk Hair Color offers natural multi-tonal coloring as well as UV defense from fading due to its 3D Gel Technology formula.
Wella's Charm Permanent Liquid Haircolor helps cover grays while also removing brassiness or oranges from strands.
These products all provide different solutions depending on individual needs but one thing remains true: selecting blue/purple based dye should always be taken into consideration when wanting maximum coverage against undesired warm hues such as yellows/oranges found within our manes! The right ash shade can make all the difference between dull locks full of warmth versus vibrant tresses free from brassy tones – so don't forget about those numbers on packaging either (as #1 usually indicates an ashier tone).
To maintain these cool colors afterwards, however, requires limiting washing cycles & avoiding excessive heat usage along with deep conditioning treatments. It's also important to use sulfate-free shampoos designed specifically towards protecting colored treated hair.
Frequently Asked Questions (FAQs)
How Long Does it Take to Fix Orange Hair With Box Dye?
Depending on the product and your hair type, it can take anywhere from 15 minutes to an hour to fix orange hair with box dye. Choose a quality color and follow the instructions for the best results! With proper application, you'll have beautiful tones that last up to 6 weeks.
Can I Achieve Professional-Level Results With Box Dye?
With the right dye, box color can produce professional-level results. Choose a cool shade with blue undertones to neutralize orange hair. Follow instructions carefully and use sulfate-free shampoos for color-treated hair to protect from fading and brassiness.
What is the Most Effective Way to Neutralize Orange Hair?
Choose an ash shade that matches your hair level: dark for dark orange, medium for medium, light for light. Then, use a blue-based dye to neutralize the warm tones and keep brassiness away with sulfate-free shampoo.
Refresh the color regularly to stay cool-toned or use a salon toner and purple/blue shampoos if needed.
Can I Use Box Dye if My Hair is Already Dyed?
Yes, you can use box dye to touch up an existing color. Be sure to select a shade that complements your current hue – otherwise, it could end in disaster! Mixing and matching tones with an anachronistic flair is the key to success here.
Select one that's slightly darker or lighter than your current color, then apply as directed.
Are There Any Risks Involved With Using Box Dye on Orange Hair?
Using box dye on orange hair can be risky, as it may leave you with a dull, uneven color. Ashy or cool shades are best for neutralizing warm tones – but use carefully to avoid oversaturating. Permanent dyes penetrate deeply and last longer; demi-permanent provides even coverage without damaging the hair; semi-permanent adds shine while conditioning.
Conclusion
Fixing orange hair with box dye is no small feat, but with the right knowledge, it's an achievable goal. By understanding the basics of complementary color theory and how to pick the right ash dye, you can effectively neutralize orange hair in no time.
With the help of a permanent or demi-permanent dye, hair gloss, purple shampoo, or a salon toner, you can easily get rid of the orange tones in your hair. Whether you opt for a black, red, brown, or ash color, you can trust that your hair will be restored to its original luster.
So, what are you waiting for? With a few simple steps, you can now fix your orange hair with box dye and finally achieve the hair you've been dreaming of!