This site is supported by our readers. We may earn a commission, at no cost to you, if you purchase through links.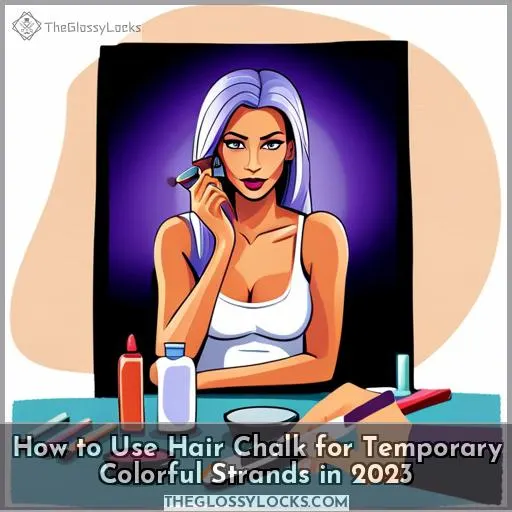 Look, I get it. You want to express your inner unicorn goddess through a rainbow of temporary hair colors, but you're afraid of damaging your luscious locks. Let me tell you something: that fear is just your patriarchal conditioning whispering lies in your ear.
With some simple tips, you can easily chalk up those strands to your heart's technicolor desire. Start on clean, damp hair for maximum vibrancy, section by section. Opt for vivid hues or soft pastels—either will fuel your revolution.
Style as usual, sealing in pigment with heat tools or hairspray. Then rock your rebel mane like the divine earth mother you are, knowing any mistakes wash away.
So release your creative spirit, my friend. Rainbow hair today, a rainbow world tomorrow.
Key Takeaways
Hair chalk is a temporary and damage-free option for adding vibrant color to your hair.
There are different forms of hair chalk, including spray, stick, compact, and liquid, each with its own application method and intensity of color.
When applying hair chalk to wet hair, it is best to use liquid or stick chalk, apply it in thin layers, and let it sit on the hair for vibrant results.
When applying hair chalk to dry hair, make sure the hair is clean and dry first, section off pieces to color, apply the desired formula in thin layers, and let it air dry or blow-dry as usual.
What is Hair Chalk?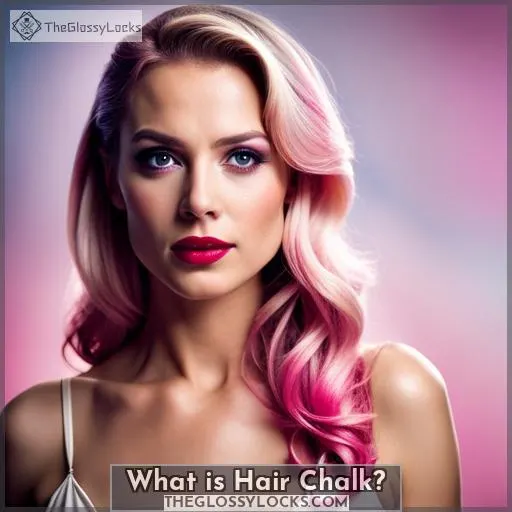 You'll love the temporary, damage-free color that hair chalk provides. Trade your tresses' tame hues for vibrant, bold tones with this fun yet temporary hair color option. Express your inner creativity through a wide selection of eye-catching hues, from pastels to neons.
Hair chalk offers easy application for temporary color commitment. Whether you desire a subtle wash or an entire head of temporary dye, hair chalk's damage-free formula allows you to play with a range of vibrant hues and change up your look often and effortlessly.
Trade tame for bold self-expression with this simple, temporary hair coloring that washes away in just a few shampoos.
How to Use Hair Chalk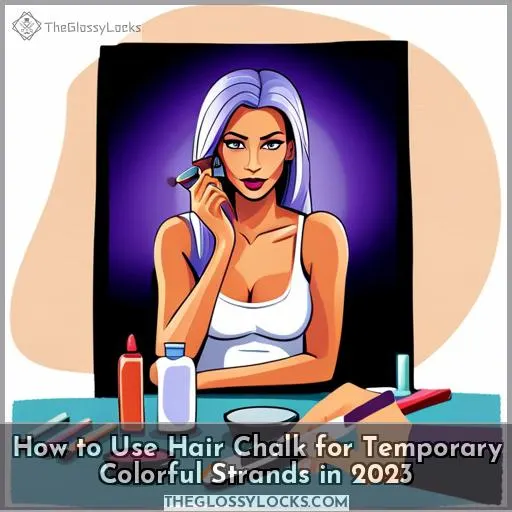 You're looking to shake up your tresses with some temporary hair color using hair chalk, an easy and damage-free way to test out fun, bold hues. When using hair chalk, you'll encounter a few different formulas – spray, stick, compact, and liquid – that each provide varying intensity and ease of use.
Hair chalk spray delivers subtle, diffused color and is the simplest to apply by misting directly onto damp or dry strands. The stick formula allows for targeted color by twisting damp hair as you apply, while compacts give you control to precisely place color along sections.
Liquid chalk leads to the most intense color payoff but requires more prep to avoid messes when coating strands.
Hair Chalk Spray
Mist hairspray-colored chalk directly onto damp locks for a subtle pop of temporary color that washes out in just 1-2 shampoos.
Shake the can before spraying onto hair for an even mist.
Hold the can 10 inches away and spray lightly for a pastel look.
For more saturation, spray from a closer distance.
Blow dry or let air dry, and style as usual.
Finish with hairspray to seal in the chalk and enhance longevity.
Embrace effortless transformation with hair chalk spray. The airy mist envelops strands in a veil of vivid yet ephemeral color. From barely-there pastels to saturated brights, spray chalk empowers unlimited self-expression.
Hair Chalk Stick
Rub the hair chalk stick directly onto damp or dry locks for a burst of vivid, temporary color that will last 2-4 washes. Twist strands and coat them evenly, focusing the rich pigment on pieces needing a boost of life.
Air dry, then style with abandon, mixing chalk hues to paint your tresses in unicorn tones. Shampoo lightly to keep the color alive for a few more days before it fades, leaving hair healthy.
Hair Chalk Compact
Slide the compact along damp strands for a burst of temporary color that'll jazz up your 'do for a night out.
Separate a section of hair to color.
Press compact to deposit vivid pigment.
Style and go – no drying time needed.
Shampoo out after 1-2 wears.
Run the petite palette over locks, unleashing a wave of brave, brilliant tone in an instant. Let imagination color outside the lines and make a scene. This fuss-free fix requires barely a brush – simply sweep and go.
When you're ready, a quick wash removes the rebel streaks, but the memories linger on.
Liquid Hair Chalk
Drench your locks, girlfriend, but beware the mess—liquid chalk's most lasting, yet stains all. Saturate strands in vivid vibes, embracing color's carefree charm. Let locked-in shades fade on their own time—a few bubbly shampoos lift stains sans strife.
Liquid's lasting power amplifies your shine, so style fearlessly. When you're ready, a quick wash removes the rebel streaks, but the memories linger on.
Tips for Preparing Your Hair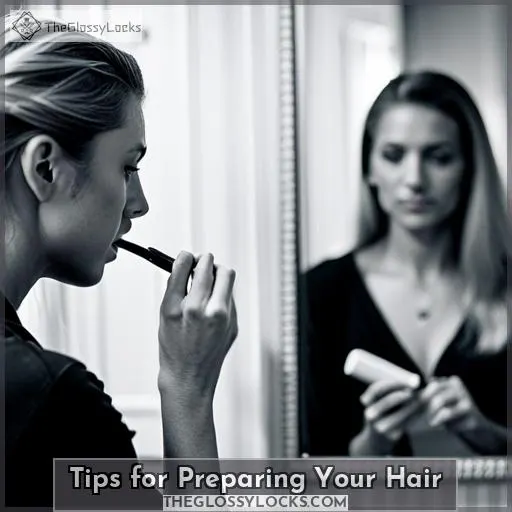 With the right prep, hair chalk can provide a vibrant pop of temporary color. Before reaching for the chalk, do some simple preparation to ensure the most vivid results.
Clarify hair by using a detox shampoo a few days prior to removing buildup. This allows better chalk adherence.
Exfoliate the scalp with a dry scalp brush to slough away dead skin cells and product residue.
Deep condition hair and avoid heat styling for a few days to ensure strands are moisturized.
Use a color-protecting shampoo or one for colored hair before applying chalk to prime the hair.
Consider using a white conditioner or toner spray if you have blonde hair to prep it.
The right scalp and hair preparation allows hair chalk to grab onto strands for eye-catching temporary color that pops.
Applying Hair Chalk on Wet Hair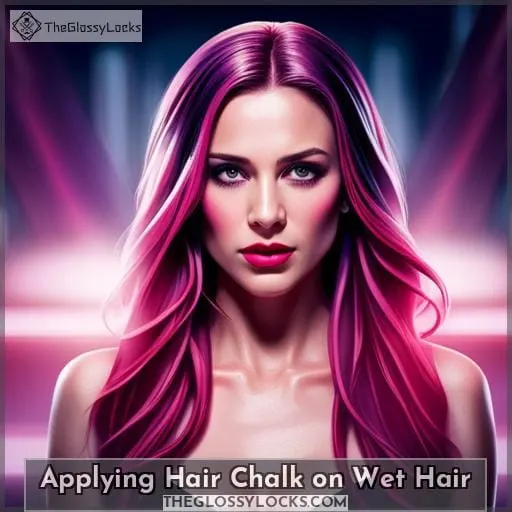 Go ahead and mist your locks with water before you chalk them up for maximum color payoff. When applying hair chalk to wet hair, you get the most intense, long-lasting results – plus better control over mess.
Liquid and stick chalks are best suited for this application technique; spray is too light.
Start by sectioning off clean damp locks, then apply the formula in thin layers using gloves or a foam tool and brush if desired.
After that's done, just let air dry naturally or blow dry as usual. Styling options are available afterward, like an updo or braid, to show off your new hues! With proper prep and careful application of liquid formulas on wet tresses, it deposits intensely vibrant color that dries quickly without fading fast.
So you can enjoy the look for a few washes down the road without sacrificing color intensity while maintaining mess control throughout the whole process.
Applying Hair Chalk on Dry Hair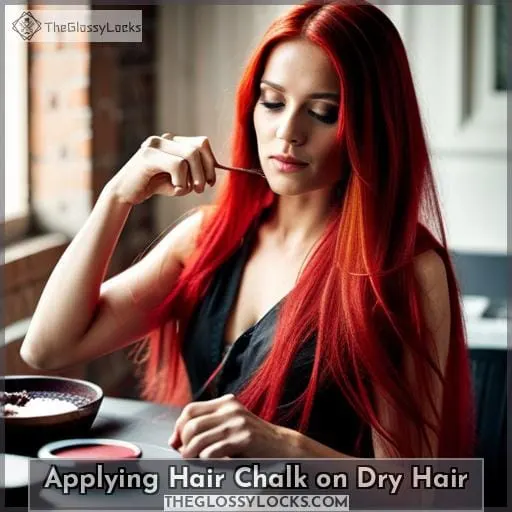 Moving from wet hair to dry, applying hair chalk may not require the same level of mess prep as wet application but still requires some. To get the best color payoff and longest-lasting results, make sure your locks are clean and completely dry before you start.
There are many different types of chalks available for application – liquid, spray, stick, or compact – so be sure to read instructions carefully beforehand.
Start by sectioning off a piece of hair that you want to target with color, then apply the desired dye type in thin layers using gloves or a foam tool/brush if needed. This ensures even coverage without oversaturating strands too quickly! Liquid chalk works best on dry tresses because it will penetrate deeper into the cuticle than other formulas, resulting in more intense colors that last longer when washed out later on.
After finishing up your style with hairspray for an extra sealant and security against fading hues faster than usual! Then just let air-dry naturally or blow-dry as normal.
Styling Your Hair After Applying Hair Chalk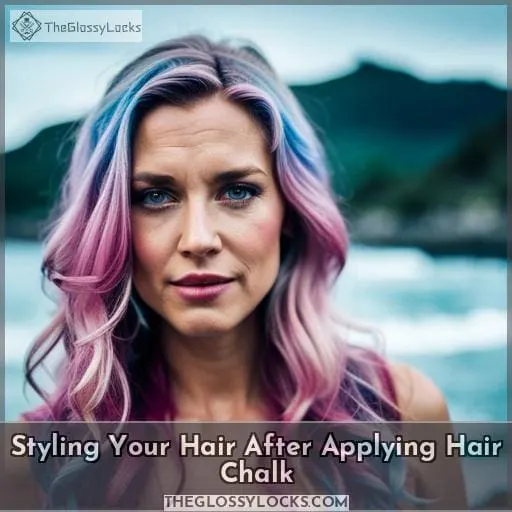 Style it up after you add some chalk! Now that you've got those colorful locks, it's time for the fun part – styling! Since hair chalk is temporary dye, you've got free rein to test out funky looks that complement your new hues.
Work in stages so the color stays vibrant. Section off pieces and use hot tools like a curling iron to define curls and waves. Liquid and spray chalk works great for a diffused ombre when you focus the color towards the ends.
Let your creativity run wild – this is the perfect chance to try bold styling you can easily wash out. Just remember to prep hair with heat protectant first and don't overdo the heat on already dyed strands.
How to Seal in the Color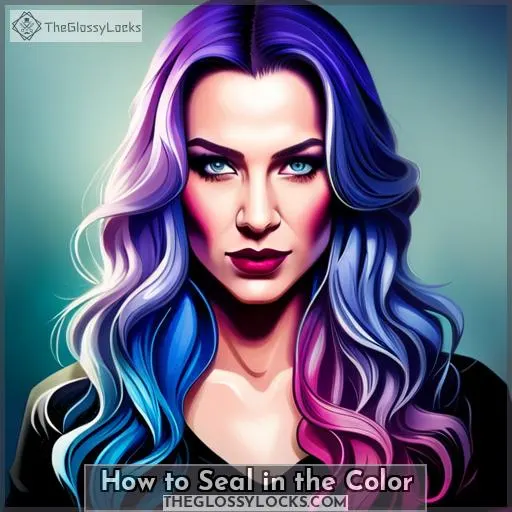 After applying the temporary color, mist your locks with hairspray to lock in the vibrant hue. To keep it set and styled, try a setting spray to protect from heat and humidity. If you're using hot tools like curling irons or straighteners, use a leave-in conditioner for extra protection against high temperatures.
You can even throw in some quick fixes like braids or buns if need be – just make sure you seal 'em off with hairspray so that hair chalk doesn't transfer onto clothes! With all these tips under your belt plus regular touchups as needed (especially after swimming!), y'all are good to go for long-lasting colored tresses until wash day comes around again!
How to Remove Hair Chalk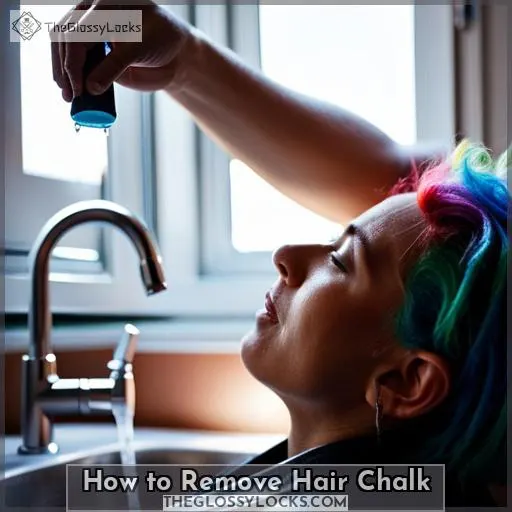 Since your hair's now rockin' that temporary color, be sure to grab some clarifying shampoo for removin' the chalk once it's time.
Apply a pre-shampoo oil treatment to breakdown the hair chalk and make removal easier.
Use a clarifying shampoo that can penetrate the cuticle and lift out the temporary pigment.
Make a DIY vinegar rinse. The acidity helps strip color; 1 tbsp white vinegar + 1 cup water.
Repeat shampooing, focusing on really working the lather into the strands to extract all traces of chalk.
With the right products and techniques, you'll get back to your natural hue in no time. Just be patient – removing vivid temporary color can be an involved process, unlike a standard wash.
Alternatives to Hair Chalk

Consider clip-in extensions for an easy, temporary change without messing up your strands.
Other solid temp options vs. full-on dye jobs:
Hair chalk vs. extensions – extensions last longer, can be styled, reused. Chalk's cheaper, messier, and fades faster.
Hair chalk vs. temp spray – sprays diffuse soft color without damage. Chalk gives targeted pops.
Hair chalk vs. semi dye – semi's longer lasting but still fades. Chalk's a quicker hit.
Giving your mane a makeover doesn't have to mean a permanent commitment. With alternatives like clip-ins, sprays, and semi dyes, you can switch it up at will and protect your hair at the same time.
Frequently Asked Questions (FAQs)
Does hair chalk damage hair?
No, hair chalk won't damage your hair provided you use it correctly. It's a safe and effective way to try out new colors without the commitment of permanent dye.
Does hair chalk work on dark hair?
Yes, hair chalk can work on dark hair, especially when applied to damp strands. The trick is to use lighter colors like soft pastels and neon tones rather than darker hues. Concentrate the product at your roots and ends for a fun ombre look. Hairspray helps these shades pop against darker tresses.
How often should hair chalk be reapplied?
Reapply hair chalk before styling to maintain vibrant color. Experiment with different methods for best results – apply it differently depending on the desired effect.
Are there any special techniques for applying hair chalk?
Yes, there are! For optimal color payoff, apply stick and compact chalk to damp hair. To ensure lasting power, seal with hairspray. Liquid chalk is best applied with a foam tool or brush on dry hair before blow-drying.
Spray offers subtle diffused color when misted directly onto wet or dry strands.
Is hair chalk safe to use on children's hair?
Yes, hair chalk is safe for children to use. However, it's best to use a formula specifically formulated for kids and apply it with adult supervision. For maximum results without damage, opt for liquid or stick formulas on damp hair and seal with hairspray.
Conclusion
Hair chalks are a great way to add temporary color and fun to your hair in 2023 without the commitment of permanent dye.
From sprays to sticks to compacts and liquid chalk, there are a variety of application methods to achieve the look you desire. When preparing your hair, make sure to use old clothes and gloves. You can also apply hair chalk to wet or dry hair, although more color payoff will be seen on damp hair.
After applying, seal with hairspray and style as usual. If you want to remove the hair chalk, simply wash with clarifying shampoo and add baking soda for stubborn color. Hair chalks are a fun, cost-effective way to test out a new color or style without any long-term commitment.